Table of Contents
Trying to learn and make sense of Chinese text? Need to copy Chinese text from images or scanned PDF file?
Chinese writing is totally different from the western alphabet. It is written with distinctive characters which has no relation to the sound of the word.
A good Chinese OCR software can help you overcome this challenge. Here, we've tried most of the Chinese OCR Apps on the market, we list the top 8 software (both free and paid options) for you. Take a look at the list and use this to find the best Chinese OCR for your specific needs.
Recognize Simplified & Traditional Chinese Accurately
Recognize Chinese characters from both scanned PDF and image
Export Chinese files to searchable PDF, Word, Excel, PowerPoint, EPUB, HTML, etc.
Recognize 17+ languages: Chinese, English, Japanese, Arabic, Spanish, etc.
Batch OCR files in seconds
Advanced OCR technology, fast speed, high quality, rich formats and excellent performance
Create PDF from Word, Image and other 40+ formats
Convert native PDF to 15+ formats

Free Download
macOS 10.13 or later

Free Download
Windows 11/10/8/7
Why Chinese OCR is Difficult
Chinese is a complex language and differs from western languages in several aspects. If an OCR software has not trained for this language and tries to map the western alphabet with Chinese characters, the OCR result will look like garbled up nonsense.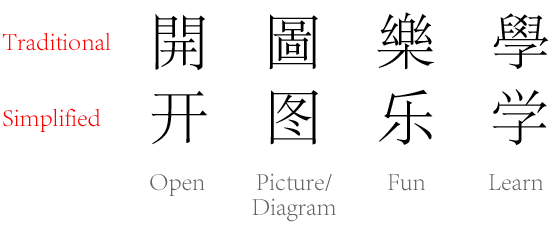 Different scripts - English has only 26 letters, but in Chinese, there are more than 1,000 commonly used letters, and more than 3,000 are basically available.
Complex structure - In addition to the large number of Chinese characters, The Chinese structure is complex. For example, there are many highly similar Chinese characters like "兔" and "免", which are only slightly different. These all bring difficulties to Chinese OCR.
Traditional vs. Simplified Chinese - Also, there are two different written forms of Chinese: Traditional and Simplified. Often, Simplified Chinese characters have fewer strokes than their traditional counterparts, which means that OCR engines need to be trained specifically for this two varies.
Even with all these complications, There are still some good Chinese OCR software that can recognize Chinese text with high accuracy.
Best Chinese OCR Software for Mac & Windows
To recognize Chinese characters from image/scanned PDF accurately, including simplified and traditional Chinese, the best solution is using a professional Chinese OCR program, which can guarantee a high quality OCR result and offer extended features to give a wonderful experience on doing Chinese OCR.
Basing on the benchmarks of simplicity, OCR accuracy, output format support and batch support, we picked the best for you. Cisdem PDF OCR Converter OCR, is the best PDF Converter for Mac and Windows users, enabling users to convert native, scanned PDF and images into 15+ formats, including PDF to Word, Excel, PPTX, ePub, Text, HTML, etc.
Cisdem can recognize 15+ languages like Japanese, Korean, Chinese, etc. It can be used easily for Chinese OCR.
It can recognize Chinese text from any type of Chinese files, including images, invoices, receipts, business cards, etc. You can easily digitize and extract the Chinese text using Cisdem PDF Converter OCR.
Till now, most OCR software, especially free online OCR site have trouble dealing with this 'non-standard' type face. With Cisdem PDF Converter OCR you can expect Chinese OCR accuracy of 99%, which is higher than most OCR tools on the market.
It supports recognize Chinese from both scanned PDF and Images to text with the intelligent OCR feature, the steps will be a bit different and here we list the steps as following.
Steps for Chinese Character Recognition from PDF
Download Cisdem PDF Converter OCR, install it.


Free Download

macOS 10.13 or later

Free Download

Windows 11/10/8/7

Import all your scanned files.
Import single or multiple Chinese PDF for character recognition.
You can drag and drop to import files, or click "+" to add Chinese PDF files.
Download OCR module before conversion.
It requires you to download the advanced OCR module when you first upload scanned PDF or images.
Prepare for Chinese OCR setting.
You need to select output format as "OCR PDF", if you want to OCR Chinese PDF to searchable or editable text. If you want to save as other formats, Cisdem performs OCR automatically on your file.
Select file language.
Click the gear icon and select Chinese as file language.
Start Chinese OCR PDF on PC.
Click "Convert" to start the Chinese OCR process, this program can automatically read and recognize Chinese character from images to text. Get the editable Chinese file in output folder. You will find the Chinese OCR is processed accurately and fast.
Notes: To OCR protected Chinese files, click on the lock icon to enter correct password or use PDF Password Remover to remove forgotten password.
Best Free Chinese OCR App Online
Though you are recommended to do Chinese OCR with professional Chinese OCR software for the sake of high accuracy and security, if you are working on simple Chinese files and don't do this very often, you can still utilize free ways to do Chinese character recognition online.
#1 Google Chinese OCR
As we know, Google offers various online services to boost productivity for us. Among those free services, there is an online platform to manage documents called Google Drive. It builds in a program Google Docs, allowing users to open, convert and perform OCR on Google supported files. That's to say, you can perform Chinese OCR in both PDF and image with Google Docs for free online.
Login in Google Account and go to Google Drive.
Upload Chinese PDF or images into Google Drive by clicking "New" or directly drag and drop into the right panel.
Open Chinese file with Google Docs by right click on the file. Google Docs will perform OCR on the Chinese file automatically.
(Optional) Check the Google Chinese OCR result, manually adjust or edit if needed.
Go to File > Download as, choose your preferred output format.
Things You Need to Pay Attention to Google Chinese OCR
Google OCR supports Chinese files in scanned PDF and Images (JPG, GIF, PNG, BMP)
Check and manually adjust OCR result due to unstable OCR performance of Google Docs
Don't upload complicate Chinese file for OCR, the OCR results may be quite poor
Google Chinese OCR doesn't support batch OCR
Don't upload private files for Chinese OCR due to potential risk of information leakage when storing files on 3rd server
#2 Convertio Chinese OCR
Another online free OCR program to do Chinese OCR is Convertio. It is more like a OCR converter to recognize image-based files and then export as editable formats. It does a great job to support various input and output formats. Though not able to recognize as many languages as Google Chinese OCR, it supports to recognize all the popular languages.
Go to Convertio OCR.
Upload PDF or image Chinese files from local or other online sources like Dropbox and Google Drive.
Choose file language as Chinese simplified or traditional, then select output as searchable PDF or other editable formats. Plus, choose the page range.
Then click "Recognize" button to start Convertio Chinese OCR.
Disadvantages of Convertio Chinese OCR
Only 10 pages can be done with Chinese OCR for free
Unstable Chinese OCR result especially when working on complicate files
Potential risk of information leakage
Best Free Chinese OCR Software Offline
Although online Chinese character recognition tools provide a lot of convenience for everyone, they are still no match for desktop software in terms of stability, functionality and security. Keep reading to learn the best free Chinese OCR software offline.
#1 PDF OCR X Community Edition
We find another free Chinese OCR software on desktop for Mac and Windows users - PDF OCR X Community Edition, a simple-to-use and lightweight OCR tool to convert scanned PDF and image to searchable PDF or plain text. Plus, 60+ languages can be recognized by this free program.
How to OCR Chinese Character Free Offline?
Drop files into PDF OCR X.
In the OCR conversion settings, set the output format as searchable PDF or Plain text, choose the language as Chinese (click "install more languages" to search and install new languages when you first use this program), customize the output folder and input quality.
Finally, hit the Convert button to start OCR Chinese file.
Limitations of PDF OCR X:
Supports single-page PDF and image only
Cannot keep the original formatting well
Multi-file conversion is only supported in Enterprise Edition
#2 OneNote OCR
Users who need to process multi-page PDF require more robust OCR app, here is another solution. Microsoft OneNote is known as a note-taking software, but few users know that it comes with an intelligent OCR that supports extracting text from Chinese PDF files, images, even handwriting quickly.
How to OCR Chinese Image to Text?
Go to OneNote > Insert > Pictures and import images from your computer.
Right-click the image and choose "Copy Text from Picture".
Then you can paste the text freely.
How to OCR Chinese PDF to Text?
Head on OneNote > Insert > File Printout and upload your scanned PDF.
Right-click the file, choose "Copy Text from This Page of the Printout" or "Copy Text from All the Page of the Printout" according to your needs.
Paste the text to any file.
Cons of OneNote OCR You Should Notice:
Part of the format is messed up
Work on OneNote 2016 and 2019
Only recognize and extract text
Do not support batch OCR
Best Chinese OCR App for Android or iPhone
Best Chinese OCR App for iPhone
Scan &Translate is a highly rated iOS program to do Chinese OCR, also allows user to translate the texts from Chinese files to English and other 90 languages.
Main Features of Scan & Translate
Recognize files in 70 languages: Chinese, Russian, German, Japanese, etc
Translate files to 90+ languages
Extract and copy texts from image-based file
Share texts on social media platform easily
How to Do Chinese OCR and Translate on iPhone?
Download and install Scan & Translate on your iPhone.
Select language as Chinese.
Import Chinese files from photo library or take a picture of the document, then press Scan.
Once the Chinese OCR is done, select the target language to translate the Chinese files.
Best Chinese OCR App for Android Phone
Text Fairy is a highly recommended Chinese OCR app for Android users, it receives good reputation from its users on Google Play, but it supports OCR Chinese and other languages only, it won't translate for you.
Main Features of Text Scanner
Recognize text from photos or camera
Export Chinese files as Text or PDF format
Recognize 50+ languages, including Chinese
Recognized text can be save to clipboard
How to do Chinese OCR on Android Phone?
Download and install Text Fairy on your Android phone.
Choose the Chinese file photo or capture from your camera to import for Chinese OCR.
Then Click "Start" to run OCR Chinese.
Once ready, you can send text, translate text, copy text to save the Chinese texts to clipboard, or export Chinese files as PDF.
Which is the best Chinese OCR Software?
Now, we've looked at the top 9 Chinese OCR software in the market.
All the software has its own specific use cases and merits. If you only need to do Chinese OCR for one time you can use free online OCR tools or Google Chinese OCR, If you have large demand on Chinese or Asian OCR, you can use Cisdem PDF Converter OCR that can recognize with high accuracy and process files in batch.
Here, we have list our recommended best Chinese OCR Software in the market:
Best Chinese Offline OCR tool: Cisdem PDF Converter OCR
Best Chinese OCR App for Android: Text Fairy
Best Online Chinese OCR tool: Google Chinese OCR
Best Chinese OCR software for one-time use: PDF OCR X Community Edition
Best Chinese OCR App for iOS: Scan Translate