When working with a PDF, you may spend numerous times a day to copy text from a PDF to supplement your reports or other files. But, very often, we cannot copy text from PDF, mainly for the sake of the PDF itself.
To solve this problem, here we cover the reasons why cannot copy text from PDF and give out the workaround letting you copy text from a PDF, no matter it is a scanned PDF, a secured PDF, or underneath other situations that stop you from copying the text from a PDF.
Why You Cannot Copy Text from PDF?
There are 2 types of PDF, native (editable and searchable) or scanned (image-based). Most of our paper work focuses on native PDFS, but the need to work on a scanned one is growing. It is quite easy to copy text from a native PDF if you get a reliable PDF reader in hand.
Also, it is known to PDF users that PDF offers a higher-level security to protect the files, with which users will be restricted from copying text from the PDF.
To sum up, reasons of why you cannot copy text from PDF divides into 3 main worlds:
The PDF is scanned, image-based.
Visually, a scanned PDF is not that clear as native ones. And when you select a part of the scanned PDF, a whole page will be selected as an image, as following.
The PDF is secured with a PDF password.
There are 2 types of PDF password.
Open password: restrict you from opening the PDF. In this case, you can not even open the PDF file, let alone copying text from this file. Owner password: restrict you from printing, copying, pasting, etc. In this case, you won't be allowed to copy and paste text, since the "Copy" toolbar is disabled when you right click to start the "Copy" action.
No matter which password is protecting your file, to copy text from this PDF, you will need to unlock PDF first.
There are problems about your PDF reader.
Though this rarely happens, it is still possible. In this case, try another PDF reader, please read on to find some recommended free PDF reader in following parts.
The All-Powerful Solution: Copy Text from Any PDF
(You Don't Even Need to Open the PDF File for Copying)
We are supposed to provide our readers with the easiest way to "copy text from PDF", but we decide not to do so, in light of so many "cannot copy text from PDF" issues that much likely to happen on us. And here we will start with an all-powerful solution to copy text from any PDFs, no matter it is native, scanned or secured, we hope our readers can kill such a problem once for all.
Like many of our users, I also in the viewpoint that, the best way to enhance productivity in your workflow is finding an efficient and professional tool. And this is also true for this case.
Cisdem PDF Converter OCR, is the one. Literally, it is a great program allowing users to convert PDFs to a wide range of file formats, including Word, Text, Excel, Powerpoint, Keynote, Pages, ePub, Image, etc. Yet, it does more than just allowing "Copy Text from PDF".
Work Automatically
You don't need to manually copy and paste the file, within several clicks to upload, choose output, convert, you will be able to get the text file within seconds.
Maintains the text layout
Though a text file requires no formatting, Cisdem PDF Converter OCR will maintain the layout as original, the paragraphs, periods and gaps will be kept to make the text file readable and intact. Still, you can choose to convert your PDF to a well-formatted format (Word, PowerPoint, etc.), so when you copy text from a PDF, the formatting and layout will be preserved.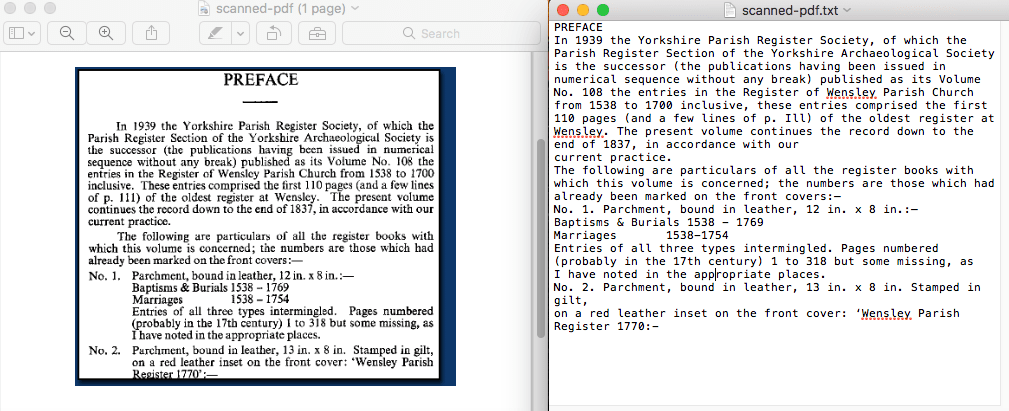 Key Features of Cisdem PDF Converter OCR
Convert any PDF to 15+ formats
Convert image to Word, Excel, Powerpoint, Keynote, Pages, JPG, etc.
Create PDF from Word, Powerpoint, CHM, ePUB, HTML, Image, etc.
Batch processing
How to Copy Text from PDF on Mac or Windows?
Download and install Cisdem PDF Converter for Mac/Windows, launch it.
Free Download Free Download
Add PDF to the program.
You can drag and drop files to the program, or click "+" to add files. It supports batch processing, you can add multiple files at one time.
Prepare for PDF to Text Conversion.
For native PDF, just choose the page range and output as Text;
For scanned PDF, download the OCR module at first, then choose the page range, then select text in the output format menu. For more accurate OCR results, click the "Settings" icon to manually choose the file languages, so the program can recognize the contents exactly as you need.

Click "Convert", then copy text from PDF on mac or use these texts for your own purposes.
Others: Copy Text from PDF, According to Your Needs
If above-mentioned tools are not that appealing to you, or you are just the type looking for a solution for one specific problem, we also sort out following solutions for you, including free or paid methods to copy text from PDF, be scanned or secured.
If you are using Adobe Reader
Assuming you have installed Adobe Reader, you can copy text from native PDF with this tool.
Open PDF with Adobe Reader.
Right click to choose "Copy".
Then paste the text from PDF to your designated file.
Notes:
Use Non-Adobe PDF Reader to Copy Native Text from PDF
Adobe PDF Reader, in a strategic way of thinking, is provided free to persuade more and more users to upgrade to its Adobe Acrobat version, so the features, though not activated before a paid subscription, are all accommodated in the Adobe Reader, which makes the interface is not simple and neat. If you are just looking for an extremely easy reader to copy text from native PDF, here is a list of best free PDF reader:
Foxit Reader(desktop for Mac and Windows)
Skim(desktop for Mac)
PDFescape(Online)
PDF Filler(Online)
PDF Buddy(Online)
All are quite easy to manipulate, you can copy text from PDF in the same way as that of using Adobe Reader.
Copy Text from Secured PDF
The key to manipulate a secured PDF is to unlock the file first. So, there will be at least 2 steps involved in copying text from a secured PDF: unlock and copy.
Step 1. Unlock PDF for copying.
As we mentioned in the very beginning, your PDF can be locked by an open password, or an owner password:
If the PDF is protected by an owner password, find online PDF Unlocker to remove the protection.
If there is an open password added to the PDF and you know the open password, upload to online PDF Unlock and enter correct open password for unlocking, if you forgot the password, you will have to find a desktop PDF Password Remover.

Online PDF Unlocker:
Smallpdf
Ilovepdf
Online2pdf
Desktop PDF Unlocker:
Step 2. Copy text from secured PDF
Now, your file is open for copying, either find a free PDF reader (check the list we give above) to copy text from native PDF, or use OCR service (check the list we give as following) to copy text from the scanned PDF.
Copy Text from Scanned PDF(PDF Image)
To copy text from scanned PDF, you will need to make the PDF editable with OCR technology. You can either use online free OCR or desktop OCR software.
Copy Text from Scanned PDF Online Free
Go to onlineocr (a web-based free OCR service with good quality);
Upload File by clicking "Select file" button;
Choose file language, it support 46 languages;
Choose output as Docx or Txt;
Click "Convert", once the conversion finishes, click "Download Output File" to get the editable text.
Finally, copy the text from scanned PDF and paste as needed.
Recommended OCR Software to Copy Text from Scanned PDF
Basing on OCR performance, versatility in function, simplicity, we finally come to following list of best OCR software allowing copying text from scanned PDFs.
ABBYY FineReader(Mac and Windows)
Readiris Pro(Mac and Windows)
PDFPen(Mac)
PDF Element(Mac and Windows)
Summary
Copying text from a PDF can be extremely easy when dealing with native PDF, but becomes to tricky when working on secured or scanned PDF. However, no matter which shoes we are in, we have the solution. But if you want an ultimate workaround to solve this problem once for all, try Cisdem PDF Converter OCR.