You are probably an anime fan, or need to translate Japanese image text to English for the purpose of business or study. Then, you need to do Japanese OCR.
The process of a Japanese OCR requires an OCR tool to recognize the Japanese texts first, then export the whole file as editable or copyable document for translation. Here we include 8 outstanding programs to do Japanese OCR, no matter OCR vertical Japanese or OCR horizontal Japanese, on a Mac, Windows, iOS or Android device, with online and offline Japanese OCR software.
Fast & Accurate OCR Software for Japanese, Chinese, Korean, etc.
Recognize Japanese, Chinese, Arabic, Russian, English, 200+ languages
Perform OCR on scanned PDFs and images
OCR files and export as searchable PDF, Word, Excel, PowerPoint, ePub, Text, HTML, RTFD, etc.
Batch OCR and convert
Create PDF from Word, images and so on
Easy to use

Free Download

Free Download
Best Japanese OCR App for Mac/Windows
Cisdem PDF Converter OCR is the most comprehensive PDF converter with OCR capability to perform conversion on PDF files. It not only builds in all the basic features that other PDF converters includes, but also offers advanced setting for accurate OCR or extended features to create/protect/compress PDFs.
Where Cisdem Japanese OCR Excels?
Allow doing Japanese OCR on scanned PDF, protected PDF and images
Support Vertical and Horizontal Japanese OCR
Export Japanese file as searchable PDF, Word, or other 15 formats after the OCR processing
Offer advanced settings to get more accurate OCR results
Retain original file quality (format, layout, image quality, etc)
Batch OCR
Create PDF from Japanese or other files, also allows protection and compression
How to Perform Japanese OCR on PDF or Image?
Download and install Cisdem PDF Converter OCR on PC.
Free Download
Launch the program, drag and drop vertical or horizontal Japanese PDF files and images to the Converter, it supports batch OCR.
Prepare for Japanese OCR PDF.
Choose page range and set file language as Japanese, then select output as Word or others. Don't forget to turn OCR button ON. If you have uploaded images, the OCR feature will be auto enabled.
(Optional) For more accurate Japanese OCR results, click the "Advanced Setting" on the interface.
You will find the Japanese file is marked in different colorful boxes. Check if the OCR applied zone is marked properly, especially for a vertical Japanese file. For illustration, if you want to export a part of the Japanese file as Tables instead of Text, mark this part with the Table box by clicking on the icon "Mark Tables". Once ready, close the interface.
Click "Convert" to start the Japanese OCR to recognize Japanese texts from PDF or image on your Mac/Windows.
Notes:
For user-password protected PDFs, you need to click the lock icon to unlock PDF first.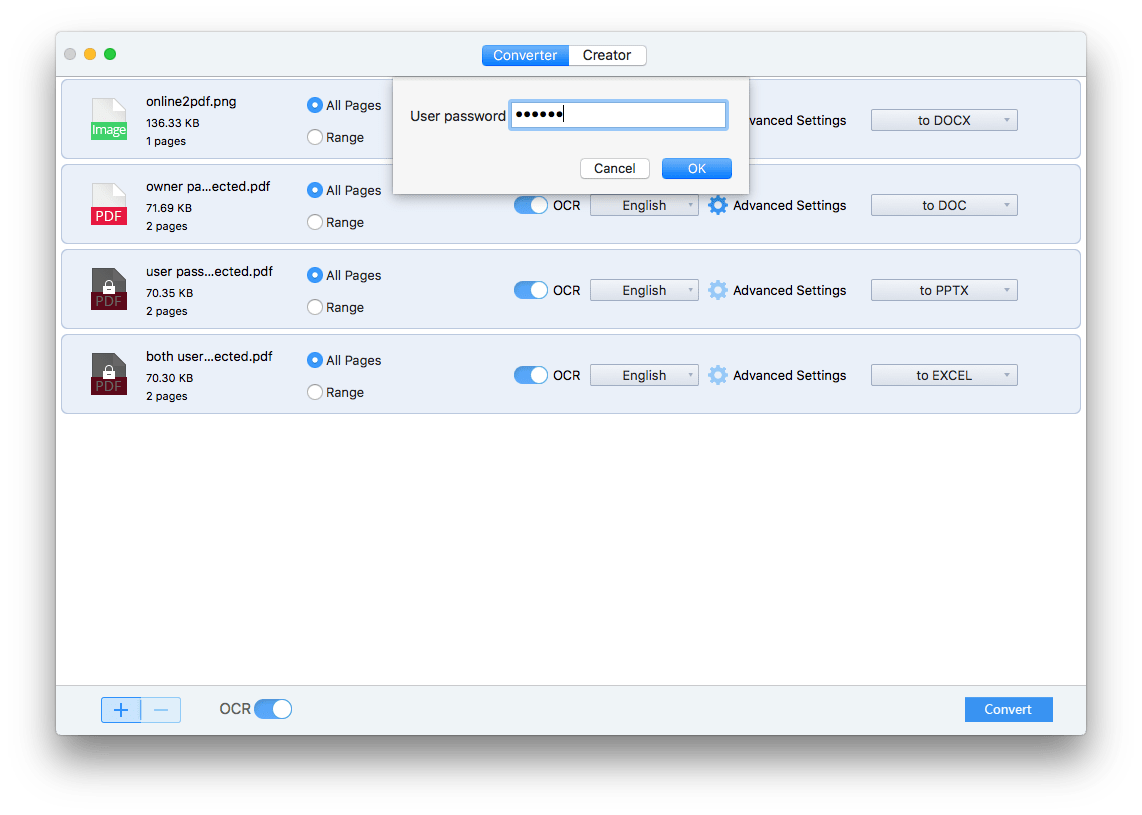 Best Online Free Japanese OCR
At the same time, many users are still looking for some online free services to do Japanese OCR, such as i2OCR, ocrconvert, ocrspace, as showed in Google top results, also you shouldn't miss Google Japanese OCR. Here, we are going to test and verify if these online free Japanese OCR are worth a try.
#1 ocrconvert
Advantages:
Support 40 languages
Upload file from computer or URL
Support upload image or PDF
Disadvantages:
Slow OCR processing
Only allow exporting as Txt
OCR accuracy 80%
Cannot OCR vertical Japanese file
Steps to Do Japanese OCR Online Free with ocrconvert
Click on "Choose File" to upload image or PDF.
Choose language as Japanese.
Select output as Txt.
Click "Convert" to start Japanese OCR.
#2 ocr.space
Advantages:
Support 25 languages
Create searchable PDF from files
Support uploading image or PDF
Upload from computer or URL
Disadvantages:
OCR accuracy 80%
Cannot OCR vertical Japanese files
Steps to Do Japanese OCR Online Free with ocr.space
Click "Choose File" to upload image or PDF.
Choose OCR language as Japanese.
Choose output, text or searchable PDF.
Click "Start OCR!".
#3 i2OCR
Advantages:
Support more than 60 languages
Upload image from computer or URL
Direct to translate in Google/Bing, or edit in Google Docs
Disadvantages:
Only support uploading images
Only allow extracting text from image, you need to copy the text, then paste to your preferred word processor
OCR accuracy 75~80%
Cannot OCR vertical Japanese files
Steps to Do Japanese OCR Online Free with i2OCR
Choose file language as Japanese.
Upload image from computer or URL.
Input reCAPTCHA code for free service.
Click Extract Text.
#4 Google OCR
Advantages:
Support 200+ languages
OCR both PDF and image files
Edit scanned files in Google Docs
Export files as PDF, Word, Text, ePub and so on
Disadvantages:
Cannot keep the formatting as in original file
Cannot OCR vertical Japanese OCR
Steps to Do Japanese OCR Online Free with Google OCR
Login into your Google account and go to Drive.
Upload the Japanese file to Google Drive.
Right click on the Japanese file and open with Google Docs.
Save the file or go to File>Download and select a format to export.
Is Online Free Japanese OCR Worth A Try?
According to the test results above, we noticed that the OCR accuracy of online free OCR tools is quite mediocre, which well reflect the OCR performance of existing online OCR services. Yet, this is quite understandable, free service always comes with limited features or average performance. Does this mean online free Japanese OCR is a waste? No, they are still worth a try, if:
You are working on some simple Japanese or other files, the OCR accuracy will be satisfactory if the file itself is not complicate in layout, format or content elements. Also, don't upload vertical Japanese files for OCR, online tools does bad in OCR vertical Japanese files
You are not working on highly private files. We should be aware of the possible risks caused by using online free services
You understand Japanese a little. In this case, if there is any OCR error, you can manually adjust
Best Japanese OCR App for iOS
Scan&Translate from AISBERG LLC is a iOS app to recognize image text, then translate to your target language, this is extremely convenient for users who need real-time translate when travelling in Japan. All you need to do is, take a picture of the Japanese information, then scan and translate with this app, even it can read the text for a better communication.
It has an excellent support on OCR language and target translated languages:
Recognize 70+ languages, including Japanese, English, Chinese, Spanish, etc
Translate recognized text into 90+ languages
Read texts in 40+ languages
How to Do Japanese OCR on iPhone?
Step 1. Download and install Scan&Translate on your iPhone.
Step 2. Run the app, tap on the "Camera" to take a picture of the Japanese file.

Step 3. Choose file language as Japanese, tap "OCR" to start OCR processing.
Step 4. Once ready, choose target language and tap on the "Translate" button.

Step 5. (Optional) You can tap on the "Share" or "Audio" to send the Japanese text as messages, or read the text out loud on iPhone.
Best Japanese OCR App for Android
Yomiwa, a Japanese OCR app with Dictionary, is really a great tool for users who want to study Japanese anytime and anywhere.
It can recognize text from uploaded images, from files captured under your camera, even handwritten text you input by drawing/radical search/keyboard. Once the OCR finishes, each Japanese word and Kanji will be provided with detailed information, such as pronunciation, conjugation or definition. Also, it supports OCR vertical Japanese files. Besides OCR, it can translate your Japanese contents into more than 10 languages.
However, Yomiwa can only translate single Japanese word or Kanji, it is not capable of translating a complete sentence. To translate the whole file, you will need to copy the text, then paste to a 3rd party translator.
How to Do Japanese OCR on Android?
Step 1. Download and install Yomiwa onto your Android.
Step 2. Take a picture of Japanese file or import from your Android phone, it supports vertical Japanese files.

Step 3. The dictionary will appear when OCR finishes.
Step 4. Slide up on the screen to bring up a menu, and click "copy text" if needed.

A Glance of 8 Best Japanese OCR Apps
Final Words
Applications to do Japanese OCR on different devices serve for different purposes. Doing Japanese OCR on a computer, users often require high on OCR accuracy for professional work, especially for vertical Japanese files. While doing this on a mobile phone, users pursue real-time service and convenience. Therefore, choice on performing Japanese OCR differs, and the rule is, if you want high quality, you'd better try the desktop experts, they are designed to make Japanese OCR accurate and professional.

Connie has been writing for Mac productivity and utility apps since 2009. Each review and solution is based on her practical tests, she is aways energetic and trustworthy in this field.