Duplicate File Finder Reviews
dupeGuru is one of the most well known duplicate file finder for Mac, Windows and Linux. Does dupeGuru do a good job of finding and deleting duplicate files? Is it free? How do you make the most of it for duplicate removal? dupeGuru for Mac hasn't been updated since 2016. Is there any good dupeGuru alternative for Mac? Let's find out.
dupeGuru review
What is dupeGuru? Developed by Hardcoded Software, dupeGuru can find and remove duplicate files on computers. It supports common file types such as audios, images, documents and archives. You can set it to identify duplicates by content or filename. There are 12 supported languages such as English, German and Italian.
Supported OS:
OS X 10.12 or later, not updated since 2016
Windows 10, 8, 7 and XP, 64-bit and 32-bit
Linux
Is dupeGuru safe?
Yes, dupeGuru is safe. The installer is clean without any malware or adware. You can safely install or uninstall it. Make sure to download the app from trustworthy places such as the official website.
Generally, this duplicate file finder is also safe to use. Designed with safety in mind, it takes measures to prevent users from deleting files by mistake. It allows users to remove duplicates by sending them to Trash (Mac) or the Recycle Bin (Windows), making it easy to recover deleted files.
However, dupeGuru for Mac can't safely deal with the duplicates in Mac Photos app.
The Best dupeGuru Alternative
Find all types of duplicate files such as duplicate photos and videos
Also find similar images
Support computer's internal drive, external drive, SD card and more
Help Mac users remove duplicates from Photos and iPhoto
Offer 3 preview modes, allowing side-by-side image preview
Automatically and smartly select duplicate files to mass delete with 1 click
Let you customize auto-selection or select manually
Offer 3 removal options, including Move to Trash/Recycle Bin
Safe and easy to use
Available for both Mac and Windows

Free Download

Free Download
Download and install
Yes, it's freeware. Initially released in 2004, dupeGuru was commercial until 2010 when Hardcoded Software announced that its apps went open source. It is now open source and totally free to use. There is no need to buy a license.
Its last paid version was 2.12.0 with a price tag of $19.95.
Scan types, filters and performance
dupeGuru can efficiently scan for duplicate files thanks to its fuzzy matching algorithm. There used to be dupeGuru Music Edition and dupeGuru Picture Edition. They have been packed in the same app which now offers three modes: Standard, Music and Picture. The Standard mode will search for all duplicates regardless of file type. With Standard, users can choose from three scan types: Contents, Filename and Folder. There are also additional exclusive scan types for the other two modes.

In Preferences, you can adjust the dupeGuru filter hardness. If you set the hardness level to 100, the app will only look for exact duplicates. Lower levels means looser matches, which means it will also find similar files.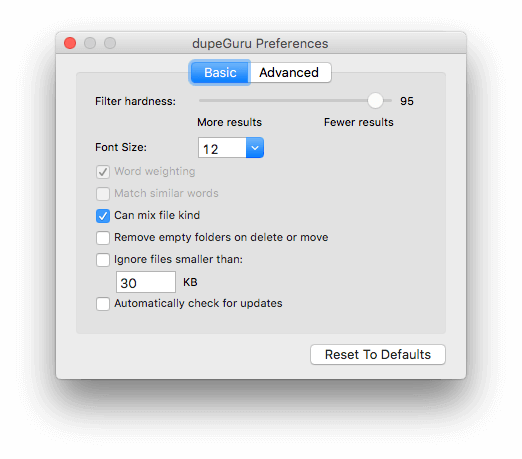 You also can set the scan to ignore files smaller than the custom minimum size and to ignore subfolders in the selected folders.
dupeGuru does a good job of scanning computers for duplicate files. However, dupeGuru is very bad at finding the duplicate photos in Mac's Photos, because it will return false positives. And removing them will damage Photos library. Mac users need to use duplicate file finder software designed for Photos to safely deal with duplicates in Photos.
View and select duplicate files found
Once scanning finishes, the dupeGuru Results window will show up, listing all the groups of duplicate files detected. Each group consists of the original file (marked in blue) and its exact (and almost exact) duplicates. The search boxes before the original files are disabled, which is a safety measure to prevent you from selecting and deleting the original ones. dupeGuru allows users to save and load scan results. Users can also export results to XHTML or CSV.

You can sort the scan results by folder, size, file type, modification, match level, etc.
There are three other view modes.
Details Clicks Details, and a window will pop up showing you the file attribute of the selected file. If you select a duplicate file, it will also show the attribute of its original file, which helps you better compare them. If the dupeGuru is in Picture Mode, you can also preview images without having to open them with the associated app.
Dupes Only This view mode only list duplicates. Their respective original files will be hidden.
Delta If this mode is enabled, the numerical columns (size, dimensions and modification) will display the value differences (marked in orange) instead of the absolute values. For example, the original image is 182KB in size and its duplicate copy is 39KB, the Size column will show -144KB.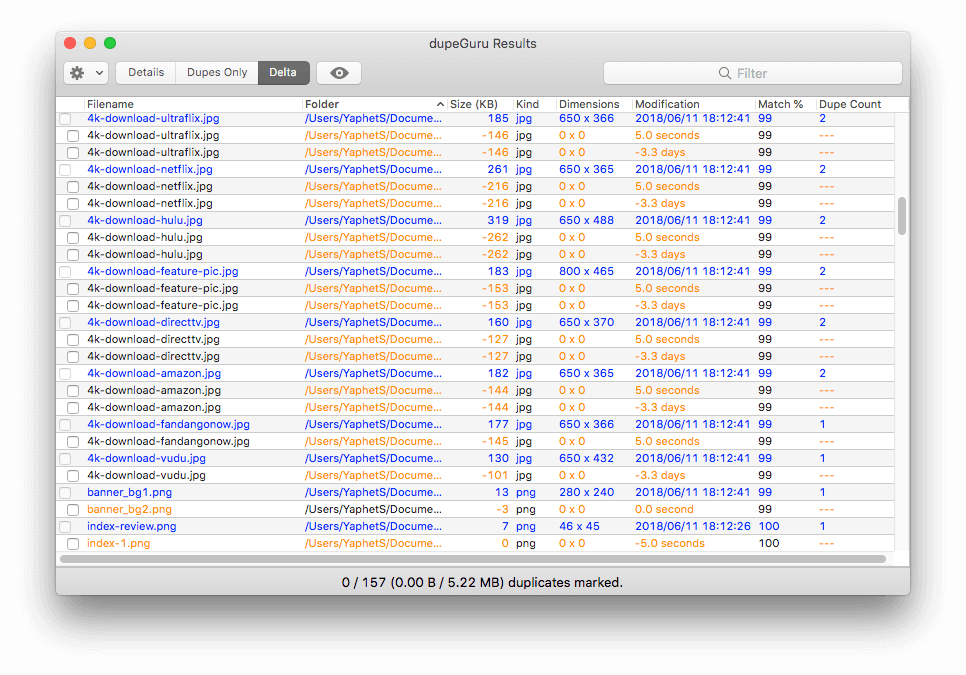 You can also filter the scan results by using dupeGuru's filtering feature. In the upper right corner of the results window, you can find a search box. For example, if you type "png" and hit enter, only PNG files will be shown.
You can set dupeGuru to select all duplicate copies. But sometimes, you may still want to keep some of the duplicates or similar files. In such cases, you can manually select or unselect (individually or in batch) with the help of features like Dupes Only and Delta.
Duplicates removal
Now you can easily delete selected unwanted duplicates in a few clicks. Go to the top menu bar, select Actions > Send Marked to Trash. It's that easy. You can also move selected duplicates to a folder of your choice.

In Preferences, you can set dupeGuru to directly delete files. But this option is not recommended. There is also the Link deleted files deletion option where the removed files will be replaced by a link to the original file.
On the Actions menu, there are also other actions which may be beneficial to users. One of them is Invoke Custom Command. This is more intended for advanced users who are familiar with command line.
Quick Summary
dupeGuru is a free, cross-platform duplicate file finder with a balance of basic and advanced options. You can easily add folders to scan and remove duplicates with just one click. You can also have more control over the scan and removal by customizing and taking advantage of the more advanced settings.
It can find most duplicates, but is easily outperformed by its paid counterparts. Although the developer claims that dupeGuru is easy to use without documentation, users may have problem understanding and using some of its features.
The biggest problem is that dupeGuru for Mac can't find the duplicate photos in Apple Photos. It's recommended to use an alternative with safe support for Photos.
Pros
Free and safe to use
Various supported file types
3 scan modes
Identify duplicates by content, filename, etc.
Also find similar files with adjustable filter hardness
4 view modes, making it easy to view and select duplicates
Quick and safe removal of unwanted duplicates
Automatically select dupes to delete
Useful features such as Save Results and Delta
Cons
Mac version not updated since 2016, which can cause compatibility issues with newer macOS
Can't find duplicate photos in Mac Photos
Can't find as many duplicates as professional duplicate file finders do
Crash when scanning for entire hard drive
Inconvenient image preview
Instructions: How to use dupeGuru
How does dupeGuru work? This is just a basic guide. To understand in detail how this duplicate file finder works, please read the review above. Here we will take dupeGuru as an example.
Step 1. Open the app. Choose an Application Mode and a Scan Type.
Step 2. Click the add button in the lower left corner to add folders to scan. In the State column, you can exclude subfolders if needed. Click Scan.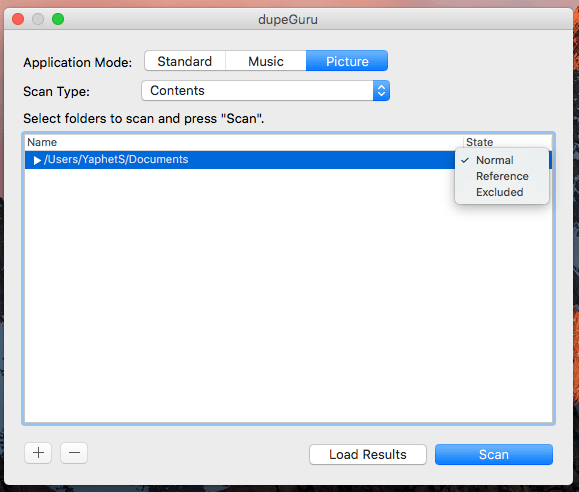 Step 3. When the dupeGuru finishes scanning, it will list all the detected duplicate files. You can sort and filter files, view details and preview images. To select all duplicate copies, in the top menu bar, go to Edit > Mark All.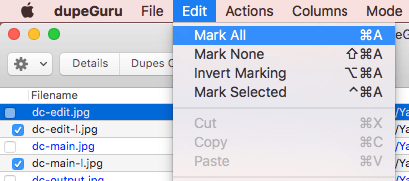 Step 4. To remove marked unwanted items all at once, select Actions > Send Marked to Trash or other options based on your need.
The best dupeGuru alternatives
If dupeGuru is not working for you or if it doesn't meet your needs, there are some alternatives you can choose from.
#1 Cisdem Duplicate Finder for Mac
Pros
Find duplicate photos, songs, videos, archives and any other duplicates
Also identify similar photos, with customizable similarity level
Offer 2 scan methods: File Content and File Name
Remove duplicates from Mac, external hard drive, SD card, Dropbox, etc.
Designed for Apple Photos, etc.
Support removing duplicates from Photos, iPhoto, iTunes, etc.
Offer 3 preview modes, allowing side-by-side preview
Offer an auto-mode to smartly select duplicates to mass remove with 1 click
Also offer 8 auto selection rules
Provide 3 safe removal options such Move to Trash
Compatible with OS X 10.10 or later, including macOS 12 Monterey

Free Download
Cisdem Duplicate Finder is the best duplicate file finder for Mac. Supporting all file types and formats, it can find all types of duplicate files such as duplicate pictures. With it, you can effortlessly weed out duplicate files and free up space on computer.
It helps you get rid of duplicate files from Mac's internal storage, external storage and cloud storage (e.g. Amazon Photos, Google Drive, OneDrive, etc.). Securely designed to work with Mac Photos, this dupeGuru alternative for Mac can accurately find and safely eliminate the duplicates in Photos.
Its auto-mode is smart, selecting all unwanted file duplicates to for you to delete at once. It's also customizable, letting you take the control.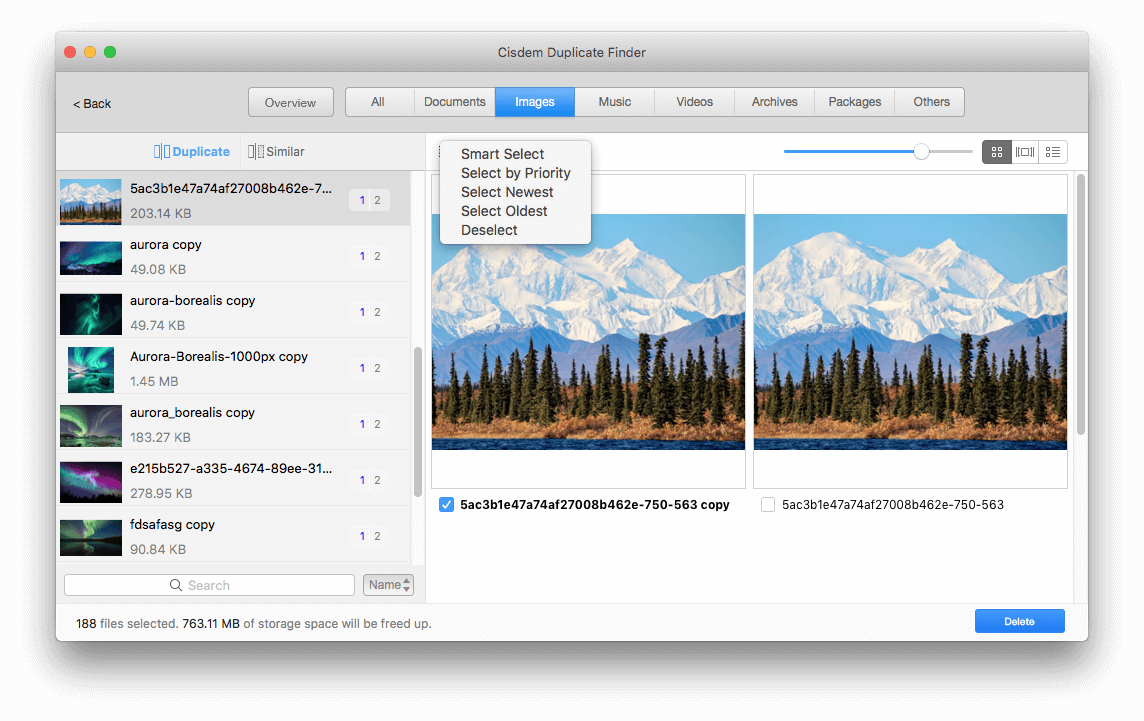 #2 Cisdem Duplicate Finder for Windows
Pros
Find pictures, music files, videos, documents, presentations, etc.
Can also find similar photos
Offers two scan modes
Multiple scan filtering options and folder exclusion
Allows users to move selected duplicates to Recycle Bin, among other options
Lets users search scan results by file type, size and date range
Helpful Selection assistant feature
Provides side-by-side image preview
Support Windows 10 and 11
Cons
Do not support 32-bit

Free Download
Just like dupeGuru, this duplicate file finder can work on PC. Almost same as the macOS version of Cisdem Duplicate File, this one is easy to use and powerful. It has two scan modes: By Content and By filename. Its results window gives users convenient view of the duplicate files that have been found. You can easily preview duplicate images side by side.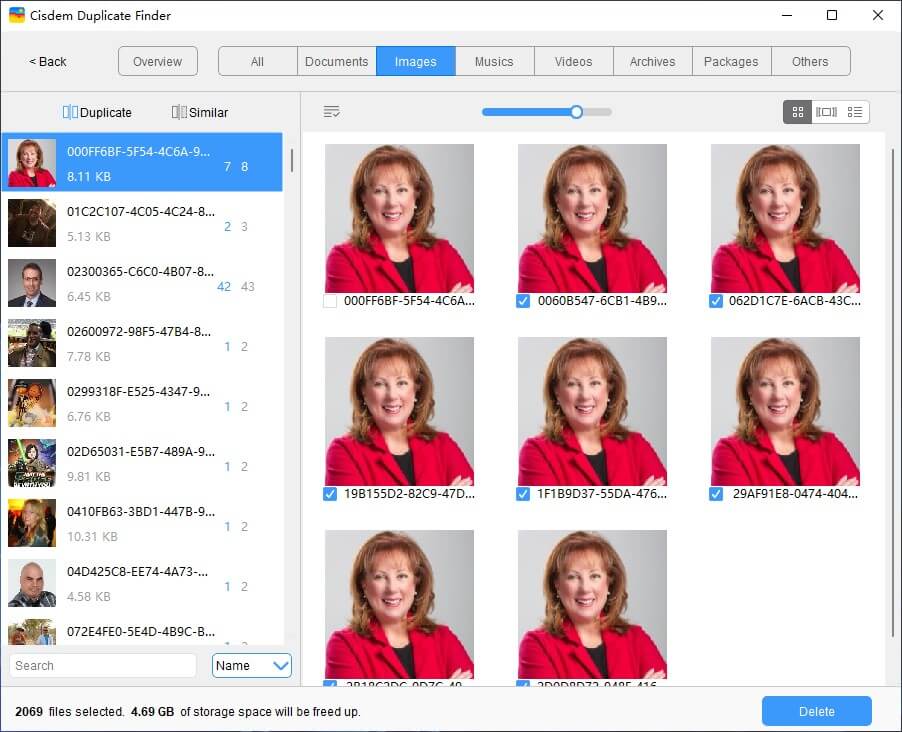 Below is a list of some other alternatives to dupeGuru.
CCleaner
Duplicate Cleaner
Gemini 2
VisiPics
AllDup
CloneSpy
Conclusion
Despite being freeware now, dupeGuru is professionally designed and good at detecting and deleting duplicate files on computer. But the Mac version hasn't been updated for five years as of 2021. Also, it is not able to deal with the duplicate files in Photos on Mac. Luckily, there are other great duplicate file finders available. If your computer is running out of hard drive space, you can free up space by eliminating duplicates on a regular basis.