dupeGuru is one of the most well-known duplicate file finders for Windows, Mac and Ubuntu. Does dupeGuru do a good job of finding and deleting duplicate files? Is it safe? How do you make the most of it for duplicate removal? Is there a good alternative to dupeGuru? Let's find out.
Part 1. dupeGuru review
What is dupeGuru?
Developed by Hardcoded Software, dupeGuru can find and remove duplicate files on computers. It supports common file types such as audios, images, documents and archives. You can set it to identify duplicates by content or filename. There are 12 supported languages such as English, German and Italian.
Supported OS:
Windows 11, 10, 8.1, 8 and 7, both 32- and 64-bit
macOS 10.12 or later
Ubuntu, both 32- and 64-bit
Is dupeGuru safe?
Yes, dupeGuru is safe. The installer is clean without any malware or adware. You can safely install or uninstall it. Make sure to download the app from trustworthy places such as the official website.
In general, this duplicate file finder is also safe to use. Designed with safety in mind, it takes measures to prevent users from deleting files by mistake. It allows users to remove duplicates by sending them to the Recycle Bin (Windows) or Trash (Mac), making it easy to recover deleted files.
However, dupeGuru for Mac can't safely deal with the duplicates in Photos on Mac.
The Best dupeGuru Alternative
Find duplicate photos, videos, audios and all other duplicate files
Let you identify duplicate files by content or filename
Identify similar images too
Find duplicate files on computer, external hard drive, SD card, etc.
Also help Mac users find duplicates in Photos and iPhoto
Offer 3 preview modes, allowing side-by-side image preview
Automatically select duplicates for you to mass delete with a click
Also offer selection rules to customize the selection
Offer 3 deletion options, including Move to Recycle Bin or Trash
Easy and safe to use
Easy to customize, letting you take control
Available for both Windows and Mac computers

Free Download

Free Download
Download and install
The latest version of dupeGuru is 4.3.1, which was released on Jul9th, 2022. You can download it for free from the official website or GitHub. Older versions are also available on GitHub.
It's easy to install and uninstall dupeGuru. Just follow the traditional installation or uninstallation process.
Is dupeGuru free?
Yes, it's freeware. Initially released in 2004, dupeGuru was commercial until 2010 when Hardcoded Software announced that its apps went open source. It is now open source and totally free to use. There is no need to buy a license.
Its last paid version was 2.12.0 with a price tag of $19.95.
dupeGuru features
Scan for duplicate files
dupeGuru used to have three editions: dupeGuru, dupeGuru Music Edition and dupeGuru Picture Edition. Later they were packed in the same app.
Now this app offers three modes: Standard, Music and Picture.
The Standard mode (formerly known as dupeGuru Standard Edition) can scan for duplicate files by content, folders or filename (using the fuzzy matching algorithm). You can choose to delete the duplicates, or rename them, or copy/move them to other locations.
The Music mode (formerly known as dupeGuru Music Edition) can compare audio files by filename, tags or contents. It does everything that the Standard mode does but has more scan types. It designed to find songs that are exactly the same or similar. And supports variety of formats including MP3, WMA, OGG and more. However, in the test, it failed to find all the duplicates in my music library. And sometimes it wrongly identifies duplicates. So be careful before deleting.
The Picture mode (formerly known as dupeGuru Picture Edition) specializes in searching for duplicate image files. It supports JPG, PNG, GIF, TIFF and BMP formats. And can identify duplicates by content or EXIF timestamp. In addition, if you want to preview the dupe images after scanning, you need to select this file then click on Actions > Open Selected with Default Application. That's time-consuming to check all images one-by-one. Also, you can set this mode to find similar photos. To do so, click the More Options button and then set the Filter Hardness slider to less than 100.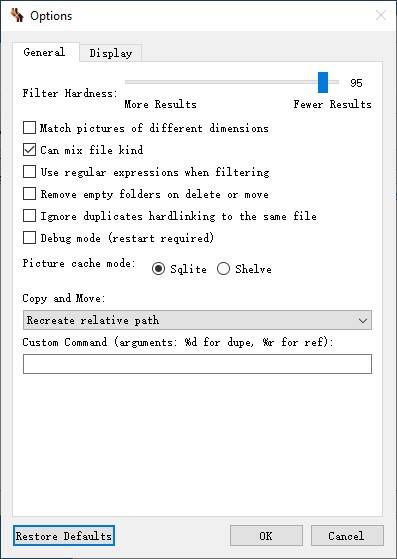 Easy to use and configure, dupeGuru does a good job of scanning PC and Mac for duplicate files. However, don't use this tool to find duplicate photos in Photos on Mac, because it will return false positives. And letting dupeGuru removing them will damage the Photos library. Mac users need duplicate file finder software that safely supports Photos.
View the found duplicate files
Once scanning finishes, the Results tab will appear, listing all the found groups of duplicate files for you to view. If you want, you can save the scan results or export them to HTML or CSV.
Each group consists of the original file (marked in blue) and its exact duplicate(s) or near duplicate(s).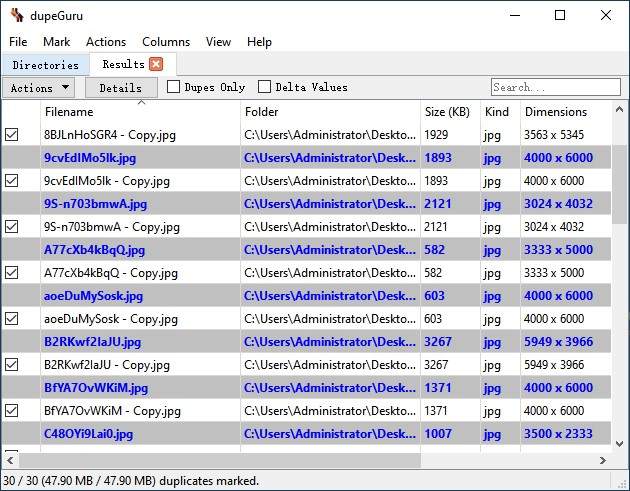 There are three additional view modes.
Details Click Details, and the Details window will pop up, showing the information (such as name and size) of the file that is currently selected. If dupeGuru is in the Picture mode, the Details window will also let you preview the currently selected picture.
Dupes Only This view mode only lists copies. Their respective original files will be hidden.
Delta Values If this view mode is enabled, the numerical columns (Size, Dimensions and Modification) will display the value differences (marked in orange) instead of the absolute values. For example, if the original image is 182 KB in size and its duplicate is 39 KB, the Size column will show -144 KB.
You can filter the scan results if needed. In the upper right corner of the Results tab, you can find a search box. For example, if you type "png" and hit enter, only PNG files will be shown.
Remove duplicate files
To remove a file duplicate, you need to mark it for deletion first. To mark a duplicate, you need to select the checkbox next to it. You can mark unwanted duplicates one by one by hand. Or, you can use the Mark All option to do that automatically. It's recommended to mark unwanted similar photos by hand.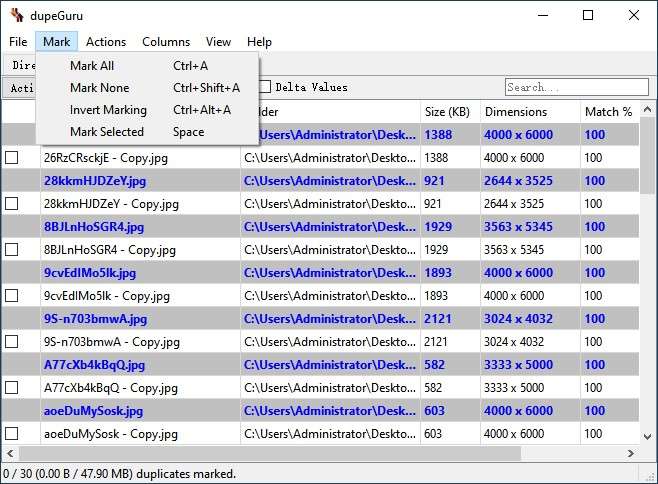 With dupeGuru, there are two ways to remove marked duplicates. You can move them to the Recycle Bin (Windows) or Trash (Mac) or move them to a folder of your choice.
When you click Send Marked to Recycle Bin, the Deletion Options dialog box will pop up. You only need to click the Proceed button. This dialog box also comes with a Link deleted files option, and a removed file will be replaced by a link to the original file if you enable this option.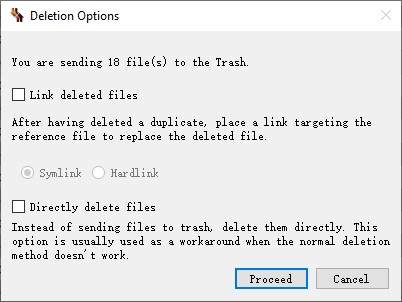 Summary
dupeGuru is a free, cross-platform duplicate file finder, which offers a range of features and options, including a few advanced ones. You can easily add folders to scan for and remove duplicate files. You can also have control over the scan and removal by customizing and taking advantage of the provided options.
It can find most duplicate files, but is easily outperformed by its paid counterparts. Although the developer claims that dupeGuru is easy to use without documentation, users may have problem understanding and using some of its features.
The biggest problem is that dupeGuru for Mac can't properly find duplicates in Photos. It's recommended to use an alternative with perfect support for Photos.
Pros
Offer a Standard mode to scan for various types of duplicate files
Offer 2 other modes to especially deal with duplicate songs and images
Find certain similar images
Let you exclude folders/subfolders and files from being scanned
Provide 4 modes to view duplicate files
Can automatically mark duplicates for deletion
Provide multiple deletion options
Offer advanced features such as Custom Command and Link deleted files
Configurable
Cons
Can't find as many duplicate files as professional software does
Can't properly find duplicates in Photos on Mac
May crash when scanning an entire hard drive
Inconvenient image preview
Part 2. Instructions: How to use dupeGuru
How does dupeGuru work? Check out this basic guide. To understand in detail how this duplicate file finder works, please read the review above.
1. Open dupeGuru. Choose a mode, for example, the Picture mode.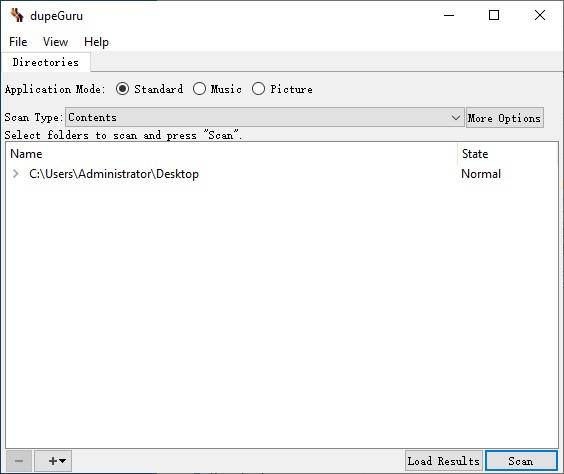 2. Click the plus icon in the lower left corner to add folders to scan. In the State column, you can exclude subfolders if needed.
3. Click Scan.
4. When scanning finished, it will list all the detected duplicate files and allow you to sort, filter and view them.
5. To mark duplicates to eliminate, go to the Mark menu and choose Mark All.
6. To remove marked duplicates all at once, click the Actions menu and choose Send Marked to Recycle Bin.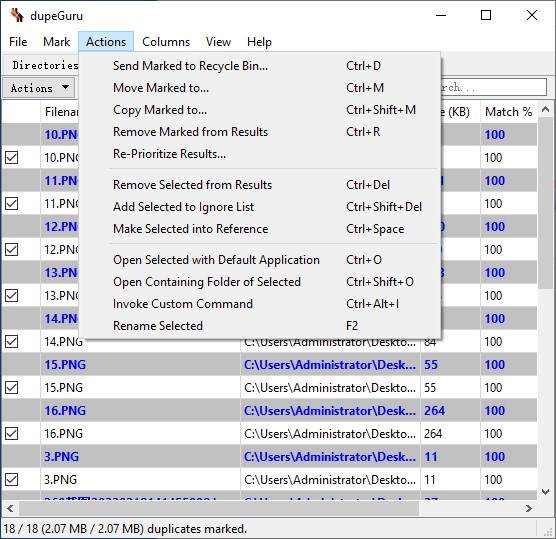 Part 3. The best dupeGuru alternatives
If dupeGuru is not working for you or if it doesn't meet your needs, there are some alternatives to consider.
Cisdem Duplicate Finder
Pros
Find duplicate photos, videos, audios, documents and all other types of duplicate files
Find similar photos too, letting you set the similarity level
Can identify duplicate files by content, regardless of filename
Can also identify duplicate files by filename
Find duplicate files on Windows PC, Mac, external storage and cloud storage
Find duplicates in Photos, iPhoto, Music and iTunes on Mac
Let you preview duplicate files side by side or in detail
Automatically select duplicates for you mass remove
Also offer multiple rules to customize the selection
Offer 3 removal options: Move to Recycle Bin/Trash, Move to Folder and Remove Permanently
Easy to use and powerful
Easy to customize
Available for PC, compatible with Windows 10 and Windows 11
Available Mac, compatible with macOS 10.10 or later
Cons
Incompatible with Windows 8.1 or earlier
Cisdem Duplicate Finder is the best duplicate file finder. It can find all types of duplicate files on your computer and external storage devices connected to your computer. It also helps identifies duplicates in cloud storage (such as OneDrive and Google Drive). In addition to duplicates, this tool can also help you deal with similar photos.
It can scan a folder or multiple folders for duplicate files at a time. Just like dupeGuru, it allows you to exclude certain folders, subfolders and files from scanning.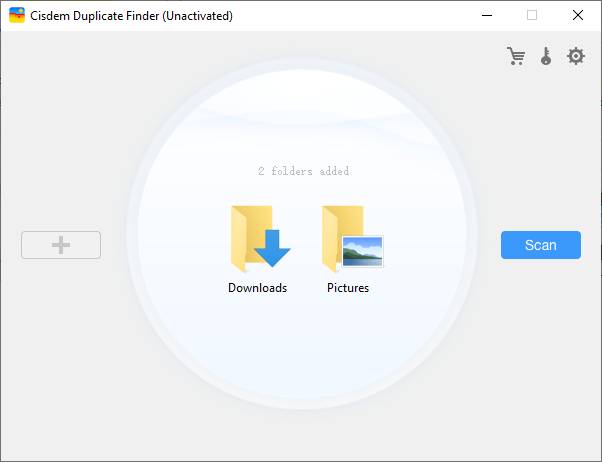 Note: Cisdem Duplicate Finder can accurately find and safely remove duplicates in Photos on a Mac, which makes it better than dupeGuru for Mac.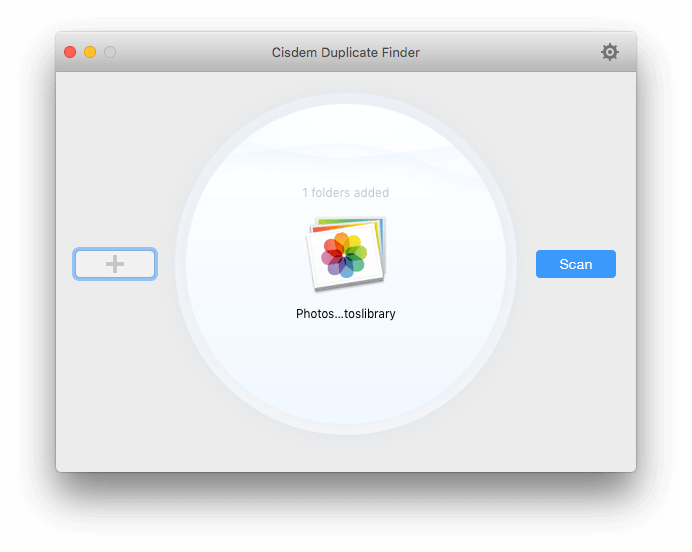 Its built-in preview feature is far better than that of dupeGuru. You can handily preview files side by side and zoom in the preview for better view.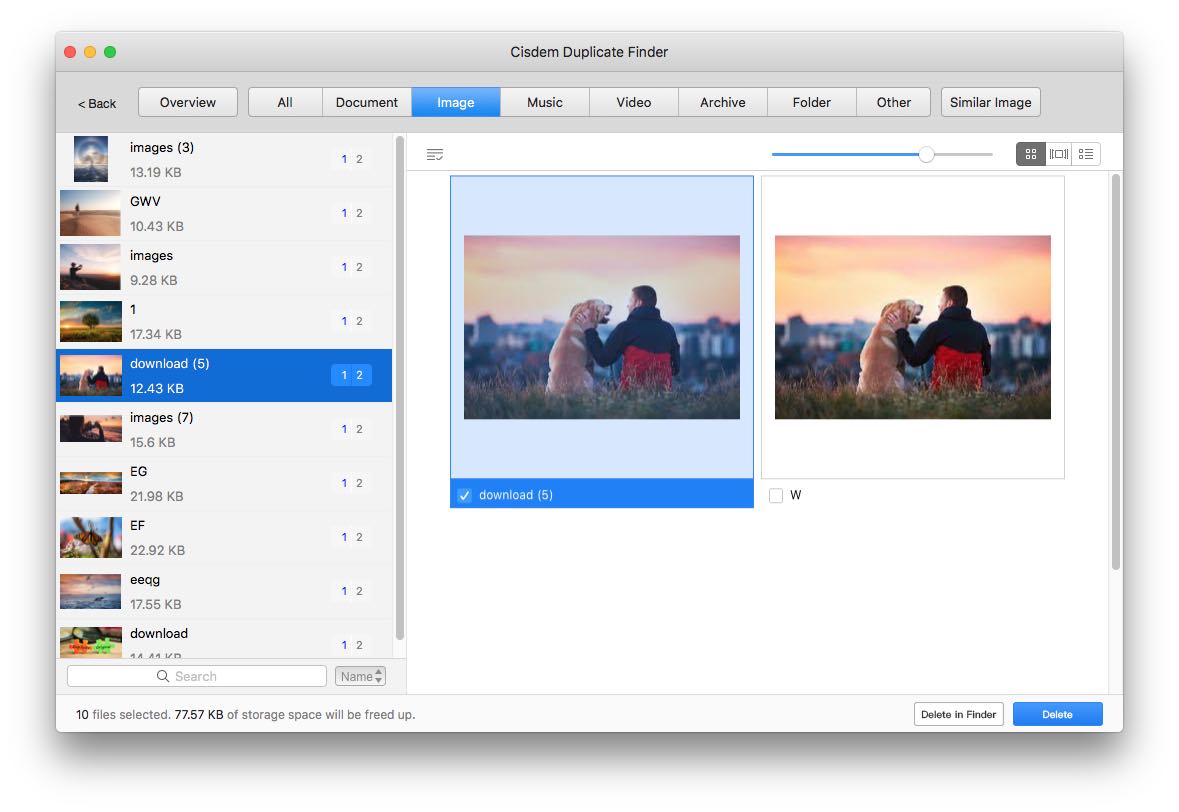 This dupeGuru alternative can decide for you which files to delete. It automatically and smartly selects duplicates to for you to bulk remove. It also provides 8 selection rules for you to customize the selection.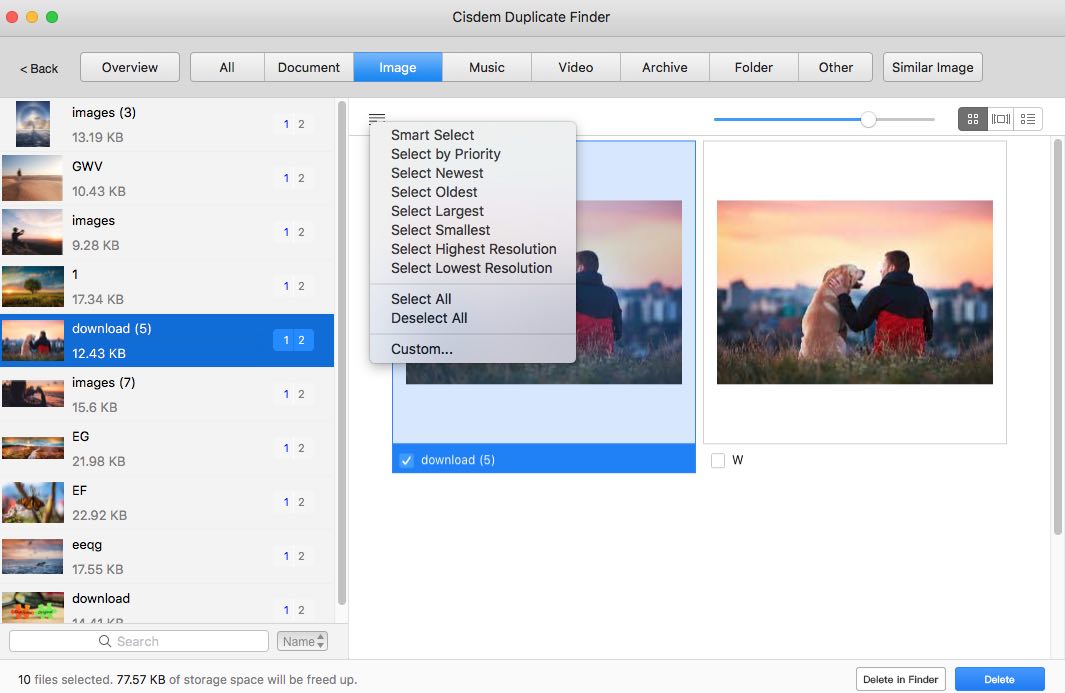 By default, this app removes unwanted duplicates by moving them to the Recycle Bin or Trash so that you can effortlessly restore accidentally files.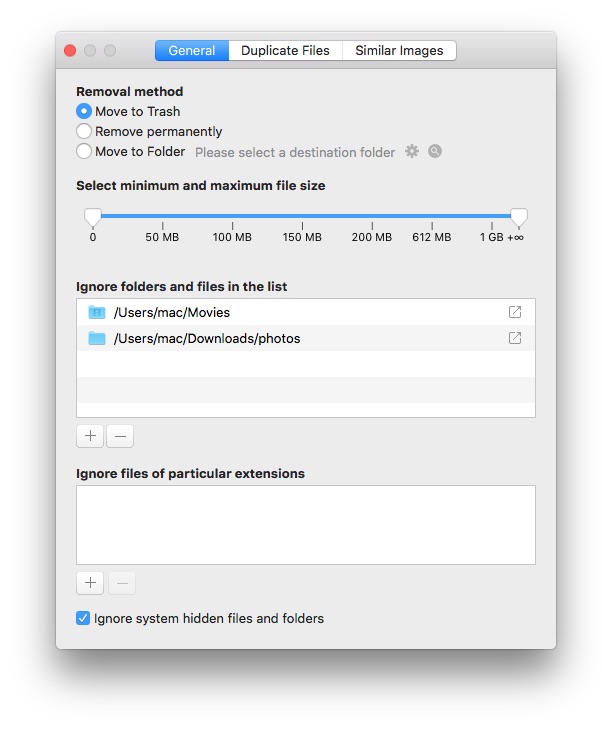 Below is a list of some other alternatives to dupeGuru.
CCleaner
Duplicate Cleaner
Gemini 2
VisiPics
AllDup
CloneSpy
Conclusion
Despite being freeware now, dupeGuru is professionally designed and good at detecting and deleting duplicate files on computer. But it is not able to deal with the duplicate files in Photos on Mac. Luckily, there are other great duplicate file finders available. If your computer is running out of hard drive space, you can free up space by eliminating duplicates on a regular basis.