If you shot a lot and have the habit of storing and managing photos on your Mac, duplicate photos may have accumulated on your Mac over time. Duplicate photos take up storage space and make viewing photos less enjoyable. Don't worry. This article will show you how to find and how to delete duplicate photos on Mac easily and quickly.
The Best App to Remove Duplicate Photos on Mac
Identify duplicate photos, videos, audios, documents and all other duplicate files
Identify similar photos too
Find duplicate files on Mac, external hard drive, SD card, cloud, etc.
Find duplicate files in 1 folder, or in and across multiple folders
Find duplicates in iPhoto, Photos, iTunes and Music
Display the found duplicate files for you to view and preview side by side
Automatically select all duplicates for you to delete with a click
Also offer rules (Select Newest, Select Smallest, etc.) to help you mass select
Remove duplicates from folders by moving them to Trash
Remove duplicates from Photos by moving them to Recently Deleted
Easy to use and powerful
Compatible with macOS 10.11 or later
Also available for Windows PC

Free Download

Free Download
Benefits and drawbacks of 3 methods in this article:
Method 1. How to quickly find and delete duplicate photos on Mac with duplicate photo finder
This method uses a duplicate photo finder and remover app called Cisdem Duplicate Finder. In addition to duplicate photos (which are exactly the same regardless of name), this app can find the lower resolution version(s) of a photo, the compressed version(s) of a photo, the same photo in a different format, very similar photos and other similar photos (such as edited ones), helping you easily get rid of redundant photo copies, burst mode pictures and more.
It also finds other types of duplicates on Mac: videos, audios, documents and archives, etc.
Below are the steps to delete duplicate photos on Mac in the easiest way.
1. Download and install Cisdem Duplicate Finder on your MacBook Pro, MacBook Air, iMac or Mac mini. Open it.

Free Download
2. To scan the Photos app or a folder for duplicate photos, add

the Photos library or folder.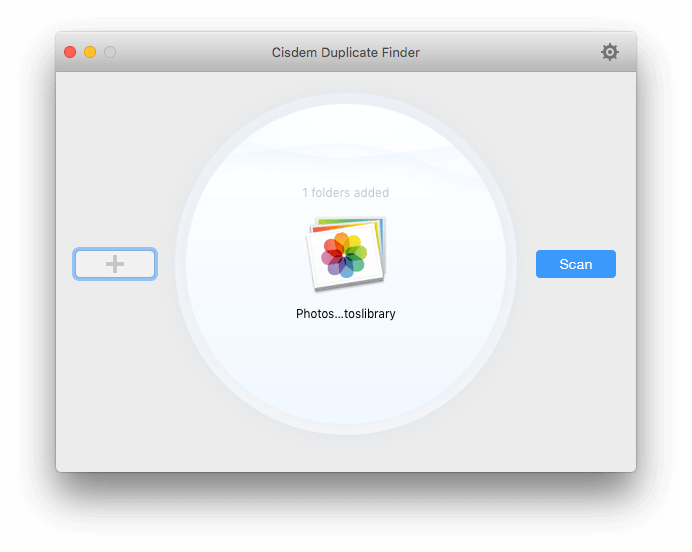 3. Click Scan.
4. When the scan is complete, the results window will display all the duplicate photos found on your Mac. It lets you compare the duplicates side by side.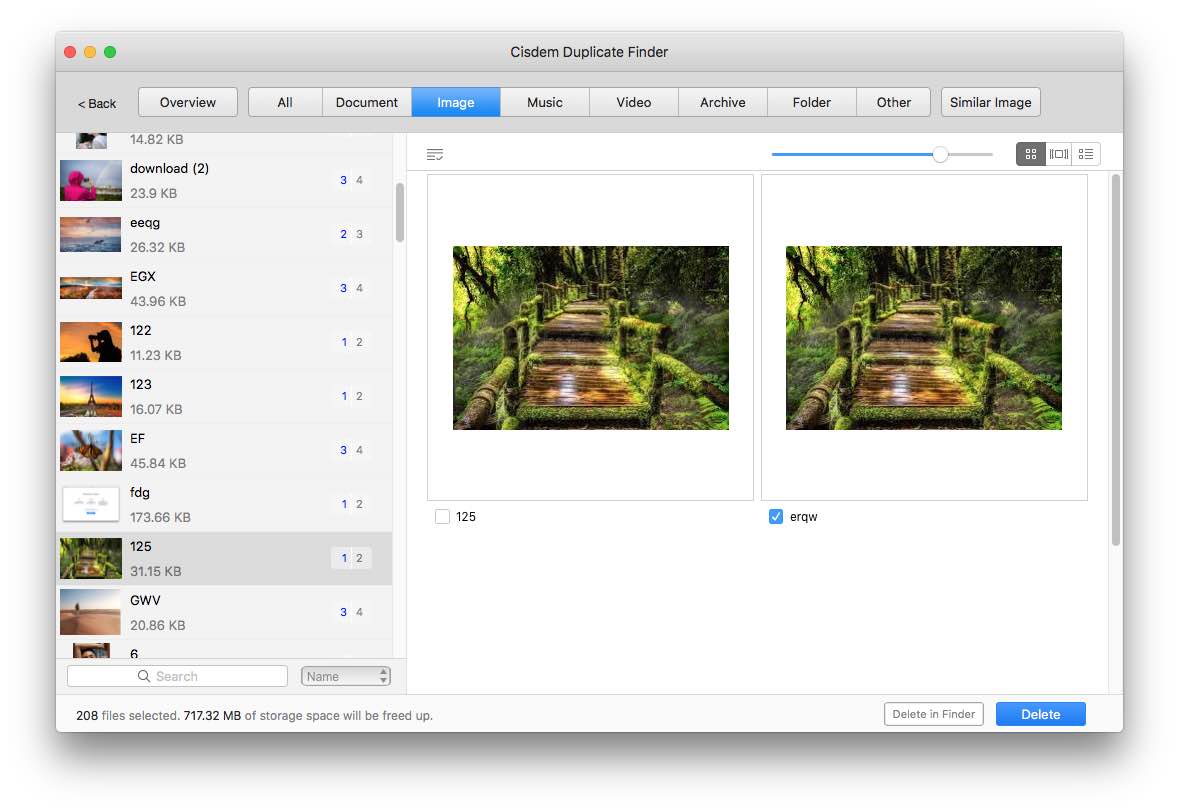 Get detailed information (including date created, size, resolution, tag, path) of the images via toggling the preview mode.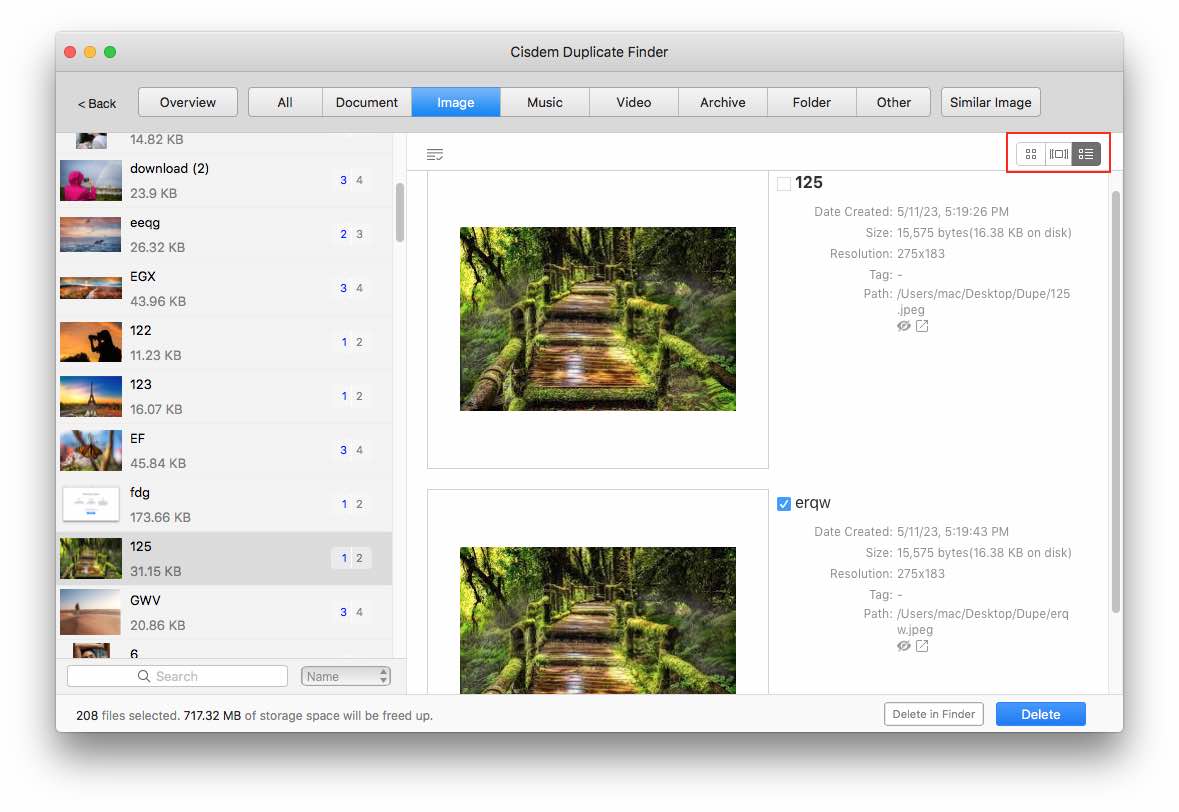 5. Select all the unwanted duplicate photos, via the auto selection, or a selection rule, or manual selection.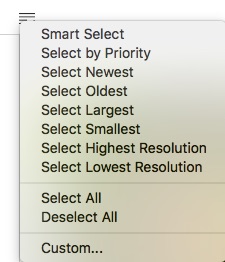 6. Click Delete to remove all the selected duplicate photos.
The duplicates removed from the Photos app will go to the Recently Deleted album in the Photos app and stay there for a month. To permanently eliminate them right away, you can click Delete All in Recently Deleted. The duplicate photos removed from folders will go to Trash.
Tip: Near duplicate photos on Mac show up under Similar Image tab
In addition to exact duplicate photos, you may have some near duplicate photos on your Mac: similar pictures with different resolutions, sizes or formats, pictures taken from different angles, distances or exposures, and edited photos, etc. You can enable or disable the Similar Image function from the Settings. It also allows you to customize the similarity.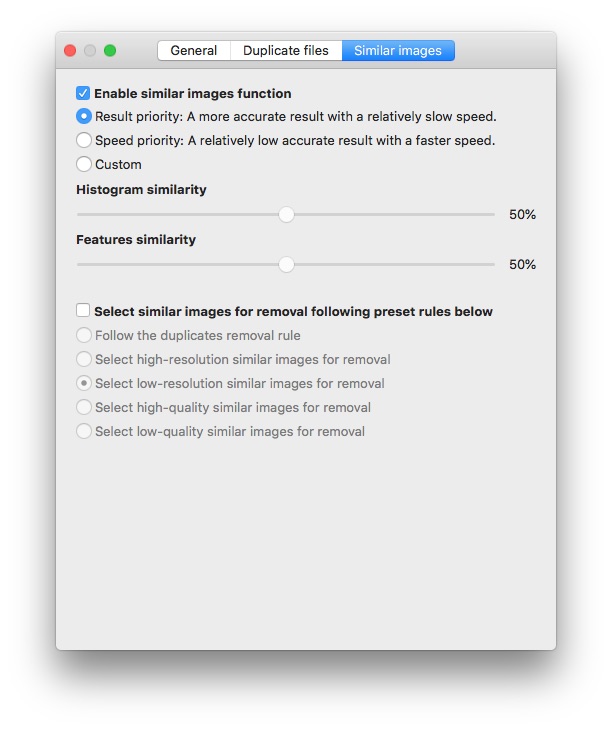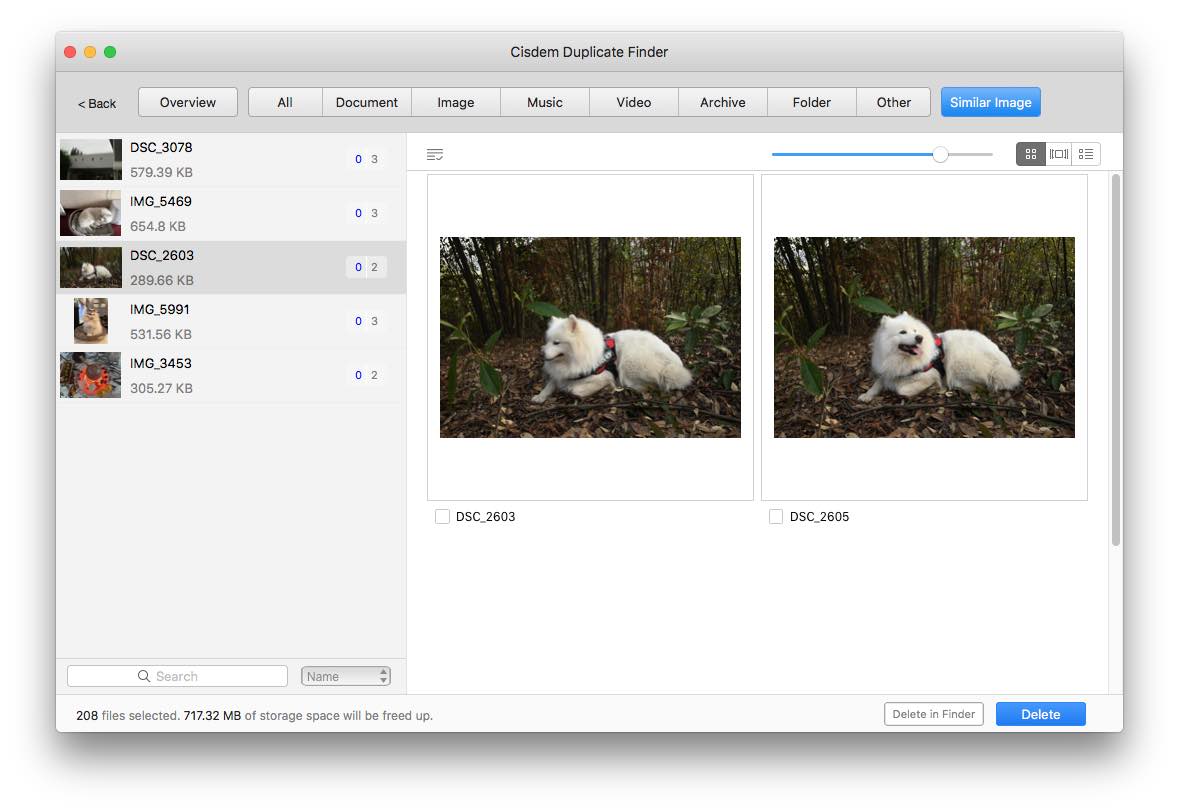 Method 2. How to find and remove duplicate photos on Mac with the Duplicates album
Applies to: macOS 13 Ventura only
With the release of macOS Ventura and the release of iOS 16, the duplicate detection feature finally comes to Apple Photos. If your Mac is running macOS 13 Ventura, then you can use the new duplicate detection feature built in to the Photos app to automatically find duplicate photos on Mac and then delete or merge them.
The Photos app in macOS Ventura has a Duplicates album. Clicking the album will display all the duplicate photos found in your Photos library, which can take a long time to display. In addition to exact duplicates, it finds identical photos that have different metadata, resolutions, or formats. It also detects very similar photos.
You have two ways to handle the detected duplicates: merging or deleting.
There is a Merge option for each set of duplicate photos. Clicking the Merge option will automatically keep one photo and delete the rest photo(s) of this set. In addition, the data (such as titles and captions) you added to photos of this set will be merged into the kept photo.
Or, in a set of duplicates, you decide which one(s) to delete and then delete manually. This manual removal option lets you take control and is more recommended.
Either way, the deleted duplicate photos go to the Recently Deleted album.
Below are the steps.
1. On your Mac computer running macOS Ventura, open the Photos app.
2. Open the Duplicates album by clicking Duplicates in the sidebar.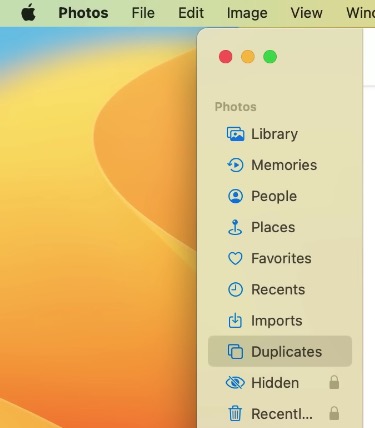 3. Now you can easily view the duplicate photos detected in the Photos library.
4. To delete duplicate photos on Mac, click the Merge option or delete by hand.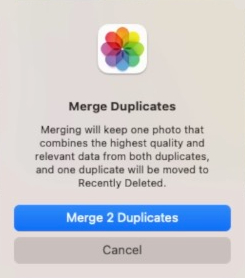 If Mac Photos' Duplicates album is not showing, try these fixes.
Method 3. Manually find and remove duplicate photos on Mac for free via Smart Folder
Applies to: All macOS versions
Unlike the previous two methods, this one doesn't handle the duplicates in Mac's Photos app. This method only deals with the duplicate photos in folders on Mac.
On Mac, Smart Folder is a special folder that automatically gathers files based on specified criteria. This feature helps to find duplicate photos on Mac. You can set multiple criteria. Smart folder will automatically update to show all files that match your criteria and help you find duplicates easily. For example:
Images in specific format: PNG, JPEG, RAW, etc.
Images containing a particular keyword in the file name
Images creation date, modification date, or last opened date fit within a specific time range
Below are steps:
1. Open Finder on your Mac.
2. Go to the folder in which you want to search for duplicate pictures, such as Downloads, Pictures.
3. Click on File > New Smart Folder.

4. Click the plus button below the search field. Add your search criteria.
Such as: Kind is Image, is JPEG. You are able to add more than one criteria. Just click the plus button again.

5. From the View menu at the top of the screen, choose the as Cover Flow option. This allows you to view images with horizontal scrolling.
6. Click on View > Arrange by to arrange photos by Size or Name.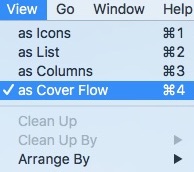 7. Browse through the photos and identify the duplicates by visually comparing photos and checking photo information. To view the detailed information about a picture, right-click on it and select Get Info.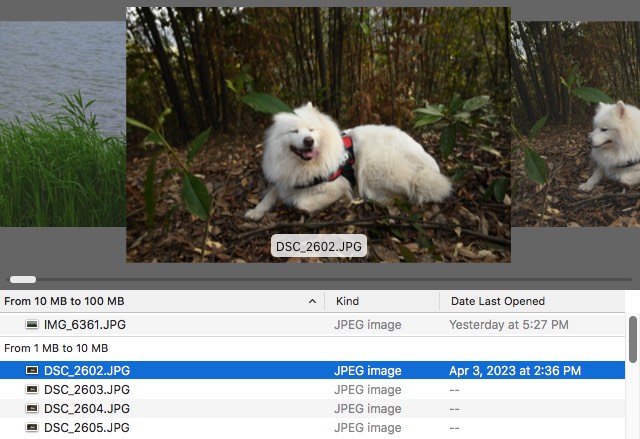 8. Select one or multiple redundant duplicate photos, control-click and choose Move to Trash.
You can save or delete the Smart Folder after the duplicates are removed.
FAQs
Can Mac's Photos find duplicates?
Apple Photos, or simply Photos, is a photo management app developed by Apple. It's available on Mac and iPhone. Mac's Photos app can detect exact duplicates during importing.
When it comes to duplicates that are already in your Photos library, Photos in macOS 12 Monterey or earlier can't detect them, but Photos in macOS 13 Ventura can.
Can Mac's Photos delete duplicates?
Photos on Mac lets you delete or merge (only in macOS 13 Ventura) the duplicate photos that are found manually or by the duplicate detection feature. It doesn't delete for you, which is the right thing to do.
How do I remove duplicates from iPhoto?
iPhoto is the predecessor of the Photos app. If you have an iPhoto library filled with duplicates, you can import the library to the Photos app and then use the first two methods to get rid of duplicates in iPhoto.
Conclusion
Keeping your photo library free from duplicates brings a better browsing experience and makes it easier to organize photos. This article shows you how to delete duplicate photos on Mac in different ways in different macOS versions (such as macOS Ventura, macOS Monterey, macOS Big Sur, macOS Catalina, macOS Mojave, macOS High Sierra, etc.). You can quickly remove duplicates all at once, easily mass delete multiple duplicates, or handle them one by one.