Known as Mac OS X from 2001 to 2012, OS X from 2012 to 2016, and macOS since 2016, the operating system for Apple's Mac computers comes with a preinstalled app called Photos to browse, organize and manage photos. The photos in Apple OS X Photos are stored in the Photos library in your Mac's Pictures folder.
As with any apps, it's not perfect. Duplicate photos are one of the most common issues with the Photos app. How do I delete duplicate photos in OS X Photos? You will find the best answer in this guide.
The Best App to Delete Duplicate Photos in OS X Photos
Cisdem Duplicate Finder
Safely remove duplicate photos from Photos library
Even support Photos library stored on external hard drive
Find duplicate photos in regular Mac folders as well
Also find duplicate audios, videos, documents, archives and other duplicates
Identify true duplicate files based on content
Support Mac's HD, external HD, SD card and more
Offer 3 preview modes, allowing side-by-side image preview
Automatically select duplicates to mass remove with 1 click
Also let you control the selection by offering 8 selection rules
Support macOS 10.10 and later

Free Download
Why does Photos duplicate photos when importing?
Apple Photos for Mac (previously iPhoto until 2015) makes it easy to import photos from an iPhone, a digital camera, an external storage device or a regular folder on Mac. It informs users of any duplicate upload of the same file, as an effort to avoid duplicates.
However, Photos app could still duplicate photos when importing sometimes. There are two common scenarios or reasons.
When you import photos from iPhone to Mac Photos app, the app's "Import All New Items" can automatically recognize and import new photos. Sometimes, it may fail to recognize and import photos that are already in your Photos, leading to duplicate photos.
Also, the issue may be caused by iCloud, when "iCloud Photos" and "Optimize iPhone Storage" are enabled on your iPhone.
---
How to remove duplicate photos from Photos library, automatically and safely
To delete duplicate photos on Mac photos app, you need to remove duplicates from the Photos library. It's possible to do the removal manually. But you won't want to try it if there are hundreds, thousands or more items in your library!
The best way is to use duplicate photo finder and cleaner software to automatically identify them, saving you from browsing through numerous photos and manually locating duplicates. For this guide, I use Cisdem Duplicate Finder, which is considered the best duplicate photo finder Mac 2020 by many Mac users.
Cisdem Duplicate Finder uses advanced algorithms to accurately detect duplicate photos in your library based on content regardless of filename. After that, it automatically and smartly decides which photos to delete and which to keep, or lets you decide yourself.
And then Mac Photos asks if you allow this duplicate photo finder to delete the unwanted duplicates. The deletion won't happen until you grant the permission.
The software is safely designed for Mac Photos, and the whole process adheres to the mechanisms of Photos, ensuring absolute safety and reliability.
Below are the steps to remove duplicate photos from Photos library easily, securely and quickly.
1. Download Cisdem Duplicate Finder for Mac. Install the software. Open it.

Free Download
2. Locate your Photos library, which is in Mac's Pictures folder by default.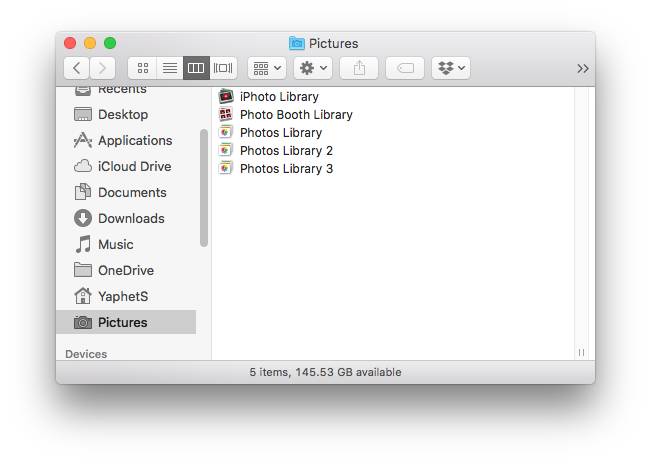 3. Drag Photos library (rather than Photos app) into the software. Click Scan.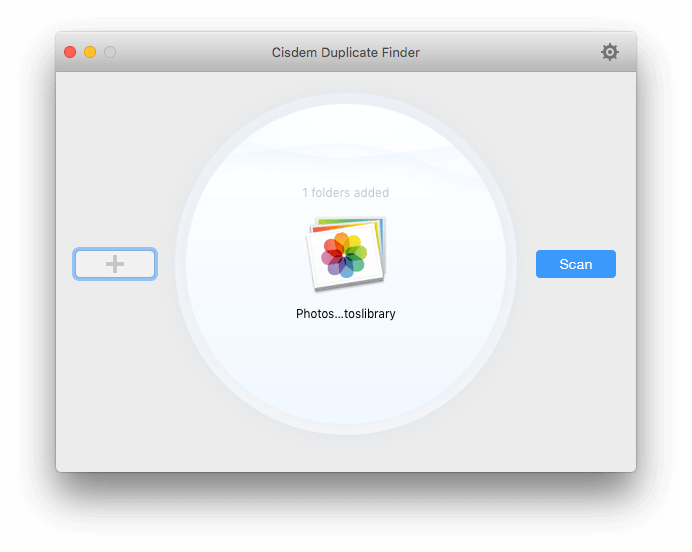 4. Once the scan is done, choose Images tab > Duplicate sub-tab. View, sort and preview the duplicate photos as you like.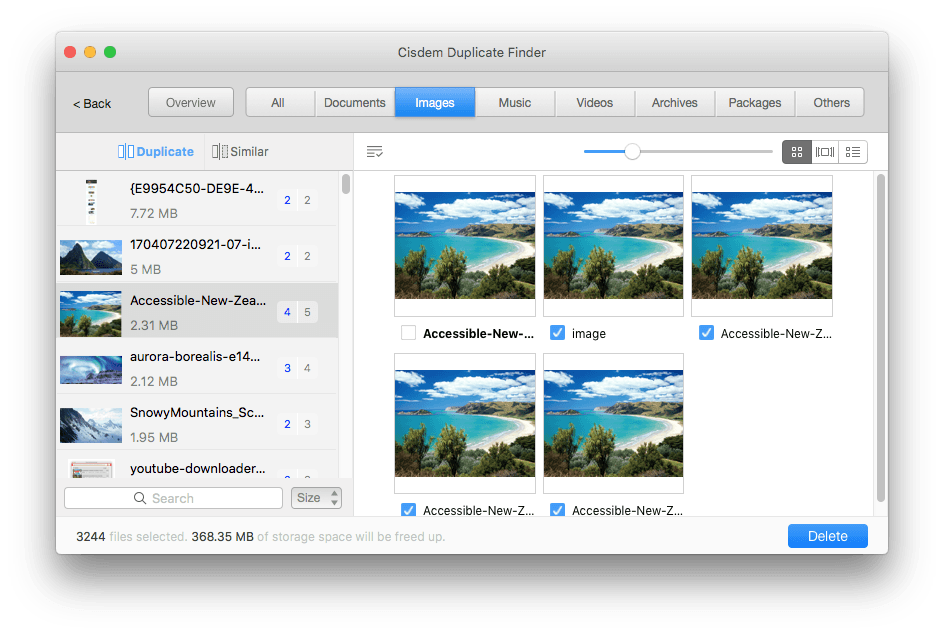 5. The Auto-Select function already smartly and automatically selects duplicates for you to mass delete with one click.
If not satisfied with the auto-selection, highlight all items under Duplicate sub-tab with Command-A and choose a desired selection rule.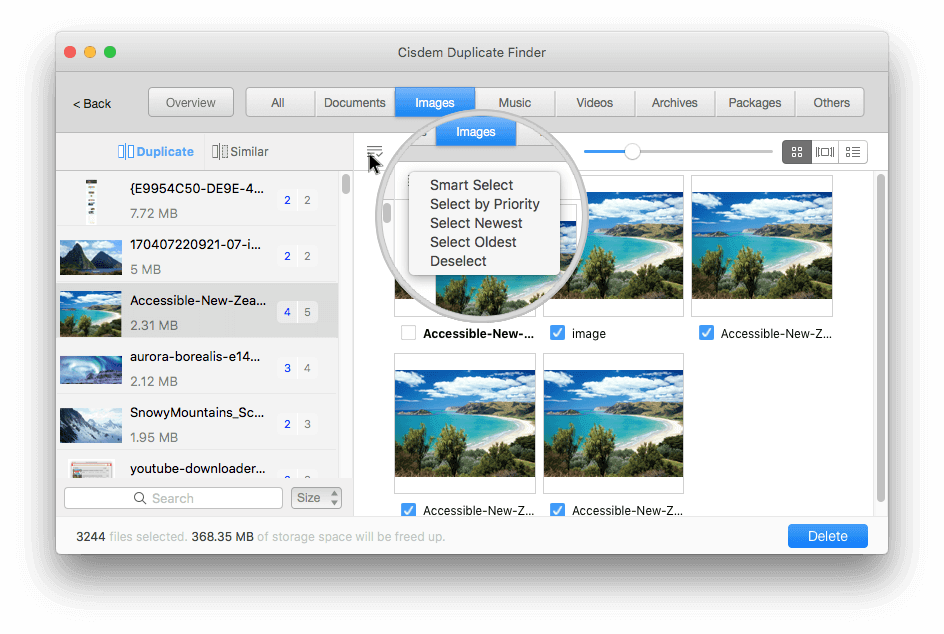 6. Now all unwanted photo duplicates are selected. Click Delete.
7. In the pop-up dialog box, click Delete to allow the deletion.

Now the duplicate photos are deleted and go to Recently Deleted in Mac Photos app. And the app will automatically delete them permanently after 29 days. Or, you can get rid of them right away by clicking Delete All.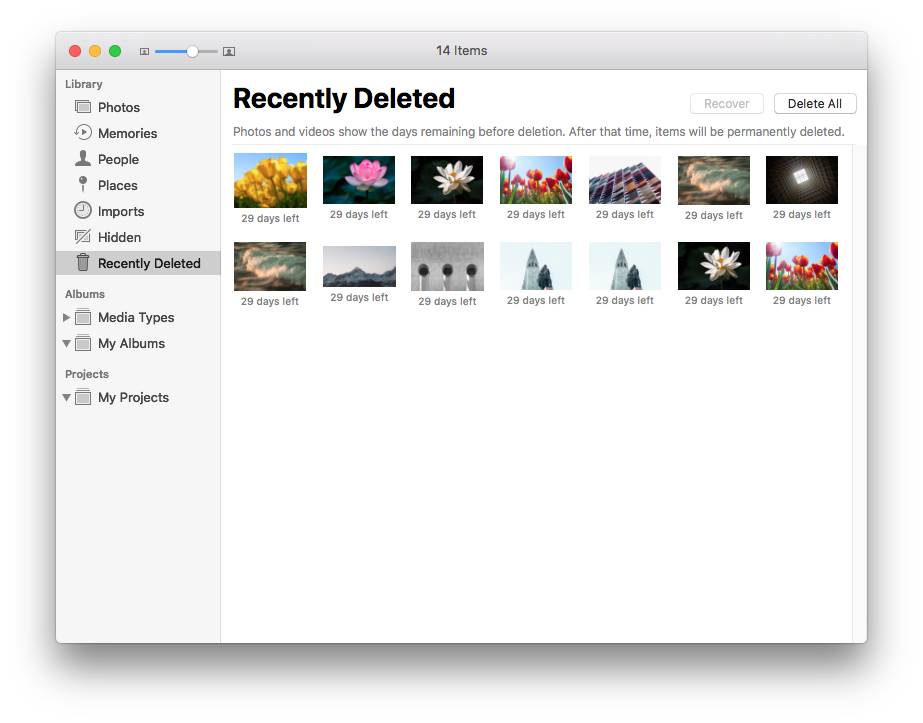 Note 1: If your MacBook Pro, MacBook Air or iMac, etc. is running on macOS 10.14 Mojave or earlier, Step 7 will be different. And a few extra easy steps will be needed. In this case, the software will delete duplicates by moving them to the Cisdem Duplicate Album it creates in Photos app.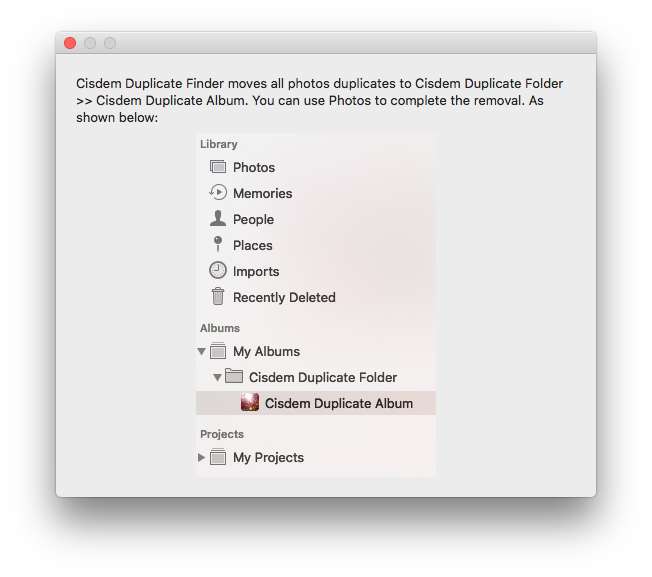 Note 2: If your MacBook Pro, MacBook Air or iMac, etc. is running on macOS 10.15 Catalina or later, and the Photos library is set as the System Photo Library (likely to be so if you have only one library for your Mac Photos), the 7-step guide above is all you need to delete duplicate photos on Mac Photos. If it is not the system library (may happen if you have multiple libraries), there are a few additional easy steps to follow.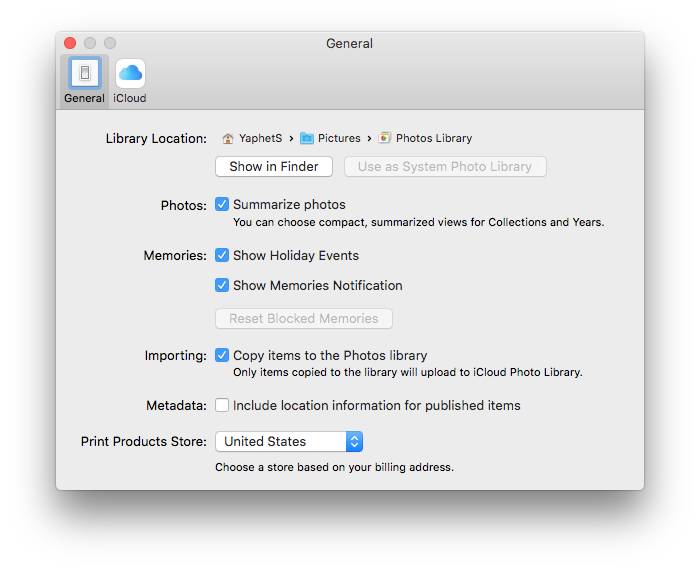 Tips to automatically delete duplicate photos in OS X Photos
Find near duplicate photos
In addition to exact duplicate photos (photos exactly identical regardless of filename), Cisdem Duplicate Finder can also help find and delete near duplicate photos (or called similar photos) on Mac. Exact duplicates are listed under the Duplicate sub-tab, near duplicates under the Similar sub-tab.
They are grouped for you to easily pick the best shots to keep and select the unnecessary ones to eliminate. If you want to, you can choose a desired selection rule to select in bulk.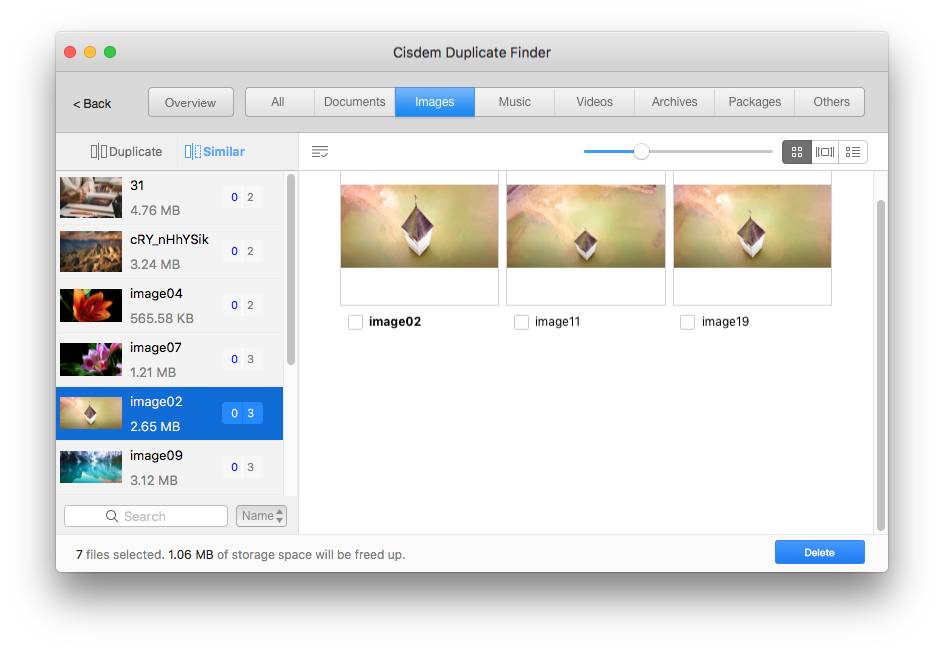 Remove duplicate photos between two Mac Photos libraries
It's possible to have multiple libraries for Mac Photos app. You can use this duplicate photo finder and cleaner to scan multiple libraries for the duplicates in and across them.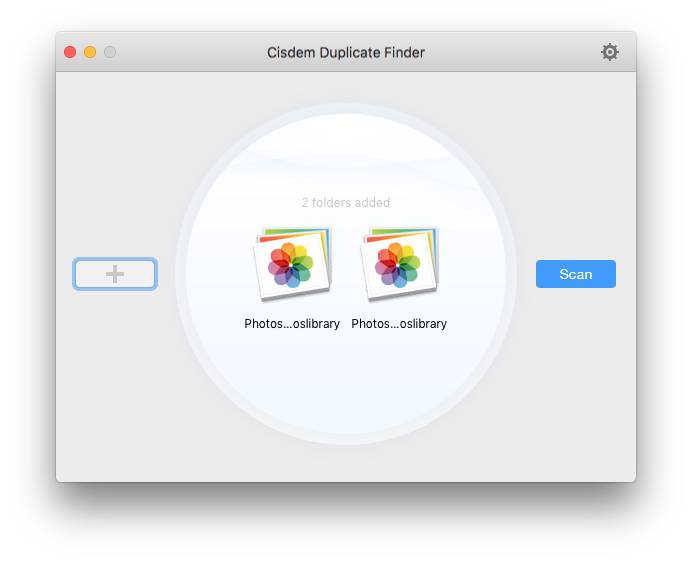 Cisdem Duplicate Finder for Mac
Securely delete duplicate photos on Mac Photos app
Work with Photos libraries stored on Mac and external hard drive
Also remove dupes from iPhoto, iTunes and Music apps
Find duplicate pictures, videos, songs, documents, archives and more
Scan one or multiple folders or libraries for duplicates
Let you preview and compare photos side by side
Offer multiple options to select dupes for a 1-click deletion
Help free up space

Free Download
---
How to delete duplicate photos on Mac Photos manually
You can choose to delete duplicate photos in OS X Photos app by hand if there are only a few photos in your Photos library.
In Apple Photos app on your Mac, choose Library > Photos.
Click the Photos tab at the top. Make sure it is showing all photos.
Press and hold the Command key and select the unwanted photo duplicates by hand.
When you are done selecting, perform a right-click. Click Delete ... Photos.
Go to Recently Deleted. There, select all the items and click Delete All.
Tip to delete duplicate photos in Photos by hand
Mac OS X Photos has a function called Smart Album. If you need to find out the duplicates among a certain type of photos rather than all your photos in Photos library, this function can help.
Hover your mouse over My Albums, and a plus icon will appear. Click it and choose Smart Album. Name this album and create one or more conditions. Click OK. Photos that fall into this condition or combination of conditions will appear in this Smart Album.

Now create a regular Photos album and put these photos in to it. Browse through these photos, identify duplicates and select the unwanted ones for elimination.
---
Conclusion
Keeping your Photos app free from duplicate photos brings a better browsing experience and makes it easier to organize your photos. Removing duplicate photos from Mac Photos app can also reduce library size and help free up space on Mac. This article shows you how to safely and effectively get the job done on macOS 11 Big Sur, macOS 10.15 Catalina, macOS 10.14 Mojave and earlier OS X versions.