Repair your corrupted videos that not playing, no sound, black screen, flickering, etc. using the best video repair software!
With the convenience of mobile cameras in our pocket, we are able to create videos at anytime, but due to bad sectors on our storage device, virus attack, improper video opening/transferring/converting/editing, our videos may get corrupted, and it is not easy to repair a corrupted video without using a dedicated program.

A high-quality video repair program provides the simplest and most reliable solution to fix your damaged videos. If you need to repair your videos, we've put together this list with 15 best video repair software for you.

Cisdem Data Recovery for Mac and Windows
Best Video Repair Software for Mac and Windows 2023
Repair videos in virtually all video formats (mov, avi, mp4, m4v, etc.)
Batch repair videos at one time
Preview videos after repair
Repair photos as well and support batch repair
Recover deleted, formatted and lost videos, photos, documents, archives, emails, audios and so on
High recovery/repair rate

Free Download

Free Download
1.Cisdem Data Recovery
Reasons to buy:
Best repair result
Repair and recover 1000+ files (videos, photos, etc)
Support batch repair
Filter, preview and recover files to cloud
Support NAS recovery
Easy and fast to use
Available on Mac and Windows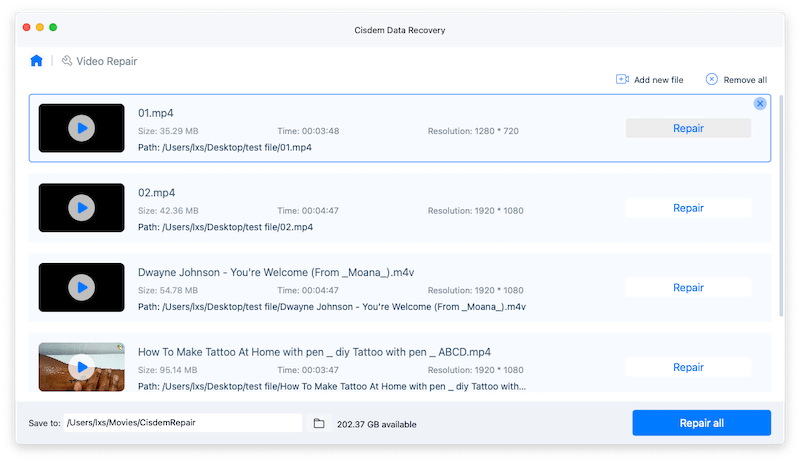 Cisdem Data Recovery for Mac or Windows is picked as the NO.1 in this list for a good reason: it has the simplest process to repair different kinds of videos with original quality.
You can import one video by drag and drop for repair, or directly throw a folder and let Cisdem auto import all the videos in that folder for repair. The thumbnail, video size, length, resolution, title and path will be displayed to make sure you are repairing the wanted video, instead of wasting time on a unwanted video.
It is more than a corrupt video repair program, it is also a streamlined data recovery app with a heavy focus on restoring deleted or unsaved files in 1000+ formats, including videos, audios, photos, word/excel/powerpoint/pdf documents, archives, emails, bookmarks, etc. There is also a smart filter and convenient preview tool for fast recovery.
To save the space on your internal or external hard drive for recovered files, Cisdem also offers an solution to recover files to DropBox, OneDrive, Google Drive, pCloud, Box.
It has both macOS and Windows versions, applying to repairing and recovering files from internal or external storage devices.
2.Stellar Repair for Video
Reasons to buy:
Repair videos in 20+ formats
Support batch repair
High quality videos saved
Reasons to avoid:
The repair process is slow
Fail to preview videos sometimes
No video thumbnail
Cannot remove video from the import list
Repair video files only
Available on Mac and Windows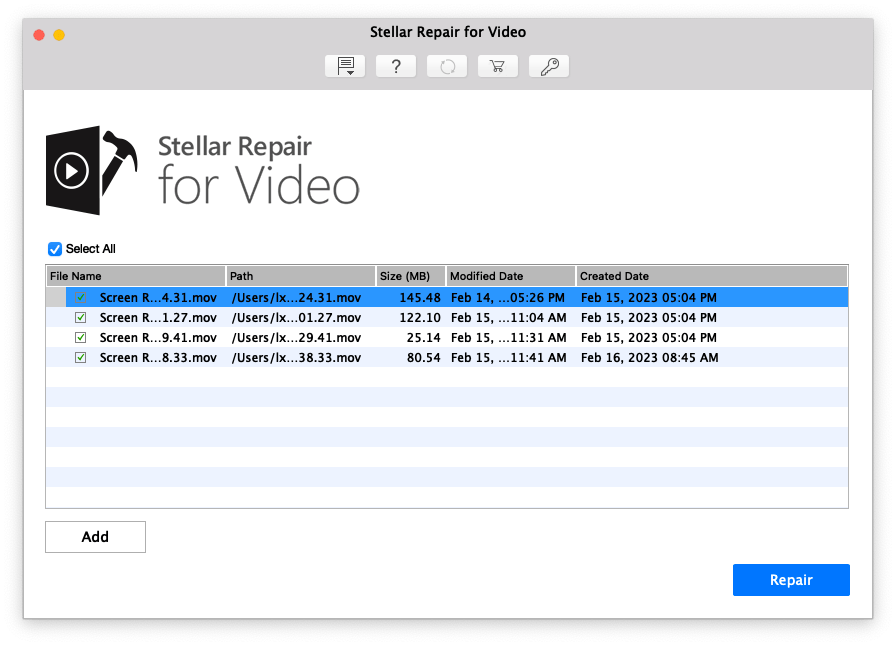 Stellar is a famous software developer in the field of data recovery solutions. And it is easy to believe a developer as powerful as Stellar offers good video repair program too, it is called Stellar Repair for Video.
It can repair single and multiple videos in 20+ formats at one time, as long as it repairs your videos, the saved videos come with high quality. This program is designed to repair videos only, which means the repair process is quite simple and streamlined. However, this app responds a little slow when clicking its icons or loading a file, there is no video thumbnail to preview the corrupt videos that are not black screen. Even, I failed to preview the repaired video sometimes, the built-in video player won't be able to open the video and preview.
3.Repairit
Reasons to buy:
Repair video, photo, document and audio files
Support batch repair
Preview videos before and after repair
Fast to repair
Available on Mac and Windows
Reasons to avoid:
Recover 16 formats of videos only
Crash when repairing 10+ videos at one time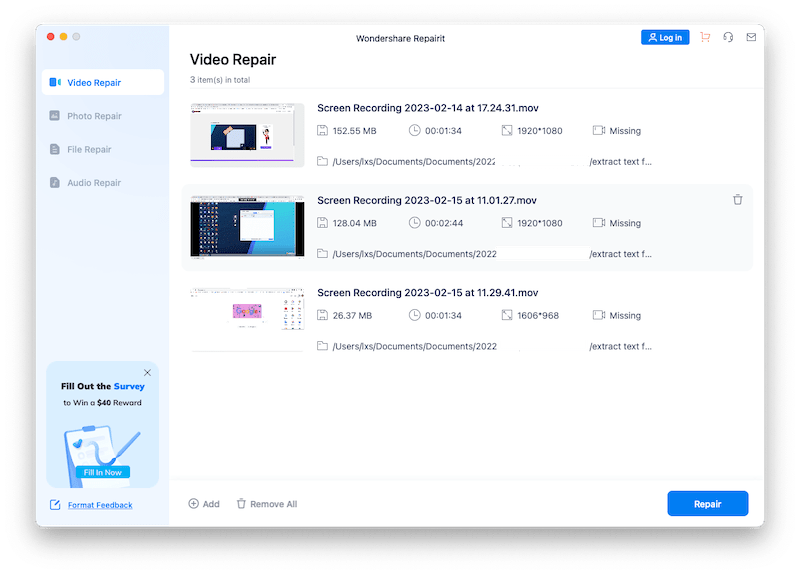 Unlike Stellar, Wondershare's Repairit is filled with repair tools to bring different files to life, including video, photo, microsoft office document and adobe files, also audio.
The interface is optimized for simple repair, which makes this program suitable for users that need to repair files very often. We've tested the speed, yes, the repair process can be done quickly, however, when we uploaded 10+ videos to batch repair, the program froze and finally crashed
4. MiniTool Video Repair
Reasons to buy:
Easy to use
Batch repair videos
Support all common video formats
Offer advanced repair feature to recover corrupted videos successfully
Reasons to avoid:
Not display thumbnail or preview video before repair
Only available on Windows
Repair process is slower than other tools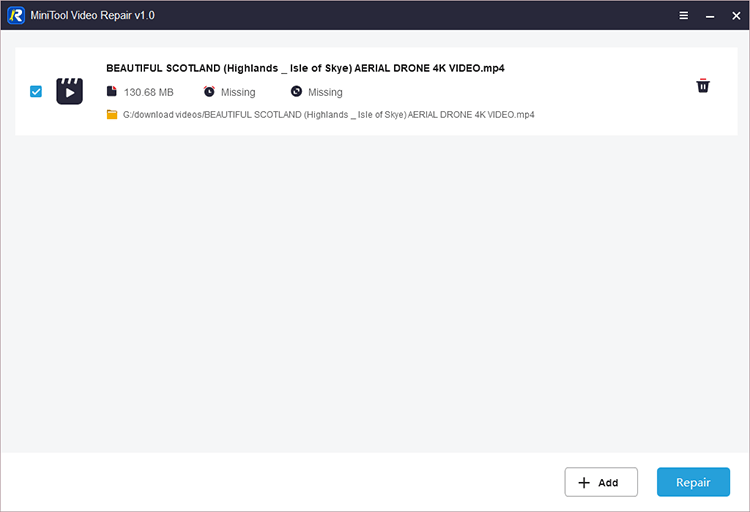 If you are looking for a beginner video repair tool, MiniTool is a good start due to its neat interface and simple operation, which runs on Windows machines only.
To increase the chances of repairing videos successfully, MiniTools also adds a advanced mode that allows users to add a sample video and repair basing on the sample video. It supports batch repair as well, but patience is needed when repairing multiple videos in this program. In addition, the current version of this program is still V1.0.0, the performance may not be stable but we can expect a boost soon.
5. Remo Video Repair
Reasons to buy:
Very easy to use
Support all common video formats
Available on Mac and Windows
Reasons to avoid:
Cannot repair multiple videos concurrently
Cannot preview or not show thumbnail of video before repair
The defaulted player to preview repaired video is VLC, you have to download or manually choose other player to preview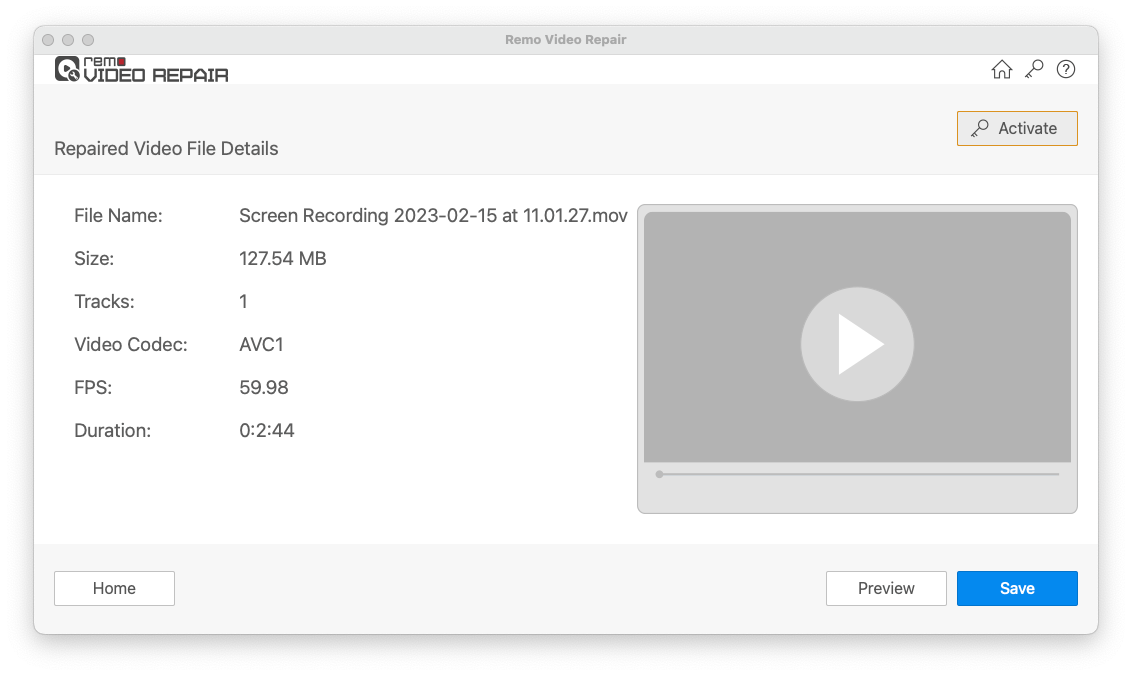 You can use Remo Video Repair for simple video repair tasks on both macOS and Windows installs. This tool doesn't ship with additional tools for advanced recovery, you have to repair videos one by one, and have to download VLC or manually choose a video player to preview the repaired video. Though it cannot repair all videos successfully, the repair is speedy.
6. R-Studio
Reasons to buy:
Repair videos, photos and other files on damaged drive or partition
Support NAS recovery
Recover deleted and formatted files from internal and external drive
Create image to recover files from bad sectors
Offer S.M.A.R.T. monitoring
Provide in-depth file analysis
Available on Mac and Windows
Reasons to avoid:
Large installer (120MB)
Need to refer to document/video tutorial to master the program
Expensive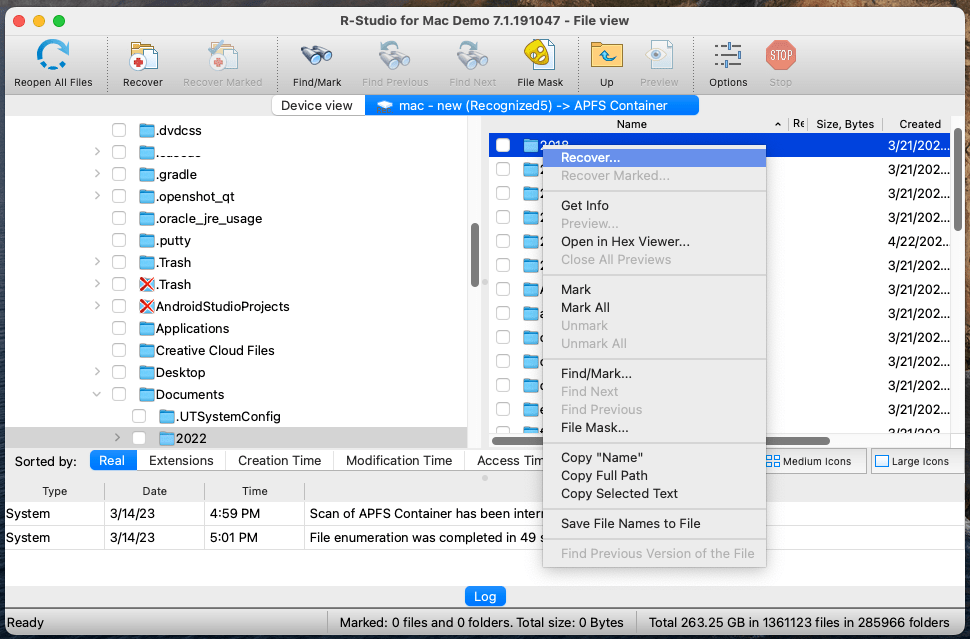 R-Studio is a pro-level video data recovery tool, not just a video repair tool. It may be one of the best data recovery solutions for advanced users, because it supports recovering files from bad sectors, damaged partitions, including those videos got corrupted.
Data recovery is not an easy job, but thanks to R-Studio's great interface and online tutorials, all of its tool become easy to use, you can be a data recovery expert in no time, with the help of its advanced data recovery algorithm and in-depth file analysis.
The Mac version is much expensive than the Windows version, but both house all the features it promises to users.
7. 4DDiG Video Repair
Reasons to buy:
Repair both video and photo
Batch repair files
Preview files after repair
Very easy to use
Reasons to avoid:
Support less video formats than others
Take long time to install the program
Only available on Windows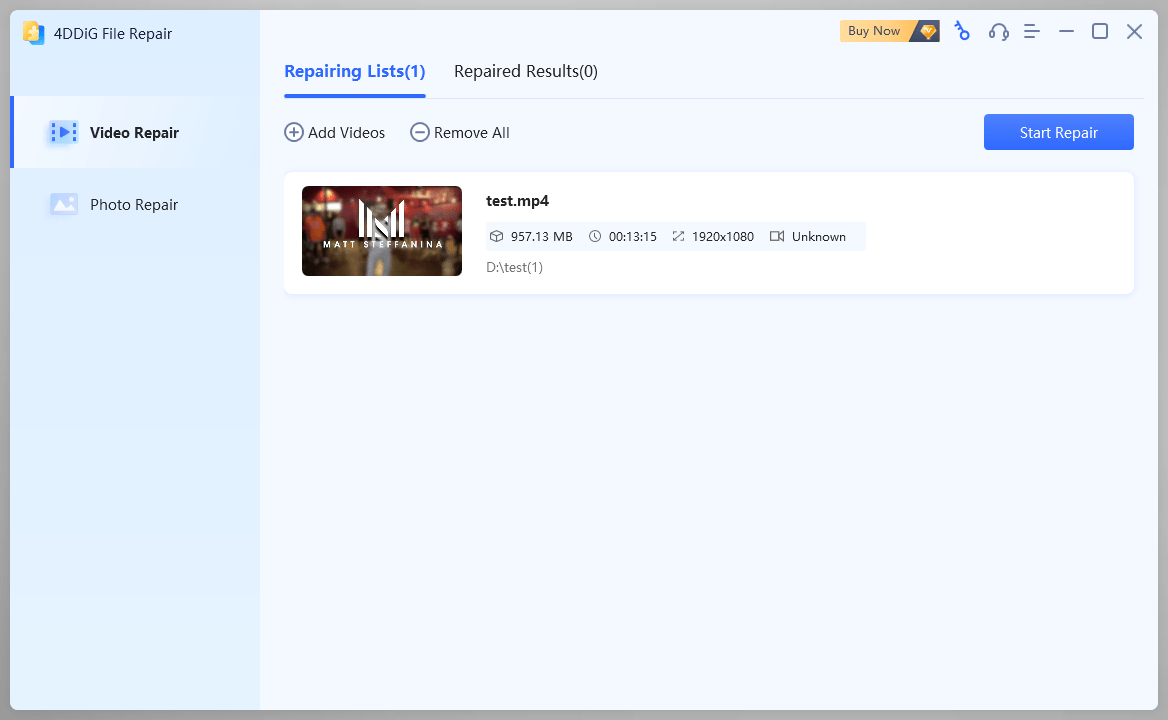 Launched in 2007, Tenoshare has been offering data recovery solutions for numerous users, and 4DDiG Video Repair recently became one of its best seller, due to the increasing needs of video repair.
It operates on Windows machines to repair both video and photo files, video files includes MP4, MOV, M4V, 3G2, 3GP, and MKV
8. Kernel Video Repair Tool
Reasons to buy:
Batch repair videos
Good at repairing high definition videos
Smartly identify a video to add reference video or not
Offer video tutorials
Disadvantages:
Cannot preview videos
Slow when batch repairing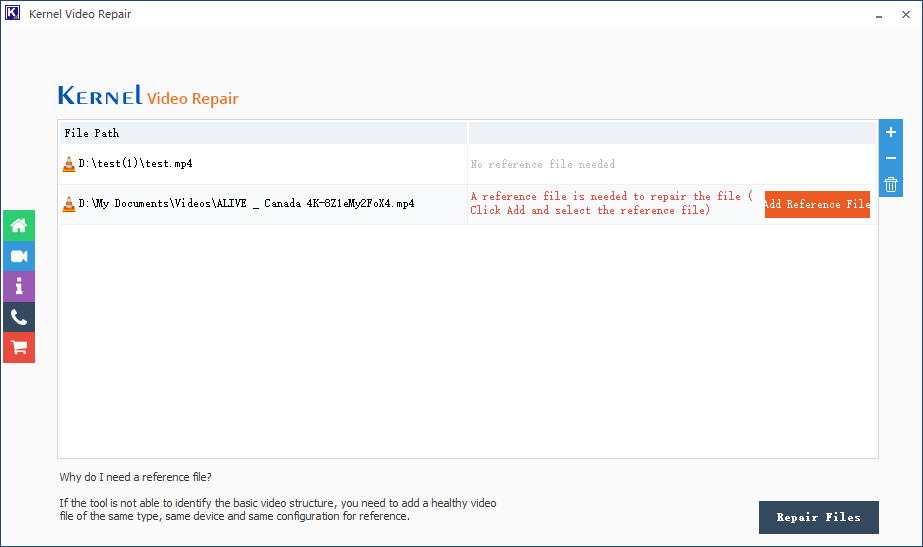 Running on Windows PC, this program can repair all common video formats friendly on Windows system, including MP4, MOV, MPEG, MJPEG, MTS, M4V, M4A, MKV, AVI, AVCHD, WEBM, ASF, WMV, FLV, DIVX, 3G2, TS, 3GP, F4V.
For slightly damaged videos, it can repair quickly, for severely damaged videos it asks for a reference video from users. Though the process is quite simple, it is pitiful that Kernel doesn't allow previewing videos after repair.
9. Digital Video Repair
Reasons to free download:
Free to use
Repair 9 types of videos: AVI, MOV, MP4, M4V, MP4V, 3G2, 3GP2, 3GP and 3GPP
Batch repair videos at once
Reasons to avoid:
Large installation package (80MB)
Respond slow
Fail to repair videos sometimes
Come bundled with RelevantKnowledge research tool
Only available on Windows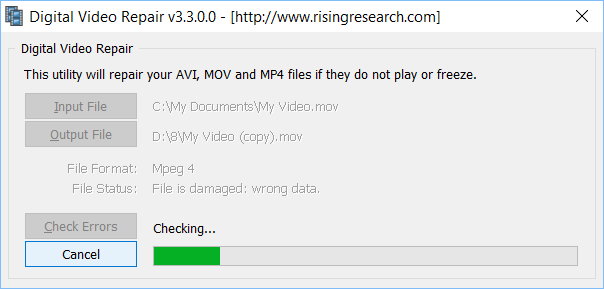 It has an easy-to-use interface and offers multiple benefits, such as displaying input and output file path, show file path and identify the file status.
Digital Video Repair also facilitates a user-friendly experience, it won't freeze or crash even when repairing large videos that over 2GB, and has a good support of 5 interface languages.
10. Grau GmbH Video Repair Tool
Reasons to buy:
Free to use
Batch repair
Choose reference movie to repair a severely damaged video
Customize output settings
Reasons to avoid:
The software cannot be auto downloaded in Chrome browser, you can download in Safari
Slow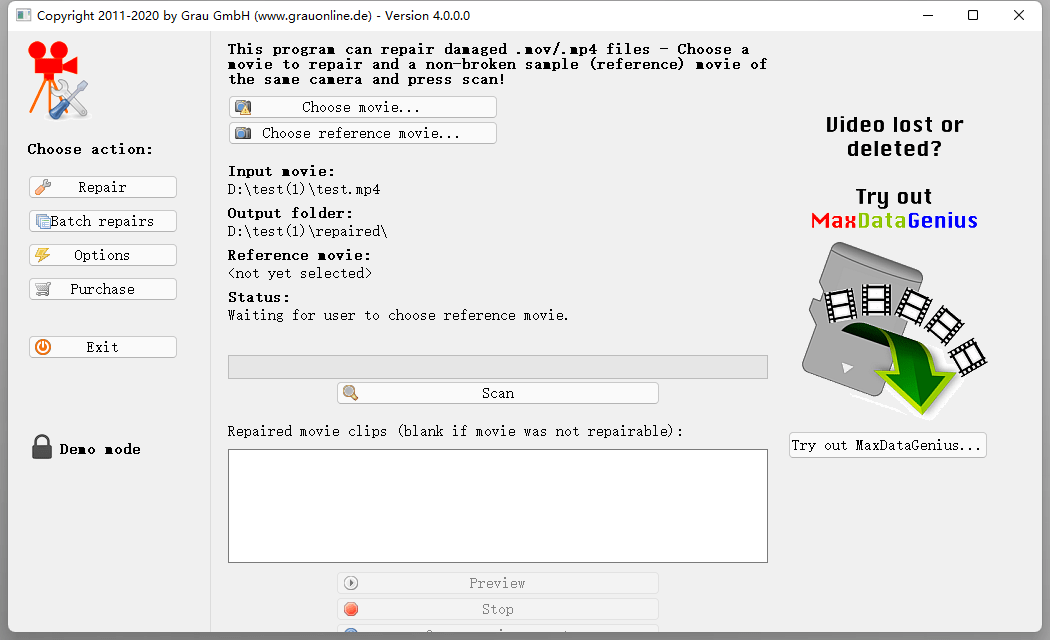 The latest version of Grau GmbH Video Repair is 4.0, which discontinued update since 2020. Its interface may not look stylish to users, it is still simple, similar to Digital Video Repair. Also, there is options allowed to customize repair /reencode/preview parameters. Only the full version allows batch repair.
11. iBeesoft Data Recovery
Reasons to buy:
Easy to use
Repair video and photo files
Recover deleted,formatted files in 1000+ formats
Available on Mac and Windows
Reasons to avoid:
Cannot preview videos before recovery
Repair files during the search process, the repair rate is not that high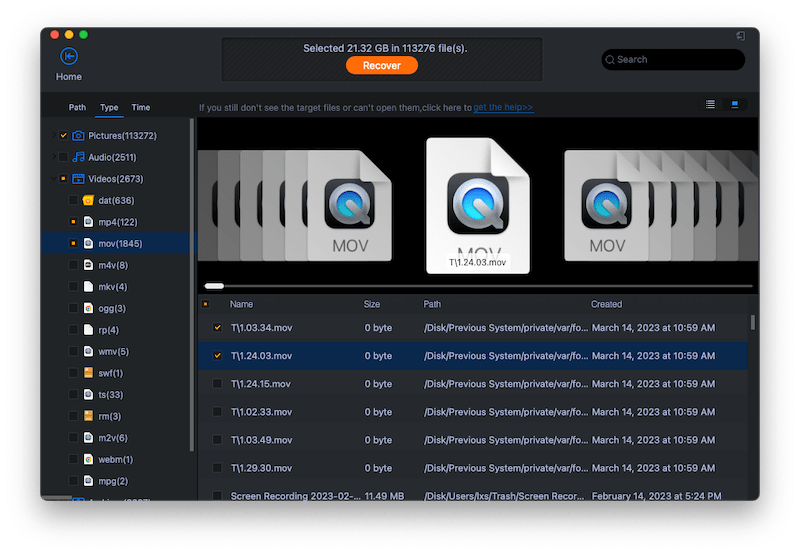 When comparing iBeesoft with other video repair tools, we find it applies a different way to repair video or photo files, by repairing during the search. That's to say, you need to scan the whole drive or folder to search the corrupted files first, then recover those files, however, some of those recovered files remain corrupted.
In fact, iBeesoft is a program designed to recover deleted files from internal or external disks, not exclusively designed to repair files. But it has an undeniably impressive interface to recover/repair file easily.
12. VLC Media Player
Reasons to free download:
Free to use
It is a great media player to open lots of video and audio files
It repairs 15+ types of videos by transcoding
Available on Mac and Windows
Reasons to avoid:
Its trans-coding doesn't offer a high repair rate
The repair (conversion) process takes long time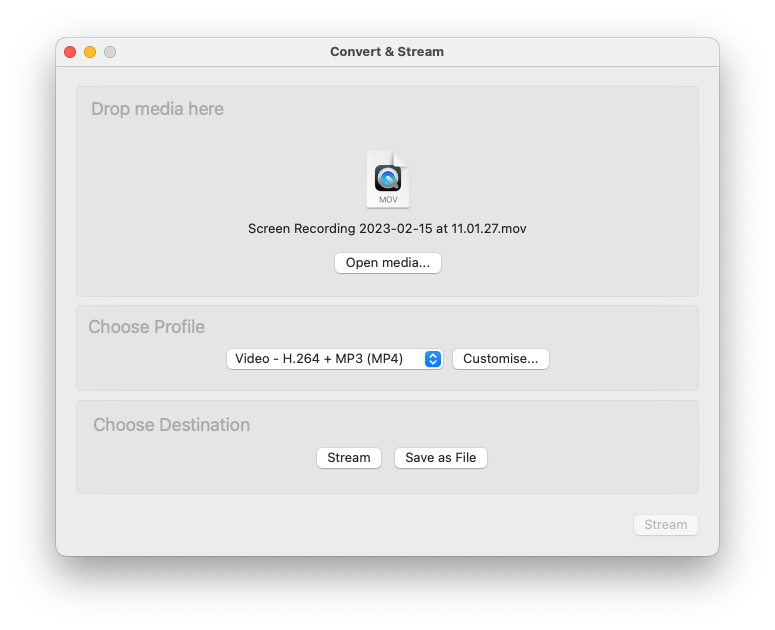 Although VLC certainly doesn't offer a video repair tool as others we've listed here, it offers the solution of repairing videos by transcoding and some of our users find it helpful in their cases.
If you have some videos that are not playable, or come with back screen, no sound, you will benefit from its Convert tool, which is designed to fix compatibility issues.
13. Fix.Video
Reasons to use:
Free to use
Unlimited upload size
Repair MP4, MOV, M4A, 3GP, MXF, RSV
Reasons to avoid:
Cannot batch repair
Slow
Videos may not be repaired sometimes, especially when severely damaged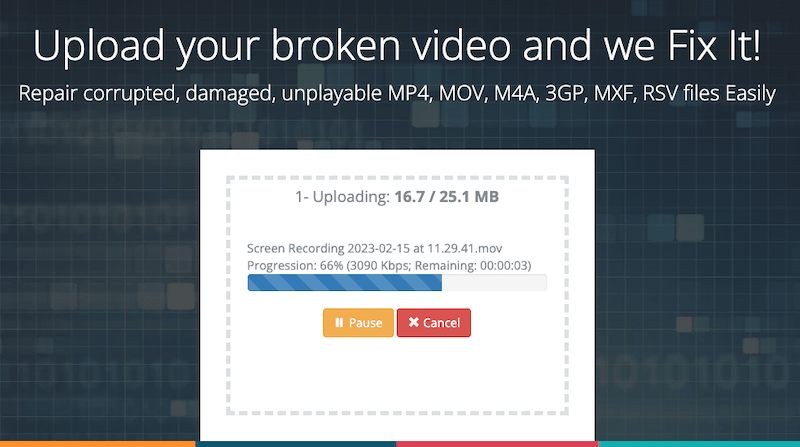 It is one of the best online free video repair tool to fix corrupted videos in 6 formats. The free version gives users a delightful experience to upload videos, but the repair process does take much longer time than you think. The premium version supports batch repair and fast speed.
14. OnlineConverter.com
Reasons to use:
Free to use
Repair video with reference video
Repair MP4, MOV, 3GP and M4V
Reasons to avoid:
Cannot batch repair videos
Max file size 200MB
Slow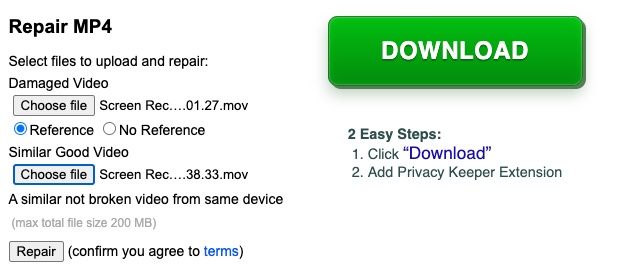 If you converts videos very often, you should be familiar with this tool, which features 6 file converters. Not only converts videos, it also repairs video in 4 formats. To repair videos with higher chances, it allows users to upload a similar video from same device that is not broken as reference.
Like any other online video tools, the biggest issue of using this tool is the speed, for the reason that videos always come with large size.
15. FileConverto
Reasons to use:
Free to use
Repair both MP4 and MOV files
Reasons to avoid:
Cannot batch repair
Max file size 500MB
Very slow

This platform includes dozens of tools to work on videos, audios, images and PDFs. Though the video repair tool supports fixing MP4 and MOV videos only, the recovered videos are in high quality. The main complaint about using this tool is still the speed, but this seems to be difficult to get solved at this moment.
Conclusion
When we were testing these video repair tools, we were impressed with the performance of Cisdem the most, it has the most comprehensive solution to repair videos in different formats, while this is just a welcome addition to its powerful data recovery feature. With Cisdem on your machine, you won't feel overwhelmed at deleted, lost, formatted, corrupted files anymore.