Recover Mac Data
How can I recover unsaved Excel files on Mac? Yesterday I added new data to an existing excel document and shut my computer off by accident before saving the file. Is there a way to recover Excel file on Mac? Your help is much appreciated. – George
Assume that you are working on an important Excel spreadsheet and leave the Excel file unsaved on mac due to unexpectedly quit, system crash, power failure, etc. It is really frustrating and you may want to find a way to recover Excel not saved on mac just like George. Well, by following the guide below, you can easily recover unsaved or deleted/lost Excel file on Mac.
Recover Excel Files to Your Drive or Cloud Now!
Recover all documents (Word, PPT, Excel) from Office 365, 2021, 2020, 2016, 2011, 2008, etc.
Recover Excel files from internal or external hard drives, SD cards, USB drives, etc
Recover Excel files lost due to sudden deletion, formatting, hard drive corruption, virus attack, system crash and other different situations
Repair corrupted videos
Filter Excel files with keyword, file size, date created, date modified
Preview Excel files before recovery
Recover files to local drive or Cloud
Restore 200+ file types

Free Download
Part 1. Recover Unsaved Excel File on Mac
#1 AutoRecover Excel on Mac
Before using AutoRecover to recover Excel file wasn't saved on Mac, we need to know 2 concepts about AutoSave and AutoRecover.
AutoSave is a tool that can automatically saves your changes to the new document that you've just created, but haven't saved yet. It saves document every few seconds and helps to reduce data loss risk in case of a crash, power failure or user error, even you don't click the "Save" button in time.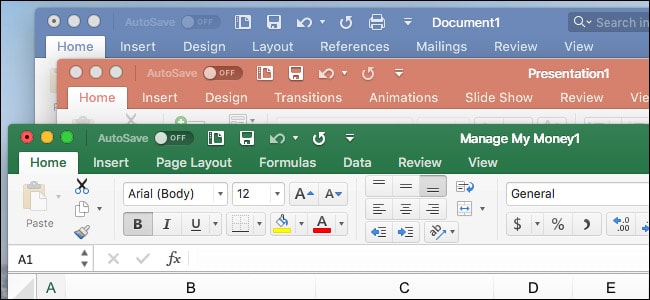 While, AutoRecover is the feature built in Office to recover unsaved document files automatically in the event of data loss. It allows you to restore to the last auto-saved version of Excel files.
By default, Microsoft Office Excel has enabled the AutoRecover option. Also, you can check and configure the Excel AutoRecover on your Mac by going MS Excel Preferences>Sharing and Privacy>Select "Save AutoRecover info" or "AutoSave">OK.
Use AutoRecover to Recover Unsaved Excel File on Mac
In fact, if you have enabled AutoSave and AutoRecover, Office Excel will automatically recover your Excel files that left unsaved on Mac when you open Excel again, all you need to do is save the file immediately.
Also, there is another option to do Excel recovery by using AutoRecover:
Step 1. Click on Finder App on your Mac, go to Go>Go to Folder.
Step 2. Find Where the AutoRecovered files are stored on your Mac by entering the following path.
For Office 2020 and 2016:
/Users/Library/Containers/com.microsoft.Excel/Data/Library/Preferences/AutoRecovery
For Office 2011 and 2008:
/Users/username/Library/Application Support/Microsoft/Office/Office X AutoRecovery (X stands for Office version)
Step 3. Open the AutoRecover Excel files and save or copy as needed.
1. If you close a excel file or quit Excel normally and choose Don't Save option, the file is deleted from the AutoRecover folder. So this way doesn't apply to recover excel files that are unsaved intentionally.
2. If the excel file was never saved, there will be nothing to fall back on, because AutoRecover is only triggered for documents already stored on disk.
3. The method can also work on recovering unsaved Word and PowerPoint files on Mac.
4. If the method wouldn't work, all you need is a Mac data recovery tool like Cisdem Data Recovery to recover your Excel files now!
#2 Recover Unsaved Excel File on Mac from Temporary Folder
If you haven't configured AutoSave or AutoRecover, you can try to recover Excel files that not saved on Mac from the Temporary folder by locating Excel temp files. Follow the steps below to find Excel temp files:
Open Terminal and in the window, type "open $TMPDIR" and hit "Enter".
Then it opens Temporary files folder. Select the folder named ''Temporaryitems''.
Under ''Temporaryitems" and the unsaved Excel file will be named begin with '~Excel Work File'. Find the required Excel file and restore. Then copy and save it to another safe spot by changing the extension from .tmp to .xls/.xlsx.
#3 Recover Unsaved Excel File on Mac in Recent List
If your Excel file is left unsaved, even disappeared on your mac, you can open the Recent list to find out where the file is stored, then save or edit as needed.
Step 1. Launch Office Excel on Mac.
Step 2. Go to File>Open Recent or click on More to find the Excel file.
Step 3. Then save or save as the Excel file on mac.
Part 2. Recover Deleted and Lost Excel File on Mac
To recover deleted or lost Excel file on Mac, the AutoRecover won't help, and you will need a professional data recovery tool or Excel backups to retrieve the Excel file on mac.
#1 The Easiest Way to Recover Deleted or Lost Excel on Mac
If you delete an important excel file accidently or have a saved Excel file lost due to unknown reasons, the above way can't help you recover them. This is where Cisdem Data Recovery comes in.
Cisdem Data Recovery for Mac is one of the best Mac data recovery software for you to recover deleted, or lost excel files no matter which Office version you are using. And it also can recover lost photos, emails, videos, audios, archives, and other documents from internal/external hard drive, flash drive, MP3 player, digital camera, memory stick, memory card, iPod, etc.
Why Cisdem Data Recovery?
Recover all kinds of files: photo, audio, video, document, etc
Recover from internal or external storage device
Recover files lost under different situations: power off, system crash, virus, etc
Repair damaged videos
Preview files before recovery
Fast and smart scanning or recovery
Recover both to local drive and Cloud

Free Download
Steps to recover Excel files on Mac
Download and install Cisdem Data Recovery on Mac. Then launch it.
Go to Disk Data Recovery and choose the hard disk where you lost the Excel files.
Click on Search for lost files, the program will find your files with both quick and deep scanning. Go to Type>Document>XLSX, or you can use the filter to find specific Excel files quickly.
Select the Excel file to preview and recover.
Double click on the Excel file to preview, select the files and recover them to local drive or Cloud.
Also, you can check the video tutorial.
#2 Recover Deleted or Lost Excel Document on Mac for Free
Most of the Excel recovery tools require subscription, only few of them are free to recover your files on Mac, PhotoRec is one of them.
PhotoRec is a free Mac data recovery program, it is open source and does an excellent job to recover lost photos from digital camera memory. Besides photos, PhotoRec can recover archives, videos, audios, office documents and others.
Steps to recover deleted or lost Excel file on Mac for free
Download and install PhotoRec.
Run PhotoRec with Terminal app.
Choose location where the Excel files were stored by pressing the arrow key.
Press C to start file scanning on your Mac.
Check the recovered Excel files in the destination folder.
#3 Recover Deleted or Lost Excel Spreadsheet via Time Machine
Time Machine is the Mac utility enabling users to back up files to external hard drive. If you have enabled Time Machine on your Mac, you will be able to recover the Excel files from Time Machine backups.
Step 1. Go to Finder>Application>Time Machine.
Step 2. Go to Finder>All My Files and find the deleted or lost Excel files on your mac.
Step 3. Use the timeline to select the version for your deleted Excel, then press Space Bar to preview.
Step 4. Click "Restore" to retrieve the lost or deleted Excel files on Mac.
#4 Recover Deleted or Lost Excel File in Mac Trash
When deleting an Excel file on mac, we just moved the file to Trash, if we didn't continue to "Delete Immediately" in Mac Trash, it is still possible for us to recover the deleted or lost Excel file on mac from Trash.
Step 1. Launch Trash.
Step 2. Click on the icon "Change the item arrangement" to fast find the deleted Excel file.
Step 3. Once the deleted file is located, right click on the file and choose "Put Back" to finish the Excel file recovery.
#5 Recover Deleted or Lost Excel on Mac via Online Backup
If you get used to back up files via online storage services, such as iCloud, Google Drive, OneDrive, etc, you can also recover deleted Excel files easily.
With iCloud
Go to iCloud and login into your iCloud account.
Go to Settings>Advanced>Restore Files.
Select the Excel file you want to recover, then click "Restore File".
With Google Drive
Login into your Google account>Google Drive.
Go to Trash, find your deleted Excel files.
Right click on the deleted Excel file, then choose "Restore" to retrieve the Excel file on your Mac.
With OneDrive
Go to OneDrive and login into.
Go to Recycle bin and find the deleted Excel file.
Right click on the file and choose "Restore" to recover the deleted Excel file on your Mac.
Conclusion
To recover Excel file that not saved on Mac, the AutoRecover feature of MS Office Excel itself is absolutely the best choice, if this doesn't work, you will need a professional Data Recovery software to dig out all versions of the Excel file, then recover as needed. While, for deleted Excel file recovery on Mac, Cisdem also deserves a try.

Free Download