It's not surprising that 5 billion users come to YouTube every day. Some of you would upload HD video to YouTube for sharing the music video, game video, vlog, tutorial, comedy sketch, or more.
It requires longer time and faster network to upload 720p, 1080p, and UHD 4k video to YouTube, or the video quality on YouTube will be unfaithful. So, what's the best way to upload HD 720p/1080p/4k videos to YouTube? This article offers a walkthrough to help newcomers and anyone with a concern.
Convert Videos to YouTube Format for Easy Upload
Support 500+ formats, including 4k video formats
Convert videos to presets for YouTube, Facebook, Vimeo, Instagram, mobiles, tablets, TVs, etc.
Convert and merge multiple video files to YouTube
Adjust video parameters to fit YouTube
Edit & enhance personal videos before uploading to YouTube
Rip DVD videos and share them to YouTube

Free Download

Free Download
How to Upload 720P/1080P/4K HD Videos to YouTube?
Virtually, the way to upload HD video to YouTube is the same as posting the standard video. Just make certain the uploading videos are original and in 720p/1080p/4k high definition. For Beginners, you need to register a new YouTube account firstly. After that, follow the steps below:
Sign in your YouTube account and click the upload button at the top right-hand corner.
Click the arrow to upload a 720p/1080p/4k HD video from your computer or drag-n-drop it into the browser window.
There are four initial video privacies for you to set: Public, Unlisted, Private, and Scheduled. Pick one that you want your HD video to be.
Add a title, a description and relevant tags for your HD video. Make sure that people will seek out your video via some typical words.
Finally, check advanced settings and click Publish button to post your HD YouTube video.
YouTube accepts a large scale of video formats. If your current format can't be recognized by YouTube, you'd convert it to an appropriate one with a video converter tool.
The Most Effective Way to Upload HD Video to YouTube in Batch
As stated above, you should ensure your 720p/1080p/4k HD videos are in the formats that YouTube supports. These include MPEG4, WebM, WMV, FLV, 3GPP, MOV, AVI, and MEGSPS files. If not, Cisdem Video Converter for Mac enables you to convert HD videos to the best video format for YouTube.
It also provides you with optimized preset and allows you to upload HD videos to YouTube within the software. Even in case you delete your original videos by mistake on Mac, Cisdem Video Converter can help you download the uploaded 720p/1080p/4k HD videos from YouTube as well.
Quick summary on how to upload HD video to YouTube 1080p, 720p, 4k:
Download and install the program.
Free Download Free Download
Add HD videos to Cisdem Video Converter.
Convert videos to the formats that are compatible with YouTube.
Batch upload HD videos to YouTube within the software.
Step 1

Import HD videos to the software

After you run Cisdem Video Converter on Mac, simply upload your HD 720p/1080p/4k videos to the convert tab.

Alternatively, add HD videos from Media browser at the upper right corner.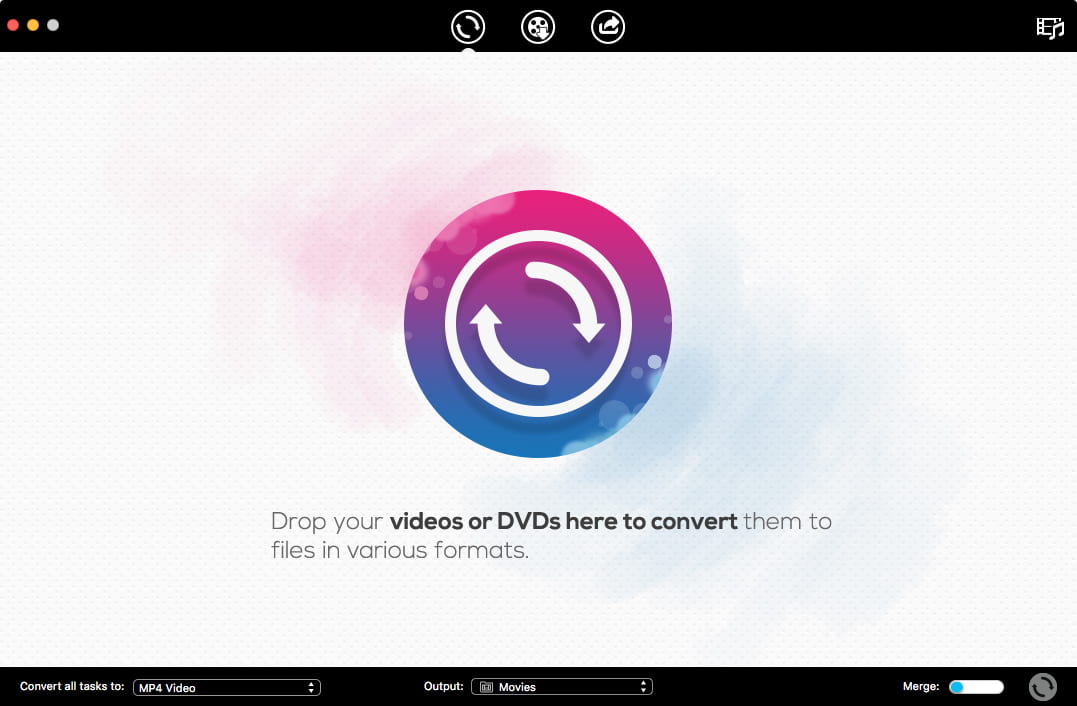 Step 2

Set suitable formats for YouTube

Click the format image, navigate to Web Video > YouTube Video. Meanwhile, there is a gear icon for opening Advanced Settings dialog. You can feel free to set video parameters.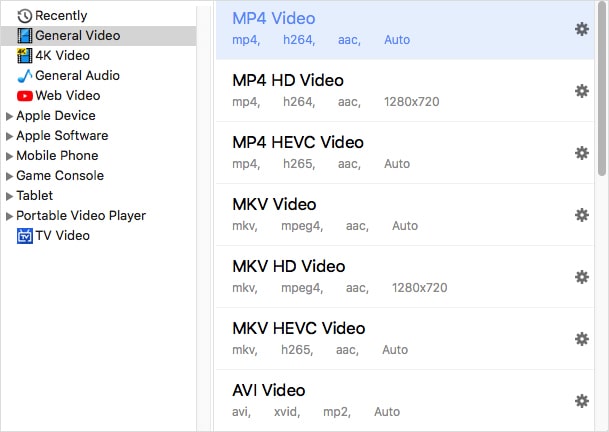 Note: Edit your videos if needed. And then convert them to YouTube formats with one click.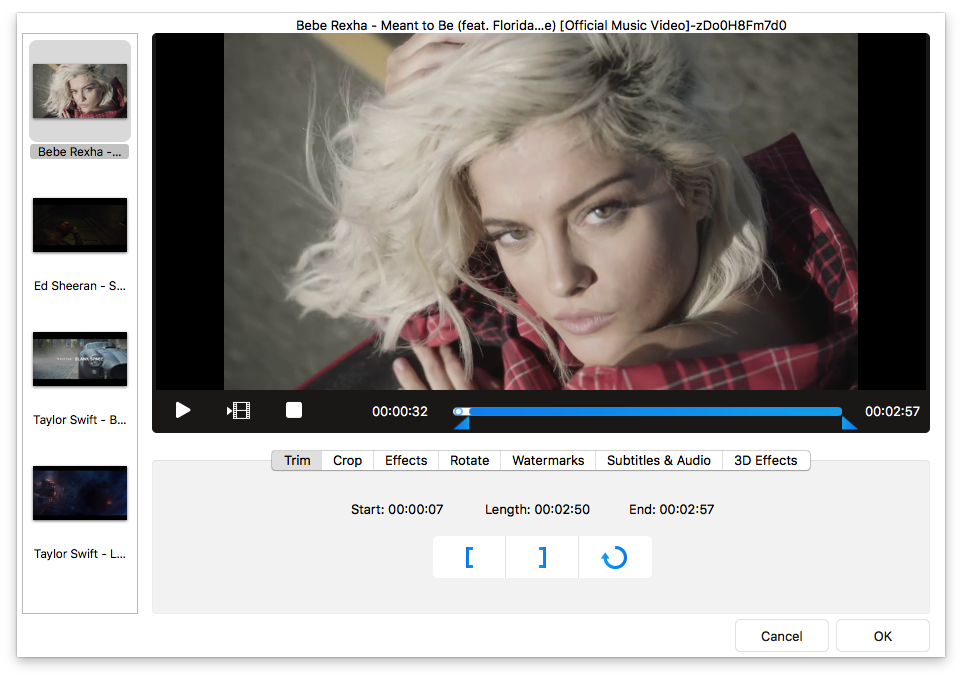 Step 3

Upload HD videos to YouTube in bulk

Your YouTube videos will be saved at a designated location. Move them to the sharing interface of the software.

Click the

icon at the bottom right corner and sign in your Google account to post 720p/1080p/4k HD videos to YouTube.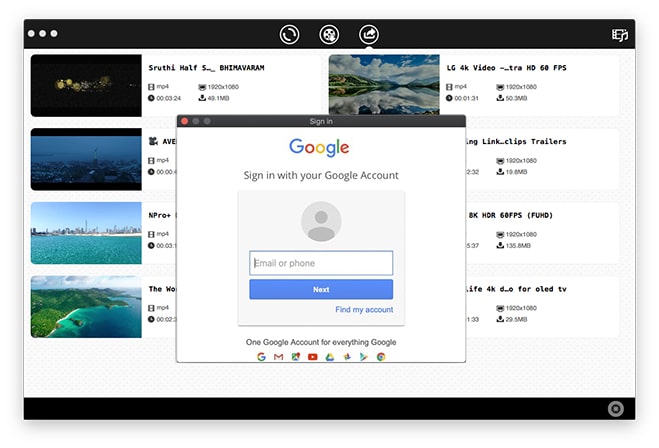 How to Upload HD Video to YouTube in Bulk on Windows?
Way one: use the software. Movavi Video Converter is a dedicated application that lets you convert and upload HD video to YouTube (1080p, 4k, 720p) within the software. But it's too expensive. If you only want to upload YouTube videos, it won't worth the money.
Way two: write a batch file or a script. Youtube-upload, a command-line Python script, enables you to batch process YouTube HD video upload on any platform that runs Python. Besides Windows, that means, it can also be used on Mac OS X. It uses the YouTube API V3.
Upload HD Video to YouTube on iPhone and Android
It would be convenient to upload HD video to YouTube on the mobile phone directly. Assuming that you have already installed the YouTube app on phone and registered a YouTube account, below are the steps for your 720p/ 1080p/4k videos upload from iPhone and Android.
For iPhone users:
Launch the YouTube app on your iPhone and log into your private account.
Click the menu button at the upper left corner. A drop-down list will show up. Tap on Upload option next to My Channel.
Select a 720p/1080p/4k HD video that you desire to upload from Camera Roll.
Set the title, description, category, etc. for your HD video. Once completed, click the Upload icon from the right-hand corner to upload HD video to YouTube.
For Android Users:
The first step is as same as uploading YouTube HD videos via iPhone.
Tap the upload button which looks like a video camera at the bottom right corner.
Choose an HD video to upload.
Enter the title, description and choose a private option for your video.
Click the arrow icon on the top right, and your HD video will be posted to YouTube.
Things Need to Know about YouTube HD Video Upload
#1. Crucial Settings for Posting YouTube Videos
If you want to upload HD video to YouTube without losing quality, then you must know the recommended uploaded encoding settings listed in YouTube official site:
Container: MP4

Audio codec & Video codec: AAC-LC & H.264
Resolution: 2016p(4k), 1440p(2k), 1080p/720p/480p/360p/240p
Aspect ratio: 16:9
Frame rate: 24, 25, 30, 48, 50, 60 frames per second
Duration: 15:59 min. duration
Time and Size limit: Up to 15 minutes and within 2 GB file.
More specific details, please read: https://support.google.com/youtube/answer/1722171?hl=en
Note: YouTube supports 16:9 aspect ratio players. If the video you uploaded is not 16:9, it can also be displayed properly, with pillar boxes or letter boxes offered by player.
#2. Tips to Enjoy HD Videos on YouTube after Upload
When you watch videos on YouTube, be sure to manually set the resolution as 720P or 1080P. Since YouTube has an "AUTO" setting option which will reduce your video quality if the network can't keep up.
When enjoying HD videos on YouTube, it asks for a faster Internet connection and a stable Internet environment.
Add &fmt=22 behind your YouTube address, such as https://www.youtube.com/watch?v=8SlJn7kwiW8&t=7s&fmt=22. And then refresh the page. Since &fmt=22 is for increasing the resolution to 1280×720 (720p).
Conclusion
Everyone has the right to upload HD video to YouTube easily. Any type of program you can think of can be posted to your channel. As a Mac user, I strongly recommend uploading YouTube 720p, 1080p or 4k videos via Cisdem Video Converter. It will do you a great favor by converting & editing HD videos as well as posting all your videos to YouTube at once.

Peter has always had great enthusiasm for writing, programming and web development. He likes writing about software and technology, his works are featured on some tech blogs or forums like Tom's Hardware, CNET, etc.