There have been complaints about duplicates in iTunes. Fortunately, the duplicates issue can be fixed by using iTunes duplicates cleaner apps. Tune Sweeper is one of them. Is Tune Sweeper any good? Is it legit? What features does it offer? Find answers in this Tune Sweeper 4 Review.
The Best iTunes Duplicate Remover
Safely removes duplicates from iTunes
Finds and deletes duplicate photos, audios, videos, docs, archives, etc.
Also finds similar images
Supports computer's internal storage, external HD, SD card, cloud storage and more
Finds true duplicate files regardless of filename
Has 3 preview modes including side-by-side preview
Offers multiple scanning/filtering/selection/deletion options
Provides features like Auto-Select and 1-Click Deletion
Available for both Mac and Windows

Free Download

Free Download
Tune Sweeper Review
What is Tune Sweeper? It is developed by Wide Angle Software primarily for the purpose of cleaning up duplicates in iTunes library. It also offers other functions such as downloading missing artwork or track detail. The latest version is Tune Sweeper 4.41 for PC and 4.25 for Mac as of 2022.
Supported OS:
Windows 10, 8/8.1, 7, Vista (32-Bit and 64-Bit)
OS 10.8 or higher
Note: This piece of iTunes cleanup software requires iTunes 10, 11 or 12 to be installed on your PC or Mac.
Is Tune Sweeper safe?
Tune Sweeper is safe to download and install. But make sure that you download it from legit sources such as the official site or the Mac App Store. From a use perspective, it's also safe to operate. For example, when you click Remove Duplicates, a dialog box will pop up asking for confirmation of the action.
Download & Install
You can follow the conventional ways to install and uninstall the app. Let's take the Mac version for an example and show you how to do the uninstallation. In Finder, go to the Application folder. Control-click Tune Sweeper 4 and choose Move to Trash. It's that easy.
The official site offers the Install Guide and Uninstall Guide for both versions.
Pricing: How much is Tune Sweeper?
A free demo version is available for both PC and Mac, allowing users to experience how this iTunes duplicate remover works. Users can access all features but can't perform any action to remove or fix data. To unlock restrictions and be able to fully use all features, one need to purchase an activation code.
Note: The app is offered as a one-time purchase with no subscription. Its Mac App Store version only costs $15.99.
On a side note, if you buy both Tune Sweeper and Duplicate Sweeper, you can get a $12 off discount on the latter.
Customer support
On the official Customer Support page, you can find a user guide and over a dozen of support articles on how to activate and use Tune Sweeper. The user guide is also available for download as PDF. If these don't help you with your problems, please feel free to contact their customer support staff by emailing at support@wideanglesoftware.com.
Main feature: Find and remove iTunes duplicates
Tune Sweeper is best known of its function to detect and delete dupes in iTunes. With regard to this function, the app works like a typical iTunes duplicate remover or duplicate file finder would do. And the whole process could involve three steps: scanning, selecting and deleting.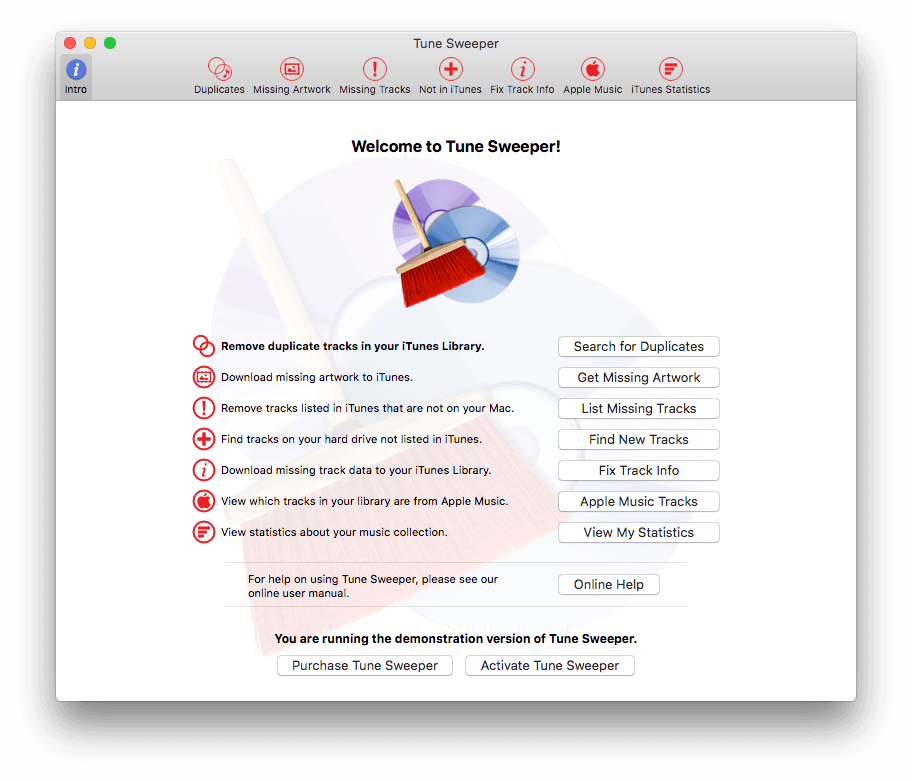 #1 Scan for duplicates
Every time you launch the app on your computer, it will automatically load iTunes library. There is no need to manually locate and add the library file to scan. It has a decent scanning speed. However, with a large music collection, one still needs to wait for a while. Once it finishes searching for duplicates, you can view the scanning results and take further actions.
Before the scan, it's possible get more desirable results by customizing. In the Duplicate Search Criteria section, you can find a list of the track data (like artist, album and track) used to identify iTunes duplicates. By default, they are all selected. You can unselect one or more based on your need. Users also customize the maximum time difference and filter by media type. For example, it's easy to exclude podcasts from scanning. Once the criteria are adjusted according to your need, click Search For Duplicates.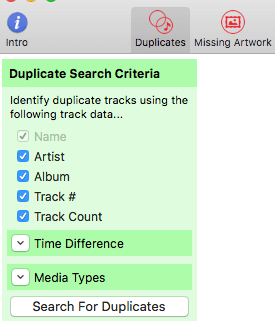 Tip: If your iTunes library is not in the default location, or if you want to scan a secondary iTunes library, you need to do a bit of setting up. In the menu bar at the top of your screen, click iTunes Library Location. Read the warning and click Continue. Change the location and click Apply and Reload.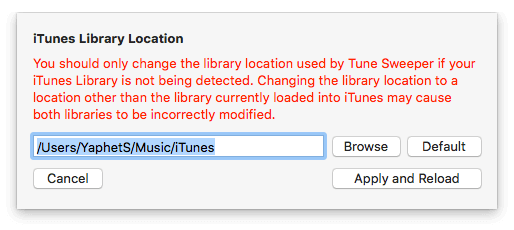 #2 View and select duplicates
Now you can check out the scanning results. Below the toolbar, there is a message telling you the amount of duplicate groups this best iTunes duplicate remover has found. Each group has an "original" file and one ore more duplicate files. If you select the Ignore Group option in a group, the following actions you take won't affect this group.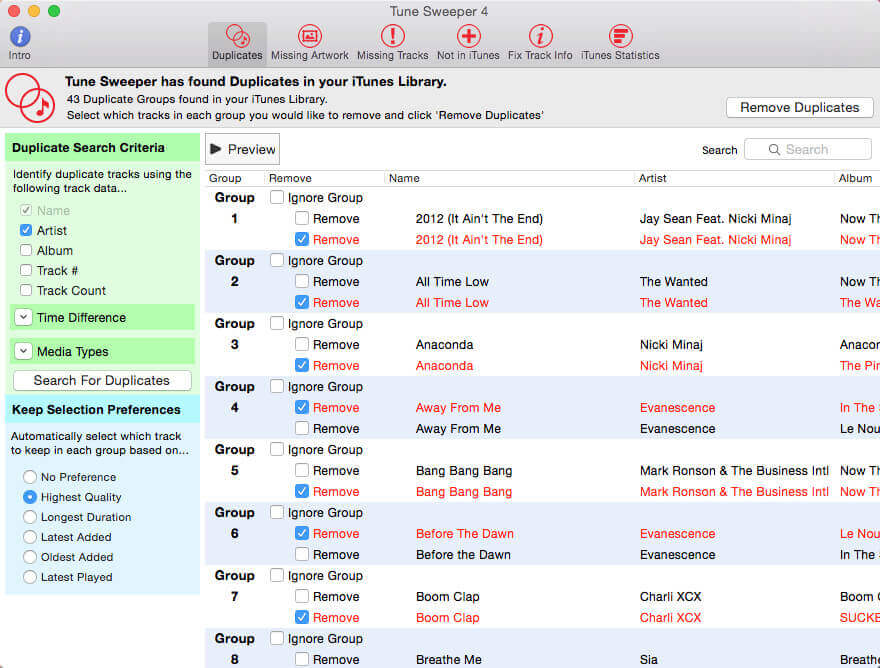 With this iTunes duplicates cleaner, you don't need to select unwanted iTunes duplicates by hand. The Keep Selection Preferences can make things extremely easy. There are seven selection rules. If you select a rule, say, Highest Quality, Tune Sweeper will keep the highest quality track in each group and delete the rest.
To play a song with the app, highlight a song and click the Preview button, which is convenient. There is no need to open a song with the associated app on your computer.
#3 Remove duplicates from iTunes
Click the Remove Duplicates button in the upper right corner, and it will start removing duplicates from iTunes. The progress bar will inform you of the progress of the removal. Now you have a duplicate-free iTunes library.
Other features
Tune Sweeper also provides an array of other features.
Download Artwork
Remove Missing Songs
Add Music to iTunes
Fix Metadata
Apple Music
iTunes Statistics
#1 Get Album Artwork
If you are having trouble with your missing album artwork, this app can also help. You can access the feature from the welcome screen (Get Missing Artwork) or the toolbar (Missing Artwork). It can scan your library and detect the tracks that have no artwork. Once it finishes scanning, all you need to do is to click the Download All Missing Artwork button in the upper right corner. You can also right-click (or control-click) a track and choose Download Artwork for Selected.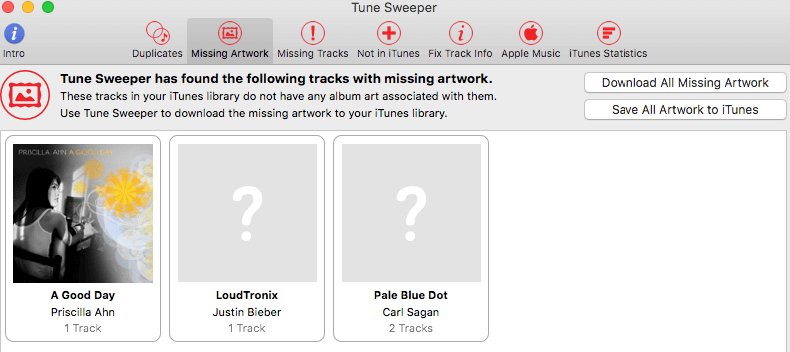 #2 Remove missing tracks
If an exclamation mark appears next to a track in your iTunes, it means that the file for this track is missing. You can use Tune Sweeper to scan for the missing songs and remove them all at once or selectively.

# 3 Add music to iTunes
Here's a common scenario. On your computer's hard drive, there are a lot of music files which are currently not in your iTunes library. In such a case, you can use this app to quickly scan for and add these tracks to iTunes with just two clicks. This function also comes with a preview feature.

# 4 Detect and fix track info issues
Tune Sweeper's Fix Track Info tool can effectively find and fix iTunes songs with incorrect or missing metadata. When you click this tool, the app will start looking for tracks with missing or wrong information. You can click Download Information for all Tracks button to fix them all. You can also do it individually. Highlight a track, right-click it and choose Download for Selected Tracks. It will start fetching missing information like album name, time and track number.

The Apple Music and iTunes Statistics tools can also be useful especially for heavy iTunes users.
Quick summary
Pros
Does of good job of removing duplicates in iTunes
Also provides other useful functions
Available for both Windows and macOS
Allows users to customize duplicate search criteria
Straightforward interface with all functions displayed
Provides an auto-select feature
Cons
A bit expensive considering that it only works with iTunes
Relatively slow scanning when compared with top similar software
Crashes sometimes
Its duplicates reports is a bit confusing
Tutorial: Use Tune Sweeper to eliminate duplicates in iTunes
Note that his how-to only talks about the duplicate removal feature.
Step 1. Launch the app. Wait for the iTunes library to be fully loaded. Click the Search for Duplicates button. Alternatively, choose Duplicates in the toolbar.
Step 2. Adjust the duplicate search criteria based on your need. Click the Search for Duplicates button. Once it finishes searching, click View Results to continue.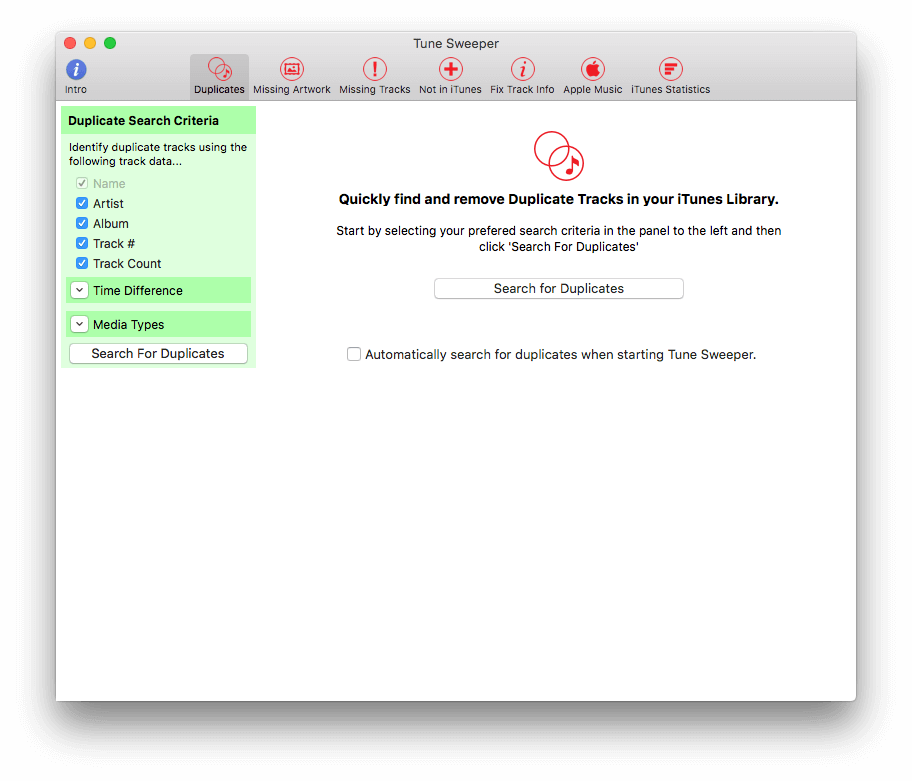 Step 3. View and preview the groups of dupes. Use the Keep Selection Preferences options to select the tracks you want to keep.
Step 4. Click Remove Duplicates button at the top-right corner of the interface.
Best Tune Sweeper alternatives (including freeware)
#1 Cisdem Duplicate Finder
OS: Windows 10 and 11; macOS 10.11 or later
Price: $19.99 One-Year Subscription; $39.99 One-Time Purchase; 30-day money back guarantee
Cisdem Duplicate Finder can be the best Tune Sweeper alternative to its duplicate removal feature. This duplicate file finder can detect and clean up duplicate copies in iTunes in an easy, safe and effective manner.
Pros
Efficiently detect and remove duplicate copies in iTunes
Finds and eliminates duplicate images, audios, videos, archives and more
Also find similar photos with adjustable similarity level
Supports various internal and external storage devices
Provides multiple scanning and removal options
Totally seven selection batch options including automatic Smart Select
Allows easy previewing of images, audios, videos, documents, etc.
Can also be used to remove dupes in cloud storage such as Google Drive
Available for Mac and Windows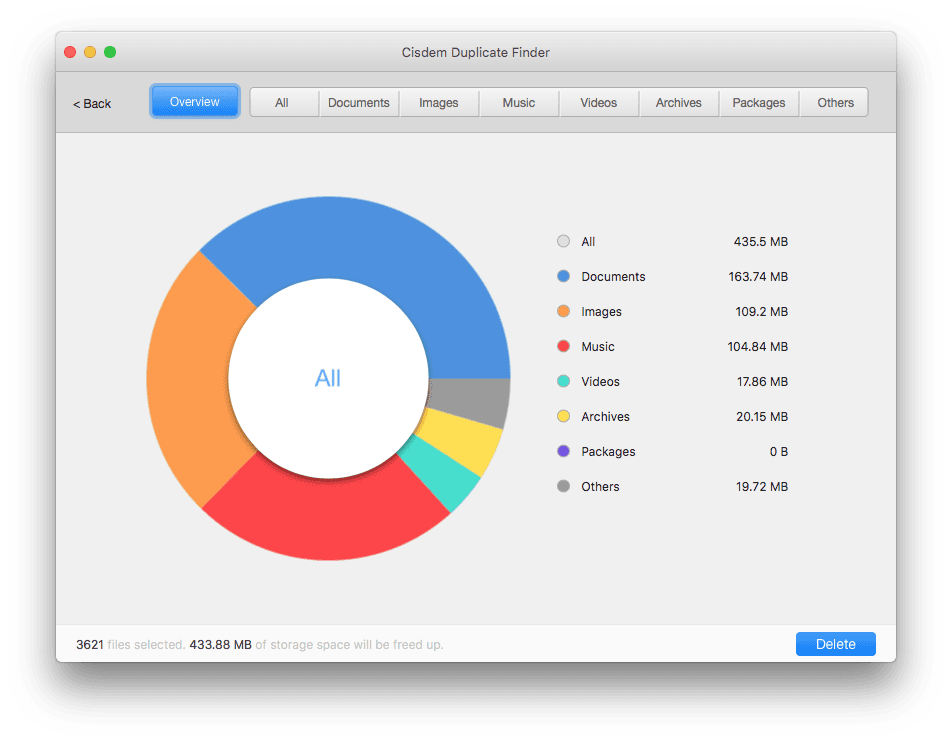 It's easy to use this Tune Sweeper alternative to look for dupes in iTunes.
Step 1: Download, install and open it on your computer.
Step 2: Drag your iTunes folder into the app. Click the Scan button. As soon as the scan is completed, under the All tab, you can find all the duplicates audios and videos in your iTunes.
Step 3: There are three preview modes: Thumbnail, List and Info. With the second mode (List), you can easily preview and play a track. Choose a selection option that suits your need. You can also select or unselect by hand.
Step 4: Click the Delete button to get rid of the selected unwanted dupes in your iTunes library.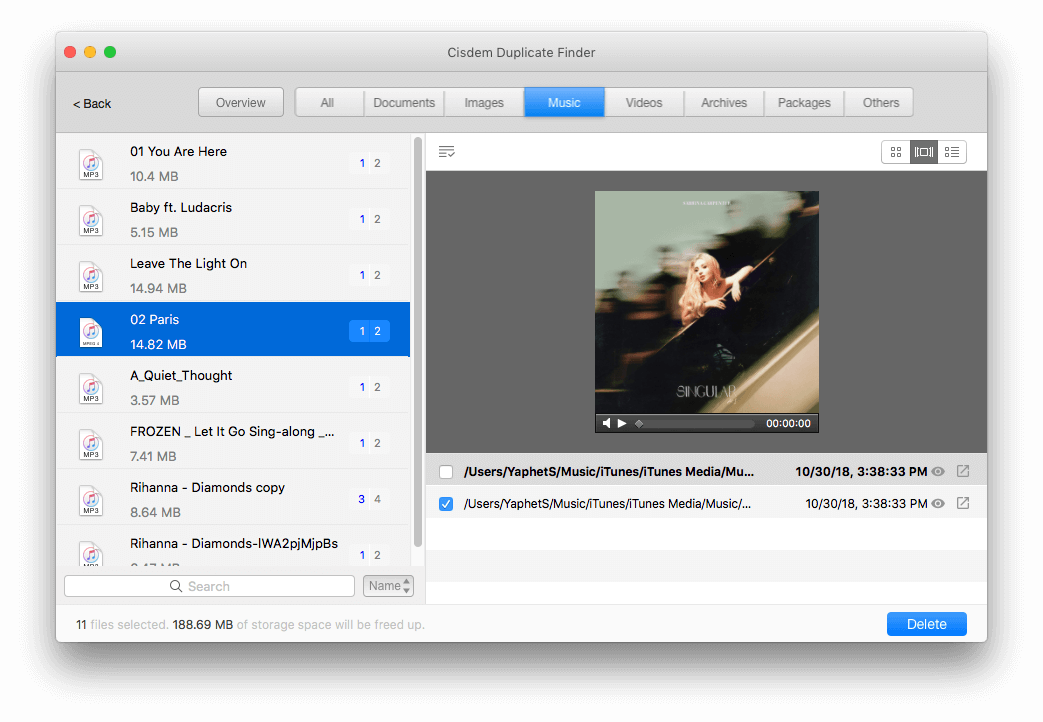 Other features
Find and delete duplicate files
Cisdem duplicate finder can search for duplicate files using advanced scanning algorithm on your computer and external storage devices. This duplicate includes images, videos, music, documents, archives and all other types. You can select multiple folders/ drives to scan at once. The scan results will show you immediately in types and groups. Then you can mark the files you'd like to delete. Click the Delete button.
Search and remove similar images
In addition to detect duplicate images, this tool can also find similar images that are nearly identical with slight differences. They will display under the Similar Images tab after scanning. You can manually check them one by one then remain the best one you like. Or it'll recommend multiple deletion options for you: low quality, low-resolution, oldest etc. You can directly choose one to mark the images then delete.
#2 TuneUp
OS: Windows XP or later; Mac OS X 10.6.6 or later
Price: $39.95/1 year
Like Tune Sweeper in a few ways, Tune Up can be used to clean up and manage iTunes on both PC and Mac. It has most of the functions that the former offers. The DeDuper tool can quickly find all the duplicates and allows you to remove unwanted copies all at once, individually or selectively.
Pros
Works for iTunes and Windows Media Player
Declutters unwanted duplicate tracks in your music library
Fixes songs with inaccurate or incomplete information
Also fixes the missing artwork issue
Use acoustic fingerprinting technology which ensures high accuracy
Cons
The Cover Art feature fails sometimes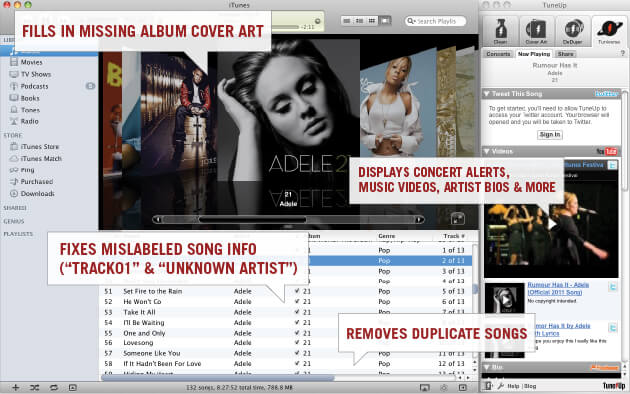 Also, if you are looking for a Tune Sweeper free alternative, you can check out dupeGuru. It's free and open-source. Despite being freeware, it's clean and safe to install and use.
Conclusion
Hopefully this Tune Sweeper review will be helpful. Will you get this one-stop app to clean up and fix metadata in iTunes for PC and Mac? If you need all or most of its features, the app is worth having. For iTunes users with large music collections, it will take a lot of time and energy to manually delimited dupes and fix track information. Tune Sweeper only works with iTunes. If you have more needs on filtering out duplicates on computer, a Tune Sweeper alternative tool like Cisdem Duplicate Finder can definitely help a lot.