A good video player are necessary for any Mac user. As Apple's default media player QuickTime lacks support for some very common video and audio formats like MKV, MTS, FLV, etc. The best video player will help Mac users play DVD, any video & audio formats, edit and trim videos. some even give you options to record screen, and convert between video and audio formats.
The best Mac video player for you will depend on various factors: if you're a movie lover, you need a video player that supports playing DVD, VCD, CD, blu-rays and one that can play 4k, 8K videos without lagging or stuttering. If you are a video influencer you need video player that supports recording the screen, trim video clips or take snapshots easily. Others may need video player to have functions like airplay videos to Apple TV, convert videos, download videos, etc.
In the meantime, we has gathered a list of the best video players in 2022. This list is based on recommendations from Mac users, thousands of online reviews and ratings.
5 Tips on Choosing the Best Media Player for Mac
The best video player for Mac is supposed to:
Be free of ads, viruses, malware, and spyware.
Born with a slick and directive interface, making the app simple to navigate.
Come with strong coding skills and support wide-ranging video & audio format, so you can play any media file including 4K/5K video without losing quality.
Have compact and basic video playback functions, like play/pause, time display, volume control, etc.
It could be better if a video player include assist functions like trim video into several clips, record the screen, take a snapshot, airplay, etc.

Well, I've listed and tested a bunch of Mac video players and screened out the top 10 best free video player for Mac with the above reference in mind.
Top 10 Best Video Player for Mac 2022(Free/Paid)
Video player software isn't rare, but top free video player for Mac users is not easy to come by. Hence we picked out the 10 best video players for Mac and give you some detailed information below.
#1 Cisdem Video Player for Mac - Best overall
Compatibility: macOS 10.10 or later
Price: Free
Latest Version: 5.6.0 released in December 29, 2021
Key Features: Cisdem Video Player is an incredible program playing a vast assortment of media file formats. It's fully compatible with all popular video formats (e.g. WMV, AVI, MOV, MP4, M4V, FLV, MKV, RMVB, MPEG, etc.), as well as audio files (e.g. MP3, WMA, OGG, WAV, M4A, etc.). The software supports all those codecs ensuring the playback of high-quality video files a breeze.
This best video player Mac takes care of your local media files and the music/videos downloaded from YouTube, Vimeo, or others. You can automatically or manually add subtitles in .ass and .srt formats. It offers smoother playback while other media players show a video jitter, choppy, or stalling.
Cisdem best Mac video player contains a built-in video converter, allowing you to media files to MP4, M4V, MOV, MP3, M4A, iPhone, iPad, Samsung, and so on. It's totally free to play video & audio files but to unlock the conversion function, you need to upgrade to the pro version.

Free Download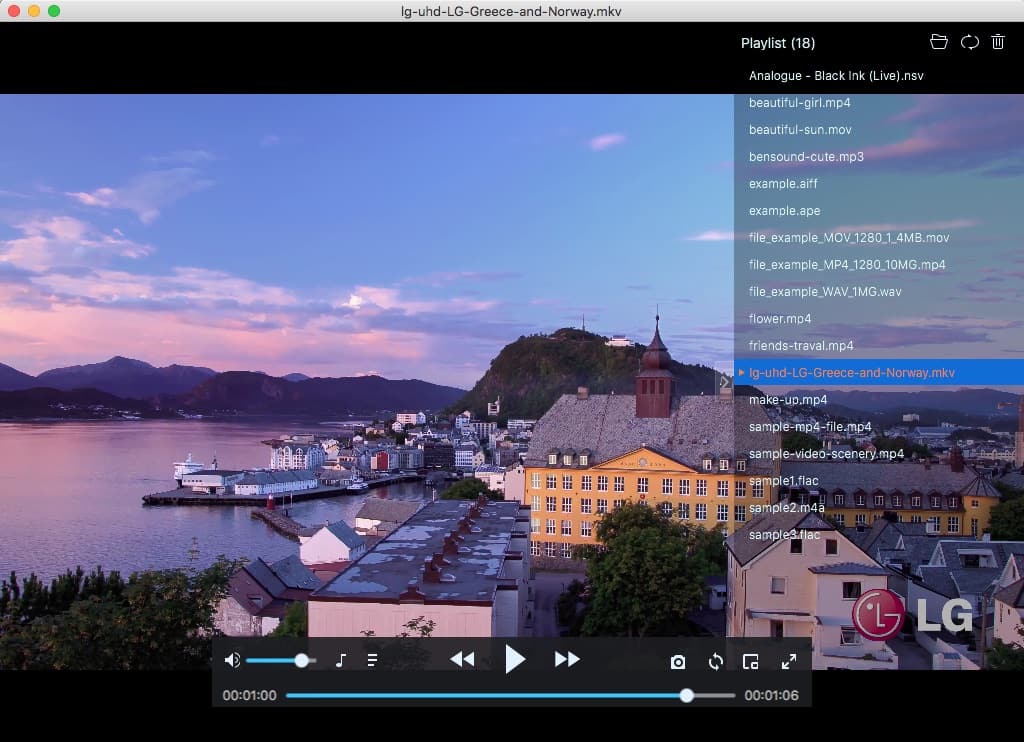 Pros:
Equipped with a concise and decent interface
Play video/audio files in more than 100 formats
Play 1080P, 4K, 5K, and even 8K videos
Load subtitles in any language, or import subtitles, as you want
Choose the audio soundtracks and stereo
Capture snapshots of each frame
Turn volume up or down
Take less occupancy on CPU memory of your Mac
Show detailed information about the video and audio files
Mac video player with speed control.
Cons:
Only apply to the Mac system
Supported Media Formats:
Video Formats: wmv, avi, asf, rm, rmvb, 3gp, 3g2, mpg, mpeg, m2v, mpa, dat, mp4, ts, m2t, t2, mov, qt, m4v, m2ts, mts, flv, f4v, mkv, dv, dif, dvr, xwmv, amv, mpv, nsv, au, mjpg, mjpeg, nut, h261, h263, h264, YUV, iso, divx, mod, tod, vro, dpg.
Audio Formats: mp3, mp2, wma, wav, ogg, aac, ac3, m4a, mka, aiff, ape, flac
FAQ: What're the differences between Cisdem Video Player and Cisdem Video Converter?
Cisdem Video Player
Cisdem Video Converter
Download
Free download
Download the free trial
Price
Free ($9.99 to active conversion feature)
$49.99
Video Play
Dedicated video player (rich playback controls)
Inbuilt-in video player (non-primary function)
Video Convert
Support 40+ output formats
Support 300+ formats
Batch Convert
No
Yes
Extra
/

Rip DVD movies and music

Download online videos from 1000+ sites
Both programs support playing and converting features. But as their names indicate, the former is mainly used to play videos, while the latter is a professional video converter & downloader.
#2 VLC Media Player for Mac - Best Feature set
Compatibility: Mac OS X 10.7.5 or newer
Price: Free
Latest Version: 3.0.17 released in March 11, 2022
VLC Media Player, an uncluttered, open-source and cross-platform program, supports DivX and MPEG streaming. It can play DVDs, CDs, VCDs, network streaming protocols, and various types of video files. The best video player Mac offers playlist for viewing multiple videos one after the other.
Meanwhile, VLC empowers you to open Zip media files without unpacking them. And you can simply tweak the playback controls and audio volume (up to 200%). But it's a little delayed while playing, "Each time I click on run video network it plays other audio and DVDs, etc. and after a million times it finally plays the YouTube video."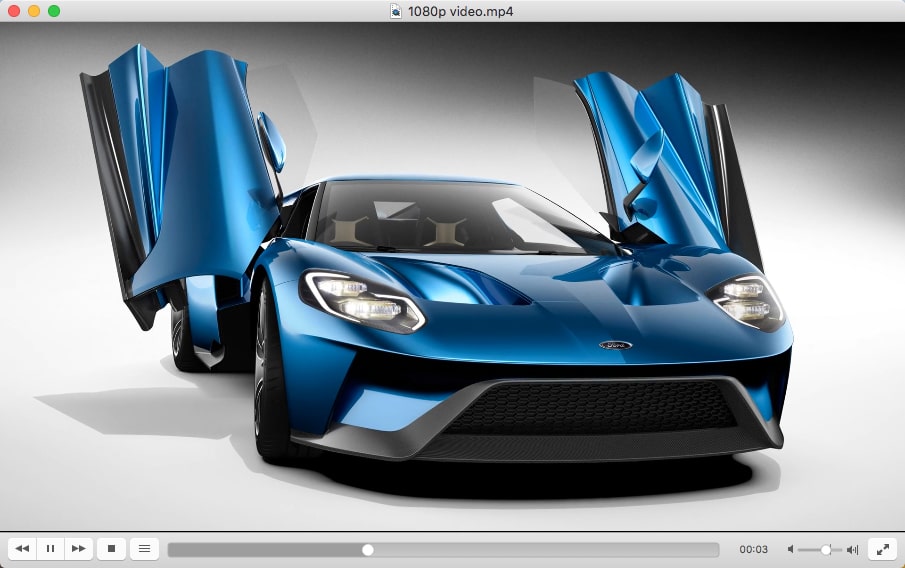 Pros:
Help you enjoy Windows Media, MP3, QuickTime, and OGG files.
Record the movies/music you are playing with VLC
Adjust playback speed (slower, normal, and faster)
Support external subtitles and Closed Captions
Cons:
Outdated user interface
Delay a little while playing the media files
Hard to found the basic functions
Supported Media Formats:
ES, PS, TS, PVA, MP3, AVI, ASF, WMV, WMA, MP4, MOV, 3GP, OGG, OGM, MKV, Real, WAV (including DTS), DTS, AAC, AC3/A52, Raw DV, FLAC, FLV (Flash), MXF, Nut, Standard MIDI / SMF, Creative™ Voice.
Is VLC better than QuickTime on Mac?
QuickTime is the default Mac media player, it can play videos really quick and can record videos, also it supports trim videos to several clips, but what is falls short is that is has a very limit support on video formats. VLC, on the other hand, it supports almost all of the popular audio and video file formats. It is open-source and available on Windows, Mac, and Linux. Also, it has features like find subtitles automatically, Rip dvd movies, convert video files, etc.
Does VLC work on Mac M1?
Yes, since Jan 18, 2021 VLC has add support for Mac M1.
Does VLC have AirPlay?
Yes, VLC has an inbuilt AirPlay function since 2019.
#3 MPlayerX for Mac - Fastest Video Player for Mac
Compatibility: Mac OS X 10.7 or above
Price: Free
Latest Version: 1.1.4 released in July 12, 2016
MPlayerX is one of the fastest choices to play MPEG (damaged MPEG files included), MP4, AVI, ASF, WMV, MOV, WAV, OGG/OGM, CD audio, etc. Plus, this best media player for Mac supports multi-touch, gesture, auto-encode subtitles, and online YouTube/Vimeo playback. But don't confuse MPlayerX and MPlayer OSX Extended. They are two completely different programs.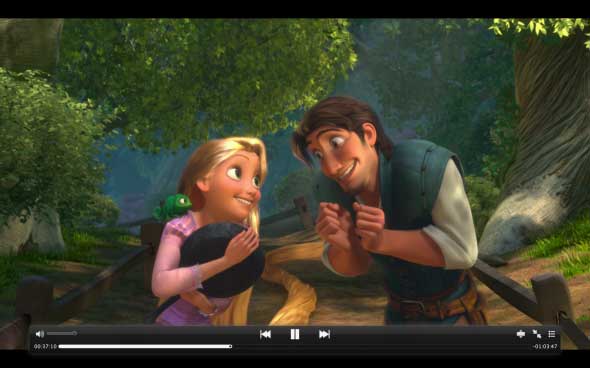 Pros:
Stand-alone video player for Mac
Support various output formats and devices
Auto convert subtitles for media files
Cons:
Injects pop-up ads or advertising banners which may bring a virus
Take up too much CPU
Encounter problem when open the software and ask you to eject the disk image
Dont compatible with latest macOS.
#4 QuickTime Player for Mac - Video Player with Screen Record Feature
Compatibility: Mac OS X 10.6.6 or above
Price: Free
Key Features: QuickTime is the default media player that bundled with the Mac operating system. It ensures you to view Internet video, HD movie trailers, and personal media. This best media player for Mac is slick and easy to use. You can quickly export your videos to 4k, 1080p, 720p, 480p (based on original resolution) or extract them as M4A audio. It also functions as a screen recorder. You can record your playing movie, track, or anything on your current desktop.
However, it supports limited video formats. For more formats available like FLV, you have to install external plug-in Perian.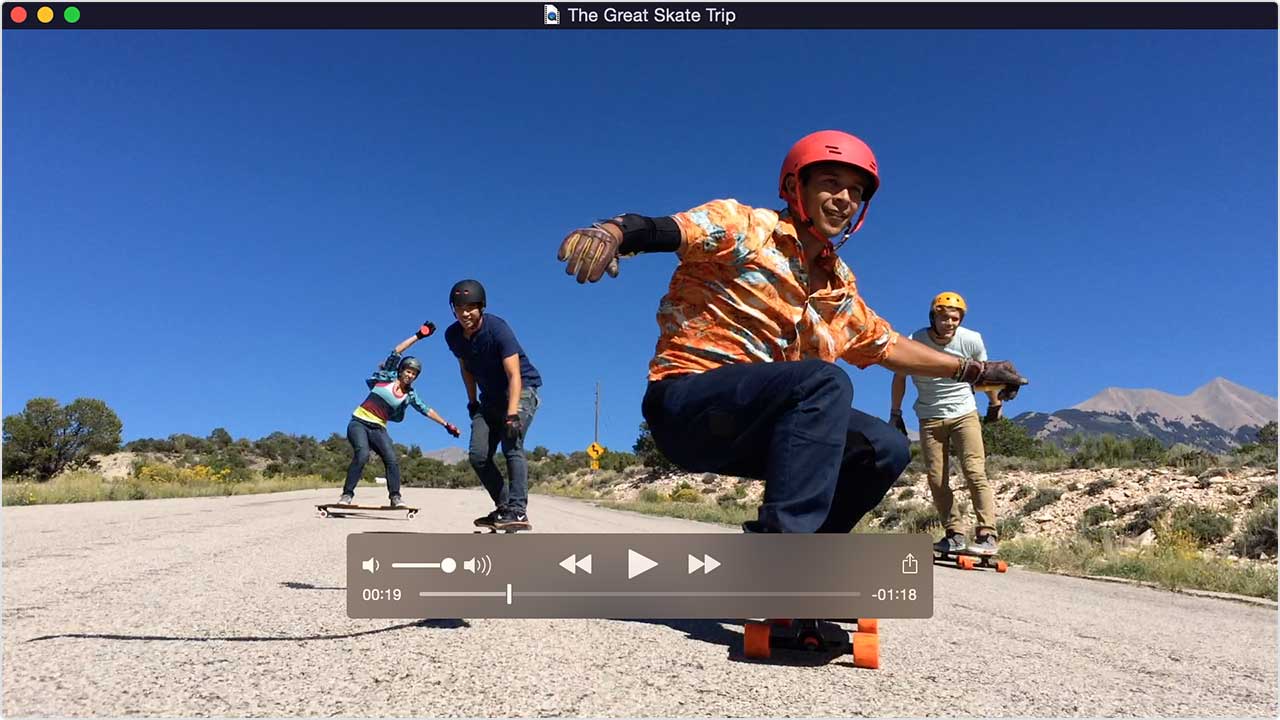 Pros:
No additional installation required
Provide you with advanced H.264 video compression technology to help deliver perfect HD video with less storage space.
Record your Mac screen
Cons:
A bit slow to launch
Can't work with common subtitle files
Can't open MKV, WMV, WMA, AVI, FLV, etc.
Supported Media Formats:
Video File Formats:
mov, mp4, m4v, MPEG-1, 3GPP, 3GPP2, AVI, DV
Audio File Formats:
m4a, m4b, m4p, MP3, caf, AIFF, AU, SD2, WAV, SND, AMR
Compatibility: OS X 10.9.0 or later
Price: $19.99
Latest Version: 8.4 released in March 18, 2022
A multifunctional free media player for Mac, Elmedia Player supports a wide range of common and not so common audio & video formats, including FLV, SWF, WMV, AVI, MOV, MP4, MP3, DAT, FLAC, M4V, MPG, MKV, and more. It can play virtually all media files on your Mac. Although it has some other special features, such as downloading online videos from YouTube and adjusting audio settings, they are not free and need to be upgraded.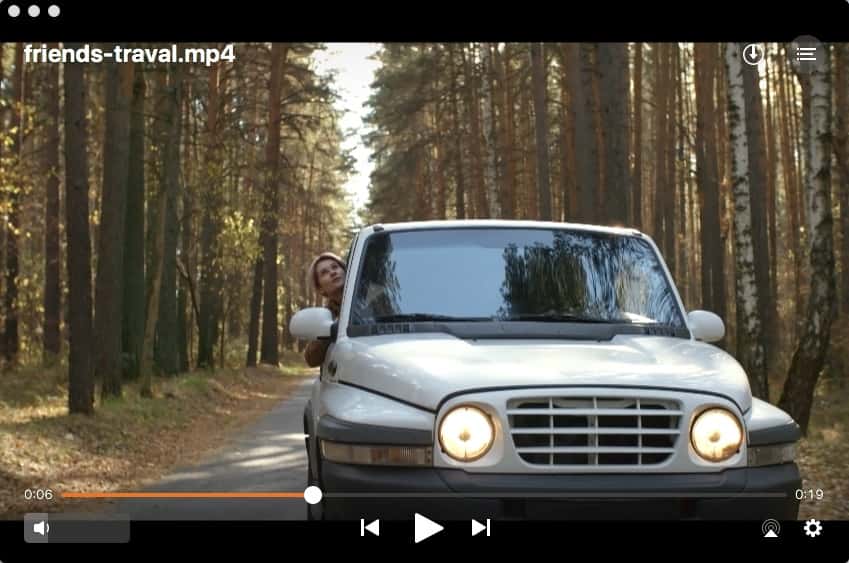 Pros:
Play online videos without ads
Support embedded and external subtitles
Save and load playlist
Reset audio delay
Cons:
Consume major CPU
Might lose video quality when swiping back and forth
Only pro version allows to take screenshots
Supported Media Formats:
Video File Formats:
3gp, avi, mp4, mpeg, vob, flv, mov, mkv, 3iv, asf, fli, m1v, m2t, m2ts, m2v, m4v, mp2, mpg, mpg2, mpg4, mpv, mqv, nut, nuv, nsv, qt, ram, rec, rm, rmvb, ts, vcd, vfw, wmv, webm, rv, f4v, ogv, ogm, divx, asx, dat, tp, mjp, yuv, xvid, vc1, mtv, mxf, qtz, dv, hdv, 3g2, mts
Audio File Formats:
mp3, m4a, wma, aac, ac3, aiff, ape, flac, mka, ogg, pcm, ra, vaw, waw, wav, aif, oga, caf, midi, mid, acm, dts, mpa, webm
#6 5KPlayer for Mac - Video Player that supports Airplay
Compatibility: OS X 10.8.0 or higher
Price: Free
Latest Version: 6.9 released in October 25, 2021
5KPlayer is a mixture of free AirPlay media streamer, online video downloader, music player and movie player for Mac. All HD, 4K, 5K videos including MKV, MTS, AVCHD are supported. With AirPlay streaming tech, you can as AirPlay sender/receiver: stream video music from iPhone, iPad to PC or from PC to Apple TV. Although the best Mac video player lets you download videos from YouTube, Vimeo, Dailymotion, etc., the download process will be bit slower.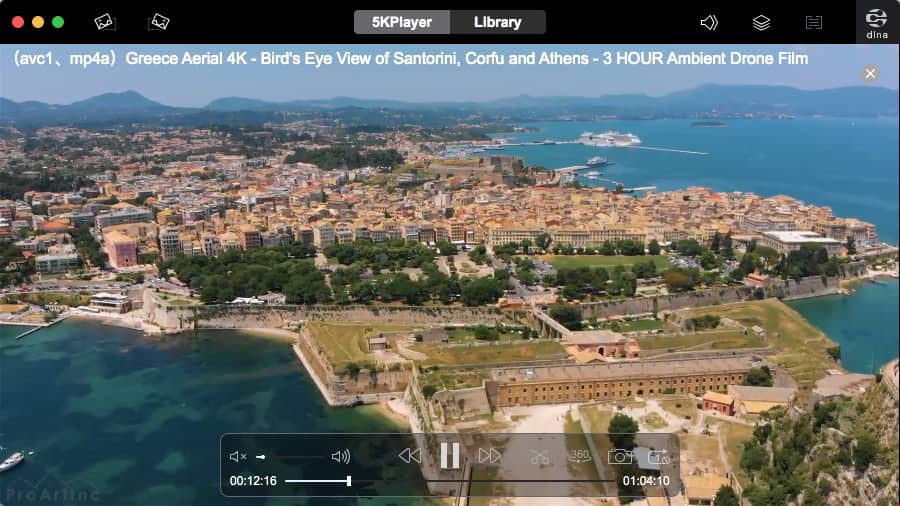 Pros:
Embedded copious codecs for playing different audio, video, and DVD.
No need to install additional codec or pack.
Import subtitle and switch soundtrack
Manage YouTube downloaded videos, DLNA server, and playlist in library
Will show ads every time you open it.
Cons:
Install Bonjour voluntarily without any hint when you need to make AirPlay work
The media player will get stuck when playing high resolution & long videos
Supported Media Formats:
Video File Formats:
MP4, MOV, M4V, 3GP, ASF, DAT, DviX, F4V, FLV, H.264, H.265, M2T, M2TS, MKV, MPEG, MTS, OGV, RM, RMVB, TP, TS, VC1, VOB, WEBM, WMV, Xvid, YUV, etc.
Audio File Formats:
MP3, AAC, OGM, AC3, APE, FLAC, M4A, M4B, MID, MIDI, MKA, MPA, OGG, PCM, RA, RAM, WAV, WMA, AMR, etc.
DVD: Support 6-ragion DVDs, Disney DVD, Encrypted DVD, home-made DVD, ISO files, etc.
#7 Realplayer for Mac - One of the Oldest Video Players Mac
Compatibility: Mac OS X 10.9 or later
Price: Free
Latest Version: 12.0.1 released in August 5, 2021
Realplayer can play all formats of videos. This best video player Mac is a universal media player that automatically recognizes the file format of the video or audio file you want to play. So you can count on it to reliably play the most popular audio and video file formats including AVI, MP4, MP3, WMA, WAV, FLV, MPEG, and more. It requires a fairly powerful machine for some functions. Several applications need to be installed in advance to launch the application properly.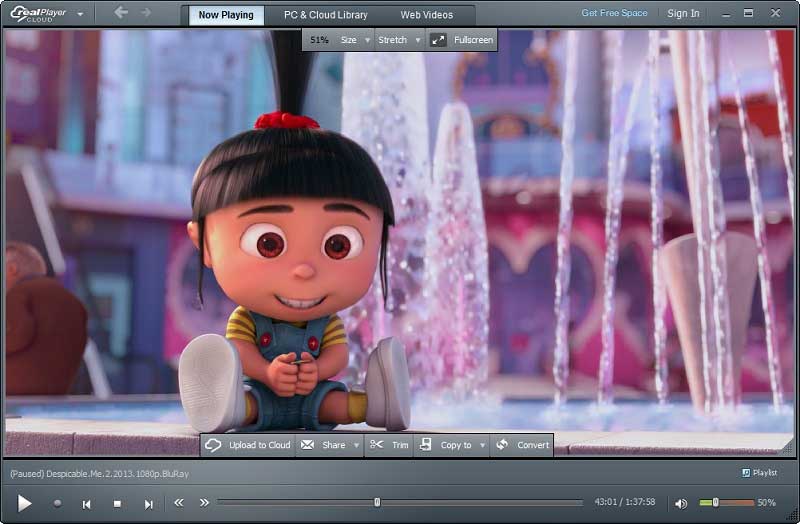 Pros:
Offer several visualization ways for listening and locates your media files automatically.
Include handy downloading and conversion features that may benefit some users.
Cons:
Work slowly
Less user-friendly to use
Supported Media Formats:
mp4, m4e, m4v, webm, mkv, vob, divx, mps, m2v, m1v, mpe
#8 DivX Player for Mac
Compatibility: Mac OS X 10.5.0 or above
Price: $19.99
Latest Version: 10.8.9 released in Apr 13, 2021
DivX Player delivers high-quality video playback for AVI, DIVX, MKV, MP4, and more. It is the best video player Mac to watch DivX, MKV, and HEVC up to 4K films. You can use its built-in TransferWizard to burn videos to DVD/USB/computer. It also comes with DivX Codec Pack and a free 15-day trial of DivX Plus Converter for those who plan to convert.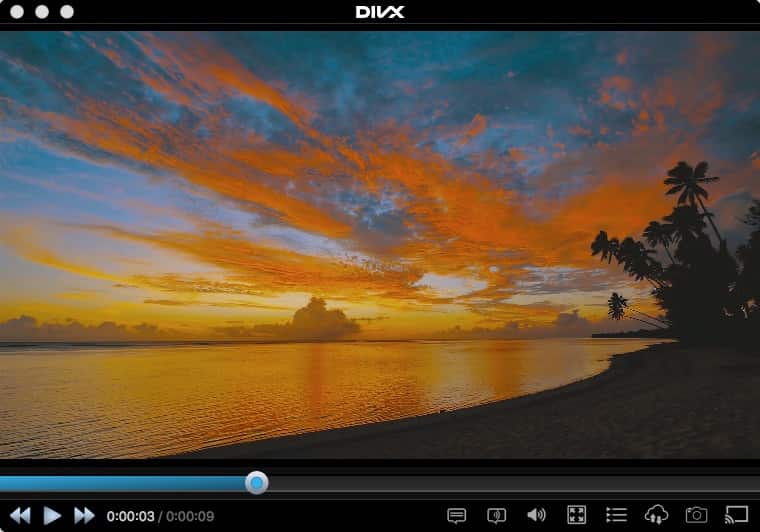 Pros:
Support playing HD 720P/1080P, UHD 4K video movies
Open video directly with URL
Import video files into library
Cons:
Large installation file and install other software without permission
Poor compatibility with the latest system
Lack some key features, e.g. rewind and forward
Supported Media Formats:
MPEG2, WMV, Real Video, WMA, LPCM , ADPCM, Real Audio
#9 Movist Video Player for Mac
Compatibility: OS X 10.10.0 or late
Price: $4.99
Latest Version: 2.8.1 released in November 28, 2021
Movist, based on QuickTime and FFmpeg, is another best media player for Mac. It has the ability to encode/decode a multitude of formats and add subtitles. You can do some general and advanced settings for better and convenient video playback. However, the new versions like 2.4.2, 2.4.3 are not free now, which charge $4.99 or $7.99 (Movist Pro). To get Movist free video player for Mac, you should install the old version like 0.6.8 or before.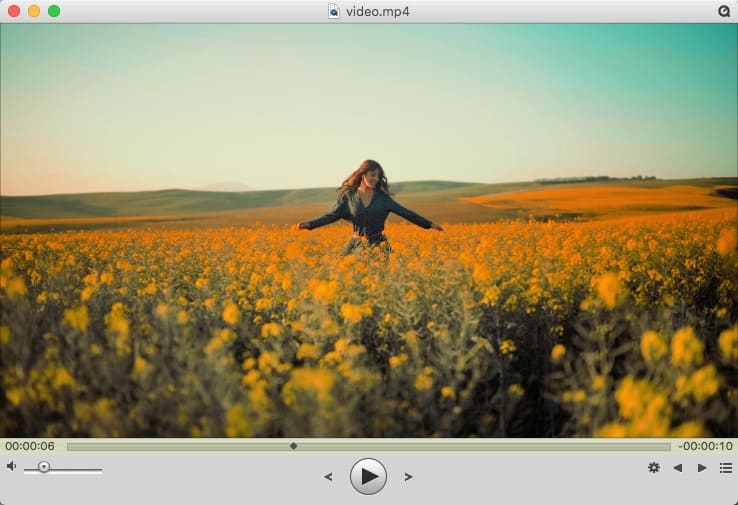 Pros:
Simple to operate
Support playlist
Many customizable options
Cons:
The new versions are not free now
#10 NicePlayer for Mac
Compatibility: Mac OS X 10.5 or above
Price: Free
Latest Version: 0.98 released in April 21, 2014
NicePlayer is the best Video Player for Mac with a multi-engine player designed for playing movies nicely. This program features full-screen or borderless floating windows, useful controls for scrubbing or queuing movies, and on-the-fly playlist creation.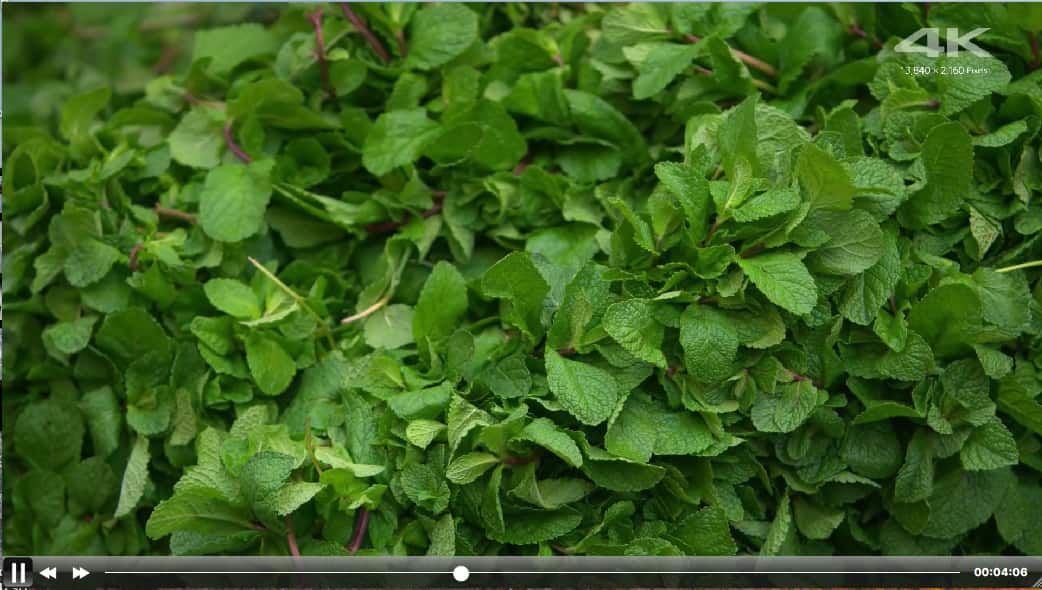 Pros:
Lightweight and compatible with most formats
Can adjust the aspect ratio
Make a suitable presentation with the aid of toolbar (Half Size, Double Size, Fill Screen, Fill Width, etc.)
Cons:
Can't handle AVI, MKV or MPG videos.
No support for subtitles and changing audio sources, etc.
Unable to play the videos by dragging it to the software
Not convenient to switch to another video
What is Media Player (Software)?
We often need the best media player for Mac, but before installing new software it is good to get some knowledge about it.
According to the explanation from Wikipedia, a media player (software) is a handy program that can help you play videos, music, movies, and other multimedia files on the computer. All media players display standard media control icons: play, pause, fast-forward, back forward, and stop buttons.
How to Use the Best Video Player for Mac?
All video players mentioned above are easy to use. Let's take Cisdem Video Player as an example:
Step 1. Download and install the best free video player for Mac, then launch it.

Free Download
Step 2. Drag and drop the video file you wish to watch to the interface of the software.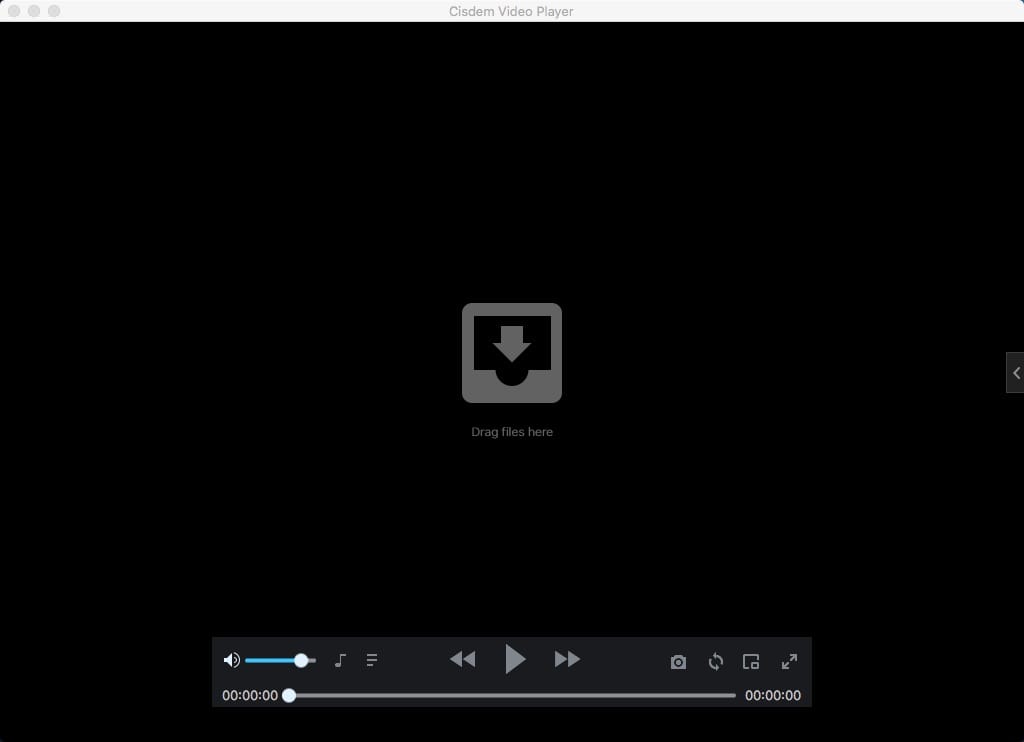 Step 3. Click

button to start video play on Mac.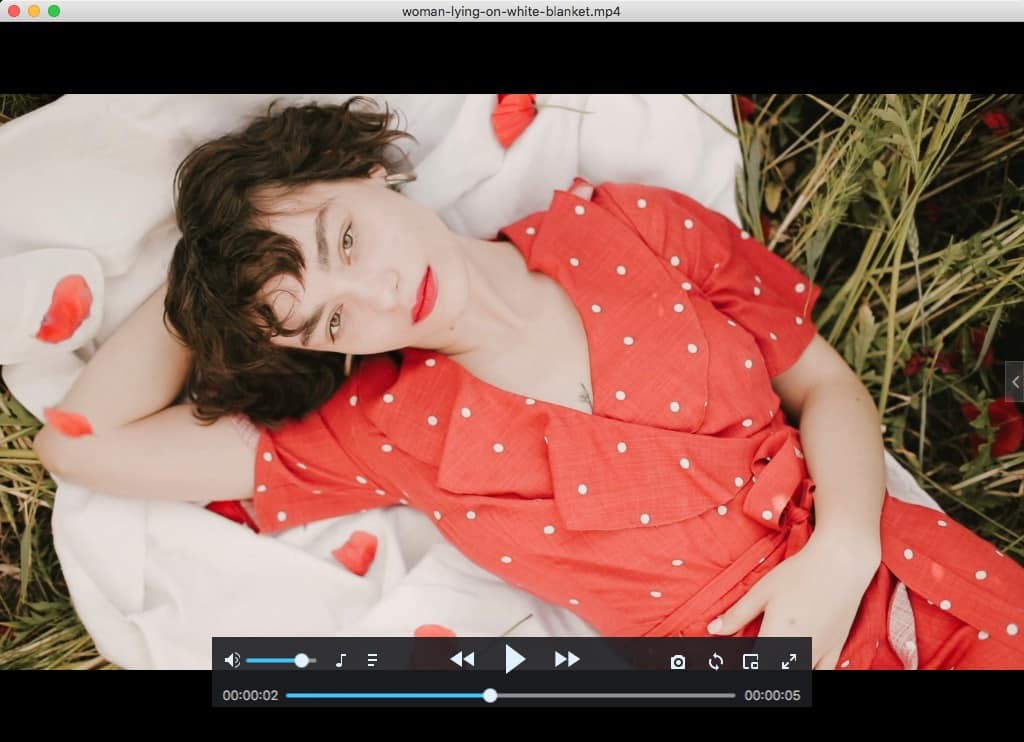 How to Change the Default Video Player on Mac?
QuickTime Player is the default Mac media player. You can change it into the best video player for Mac you think.
Step 1. Locate the media file you wish to play.
Step 2. Right-click on it, a drop-down menu will appear.
Step 3. Choose "Open With" > "Other", which brings up a dialog for selecting the application to open your media file.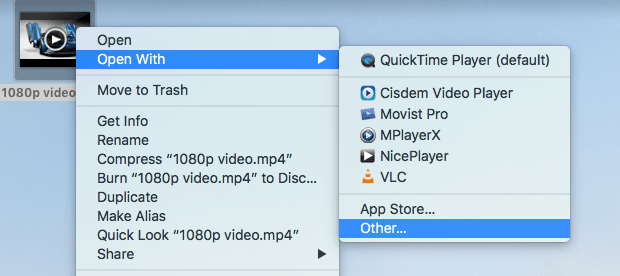 Step 4. Choose your best media player Mac, check the box- "Always Open With", and click on "Open".
Conclusion
I deem that you already have the best media player for Mac in your mind, just download it on Mac and have a try if it is right the thing as you expected. Here I advise those who still feel a little confused to choose from, I push Cisdem Video Player for Mac in front of you. it gets more and more reputation and becomes a stable status among the market. 4K video, 5K/1080p HD videos, all of popular SD & HD standard video formats which other free video player tools unable to support, or add subtitle files, Cisdem Video Player for Mac can all fix it. What's the best I enjoy, it offers crisp and clear visual image, I feel the video playing quite high quality.