4K means more pixels, clearer image, more details on the screen than 1080P standard HD. With the advent of 4K, an increasing number of devices start to deliver 4K resolution, like YouTube 4K smart video, 4K TV, Apple's 27-inch iMac, iPhone 6s, etc.
But not all computers support the smooth playback of 4K videos. If you want to watch 4K videos on your Mac, you'd better get a Mac 4K player installed firstly.
The best 4K video player for Mac can help you play 4K Ultra HD movies in any format with the highest picture quality and accuracy delivered. So what is the best 4K video player for Mac? This article will give you the most satisfactory reply. Go on reading and find suitable apps to play your favorite Ultra high definition movies.
Bonus: The Best 4K Video Converter for Mac
Play 4K Ultra HD videos everywhere with the aid of a video converter
Convert video and audio files in batch while retaining high quality
Convert 4K videos to 600+ digital formats and optimized presets
Edit 4K videos with a built-in tool, like Trim, Crop, Rotate, 3D Effects, Watermark, Subtitles, etc.
Merge all converted 4K videos into a large file
Rip DVD songs and movies to videos for playing them on iPhone, iPad, etc.
Download videos from Facebook, YouTube, or other 1000+ popular websites
No matter what function to choose, just 3 steps to finish the task

Free Download

Free Download
What the Best 4K Player for Mac Can Do?
Support playing numerous formats, such as MKV, AVCHD, WMV, AVI, FLV, OGG, AAC, FLAC, etc.
Have an intuitive and compact interface, which makes it easy to use for novices and saves them a lot of time.
Do not require you to install other codec packs to play 4K video on Mac.
Compatible with the common 4K codec, like H.264, H.265, VP8/VP9, AV1, SD, HD video codec and so on.
Allow 4K UHD, HEVC, 1080P video content along with DVDs playback.
Packed with some useful features, such as importing subtitle, adding a bookmark, taking screenshots, converting 4K videos to different formats, etc.
Contain no ads or malware, absolutely a secure, green and reliable 4K video player for Mac.
Can convert 4K videos to other formats or compatible with other devices for multiple usage.
Top 4K Video Players for Mac You Should Know
1. Cisdem Video Player (Editor's Choice)
If you have a few 4K movies on hand and they are in various formats, to play the movies, you can't miss out Cisdem Video Player for Mac. It's categorically one of the best free video players for Mac.
It supports 200+ formats without extra codec packs installed. Additionally, there is an in-app purchase option for 4K video conversions. And that means you can convert your current 4K movies, music videos to different formats and optimized devices, like MP4 HEVC, iPhone, Samsung Galaxy, Android, etc.
Cisdem 4K player Mac is a pretty stable, flexible and lightweight audio and video player around. The software works perfectly with the help of the well-organized interface and automatic codec updates. You can play 1080P/4K/5K/8K video files without bugs or artifacts. All images, actions, still or moving of the videos, are delicately displayed. Throw favorite movies at it, and start to play virtually any video & audio file in a snap, you will get much joy from watching.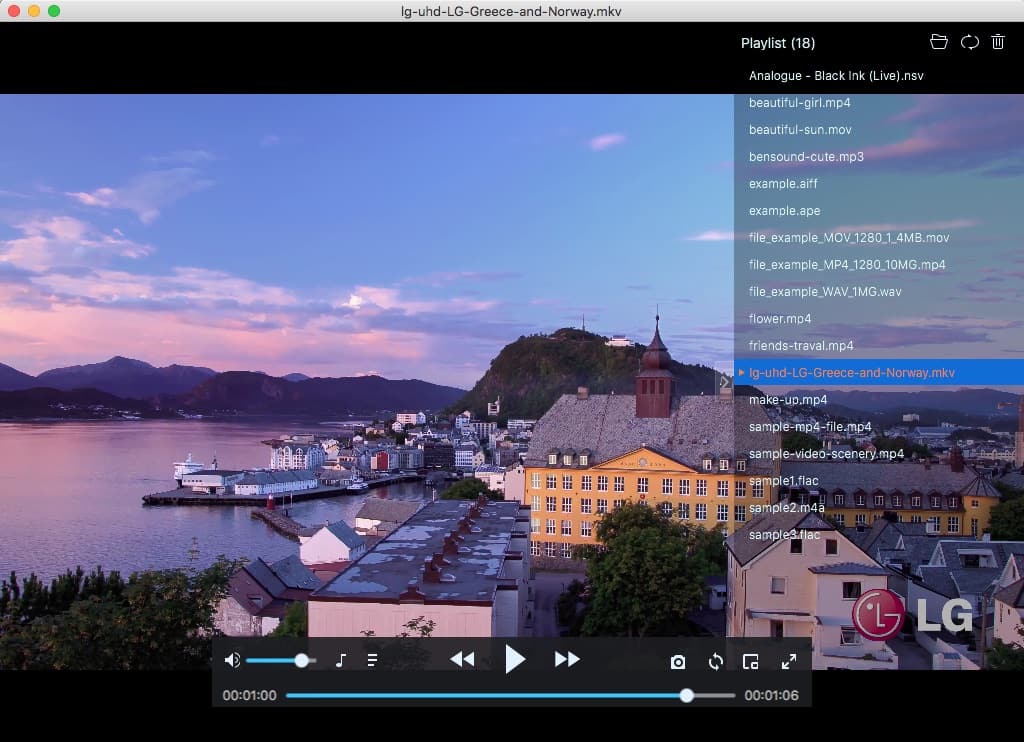 Pros:
Load 4K videos fast by dragging it to the program directly
Play 1080P/4K/5K/8K videos smoothly, no obstruction and buffering
Convert any imported 4K files to different formats, with auto fit quality
Set shortcut keys to fully control playback
Adjust the playback speed and navigate 4K videos frame by frame
Support uploading external subtitles
Other helpful features: de-interlacing an interlaced video, taking snapshots, etc.
Cons:
Although it's a free 4K video player for Mac, the conversion feature is supposed to pay.
2. VLC Media Player
VLC Media Player, an open-source multimedia solution, is developed by the VideoLAN project. As a well-known, non-profit program, this free 4K player for Mac is hugely popular. It gives you the ability to play media from your computer or a disk or to stream it from the Web.
Also, it supports a large range of codecs, enabling you to play virtually multiple media formats. You can convert you 4K videos to a compressed file format, but the outputs are extremely limited, not as many as Cisdem video player.
VLC in version 2.1 or later has been updated to support 4K playbacks. You can now use the free 4K video player to enjoy your favorite 4K movies. However, when playing some large 4K videos, you may encounter an unpleasant experience as it will show you poor playback such as shadow in the screen.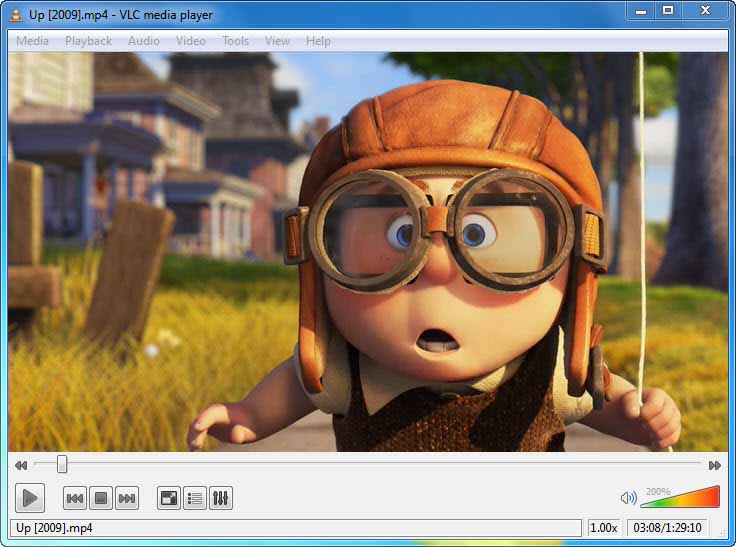 Pros:
Quick to load files
Support a wide range of formats
Integration with web channel streaming services
Offer playlist feature for you to binge watch 4K videos
Allow you to stream 4K movies with external subtitles
Cons:
Can't customize it too much with the outdated interface.
Fail to play some supported or special formats sometimes
Can't play DVD files
There is a display when playing 4K videos
3. DivX Player
DivX Player is also a sought-after 4K video player for Mac, which empowers you to play, create and stream videos smoothly. The best free video player has some special and useful features. It offers real-time, high-quality HEVC playback of HM11 encoded video and lets you play 4K video, TV programs, and movies from the Internet.
You are able to use Chapter Points to access different scenes with a simple click, instead of fast forward or rewind. And you can easily find what you've been watching with Player's built-in Recently Watched playlist as well. DivX 4K player Mac has geared up with a list of supported formats, including AVI, DIVX, MKV, MP4, MOV and WMV.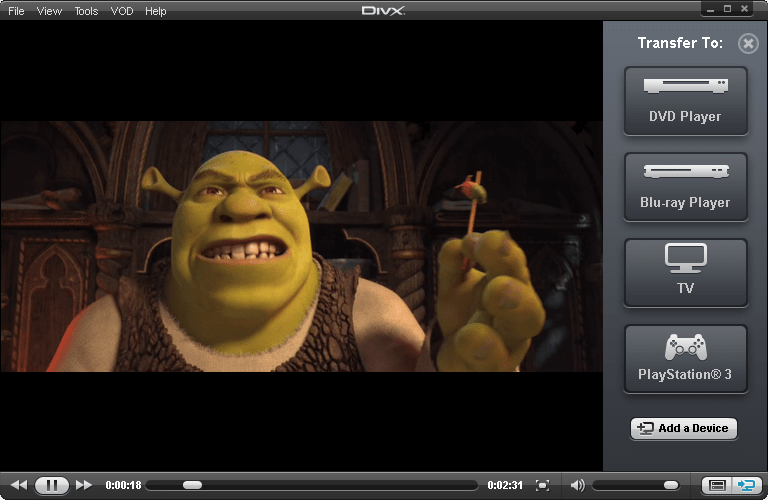 Pros:
Can transfer 4k videos to other devices like DVD player and Playstation
Support for download technology, allowing you to watch the video after it has been completely downloaded
Come with dual monitor support (playing full-screen videos on dual-monitor systems)
DivX Pro is also fully ad-free, with no 3rd party offers in the installer or banner ads
Cons:
Don't ever upgrade to a new version
Freeze sometimes
The free version only provides limited features
The Installer pretty much tricks you into installing malware, adware type programs, etc.
Contains adverts despite having paid for a previous pro version
4. 5KPlayer
When it comes to 4K player for Mac, we must have to mention 5KPlayer, which is an excellent and the best free video player for 4K video files. It highlights with the support for 4K/8K UHD movies, along with the feature of AirPlay streaming video music from an iPad or iPhone to a PC.
5KPlayer is a toolbox of free (MKV) HD video player, music player, AirPlay media streamer and online video downloader. It is designed for playing 4K/5K/1080p HD videos, DVDs and radio with a revolutionary design. It lets you get the awesome playing results.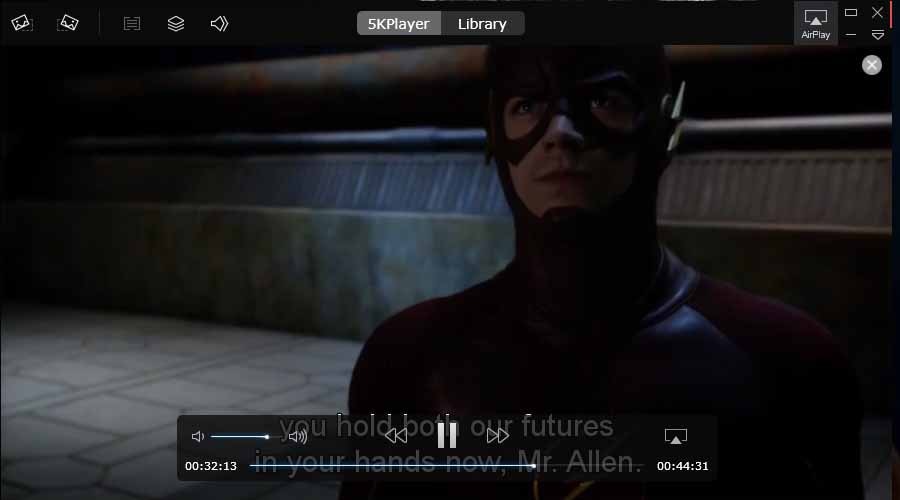 Pros:
Intuitive and neatly-organized interface.
Perform well in playing SD/720P 1080p HD/4K UHD media source in any format.
The perfect combination of HD/UHD video player, music player, online video music downloader, and AirPlay Sender/Receiver.
Cons:
Load video files a little slowly.
The interface is not bright and straightforward, wasting time to comprehend it. (Not easy to find the controls from the dark screen)
Can't download more than one 4K video at a time
Seem to be powerful, but in fact, many features are not practical and use a lot of CPU

Contain ads of another product in the App
5. DVDFab Media Player
DVDFab Media Player has two editions: Standard and Ultra. There is no doubt that it is the best Blu-ray media player software and the superior 4K Video Player for Mac available in cyberspace. The Ultra version plays back almost all video formats you can image, including the HEVC (H.265), UHD (Ultra High Definition), 4K videos, DVD/Blu-ray ISO image files, and folders.
In a word, DVDFab 4K player for Mac helps you play all kinds of media on Mac, from downloaded YouTube videos to Blu-ray discs. Hence, you are permitted to enjoy all-assorted videos with ease via DVDFab Media Player.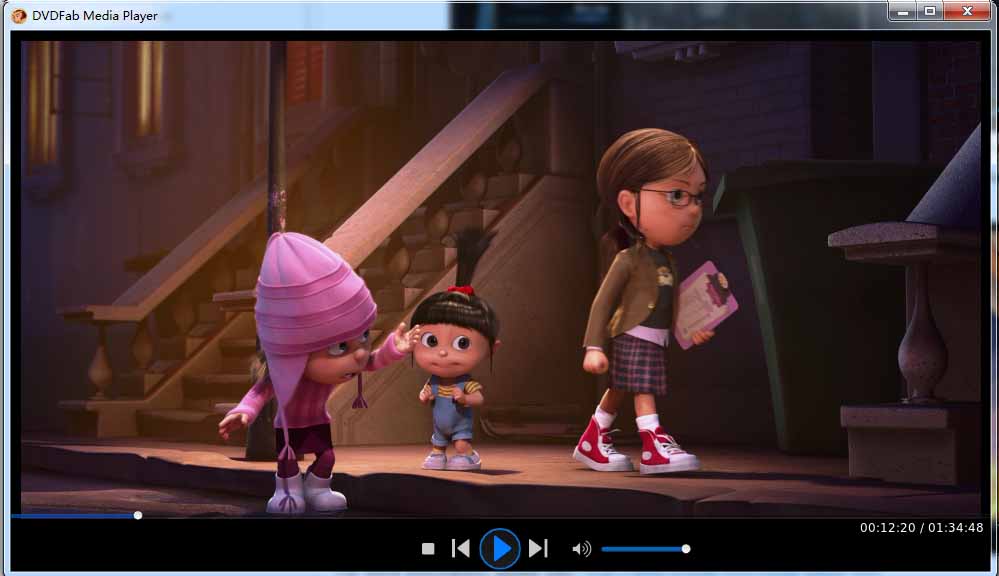 Pros:
Present a clear, streamlined interface that eliminates distracting functions
Play DVD ISO and Blu-ray folders or files, both 2D and 3D
Organize your personalized playlist
Support Hi-Res audio output, up to Dolby Atmos & DTS:X
Cons:
They use malware and viruses to scan your computer for identity theft
Too expensive, the Ultra version need cost $99
The old version requires an Internet connection to play Blu-ray discs. (But you can play other media already downloaded to your Mac off the net.)
6. KMPlayer (K-Multimedia Player)
Something of a rising star, KMPlayer has attracted a group of loyal users. Those people who can clearly understand the numerous features hidden in a context menu really appreciate it and switch to take it as the must-have 4K player for Mac.
Besides, this 4K video player for Mac offers a very sparse interface and an impressive video quality. You can play ultra-HD and 3D videos with a good deal of customizable toolsets, plus support for subtitle files. However, when it plays the same 4K videos, it asks for about 80% more system resources than Cisdem Video Player and VLC Player.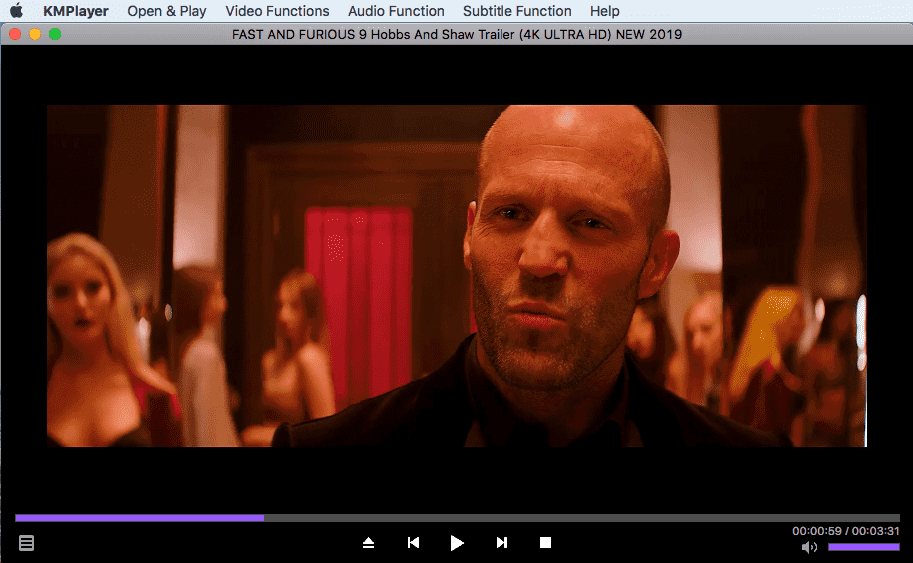 Pros:
Play 4K videos on Mac using the built-in codec
Support 3D format playback functionality
Support external subtitle file
Available in 30+ international languages
Cons:
The 4K player Mac freezes up a lot
Bring up links and ads for third-party content
Average users might get bogged down due to the confusing customization options
How to Use the Best 4K Player for Mac to Play 4K HD Videos for Free?
All the 4k player Mac motioned above are of great help in playing 4k videos on Mac. Among these players, Cisdem Video Player stands out as the best 4k video player for Mac because of its powerful features, simple operation and stable performance. So, let's see the step-by-step guides about how to play 4k videos on Mac with Cisdem Video Player to witness how powerful and easy to operate it is.
Step 1. Download and install the latest version of Cisdem Video Player on your Mac.

Free Download
Step 2. Open the program, add desired 4k video to Cisdem interface. Then it will automatically play the 4k video on Mac with smooth playback and stunning image.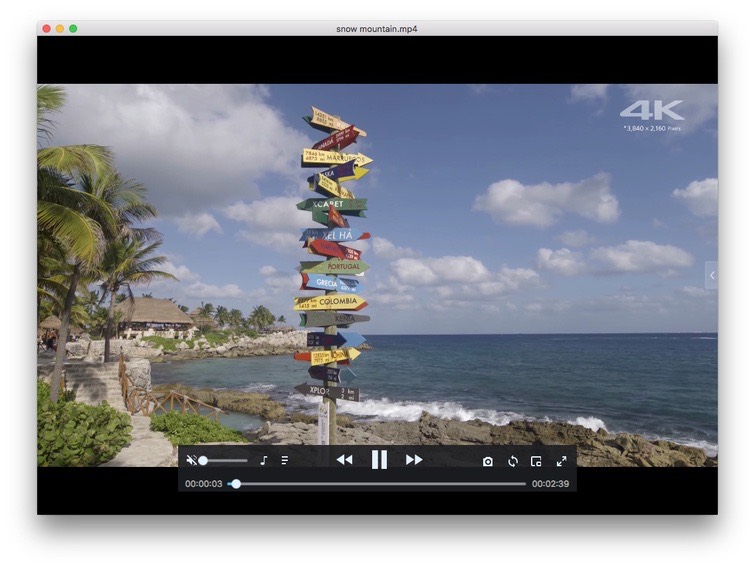 Step 3. If needed, you can choose to convert the playing video to other formats by clicking convert section on the top menu bar (Optional).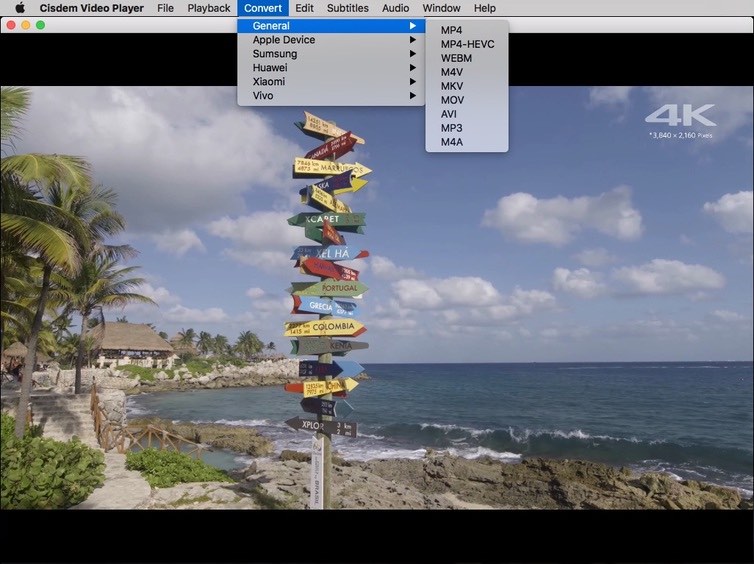 Besides, there are 3 ways for you add 4k videos to choose from.
1. Simply drag-n-drop the 4k video into the program. (Easiest way)
2. Click

on the middle right side of the interface, then click

on the top right corner to select a desired video in the drop-down window.
3. Click "File > Open" in the top menu bar to upload targeted 4k videos.
FAQs on Playing 4k Videos for Mac?
Can all kinds of Macs play 4k videos?
The answer is no. If your Mac version is too old to officially support 4K displays, you have to buy a new one. Check the requirements that your Mac needs to meet to play 4K videos: https://support.apple.com/en-us/HT206587
Does QuickTime play 4k?
QuickTime indeed supports 4K video playback, but it would show a flash back or a black screen frequently. And sometimes you can't see the text in the video correctly.