Mac Preview is always one of my favorite tool among those free macOS utilities, it is designed to work as Adobe Reader, allowing users to open and view PDF/image files, also access to some basic editing features. However, Mac Preview doesn't work perfectly all the time or for all users:
Under Catalina, Preview app refuses to open my PDFs. Admittedly some of my PDF folders have a few hundred to some thousand files in them but cannot open. It just hangs for some minutes. ---Ribbo39/Apple Discussion
It's not the pdfs themselves, as I'm unable to select text in pdf's I know I've copied from in prior versions of OSX. Also, I'm able to select text in Adobe, but not in Preview.---InTheEyesOfMorbo/Reddit
……
Then what to do if Preview not working on your mac anymore, just like above-mentioned users? No worries, here we will offer 4 methods to fix your Preview not working, not responding or not selecting texts on your mac, including the latest Catalina, Mojave or others.
Preview Not Working and Lost? Recover!
Recover Preview PDF, images and other documents
Preview PDF and others before recovery
Restore videos, audios, ebooks, 200+ types of file
Recover PDF files and others from internal or external storage device on mac
Find back files lost due to formatting, deletion, system update, etc.
Quickly search PDF and other documents with filter tool
Recover files to local drive or to cloud platforms
High recovery rate

Free Download
#Situation 1---Preview Not Responding on Mac
Well, during my 5-year experience of using Preview, the issue "Preview Not Responding on Mac" is the most common one. Sometimes I opened a PDF file with Preview app by default, but Preview won't respond, keeping "dancing" in the Dock. In this case, force quit then restart is always the best fix. And here we offer 3 solutions to fix "Preview Not Responding on Mac"
Method 1. Force Quit and Restart
When Preview not responding, we prefer to right click on the Preview icon and choose "Quit", but Preview won't quit. In this case, we need force quit the program.
Step 1. Click the Apple icon>Force Quit.
Step 2. Choose Preview from the list, then click "Force Quit".
Step 3. (Optional). If you cannot force quit, save all the files under editing, then shut down your mac and restart the mac.
Step 4. Re-open PDF file with Preview.
Method 2. Clean Up Your Mac
It is always recommendable to have a good habit of cleaning up mac on a schedule, making sure there is enough space for your mac and applications to work properly. A mac with nearly full memory may cause Preview not responding.
Step 1. Click Apple icon>About This Mac.
Step 2. Go to Storage and check the space on your mac.
Step 3. If there isn't enough space (make sure there is 15GB space left at least), go to Trash Bin and permanently delete some of the files, or you can go to Finder folders to manually delete one by one.
Method 3. Reset Preview
If the above-mentioned 2 solutions won't work, you can reset your Preview by deleting its configuration.
Step 1. Quit Preview, then click Go>Go to Folder.
Step 2. Input as following, click "Go".
Step 3. Find and delete following files, you may not be able to find them all:
Containers/com.apple.Preview
Containers/com.apple.quicklook.ui.helper
Preferences/com.apple.Preview.LSSharedFileList.plist Preferences/com.apple.Preview.SandboxedPersistentURLs.LSSharedFileList.plist
Saved Application State/com.apple.Preview.savedState
Step 4. Then restart Preview.
#Situation 2---Preview Not Opening PDFs on Mac
You may have noticed that there are a small part of mac users complaining that Preview won't open PDF files on mac after upgrading to macOS 10.15 Catalina or earlier Mojave. Though we are still not sure about if this is caused by the macOS itself, here are 5 possible solutions to fix "Preview Not Opening PDFs on Mac".
Method 1. Restart Preview
You need to quit Preview first, then right click on the PDF and choose to open with Preview. Restarting Preview may be not able to fix this issue, but we need to try at least once to make sure if your Preview responds or not.
Method 2. Set Preview as the Defaulted PDF Viewer
If you haven't installed any other 3rd-party PDF reader, neither set Preview as your defaulted reader, you may not be able to open PDFs with Preview, in this case, you need to set Preview as the defaulted tool to open and view PDF files.
Step 1.Right click on the PDF file, go to Get Info.
Step 2. Choose "Preview" from "Open with" and "Change All" to set Preview as the defaulted PDF viewer.
Step 3. Then double click on the PDF file and open with Preview.
Method 3. Restart Mac
Restarting mac seems to be the best and easiest way to shoot a trouble when working on Mac, we cannot figure out why and how it works, but it just magically solves our problems sometimes.
Before restarting the Mac, save your files under working. Then click the Apple icon>Restart.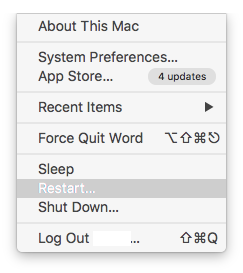 In the case you cannot restart this way, press and hold the Power button to shut down, then press the Power button to restart mac.
Method 4. Reset permissions
When Preview and other sandboxed apps unexpected quit when opened, Apple recommends users to reset permissions. While, if you cannot open PDFs with Preview, you can also try to get it fixed by resetting permissions.
Step 1. Click Apple icon>Go to Folder.
Step 2. Input as following.
Step 3. Right click on your home folder>Get Info.
Step 4. Click on the Lock icon, enter your password to unlock. Click on the Setting icon>Apply to closed items…
Step 5. Go to Finder>Applications, open Terminal.
Step 6 Input "diskutil resetUserPermissions / `id -u`" and press "Enter".
Step 7. Once the resetting finishes, restart your mac and open PDF with Preview again.
Method 5. Open PDF files in Google Browser
If all the above-listed solutions fail to open PDF file with Preview on mac, you may need to find an alternative PDF reader, like Google Browser.
Step 1. Launch Google Browser.
Step 2. Directly drag and drop the PDF file to a blank webpage.
Method 6. Downgrade macOS version
The last solution to fix "Preview not opening PDFs" is to downgrade macOS version. Most of the mac user that having problems of "Preview not opening PDFs" encounter this after they upgraded to Catalina or Mojave, therefore, though not recommended, you can downgrade your macOS to the version on which your Preview works the best, if you have known how to upgrade and downgrade macOS.
Step 1. Back up your files with Time Machine.
Step 2. Create a bootable installer of macOS Mojave or earlier.
Connect an external hard drive to your mac, format it in Disk Utilities. Then go to Finder>Applications>Terminal, input "sudo /Applications/Install\ macOS\ Mojave.app/Contents/Resources/createinstallmedia --volume /Volumes/Untitled", press Enter.
Step 3. Uninstall the current macOS version. Click on the Apple icon>Restart, hold down Command+R and enter Recovery mode, choose Disk Utility and select your startup disk, click Erase, then exit Disk Utility.
Step 4. Install Mojave or earlier macOS using bootable installer. Connect the hard drive with created macOS installer, click Apple icon>Restart, hold down the Option Key and install Mojave or earlier macOS on your mac.
Step 5. Restart mac and set up Mojave or earlier versions.
#Situation 3---Preview Not Selecting Texts for Copying and Pasting from PDF
With the release of macOS Catalina, most of mac users have upgraded to macOS 10.15. However, a few of mac users found that Preview not selecting PDF texts for copying anymore, even though the PDFs are searchable and copyable. To fix the problem of "Preview not selecting PDF texts", here are 3 possible solutions.
Method 1. Check if the file is protected or scanned
First, we need to check if the file is protected from copying. Download and install the free Adobe Reader, open PDF with Adobe Reader, go to File>Properties>Security, check if "Content Copying for Accessibility" is "Allowed", if yes, keep reading other solutions, if not, please find a PDF Password Remover to unlock the PDF file first.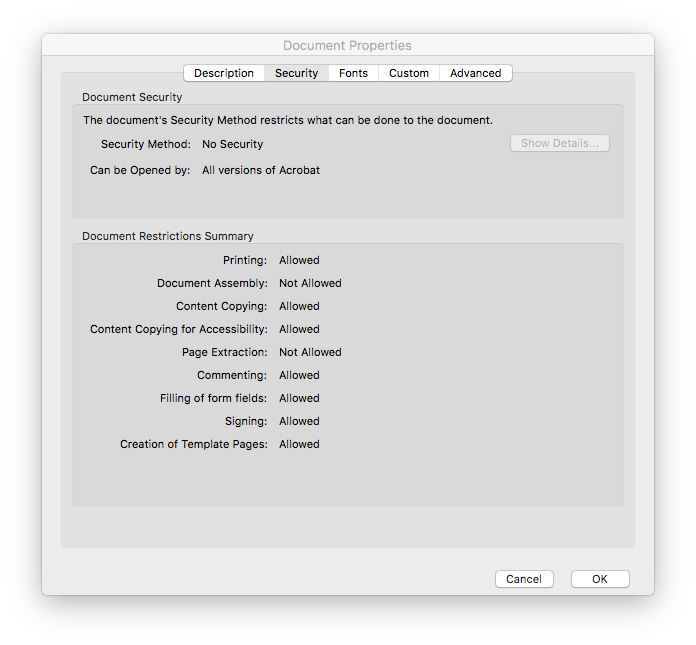 Then, you need to figure out if the PDF is image-based. Open the PDF with Adobe Reader or Google Chrome, select the texts, if not allowed, it means the file is not copyable; if allowed, Preview is not working properly, you can change a PDF reader or keep reading the following solutions.
Method 2. Open file on other pdf reader
If you don't want to spend too much time or efforts on this, you are recommended to use an alternative PDF reader. As you know, all PDF readers are free to use, also virtually all web browsers build in the feature to open and view PDF files. Even, there are online free PDF readers available.
Method 3. Convert Preview PDF to Editable Formats on Mac
In the case that Preview cannot meet your needs to edit and manipulate your PDFs, you can even convert a Preview PDF to editable word or other formats for easy editing.
Cisdem PDF Converter OCR is a mac program allowing users to convert native, scanned even protected PDFs into Word or other 15 formats, so you can edit the file much easily.
Main Features of Cisdem PDF Converter OCR
Convert all PDFs into Word and other formats for editing
OCR images to editable formats
High-quality PDF conversion
Batch PDF conversion
Create PDF from Word and other formats
Steps to Convert PDF to Word for Editing on Mac
1. Download and install Cisdem PDF Converter OCR on mac.
Free Download
2. Drag and drop single or multiple PDFs into the program.
3. Choose page range and set output as Word or others as needed. When importing scanned PDFs, you need to download the OCR module according to the prompt.
4. Click 'Convert" to save PDF as editable Word, then you will be able to edit the file easily.
#Situation 4---Others: Not Working When Combining, Searching, Marking-up, Reordering pages, etc.
Still, there are some mac users complaining that Preview is not working at all, for example, Preview not combing PDFs, not searching or highlighting, or others. In this case, you may need to reinstall macOS or find an alternative to Preview.
Method 1. Reinstall macOS Catalina or Mojave
Sometimes, the error that Preview not working is due to clashes during installing macOS, you may need to reinstall for a perfect macOS installation and keep everything back to right track.
Step 1. Back up your files using Time Machine.
Step 2. Click Apple icon>Restart.
Step 3. Hold Command+R until you see the Apple log.
Step 4. Choose "Reinstall macOS" and click "Continue".
Step 5. Choose the start up drive, and reinstall macOS on your mac.
Method 2. Find an alternative
Another efficient way to fix "Preview not working" is using a professional PDF tool, like PDFMaster, it allows users to:
Open and view PDFs
Merge and split PDFs
Compress PDFs
Lock PDFs
Annotate and sign PDFs
Tag and search PDFs
Convert PDF into different formats
Create PDF from Word, Image and so on
Also, PDFMaster offers free trial for users to test its performance.

Free Download
Conclusion
As you can see, before you have to reinstall or downgrade macOS to fix the problem of "Preview not working", there are multiple solutions may help to get the problem solved. And according to myself, I'd like to convert PDF to other format, or using another PDF reader before Apple gets the Preview bugs solved.