When you delete any unwanted files like documents, photos, music and other items or folder from your Mac hard drive, they aren't permanently deleted and will be removed to Trash. They still take up some Mac space and it is pretty easy to delete them permanently. But there are some situations that you may get error messages and can't move unwanted files to Trash or empty Trash to delete them for good. Here we listed some of the solutions that may help you delete files and empty Trash to free up your Mac space.
Recover Files from Emptied Trash Bin
Recover files from various internal/external hard drive on mac
Restore 200+ types of file: video, audio, image, documents, etc.
Retrieve files lost due to formatting, deletion, system update, etc.
5 recovery modes for different data loss situations
Preview files before recovery
High recovery rate

Free Download
First, Follow The Basic Steps to Empty Trash
Believe that many novices don't know how to delete the file or empty Trash on Mac, so before I come to the point, I need to show the basic steps listed as below. If you are not Mac newbie, please ignore this section and read on to get to the main point of this article.
Directly drag the file icon on to the Trash icon, located at the far right of the Dock bar. Or select the item and press Command-Delete.
If you want to delete files from Trash, just right-click the Trash bin icon and select "Empty Trash", or in Finder, click the Finder drop-down menu, then choose "Empty Trash".
If you want to preview a file in Trash before deleting, you'll need to pull the file out of the bin and double-click it to open it up and preview. Otherwise, you'll receive a message saying "The document xxx can't be opened because it's in the Trash. To use this item, first drag it out of the Trash."
Want to recover emptied trash, here are the solutions.
Can't Delete Files or Empty Trash on Mac? 5 Fixes!
Usually, you can delete files and empty trash on Mac by following above steps. But there are some situations that you can't delete the file, and you need extra solution to delete. Here we list some conditions and solutions to help you delete unwanted files permanently and speed up your Mac.
#1 Check If the File is Locked?
When you try to delete or move a file to Trash, fortunately you failed and it said "The operation could not be completed because the item '(item name)' is locked". If files are locked, you should unlock them before deleting. To unlock a file, select the file you want to work, hold Alt and Command and I, when the window pops up, uncheck "Locked". Or you should press Option key while choosing Finder > Empty Trash to force delete locked files from Trash.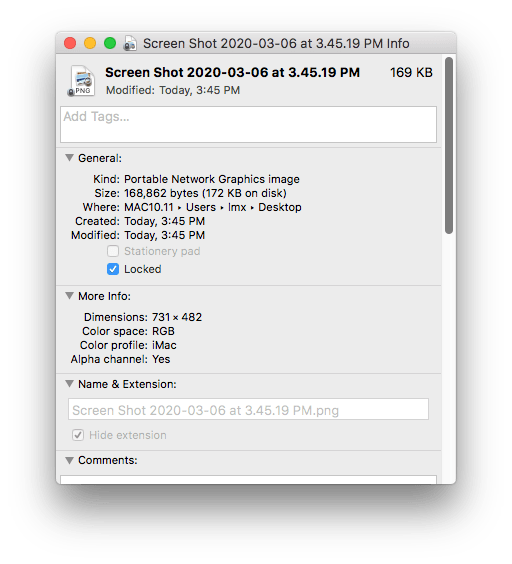 #2 Check If the File is in Use?
If you can't delete a file and you get an error about "File in Use", then your file is used by another app. You should try to close the app that is using the file. And you can also quit all the running apps to make sure that the file is no more being used by any of the apps. Then try to delete the file, if the error message appears again, please restart your Mac. And the file can be moved to Trash, then feel free to empty Trash on Mac.

#3 Do You Have Permissions to Modify the File?
If you get an error saying that you don't have permission when deleting a file or empty Trash, then you should check if you have correct permissions and change the file's permissions to modify and delete it. To check and change permissions, select a file and go to File > Get Info, at the bottom of the Get Info window, you'll see "Sharing & Permissions", select the arrow to drop down the options, click your current user name to check the file permissions, and then adjust permissions option to "Read & Write".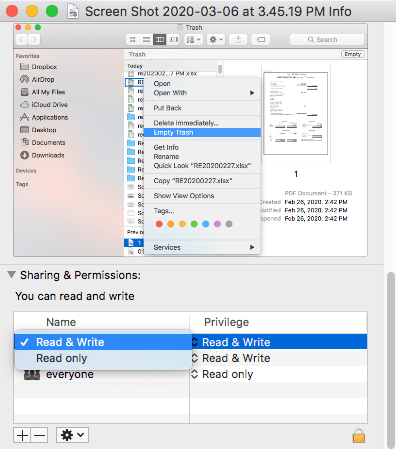 #4 Does the File Name Have Special Characters?
Sometimes if you can't delete a Mac file, the reason might be that the name of the file you want to delete has special characters. File name should not contain a solidus ("slash", "/") character or any other special ASCII character such as a trademark, quotation mark, or copyright symbol. To solve this problem, just rename the file and remove the special characters, then delete the file.
#5 Ultimate Solution
There are many third-party utility apps which can forcibly empty the Trash folder, but I don't personally recommend any one of them here, because they ultimately use Terminal commands to delete Trash files, and we can do it manually. Using Terminal to empty Trash is the ultimate solution you should take, only if all of the above have failed. As these commands will delete locked files without alerting you anything. Be extra cautious when doing this, or make a backup of your Mac files before deleting if needed.
Open Terminal on your Mac by going to Applications > Utilities > Terminal or using spotlight at the top right corner.
Now type "cd ~/.Trash" and hit the "Return" key. Now type "sudo rm –R" followed by space. Leaving a space is mandatory, and don't hit the "Return" button here. Then open the Trash folder from the Dock.
Select all the files from Trash folder, drag and drop them into the Terminal window. This step will add the path of each file to the "Remove" command we entered above.
Now you can hit the "Return" button and then enter your administrator password when prompted to continue the deleting operation. And this process will take you some time which depends on the size of the files you are deleting.
This ultimate solution will delete files permanently from Trash beyond recovery, that means the files once deleted will not be recovered, so make sure you do it extactly during the process.

Connie Wisley


Connie has been writing for Mac productivity and utility apps since 2009. Each review and solution is based on her practical tests, she is aways energetic and trustworthy in this field.