Here is a PhotoSweeper review along with instructions on how to use it. Unless you don't need to take or store photos, you know how duplicate photos annoy people. If you once tried to find and delete your duplicate photos, you must have realized the easiest and most effective way is using a professional duplicate photo remover for Mac. But it is not that easy to find a program performs as good as you expect.
Today, we are going to review PhotoSweeper, a swift and powerful duplicate photo finder for Mac that enjoys a large popularity, to help our users to decide if they want to have a try on this program and how to use PhotoSweeper on Mac for duplicate removal.
PhotoSweeper Review
As we have mentioned in the very beginning, PhotoSweeper is a dedicated Mac program to find, compare and delete duplicate photos from hard disk or external storage. Also, it allows users to compare video files. In the following parts, you will learn all the facts about PhotoSweeper.
The Best PhotoSweeper Alternative
Find duplicate images, audios, videos, documents, packages, etc.
Also find similar images
Support computer's internal HD, external HD, SD card, USB flash drive and more
Remove duplicates from Mac's Photos, iPhoto, iTunes and Music
Quickly scan for duplicates and let you exclude folders from scan
Offer 3 preview modes, allowing side-by-side preview
Select duplicates automatically for batch removal in 1 click
Provide 3 ways to remove unwanted selected duplicates
Support macOS 10.11 or later
Also available for Windows

Free Download

Free Download
First Time Installation
Users can download the program on its official website, the installation package is 28MB and will take a space of 34 MB on your Mac for the installation.
To tell the truth, PhotoSweeper works good to find and remove duplicate photos, but it is not really simple to use, especially when you want to utilize some of its features for accurate scanning and removel. PhotoSweeper allows users to access to its abundant settings to remove duplicates, which make this program a little complicate than others.
Therefore, for users who carry out the 1st installation, there will be an individual window with several slides prompting necessary PhotoSweeper tips on how to use this tool. This is very helpful.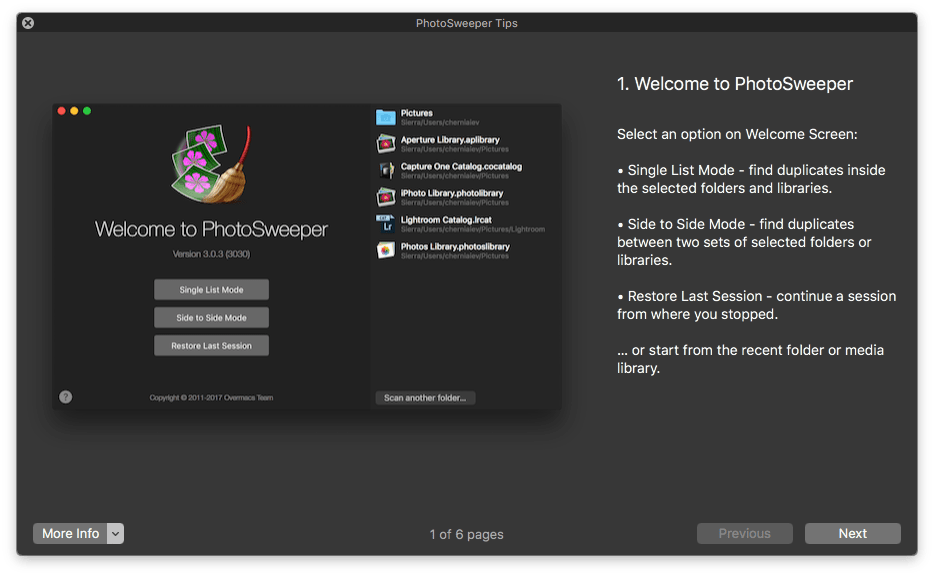 PhotoSweeper has been updated to add new support and improve user experience. For example, in the latest update (version 3.7.0) as of May 2020, it added support for more video formats such as AVI, which means users are now able to use it to remove duplicate AVI files. Users can directly update in the Mac App Store.
Interface
The interface will depend on which mode you choose and the main toolbars are located on the bottom of each interface.
On the Welcome screen, you will be guided to choose from 3 modes: Single List Mode, Side to Side Mode, Restore Last Session.
Single List Mode
It allows users to find duplicates in one set of photos, that is to say, you can drag and drop a folder to the program, then the program will scan and compare duplicates within this single folder.
Side to Side Mode
It allows users to find duplicates between two sets of photos. That's to say, you can drag and drop a folder or image into each side of this window, the program will find and compare duplicates storing in these 2 folders or images.
Restore Last Session
By choosing this mode, the program will restore photos and comparison results from the previous session. It will either be Single List Mode or Side to Side Mode.
Find Photos
After dragging and dropping the folder to PhotoSweeper, all the photos will be displayed on the interface, but how to find duplicates fast? Under the "Find Photos", PhotoSweeper allows users to access to different settings to find the duplicates fast and easily.
Find Photos By
Users can find photos in the imported folder according to:
Name, Capture Date, Rating, Color Label, Favorite, Flagged, Rejected, Referenced, On Cloud, Marked, Locked, Missing, Keywords, File Type, File Size, File Created Date, File Modified Date, Folder Name, Album Name, Project Name, Library Name, Image Width, Image Height, Image Orientation, Image DPI, Color Profile Name, Exposure Time, F Number, Focal Length, ISO Speed Rating, Flash Fired, Camera Maker, Camera Model, Camera Lens Model, Editing Software.
As you can see, PhotoSweeper contains the most complete setting to fast find photos, most of its competitors just allow users to find photos according to some common-used parameters, such as Name, File Size, Created Date, File Type.
Sort and Display Photos By
After PhotoSweeper has found all needed photos for you, you can click on the "Sort by" menu to decide how these found photos displayed sequentially, according to Date Added, Date, Title, File Size, Dimensions, Ascending, Descending.
Compare Photos
PhotoSweeper enables users to compare and detect duplicate files, similar photos and series of shots. Under each Compare mode, users can access to basic or advanced settings accordingly.
Duplicate Files
Under this mode, PhotoSweeper will compare and find out duplicate photos that look exactly the same.
Similar Photos
Under this mode, PhotoSweeper allows users to find similar photos by tweaking the settings. As for the parameters, it is easy to understand and users just need to choose according to personal needs.
Series of Shots
Many of us prefer to take pictures under continuous shooting mode with the intention to choose the best shot later. And the "Series of Shots" of PhotoSweeper is powerful for us to find duplicate or similar photos from series of shots.
Delete Duplicates
Mark Duplicates
Once you have clicked on the "Start" button to process the comparing, PhotoSweeper will prompt you to mark the photos for removal. You can auto mark according to preset preferences, or manually mark one by one later.
For Auto Mark, you need to check the rules for auto mark by clicking on "Show Preferences", then tweak according to your personal needs.
Preview Duplicates
There are 3 modes to preview the found duplicates:
1. One by One: preview duplicate files one by one
2. Face-to-Face: preview and compare 2 photos at the same time, then mark the one you want to delete3. All-in-One: preview all the duplicate files in the same window, this is convenient when you have to preview a lot of duplicates.
Delete Duplicates to Trash Bin
PhotoSweeper delete duplicates to trash bin and those removed duplicated won't be permanently deleted. This feature allows users to restore the deleted duplicates if they accidentally deleted some photos.
Free Trial and Paid Version
PhotoSweeper offers free 30-day trial version before any commercial decisions, and only 10 photos can be removed for free. If you need the full service, you will have to pay $9.99 to get a license.
Review Summary
Advantages:
Find photos fast and smartly
2 stylish interfaces
3 modes to preview duplicate photos
Auto select for photo removal
3 ways to find duplicates: find duplicates, similar photos or choose from series of shots
Detailed information about photos is offered
Disadvantages:
Only support photos and videos input
Require learning curve to utilize its features
Poor performance on finding video duplicates, doesn't support video preview
Cannot permanently deleted duplicates
Perfectly suitable for
This program is perfectly suitable for users who have some advanced skills to work with a desktop program, and need to find duplicates from a great many of photos, since this program is exclusively to find and delete duplicates photos on Mac.
How to Use PhotoSweeper on Mac?
Step 1. Download and install PhotoSweeper on Mac.
Step 2. Launch the program and choose a mode.
Step 3. Drag and drop a folder to the program, or add folder directly, or open "Media Browser" to add.
Step 4. Click "Find Photos" and tweak the settings to find the photos fast.
Step 5. Click "Compare", choose to find duplicates, or similar files or choose from series of shots.
Step 6. Click "Start" to comparing, then Auto Mark the photos you want to delete, or Don't mark to manually add later.
Step 7. Finally click "Trash Marked" to remove those duplicates you have marked within the program.
Photosweeper vs. Duplicate Annihilator vs. Cisdem Dupliate Finder
Besides PhotoSweeper, there are other excellent programs to find and delete duplicate photos on a Mac, such as Duplicate Annihilator for Photos and Cisdem Duplicate Finder for Mac, they all are top-rated and support the latest macOS version.
Duplicate Annihilator
Duplicate Annihilator created by Brattoo Propaganda, offers a series of duplicate finders, including Duplicate Annihilator for Photos, Duplicate Annihilator for iPhoto, Duplicate Annihilator for iOS and Duplicate Annihilator for Aperture, which designed for different photo storage device or application.
As for Duplicate Annihilator, it is a Mac program helping users to find and analyze duplicate photos in Photos library.
Advantages:
Easy to use
Low price at $7.95
Allow to configure algorithm to find duplicates
Disadvantages:
Only applicable for finding duplicates in Photos Library
Manually search duplicate in Photos
Only remove duplicates to Trash Bin
How to Find and Delete Duplicate Files with Duplicate Annihilator?
Download and install Duplicate Annihilator on your Mac.
Go to "Preferences" and configure the algorithm.
Go to "Find Duplicates" >"Scan for Duplicates" and add the Photos Library.
Go to Photos, input "duplicate" in the Search filed, then click "Enter".
Now, you can remove all found duplicates into Trash Bin.
Cisdem Duplicate Finder
Cisdem Duplicate Finder is available for both Mac and Windows PC. Its Mac version can find and remove duplicate photos, videos, documents, audios, archives, etc from internal or external storage device. With 3 steps, scan-report-delete, users can easily remove duplicates permanently or to trash bin. Also, users can find similar photos with this program.
Advantages:
Find duplicate pictures, audios, videos, archives, packages, documents, etc.
Delete duplicates on Mac's internal storage and external storage devices
Remove dupes from Photos and iPhoto libraries
Scan for duplicates by file content
Also let you choose to scan by filename
Allow you to exclude folders and files from scan
Enable you to preview and compare image side by side
Auto-select duplicates for you to bulk delete with 1 click
Offer 3 ways to handle duplicates: Move to Trash, Move to Folder, Delete Permanently

Free Download
How to Find and Delete Duplicate Photos with Cisdem?
Download and install Cisdem Duplicate Finder for Mac.
Tweak the preferences for smart and fast scanning or deletion.
Drag and drop files for scanning.
Preview found duplicates.
Select and delete duplicate photos.
PhotoSweeper vs. Duplicate Annihilator vs. Cisdem Duplicate Finder
Advantages:
Identify all types of duplicate files
Also help find similar photos
Find duplicate files in a folder/drive or across multiple locations
Let you view the found duplicate files by file type
Let you preview duplicate photos side by side or in detail
Automatically mass select duplicates for you to delete with a click
Also provide multiple selection rules to help select
Offer 3 ways to delete selected duplicates, including Move to Recycle Bin
Easy to use and customize
Compatible with Windows 10 and 11
Also available for Mac computers
Disadvantages:
Don't support 32-bit
How to Find and Delete Duplicate Photos with Cisdem Duplicate Finder for Windows?

Free Download
Download and install Cisdem Duplicate Finder on your Windows PC.
Specify the place to scan and wait for the scanning process to finish.
Preview and view the duplicate files that have been found.
Duplicate files are already selected for deletion automatically. You can make adjustments if needed.
Click Delete to get rid of the selected unwanted duplicates.
Conclusion
PhotoSweeper is absolutely a great tool for advanced users who have to deal with a lot of photos, but deal with duplicate photos only. If you want a tool to do the job in a simple and easy way, or need to find duplicate videos, audios or other documents, you can try others that on our recommendation list, such as Cisdem Duplicate Finder.