Find and Remove Duplicates
The bad news is that duplicate files are eating up space on your Mac potentially causing your Mac to slow down and perform poorly. The good news is that there is an easy way to get rid of duplicate files with just a couple of clicks. The easy way is to use the best duplicate file finder for Mac.
There are a number of apps to find and delete the duplicate photos, videos, music files, documents and other types of duplicate files on a Mac. They vary in performance, ease of use and more. In this article, you will find a list of them along with a review for each.
What makes a reliable duplicate file finder for Mac?
Capability of identifying duplicate files
A duplicate file finder is an app designed to detect duplicate files. Such apps use particular algorithms to compare files and identify the duplicates. Different apps may use different algorithms. For example, the algorithm PhotoSweeper uses can only handle images, resulting in its inability to find other types of duplicates. Easy Duplicate Finder uses SHA-256, which is a bit slow. Cisdem Duplicate Finder uses a combination of algorithms, leading to high performance in the detection of various types of duplicate files.
Safe support for Photos and iTunes (now Music)
Unlike on Windows where photos and music files are stored in normal folders, the photos and songs on your Mac are typically stored in Photos Library (managed via Photos app) and iTunes Media (managed via iTunes app) respectively. The fact is that many duplicate file finders for Mac will consider Photos Library and iTunes Media normal folders when searching for duplicates in the two places. As a result, they will damage your library or cause the loss of files or related data. To safely delete these duplicates, you need to use an app designed for Photos and iTunes.
There are other criteria to consider. The two ones above are the most important.
The best duplicate file finders for Mac
#1 Cisdem Duplicate Finder
Compatibility: macOS 10.10 or later, including Big Sur
Cisdem Duplicate Finder is the best of its kind due to its high performance, safety, ease of use, etc.
Thanks to the advanced algorithms it uses, the app can quickly identify true duplicate files by content and find duplicate photos, audios, videos, Word documents, PDFs, presentations, archives and other types of duplicate files on your Mac and external storage devices (e.g., external hard drives, SD cards and more). It also finds near-duplicate photos, which is a plus for making the app a great duplicate photo finder for Mac.
Designed for Photos and iTunes, Cisdem Duplicate Finder will scan your Photos Library or iTunes Media, display the found duplicates for you to view, and remove the unwanted duplicates from within the Photos app or iTunes app with your permission, just like a human would when removing photos or songs. Your Photos Library and iTunes Media will be safe and unaffected except being duplicate-free.

Free Download
Once the app finishes scanning Photos, iTunes or Mac folders for duplicate files, it will display the detected duplicates in its results window for you to easily view and preview. What's more, its smart Auto-Select feature will automatically select duplicates for you to mass delete with a single click. Click the Delete button, and now all dupes are gone! If not satisfied with auto-selection, you can manually select or use the selection rules provided.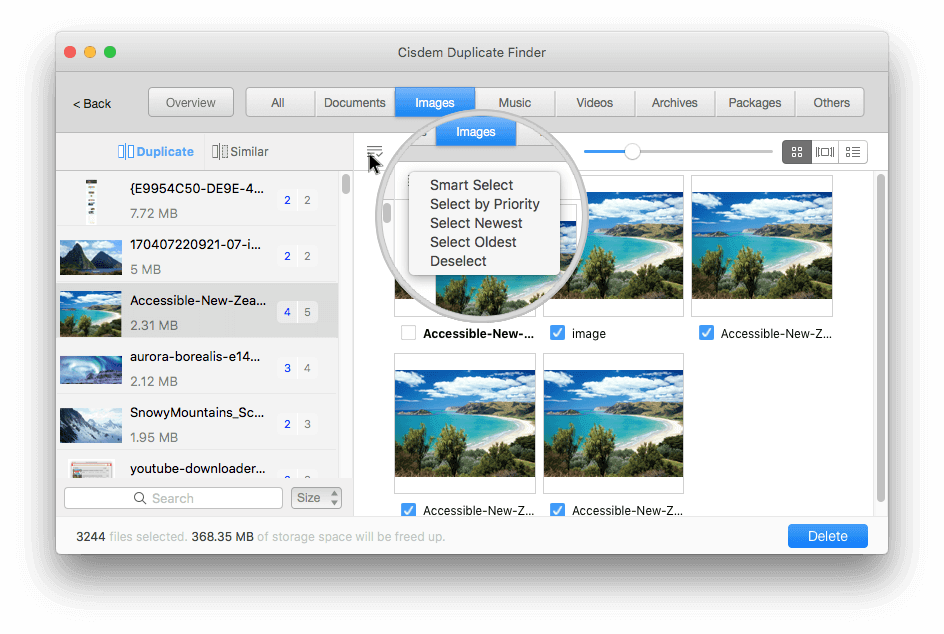 Pros
Quickly find all types of duplicate files on Mac based on content
Also find near-duplicate images
Support Mac and external storage devices
Safely remove duplicates from Photos, iPhoto, Music and iTunes
Come with 3 preview modes, including a side-by-side mode
Provide a smart Auto-Select feature and up to 8 selection rules
Offer 3 deletion methods, including Move to Trash
Support Apple silicon
Cons
No support for macOS 10.9 or earlier

Free Download
---
#2 Gemini 2
Compatibility: macOS 10.10 or later
In addition to the best duplicate file finder for Mac, there are other great apps available to help rid your Mac of duplicate files. Gemini 2 is one of them. People are often impressed by how good looking the app is. But a beautiful interface can only be the cherry on top. What's important is the ability to find duplicate files on a Mac.
The app supports finding the double files in normal folders, iTunes and Photos and is capable of detecting duplicate photos, duplicate audios, duplicate documents and some other types of duplicates. It does a good job of deleting duplicate files in folders even the large ones. But it occasionally fails to work when scanning a big Photos Library. In such a case, try to re-scan.
In February 2021, Gemini 2 introduced the Duplicates Monitor feature aiming to better help users get rid of duplicate files by notifying users when new duplicates appear. The feature does what it's designed for. But it uses lots of CPU and may slow down your Mac.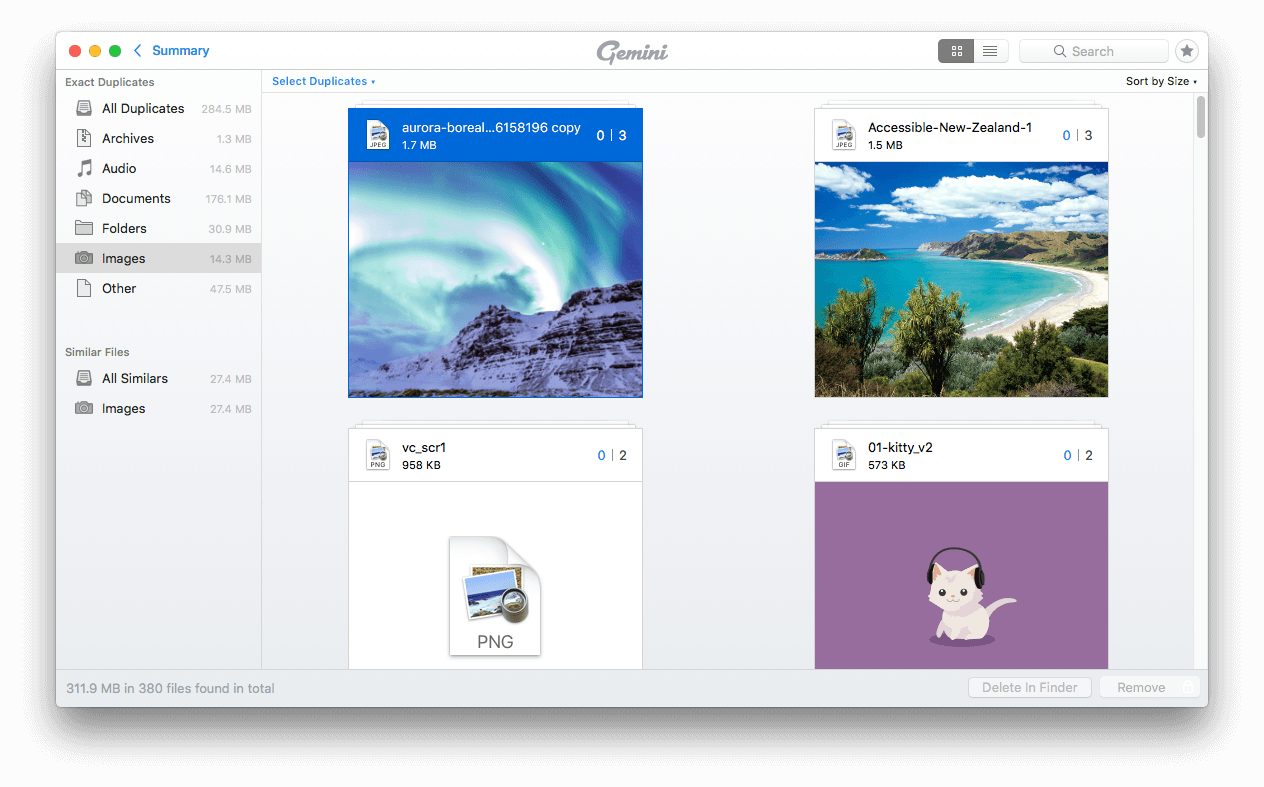 Pros
Comes with a beautiful interface
Scan your Mac for various types of duplicate files
Support Photos and iTunes
Let users directly preview files within the app
Provide an innovative Duplicates Monitor feature
Cons
Incompatible with macOS 10.9 or earlier
Expensive
---
#3 Tidy Up 5
Compatibility: macOS 10.12 or later
Designed by Hyperbolic for "pro users" (as advertised), Tidy Up 5 is a good duplicate file finder for Mac for experienced users. Inexperienced users may find its interface overwhelming and confusing.
Supporting all popular file types such as images, Tidy Up 5 can detect and delete the duplicate files in Mac's folders and Photos. Although the app offers an option to scan iTunes for duplicate items, it does a poor job. In the test, it failed to find any duplicates, which do exist, in my iTunes.
The app comes with two modes: Simple mode and Advanced mode. New users can start with the simple one. Both modes offer an array of scan options and criteria. Each scan for duplicates requires (at least) a little configuration. Compared to the other best Mac duplicate file finders talked about above, this one is less easy to use.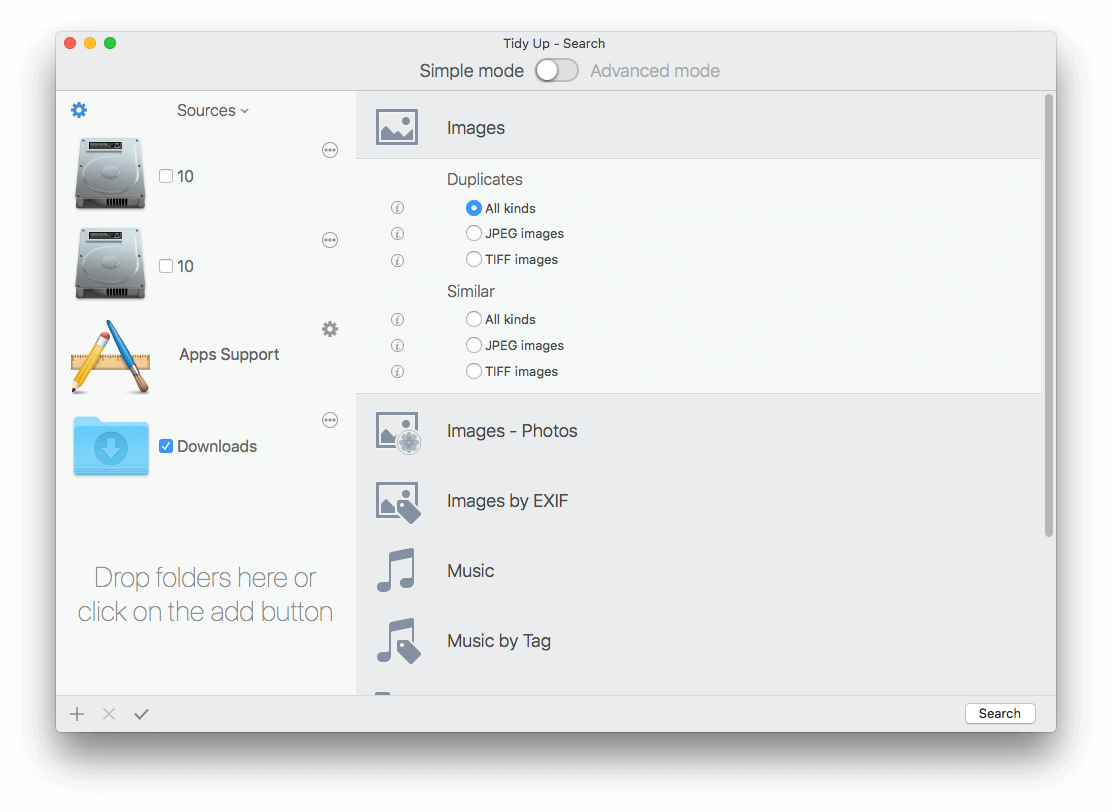 Pros
Search for a variety types of duplicate files on Mac
Find and delete duplicates in Apple Photos on Mac
Provide 2 modes for users to choose from
Highly customizable
Support hard links
Cons
Don't support macOS 10.11 or earlier
Not good at finding duplicates in iTunes
Not that user-friendly
---
#4 Easy Duplicate Finder for Mac
Compatibility: macOS 10.6 or later
Easy Duplicate Finder is available for both macOS and Windows. Highly compatible, it works well on a Mac running Big Sur, Catalina, Mojave or High Sierra or even an earlier version.
Its wizard-style interface is simple to navigate and use, guiding users through the whole process of the identification and removal of duplicate files, which is especially helpful for novice users.
This piece of file deduplication software can scan your MacBook Pro, MacBook Air or iMac, etc. for duplicate songs, duplicate photos and more. When the scan is complete, it will give you two options: using Auto Remove to immediately eliminate duplicates or using Manual Review to view duplicates and then remove the unwanted ones. The latter allows you to examine the files you are handling and deleting and is more reliable.
The app excels at looking for the duplicates in iTunes and normal folders. However, when searching for duplicate photos in Mac Photos app, it will return no results or false positives. If you allow it to deduplicate, your Photos Library will get damaged.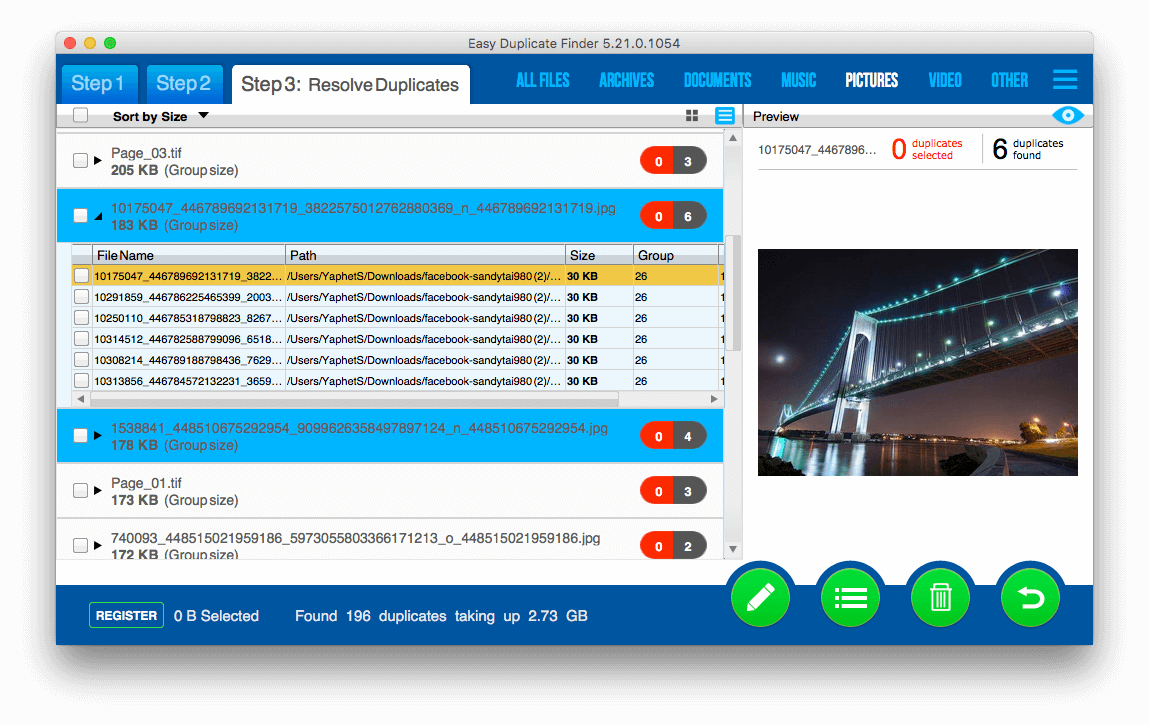 Pros
Capable of detecting common types of file duplicates
Support iTunes
Provide an Auto Remove feature for quick duplicate removal
Very user-friendly interface
Cons
Relatively slow scan
Poor support for Mac's Photos
A bit expensive
---
#5 Duplicate Detective
Compatibility: macOS 10.7 or later
This Mac duplicate file finder and remover looks less sophisticated due to its unpolished interface. It actually does a fair job of scanning for and removing duplicate files on Mac.
You can use it to scan folders and Photos. However, it can't identify all the duplicates in a given folder or library. Some dupes will be missing. And also, it can't provide consistent performance. If you want to clean up duplicates in iTunes, this app won't help. In the test, the duplicate songs it found didn't even exist in my iTunes.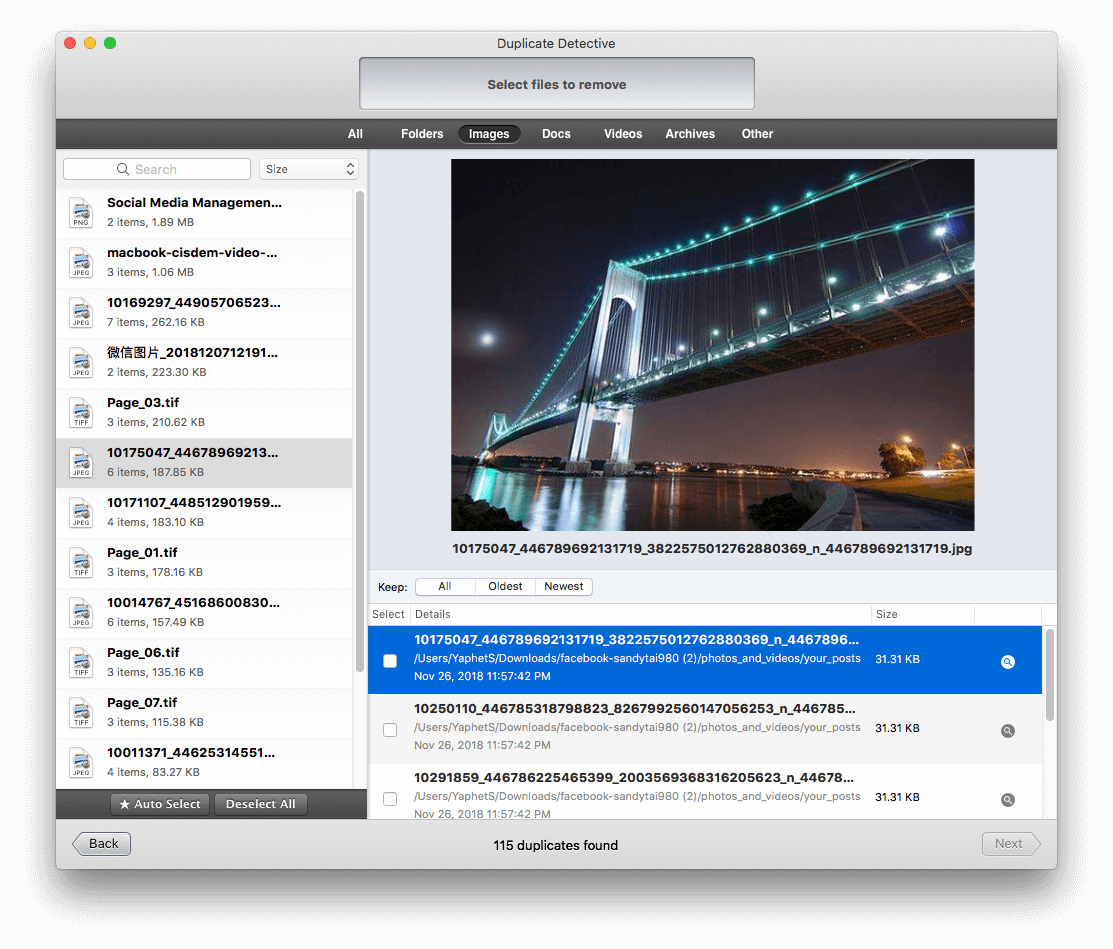 Pros
Support all common file types
Can find the duplicates in Photos on Mac
Offer an option to create an alias when deleting duplicates
Easy to use
Lightweight
Cons
Incapable of finding all duplicate files in a location
Can't work well with iTunes
---
#6 Duplicate Sweeper for Mac
Compatibility: macOS 10.8 or later
Duplicate Sweeper is another lightweight macOS duplicate file finder and deleter. The app's minimal interface is easy to use and navigate. Its welcome screen provides users with brief usage instructions. Even someone who is completely inexperienced can easily use it.
The app can only delete duplicate files in the folders on a Mac. In other words, you can't use it to weed out the duplicates in your Photos or iTunes. Therefore, it may not be desirable for Mac users. But it can be a choice to consider if the duplicate files on your Mac do reside in folders.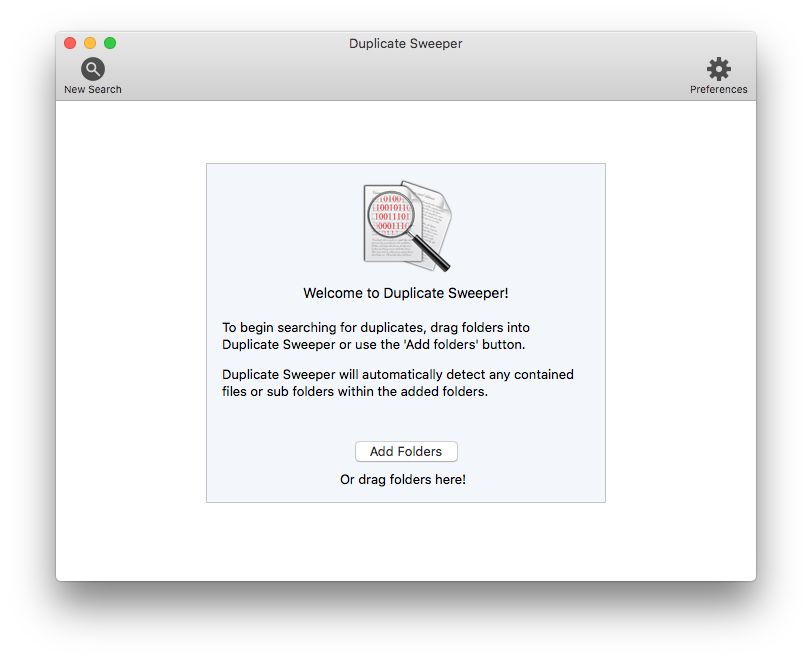 Pros
Able to look for photo duplicates and other common types of duplicates
Lightweight
Ease-to-use interface
Cons
Can't identify the duplicates in iTunes and Photos
Sometime fail to detect all dupes
Limited customization
---
#7 dupeGuru for Mac (free)
Compatibility: macOS 10.12 or later
There are also free Mac apps available for the removal of duplicate files. What is the best free duplicate file finder for Mac? dupeGuru may be the answer.
dupeGuru is free to use and open source. There is some sort of maintenance, but the app hasn't been properly updated for years. Therefore, there can be compatibility issues with newer macOS versions.
The freeware app comes with three modes: Standard, Music and Picture, allowing you to look for and delete duplicate pictures, duplicate music files and some others in folders on Mac. It's not designed for Apple Photos and iTunes. Even though it allows you to scan Photos Library, its deduplication algorithm will damage your library and cause data loss.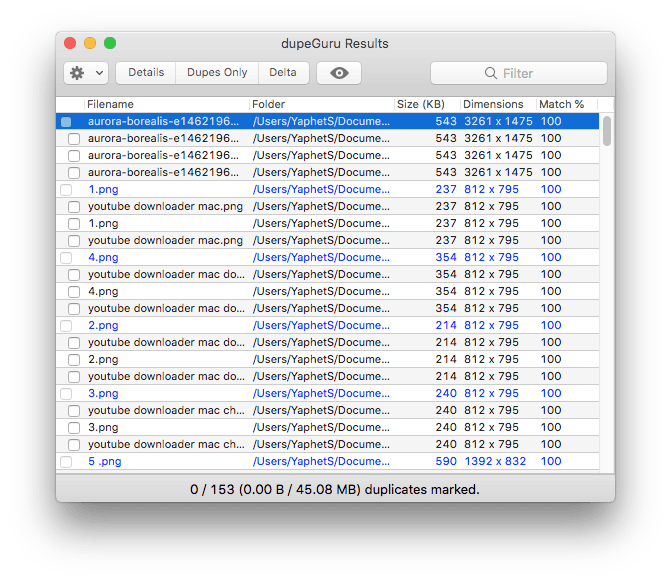 Pros
Completely free to use
Open source
Offer 3 modes to handle different types of duplicate files
Fairly configurable
Can find certain visually similar pictures
Cons
Possible compatibility issues
No support for Photos and iTunes
Can't find all dupes in the folder it scans
---
#8 Disk Drill for Mac (free)
Compatibility: macOS 10.12 or later
Disk Drill is actually a data recovery app, but it offers a feature called Find Duplicates. The feature is available in the free and paid versions of Disk Drill, which makes the app available as a free duplicate file finder.
You can find the feature in the sidebar under the Extra tools section. Like dupeGuru, this app can scan only folders for duplicates. To perform a scan, you need to add a folder and click the Start Scan button. There is no instant preview of duplicate files. To preview a duplicate, you need to click the eye icon next to it, which can cause inconvenience when it comes to image duplicates.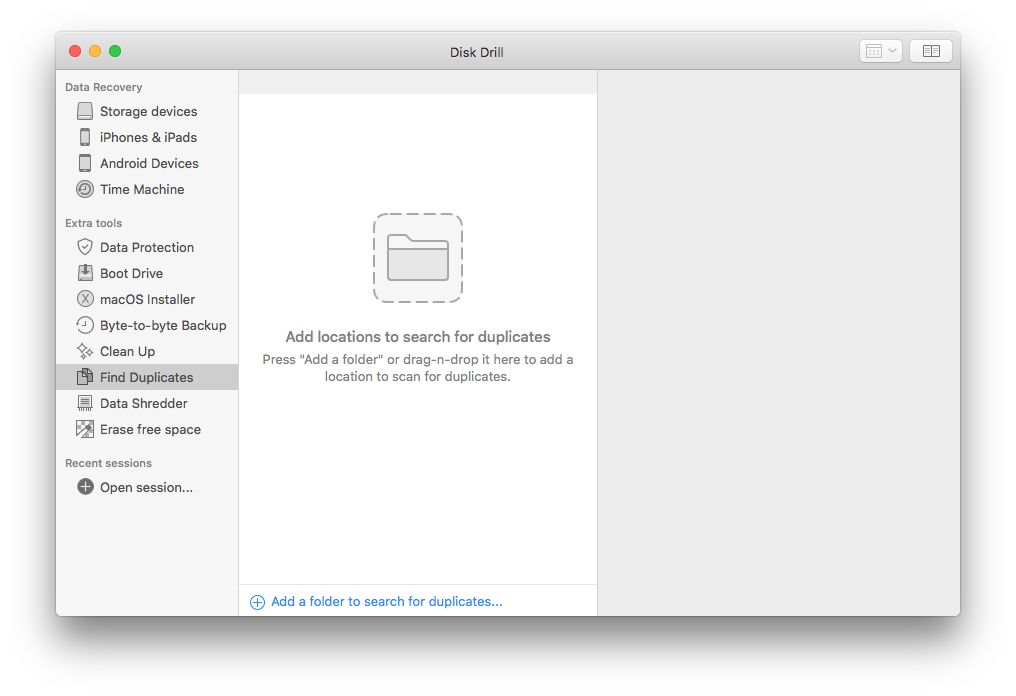 Pros
Free to use
Easy-to-understand interface
Scan Mac folders for file duplicates
Cons
Incapable of detecting all duplicate files
Can't scan Photos and iTunes
Inconvenient preview
How to find and remove duplicate files on Mac with a duplicate file finder
I hope the list and reviews above are useful and helps you do a comparison so as to pick the app you need. This part will show you how duplicate removal software typically works.
1. Download and install the software. Open it.

Free Download
2. Click the plus icon + to add a folder or drive. Click Scan.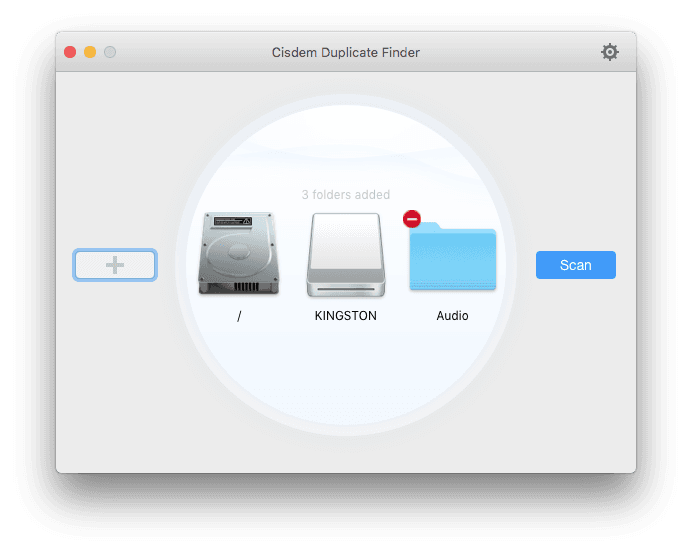 3. Once it finishes scanning for duplicate files, you can view and preview the duplicates. It lets you view by file type.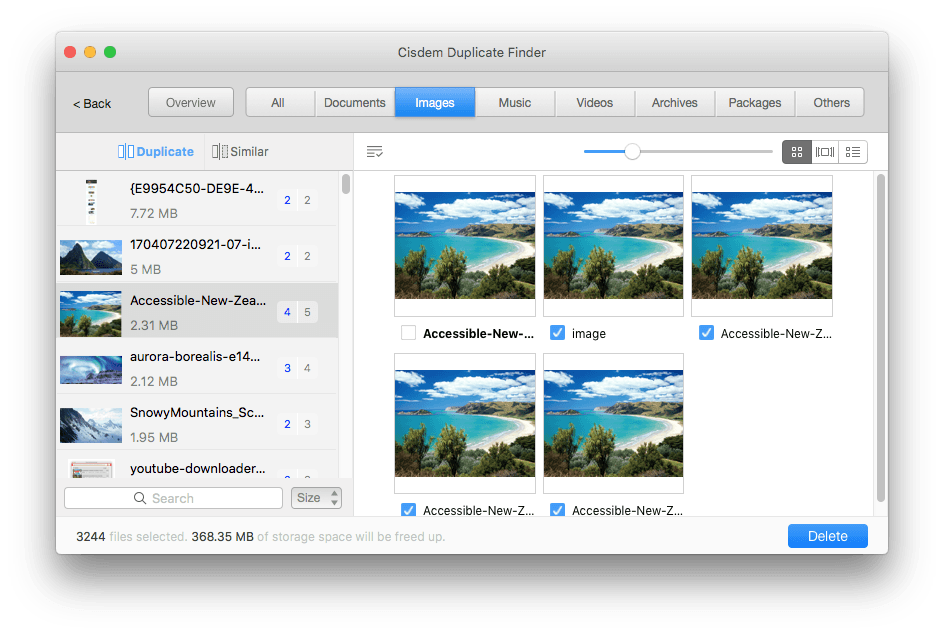 4. Duplicates are already automatically selected for mass removal.
If not happy with auto-selection, you can select by hand. Or, highlight all items under the All tab with Command-A and then apply a desired selection rule.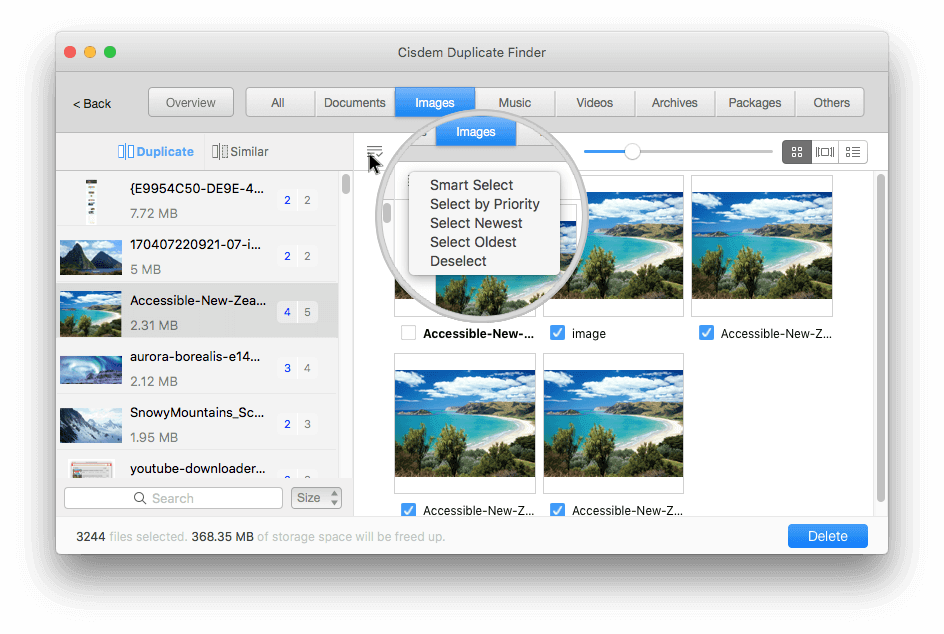 5. Click Delete.
6. Click Yes to confirm the deletion. Now the unwanted duplicate files on your Mac are removed.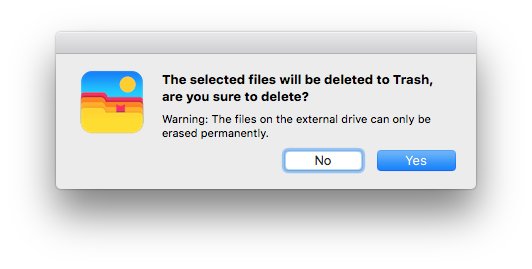 If you want to remove duplicates from Mac Photos app or iTunes app, it will require a couple of additional steps. Please see the official user guide for details.
By the way, you can also manually eliminate the file duplicates in Mac folders by using Finder's Find function, which can be a time-consuming and tedious process. Alternatively, it's possible to find duplicate files on Mac using Terminal, the terminal emulator coming with macOS. But stay away from Terminal if you don't have some command line knowledge.
Conclusion
Removing duplicate files can help free up storage space, possibly making your Mac run faster. Also, it's easier to manage files on a duplicate-free computer. The best duplicate file finder for Mac can help you effortlessly, effectively and safely root out duplicates from your Mac, no matter where they reside and how deep they hide. In addition, there are other great apps to consider.