Want to organize the digital photo collection on your Mac? You can start by removing the duplicates! It's possible but not practical to manually find and delete duplicate photos on Mac, especially if you have tons of photos. That's why you need the best duplicate photo finder for Mac.
There are a number of apps to help Mac users get rid of duplicate images. They vary in performance, safety, features, ease of use, etc. What is the best Mac software to remove photo duplicates? Here are 8 great apps to consider, including free ones.
Easily Delete Duplicate Photos on Mac
Find duplicate photos, videos, audios and any other duplicate files
Find similar images as well
Support removing duplicate photos from Photos, iPhoto and folders
Display the found duplicates with file info and side-by-side preview
Automatically and smartly select duplicates to mass delete with 1 click
Also offer selection rules to customize the selection
Provide 3 deletion methods, including Move to Trash
Easy and safe to use
Help you free up storage space
Compatible with macOS 10.10 or later
Also available for Windows PC

Free Download

Free Download
6 criteria to evaluate a Mac duplicate photo finder
Ability to find true duplicates: It should find duplicate photos based on content rather than filename (only).
Support for Apple Photos: Duplicates in Photos app can be the main source of duplicate photos on Mac. When dealing with them, you should use a duplicate photo finder safely designed for Photos. A regular one can't do the job.
Preview feature: A preview feature is necessary so that you can conveniently view the duplicate pictures you are handling and deleting.
Safe removal: It should show warning before deleting and allow you to delete duplicates by moving them to Trash. This helps prevent or restore an accidental deletion.
Ease of use: The best duplicate photo finder for Mac should offer a good balance between features and ease of use.
Flexibility to customize: Users should have enough control over the identification and removal of duplicate images.
With these basic criteria in mind, we tested over a dozen of popular apps for duplicate image removal and picked the best ones including the best free duplicate photo finder for Mac.
The best duplicate photo finder for Mac 2021
#1 Cisdem Duplicate Finder
Compatibility: macOS 10.10 or later
Latest version: 5.10.0, released in September 2021
Cisdem Duplicate Finder is picked as the best Mac duplicate photo finder due to its high performance, safety, ease-of-use and customization.
The app can safely find and delete the duplicate photos in Photos app and folders. You can use it to get rid of all types of duplicate files such as duplicate images, videos, audios, documents, archives, etc. on your Mac and external storage devices.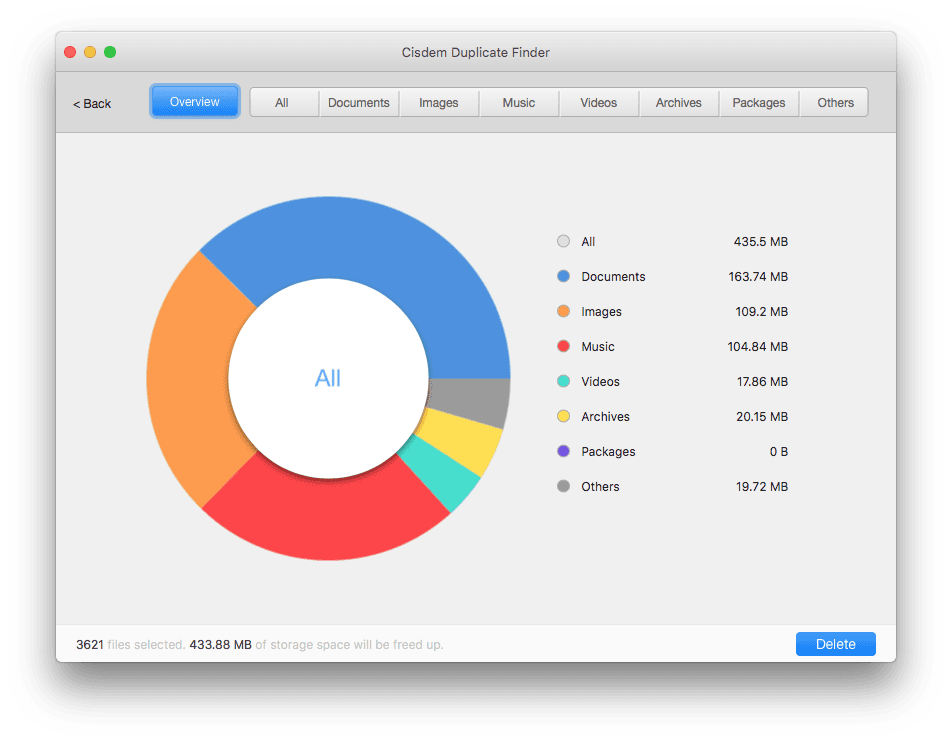 With advanced algorithms and support for most image formats (JPG, PNG, GIF, BMP, TIFF, WebP, PSD, CR2, etc.), the app accurately and quickly finds true duplicate photos by content. It can also identify near duplicate photos, grouping them together for you to easily pick the best shots to keep.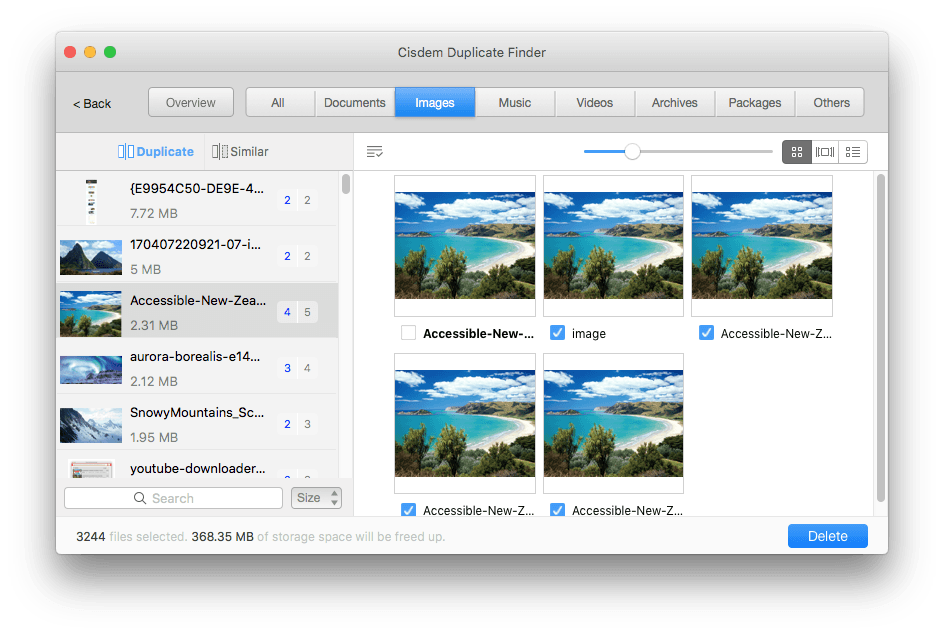 Designed to support Apple Photos for Mac, Cisdem Duplicate Finder scans your Photos for duplicates, displays the scan results, auto-selects duplicates for deletion, and bulk deletes selected duplicates by moving them to Recently Deleted in Photos. It performs the task safely, like a human would do, but far more efficiently.
Its smart auto-select feature decides for you which ones to keep and which ones to remove, saving you from manually selecting. Or, you can choose a desired selection rule or select/deselect by hand.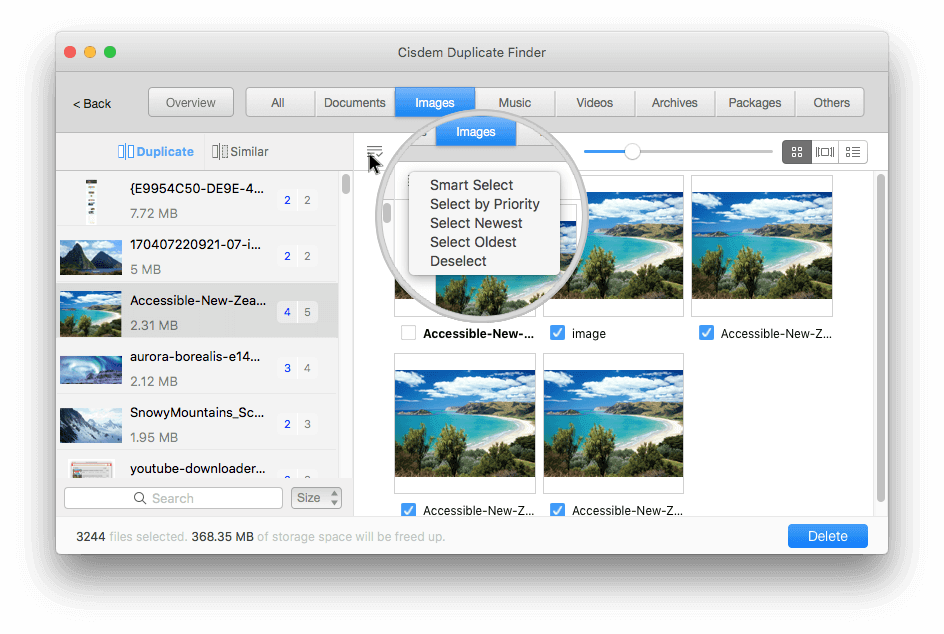 Free Download
Pros
Find duplicate pictures and all other duplicate files
Capable of scanning a large photo collection for duplicates
Designed for macOS, ensuring safe removal of duplicates from Photos, iPhoto, Music and iTunes
Work with Mac, external hard drive, SD card, cloud storage, etc.
Provide 3 preview modes
Automatically select duplicates for 1-click removal
Also let you choose a selection rule or select manually
Offer 3 removal methods: Move to Trash, Move to Folder and Remove Permanently
Let you customize what to find and how to delete
Cons
Not compatible with macOS 10.9 or earlier

Free Download
#2 Easy Duplicate Finder
Compatibility: macOS 10.6 or later
Latest version: 7.11.0.27, released in July 2021
In addition to the best duplicate photo finder for Mac recommended above, there are other choices to check out.
This duplicate file finder is smart enough to detect duplicate files by content rather than filename. It can help you get rid of the photo duplicates on your MacBook Pro, MacBook Air or iMac, etc. With support for most popular image formats, it finds duplicate JPG photos, duplicate PNG photos and more.
Easy Duplicate Finder offers multiple modes to scan your Mac for duplicate pictures and other duplicate files. Once it finishes scanning, its Auto Remove feature can help you eliminates duplicates with a click. But it's more reliable to use the Manual Review feature, which lets you conveniently view the duplicate photos that have been found.
Pros
Find duplicate images, videos, music files and more on a Mac
Also support cloud storage
Provide an image preview feature
Let you batch delete duplicates with the Auto Remove feature
Offer 2 ways to delete: Move to the Trash and Delete Permanently
Provide an Undo button to instantly undo deletion
Offer a useful Wizard tool
User friendly with an easy to understand interface
Cons
Can't preview images side by side
A little bit expensive
#3 Gemini 2
Compatibility: macOS 10.10 or later
Latest version: 2.8.0, released in January 2021
With a beautiful interface and useful features, Gemini 2 helps users locate the duplicate photos on their Macs and makes it easy to get rid of the located duplicates. In addition to photo files, it supports other common file types.
Designed to be simple, the app is easy to use. After it finishes finding duplicate photos, you can easily review them in the results window. There, duplicates are displayed in groups. To offer a good user experience, it lets you sort duplicates by size or filename etc.
Go through each group and select the unwanted duplicates for removal. To avoid manual selecting, you can use the Select Duplicates feature. But note that the mass selection is not customizable.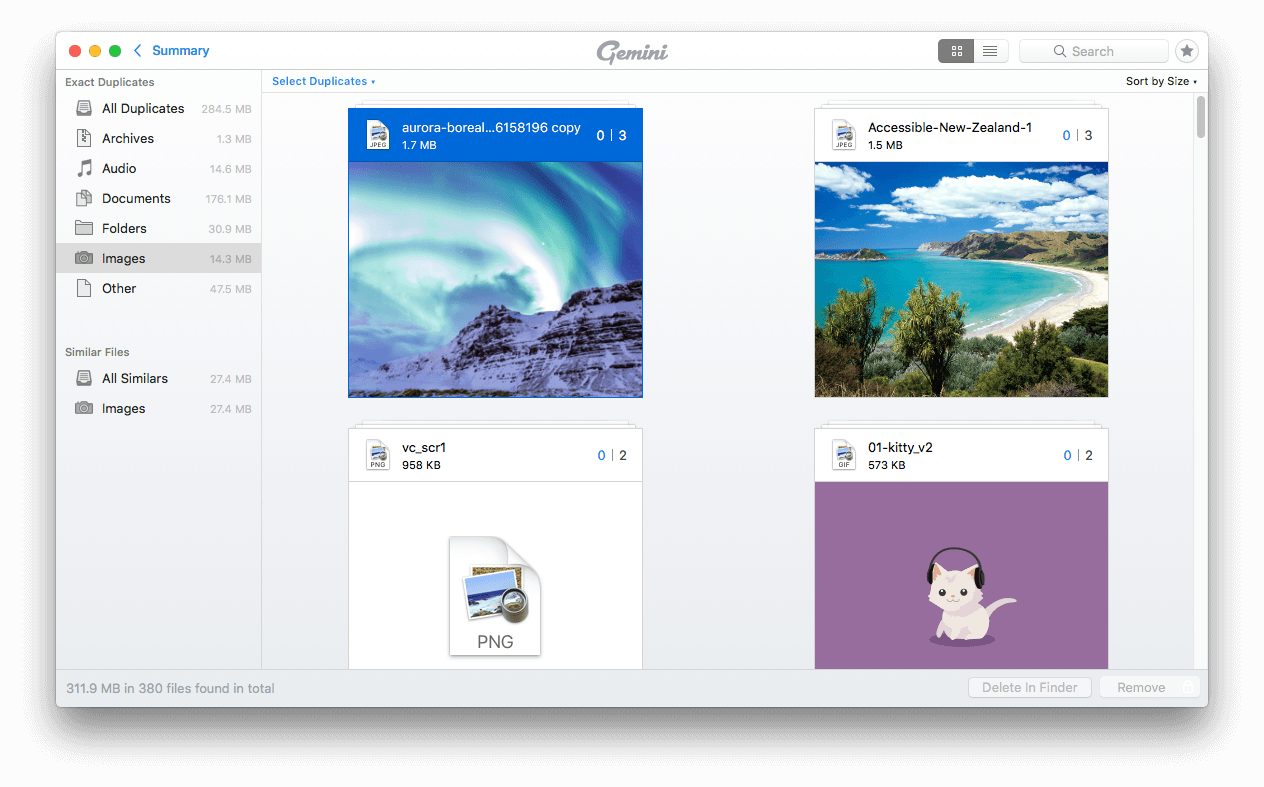 Pros
Help you clean up duplicate photos and other duplicates
Also capable of finding photos that look alike
Offer a Remove feature to directly delete all duplicates at once
Also let you view duplicates before deleting
Allow you to easily preview images, videos and more
Provide a Duplicates Monitor feature to help prevent duplicate files
Easy to use with a simple and good looking interface
Cons
Can be a little CPU hungry during scan
A bit costly
#4 PhotoSweeper
Compatibility: macOS 10.12.2 or later
Latest version: 4.1.0, released in August 2021
As its name suggests, the app is a dedicated duplicate photo finder. Designed to handle image files, PhotoSweeper fully supports all popular image formats and a few RAW formats. The support for RAW photos is a benefit for photographers particularly.
The duplicate photo finder for Mac is capable of finding almost all the exact duplicate photos in a folder you specify. It can also scan a location on your Mac for similar photos. Due to the algorithm used to compare images and identify duplicates, the speed may be a little slow sometimes.
If the app crashes or freezes when scanning a large photo library or folder, don't worry. Quit or force quit the app. Relaunch it and perform the scan again.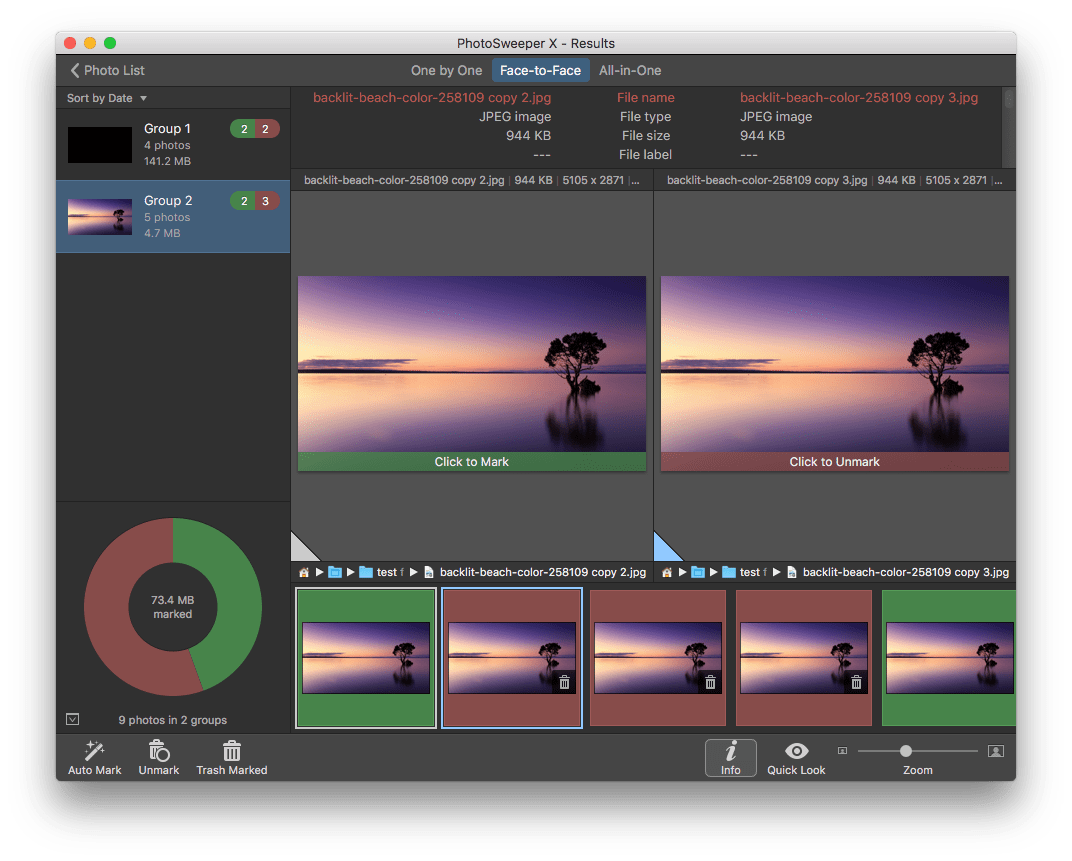 Pros
Scan your Mac for duplicate photos and videos
Also identify photos that are not quite the same
Support all popular image files including RAW ones
Come with an useful Auto Mark tool
Offer 3 preview modes
Offer a rich set of basic and advanced settings and options
Cons
Overwhelming interface
Can't test full features without paying
#5 Duplicate Photo Cleaner
Compatibility: macOS 10.6 or later
Latest version: 7.0.0.6, released in August 2021
Dedicated to locating the duplicate image files on a Mac for users to bulk delete, Duplicate Photo Cleaner supports many image formats including some RAW formats.
It's highly customizable. For example, you can set it to scan only specific formats of images for duplicates. You have full control over what duplicates to find and where to find.
This duplicate photo finder for Mac can find photos that are identical or nearly identical (such as visually similar photos). It lets you adjust the Similarity Threshold value to get more desired scan results. Note that it sometimes freezes when scanning.
It is designed in a way that you need to select the undesired duplicates in order to delete them. Do it manually one by one. Or, use one of the provided selection rules.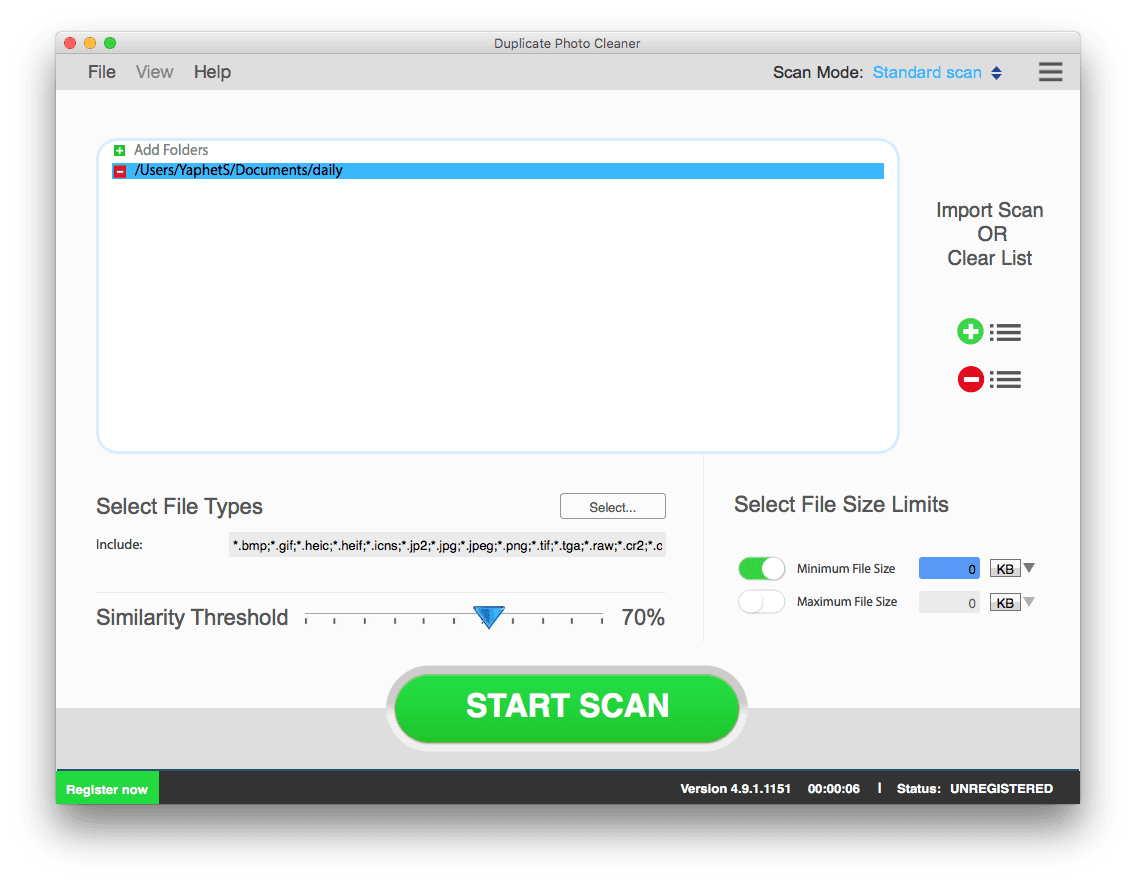 Pros
User-friendly with a simple interface
Find both identical and similar images
Support all popular image formats
Also support certain RAW images
Offer a useful built-in preview feature
Provide multiple removal options
Cons
Sometimes fail to detect all duplicate photos
Require a lot of CPU usage when scanning
A little bit costly
#6 Duplicate Photos Fixer Pro
Compatibility: macOS 10.7 or later
Latest version: 3.3, released in June 2021
Lightweight and compact, it's one of the best duplicate photo finders available for Mac users. You can use it to scan your Mac for photos that are exactly identical or almost identical. To look for duplicate images only, enable Exact Match mode. To find both duplicate and similar images, switch to Similar Matches mode.
Before a scan, you can configure settings in Preferences. For example, you can go to the Filter & Sort tab to exclude certain images from scan by file size or image format.
This photo duplicate finder will display duplicate photos in the scan results window in thumbnail view. When you highlight a photo, a preview will show up on the right.
Pros
Simple and useful interface
Intelligently identify almost duplicate photos and exact duplicates
Support Mac's internal disk and external storage
Make it handy to select duplicates for elimination
Multiple filtering options
Cons
Not good at handling a lot of photos at a time
Incapable of finding all duplicates
Limitedly useful preview feature
#7 Photos Duplicate Cleaner (free)
Compatibility: macOS 10.7 or later
Latest version: 2.6, released in March 2021
If you are looking for the best free duplicate photo finder for Mac, this app can be a great choice. It's free to use and update, always allowing you to remove duplicate pictures from Mac for free. Despite being freeware, it's updated on a regular basis to fix bugs and add support for newer macOS versions.
You can add multiple individual photos to scan, letting Photos Duplicate Cleaner to identify the duplicates in them. A more common way is to add a folder to scan. It can also scan the Photos library.
When used to scan the same Mac for duplicates, this free app can't find as many duplicates as its commercial counterparts do. The scan speed is also slower. Once the scan is done, you can preview and remove duplicates as you wish.
Pros
Free to use
Find photos that are duplicated on Mac
Provide built-in preview and display photo metadata
Safely remove duplicates by moving them to Trash
Cons
Can't find all duplicates
Slow scanning
Sometimes crash
Low level of customization
#8 dupeGuru for Mac (free)
Compatibility: macOS 10.12 or later
Latest version: 4.0.3, released in 2016
Another best duplicate photo finder Mac free app is dupeGuru. dupeGuru has been around since 2004. Users needed to pay to use it until 2010 when the developer Hardcoded Software announced that its apps became free and open source.
It used to offer the Picture Edition and the Music Edition. And later the functionalities from the two editions were packed in one app.
To use dupeGuru to locate and eliminate duplicate images on Mac, enable the Picture mode first. Alternatively, choose the Standard mode, which supports images and other types of files.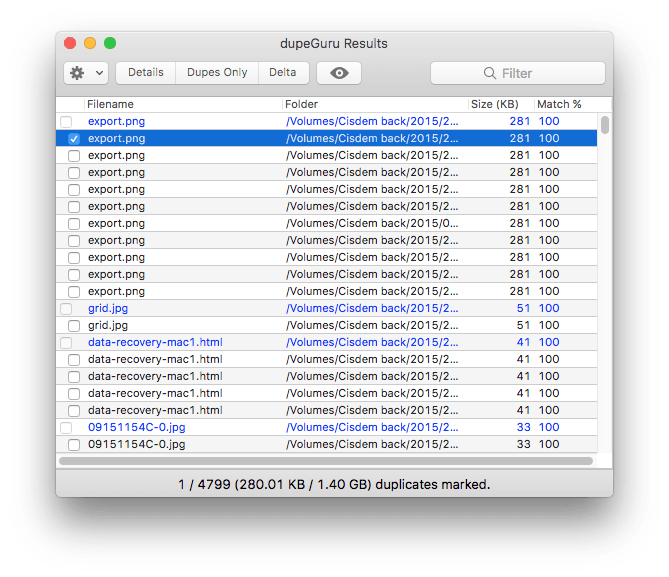 Pros
Free to use and open source
Support photos, audio files, video files and more
Can also detect certain similar photos
Provide three scan modes
Easy to customize
Cons
May damage your Photos library
Slow Picture mode
Crash when scanning a large photo collection
Can' preview side by side
Above are the duplicate photo finder for Mac reviews and below is a comparison table.
Questions and answers
1. What does duplicate photos mean?
What are duplicate photos? Strictly speaking, they are photos that are exactly the same in every way regardless of filename.
There are also visually identical photos in different sizes and visually similar photos (e.g. pictures captured in burst mode, slightly edited photos, etc.). Some people also loosely refer to them as duplicate photos (or near duplicates or similar images).
2. Why are there duplicate photos on my Mac?
They can be created when you import or download the same photos twice or more, or when you copy (rather than cut) and paste photos, etc. You can have near duplicate photos if you use burst mode when shooting, or if you edit or compress photos a lot, etc.
Also sometimes Mac's Photos app duplicates photos when importing, causing you to have JPEG versions and HEIC versions of the same photos. It can happen due to improper settings or app glitches.
3. What is the best photo duplicate finder for Mac?
Based on the reviews, Cisdem Duplicate Finder is the best. Both beginners and advanced users can use it to easily and efficiently get rid of duplicate photos on MacBook Air, MacBook Pro, or iMac, etc.
4. How do you delete duplicate photos on Mac?
Step 1. Download Cisdem Duplicate Finder for Mac and install it. Open it.
Step 2. Click the plus icon to add your Photos library or a folder. Also, you can add multiple locations to find duplicates across them.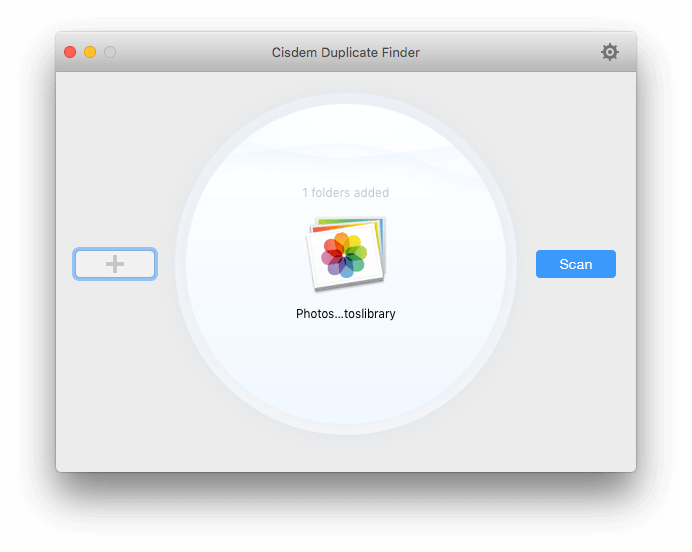 Step 3. Click Scan.
Step 4. Once the scan is done, the app will display all the duplicate photos found on your Mac. You can easily preview and view them.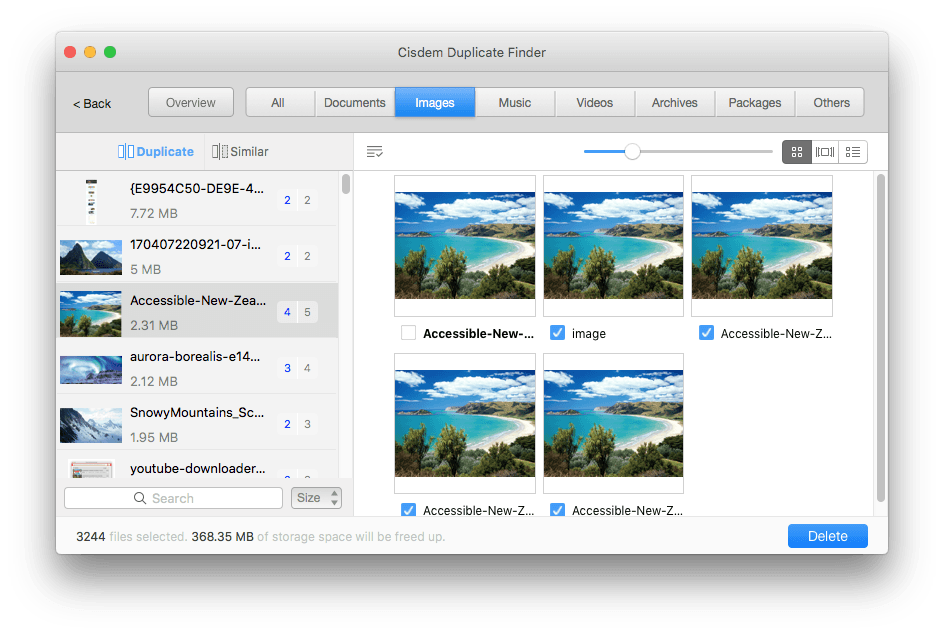 Step 5. The app already automatically mass selects duplicates to delete at once. Or, you can select by hand or use a desired selection rule.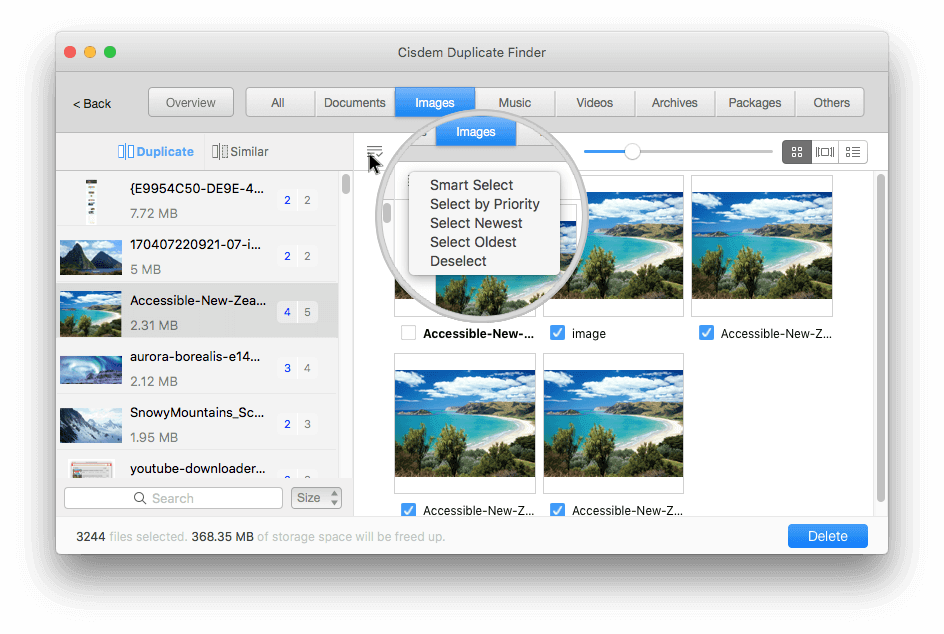 Step 6. Now the unwanted duplicate photos are selected. Click Delete to eliminate them with a click.
Step 7. Confirm the deletion.
One more step is needed to delete duplicate photos on Mac Photos app.
Conclusion
Duplicate photos are common. No matter the cause, the best practice is to get rid of them. This article lists 8 highly rated apps, including paid ones and free ones. They are designed to help you quickly and effortlessly find duplicate photos on Mac and remove unwanted copies.
I hope the article can help you pick the best duplicate photo finder for Mac. Your duplicate-free photo collection will become easier to browse and manage. Also, deduplication can help free up a lot of space on Mac.