Find out the best iTunes duplicate removers, free and not free, to help you get rid of duplicates in your iTunes library.
An iTunes user asked this question in Apple Community – "How do I easily delete thousands of duplicates in my iTunes library?" This iTunes user is not alone at all. Duplicates in iTunes are very common and can be caused by quite a few things such as buying certain songs without realizing that you've already have them in your iTunes, importing songs from sources where duplicates already exist, iTunes glitches, etc.
iTunes duplicates are useless if not annoying. They take up precious hard drive space and make it less easy to organize iTunes music library. The best solution is to use an iTunes duplicate remover to find and delete the duplicates. What is the best iTunes duplicate remover available? Are there any iTunes duplicate remover free tools for easy and effective duplicate removal? Let's find out.
The Best iTunes Duplicate Remover
Find duplicate audios, videos, photos, documents and all other duplicates
Identify true duplicate files based on content
Find duplicate files on computer, external hard drive, SD card, etc.
Detect duplicates in iTunes and Apple Music, Photos and iPhoto
Automatically select all duplicates for you to delete with a click
Also let you select or deselect by hand
Help you find and mass delete duplicates in iTunes
Easy to use and powerful
Available for both Windows PC and Mac

Free Download

Free Download
iTunes has a built-in feature to find duplicates
Apple is considerate enough to provide an easy-to-use feature in iTunes that helps users identify duplicate songs. It's available for free for both iTunes for Mac (replaced by Music in macOS Catalina, macOS Big Sur, macOS Monterey and macOS Ventura) and iTunes for Windows.
1. In iTunes, from the pop-up menu in the top left, choose Music.
2. From the top menu bar, choose File > Library > Show Duplicate Items.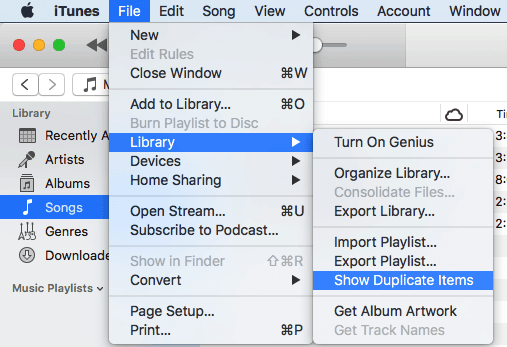 Now iTunes will identify duplicates according to the song name and artist and display them for you to deal with. Note that "Show Duplicate Items" will find the following types of duplicates.
Exact duplicate songs: They have the same song name, artist and album name.
Different versions of the same song by the same artist from different albums: For example, there can be studio, single and live versions.
To find only exact duplicates in iTunes, when in Step 2, press and hold the Option or Alt key (on a Mac) or the Shift key (on a Windows PC) and choose Show Exact Duplicate Items.
By the way, if you want to remove iTunes duplicate playlists, you need to manually identify and remove them one by one.
You need a 3rd-party iTunes duplicate remover to mass delete duplicates in iTunes
With the built-in feature described above, to remove duplicates in iTunes on Windows 10 or macOS, you need to manually select unwanted duplicates (by clicking them one by one), press the Delete key and then confirm the deletion. If there are only a few duplicates, you can clean up your iTunes library in this way.
What if you have a large iTunes library with hundreds if not thousands (or even more) of duplicates songs in it? It's not a mission impossible to get rid of them by hand one by one. But, believe me, you won't want to try.
This is when you need a third-party iTunes duplicate remover. Such iTunes cleanup software can find and bulk remove duplicates in iTunes automatically, saving you from tedious and time-consuming manual work.
Review: the best iTunes duplicate removers
#1 Cisdem Duplicate Finder | Mac & Windows
Cisdem Duplicate Finder is a powerful and easy-to-use duplicate file finder for Mac and Windows to detect and clean up duplicate music files, videos, photos, documents, archives and other duplicate files. Safely supporting iTunes, it can be an excellent iTunes duplicate finder and remover.
Quickly scan your iTunes library for duplicate songs
Let you easily preview duplicates with its built-in media player
Let you mass select duplicates in iTunes to delete with a single click
Provide three removal methods
Also work if you have multiple iTunes libraries
Also search for and erase duplicate music files outside of iTunes
How to use the best iTunes duplicate remover to mass remove iTunes duplicates
1. In iTunes app, go to Preferences > Advanced. Find the location of your iTunes Media folder.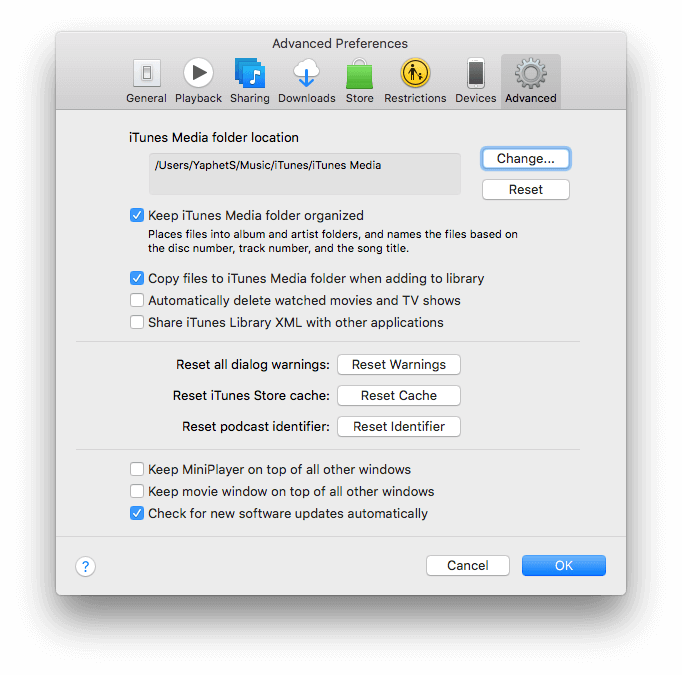 To open the folder, in Finder, from the menu bar, choose Go > Go to Folder, paste the location and click Go.

2. Download Cisdem Duplicate Finder and install it. Open the software.
3. Drag iTunes Media folder into the software. Click Scan.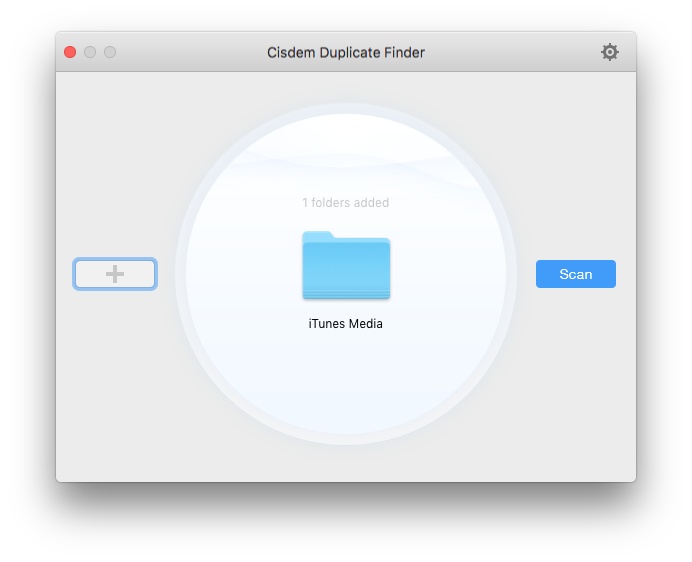 4. Once the scan is done, you can find all the duplicate iTunes songs under the Music tab and duplicate iTunes videos or movies (if any) under the Videos tab.
There are three preview modes. You can switch to the second one to play a song.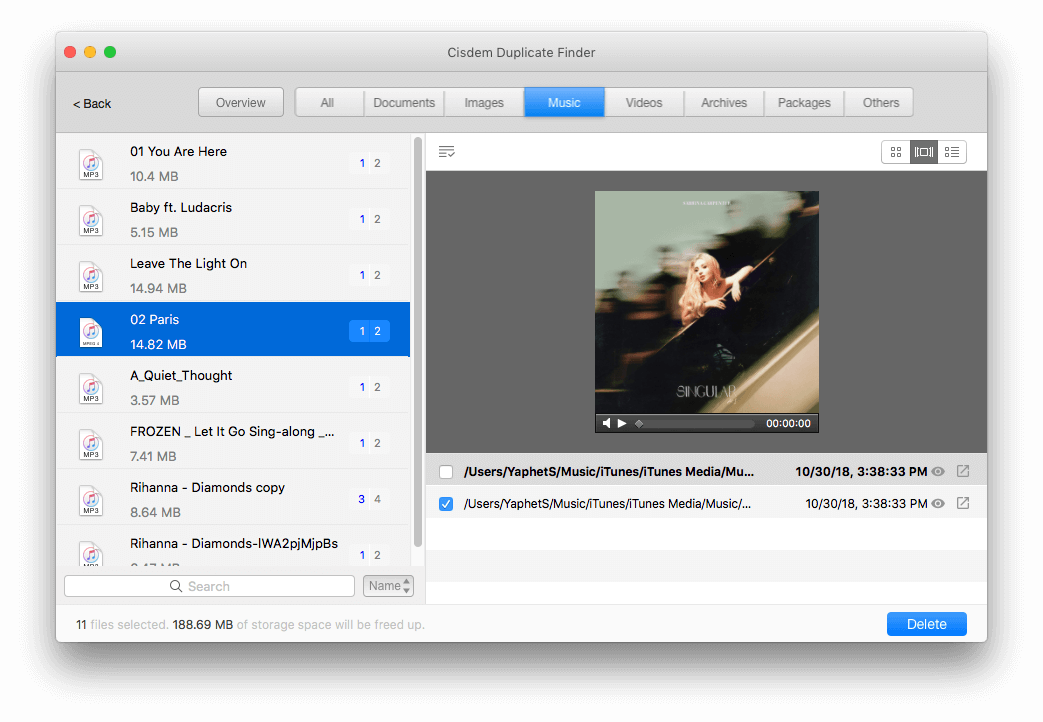 5. This iTunes duplicate cleaner already automatically selects all duplicate copies for you to delete with one click.
If not satisfied with it, you can highlight all items under the All tab with Command-A, click the list icon

and choose a desired selection rule.
6. Make sure the unwanted duplicates are selected. Click Delete.
Pros
Identify and mass erase duplicate items in iTunes
Automate the identification and deletion of iTunes duplicates
Find duplicate audios, videos, movies, images and other types of duplicates
Remove duplicates from computer, external hard drive, SD card, etc.
Also support Mac's Music, Photos and iPhoto
Offer 3 preview modes
Provide 3 removal methods (e.g. moving to Trash)
Allow 1-click restoring from Trash
Available for both Mac and Windows
Cons
Do not support 32-bit Windows
Download free trial of Cisdem Duplicate Finder to delete iTunes dupes all at once
#2 Tune Sweeper 4 | Windows & Mac
Tune Sweeper 4 is primarily an iTunes cleanup app and enables you to quickly find and remove duplicates songs in your iTunes library. It searches for iTunes duplicate tracks based on your preferred search criteria, such as matching track names, artist and so on. In the latest version, version 4.41 for PC and version 4.25 for Mac, the search speed is improved.
This iTunes duplicate remover will list the duplicates found in your iTunes library in groups, suggest which tracks to keep based on your preference and then remove unwanted duplicates from iTunes library. Optionally, tracks removed from iTunes are backed up for safekeeping.
New users may get a bit overwhelmed by the interface and the array of features and options provided. When you open the app, you need to click Duplicates in the toolbar to access the deduplication feature.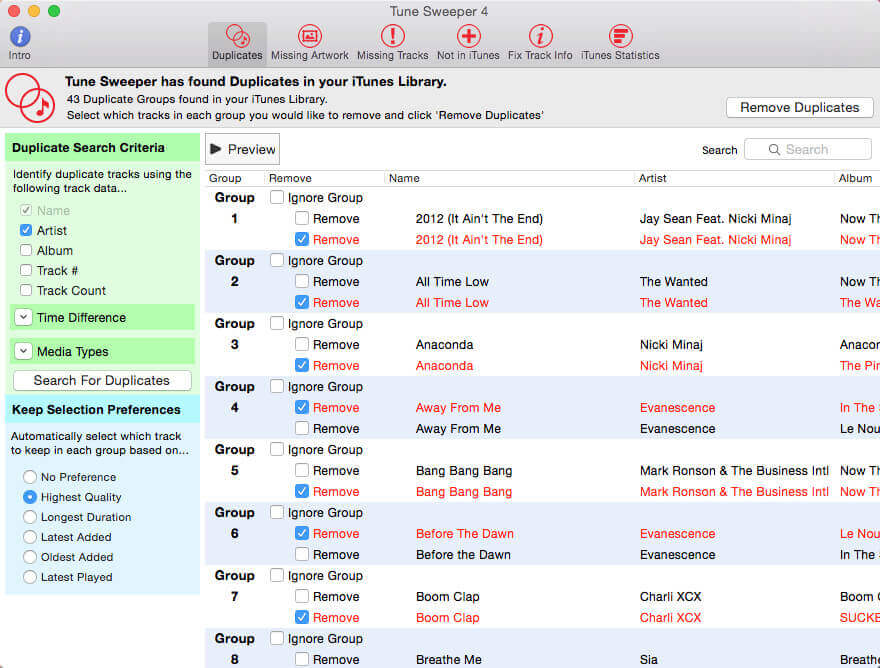 Pros
Can do a decent job of finding dupes in iTunes
Provide a number of duplicate search criteria
Allow mass selection and mass deletion
Provide a preview feature
Also offer other features like Missing Artwork
Available for macOS and Windows
Cons
Can find duplicates that don't even exist in your iTunes library
Download free trial of Tunes Sweeper to remove duplicates from iTunes
#3 iTunes Duplicates Cleaner | Windows & Mac
As one of the best iTunes duplicate remover software, iTunes Duplicates Cleaner is made for cleaning up your iTunes library by finding and eliminating the duplicated tracks in it.
It received several updates in December 2020 to the improve accuracy when finding duplicates. The improved accuracy helps this iTunes duplicate deleter become one of the best among its kind.
It sorts duplicated tracks into groups according to user defined various conditions and checks which tracks should be deleted smartly. With iTunes Duplicates Cleaner, you can delete and remove all of the thousands of duplicates from your iTunes library in less than one minute.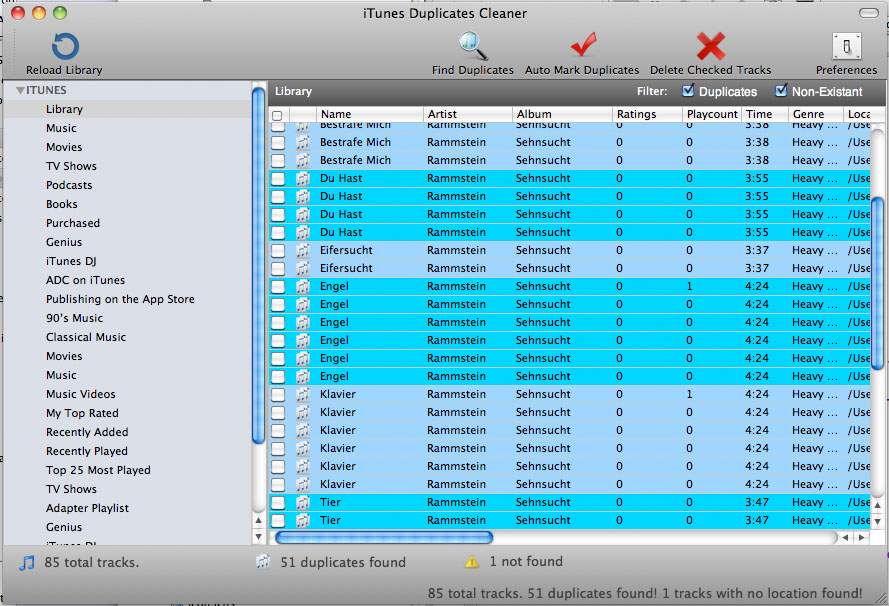 Pros
Help users easily get rid of duplicates in iTunes
Display the found duplicates with detailed song info
Automatically mark duplicates for users to delete
Lightweight and cross-platform
Display how-to instructions at application startup
Cons
Sometimes detect non-existing duplicates
No preview
Buy iTunes Duplicates Cleaner for Mac
#4 TuneUp | Windows & Mac
TuneUp is one of the best iTunes duplicate remover tools. It can also repair mislabeled songs and add missing cover art. It's versatile and costly. The $39.95 price tag is why it's ranked a bit low on our list. A free trial is available though.
The iTunes duplicate finder utterly cleans up your iTunes library. It helps you save time by automating the otherwise time-taking manual removal. In this iTunes cleanup software's DeDuper tool, once you click the Finding Duplicate Songs button, the tool will start looking for the duplicated tracks right away.
When it finishes, you will be presented with a list of the detected duplicates with basic info such as song name, artist and bit rate. The duplicate copies are automatically marked so that you can mass delete them with a click of the Dedupe All button. You can find your deletion history by going to the Files tab.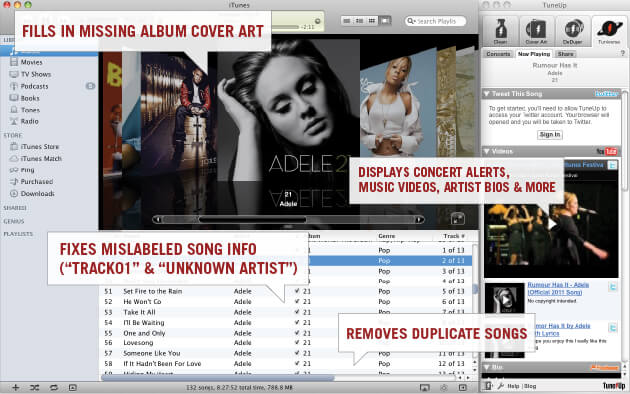 Pros
Can work as a great iTunes duplicate remover
Use acoustic fingerprinting technology to bring high accuracy
Offer an auto-mark feature
Allow mass removal
Also offer other features like fixing missing artwork
Cons
Pricy
A little bit slow to open
Download free trial of TuneUp to remove duplicate tracks from iTunes
#5 Dupe Away | Windows & Mac
Designed to be a dedicated iTunes duplicate remover, Dupe Away is available for Mac and Windows PC. It comes with four features: Dupe Files, Playlist Dupes, Missing Files, and Abandoned Files.
Every time you open the app, it will automatically start analyzing your iTunes for duplicate songs, which is convenient. It identifies duplicates based on the default or custom attributes. You can do the customization in Preferences. You are also able to custom the removal. In addition, it will go through your iTunes playlists and display the found duplicates for removal. Note that it was able to find only some of the duplicates in the tests.
You can find the found iTunes duplicates in the results window. The duplicates will be automatically marked as Delete. Clicking the Delete Tracks button will eliminate them in one go.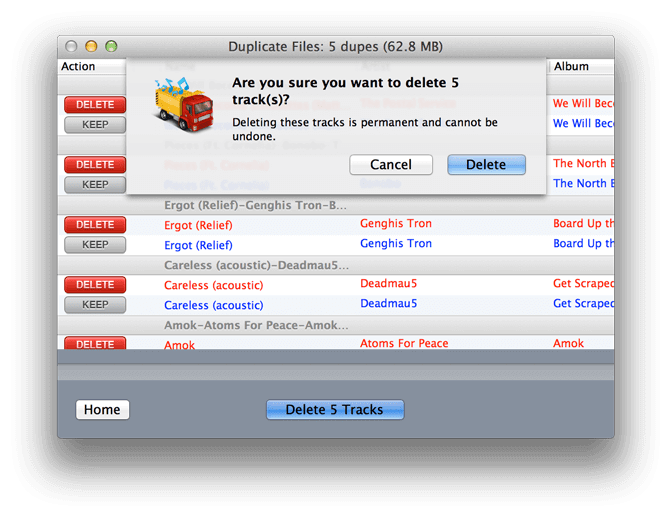 If you want more control over the deletion, go to Dupe Away Preferences. Under the Keep Which Version, you can choose to which duplicates to keep and which duplicates to delete. There are several options, such as Best Quality and Largest File Size. For example, selecting the Best Quality option will delete the lower quality track(s) in a group of iTunes duplicates.
Pros
Automatically start finding duplicate tracks in iTunes upon opening
Also clean up duplicate playlist entries
Highly customizable, giving you enough control
Can also scan iTunes for missing files
Cons
Can find only some of the existing duplicates in an iTunes library
Get Dupe Away to look for and eliminate the unwanted duplicate songs in your iTunes
iTunes duplicate remover free
#1 ManyProg iTunes Duplicate Remover Free | Windows
This iTunes duplicate remover freeware is designed exclusively for PC. As one of the best iTunes duplicate remover software for Windows, it allows you to identify duplicates in iTunes using different comparison types and then delete them.
Before you use iTunes Duplicate Remover Free, allow this best iTunes cleanup software program to connect to your iTunes library. And it will automatically locate the library and build a connection to it.
Select a comparison type, say, Music tag, and then Press Start. The process to find duplicates songs will start immediately. The results will be displayed once this process finishes. Remove the duplicates and leave only the original files. By doing so, you can make your iTunes clean and more convenient to manage. This free remover fully supports Windows 10, 8, 7 and even XP.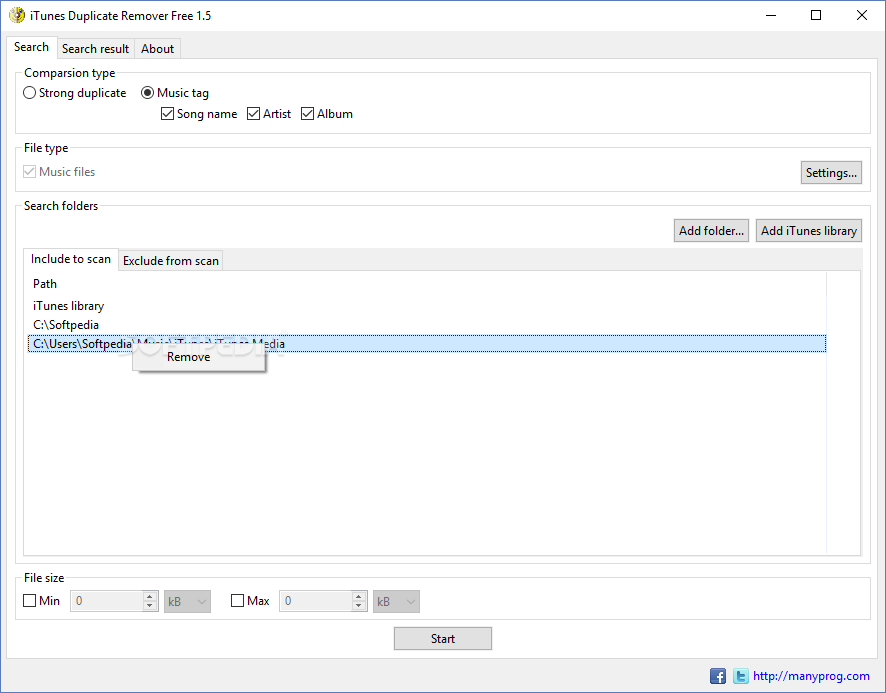 Pros
Completely free to use
Provide multiple comparison types
Help get rid of duplicate songs in iTunes and outside of it
Cons
Show ads of other software by ManyProg
#2 AllDup | Windows
AllDup is another freeware tool that can find and eliminate iTunes duplicate tracks on Windows. It also supports various types of files including audios, videos, documents and pictures. It does a decent job of searching for the double, triple (or even more) tracks in iTunes. However, the interface is not as user-friendly as the ones recommended above.
When using AllDup, you will be impressed by the customizability it has to offer. For example, it offers an array of search methods and comparison criteria, which can be used for comparing duplicates. To find exact duplicates, set AllDup to find duplicate files by file content. To find near-duplicates in your iTunes library, choose the Find similar audio files search method.
It may require a bit configuration and testing until you find the best criterion or criteria to check for the duplicate songs in your iTunes.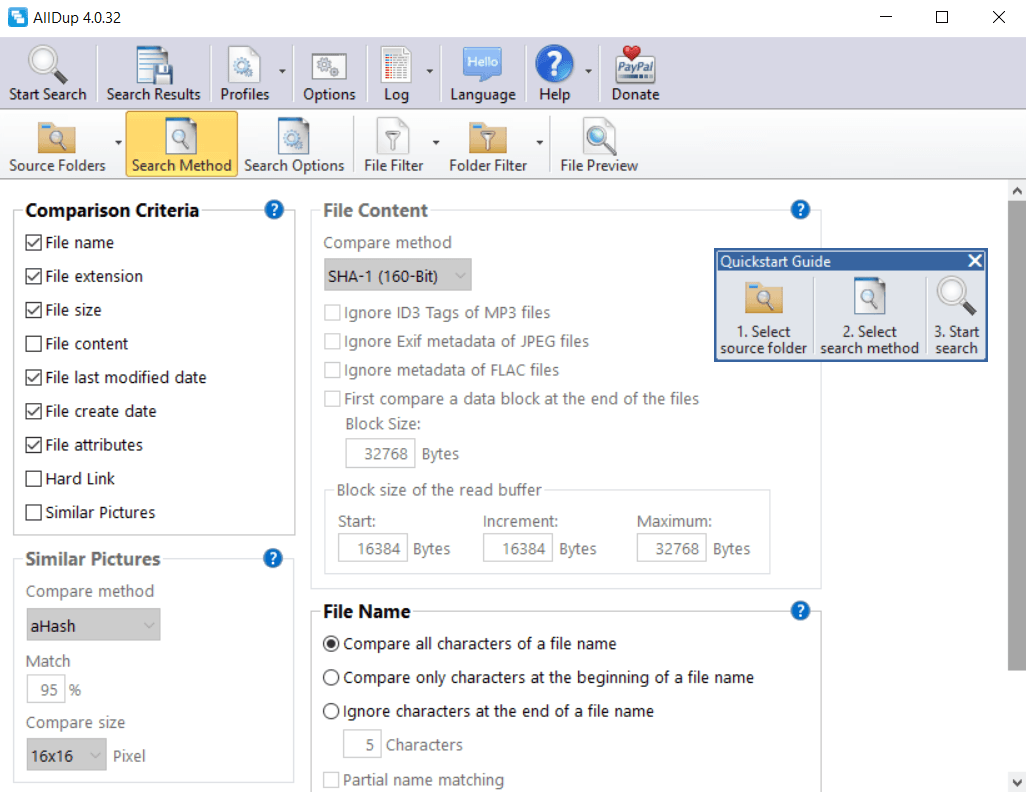 Pros
Completely free to use
Offer multiple search methods and criteria
Support all common types of files
Display a quick start guide on its interface
Cons
Require a learning curve
Comparison: Which iTunes duplicate remover suits you best?
Wrapping up
If there are only a few, say ten or less, duplicates in your iTunes library, it's recommended to use iTunes' Show Duplicate Items feature. Why not? It's handy. If you have a big iTunes library, the best iTunes duplicate remover software recommended above can do a good job of searching for duplicates and removing them all at once.
You can choose the iTunes duplicate remover suits you best according to the review and the comparison table. If you need to get rid of tons of duplicate songs in iTunes and also want to locate and delete duplicate photos, documents and other duplicate files scattered all over your Mac to free up space, you can use Cisdem Duplicate Finder which can fast find and eliminate duplicates regardless of file type and location.
Do you find this article helpful? Is there another best iTunes duplicate remover that you'd like to recommend? Welcome to leave a comment and share your thoughts and opinions.