Having been around for more than a decade, Duplicate Annihilator is an app designed primarily to find duplicate photos on Mac. Is the app good at identifying duplicate photos? Is it easy to use? How do I use Duplicate Annihilator? Find the answers in this article.
The Best Duplicate Annihilator Alternative
Find duplicate photos, videos, audios, documents and any other duplicates
Also find near duplicate photos
Remove duplicates from Photos, iPhoto, Music and iTunes
Work with computer, external hard drive, SD card, cloud storage, etc.
Offer a built-in preview feature
Automatically select duplicate files to mass delete with a click
Also let you customize the auto selection by offering 8 rules
Easy and safe to use
Also available for Windows

Free Download

Free Download
Duplicate Annihilator review
What is Duplicate Annihilator?
Duplicate Annihilator is developed by Brattoo Propaganda Software to help Mac users get rid of duplicate photos. It has four editions.
Duplicate Annihilator for Photos
Duplicate Annihilator for iPhoto
Duplicate Annihilator for Aperture
Duplicate Annihilator for iOS
Duplicate Annihilator for Photos is the focus of this article because iPhoto and Aperture are discontinued. Apple Photos, officially Photos, is the app that most Mac users use to manage their photos. The iOS edition is not updated for years. In the rest of the article, Duplicate Annihilator for Photos will be referred to as simply Duplicate Annihilator most of the time.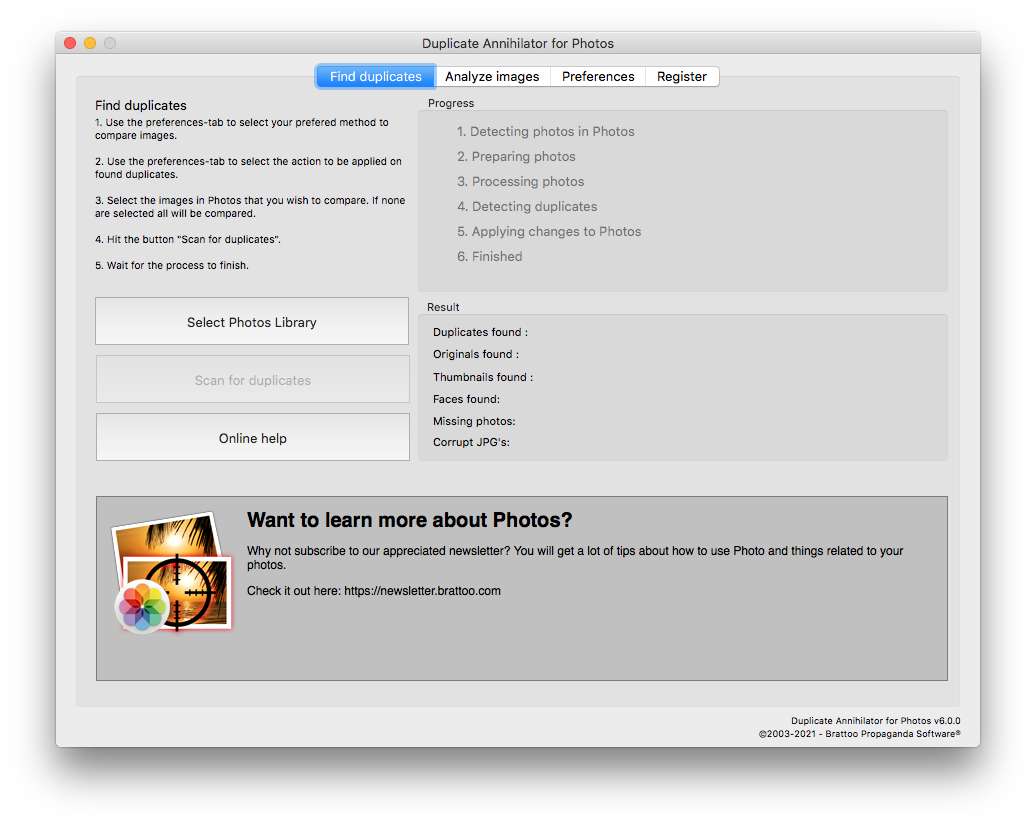 In addition, this Mac app can also detect missing photos, corrupt JPEG files and imported thumbnails in a photo library.
Is Duplicate Annihilator safe?
Duplicate Annihilator is safe to download and install. The installer is clean. But make sure that you download the installer from the official website.
Duplicate Annihilator cost
Is Duplicate Annihilator free? No. It's a paid app. But a free trial with limited functions is available.
If you have already had an edition of Duplicate Annihilator and want to upgrade it to Duplicate Annihilator for Photos, you only need to pay $4.95.
Download and install
Photos edition compatibility:
macOS 10.10 or later, including macOS 12 Monterey
Photos 1.0 or later, including Photos 7.0
The app is easy to install. The process is the same as installing any DMG installer downloaded from the Internet. It's also easy to uninstall.
Features and performance
This is an important part of this Duplicate Annihilator for Photos review. Let's talk about the features and options that Duplicate Annihilator provides to find and delete Apple Photos duplicates.
Note: This app only works with Mac's Photos. To also scan Mac folders for duplicate photos, check out this alternative.
Find exact duplicates in Mac's Photos
Exact duplicates are files that are exactly the same regardless of filename. The most reliable way to set Duplicate Annihilator to find only exact duplicates is to use the Restrictive Mode. You can also consider the Magic Mode.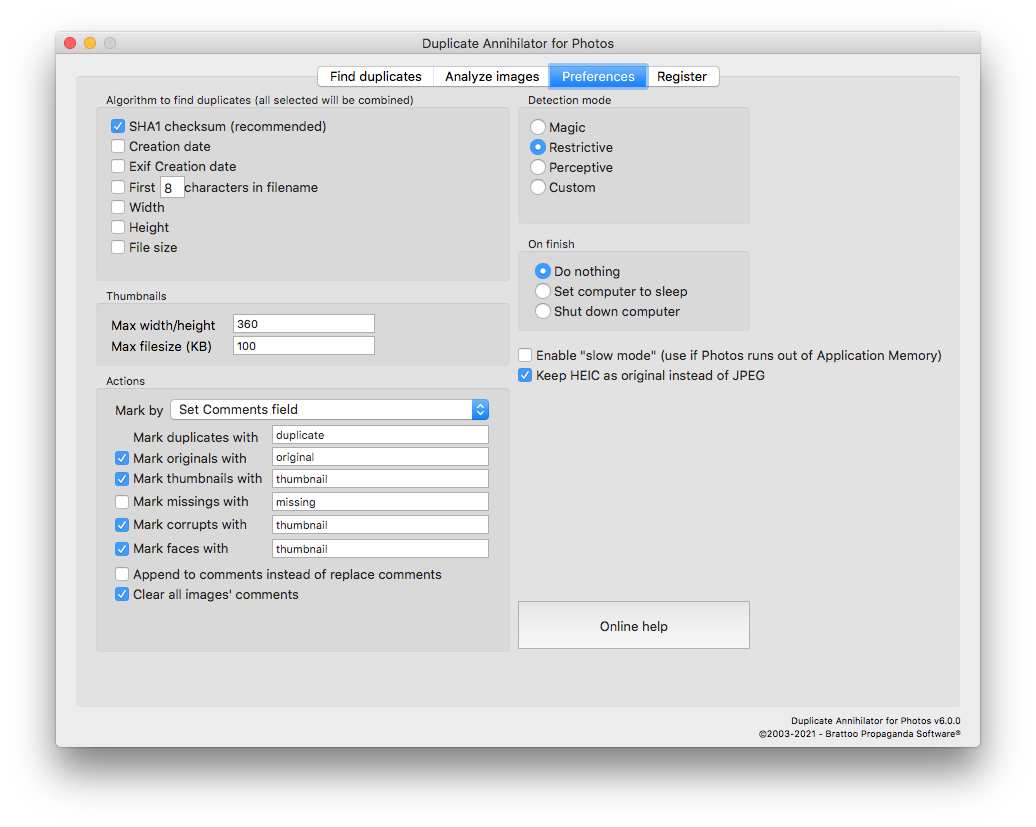 If you want to use the Custom Mode to identify exact duplicate files, select SHA1 checksum on the left. You can also simultaneously select Width and Height, which is not essential.
According to tests, Duplicate Annihilator can find most of the exact duplicate photos and exact duplicate videos in a Photos library. If you need a more powerful app to find all exact duplicates in Mac Photos and folders, this alternative is for you.
Find near duplicates in Mac's Photos
Duplicate Annihilator can also scan Photos for near duplicate photos. To detect them, you can use the Perceptive Mode, which finds both exact and near duplicates. Also, you can switch to the Custom Mode and use certain combinations of the provided algorithms.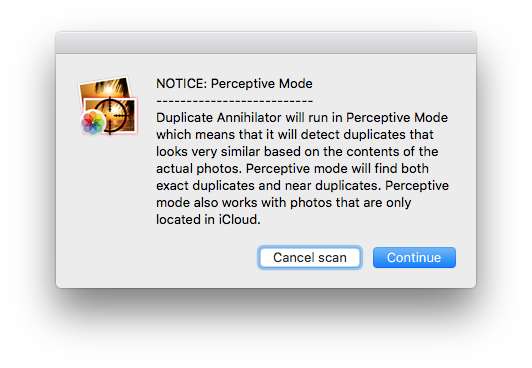 I used Duplicate Annihilator's Perceptive Mode and another duplicate photo finder app to scan the same Photos library containing unique photos, exact duplicate photos, very similar photos captured in burst mode and duplicate photos with different sizes.
When it comes to identifying near duplicates, both Duplicate Annihilator and the other app found duplicate photos with different sizes. The other app also found all burst photos and grouped them together for me to easily pick the best shots and eliminate the rest.
Mark duplicates for removal
Right after Duplicate Annihilator finishes finding duplicates in Mac Photos, it automatically marks duplicates with the keyword "duplicate". If you go to Photos, control-click a marked photo and choose Get Info, you will find the keyword "duplicate" in the description field. You can customize the keyword in Preferences.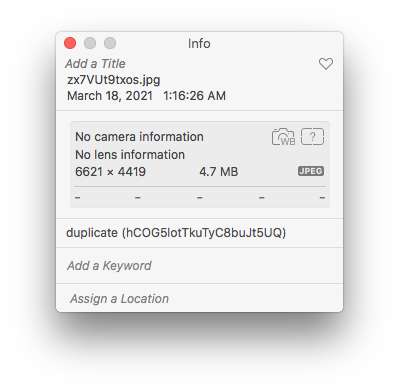 The marking is automatic and almost not customizable. You can't control which is marked "original" and which is (or are) marked "duplicate" in each group of identical photos. It doesn't matter much when it comes to exact duplicates. But the app does offer an option to mark HEIC instead of JPEG as original.
Remove duplicates
It takes a few steps to delete the found duplicate photos and videos. Go to Mac Photos. Use Photos' Search function to find the marked duplicates. Select the items and delete them.
Interface and ease of use
The interface is informative, easy to understand and easy to navigate. The app provides an explanation for each of its detection modes, helping users understand how a detection mode works. On the whole, it's easy to use, but the removal of duplicates is not that straightforward.
Summary
Pros
Provide 3 smart detection modes to identify duplicates
Also offer a custom mode and a number of algorithms
Provide an Analyze images feature for users to experiment with algorithms
Find images that are exactly identical or nearly identical
Automatically mark files for deletion
Offer an option to shut down computer when the app finishes scanning
Also find missing photos, corrupt JPEGs and thumbnails
Support the latest macOS version and Photos version
Cons
Can't find all exact duplicate photos and videos
Not good at handling similar images
Only work with image and video files
Can't scan folders and drives for duplicate files
Each edition only capable of scanning a specific app/library
Not straightforward to delete duplicates
How to use Duplicate Annihilator
1. On your MacBook Pro, MacBook Air or iMac etc., download and install Duplicate Annihilator for Photos.
2. Under the Find duplicates tab, click Select Photos Library and add the library you want to scan for duplicates.
3. Under the Preferences tab, select the desired detection mode or algorithm(s).
4. Configure other preferences based on your needs.
5. This step is optional. To only scan certain photos (instead of the entire Photos library) for dupes, select the photos in Photos app.
6. Click Scan for duplicates under the Find duplicates tab. When the scan is complete, you can go to the Result section to find the number of the duplicates found.
7. In Photos app, type "duplicate" or the custom keyword in the search field in the top right corner. Press the Return key.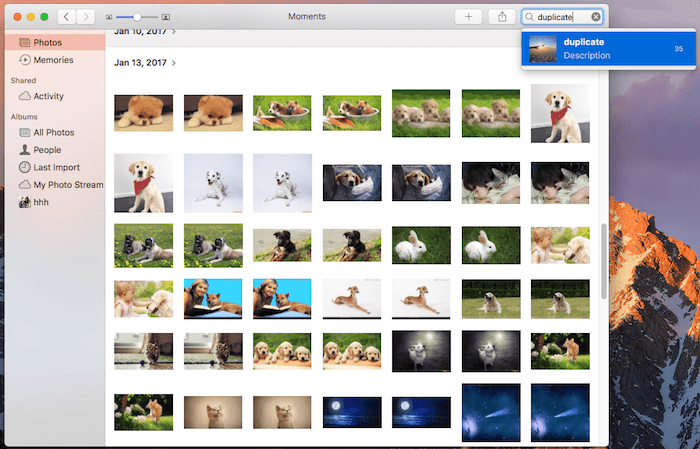 8. Select all the listed duplicates and delete them. The deleted items go to Recently Deleted.
The best alternative for Duplicate Annihilator
Cisdem Duplicate Finder vs. Duplicate Annihilator
Cisdem Duplicate Finder is the best duplicate file finder for Mac. It excels at cleaning up duplicate photos in both Mac's Photos and folders.
Find duplicate pictures, videos, audios, documents, archives and any other duplicates
Also detect similar photos, with adjustable image similarity level
Identify true duplicate files by content
Detect duplicates in Photos, iPhoto, iTunes and Music
Detect duplicates on Mac, external storage and cloud storage
Offer 3 preview modes, including side-by-side preview
Automatically and smartly select duplicates to bulk eliminate with a click
Provide up to 8 rules to customize the selection
Offer 3 removal methods: Move to Trash, Move to Folder and Remove Permanently
Easy to use and highly customizable
Support macOS 10.11 or later
Also available for Windows
Unlike Duplicate Annihilator, this app can find all exact duplicates in a selected Photos library, folder or drive. Also, it can find duplicates across multiple Photos libraries, folders or drives.
Cisdem Duplicate Finder can detect photos taken in burst mode, certain edited (e.g., compressed or rotated) versions of the same photos and certain other visually similar images. They are grouped together for you to effortlessly pick the best photos to keep.
All the detected duplicate photos and other duplicates will be displayed in the result window. You can easily view, sort and preview them.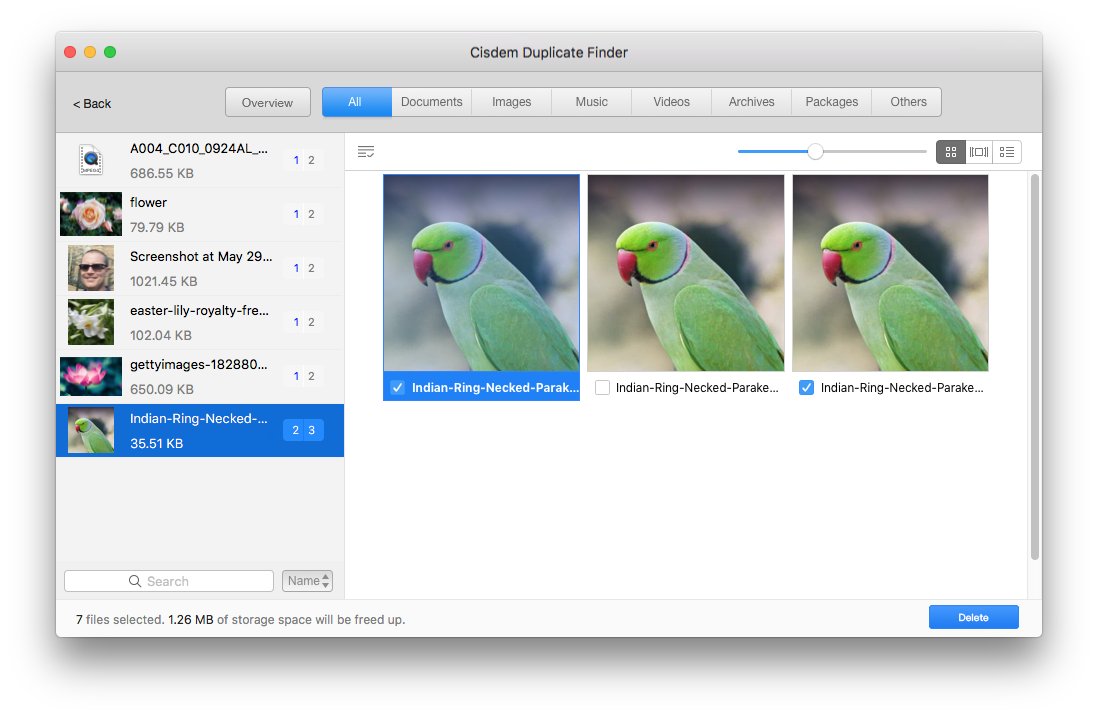 Cisdem Duplicate Finder smartly and automatically selects exact duplicate files for deletion. It also offers 4 rules for you to customize the selection. Or, you can select/deselect by hand. Clicking the Delete button will delete all selected duplicates at once. It's that easy! Deleted items will go to Recently Deleted in Photos.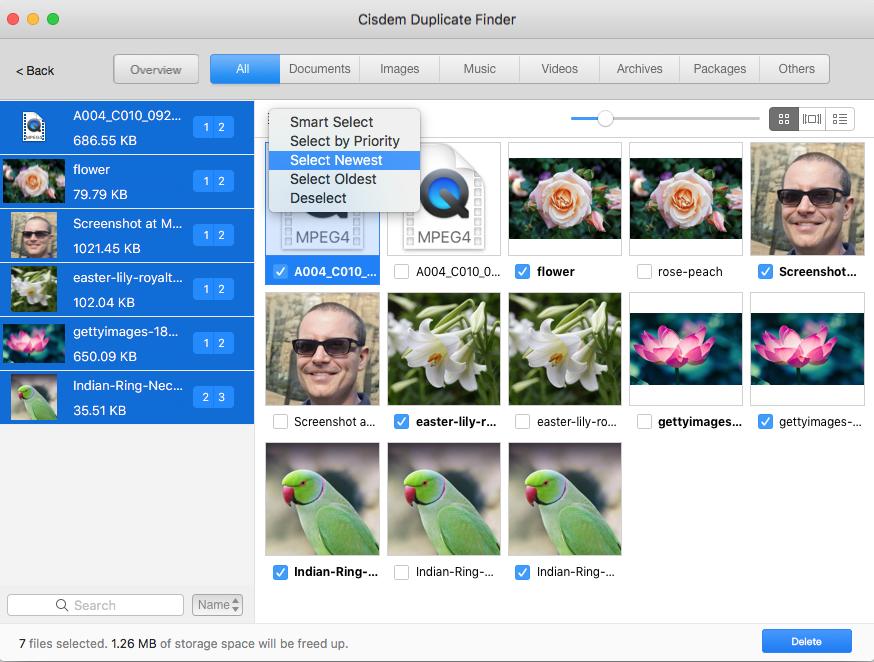 The auto selection doesn't apply to similar images. There are 8 selection rules for similar images.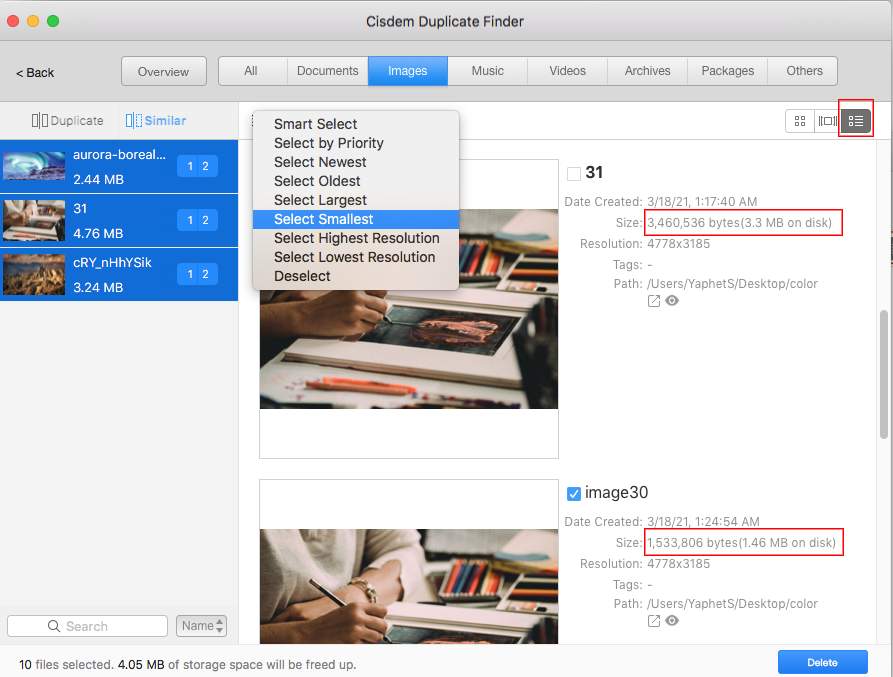 Compared to Duplicate Annihilator, this duplicate file finder and remover is more powerful, configurable and easier to use.
PhotoSweeper vs. Duplicate Annihilator
As the name suggests, this app is designed to handle image files only. As a matter of fact, it also supports finding duplicate videos.
Scan Photos library and folders for duplicates
Come with 2 work modes: Single List Mode and Side to Side Mode
Automatically suggest library and folders to scan for dupes
Identify both identical photos and similar ones
Provide multiple comparison methods
Offer 3 preview modes with a zoom tool
Provide an Auto Mark feature to quickly mark files for removal
Very customizable
Like Duplicate Annihilator, this app only deals with photo duplicates and video duplicates. And what's better is that it also supports scanning folders on Mac for duplicates.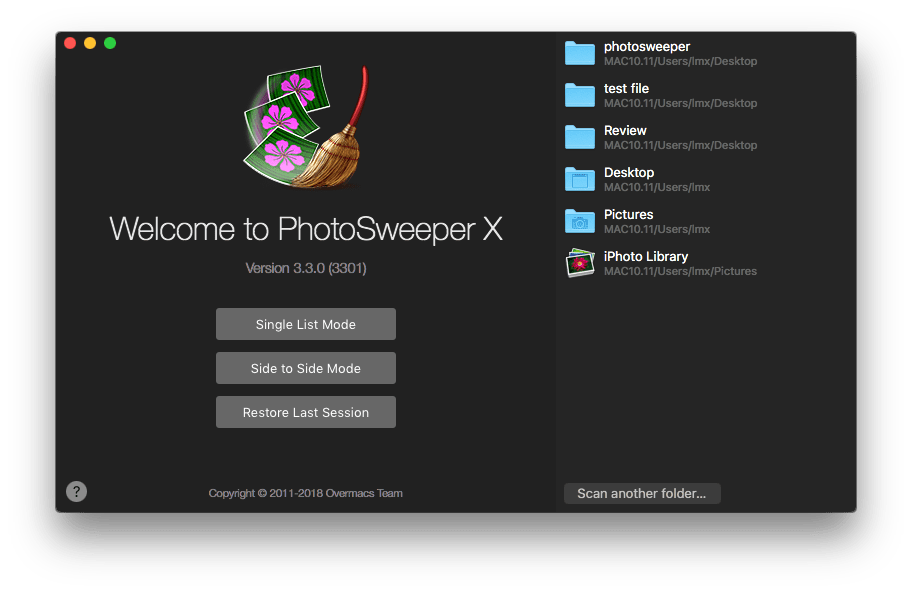 PhotoSweeper also looks for both images that are completely the same and the ones that look very alike. For the latter, there are a number of basic and advanced settings.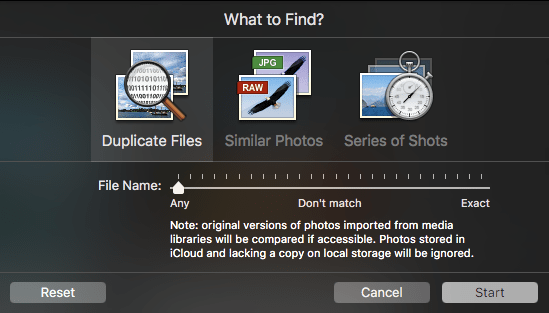 Thanks to the Auto Mark feature, there is no need to mark duplicates for elimination one by one, saving users from some manual work.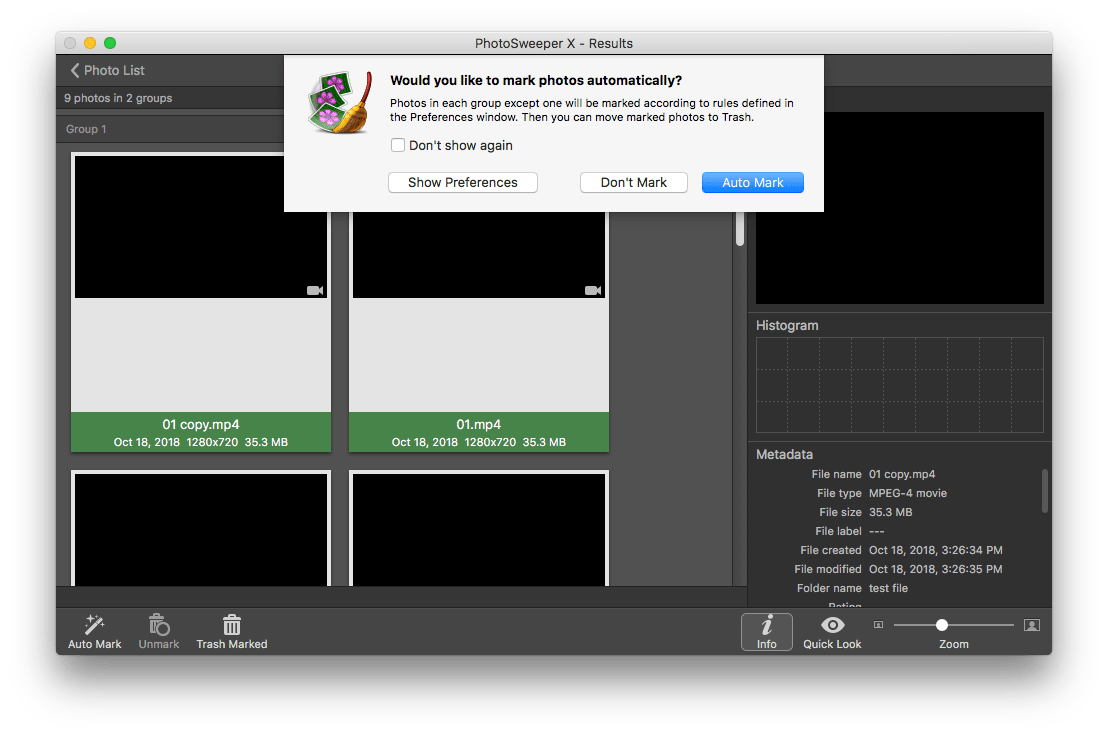 PhotoSweeper is more versatile and flexible than Duplicate Annihilator, but its interface is a bit overwhelming. It requires a learning curve.
Conclusion
This Duplicate Annihilator review, or more precisely Duplicate Annihilator for Photos review, talks about what this app does and whether it is good at its job. This duplicate photo finder for Mac has been around for years with multiple upgrades to fix bugs or improve performance. It does a decent job of finding Apple Photos duplicates, but improvement is still needed. If it can't meet your needs, you can try the best Duplicate Annihilator alternative recommended above.