How do you go directly to the parts that you want to review in a PDF? Search within the file, of course. But have you ever worked on a PDF not allowing you to search the PDF text, like scanned book, historical documents and newspapers, or academic references? Is there any solution to make this type of PDFs searchable again? Today, we are here to bring the solutions to you.
In this article, we will focus on multiple ways to make a PDF searchable with or without Adobe Acrobat on both Mac and Windows PC. Free options are also available to make your PDFs searchable.
Make PDF Text Searchable Easily and Accurately
Make scanned PDF in searchable PDF
Convert scanned PDF to editable formats: Word, Excel, PowerPoint, Text, ePub, etc.
Make text in images searchable and editable
Recognize 200+ languages and support multilingual files
Convert native PDF to 15+ formats
Batch convert and OCR PDFs
Create PDF from documents and images, also compress, add password to PDF

Free Download

Free Download
Why is My PDF Not Searchable?
A searchable PDF is the PDF file composed of 2 layers, image layer and text layer. There in the text layer saves the text content and users are allowed to search for or locate the keyword within the document.
If your PDF is not searchable, it is much likely that the file is not originally generated from documents editors like Adobe, Microsoft Office, it is image-based, which means the text layer is filled with bitmap fonts. These fonts cannot be recognized, therefore the PDF tool cannot do the matching to locate the keywords.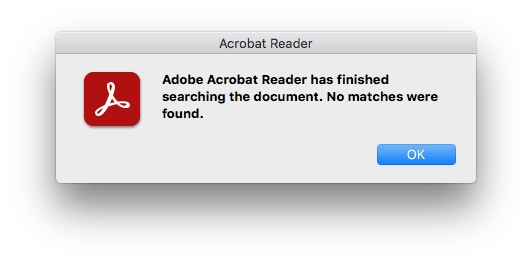 Hence, to make a PDF searchable, you need to make the PDF image text to be recognized, this is just OCR works for.
Best App to Make PDF Searchable without Adobe Acrobat for Windows and Mac
When dealing with PDF files, Adobe Acrobat comes across our minds first, it is always standing on the top of PDF solutions. However, not all of us have installed an Adobe, for one reason or another. Never mind, we can still make PDF text searchable without Acrobat. Here we recommend 2 dedicated PDF OCR programs, both of them will surprise you with even better and more accurate results.
You can try Cisdem PDF Converter OCR, a professional PDF OCR Converter enabling users to convert native and scanned PDFs, even images into searchable PDF, to Word, Excel, PPT, Keynote, HTML, Keynote and so on. It supports batch making searchable PDFs from scanned files, keeping original file quality as well. There won't be any worry about formatting issue and image resolution occurring in the conversion. This powerful OCR PDF Converter can understand more than 200 languages accurately.
Major Capabilities:
Convert PDF to searchable PDF
OCR image to searchable PDF, editable formats (Word, Excel, PowerPoint, etc)
Convert native PDF to 16 formats(Word, Excel, PowerPoint, HTML, ePub, Keynote, Pages, Image, etc.)
Batch convert and OCR PDF files
Accurate conversion/OCR results with original formatting
Create searchable PDF from Word, PowerPoint, CHM, ePub, HTML, etc
Compress, merge and protect PDF output when creating PDFs within the program
Let's Make PDF Searchable Now!
Download the free trial of Cisdem PDF Converter OCR on its official website, install and launch it on your Windows/Mac.
Free Download Free Download
Go to the "Converter", drag and drop the PDFs into the interface, or just click "+" to add files.
When you first upload files into this program, it will prompt you to download the OCR module installer, click on the OK button.
Turn OCR button ON, choose All Pages or fill Page Range. Select the language and output as PDF to make a searchable PDF from imported PDFs on Mac/Windows.
Open the OCR Setting to choose the file language and click OK.

Click "Convert" to convert PDF to searchable PDF. Find the searchable PDF in output folder.
Also, you can check the YouTube video tutorial to make your PDF searchable on Mac.
Free: Make PDF Text Searchable Offline
No one will turn down a free solution to fix his or her problems, at least, we all want to have a try before paying for an expert. To make PDF text searchable on Mac or Windows, we have free options too. Here we will introduce one way to make PDF text searchable offline line.
You can try Microsoft OneNote. It is a note taking app to easily gather information across different devices, which builds in OCR capability to copy text from PDF or images and make it searchable.
How to Make PDF Text Searchable Offline Free?
Open OneNote and create a new OneNote file.
Go to Insert>File Printout to load the PDF file.
Right click on the PDF file and "Copy Text from This Page of the Printout", OneNote OCR will work on your file.
Paste the searchable PDF text to your note.
Free: Make PDF Text Searchable Online
Also, here are 2 extra free tools recommended to make PDF text searchable online without any software. They are easy and free to use, but have some limits:
The processing may be stopped or slowed down due to unstable internet connection.
There are file size limit.
Features are limited (input format, output format, toolbars to customize).
Conversion quality vary due to different files.
#1 Make PDF Text Searchable Free with Online2PDF
There are quite a lot of free OCR tools available online, such as onlineocr, freeonlineocr, newocr, freeocr, etc.. And my favorite is online2pdf, due to its good-quality conversion result and extended features to manage your files.
Online2PDF offers a wide range of free services for PDF tasks, including editing, compressing, protecting, unlocking, merging, splitting, converting and OCR. Its OCR feature allows users to make PDF searchable in 30+ languages and it supports batch convert.
Advantages:
Make PDF and image in searchable PDF format
Export PDF as Word, Excel, PowerPoint, Image and others
Recognize 30+ languages
Batch convert
Disadvantages:
Maximum 20 pages can be converted
File size limit: maximum 100 MB for one file, maximum 150 MB for all files
Possible risk of information leakage
Require manually adjust conversion errors
Steps to Make PDF Text Searchable Online for Free
Click on "Select files" to upload files to the program.
Choose output as searchable PDF and select file language.
Click "Convert" to make PDF in searchable PDF format.
Then download the searchable PDF file to your Mac or Windows PC.
#2 Make PDF Text Searchable Free with Google Docs
Google Docs, a part of Google office suite, is an online free tool to open and edit PDF or image easily, it builds in the OCR feature to recognize text from scanned PDF or images. In other words, it can make a PDF searchable for free too.
Advantages:
Make PDF and image in searchable PDF format
Export PDF as Word, ODT, RTF, TXT, HTML and ePub
Recognize 100+ languages
Edit PDF files
Disadvantages:
Cannot well maintain the original formatting
Don't support batch conversion
Steps to Make PDF Text Searchable Online for Free
Login into your Google Account and go to Google Drive.
Click New>File upload to import the PDF file into Google Drive.
The uploaded PDF file will appear in the right panel, right click to open with Google Docs.
A OCR is performed automatically on the PDF, you will find the PDF file can be edited and searched in Google Docs.
Go to File>Download as>PDF. A searchable PDF is made for free.
Make A PDF Searchable in Acrobat If You Have Installed
If you have installed Adobe Acrobat, you don't have to bother yourself to find another tool for making PDF searchable. Adobe Acrobat offers OCR, it can auto detect a non-searchable PDF and convert it to a searchable one. Since Adobe offers both Mac and Windows versions, here we take Adobe for Mac as the demonstration.
Steps to Make PDF Searchable in Adobe Acrobat
Open the scanned file in Adobe Acrobat (eg.Adobe Acrobat Pro DC).
If the file is scanned PDF, open it in Adobe directly.
If the file is an image, run Adobe first, then select "Create PDF" in the wizard, choose the image file and it will be imported into Adobe.
Go to Tools>Enhance Scans>Recognize Text>In This File.
Click Recognize Text and Adobe will start to process OCR on the document.
Go to File>Save, you will find the PDF is searchable on mac.
If you need to perform Adobe OCR in other Adobe versions to make a PDF searchable, go to the details and try.
Knowledge: Can We Make PDF Searchable on Adobe Acrobat Reader DC?
No ,you can not.
You are allowed to search PDF text in Adobe Acrobat Reader DC, but if the original PDF file is not searchable, you cannot make it searchable in any Adobe reader. Adobe Acrobat reader can only open, view, fill & sign, comment and highlight, you have to pay for its Adobe Acrobat to get the OCR feature to make a PDF searchable.
Extended: Can We Make PDF Searchable in Mac Preview
No, you cannot.
You can search a word within PDF in Mac Preview by press Command+F, but if a PDF is not searchable in the first place, you won't be able to make it searchable in Preview. Preview can open and view native or scanned PDF files, but there is no OCR capability in Preview to make an image (scanned) PDF text searchable. You have to apply OCR on the PDF file and make it searchable, then search PDF word in Preview.
Summary
It is not as difficult as you thought to make a PDF searchable if we find a tool. You may feel interested in making your PDFs searchable with free tools, but if you want to obtain accurate PDF text and maintain the original PDF formatting, a dedicated PDF OCR program would be the best option.