This article will show you how to sync Facebook contacts with Android, iPhone as well as Mac. Now and then, you might need to mark down all your Facebook contacts for easy communicating. But it's too tiresome to take a note one by one. Under the circumstances, you can try to sync Facebook contacts on your device. How to sync Facebook contacts? Here you will find step-by-step instructions on how to sync contacts on Facebook to iPhone and more.
Manage Your Contacts with Ease
Sync contacts from Mac's Contacts app, Facebook, iCloud, Exchange, Google, Yahoo, and more
Export contacts to 8 formats like CSV, Excel, DOCX, Numbers, vCard, HTML and more
Import contacts from CSV and vCard files
Easily view, search, edit, tag, group, email, backup and restore contacts
Remove (or merge) duplicate contacts from supported apps and services
Also find and fix issues such as incomplete names and invalid characters
Compatible with macOS 10.11 or later

Free Download
How to sync Facebook contacts with Android
When it comes to syncing Facebook contacts with Android, the method needs to be updated due to changes on Facebook's side. But it's still an easy task. It's easy to sync Facebook contacts with Android devices, be it a Samsung Galaxy or Huawei Mate. Below is how to do the sync.
Step 1: Download and install Facebook app to your Android phone.
Step 2: Go to Settings on your phone. Scroll down and tap Users & Account.
Step 3: In Users & Account window, scroll down and find Add Account button.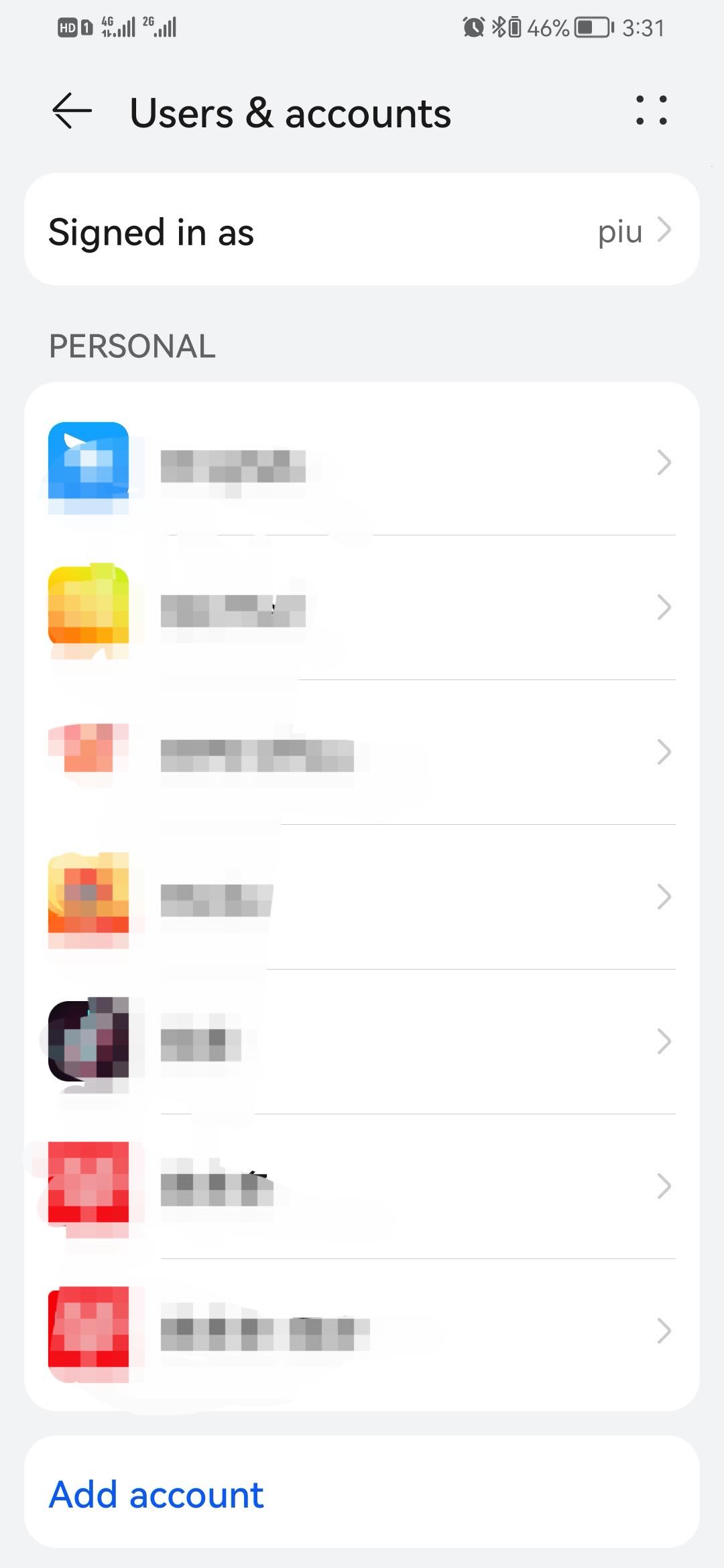 Step 4: Select Facebook. Type in the email address and password to add your Facebook account.
Step 5: Enable the Sync Contacts option then click Sync now.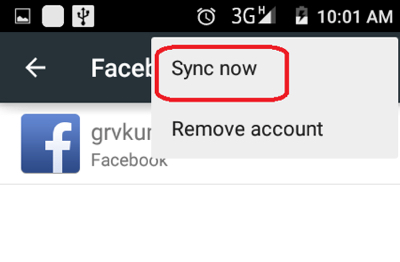 It will start syncing contacts between Facebook and your Android address book. If needed, you can also easily turn off the sync in Settings.
In addition, there are also third-party ways on how to sync Facebook contacts. If you are looking for a free app to sync Facebook contacts, Sync. ME can be a choice. It can be used on both Android and iPhone. HaxSync and UberSync are also great choices, which provide the service for Android phone to sync Facebook contacts.
How to sync Facebook contacts to iPhone
For iOS versions prior to iOS 11, there is a built-in way to effortlessly sync Facebook contacts to iPhone. In such a case, you can do it directly in Settings on your iPhone. The steps below will walk you through the process.
Step 1. On your iPhone, go to Setting > Facebook.
Step 2. If you haven't signed in your Facebook account yet, then write down the user name and password. (Or log into your Facebook automatically and give a permission to Download your Facebook friends to the Contacts app and keep their information up to date. Calendars can be also included.)
Step 3. After logging in the Facebook account, slide Calendars and Contacts to the on position.
Step 4. Tap Update All Contacts to sync contacts.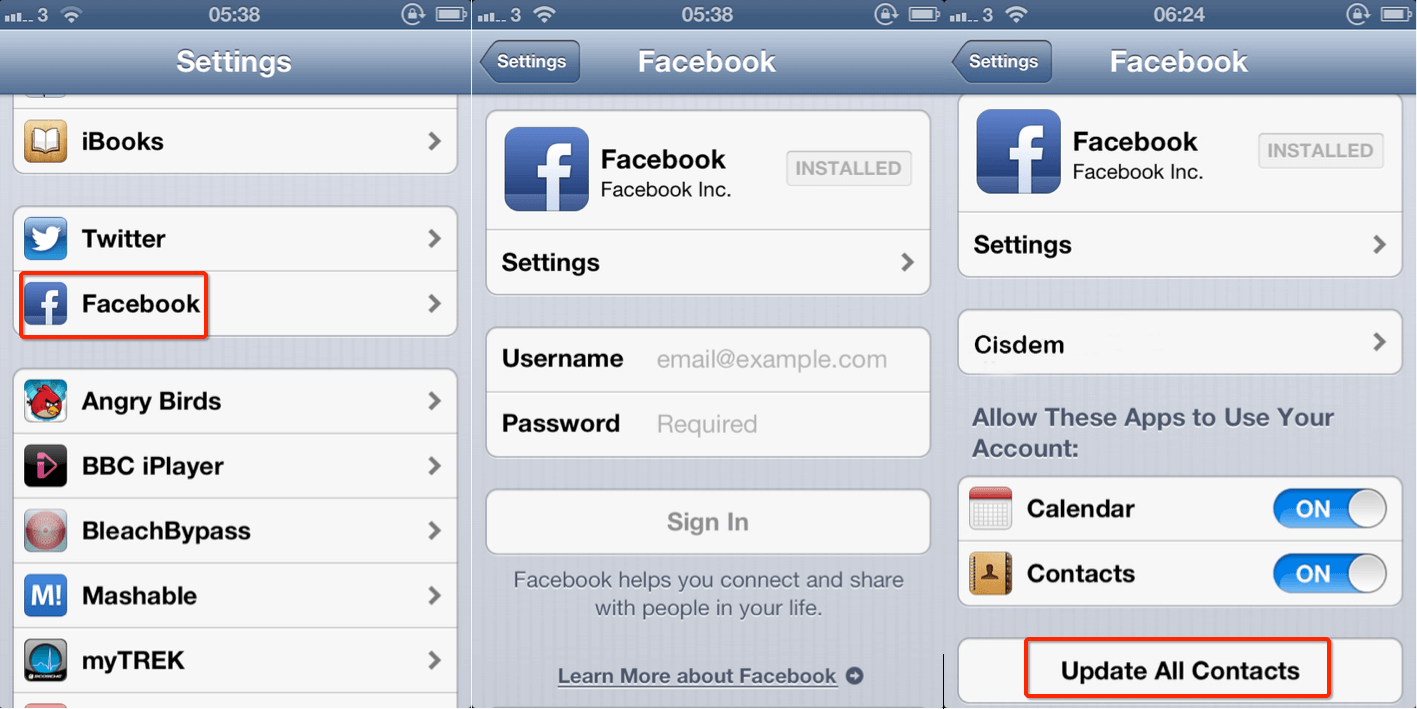 Above are how to sync contacts with Facebook to iPhone. However, the settings option used above was removed from iPhone with the release of iOS 11. For newer iOS versions such as iOS 14 and iOS 15, this option is no longer available.
How do I sync my Facebook contacts to my iPhone with new versions? Here I recommend you to use third-party apps like Sync.ME. In addition to sync your contacts between sources like Facebook and iPhone, this versatile app can also block spam calls. As you can tell form its name, the app is primarily designed for the purpose to sync. It can automatically sync your Facebook contacts to your iPhone in the background, which keeps your contacts up to date.
How to sync Facebook contacts to Mac address book
Sometimes, you may also need to sync your Facebook contacts with Mac address book app Contacts. You can do it easily with software like Cisdem ContactsMate. This is a professional contacts management app for Mac users. Get all your contacts from multiple sources into one place and up-to-date. You can group, tag, add, edit, print, share and email contacts in this tool easily. In this part, you will find steps to sync Facebook contacts using the software.
Step 1. Download and install ContactsMate. If a message pops up asking for permission to access contacts, you need to click OK to continue.

Free Download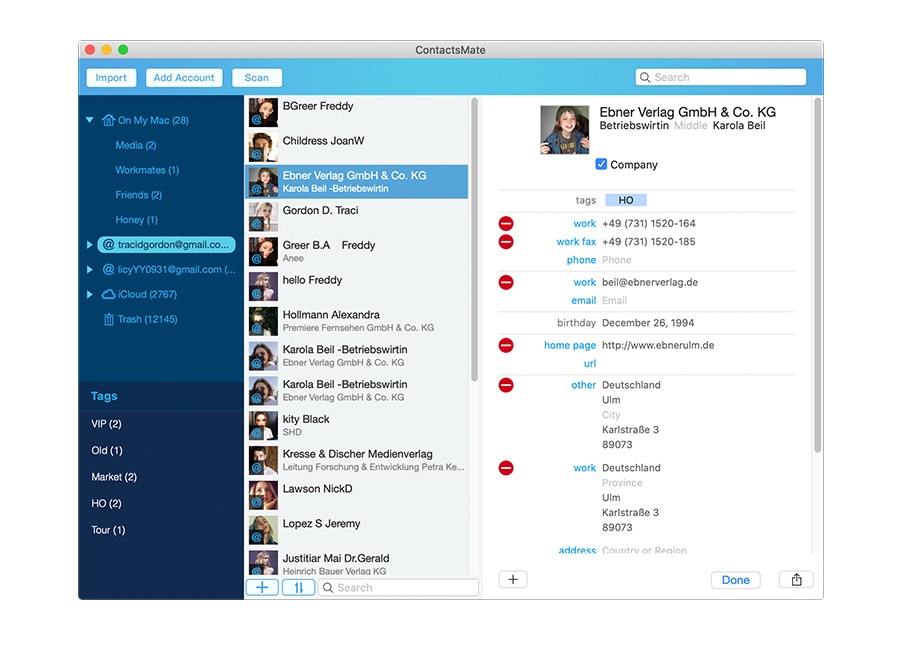 Step 2. In the toolbar, click Add Account, which will open the Internet Accounts window.
For macOS 10.13 or earlier: Select Facebook and sign in with your Facebook account.
For macOS 10.14 or later: Select Mail account. If you can't find this option, then please select Add Other Account, which should make the option show up.
Step 3. Make sure you select the checkbox next to Contacts.
Click the
button next to the Updated contacts detected message. And you will find the Facebook group on the left sidebar. You can now easily manipulate them.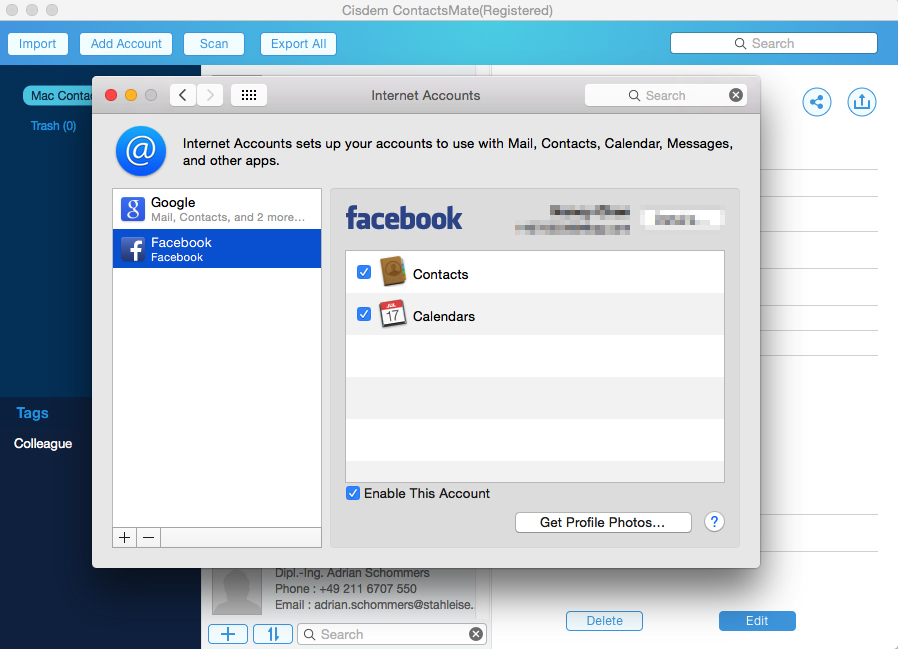 Step 4: Drag and drop all contacts in Facebook group to the group named On My Mac. The process to sync Facebook contacts to Mac is done. You can open your Contacts app on your Mac to check it.
Conclusion
This article talks about the easy ways to sync Facebook contacts with Android, iPhone and Mac. Thanks to these methods, there is no need to export or update your contacts manually one by one. Some methods and recommended apps also support contacts from other services.

Peter has always had great enthusiasm for writing, programming and web development. He likes writing about software and technology, his works are featured on some tech blogs or forums like Tom's Hardware, CNET, etc.