I'm trying to sync my contacts from my iMac's Address Book to my iPhone. My iMac runs Yosemite, and I has lots of contacts in my Mac Address Book app. I connected my iPhone 5s to my iMac running the latest iTunes. And my iPhone showed up under devices in the sidebar of iTunes. When I checked the box for Contacts and then clicked Apply. And iTunes said it was syncing contacts and then finished. However on my iPhone 5s, under the Contacts app, there was "no contacts" after the syncing process finished. Is there any other ways to transfer my contacts from Mac to iPhone?
It is necessary to keep our contact information up-to-date across all our devices so that we can always have access to phone numbers, emails, addresses, etc. The Mac Contacts, for example, sometimes needs to be checked when using iPhone. But sometimes when you try to sync Mac contacts to iPhone using iTunes, it doesn't work. After we talked about transferring contacts from iPhone to Mac in last article, then how to sync contacts from Mac to iPhone? Here, I'm gonna share with you more tips to efficiently sync Contacts on Mac.
Part I. Preparations before you sync contacts from Mac to iPhone
Before you sync contacts from Mac to iPhone, it is essential to tidy up your Contacts on Mac firstly. You're recommended to deal with in the following two aspects.
1. Remove/Merge duplicate contacts on your Mac
Instead of checking the names and then deleting them one by one, you can take a shortcut by using some contact manager software. ContactsMate is the contact manager software that I'd like to use in this tutorial, for it is a comprehensive tool that can be used to analyze, report, and fix OS X Contacts and export Mac Address Book to CSV, vCard, TXT, Docx, HTML, Excel, Numbers, and Pages format for easy Contacts back up or sync. More importantly, this contact manager can help you delete duplicate contacts on Mac.
Step 1. Download Cisdem ContactsMate and then this contact manager will ask you to allow it to access your Contacts. Click "OK".

Free Download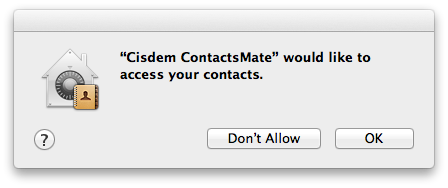 Step 2. Click ContactsMate and choose the "Preferences" to scan. You can choose choices according to your specific needs in the pop up window. Here you can select"Duplicate contacts"on Conflicts tab.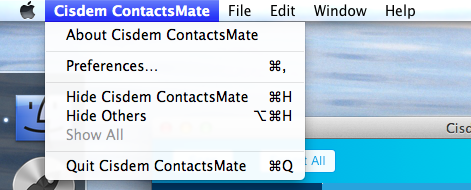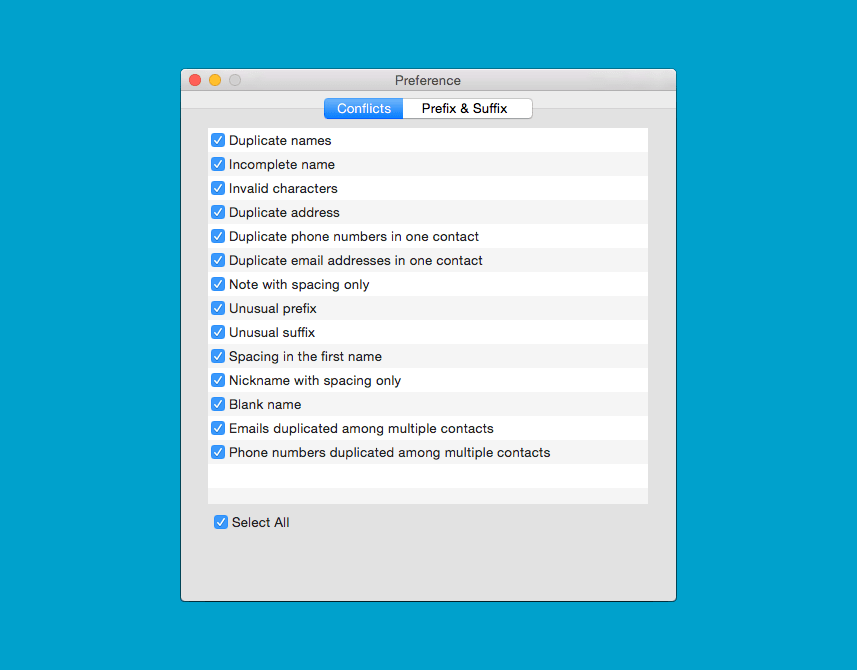 Step 3. Choose to "Merge contacts", "Delete this contacts" or "Delete the duplicate contact(s)". Click on "Fix" in the bottom to confirm.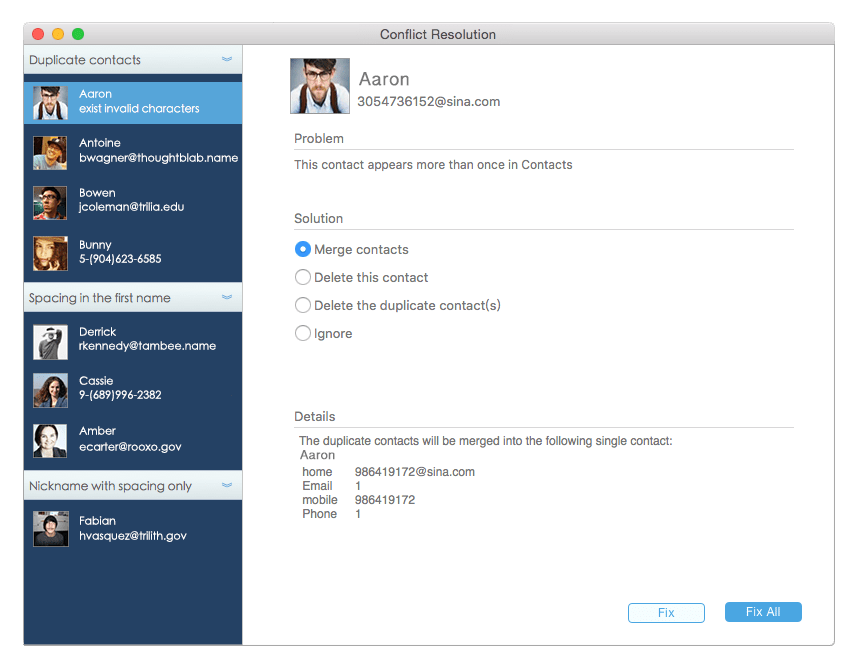 For more detailed tips, you can also refer to "5 Solutions to Merge/Remove Duplicate Contacts on Mac".
2. Complement your contacts
If you check your Contacts carefully, you may find some information incomplete. You can try to complement them one by one through doubt-clicking on the names. Since ContactsMate is contact management software that can analyze, report, and fix dozens of problems with OS X Contacts, you can also use the "Preference" (as mentioned in above step 2) such as "Incomplete name" to fix them in batch.
Part II. How to sync Contacts from Mac to iPhone?
Solution 1. Sync Contacts from Mac to iPhone by ContactsMate
Here, we still use ContactsMate, which can be used to export Mac Address Book to CSV, vCard, TXT, Docx, HTML, Excel, Numbers, and Pages format. In order to Sync Contacts from Mac to iPhone, the easiest way is to export your Contacts on Mac in vCard formats and then email the vCard files to your iPhone.
Step 1. After you've edited the Contact with ContactsMate on your Mac, Click on "Export All". And then choose "Save to vCard" and store your contacts on your Mac.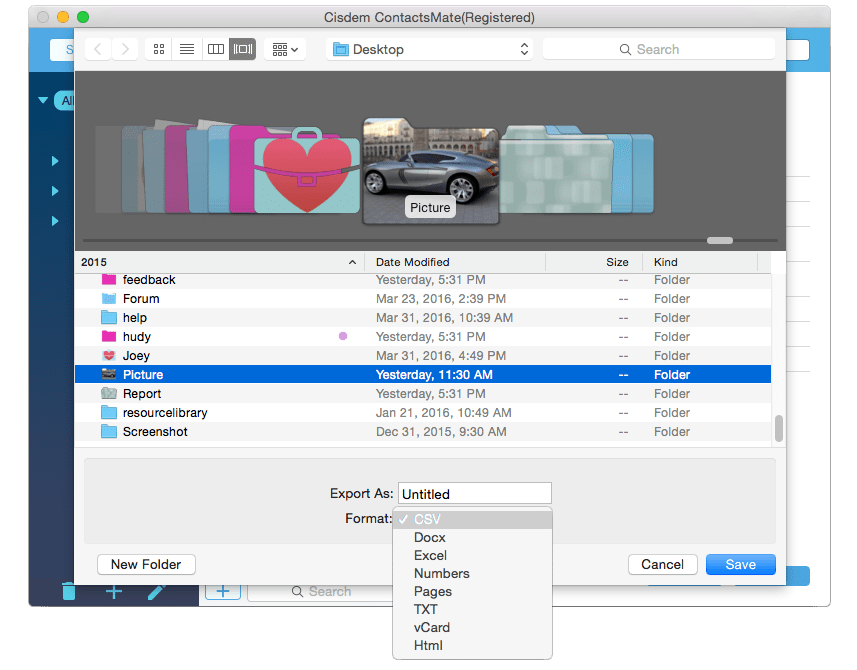 Step 2. Send an email with the vCard files as attachment to yourself at the email address setup on the iPhone. Open the vCard.vcf files on your iPhone.

Step 3. Tap on "Add All # Contacts" to import the address book to the iPhone. Depending on how large the address book is and how many contacts that are in the vCard file, this may take a moment.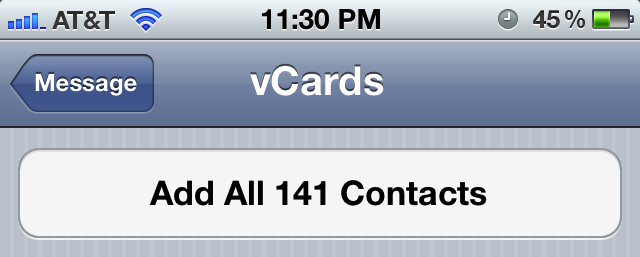 tips: You can also export your contacts from Mac Address Book to iPhone via Address Book. Just open the Address Book on Mac, select all of your contacts displaying in the Address Book. Then click on "File" menu, select "Export" and choose export as a VCard option. The next steps are the same as Step 2 and Step 3 in Solution 1. But this way may also transfer duplicate contacts to your iPhone, so in my opinion, it is recommended to use ContactsMate to remove duplicate contacts before you transfer anything.
Solution 2. Transfer Contacts from Mac to iPhone via iCloud
In order to transfer your entire contact list from Mac to iPhone then you can do it via iCloud. So, below is the step-by-step guide for you to transfer your contacts from Mac to iPhone. It is a bit complicated and sometimes it can't sync contacts completely. My friends, you can also learn about the detailed steps in Apple Support.
Step 1. Make sure that you have backed up your contacts via iCloud. And install the iCloud app on your Mac. Click on the iCloud icon and open it.
Step 2. Enable iCloud contacts sync on your iPhone. Open the Settings app on your iPhone, tap on iCloud and turn On the option for Contacts.
Step 3. Now import your contacts from your Mac to your iCloud app. Launch your Contacts app on your iPhone and you will see all of your Mac contacts have been synced to iPhone.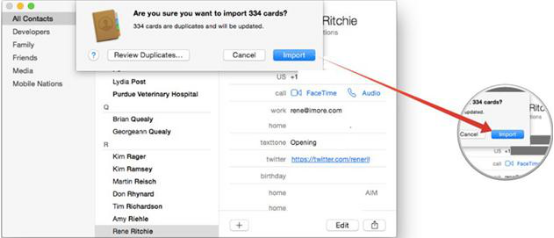 In conclusion, you have learnt the two different ways of transferring your entire contacts from Mac to iPhone. Both of the ways of transferring your contacts are safe and secure. You can choose the suitable solution to sync contacts from Mac to iPhone.

Peter William


Peter has always had great enthusiasm for writing, programming and web development. He likes writing about software and technology, his works are featured on some tech blogs or forums like Tom's Hardware, CNET, etc.