This article mainly talks about how to merge or remove Mac Contacts duplicates. Apple's Contacts is the address book included with macOS and iOS. As with any address book or contact manager app, there can be duplicates in Contacts on Mac. Duplicate contacts can cause inconvenience or confusion. Luckily, there are 5 duplicate contact removers to help you get rid of them easily and quickly.
Best Tool to Remove/Merge Duplicate Contacts on Mac
Support contacts from sources such as Mac Contacts, iCloud, Gmail, Exchange, etc.
Delete or merge duplicates in Mac Contacts and other supported sources
Identify contacts issues such as invalid phone number, incomplete name, etc.
Let you easily view, search, add, edit, tag, group, print, share and sync contacts
Export contacts from any supported source directly to 8 formats
Import contacts from vCard and CSV files
Allow you to quickly back up or restore contacts with 1 click
Easy to use and customize
Compatible with macOS 10.11 or later

Free Download
Cisdem ContactsMate, the best contact manager for Mac, accurately finds duplicate contacts, lets you view the found duplicates, and provides a number of options to fix them such as "Merge", "Delete", "Edit" and "Ignore".
Steps: How to merge duplicate contacts on Mac
1. Download Cisdem ContactsMate and install the app.

Free Download
2. When you open it for the first time, it will ask for access to your contacts. Click OK.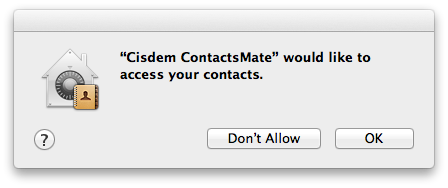 3. Select On My Mac in the sidebar of the app. Click Scan. Back up contacts first if needed.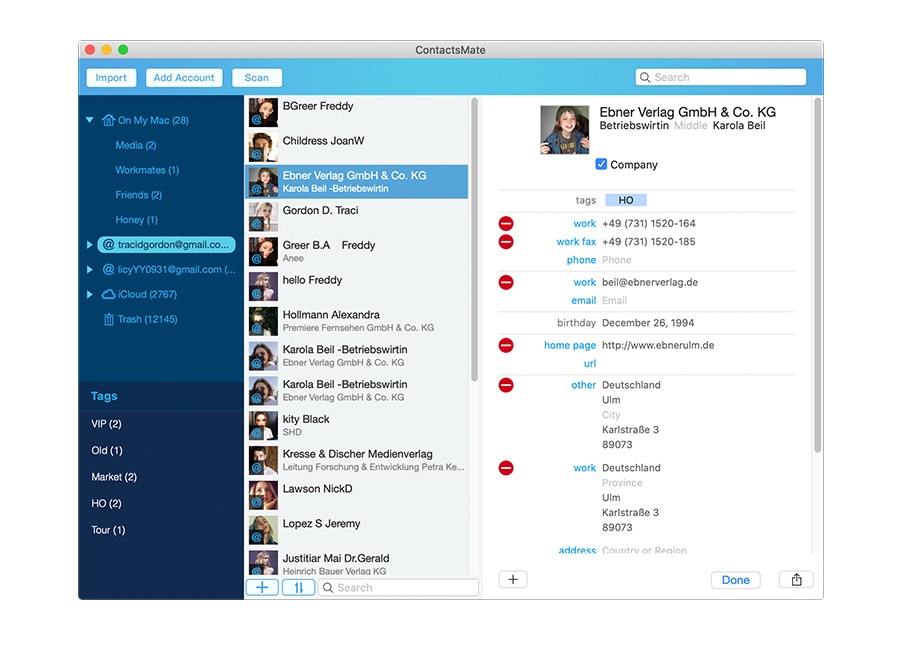 4. Once the scan is done, the Conflict Resolution window will display the found duplicate contacts, which are classified by type (e.g. Exact Duplicate Contacts).
5. Select contacts in a type and choose a desired solution. (Choose Ignore if you think this duplicates are necessary.)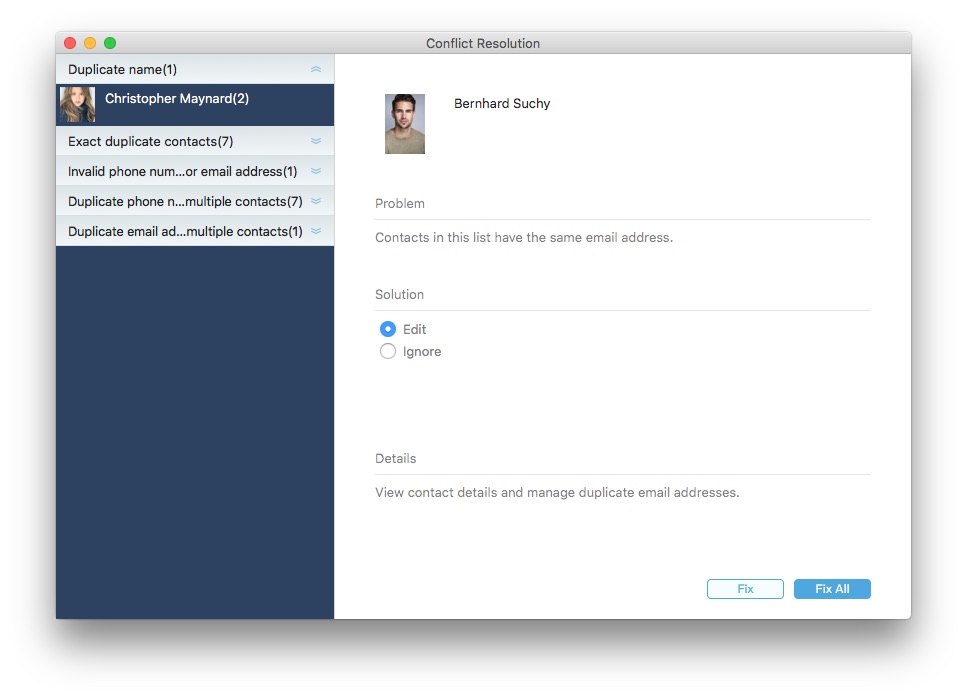 Remove duplicates. Choose Edit under Solution. Click Fix or Fix All and start fixing duplicate contacts in bulk or individually. It will let you compare duplicates side by side. Choose one and click on Delete this Contacts on the bottom.
Merge duplicates. Choose Edit. Click Fix or Fix All. Enable the Merge option on the bottom-left corner. It allows you to edit the merged fields. Then click OK.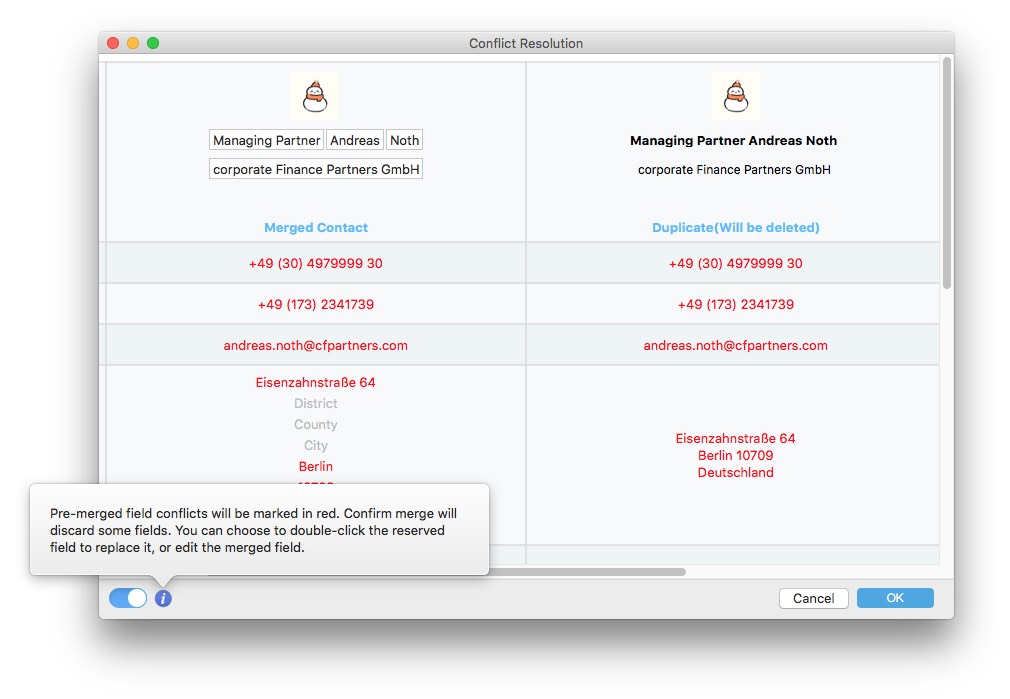 When you finish, if you open Contacts on Mac, you will find that the changes are automatically synced and the duplicates are eliminated.
Tips
Tip 1. Learn more about removing duplicates from Mac Contacts
ContactsMate can find different types of duplicate contacts such as "Exact Duplicate Contacts", "Duplicate Name" and "Duplicate Phone Numbers in a Single Contacts". For different types of duplicates, the available solutions can be different.
If you want, you can tell this duplicate contact remover app to include or ignore a specific type when it scans for Mac Contacts duplicates. Before you scan, go to the Conflicts tab in Preferences and then select or deselect based on your need.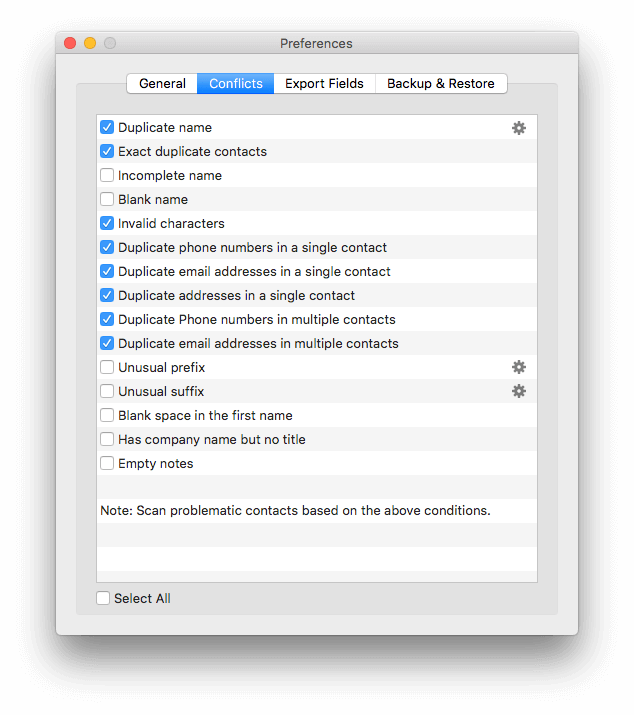 Tip 2. Backup Mac contacts first
Backup your Mac contacts first if you worrying about loss data while deleting and merging duplicates. Before you scan, click Cisdem ContactsMate on the menu bar and then choose Preferences. Go to the Backup & Restore tab. Select the Mac group then click on Backup on the bottom.
Tip 3. Find and remove iCloud Contacts duplicates
1. In ContactsMate, click Add Account in the toolbar.
2. Select iCloud on the left side of the Internet Accounts window. Sign in to it.
3. Make sure you select the box next to Contacts. Click the
button next to the Updated contacts detected message.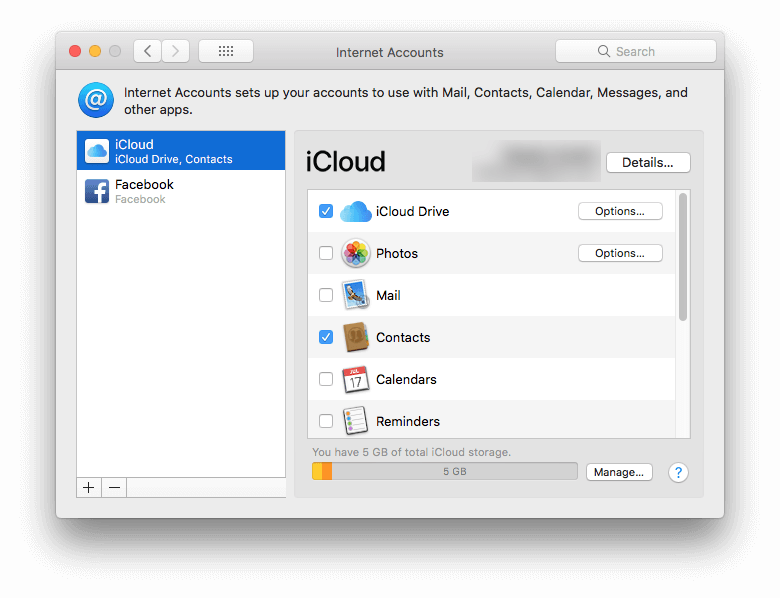 4. Now iCloud should appear in the left sidebar. Select it.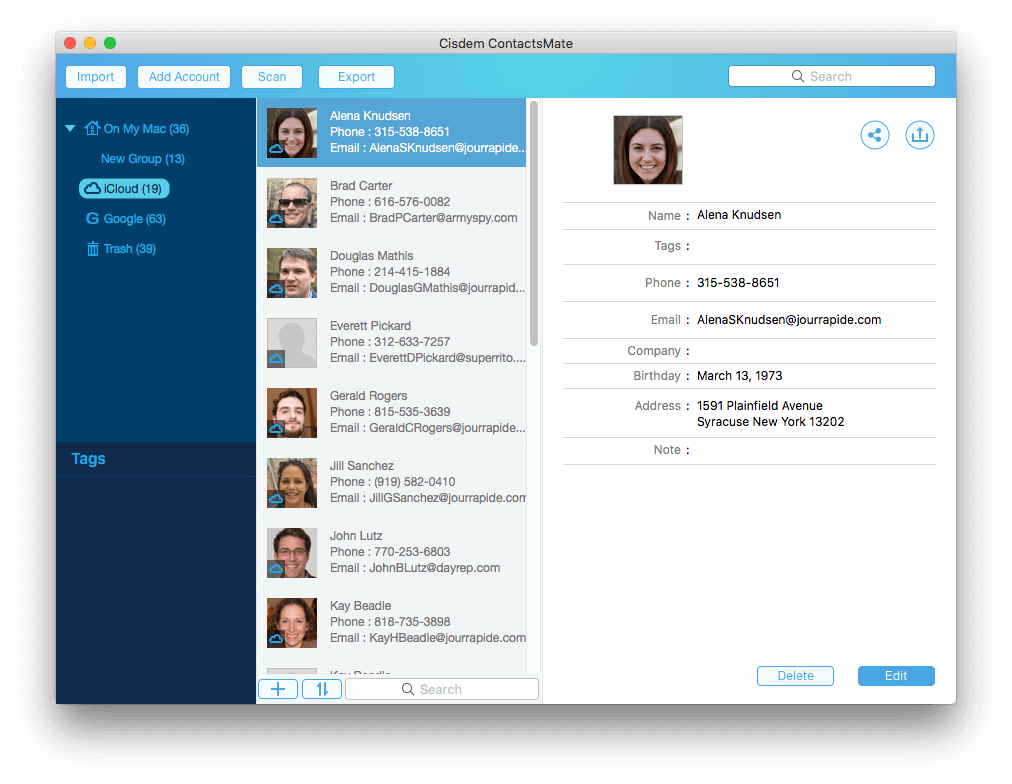 5. Click Scan to find iCloud duplicate contacts.
6. Complete the rest of the process.
After the removal takes place, iCloud Contacts, Apple's web-based address book, will automatically detect and sync the changes right away.
Method 2. Merge duplicate contacts in Mac Contacts app automatically
Mac Contacts app itself offers a feature "Look for Duplicates" to handle duplicate contacts and merge contacts on Mac. But with this built-in method, 3 facts are worth noting. It provides only one option to deal with duplicates: Merge. It will find and merge duplicates in one go. It won't let you know which contacts have duplicates. Therefore, you have little control over the process.
I wish you could review before merging, just in case. - From a Mac user
If you want to have more control and options, check out the first method.
Below is how to use the this built-in method.
1. On your MacBook Pro, MacBook Air, or iMac etc., open the Contacts app.
2. Back up your contacts. This step is optional.
3. From the top menu bar, select Card > Look for Duplicates.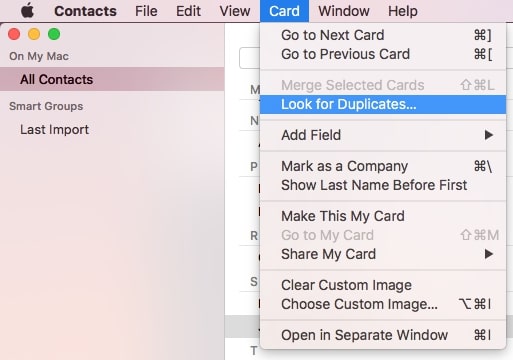 4. A window will pop up, informing you of how many duplicates will be merged. Click Merge.

5. Repeat the previous two steps until no duplicates are identified.
Method 3: Get rid of duplicate contacts in Mac Contacts app manually
In addition to using the Look for Duplicates feature, you can delete/merge duplicates by hand in Mac's Contacts app, which is applicable if you don't have a long contact list.
1. On your Mac, open Contacts.
2. This step is optional. Go to Contacts' Preferences and set contacts to be sorted by First Name or Last Name. Choose a sorting order with which you can better identify duplicate contacts.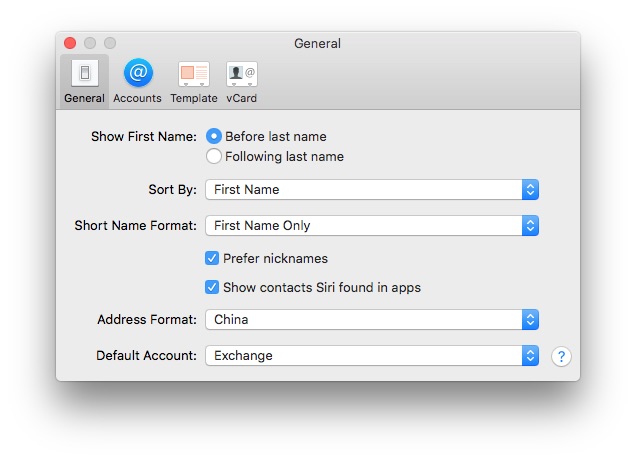 3. Right-click an unwanted duplicate and choose Delete Card. Click Delete.
4. Or, select multiple duplicate cards in the list. Pull down the Card menu and then choose Merge selected cards to merge duplicate contacts Mac manually.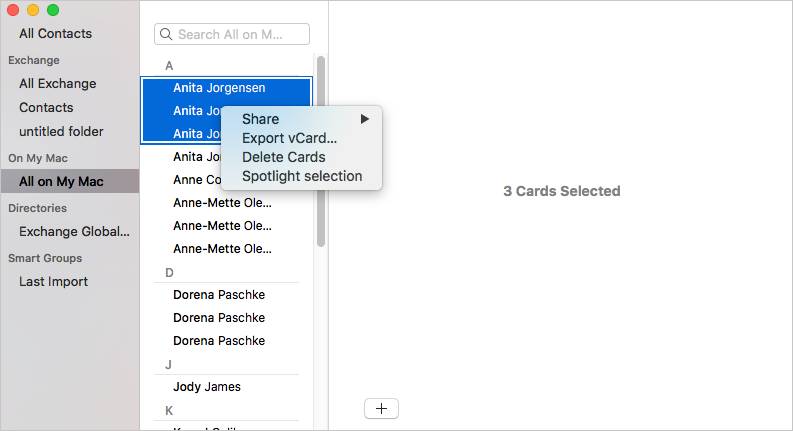 5. Repeat steps 3 and 4.
Or, you can select multiple duplicates for deletion.
Method 4: Link duplicate contacts across accounts in Contacts on Mac
If you have the same contacts from different accounts such as iCloud and Exchange, you can link them together. This will not affect the contact cards in the single account group but eliminates the duplicates in the All Contacts group.
1. Open the Contacts app on Mac.
2. Choose the duplicate contacts you want to link from the All Contacts group.
3. Choose Card > Link Selected Cards. (Note that the selected duplicates need to be from different accounts otherwise you won't find the link option.)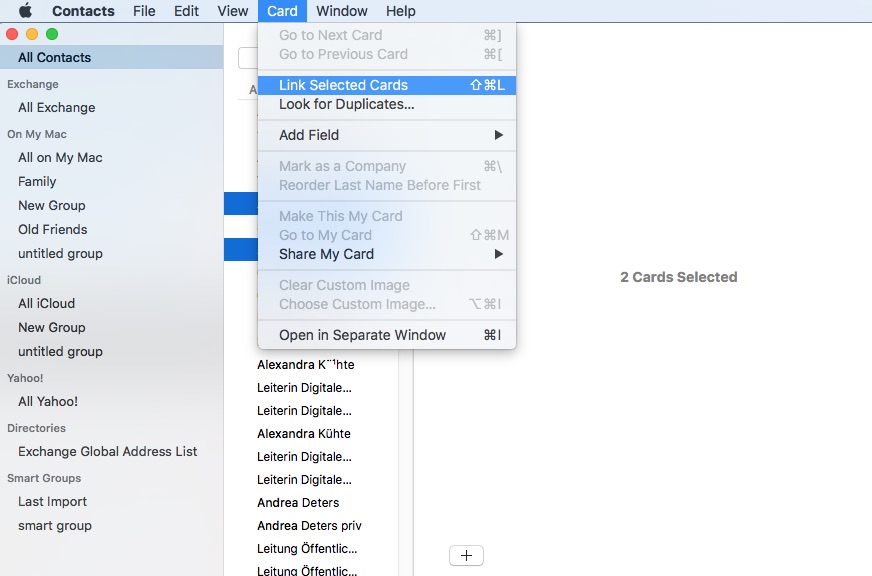 4. Then the Contacts app will link these duplicate contacts from different accounts together. You'll found only one card in the All Contacts group. However the original cards will keep in both accounts.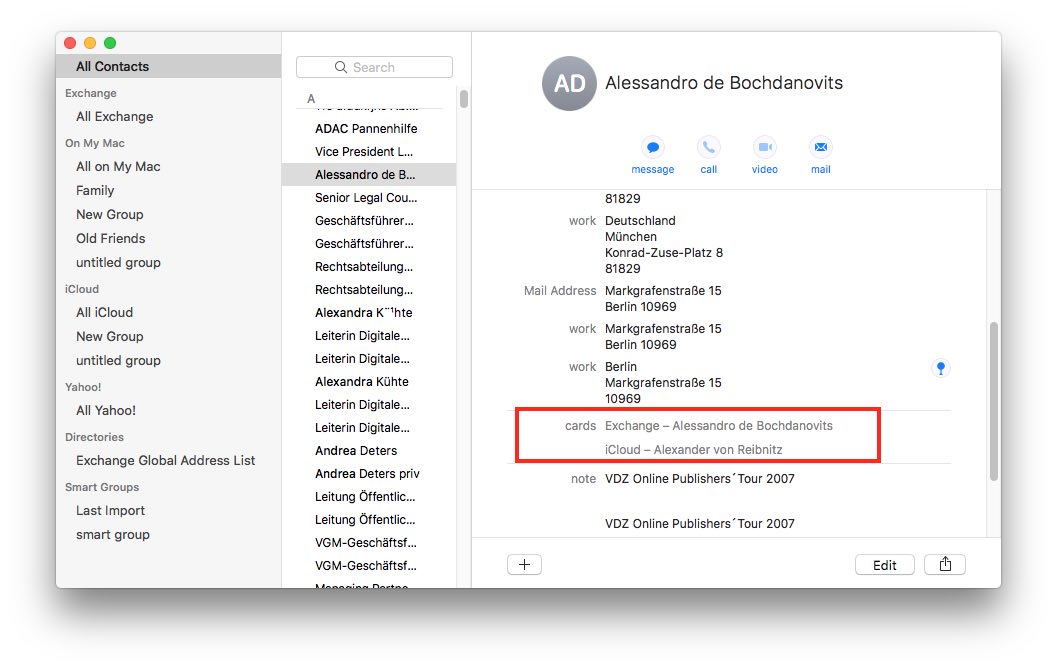 Method 5. Use AddressBook Cleaner to delete Mac Contacts duplicates
You can also delete duplicate contacts using a dedicated Mac Contacts duplicate remover like AddressBook Cleaner. Designed to help users avoid duplicate contacts, it can help keep your contacts list clean and organized.
1. Download and install AddressBook Cleaner. Launch it.
2. When asked to allow its access to contacts, click OK.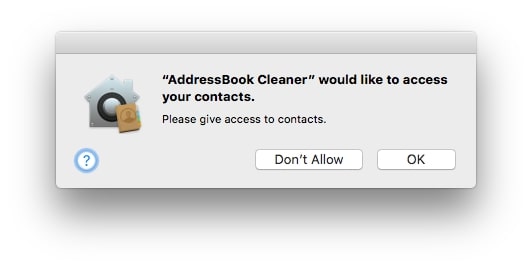 3. It will automatically load contacts from Mac's Contacts app.
4. In the Match Conditions window, select conditions according to your need. First Name and Last Name are selected by default.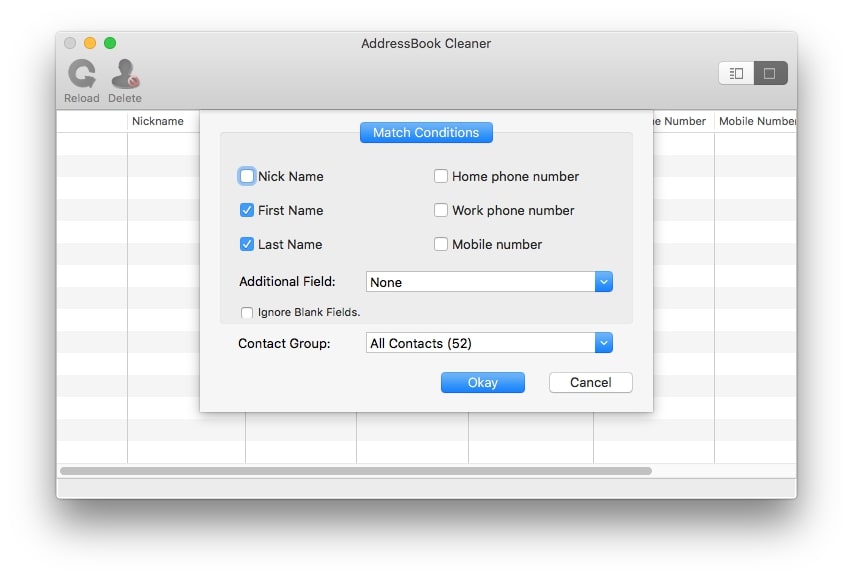 5. Click Okay.
6. It will display all the duplicate contacts found based on default or custom conditions. To view contact information, switch to the Show Contact Details view mode.
7. Duplicate entries will be marked as Delete. Click Delete in the toolbar to mass eliminate them.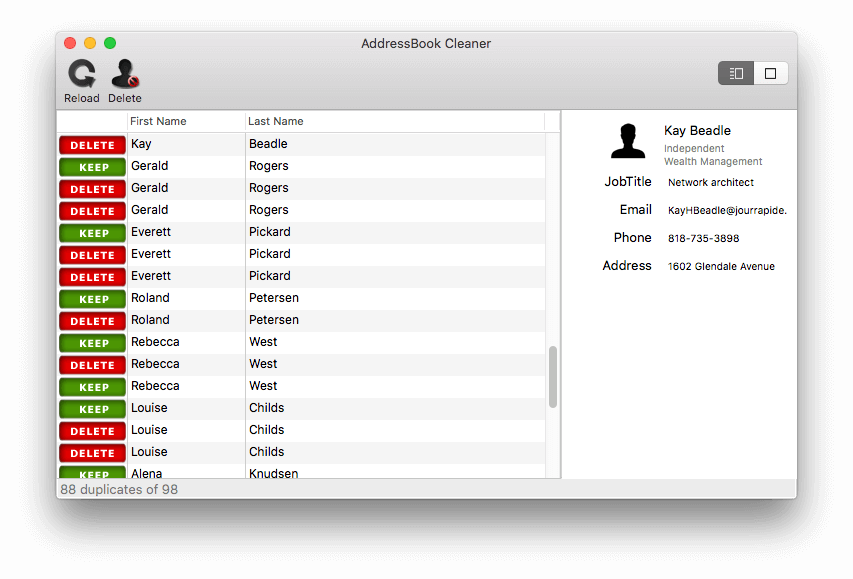 It also lets you manually mark an entry as Delete or Keep. Clicking the Delete mark will make it a Keep mark, and vice versa.
This duplicate contact cleaner will automatically back up your contacts before deleting, which is convenient.
Conclusion
Managing duplicate contacts can be a pain, especially when you have a huge list of contacts. The methods talked about here are easy to follow. In addition to Mac Contacts duplicates, the first method can eliminate duplicate contact entries in many other sources. It takes into consideration all possible types of duplicate contacts and offers useful solutions to handle them efficiently.