This article mainly talks about how to merge or remove Mac Contacts duplicates. Apple Contacts is an address book app included with macOS, iOS and iPadOS. As with any address book app or contact manager app, there can be duplicates in Mac's Contacts app. Duplicate contacts can cause inconvenience or confusion. Luckily, there are 3 duplicate contacts removers to help you get rid of them easily and quickly.
The Best App to Remove Duplicates from Mac Contacts
Cisdem ContactsMate
Support contacts from sources such as Mac Contacts, iCloud, Gmail, Exchange, etc.
Delete duplicates in Mac Contacts and other supported sources
Also let you easily view, search, add, edit, tag, group, print, share, and sync contacts
Export contacts from any supported source directly to 8 formats
Import contacts from vCard and CSV files
Allow you to quickly backup or restore contacts with 1 click
Easy to use
Compatible with macOS 10.11 or later

Free Download
Method 1. Merge Mac Contacts duplicates with the built-in feature
Mac Contacts app itself offers a feature for users to handle duplicate contacts. With this built-in method, three facts are worth noting. It provides only one option to deal with duplicates: Merge. It will find and merge duplicates in one go. It won't let you know which contacts have duplicate cards. Therefore, you have little control over the process.
I wish you could review before merging, just in case. ― From a Mac user
If you want to have more control and options, you can check out the second method.
Below is how this one works.
On your MacBook Pro, MacBook Air, or iMac, etc., open the Contacts app.
From the top menu bar, select Card > Look for Duplicates.
A window will pop up, informing you of how many duplicates will be merged. Click Merge.
Repeat the previous two steps until no duplicates are identified.
Cisdem ContactsMate, the best contact manager for Mac, lets you easily find duplicate contacts and view the found duplicates and provides a number of options to manage them such as Merge, Delete, Edit and Ignore.
Download Cisdem ContactsMate and install it.

Free Download
When you open it for the first time, it will ask for access to your contacts. Click OK.
In the app, select On My Mac in the sidebar. Click Scan.
In the Conflict Resolution window that appears, duplicate contacts that are found are listed, grouped by type. Select a contact in a type and choose a desired solution.
Click Fix or Fix All.
If you open Mac Contacts, you will find that the changes are automatically synced and the duplicates are gone.
Below are some tips.
Tip 1. Learn more about removing duplicates from Mac Contacts
As you can see, this method can find various types of duplicate contacts such as Exact Duplicate Contacts, Duplicate Name and Duplicate Phone Numbers in a Single Contacts. For different types of duplicates, the available solutions can be different.
If needed, you can tell the app to include or ignore a specific type when it scans for Mac Contacts duplicates. From the top menu bar, select Cisdem ContactsMate > Preferences. Go to the Conflicts tab. Select or deselect based on your need. Select On My Mac in the sidebar and click Scan.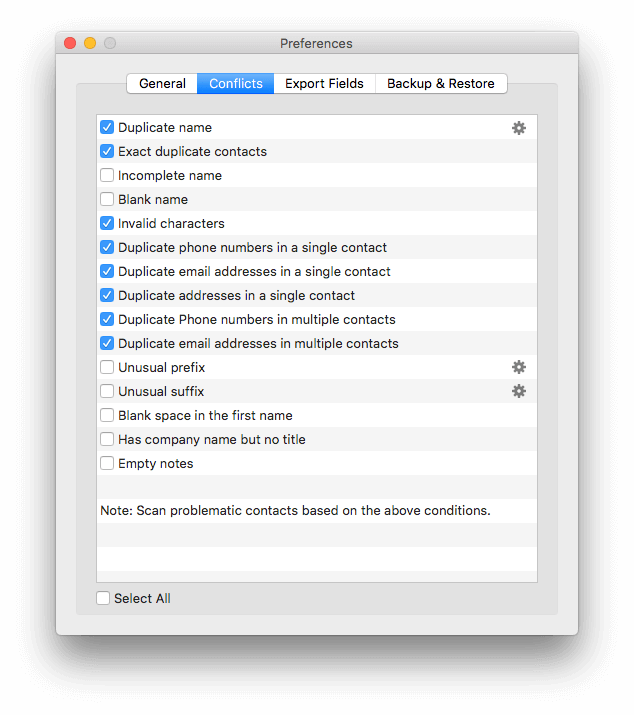 If you need to back up your contacts before removing duplicates, this app can also help. In the Preferences window, go to the Backup & Restore tab. Choose On My Mac and click Backup.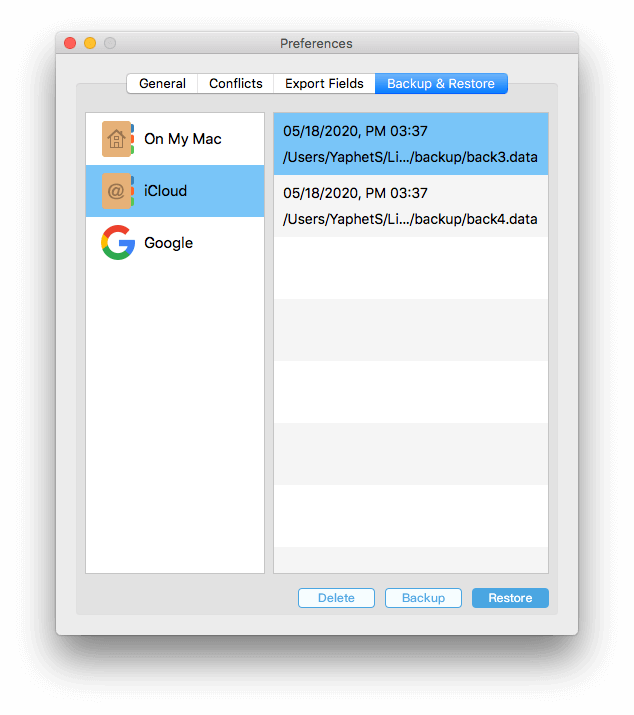 Tip 2. Find and remove iCloud Contacts duplicates
In ContactsMate, click Add Account in the toolbar.
Select iCloud on the left side of the Internet Accounts window. Sign in to it.
Make sure you select the box before Contacts as shown in the screenshot. Quit ContactsMate and relaunch it.
Now you should find the iCloud group in the left sidebar. Select it.
Click Scan and complete the rest of the process.
Once the removal takes place, iCloud Contacts (Apple's web-based address book) will automatically detect and sync the changes right away.
Tip 3. Find and remove iPhone Contacts duplicates
On your iPhone, tap Settings > (your name) > iCloud.
Turn on Contacts.
Tap Merge when asked if you want to Merge or Cancel.
On your Mac, follow the steps in the iCloud tip above.
Cisdem ContactsMate Benefits
Sync and manage contacts across platforms
Quickly scan for and clean up duplicate contacts
Also fix other common issues like Blank Name, Incomplete Name, etc.
Let you easily export and import contacts
Let you efficiently view, edit, search, organize, share and print contacts
Provide other useful features such as Backup & Restore
Easy to use with intuitive interface
Compatible with macOS 10.11 or later, including macOS 11 Big Sur

Free Download
Method 3. Use AddressBook Cleaner to Delete Mac Contacts duplicates
You can also delete duplicate contacts using a dedicated Mac Contacts duplicate remover like AddressBook Cleaner. Designed to help users avoid duplicate contacts, it can help keep your contacts list clean and organized.
Download and install AddressBook Cleaner. Launch it.
When asked to allow its access to contacts, click OK.
It will automatically load contacts from Mac's Contacts app.
In the Match Conditions window, select conditions according to your need. First Name and Last Name are selected by default.
Now it will list all the found duplicate contacts based on the default or custom conditions. In the Show Contact Details view mode, you can easily view contacts' information.
Duplicate entries will be marked as Delete. Now click Delete in the toolbar to eliminate them.
It also lets you manually mark an entry as Delete or Keep. Clicking the Delete mark will make it a Keep mark, and vice versa.
To prevent data loss, this duplicate contacts remover will automatically back up your contacts before deleting, which can be helpful.
Conclusion
Managing duplicate contacts can be a pain, especially when you have a huge list of contacts. The methods talked about in this article are easy to follow. In addition to Mac Contacts duplicates, the second method can also eliminate duplicate contact entries in many other sources. It takes into consideration all possible types of duplicate contacts and offers useful solutions to handle them efficiently and effectively. There are also other useful features that can help you manage and organize your contacts.

Jose Henline


Jose specializes in reviews, how-to guides, top lists, etc. on PDF, data recovery and multi-media. On his spare time, he likes to travel or challenge some extreme sports.