This article mainly talks about how to export Mac contacts to CSV or Excel easily. Mac contacts are stored in the Contacts app, previously known as Address Book. Mac's Contacts app supports three export formats: vCard, PDF and ABBU (as an archive file).
But what if you need to export contacts from Mac Contacts to a comma-separated values file? There are two easy methods. And one of them enables you to do the export directly without having to converting contacts.
The Best Tool to Export Mac Contacts to CSV
Support contacts from sources like Mac Contacts, iCloud, Exchange, Google and more
Directly export contacts from supported sources to 8 formats
8 export formats: CSV, Excel, vCard, TXT, Word, HTML, Numbers and Pages
Import contacts from CSV and vCard files
Let you easily view, search, create, edit, group, tag, share, print, and sync contacts
Enable you to backup or restore contacts with 1 click
Find and delete/merge duplicate contacts in any supported source
Easy to use
Compatible with macOS 10.11 or later

Free Download
Method 1. How to Export Mac Contacts to CSV or Excel Directly With Ease
You can effortlessly export contacts from Mac's Contacts app (and various other sources) to CSV with Cisdem ContactsMate, the best contact manager for Mac.
Advantages:
It is easy to use and user-friendly
Export Mac contacts to CSV or Excel Only with simple steps
Support exporting all Mac contacts, or selective contacts to CSV or Excel
Enable to define the contacts fields to be exported
Export Mac contacts to CSV or Excel with good layouts
Export Mac contacts to other formats like vCard, Html, Docx, Pages, Numbers
Disadvantages:
Not applicable for the Windows system
Steps to export Mac contacts to CSV or Excel directly
Download ContactsMate and install it.

Free Download​
When you open it for the first time, click OK to permit access to your contacts on Mac.
Right-click On My Mac in the left sidebar and choose Export.

To export Mac contacts to CSV, select CSV from the Format drop-down list. To export Mac contacts to Excel Spredsheet, select Excel from the Format drop-down list.

Select a location on your Mac to store the exported comma-separated values.
Click Save.
Tips
The method allows you to control the fields to be exported. You can export Mac contacts with valid fields, all fields or custom fields. Things are easily customizable.
By following the 6 steps above, you can straightforwardly export all Mac contacts to CSV. If you only need to export selected contacts, choose On My Mac in the sidebar, select the specific contacts in it, control-click and choose Export.

The (Apple) Contacts app is also available for iOS. In addition, Apple provides a cloud-based contact management service known as iCloud Contacts. If you want to export contacts from these places, the same method can also help. Here are the instructions to export iCloud contacts to CSV and export iPhone contacts to CSV.
Most likely your aim to export Apple contacts to CSV is importing them to other sources that only supports CSV format, such as Outlook. I'm going to tell you that there's a more efficient way to transfer Mac contacts to other sources such as Outlook, Gmail, Exchange directly. Click Add Account in the tool bar. Sign in the Internet account with email address and password. Check the box next to Contacts. Then you'll found the contacts have synced to this program successfully. Select all Mac contacts you want to transfer then drag and drop them to other account group.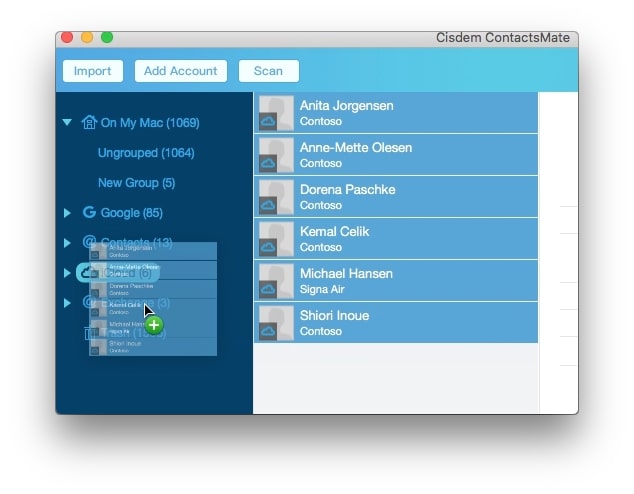 Method 2. How to Export Mac Contacts to CSV with Online Converter
With the first method, you can directly export Apple contacts to CSV from Mac (and iCloud and iPhone). This one is different. It involves conversion.
As mentioned above, Mac's Contacts app can export contacts to vCard. Also known as VCF, it's the primary export format of Apple contacts. You can export contacts to a vCard file first and then convert it to a comma-separated values file.
Advantages:
The online converter is easy to access and use.
No need to install software.
Export complete information of Mac contacts.
Disadvantages:
The conversion may take quite a while if the vCard file is relatively large.
Security and privacy risks.
Steps to export Mac contacts to CSV through online converter
Open the Contacts app on Mac.
In the left sidebar, select All on My Mac (or a sub-group under it).
From the top menu bar, choose File > Export > Export vCard.
Choose a location to keep the file you are going to export. Click Save.
Open your web browser and visit vCard to LDIF/CSV Converter, an online tool.
Click Choose File. Select the exported vCard file. Click Open.
Click the Format dropdown list and choose CSV.
Select the option Comma as CSV (comma-separated values) files are generally separated by commas.
Make sure you select the box before Add header line.
Click Convert. Once the process is done, the CSV file will be automatically saved to your computer.
Compared to the first method, this one is a little bit complex. The online tool used here is easy to access and use. But there are a few limits. You need to upload your Mac contacts to the tool's server. Also, there is a file size limit. In addition, the conversion may take quite a while if the vCard file is relatively large.
Method 3:Export Apple Contacts to CSV via Numbers
Numbers is a spreadsheet app that developed by Apple Inc for iOS and macOS 10.13 High Sierra or later. It let you build beautiful spreadsheet. There are many Apple-designed temples for you to use. It supports importing and exporting spreadsheet. To export Apple contacts to CSV via Numbers, you can import your contacts file to this software then export it to CSV format.
Advantages:
Numbers app is included with Apple devices and free to use.
It has some other useful functions.
Disadvantages:
Some data may loss after import contacts to Numbers.
It's a bit confusing when clean up the spreadshe
Steps to export Apple contacts to CSV via Numbers app
Open Mac Contacts and Numbers app on your Mac.
Go to Mac Contacts app and select contacts you want to export. Go to Numbers to create a new spreadsheet.
Drag and drop Apple contacts into Numbers app. A window will pop up that say Numbers app would like to access your contacts. Click on OK.
There'll be a lot of columns after the contacts are transferred to Numbers. Maybe you don't need a whole these columns. Just delete them.
When you're ready for exporting, click on File on the top tool bar. Click Export from the drop down menu then choose CSV as export format.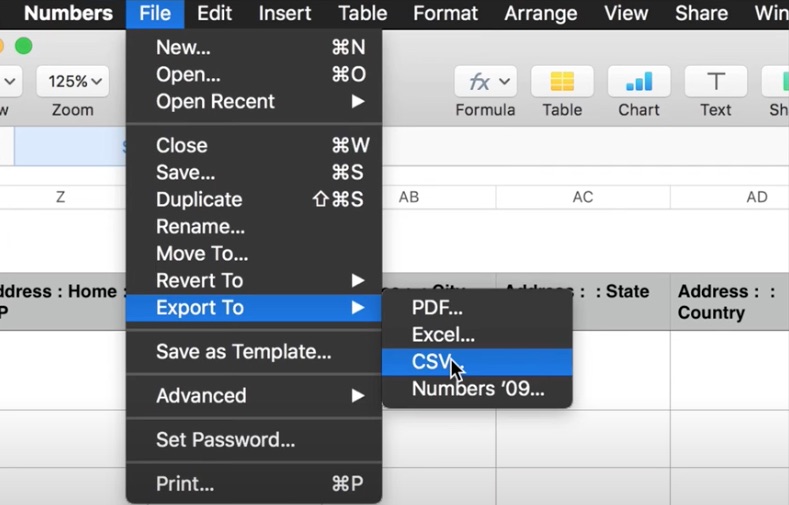 Bonus tip: How to prepare a CSV containing contacts for use
One of the common reasons to export Mac contacts to CSV file is to use the contacts in services that don't support vCard. For example, Shutterfly is one of the services.
Before you can properly import your Mac contacts (now in a CSV) into Shutterfly address book, you need to get the CSV file ready for import. To help you out, Shutterfly provides a CSV template. There are two options. You can make sure that the column headers in your CSV match those in the template. Or, you can copy contact information from your CSV into the columns in the template. Below are the column headers in the template.
First Name
Last Name
Display/Household Name
Address Line 1
Address Line 2
City
State
Postal Code
Country
Email
With other services, if such a template is not available, you can manually create one.
Benefit of exporting Mac contacts to CSV
vCard is a file format standard for storing contact information, but it's much less widely supported compared to CSV. CSV as a general and relatively simple file format is widely used in business and science field because that large number of programs all support CSV variant. It has been a widely used text file format. CSV files can be used with many services and apps such as Microsoft Excel, NeoOffice, LibreOffice and Intuit Quicken, etc. If you want to use your Mac contacts in such an app or service, CSV is the format you need. Also, by doing so, you are able to batch edit your contacts in Excel, which is super efficient.
Conclusion
If you are looking for an easy, straightforward way to export Mac contacts to CSV file, I hope this article will help. To export Apple contacts to CSV, you can choose to do it directly with Cisdem ContactsMate or by converting using a converter. If you have many contacts to export, organize and manage, it's a good idea to get a powerful contact manager as the one used in the first method.

Rosa Reyes


Rosa has worked in Mac software industry for more than eight years. She believes that the purpose of software is to make life better and work more productively. In addition to writing, Rosa is also an avid runner.