You've spent a lot of money and time on your DVD library. This are your favorite movies or cherished personal footages. But now they are gathering dust on a shelf, it's time to to digitize your DVD collection, and convert DVD to MP4 is the ideal way.
We know it's hard to find a good DVD to MP4 converter, for Mac users it's even harder. Some DVD ripper takes very long time to rip a DVD, Some may rip really fast but the output MP4 file size is gigantic and the output quality may merely come as 480p. And for most of the commercial movies you have to deal with copy protection.
In this article we test and rated the best DVD to MP4 converters for Mac on the market. We provide the detailed using steps of each app, hope this can help you find the right tool and digitize all you DVD collections easily.
What's DVD Video Limited in / Restriction
DVD video offers high quality and clear visual clarity, but it has some restrictions that you should pay attention to.
If you want to play a DVD video on a DVD player, you need to prepare the DVD drive that supports your DVD type (CD-R, CD-RW, DVD-R, DVD-R DL, DVD+R, DVD+R DL, DVD-RW, DVD+RW, DVD-RAM, BD-R, or BD-RE).
Some videos/ DVDs labeled "Home Use Only?" Vendors or publishers want to remind consumers that videos and DVDs should not be shown to the public as this is an exclusive right of the rights holder. There is an exception to the public performance rights that allows non-profit, educational institutions the right to publicly perform videos/DVDs for non-profit, educational purposes.
You are not able to store the DVD video on Mac or other PC as backup or copy. It can't live without a DVD player.
How to Convert DVD to MP4 on Mac?
#1 Cisdem Video Converter - Convert DVD to MP4 with Good Balance Between Quality and Size
Compatibility: macOS 10.10 or later
Price: $49.99 lifetime license
Latest version: 7.2.0 released in March 24, 2022
Cisdem Video Converter it's an excellent toolbox that helps you convert DVD, audio, video files to more than 300+ formats. You can use it to rip unprotected and protected DVDs (Regional DVDs, Disney/Paramount etc. DVDs, 99-title DVD, old DVDs, etc.) to MP4, MPEG, MKV, AVI, WMV, MOV, FLV, MP3, FLAC, iPhone, iPad, Android, Xbox, PS3/4/5 etc. Apart from conversion capabilities, it also allows you to download online videos, trim to convert certain part of DVD, combine multiple video clips, edit videos, etc. You can also add DVD Folder or ISO file and convert it to MP4.
What impress us most is that this app gives a very good quality output MP4, We inspected the output MP4 by this program and compared it to the source video. We noticed no difference of the quality, really a 1:1 copy of the original DVD and size are also much smaller. The converted sound was excellent too.
Main features of the app:
Convert DVD to MP4, M4V, WMV, MP3, iPhone, iPad, Samsung, Nokia, HTC, iTunes, TV, blackberry, etc.
Support any input DVD disc and DVD folder
Remove DVD copy protection like Region Code, CSS, Disney X-Project, etc.
Batch convert DVDs and other media files with fast speed
Add SRT subtitle files to the videos
Change the video resolution, audio & video codec, frame rate, etc.
Crop/trim DVD videos and add effects/watermarks to them before digitalizing
Download free videos from YouTube, Myspace, LinkedIn, and other 1000+ sites
Support macOS 10.12 or later, including Sierra, High Sierra, Mojave, Catalina, Big Sur, Monterey, and Ventura.

Free Download
It offers a free trial version for all Mac users. You can try it on your Mac with one click and download.
Steps to Convert DVD to MP4 on Mac via Video Converter:
Step 1. Insert DVD disc into your Mac.
Step 2. After installation, open Cisdem Video Converter. You will see a simple interface with three tabs. Go to the first one, which can convert videos, rip DVDs and download online videos.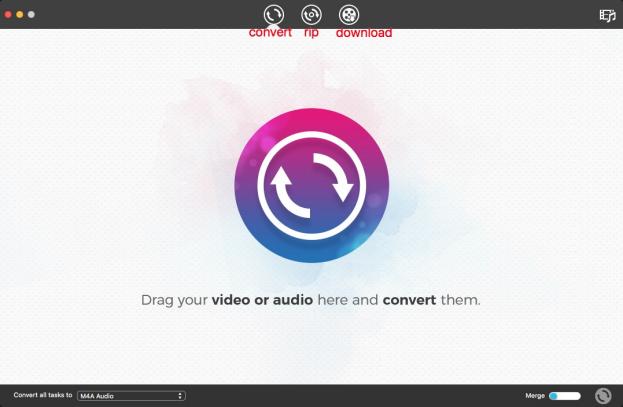 Step 3. Drag and drop DVD movies into it. Just like the following image. You can add your home movies, encrypted DVDs, or PAL DVDs, karaoke DVDs, NTSC DVDs, old DVDs, etc. And the batch processing support helps you convert DVD to MP4 in a very short time.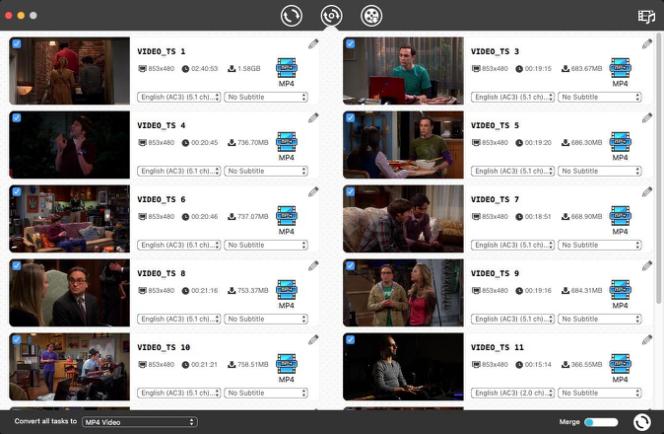 Step 4. Choose the output format.
As for a professional DVD to MP4 converter for Mac, all popular formats are well categorized by terminal devices. You can choose a format easily. If you want to get a good quality MP4 with the good output quality and smaller file size, convert DVD to HEVC MP4. It will be 45% smaller size at almost the same quality.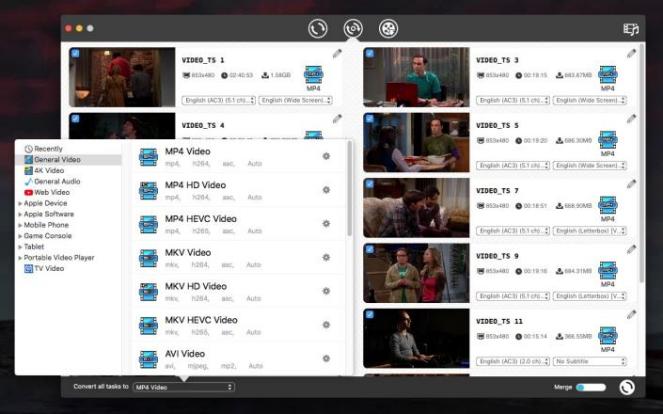 1. For storing you DVD a USB, you just choose HEVC MP4, which will give you the best result.
2. For edit and enhance the DVD to iMovie, you can choose Apple Software >> iMovie.
3. Or you can just choose MP3 to Convert DVD as audios.
Step 5. Click the

button to extract DVD to digital files.
Tip: Edit DVD videos (Optional)
For example, if you want to rip a scene from a dvd, you can trim the movie into several parts then rip it. and you can use the crop function to crop unwanted back bars around main image, add external subtitles (.SRT) to DVD video when ripping DVD to MP4 or other formats.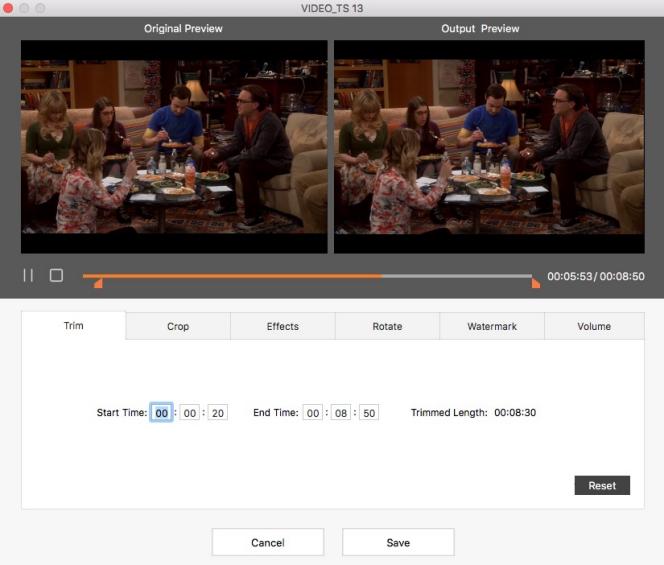 #2 Handbrake
Compatibility: macOS 10.11 or later/ *Windows 10 and later/Linux*
Price: Totally Free
Latest version: 1.5.1 released in Jan 10, 2022
Handbrake is one of the most popular software that can convert DVD to MP4 for free with no limitations like watermark. You can use it to process most common multimedia files and any DVD or BluRay sources that do not contain any kind of copy protection.
The supported output formats are listed below. The ripping method is a little bit complex to master for beginners.
File Containers: .MP4 (.M4V) and .MKV
Video Encoders: H.265 (x265 and QuickSync), H.264 (x264 and QuickSync), H.265 MPEG-4 and MPEG-2, VP8 and Theora
Audio Encoders: AAC / HE-AAC, MP3, Flac, AC3, or Vorbis
Audio Pass-thru: AC-3, E-AC3, DTS, DTS-HD, TrueHD, AAC, and MP3 tracks.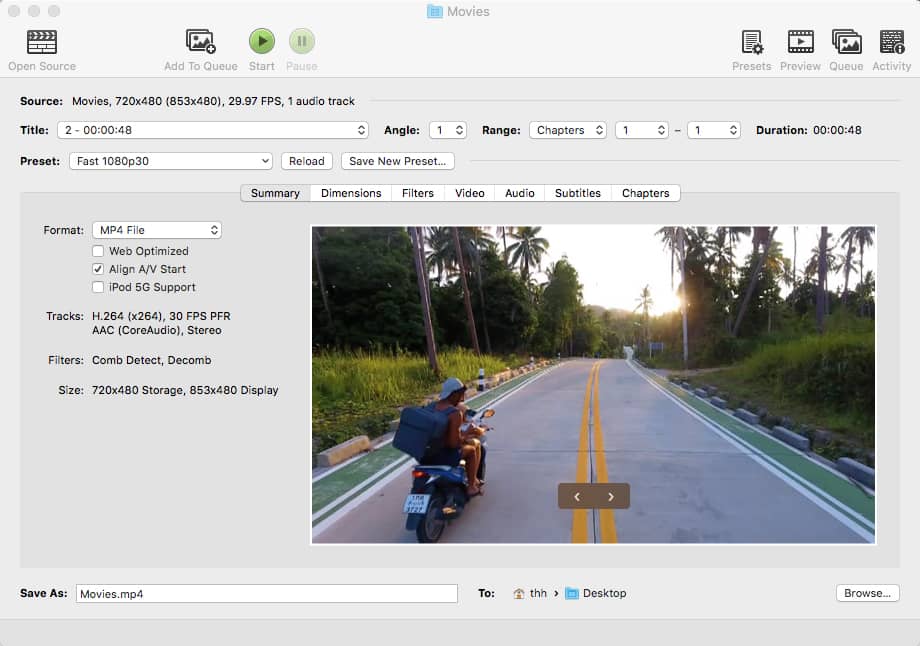 How to rip DVD to MP4 with HandBrake in 2022?
Put a DVD into the optical drive.
Free Download and Install HandBrake
Click the "Source" button and import your DVD disc into HandBrake for ripping. or can also add iso file for converting.
Choose "Title" and "Chapters". Handbrake will automatically choose the longest tile as this is usually the main title for the DVD. (HandBrake don't supports batch processing, so you can only rip one title at a time, If you need to rip multiple you have to process it one at a time.)
Select "Output Format" and adjust output settings.
Find a destination folder for the output video.
Start to extract DVD to MP4 on Mac.
Note:
1. Handbrake has the inability to rip commercial DVDs because of its OS compatibility issue. You may meet its cracks when you update your Mac to the latest OS X 13.0 Ventura. It has an unattractive interface and low conversion speed. For safety, we had better resort to a professional DVD ripper application for help.
2. HandBrake's way of ripping DVD is encoding, so it will not preserve all features in a DVD. The DVD menus and other contents may be lost.
Best Handbrake DVD to MP4 Settings
Though we can simple choose MP4 and start convert, the output will not so satisfactory. If you are unfamiliar with video and audio codes, here is the best settings for convert DVD to MP4 with Handbrake, this will give you the best quality.
* Super HQ 480p30 Surround
* Framerate: 30 (Peak Framerate)
* Encoder Level: 3.1
Rip copy-protected DVD to MP4 with Handbrake
If you want to rip copy protected DVD to MP4 with handbrake you need to install libdvdcss. and you can see the detailed guide here:
#3 VLC - Free Encrypted DVD to MP4 Converter for Mac
Compatibility: Mac OS X 10.7.5 or later/ All versions of Windows
Price: Totally Free
Latest version: 3.0.17.3
VLC is enormously popular as a free multimedia player working on Windows, Mac, and Linux. It has many hidden features, and one well know feature is that it can convert normal or encrypted DVD files. As an assist function, it is understandable that you can only use it to export video. don't expect any editing features or video options for controlling the DVD to MP4 converting process.
How to Convert DVD to MP4 on Mac with VLC
Here we'll show you how to convert DVD to MP4 using VLC media player
1. Insert a DVD disc into the DVD drive on Mac.
2. Open VLC, and on the top menu choose File > Convert/Save.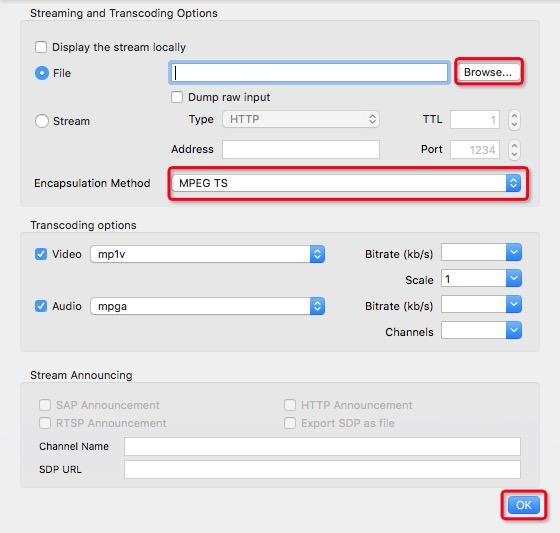 3. Go to the Disc tab and select DVD, then click "Settings"
4. In the settings window, choose a destination to save the file and choose an output format, such as "Video – H.264 + MP3 (MP4)".
Can VLC rip copy-protected DVD to MP4?
Yes, VLC can free convert copy-protected DVDs, but its most safe to say it supports most of css protected DVDs, for other encryptions like 99 title DVDs, regional DVDs, Old DVDs, VLC will fail 90% of the time.
Can VLC Handle DVD with Multiple Episodes?
For DVD with multiple title, you can use VLC to play the video first and find the real title, then choose the title to convert.
#4 DVDFab - Rip DVD to MP4 and Burn MP4 to DVD
Compatibility: OS X 10.10+/Window 7 or above
Price: $84.99 Lifetime License
Latest version: 12.0.6.7 released in March 31, 2022
DVDFab is one tool that provides almost the full feature set for rip and burning a DVD. It has a very special looking interface, and provides two modes of ripping a DVD: Full Disc and Main Movie.
For rip copy-protected DVD, DVDFab also support most of the encryptions, but the speed of DVDFab is not that fast and it is very expensive, you get the same functions of other DVD rippers but at twice its price.
How to Convert Videos/DVDs/Blu-rays to MP4 with DVDFab
1. Put the optical disc into your DVD drive,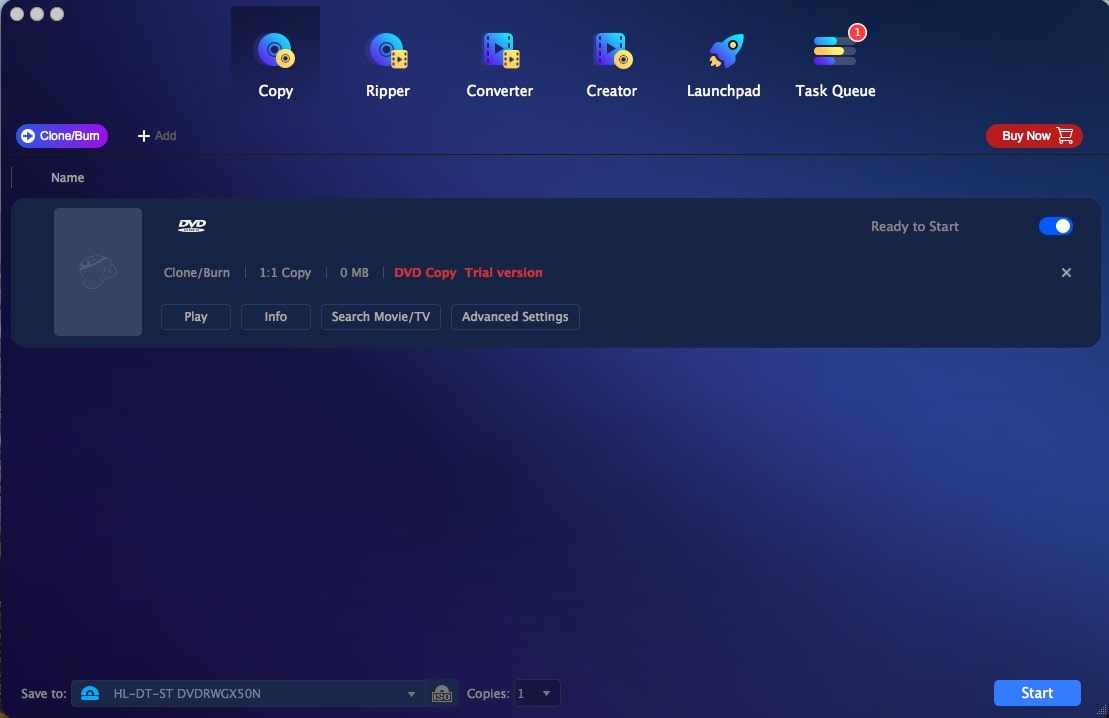 2. Open DVDFab on your Mac and add the DVD files, this app can detect DVD files automatically.
3. Choose the output format as MP4 and click start to start the process of ripping DVD movies.
#5 WinX DVD Ripper Platinum - Convert Copy-Protected DVD to MP4 on Mac
Compatibility: OS X 10.6+/All version of Windows
Price: $55.95 Lifetime License
Latest version: 6.6.2 released in January 4, 2022
WinX DVD Ripper Platinum is easily one of the most popular DVD ripping software on the market, it is well know as it's support for most of the DVD encryption method on the market. If you have DVDs that is scratched or damaged you can even try it with this software.
As for DVD ripping speed, It features acceleration technology which convert DVD to MP4 at a very fast speed.
The features that upset us is that, the output quality of this software is what we say merely satisfactory. Most of the output quality are 480p, which is not recommend if you want to watch the MP4 on HD TV.
How to Convert DVD to MP4 with WinX DVD Ripper Platinum
1. Load your source DVD.
2. Open WinX DVD Ripper Platinum and click the DVD Disc like button to load the DVD movies. This app will automatically select the main title.
3. Choose the output as MP4.
4. Set the destination of the output file and click "RUN" to start the DVD to MP4 conversion.
#6 Wondershare Uniconverter - Convert unencrypted DVD and Burn DVD
Compatibility: macOS 10.11 or later/ *Windows 7 and later
Price: Totally Free
Latest version: 13
Wondershare Uniconverter is a full toolset for converting and burning DVDs, it comes with multiple features and can easily convert DVDs into MP4, MKV, AVI, FLV, MP3, ALAC, etc. format.
Though Wondershare Uniconverter don't support converting copy-protected DVDs, but it has a very simple interface, and it's edit functions are really impressive. The converting speed is also very fast.
In addition, UniConverter also provide features like burn video into DVD, turn videos into GIF, screen recording, etc.
How to Convert DVD to MP4 on Mac with Wondershare Uniconverter
1. Insert a DVD into the DVD drive.
2. launch Wondershare UniConverter and choose the "Converter" tab.
3. In the right panel choose the DVD you added.
4. In the popup "DVD Load Model box", choose the main DVD title or just choose all movies, and then click load.
5. Click setting icon and choose the output format as MP4.
6. If you care about video quality be-sure to turn on "High Speed Conversion"
7. Click convert to start converting DVD to MP4.
#7 MacX DVD Ripper Pro
Compatibility: OS X 10.6 or later/Windows 7 or later
Price: $59.95 Lifetime License
Latest version: 6.6.2 released in December 1, 2021
MacX DVD Ripper is another decent DVD to MP4 converter for Mac. Besides MP4, it also digitalizes DVD disc to MOV, MKV, HEVC, H.264, Huawei, Air Playit, TV, PS4, and so forth. The most attractive feature is that the software supports unique hyper-threading, hardware acceleration, and multi-core CPU technology, which can maximally enhance the ripping speed. But its customization options are complicated for newer.
Steps to Convert DVD to MP4 on Mac Using MacX DVD Ripper:
Load up the DVD, regardless of homemade or copy-protected DVD.
Choose MP4 format from the drop-down window.
Check the box - "Intel/AMD/Nvidia" at the lower right to enable hardware acceleration.
Click "Browse" and go through the folders on Mac, and select one to save your final output MP4 files.
Hit "RUN" to begin DVD ripping.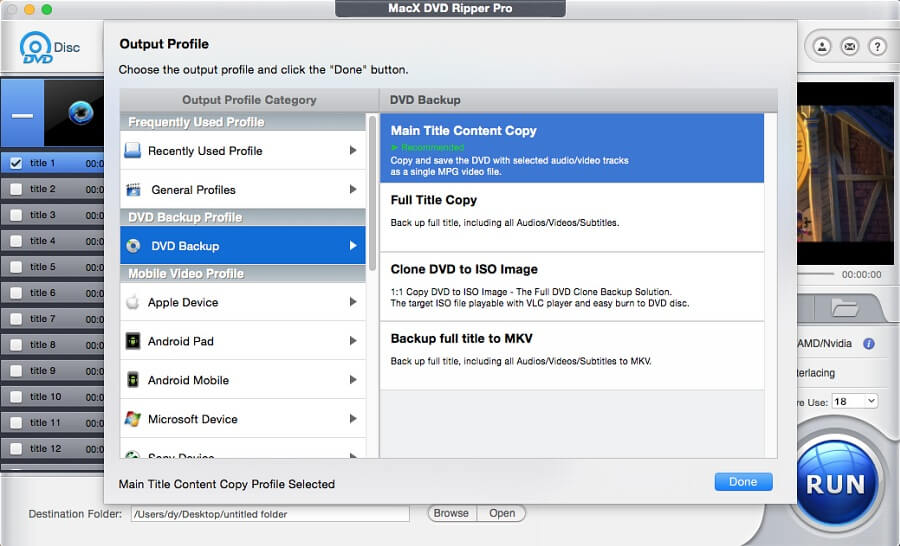 #8 Movavi - Fast DVD to MP4 Converter
Compatibility: OS X 10.13 or later/Windows 7 or later
Price: $64.95 Lifetime License
Latest version: 22.3.0 released in February 17, 2022
Movavi Video Converter is also a solid choice for DVD to MP4 conversion on Mac. It is specially made for converting video files, but it also support ripping DVD movies, though it don't support copy-protected DVDs.
Movavi Video Converter Premium has an easy-to-use interface and what impress us most is the converting speed of this software. It supports converting DVD to MP4, MKV, MOV, AVI, WMV, 3GP, and 17 other formats.
Step 1: Open Movavi Video Converter. Click Add Media >>Add DVD >>Open DVD.
Step 2: At the bottom of the main interface you can set MP4 as output format.
Step 3: Click the Convert button to start the converting process.
How to Convert a DVD to MP4 Online
Is it possible to convert DVD to MP4 online? There are many online site which state that they can convert DVD to MP4 online for free. We test some of the options and found that with online site you can't load a DVD disc and convert it directly, what they can is that you need go to the VIDEO_TS folder and select the main movie in that DVD.
Online sites also have limit on file size, Zamzar only support files up to 50 mb, which is very limited for a DVD movies. also, the video converting time is very long. takes 3 hours for a very small home DVD.
How to rip DVD to MP4 with Zamzar
1. Visit https://www.zamzar.com/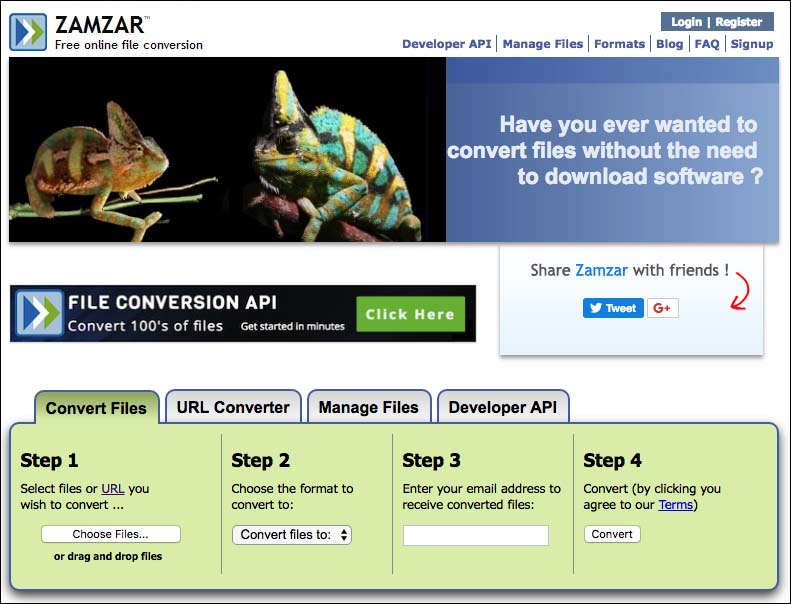 2. Go to VIDEO_TS folder and find the main movie of that DVD. and add it to Zamzar
3. Choose MP4 as output format in the Convert To drop down list.
4. Click Convert Now to start the process.
5. Check the email when you see the done box.
6. Download the output video file.
Is it legal to Convert DVD to MP4
Generally, ripping DVD movies that have footages shot by yourself then it is perfectly legal.
If you want to ripping protected DVD to video formats like MP4, then it is illegal to circumvent DRM. But you do have to remove DRM from copy-protected DVDs to convert it. but it should not be a problem as long as you do it for personal use rather than selling copies. Title 17 of the U.S. State Code explicitly states that it is illegal to reproduce a copyrighted work.
Can iTunes Convert DVD to MP4
Can iTunes convert DVD to MP4? The answer is no. iTunes doesn't support DVD format, and only supports some popular video file formats like MP4, MOV.
Can iMovie Convert DVD to MP4
No, DVD is not included in the iMovie supported video format list: MPEG-2, MPEG-4, MJPEG, MP4, MOV, M4V, DV, HDV, AVCHD, XAVC, iFrame, ProRes, AIC, and HEVC. If you add DVD video to iMovie you will receive message like "Incompatible Video Format".
Can QuickTime Convert DVD to MP4
Many people know that we can use QuickTime to convert between video format, so they are wonder whether QuickTime can convert DVD to MP4. As a matter of fact, Currently, QuickTime Player does not support DVD file not to mention convert it.
How long does it take to rip a DVD to MP4?
There are many factors that influence how long it takes to rip DVD to MP4, With Cisdem Video Converter for Mac, rip a standard 4.7 GB DVD it takes about 12 minutes.
1. The size of the DVD.
2. The output quality you choose like bitrate, resolution, etc.
3. Computer hardware level.
Speed Comparison: Ripping DVD to MP4 on macOS Ventura
Test environment:
Mac info: 21.5-inch iMac (macOS Ventura), 2.8 GHz Intel Core i5 Processor, Intel Iris Pro Graphics 6200 1536 MB Graphics, 16GB Memory.
DVD info: Name: Jurassic World; Duration: 2 hours 5 minutes; Right Movie Title: Title 10
Speed Result:
Cisdem Video Converter: 10.6 min
Movavi Video Converter: N/A (failed)
VLC: 2 hours 34 min
DVDFab: 45.7 min
Handbrake: 53 min
MacX DVD Ripper Pro: 8.6 min
Wondershare Video Converter Ultimate: 12.8 min
WinX DVD Ripper Platinum: 8.3 min
Summary
It's a good way to keep your movie collections by ripping them to a popular digital format like MP4. Above are 3 tools to help you convert DVD to MP4 on Mac. Handbrake is a freeware that's capable of completing the most basic DVD converting tasks. Cisdem Video Converter is the most versatile one to convert media (DVD, video, and audio files), download, and edit videos.