You can find VOB, IFO, and BUP files inside the VIDEO_TS directory. Among them, VOB is a file storage container in DVD-Video media that contains actual movie from a DVD. But it's not a very widely used format. Media players and mobile devices may have problems playing VOB files.
To share a collection of DVD movies with others on Mac, you'd better change VOB files to MP4 or any other popular video format.
In this guide, we look at how to convert VOB to MP4 on Mac without losing quality.
The Best VOB to MP4 Converter for Mac
Transcode VOB to MP4, MKV, audio, mobile, iPad, iTunes, iMovie, etc.
Rip VIDEO_TS VOB, BUP, IFO and ISO to MP4
Export single, several, or all VOB files from a DVD
Unlock protected VOBs
Combine multiple VOB into one MP4
Support any large VOB even over 1GB, 5GB
Compress VOB videos via HEVC/H.265 codec while with quality retained
Offer practical video editing tools like Trim, Crop, Rotate, Add Subtitles, 3D Effects, etc.
Watch VOB files on Mac with its inbuilt media player
Download videos (including 1080P and 4K videos) from YouTube, Vimeo, Facebook, or other 1000+ sites
Intuitive, safe, and fast

Free Download
macOS 10.12 or later

Free Download
Windows 11/10/8/7
Comparing VOB vs. MP4
The Best Way to Convert Multiple VOB Files to MP4 on Mac, No Quality Loss
Cisdem Video Converter provides the facility for converting VOB files to MP4 with the best quality and small size. It will digitize the entire VIDEO_TS folder, whether encrypted or not.
When it comes to the number of supported video and audio formats, Cisdem Video Converter certainly doesn't disappoint. It lets you convert batches of videos among 600+ formats including 4K and HD for taking care of all your conversion needs. You can also convert your VOB to AVI, MOV, MP3, or specific formats for iPhone/PSP/Xbox devices.
More than a VOB to MP4 converter for Mac, it includes features for downloading/editing/merging, compressing videos, converting DVDs and more. It can, for example, crop video, so you can turn VOB footage into MP4 in 4:3, 16:9, or any aspect ratio.

Free Download macOS 10.12 or later
Steps to convert VOB to MP4 on Mac with Cisdem:
Step 1. Load VOB files, even if they are large
Drag-n-drop the whole VIDEO_TS folder from DVD disc or your native Mac folder to the "Rip" interface.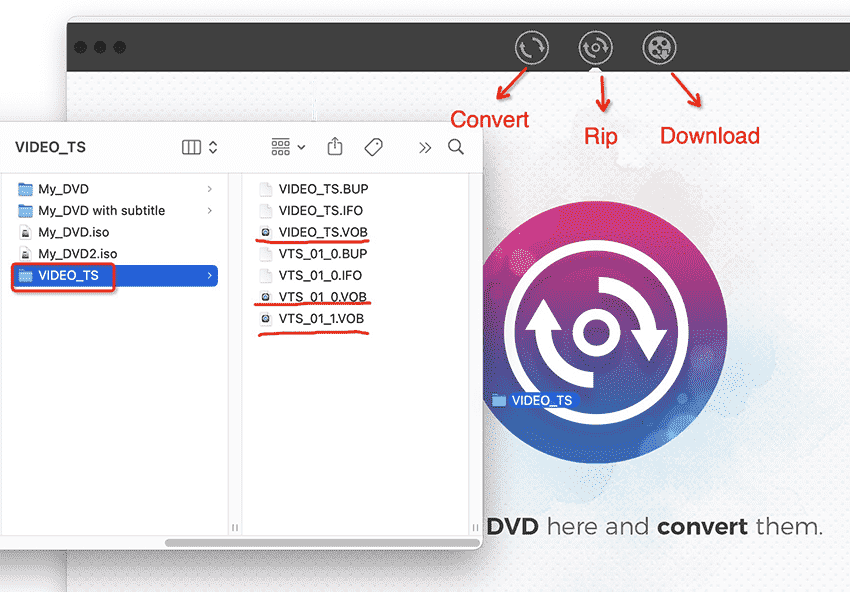 Note: If you rip encrypted VOBs, the DVD protection will automatically be removed after the files are added to Cisdem Video Converter. If your DVD contains mass VOBs, it also allows bulk import and conversion.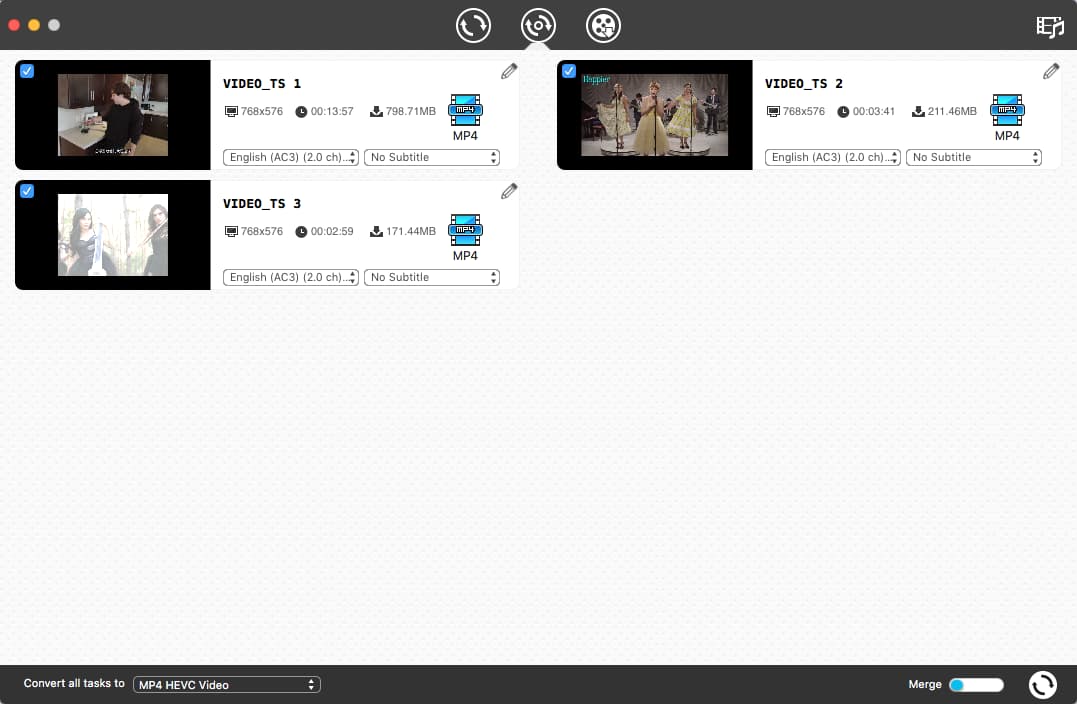 Step 2. Set up the output format – MP4
Click the "Output Format" button to open the format dialog box. Select "General Video" > "MP4 Video" (h264-encoded, for better compatibility), or "MP4 HEVC Video" (h265-encoded, for greater quality and compression ratio).
Or, you can choose any Apple device and mobile phone. It depends on your demand.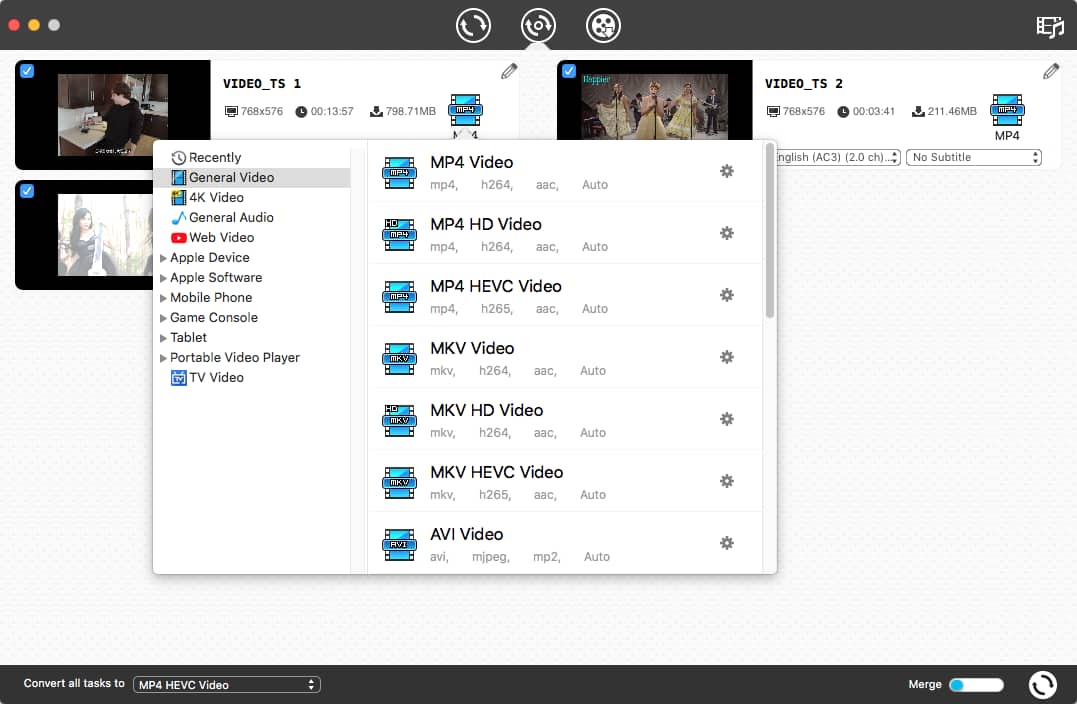 Step 3. Pick DVD VOB titles, language, subtitle you want to export
All imported VOB titles are checked by default. To convert just part of the VOBs or the main title, remove the checkmark in the upper left corner of the thumbnail. Note: Generally, the main title is the longest.
If each title supports multiple subtitle and audio tracks, choose the one you prefer.

Step 4. Convert multiple VOB files to MP4 on Mac
Click

to start video conversion. The latest version of Cisdem Video Converter is packed with 60x faster speed, so you don't have to wait long for the conversion to finish.
Pro tip: edit VOB videos
If you desire to make your video more personalized before conversion, you can click

next to the video thumbnail, and you will see a few video editing tools.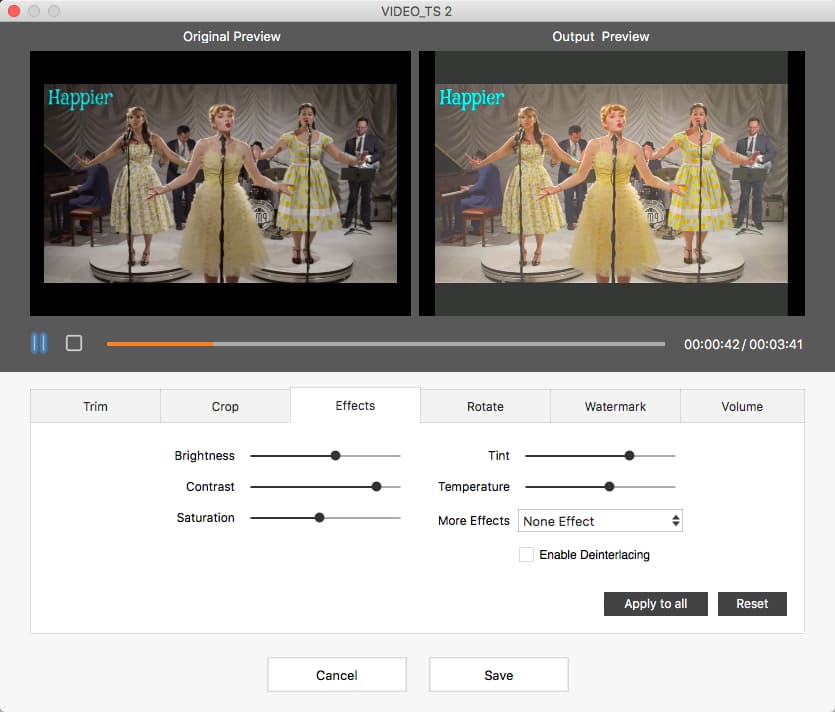 Convert VOB to MP4 on Mac with Freeware (No Watermark)
#1 Handbrake
Handbrake, an open-source transcoder, empowers you to change VOB to MP4 or MKV on Mac by 4 video codecs - H.264, H.265, MPEG-2, MPEG-4. You can also choose a set of presets from the categories of General, Web, Devices, Production, and Matroska.
It has been around for over 10 years and suitable for advanced users or part of Apple users.
Steps to rip VOB to MP4 on Mac via Handbrake:
Run Handbrake.
Click "Open Source" to load the VOB file or DVD folder, and the main dashboard will display the video information.
There are several tabs underneath the source information. You should go to the "Summary" tab > select the "MP4 File" option from the format.
Customize the video in different tabs, such as Dimensions, Filters, Audio, Subtitles, and Chapters.
Under "Save As", edit the output file name then click "Browse" to set a destination.
Press "Start" button to convert VOB to MP4 on Mac.
However, video sound might be lost or out of sync after ripping MP4 from VOB with Handbrake. And if you want to convert protected VOB videos, you have to install libdvdcss library.
#2 VLC
VLC is not just a reliable program for playing various multimedia files (like digital files, audio CDs, DVDs, etc.), but additionally as a video converter that's capable of transcoding video to various formats.
Steps to turn VOB into MP4 on Mac through VLC:
Launch VLC media player.
Head over to "File" > "Convert/Stream".
Drag and drop your VOB video to the specified field.
Select the profile as "Video- H.264 + MP3 (MP4).
Click "Save as File". Name your output file and choose a location to store it.
Hit "Save" to export VOB as M4V. Note: VLC can't convert VOB files to MP4 directly.
Open the M4V file with iMovie and edit it if necessary.
Navigate to "File" > "Share" > "File" to save your video as an MP4 format.
Same as Handbrake, video often has no sound after conversion using VLC. To solve it, you can check the "Keep original audio track" (equal to copy audio track) option in the sound settings, choose the "MPEG 4 Audio (AAC)" codec instead of the default "MPEG Audio", and configure the sample rate to 48000.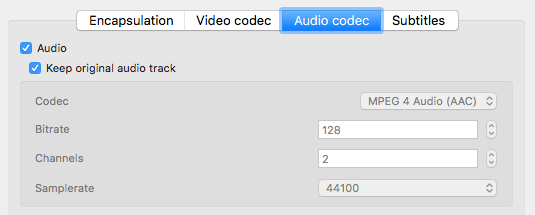 To rip the whole DVD folder, the procedure is different. Note: VLC can't digitize all copy-protected DVDs. DVDs with new complex encryption, e.g. 99-title DRM, are not supported.
Below are how to convert VIDEO_TS VOB to MP4 via VLC:
Open VLC. From the drop-down menu at the "File" tab, select "Open Disc".
In the appearing window, click "Open VIDEO_TS / BDMV folder", then upload a DVD folder that contains VOBs files you wish to convert from your Mac.
Click "Disable DVD menus", or VLC may crap out when converting a looping menu.
Check the "Stream output" box.
Hit "Setting" to call out the ripping setting window.
Click "Browse". Choose a location to save the output MP4.
Specify the encapsulation method as MPEG 4. Click "OK".
In the "Open Source" window, hit "Open" to turn VIDEO_TS VOB video file into MP4.
Convert VOB to MP4 on Mac via FFmpeg
FFmpeg is an efficient command-line processing tool with the ability to convert video and audio into most needed formats. It consists of a large set of libraries, including the leading library - libavcodec.
Technical users who are familiar with FFmpeg can decode, encode, mux, demux, filter, stream, etc. and do many other things with it.
Have FFmpeg installed to your Mac system.
Open Launchpad from your Dock. Find Terminal app and open it.
Type the simplest command: ffmpeg -i input.vob output.mp4.
Press "Enter".
The re-encode process will reduce the file size, and the codecs will changed to h264 and aac by default.
To do it losslessly and fast, you can remux VOB to MP4 using the command: ffmpeg –i input.vob -codec copy output.mp4 or ffmpeg -i input.vob -c:v copy -c:a copy output.mp4, which merely change the container. For example, If your original VOB is encoded with mpeg2video and mp2, the resulting file remains the same.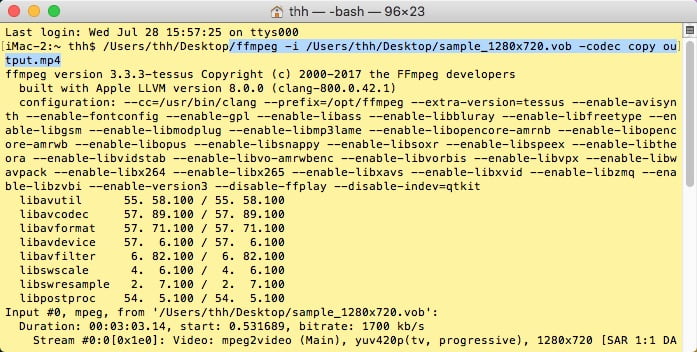 What's more, you can add -crf 17 before output.mp4. The CRF scale ranges from 0 to 51. Lower values usually lead to higher quality. 23 is the default. You can revise it to any reasonable value as you think.
The Best Online VOB to MP4 Converter for Mac
Zamzar is a web-based converter that aims to convert all types of files, inclusive of pictures, videos, documents, audio files, etc. You can convert VOB to FLV, MP4, AVI, MOV, 3GP, MP3, and so forth.
Unlike other online converters, the page of Zamzar is uncluttered and clean with no ads and no pop-ups.
Visit http://www.zamzar.com.
Add VOB videos by clicking the "Add Files" button.
Click the dropdown menu, scroll down the list and select MP4 format.
Click the "Convert Now" button, and you will see the overall conversion/upload progress.
Once completed, download the MP4 files.
But Zamzar can't change VOB into MP4 online free unlimited, and it has some drawbacks as below:
Unable to upload a VOB video large than 50MB
Only allow you to convert 5 VOBs simultaneously at most
Convert up to 10 files per day
Become slow or delayed if the site is experiencing high traffic
Compare to desktop apps, not very safe
To upload 200MB, 400MB, or 2GB VOB videos and obtain unlimited daily conversions, you have to buy Zamzar Plans - Basic, Pro, and Business per month.
FAQs
1) Can QuickTime convert VOB to MP4 on Mac?
For users who have already purchased the $20 MPEG-2 Playback component from Apple and have not yet upgraded to Catalina, you can still convert VOB files to MPEG-4 with QT 7 Pro.
QT 7 Pro supports unprotected MPEG-2 videos but not AC-3 audio (common on DVDs). Maybe the A52 component will help you.
Apple gave up QT 7 Pro license now. And the new version QT 10 doesn't let you view convert VOB files anymore.
2) How do I turn VOB into MP4 via iMovie?
Similar to QuickTime, in old days, you are able to install Apple mpeg2 plugin to handle VOB video in iMovie. But now it's impossible to directly import VOB into iMovie 10.
3) Can I use YASA VOB to MP4 Converter on Mac?
Unfortunately, the app only works with Windows platform.
4) How to play VOB files on Mac?
Although QuickTime doesn't support VOB, there are plenty of VOB players for Mac, such as VLC, MPlayer, ALLPlaye, etc.
Last Word
The above introduced the best-trusted software and online service to perform VOB to MP4 conversion for MacBook, iMac, Mac with chip, or any model. Cisdem Video Converter is unquestionably the best solution to process encrypted VOBs. For regular VOB files, Handbrake and VLC are also good options.
In fact, we tested many tools besides those mentioned earlier, but their results were unsatisfactory, so we didn't include them. Let's say, Adobe Media Encoder, it's able to convert VOB to MP4 on Mac, but can't rip the complete DVD. Before you install this software, you need to install Adobe Creative Cloud first. They exceed 3GB in size, cause high CPU usage, and slow down the computer. Moreover, it demands a monthly payment of $52.99, which is exorbitant.