Developed by Apple Inc., iMovie is an easy-to-use and effective video editing application. You can easily import a video to iMovie from a camera or folder on your computer or other sources, edit it and export the edited video to your hard drive, YouTube, iTunes, Facebook, etc. However, iMovie support limited import and export formats. If your video is in a format that iMovie doesn't support, then you won't be able to import it to iMovie, let alone get it edited. This article covers things you need to know about iMovie formats, and hopefully, it can be helpful.
Best iMovie File Formats Converter
Convert any file to or from iMovie supported formats
Convert video and audio files to different formats with high quality
Download 4K, HD, SD videos from 1000+ websites including YouTube
Download online videos to iMovie formats
Rip DVD disc and DVD folder to MP4, MP3, MKV, AVI, FLAC, etc.
Crack almost all the DVD protections (e.g. region code, CSS)
Do basic video editing such as cropping, rotating, watermarking, etc.
Batch downloading and batch converting
Shockingly straightforward and fast

Free Download

Free Download
What file formats can iMovie import?
What file formats can I import into iMovie? Can I use MP4 in iMovie? Does iMovie support AVI? These are some of the most frequently asked questions about iMovie file formats. You can find the answers here.
iMovie-Supported Import Formats
iMovie-Unsupported Import Formats
Here is a list of the common video formats that are not supported by iMovie.
iMovie-Supported Audio Formats for Import
Now, here is something important about iMovie formats. Generally, when we talk about a video or audio format, we mean the container format, which is basically what the file extension is. The container format is like a wrapper that contains video or audio streams or both and packages them together. Within each container format, the video or audio streams may use different codecs (a.k.a. compression formats) which are used to convert uncompressed videos to compressed ones. The compression format is what matters.
In the tables above, you can easily find the container formats that iMovie supports. iMovie typically supports MP4, MOV and M4V files. But not all MP4, MOV and M4V videos are compatible with iMovie. If an MP4 video contains compression formats (codecs) that are not accepted by iMovie, you won't be able to import it. In a case like this, you need to use iMovie format converter to convert the file.
If you are confused by the iMovie formats thing and have no idea how to convert, don't worry. Below is a detailed guide.
How to convert any video to iMovie-supported import formats
To convert any video to iMovie-supported media formats with high quality, you need a reliable iMovie format converter. Cisdem Video Converter allows you to convert any video to iMovie compatible formats or any other formats you may need. It fully supports OS X 10.12 Sierra or later including macOS 14.0 Sonoma and Windows 10/11.
Cisdem Video Converter is an all-around video converter, audio converter, YouTube video downloader, video compressor, and video editor. It supports all common video and audio formats as well as the rare ones. This iMovie format converter is easy to use with a simple and intuitive interface. Below is how to use it to convert your files to iMovie formats.
Step 1

Add videos to convert

Download and install this Cisdem iMovie format converter on your computer. Import a video file by dragging and dropping.

To batch convert files to iMovie formats at the same time, you can drag multiple files into this app.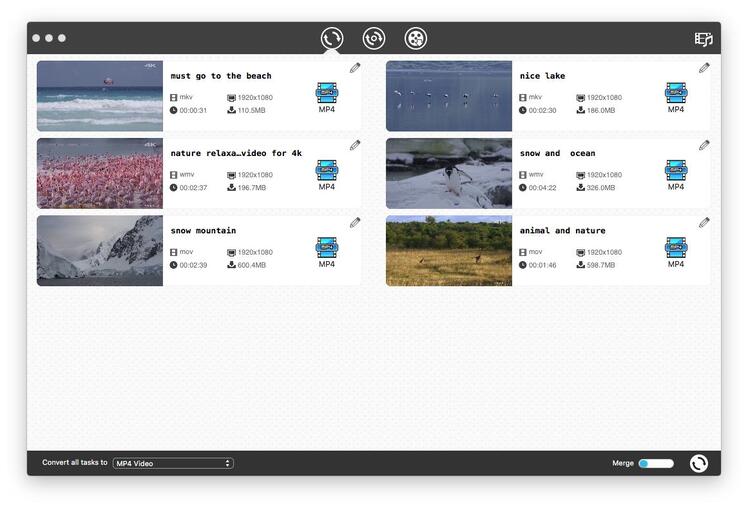 Step 2

Select the output format

Click the format icon, and the Output Format dialog box will appear. On the left side panel, select Apple Software > iMovie, and all the iMovie supported import formats will be listed on the right side panel. Select the one you prefer.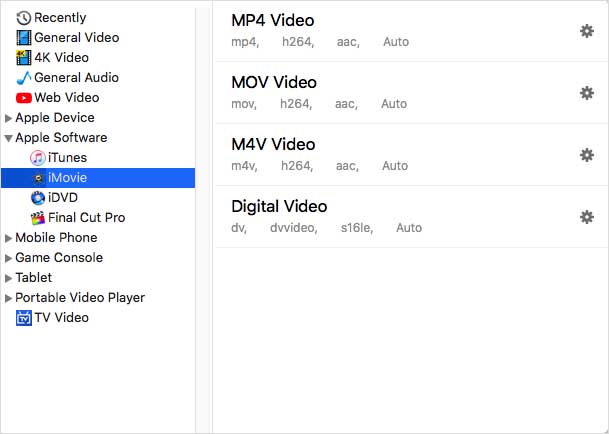 Step 3

Start converting files to iMovie formats

Click the Convert icon

, and the conversion will start immediately.
Once the process is finished, you can click the tick icon to open the folder containing the converted files.
These steps will also apply to convert audios to iMovie supported audio formats. This is how you can easily convert any video or audio file to iMovie supported formats on Mac or Windows.
What file formats can iMovie export?
After you finish editing an iMovie project, you may want to export it or save it as MP4 or any other needed format. So, what export options do iMovie provide? You can export iMovie to:
Theater
Email
iTunes
YouTube
Facebook
Vimeo
Image
File
If you want to save your iMovie project as a video file, just select the File option. And the File dialog box will show up, allowing you to select from a few iMovie supported export formats.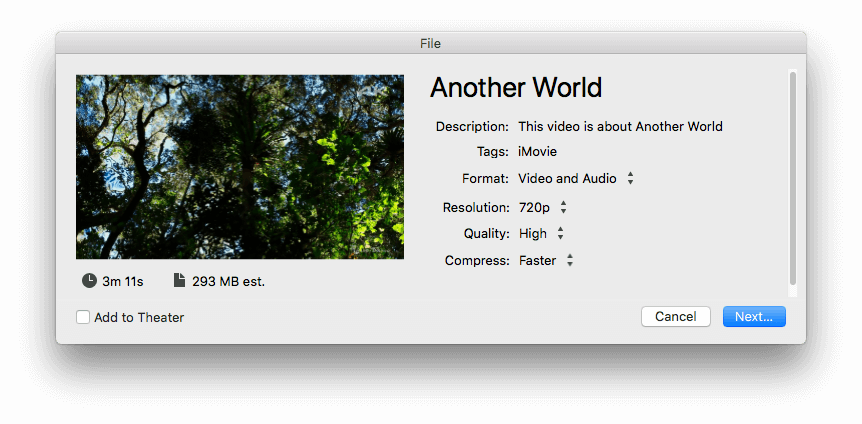 iMovie formats for export
With iMovie 10, there are two Format options: Video and Audio and Audio Only.
#1 Video and Audio
You can select from five Quality options: Low, Medium, High, Best (ProRes), and Custom. If you select Low, Medium, or High, the export iMovie format will be MP4. If you select ProRes, the export iMovie format will be MOV.
#2 Audio Only
You can export iMovie to audio like AAC, MP3, AIFF or WAV.
Regardless of the iMovie version, you are using (9, 11, or 10) and the available iMovie file formats for export, you can easily convert iMovie to any format you need.
How to convert iMovie video to MP4, MP3, WMV, MOV, or any other formats
Cisdem Video Converter can convert any video to iMovie compatible formats. It can also convert the exported iMovie file to any format you need.
You can use this software to convert iMovie to MP4, WMV, MPEG-2, VOB, MPG, MOV, M4V, ASF, AVI, DivX, Xvid, FLV, SWF, RM, MKV, DV, WebM, TS, MP3, M4A, AC3, WMA, OGG, AIFF, FLAC, AMR and many more.
Here's a scenario. You want to export iMovie to play on your devices such as iPhone, iPad, Apple TV, Windows phone, Android phone, Xbox or PS4, etc., but you have no idea what formats these devices accept. Don't worry. This Cisdem iMovie format converter is here for you. It lists all the common devices and applications along with the formats they accept. You only need to select the device. This app will do the rest for you.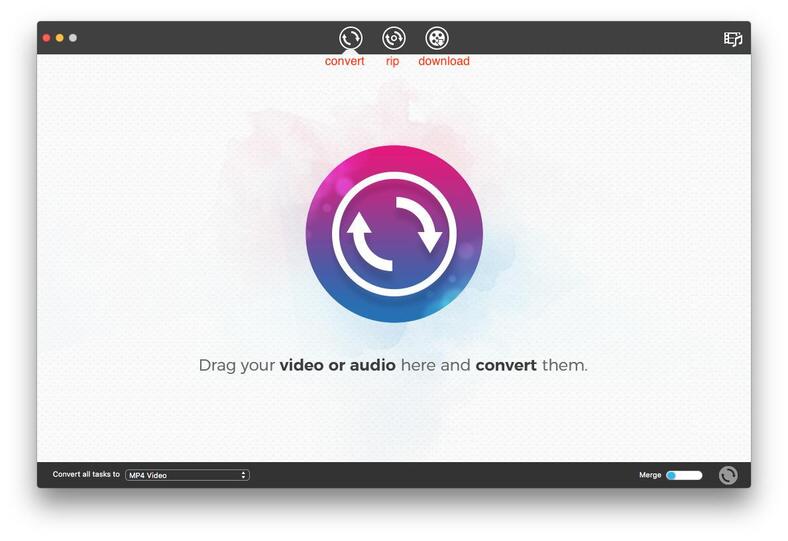 Step 2

Select the device

Click the format icon to open the Output Format dialog box. On the left side panel, select your device, and then select from the supported formats.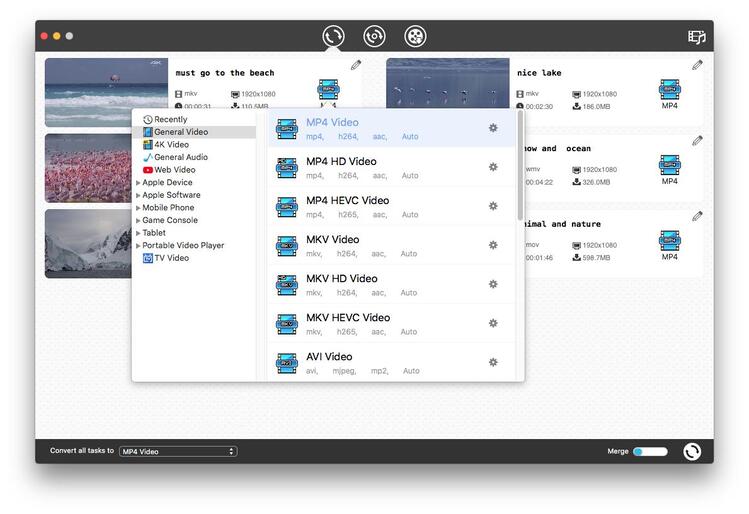 Step 3

Start converting

Click the Convert icon

.
Conclusion
If you can't import a video to iMovie, you need to convert it to one of the supported iMovie formats. If an iMovie file won't play on iPhone, Windows, QuickTime, etc. you need to convert iMovie to format that is supported by these devices, platforms, or software applications. A reliable iMovie format converter can help you out in both situations.