How to restore contacts on iPhone that weren't backed up? My iPhone contacts disappeared due to unknown reasons. So, I need help on trying to recover the missing contacts. I do not recall if my iPhone was backed up at the time. Help please. - A user from Apple Discussion forum.
Many reasons may cause iPhone contacts missing or lost, such as iPhone damaged, accidental deletion, virus attack and so on. If you delete your contacts which is really important without intention or lost your contacts which haven't been backed up, don't worry, this article will show you how to restore contacts on iPhone whether you backup your iPhone or not. Before recovering deleted iPhone contacts, you should check your iPhone if the contacts are still there.
Quickly Recover Deleted Contacts and More...
It recovers accidentally deleted or lost contacts from your iPhone or iPad
It also recovers photos, text messages, notes, voice memos, safari bookmarks, reminders, call logs, etc
It applies to different data loss situation
It supports iPhone 13, 13 Mini, 13 Pro and earlier versions
It is highly compatible on iOS 16, 15, 14, etc
It recovers files from iPhone, iTunes, iCloud
Easy to use

Free Download

Free Download
Check your iPhone before Restoring Contacts on iPhone
Place your iPhone in airplane mode: Turn off your wireless network, unplug your Ethernet cable, or place your iPhone in airplane mode so that your iPhone cannot connect to the internet and sync. This step gives you a chance to log on to your account from another device or browser and see if your contacts are still available online before your device starts to sync.
Check for a misconfigured setting: Sometimes you suddenly find some of your iPhone contacts disappeared and you remember clearly that you haven't deleted them, there's a possibility that these contacts has been hidden on your iPhone. Check your settings to see if you may have hidden some of your contacts from view.
Check your default contacts account: If you store and edit your contacts using your iCloud account instead of a third-party account, like Google or Yahoo, iCloud will automatically update your contacts. Check whether your contacts are stored with iCloud, and log on to your iCloud account to see if your contacts are still there.
How to Restore Contacts on iPhone
If you have checked your iPhone and these contacts are still in your iCloud, you can get contacts from iCloud. Below are the detailed steps on how to restore contacts from iCloud.
#1. How to Restore contacts on iPhone from iCloud
Log into iCloud on the web with your Apple ID and password.
Click the "Settings" icon in the main iCloud menu.
Click on the content you need to restore. Options are files stored in iCloud Drive, a list of contacts, or your Calendar and Reminders. Here you just need to click "Restore Contacts". Select an archive of contacts to restore. Click Restore to restore contacts on iPhone.
After you check your iCloud but your contacts are still missing, that means you can't restore iPhone contacts from iCloud, all you need is an outstanding and powerful iPhone data recovery such as FoneLab iPhone Recovery to help you recover deleted contacts from iPhone whether you backup iPhone contacts or not.
#2. How to Restore Contacts on iPhone without Backup
FoneLab iPhone Recovery is an easy-to-use data recovery to recover deleted messages, contacts, call history, Safari bookmarks, notes, calendar, etc from iOS devices whatever reasons your data were lost. It is designed to recover iPhone deleted files with several simple steps.
Guide: How to recover deleted contacts from iPhone
Download and install FoneLab iPhone Data Recovery on your Mac or Windows.
Free Download Free Download
Launch the program. Connect your iPhone to your Mac > Select "Recover from iOS Device".
Click "Start Scan" button and this iPhone Recovery tool will start to scan your iPhone to find your recently deleted contacts.
Then FoneLab iPhone Recovery will show all your deleted contacts. Select the contacts you deleted before and click "Recover".
As we all know, we can backup iPhone data to iTunes, but iTunes stores the data in unreadable files and you can't check them directly. If your iPhone contacts have been backed up to iTunes, you can also use FoneLab iPhone Recovery to recover your recently deleted contacts from iTunes backup file with ease. Just choose "Recover from iTunes Backup File" mode, then choose an iTunes backup file, click "Start Scan" to scan your deleted contacts. At last, preview and recover deleted contacts from iTunes backup.
Stuff happens, but we always find solutions to deal with. If your iPhone lose data accidentally or due to other circumstances,FoneLab iPhone Recovery is always be a good assistant to help you recover your iOS devices' data without any data loss.
#3. How to Restore Contacts on iPhone via Mesaages App
This method can help you recover some of the iPhone contacts – at least the ones you always contact via Messages app. When you delete a contact by accident, you won't lose the messages that you sent or received from the contact. Follow below steps to recover contacts on iPhone via Messages app.
Tap on Messages on your iPhone and locate the messages of the contact that you deleted from Contacts.
Tap the "i" circle icon at the top right corner and click the phone number.
Then choose "Create New Contact" to add it to your Contacts list.
Add any additional information you want to the contact card.
Tap Done in the upper right corner.
#4. How to Restore Contacts on iPhone from iTunes
If you have iTunes backups to restore, then you can recover contacts from iTunes. But this method will erase all current files on your iPhone and replace them with the backup you choose. So think twice before you do.
Open iTunes on your computer and connect your iPhone to iTunes via USB cable.
After your iPhone is detected, click "Summary" tab.
Select "This Computer" and click "Restore Backup...". Then choose one backup which includes the contacts you need to restore.
After the restoring process is finished, you can check your contacts on iPhone.
Note: If you don't want all current files to be replaced by the backup, you can also try FoneLab iPhone Recovery to selectively recover contacts on iPhone or from iTunes backup.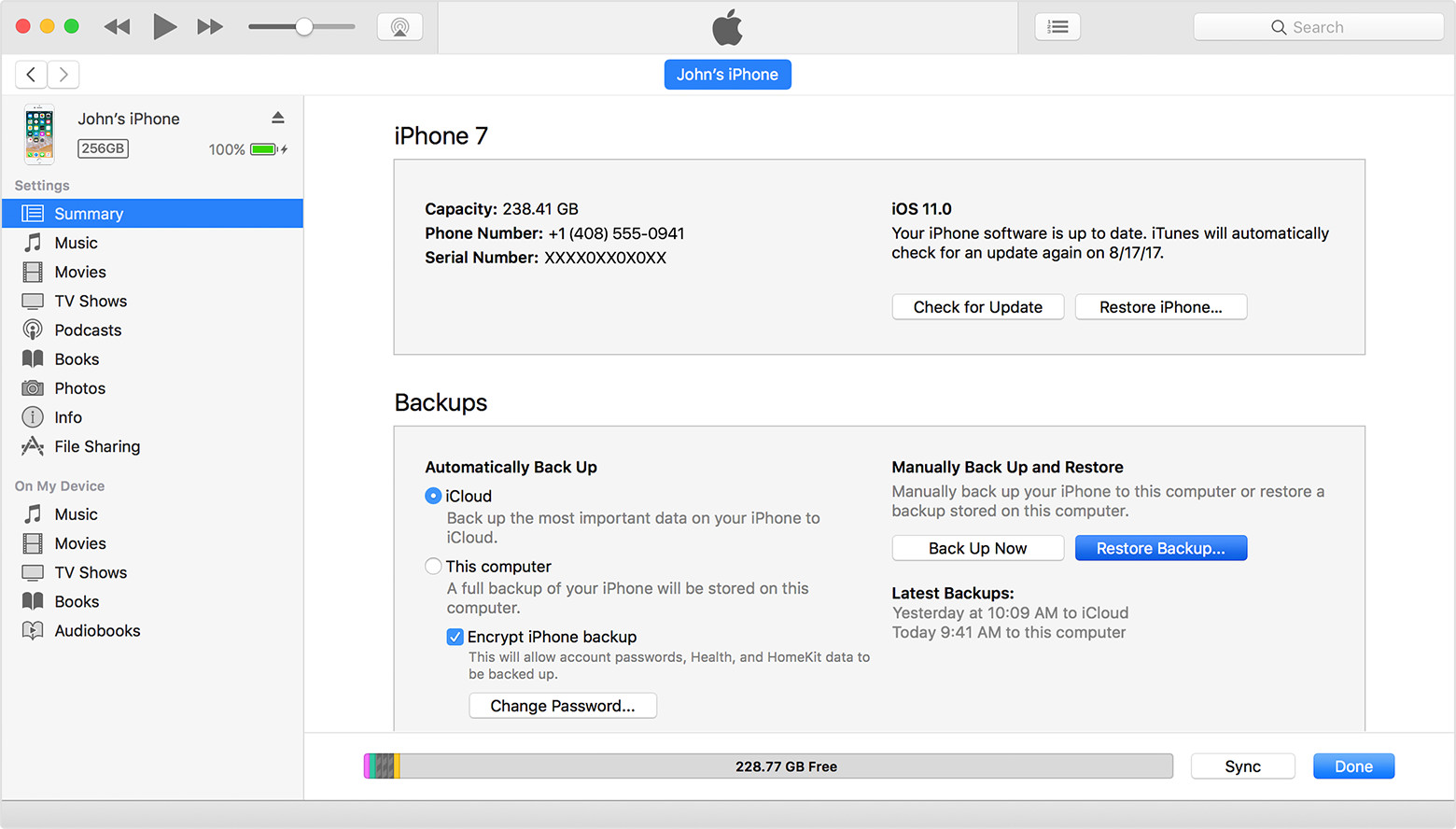 Tips to Prevent iPhone Data Loss Including Contacts
Prevention is always better cure. In order to avoid data loss situation, some of the following steps may help you to prevent your iPhone data loss.
1. Always backup your iPhone data such as contacts to iCloud or iTunes. When you backup your contacts to iCloud or iTunes, you can always restore them no matter what happens to your iPhone. And you can also transfer your iPhone contacts to Mac for backup. This is the safest method.
2. Use an anti-virus software and keep it updated to safeguard your iPhone. iPhone viruses may lead to cell phone users crippling, shutdown. The information will be censored or even damage SIM cards, chips and other hardware. Keeping your iPhone anti-virus software updated can safeguard your iPhone from virus attack when you download files or browse the web.
3. Store Data in Different Locations. This tip can reduce the risk of data loss. You can store your contacts to iCloud or other third-party accounts, like Google or Yahoo. You can have easy access to your contacts without your phone.
4. Don't let your iPhone overload to avoid iPhone crash. iPhone crash can lead to data loss when you are saving changes.

Connie has been writing for Mac productivity and utility apps since 2009. Each review and solution is based on her practical tests, she is aways energetic and trustworthy in this field.