Photo corruption or damage occurs a lot, despite our efforts to avoid such situations. If you are looking for solutions on how to fix corrupted JPEG or other photos on Mac or Windows, this article will be helpful to you.
We have 11 options to repair damaged photos on Mac or Windows, including dedicated photo repair software, online free tools, and built-in free ways as well, no matter your JPEG or other photos saved in Photos app or stored in internal even external hard drive.
Best JPEG Repair Tool for Mac and Windows
Increasingly, users prefer to a professional JPEG repair tool to fix the damaged photos on Mac or Windows. The benefit of using this kind of JPEG repair software is that, it helps users to repair damaged JPEG and other photos not only saved on the computer's internal hard drive, but also on external storage devices connected to their Mac/Windows. What's more, it has a higher recovery rate and performs fast to repair the images.
Cisdem Data Recovery for Mac or Windows is an easy-to-use tool to recover photos, videos, documents, emails and more files from internal/external hard drives, USB flash drives, SD card, digital cameras and more devices. Its powerful scan engine can find whatever files lost or deleted. Users can see real-time scanning results and preview lost files. It only takes one click to get them back.
It also possesses the feature to repair JPEG and other image files. After Cisdem scans the storage device where your corrupt JPEG files are saved, it will automatically recognize the corruption and try to repair the problematic pictures. Once you can preview the JPEG images, it means they are fixed properly and you can recover them to your local drive or cloud platforms. In addition to image repair, Cisdem can also deal with the repair of damaged documents.
Main features of Cisdem Data Recovery
Repair JPG/JPEG photos from cameras, SD cards, USB flash drives, SSD, HDD, etc.
Support diverse image formats like JPEG, JPG, PNG, GIF, TIF, PSD, etc.
Fix broken pictures with different symptoms of corruption: blurriness, pixelated photo, faded photo, grainy photo, abnormal colour, etc.
Repair damaged videos and documents
Preview repaired photos or other files before recovery
Recover JPEG files to local drive or Cloud (Dropbox, OneDrive, GoogleDrive, pCloud, Box)
How to Repair JPEG Photos on Mac or Windows?
Download and install Cisdem Data Recovery onto your Mac or Windows PC.
Free Download Free Download
Select the location where you stored the corrupted or damaged JPEG files.
Go to Hardware Disk Recovery and choose the exact hard drive from the list.
Scan for corrupted JPEG photos.
The app will use both quick and deep scanning to find your photos, which will be automatically repaired after scanning done. Go to Type > Pictures and find the photos of a specific format. Or you can use the filter for quick navigation.
Preview and repair damaged JEPG photos on Mac or Windows.
Double click on the JPEG files to preview them. Then click Recover to save the JPEG files back to a safe location.
Repair Corrupted JPEG Images Online Free
If you are looking for a solution to repair corrupted JPEG files online, you can try online free JPEG or image repair tools, for example, online.officerecovery.com. It helps to repair corrupted JPEG, JPG, GIF, TIFF, BMP, PNG and Raw images. However, it can only repair damaged photos one by one. And very often, online tools will fail to recover the corrupted photos on Mac or Windows, then you have to pay for a non-refundable $99 service fee to get help from a data recovery technician, which we don't recommend. This is how to use an online free tool to achieve JPEG repair.
Click "Choose File" button to upload a corrupted JPEG or other photo file for repair.
Click Secure Upload and Repair to start the repair process.
Download the repaired image onto your computer.
Of course, if you believe that you could get out of trouble by repairing damaged JPEG files online free, there are still several other website tools to be tried. Here they are listed as:
How to Fix Damaged JPEG and Other Photos on Mac for Free?
Photo corruption or damage can happen during reading, transferring or processing, etc. If an image is corrupted, when you attempt to open it with a photo viewer, you may get an error message, or the image can be opened but looks damaged. It is annoying but still possible to fix a corrupted JPEG or other photo on Mac with 5 different solutions free of charge.
#1 Update Photos App
We need a photo tool to open and view the photos, if a photo viewer cannot function properly, it won't help open and view our JPEG or other photos on Mac. So, first of all, check if your Mac Photos app is the most updated version, if not, update to the latest version to make it work properly. But you cannot update Photos app individually, you need to update the system to the latest macOS.
Launch App Store App on your Mac.
Go to Updates, click Update to upgrade your macOS along with the Photos app.
Open the JPEG photos again on your Mac.
#2 Save to Another Folder and Reopen
Corrupted JPEG and other photos may be caused by bad sectors, therefore, you can copy and save the photos to another location and reopen.
Create a new folder under the path where all files can be viewed and opened normally.
Copy and paste a part of corrupted JPEG photos to the newly created folder.
Reopen the corrupted pictures in the new folder, if they can be opened properly, copy and save the rest of corrupted photos to the new folder.
#3 Change Photo Format
The format compatibility may lead to photo corruption too, especially your photos are saved in Windows-based image formats. Therefore, when your JPEG photos get corrupted on Mac, you can change their original formats, by modifying the file extension or directly converting the photo.
Change File Extension
Right click on the JPEG or other image file.
Choose Rename.
Change the file extension to .jpg or .png or other macOS-friendly image format.
Convert Photos
Open photo with Preview.
Go to File > Export.
Choose JPEG or other supported format.
#4 Repair Photo Library
If the photos in your Photos app still doesn't work properly, your Mac Photos Library may be corrupted. Sometimes, there will be an error message telling a user that some data in Photos Library can't be read or written. Despite the cause of malfunction, it's suggested that you should use Photos' built-in repair tool and see if it can fix the problem.
On your Mac, hold down the Option and Command keys while you launch Photos.
You will be presented with the Repair Library dialog box.
Click Repair, which might be followed by a request to enter user password.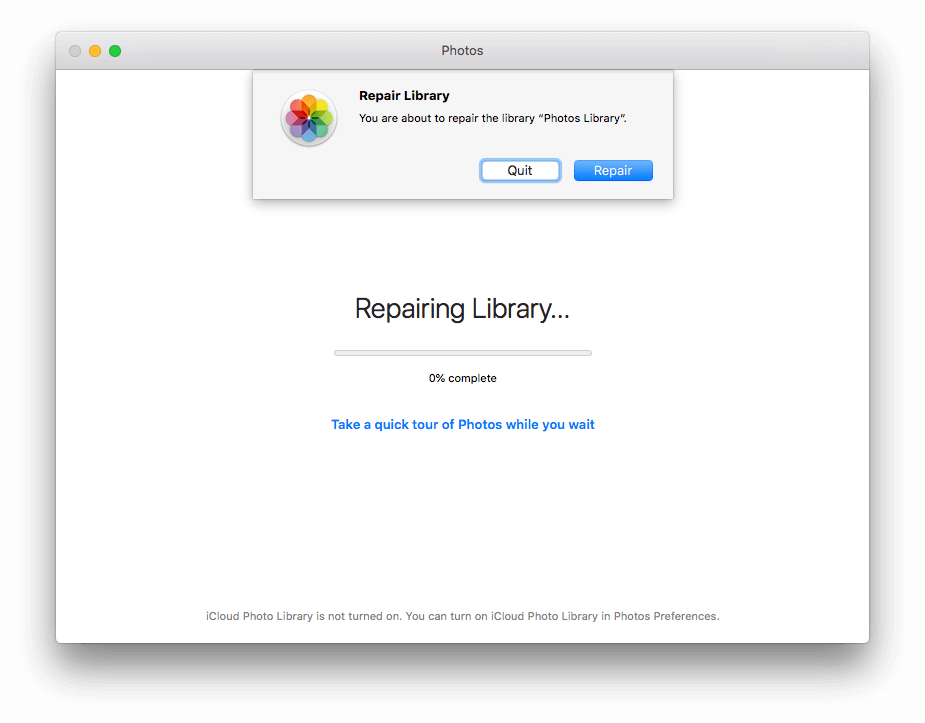 The progress bar in the middle of the interface will inform you of the repairing process.
Once it is finished, Photos should open the library like it normally does. The time spent will depend on the size of your photo collection. If it's a huge one, the repair may take a rather long time with little visible progress, so it may appear stuck at some point.
Reopen the JPEG photos in your Photos App.
#5 Rebuild Photo Library
If the Photo Library repair doesn't work, you will have to rebuild the Photo Library. But before the rebuilding, you are recommended to export your corrupted photos to a specified folder first.
Open Photos App.
Choose all the corrupted JPEG photos you want to fix on Mac.
Go to File > Export > Export XX Photos…
Click Export and choose the output folder to export your corrupted photos.
Then quit Photos App.
Press and hold Option (Alt) Key, and open Photos App.
Choose Create New, rename and select the location.
Click OK, then run Photos App, go to File > Import, add the photos to Photos Library for opening.
How to Repair Corrupted JPEG and Other Photos Free on Windows?
Like on Mac, image corruption happens on Windows PC as well. So 4 specific solutions are still available here to repair damaged JPEG or photos in other formats on Windows. All of them are proven to be free, and just feel free to take the one that suits you most.
#1 Change Picture Viewer
At times when you open the JPEG file, you get an error message, but the same image file can be opened perfectly fine with other picture viewers. This means the issue is caused by the problematic local app. Then we should change to another image viewer.
Right-click on the damaged photo and choose Properties.
Click Change button to change the default photo viewer.
Select OK to confirm the change.
From now on, your JPEG image will open without error.
#2 Run CHKDSK Scan
Alternatively, you can try to run CHKDSK Scan to fix damaged JPEG or other photos. CHKDSK command will be performed to access your JPEG file, helping to know how to repair photo damage resulted from bad sectors on the storage device.
Make sure that you connect the storage device that contains JPEG images to your Windows.
Run Command Prompt as administrator.
Type chkdsk (drive letter)/r in the CMD window and press Enter.
Restart your PC and try to open the photo files again.
#3 Perform Command Prompt
The third option to repair corrupted JPEG photo files also involves CMD utility. This method can works in an easy way though it uses command lines.
Open CMD as described in the previous solution.
Execute the command: SFC/scannow.
The system will be scanned completely including where your JPEG images are stored.
You'll be asked to restart the computer if any corrupted files are found. Finally the system will have the ability to repair the photos.
#4 Use Windows Error Checking Tool
Windows PC possesses a built-in tool for error checking, which can be also used to handle corrupted JPEG photo repair.
Go to File Explore, find and right-click on the storage device where your JPEG images are saved, next choose Properties.
Select Tools and click the Check option.
Click on "Scan and repair drive".
If any errors have been found in the device, they will be fixed automatically.
Restart your Windows PC to view the corrupted JPEG photos.
Conclusion
It was a disaster to have images corrupted or damaged in the old days, now we have professional tools developed to repair JPEGs or other images, even there are online free service provided. There are known and unknown reasons causing damaged photos on Mac or Windows, it seems to be inevitable, so we should have the habit of backing up files on regular basis.