You may have upgraded your Mac from macOS 10.15 Catalina to macOS 11 Big Sur, or finally decide to update from a previous version (such as Mojave, or High Sierra) to Catalina, especially when both Big Sur and Catalina offer awesome features and increased performance.
However, unexpected errors may occur after Big Sur or Catalina update, the commonest one is that your photos in iPhoto or Photos app lost/disappeared from MacBook, or photos missing because the originals cannot be found on your Mac. Don't be panic, we have 4 solutions for you to recover your lost photos or disappeared even missing Mac photos and photo albums.
Before Recovery, Check Your Pictures Folder First
People are accustomed to updating Mac to a new system by clicking on the "Update All" option in the App Store, which will also automatically update other apps like Photos. In a sudden, you noticed that the photos lost or disappeared from your mac, but in fact, they are not gone. So, before any steps for photo recovery on mac, you should check your pictures folder to make sure if your photos are still there. Just click on Apple Menu>Go>Go to Folder>Input "~/Pictures/">Go, check the Pictures folder or other folders you may use to save photos on your mac.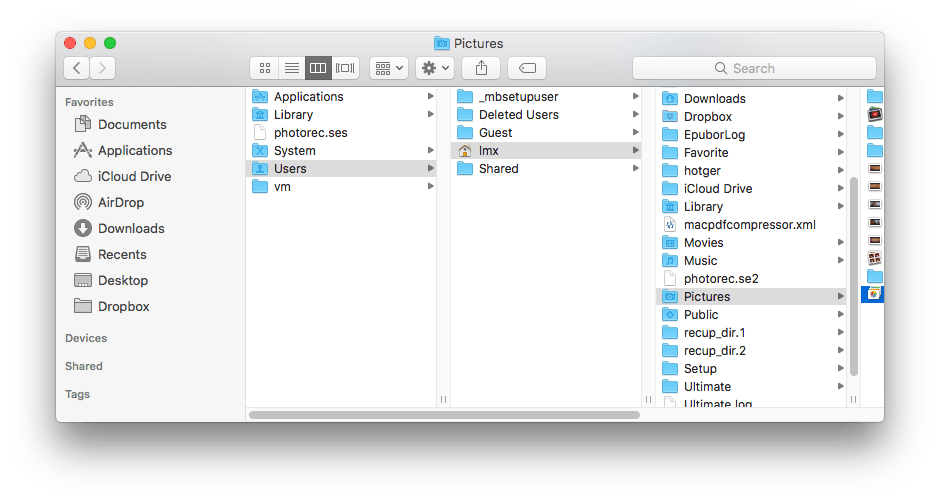 Fast Way to Recover Lost Photos on Mac After Update
The fastest and most straightforward way to recover lost or disappeared photos on Mac after update is using a piece of data recovery tool, it saves your time and even brings some valuable data back to your MacBook Pro or Air. Cisdem Data Recovery for Mac— the best method for recovering lost images, videos, songs, etc. from both the internal Mac hard drive and external storage devices. It supports an extensive number of formats and drive types. If your pictures missing after upgrade to Big Sur or Catalina in the absence of a time machine backup, you can recover them using this software.
Why Cisdem Data Recovery for Mac?
Restore files lost due to deletion, formatting, system crash, power off
Recover data from both internal and external hard drive
5 scanning modes: Basic, Trash, Formatted Drive, External Devices, Advanced
Restore 200+ file formats: video, audio, image, document, etc.
Preview files before recovery
High recovery rate

Free Download
Easy Steps to Recover Lost Photos on Mac After OS Update
Step 1

Install the program

Download and install the free trial of Cisdem Photo Recovery on your Mac, and then run it.

Free Download
Step 2

Choose a recovery solution for lost photos

There are 5 recovery solutions. Choose one of them that suite your needs. I recommend Basic Data Recovery mode (fast and effective but not detect all the items) or Advanced Data Recovery mode (deeply scan your drive but take longer time).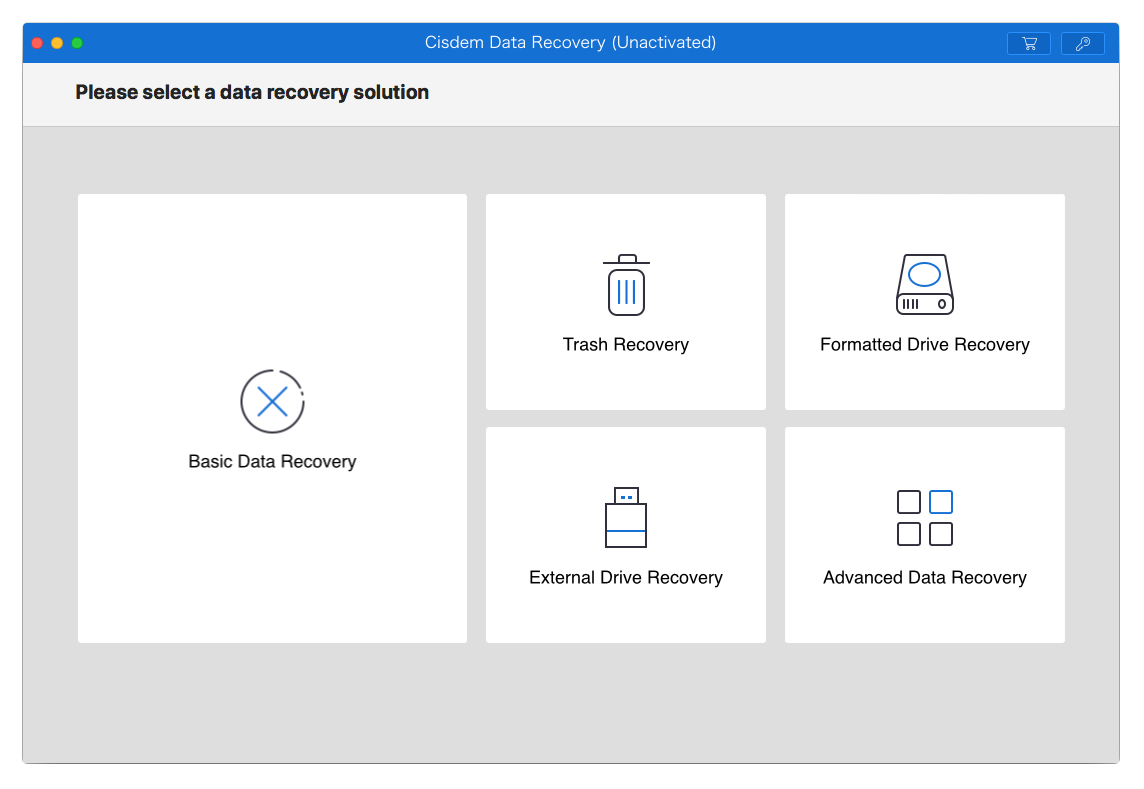 Step 3

Select the hard disk drive

Choose the drive from where you want to recover lost or deleted photos after macOS Big Sur or Catalina update and click Scan button at the top right.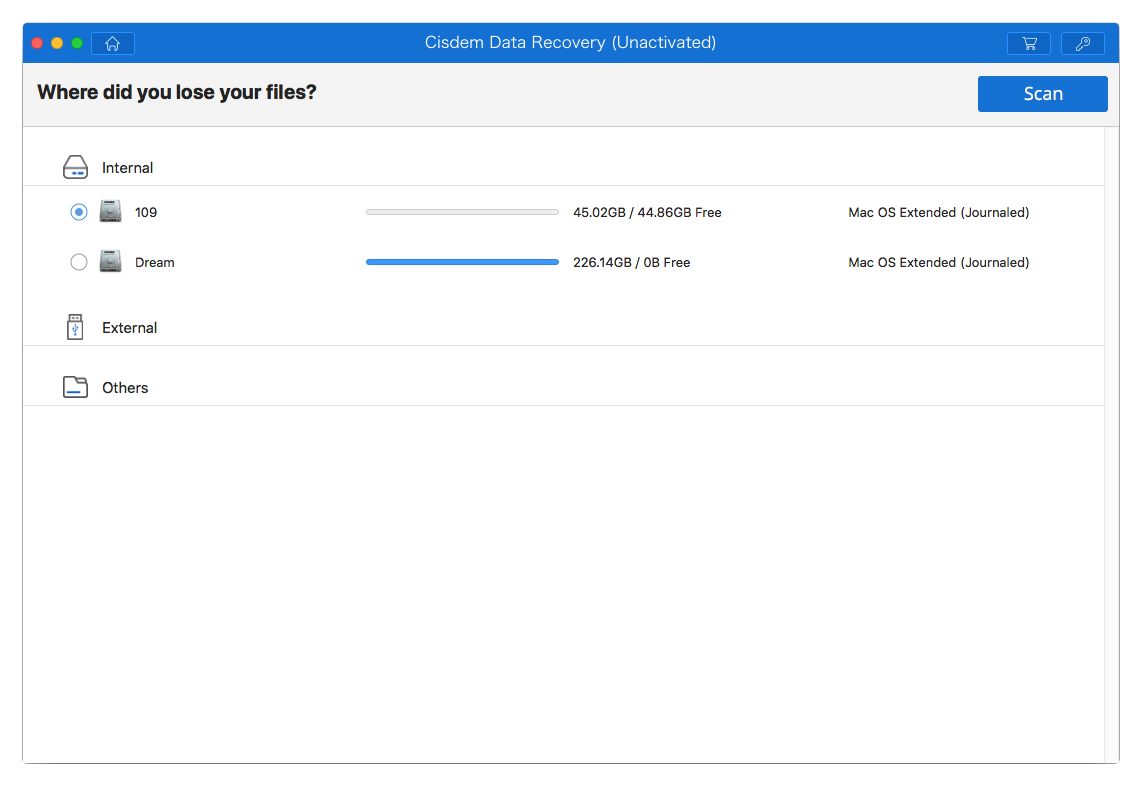 Step 4

Waiting for scanning lost photos on mac

Cisdem Photo Recovery for Mac will start scanning for the recoverable files, and sort it by file types, Meanwhile, the scanning results will be presented in the right panel in real-time.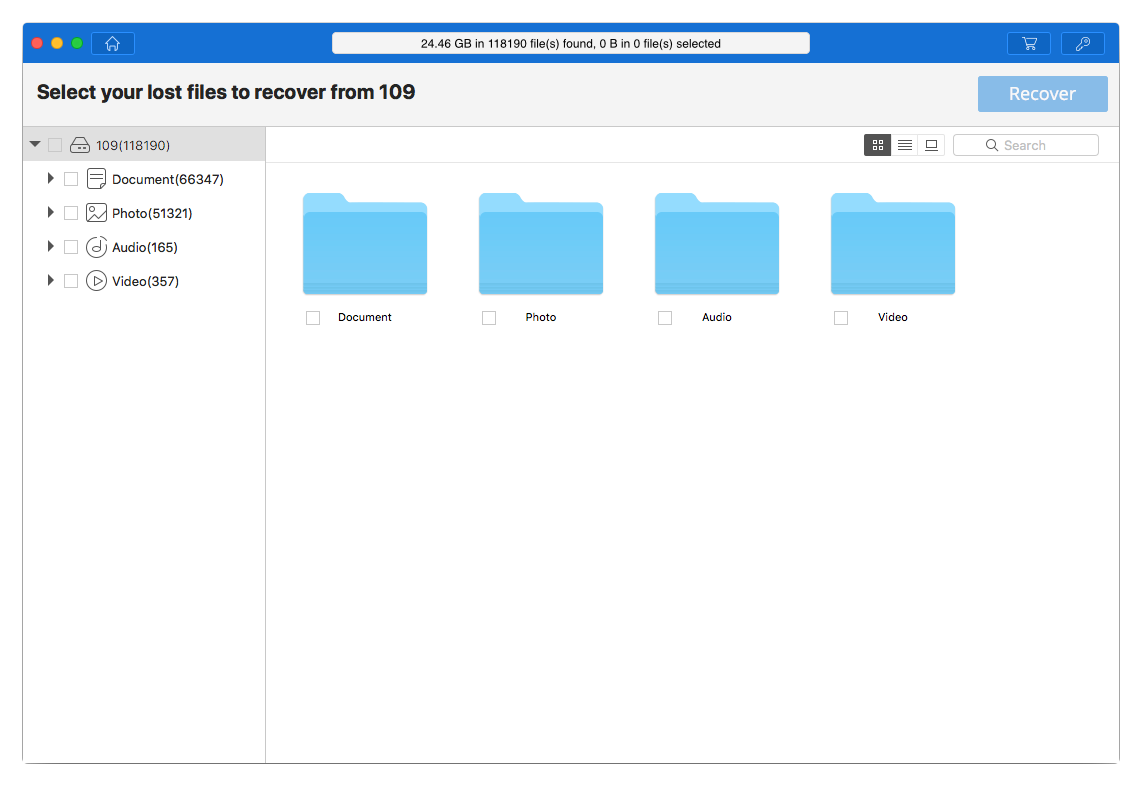 Step 5

Preview and recover lost photos on mac

Preview the scanning results, choose photos we want to recover, and then click "Recover".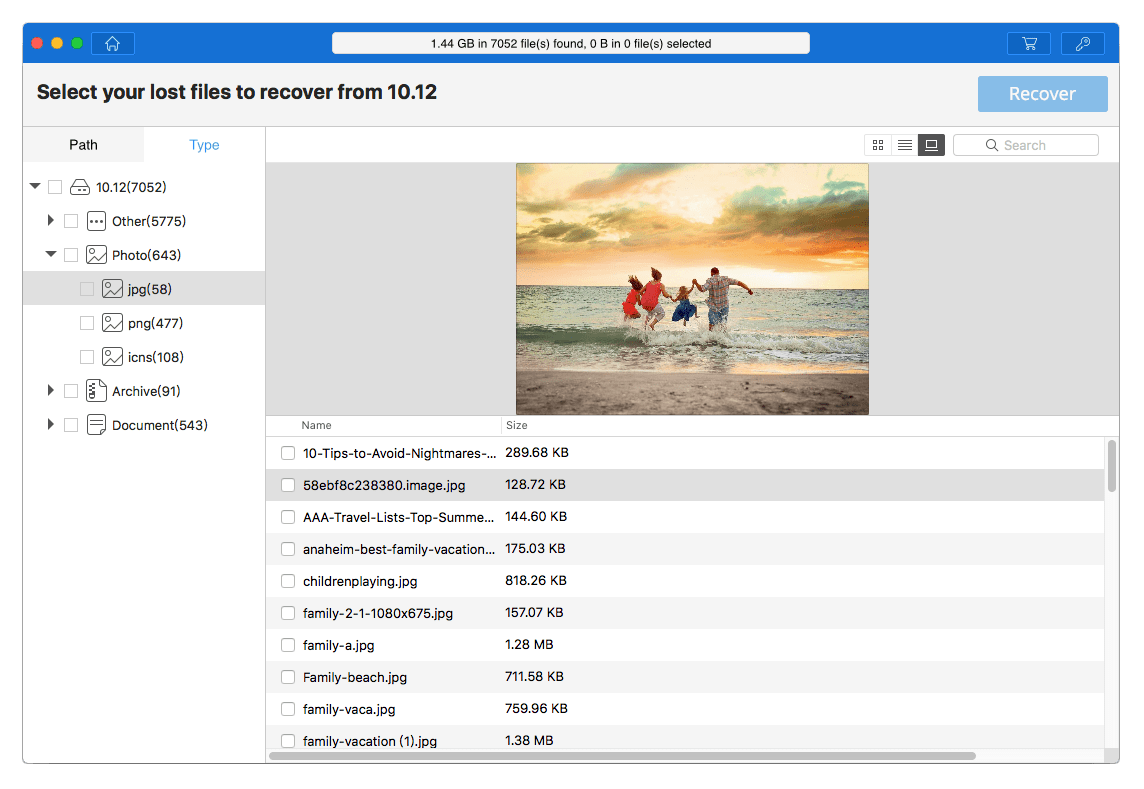 With this, the procedure to recover lost images after upgrading to macOS Big Sur or Catalina is completed successfully.
Recover Lost Photos after Mac Update from Recently Deleted
If your Mac photos albums disappeared after macOS Big Sur or Catalina update, have a look at the "Recently Deleted" album in Photos or iPhoto app.
Open Photos or iPhoto app.
Click the "Recently Deleted" tab from the left side.
Choose the thumbnails of your lost photos.
Click on the "Recover" button on the upper-right corner to restore missing files after Mac update.
Matters need attention:
The photos items in the "Recently Deleted" album only give you 30-day grace period before getting rid of them to the ground.
Enable iCloud and get your photos backed up on iCloud as well.
Recover Photos Disappeared from Mac via Photo Library Repair
Photo library is the database where all photo files, thumbnails, metadata info, etc. stored. If you find the library folder but see no photos in it, then it may get corrupted. But luckily, both iPhoto and Photos app allow users to Repair your photo library when photos or photo albums lost for no reason, become unreadable or just missing.
1. Before doing Library First Aid, it's always a good idea to backup your hard drive firstly with either Time Machine or another method;
2. You may need to wait a few minutes or several hours for Photos to fix. In my case, while doing Library First Aid I can still use my Mac though it is a little sluggish during the process.
#1 Restore iPhoto Pictures Disappeared after Mac Upgrade
First, turn on iPhoto's "First Aid" mode. Before opening iPhoto app, hold down the Option and Command keys on your keyboard. Then launch Photos (need to press the two keys at the same time).
In a few seconds, you will see a window like below, choose one basing on following knowledge.

Repair Permissions---This is probably the best option to start with. If you lost photos after updating Mac to Catalina, Repair Permissions mode may fix the problem. And, in my case, my lost Photos came back to life after the "Repair Database" step.

Rebuild Thumbnails---Resolve an issue where the thumbnail image disappears or is corrupted. It will help you get back those images again.

Repair Database---If your photos stored in another folder or corrupted, you can choose this option to repair your Photos library accordingly.

Rebuild Database---If nothing else works, try Rebuild Database mode out. It may take a long time, as it will completely rebuild your database, overwriting the existing one.
#2 Restore Photo Pictures Disappeared after Mac Upgrade
Quit Photos app if it's launched.
Press the keys- Option and Command while you re-open Photos.
In the pop-up Repair Library dialog, click on "Repair" to recover lost photos on mac after update. (Account and password may be needed for authorizing the Library Repair.)
Wait for the Repair process to finish, then your photo library will be opened automatically and now you can check your photos.
The process might stop syncing photos with iCloud. So it'd better to check it by navigating to Photos > Preferences > iCloud once the process is finished.
Restore Photos after Mac Update with Time Machine
Still not able to recover iPhoto or Photo library after Big Sur or Catalina within the app, now take a crack at Time Machine restore, if you have enabled and set up the Time Machine backup.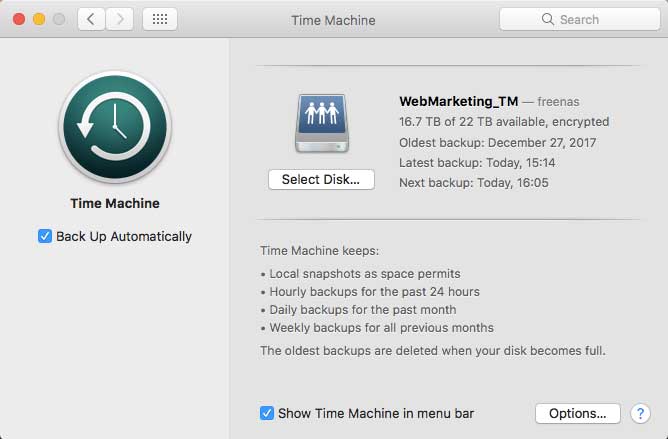 How to Recover Lost Photos on Mac after Update with Time Machine
If the iPhoto or Photos is open, choose iPhoto/ Photos > Quit Photos.
Click Apple menu > choose System Preferences and > click on Time Machine.
In the Time Machine menu, select Enter Time Machine, and it will take you to Time Machine on Mac.
Time Machine will show you all available backups. Click the date of your last backup and select the lost photos that you want to restore and you can also press the space bar to preview the photo.
Click the Restore button and the image file will be restored to the original location on Mac. Depending on the size of your file, it may take some time for your library to be restored.
Restore Missing Photos after Mac Update to Big Sur or Catalina
Sometimes, we don't get a correct setting for our Photos app, like we leave "Copy items to the Photo library" unchecked, so when we view our photos in Photos but later moved the photos to an external hard drive after Mac update, once we want to check the photos again, they became "missing" on your Mac since the original ones are not found. In this case, we need to restore these missing photos by Consolidate.
Launch Photos app, go to Preferences>General, check the box before "Copy items to the Photos library";
Click on one of the "missing" photos, and continue with Find Original;
Then navigate to the drive or folder where you stored the original photos;
Then select all these original photos, go to File>Consolidate, now all the photos won't be referenced and saved in an external hard drive, they are moved to your photo library.
Final Words
Photos sometimes mean the whole world to us and we can't afford to lose them. But chances are that they can be deleted or missing during the process of Mac upgrading. So, It is necessary to back up the entire Mac drive before upgrading to Big Sur or Catalina. You can back up them to multiple devices or using cloud service such as Google Drive, Dropbox, etc.
Once data loss occurs, just stay calm, and follow the methods above to recover lost photos on Mac after update. The most helpful and all-in-one solution I think is to install a Mac photo recovery software or service.

Rosa Reyes


Rosa has worked in Mac software industry for more than eight years. She believes that the purpose of software is to make life better and work more productively. In addition to writing, Rosa is also an avid runner.