There are people using Windows/Outlook, so you might receive emails with .dat file extension. Many Mac users have encountered the problem of failing to open winmail files on Mac. This article will show you how to open and view winmail.dat files on Mac in 2 different ways.
The main content of this article consists of two parts:
What is Winmail.dat File?
I sometimes receive e-mail messages with a "winmail.dat" file attached that I cannot open. Why does this happen, and what can I do to fix it?
The winmail.dat file exisit because various mail programs cope with message formats differently. Winmail.dat file,a proprietary email format created by Microsoft/Windows Exchange Server, which contains rich-text formatting and packs all the original email information(subject, body, attchment) in the file. Users from other email clients or other platforms can not open the Winmail.dat file easily.
Anyway, if you want to open Winmail.dat files on mac, you can try following 2 solutions according to your need.
How to Open Winmail.dat File on Mac?
To open Winmail.dat files on a Mac, a Winmail reader is needed. Though not that large in quantity, there are still some top Winmail viewer for mac available for choice.
Here I recommend you Cisdem Document Reader. It is a top-notch solution for you to open winmail.dat files on Mac, and allows any attachments contained in the winmail.dat files to be previewed and saved. Even, it lists all the files in list view under one window, so you don't have to switch among different windows when opening multiple winmail.dat files simultaneously.
More than just a Winmail.dat Reader for Mac, Cisdem Document Reader is a kit helping open different documents simultaneously on Mac, like XPS, OXPS, WPD, WPS, Visio, PDF and DjVu, with a set of tools offered to optimize reading experience. And it can precisely presents the original text style, graphics, hyperlinks, layout, images and formats.
In the same time, Document Reader provides users with extended features to well manage these files, such as:
Extract images from supported files;
Print out as papers or print as PDF;
Export supported documents to PDF, Text, JPEG, PNG, RTFD, ect. For example, converting Visio to PDF, WPD to PDF, XPS to PDF, DjVu to PDF, PDF to images and so on;
Bookmark and search within files;
Steps to Open Winmail.dat File on Mac
Step 1. Download and install Document Reader on your mac.
It is lightweight and safe to download.
Free Download
Step 2. Click Open File or drag-n-drop to open winmail.dat file on your Mac.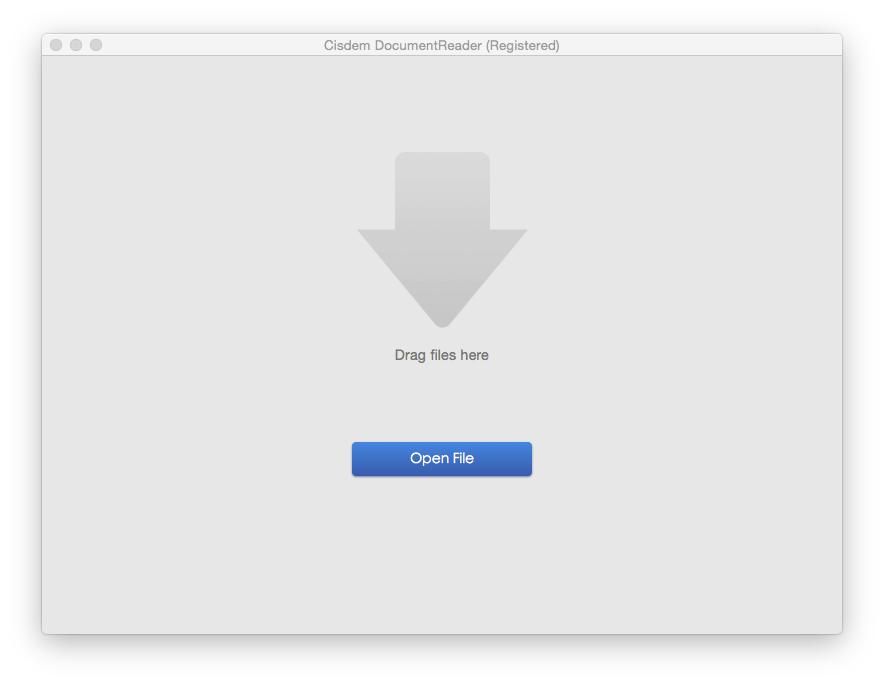 Step 3. Use the toolbars to read Winmail.dat files on Mac.
All contents of winmail.dat, including email message and attachments will be presented. With this product and its list view, you can open and view multiple winmail.dat files at the same time. Moreover, you are able to switch between multiple winmail files easily. Try different viewing toolbars to make sure you can open and view winmail files comfortably on mac.
Download Cisdem Document Reader now, and stop opening winmail.dat files without viewing the attachments. It works flawlessly, which makes you don't even notice its existence.
Check the video to open Winmail.dat file on Mac Now!
How to Open Winmail.dat on Mac Free?
Also, if you don't need to open Winmail.dat files on mac on a regular basis, or you are not working on highly private files, you can utilize online free Winmail.dat reader.
According to my tests, Winmail.dat is a good choice to view Winmail.dat file. It provides 2 ways for users to upload a winmail.dat file for viewing, choose from computer or enter URL. Though it set a max file size limit as 10MB, it never fail to open your Winmail.dat file on mac.
Steps to Open Winmail.dat on Mac Free
Step 1. Upload Winmail.dat files from computer or enter the URL;
Step 2. Click "Start" to get the winmail.dat file in RTF format;
Step 3. Open the RTF file to check what is inside the Winmail.dat file;
Cons:
File size limit
Require high on Internet connection condition
Potential risk of information leakage
Conclusion
For sure, there are more options out there to open Winmail.dat files on Mac. However, in the light of the simplicity, performance and feedback from users, most users pick Cisdem Document Reader as the ideal program to open and view Winmail.dat files on mac.
Now, try Cisdem Document Reader (the PDF Reader is offered free), then all your problems will be gone.

Free Download

Connie Wisley


Connie has been writing for Mac productivity and utility apps since 2009. Each review and solution is based on her practical tests, she is aways energetic and trustworthy in this field.