Q1: How to format a hard drive for Mac that would be sold to another person? I'm usually change hard drives to a bigger capacity ones and sold the old ones to others. Is there a way to completely format or erase the data from hard drive so it cannot be recovered by another user? I'm running Mac OS X Mountain Lion. Thanks for any advice.
Q2: I have a 2TB external hard drive full of work that I have been using on window but I can't use it to save data from my new Mac book air. Is there a way to format my 2TB external hard drive to use on Mac & PC?
If you have above similar questions and don't know how to format a hard drive on Mac, just read below to find solutions:

Best Data Recovery for Mac and Windows
Recover Data from Formatted Hard Drive
Recover photos, audios, documents, videos, archives and other files on Mac and Windows drive
Support recovering data from hard drive under data loss situations including mistaken deletion, improper operation, formation, hard drive crashes, etc.
Support all kinds of storage devices like SD card, HDD, SSD, USB drive, etc.
Retrieve 200+ file formats: image, video, audio, doc, archive, email, archive etc.
Repair damaged videos
Preview and filter to recover wanted files only
High recovery rate
Save recoverable data to local drive or cloud platforms

Free Download

Free Download
Why to format a hard drive for Mac?
1. Startup problem. If your Mac internal hard drive has startup problem, it means that the drive will be formatted once and for all. Formatting the hard drive ensures that the system has been blanked and there is no issue causes any problem.
2. Hard disk failure or corrupted. Many reasons like virus attack can lead to hard drive error or corrupted. Once your hard drive gets corrupted, it means that you should completely format it to solve the issue. For more details about hard disk failure, please visit: Why and How to Deal with Hard Disk Failure on Mac.
3. Space problem. When your hard drive is out of space, formatting the hard drive will be the fastest way to ensure that the hard drive is back to 100% with respect to space storage. Then your hard drive will become usable again.
4. Give or sell Mac to others. If you plan to give your Mac or sale it to others, you'd better securely erase or format your hard drive data so that no one can restore your hard drive data.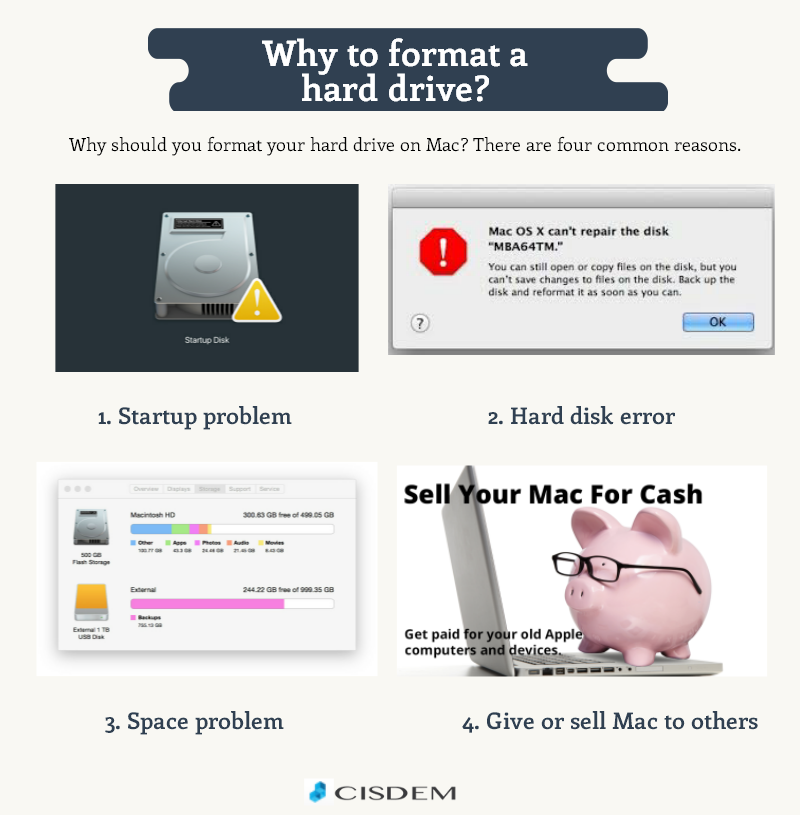 Things to do before formatting a hard drive
1. Backup your data before proceeding.
Note that when you format a hard drive for Mac, it erases all the content on your drive. If you have many important files on your hard drive, you'd better backup them somewhere. Here I recommend a Time Machine backup, if you don't know how to perform that; you can refer to "Mac Backup in Three Easy Ways" for detailed steps.
2. Have knowledge of several common file systems.
Before you format you hard drive, it is necessary for you to understand which file system is suitable to your situation. There are four common file systems which includes NTFS, FAT32, ExFAT and HFS+.
NTFS: NTFS is Windows' default file system. Windows can read and write to NTFS-formatted drives. OS X and Linux can only read NTFS-formatted drives, but not write to them—unless you have a third-party driver like NTFS-3G installed.
FAT32: FAT32 is often used among general users. You can't install newer versions of Windows on a FAT32 system, but it can be handy for external drives since it can be read and written to by Windows, OS X, and Linux. However, one of the major downsides is that you can only store files 4GB or smaller on a FAT32 drive, which means it isn't ideal for large files like movies.
ExFAT: ExFAT is less commonly used, but is similar to FAT32 without the downsides. Both Windows and OS X can read and write ExFAT-formatted drives, and the maximum individual file size for exFAT is 16 EB. This makes it ideal for flash drives.
HFS Plus: Also known as Mac OS Extended, this is OS X's default file system. OS X can read and write to it. If you're running Windows on your Mac with Boot Camp, you can read HFS Plus drives, but not write to them. A third party tool like Paragon HFS+ will allow any Windows system to read and write to HFS Plus drives.
How to format a hard drive for Mac
The below steps can be used to format Mac internal hard drives, external hard drives or USB flash drives. Just follow these steps to format and erase your hard drives on Mac.
Click Go on the top tool bar, and select Utilities. If you want to format an external hard drive, you have to connect the external hard drive to your Mac first.
Open Disk Utility and select the hard drive which you want to format on the left-hand side (you will see your external hard drive icon if connected).
Click the Erase tab along the top of the window. From the Volume Format menu, you can select the file systems that are compatible with your operating system, here please choose Mac OS Extended (Journaled). If you want to format your external hard drive, and hope it will be compatible with both Windows PC and Mac, you'd better choose the exFAT or FAT formats. If you have many large files to store on your hard drive, it is advisable to choose exFAT format.
Enter a name for the hard drive in the Name field. If you want to secure format a hard disk drive on Mac, click the "Security Options" button and select either 7-Pass Erase or 35-Pass Erase, depending on your needs, then click "OK". And you have to keep in mind that once you securely erase your hard drive, the files are gone and can't be recovered by using any third-party data recovery software.
Click the "Erase" button and confirm again on the next pop-up window to format the hard drive on Mac. Within a short time span, your hard drive will get formatted. When you're done, click on the drive in Finder. You can start dragging files to it, or set it up as a backup drive with Time Machine.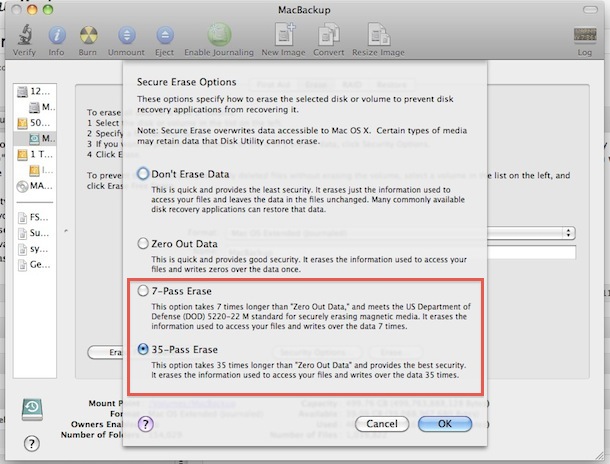 How to recover files from formatted hard drive on Mac?
If you haven't backed up your hard drive data before formatting, you can also recover files from the formatted hard drive by using Cisdem Data Recovery. This data recovery software is 100% safe and offers you the easiest way to recover formatted files from internal or external hard drive on Mac. You can download a free trial version to have a try and follow below steps to recover data from formatted hard drives on Mac.

Free Download
Install and launch Cisdem Data Recovery on Mac, and go to Disk Data Recovery.
Choose formatted hard drive to scan. This data recovery will list all your hard drives including external devices. Choose the hard drive and click "Search for lost files" to find formatted files from it. Then it will take you some time to deeply scan your hard drive. Just wait patiently to let this powerful hard drive data recovery finish its scanning process.
Preview and recover files from formatted hard drive. After scanning, this data recovery software for Mac will show all found files. You can click each file to preview details. Then choose the files you want to recover from hard drive, and click "Recover" to get your files back.

Jose specializes in reviews, how-to guides, top lists, etc. on PDF, data recovery and multi-media. On his spare time, he likes to travel or challenge some extreme sports.