Feel helpless when your Mac hard drive won't boot but the data stored on it is important to you? Or want to get back the files from an erased, corrupted even from an old Mac hard drive but don't know how to? Relax, we still have the chance to restore our data from these hard drives, as long as we find ourselves an appropriate Mac hard drive recovery software.
Best Mac Hard Drive Recovery Software for 2023
To recover files from Mac hard drive, Cisdem Data Recovery works the best.
Cisdem Data Recovery does perfectly in recovering erased, deleted and formatted data from both Mac internal & external hard drive. It provides both quick scanning and deep scanning, helping users to retrieve data lost due to different causes. It scans hard drive fast and lists all recoverable items with file information, you can even preview the found files and tell if they are the wanted files for recovery. There is free trial version available, you can scan erased hard drive first to see if this program works for you.
Pros:
Intuitive user interface and smooth operation
Recover files from Mac internal and external hard drive or other connected storage devices
Support 200+ file types
Repair damaged videos
Preview recoverable files
Batch select the data to be recovered with one click
Cost-effective
Search data quickly basing on keyword, file size, ceated date and modified date
Recovered data can be saved to local drive or cloud platform
Traceable scan records to avoid repeated scanning
Cons:
Price: $69.95
How to Recover Files from Mac Erased Hard Drive?
Download and install Cisdem Data Recovery on Mac.
Free Download
Open the application and go to Disk Data Recovery.
Select your Mac hard drive and click Search for lost files to start scanning the drive.
Then preview the files and select them by checking the box before the file name, if you find the erased files, click Recover to get them back to your Mac hard drive.
How to Recover Old Mac Hard Drive Data on Windows or Mac?
If you want to recover files from an old Mac hard drive and transfer to a new Windows PC or Mac device, there are 2 methods. If your old is still under good state, you can directly install Cisdem Data Recovery for Mac or Recuva for Windows and follow the steps in Part 1 to recover those data from your old Mac on Windows PC or Mac, then transfer the data via external hard drive, Cloud-based storage service or 3rd party software. But if the old Mac won't turn on or runs extremely slow, you should remove the hard drive first, then connect to your new device for data recovery. Following are the steps.
Step 1. Remove hard drive from an old Mac (here we take Macbook as an example)
Make sure your Mac is power off.
Flip your Mac and remove the screws, then remove the back cover.
Find the hard drive and remove the black bar by loosening the screws.
Take out the hard drive and detach it from the black bar.
Also, you can refer to this article for hard drive removal:
Remove hard drive from iMac:https://www.wikihow.tech/Change-an-iMac-Hard-Drive
Remove hard drive from Macbook Pro: https://www.wikihow.com/Remove-a-Macbook-Pro-Hard-Drive
Step 2. Connect old Mac hard drive to a new Windows PC or Mac.
Use a hard drive enclosure to connect the Mac hard drive to a new Windows PC or Mac.
Step 3. Recover old Mac hard drive data on Windows or Mac using data recovery program.
Install Cisdem Data Recovery onto your new Mac, or install Recuva onto your new Windows PC.
Choose a recovery mode.
Select Mac hard drive and click Scan to find data on your old Mac hard drive.
Preview the files and select them, then click Recover button to recover data from old Hard drive to your new Windows PC or Mac.
Use Free Mac Hard Drive Recovery Tool
For free hard drive recovery on Mac, you can try PhotoRec, but it can recover deleted files only.
PhotoRec is an open source data recovery tool to restore 480+ files types that stored on Mac internal and external disks, no matter the storage device uses file system in FAT, NTFS, exFAT, ext2/ex3/ext4 or HFS+. It can be used for free to retrieve videos, documents, images, archives, audios and so on, however it is command-line based and not easy to use.
How to Recover Files from Mac Hard Drive for Free?
Download and install PhotoRec on your Mac.
Run PhotoRec with Terminal app and enter Mac password as required.
Choose your Mac hard drive, press Enter.
Choose the Partition type, press Enter.
Choose file system, press Enter.
Choose destination folder to save files recovered from your hard drive, press C to start.
Go to destination folder and check the recovered data.
How to Find Mac Hard Drive Recovery Service Near Me
If you want to recover data from Mac hard drive without any risk, you can turn to an Expert service near your home. There are 2 ways to find Mac hard drive recovery service, visit Yelp or search in Google.
#1 Yelp
It is one of the most popular online directory to discover local business or service, you can find unbiased reviews and genuine feedbacks to check if it is just the service you are looking for. There are contact info available for you to consult before visiting the store offline. Just input the keyword or choose from preferred category.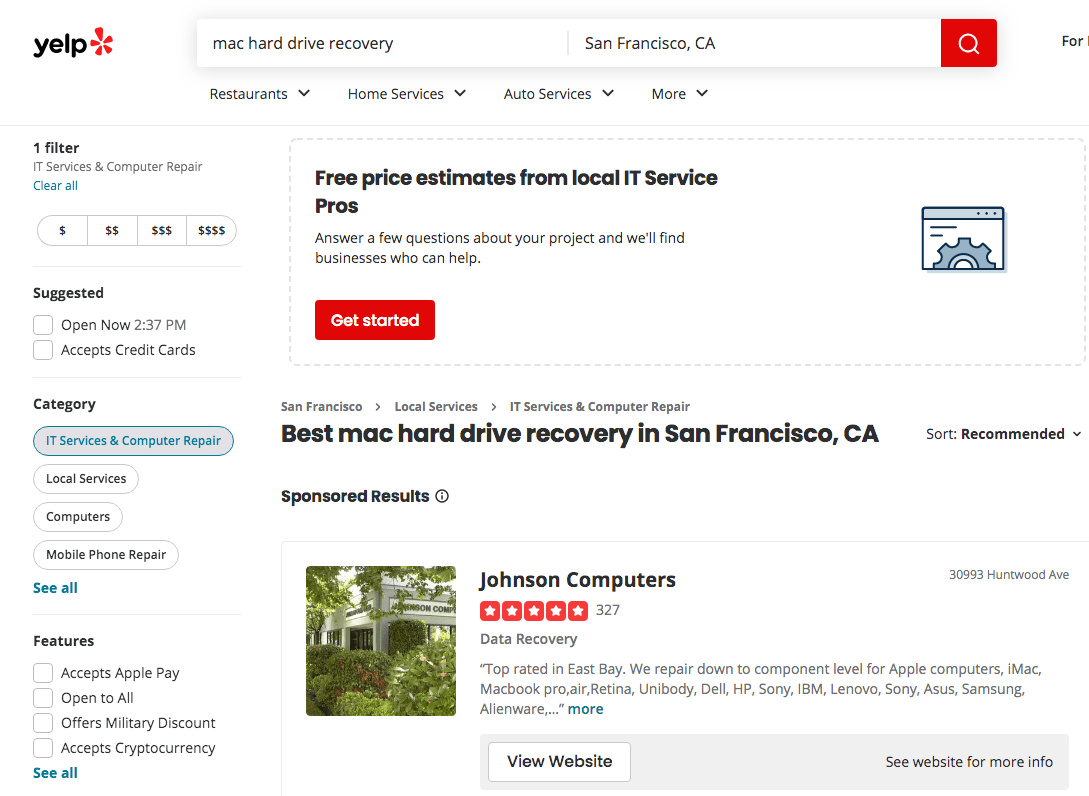 #2 Google
Google knows your location and will bring the best results to you, just input the keyword and check each result, contact the service provider before visiting their stores.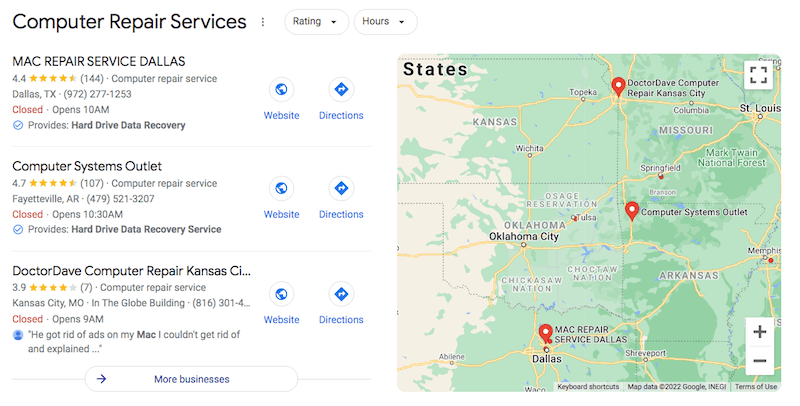 Conclusion
Sometimes, we are just out of luck to lose data on our Mac hard drive, the drive may be mistakenly erased, formatted, or it corrupts, but there is still a chance to save us from data loss. The first step is to stop writing data to your Mac hard drive as much as possible. Then you should choose different Mac hard drive recovery tool basing on your case to scan the drive and get the files back. Even these tools fail to retrieve our data, we can find a Mac hard drive recovery service near us and get it solved offline by visiting their stores.

Rosa has worked in Mac software industry for more than eight years. She believes that the purpose of software is to make life better and work more productively. In addition to writing, Rosa is also an avid runner.