Folders disappeared from desktop on Mac? Or even worse, everything on desktop disappeared on Mac? Don't panic. This article will show you how to easily recover folders disappeared from Mac desktop in 2020 and list 7 common fixes you can try. There are also a few bonus tips, which may help out if other things such as desktop icons also disappeared from your Mac.
The Best Data Recovery Software for Mac
Efficiently recover files and folders disappeared from desktop
Recover folders, photos, documents, audios, videos, emails and more
Work with folders and files disappeared, permanently deleted, formatted, etc.
Support Mac's internal drive, external HD, SD card, USB flash drive, etc.
Allow you to easily scan, preview and recover data
Offer 5 data recovery modes
Support macOS 10.11 El Capitan - 10.15 Catalina

Free Download
7 ways to recover folders disappeared from desktop on Mac
It's a common practice to keep often-used files and folders on desktop for the sake of easy access. But it's always a good idea to store your actual files and folders, especially the important ones, at another location instead of desktop. Items on desktop are relatively easier to lose. There can be various causes for the Mac desktop folders disappeared issue. With different causes, it may require different fixes. Let's start with the common ones.
#1 Relaunch the Finder
This is a pretty easy, quick fix, but it actually solves the issue in some cases.
Step 1. Control-click the Finder icon in the Dock while pressing and holding the Option key.
Step 2. Click the Relaunch option that appears. It will relaunch the Finder.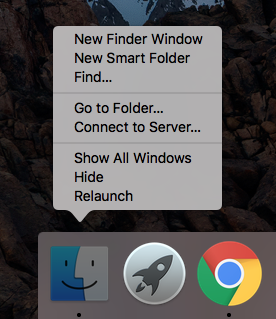 If your desktop folders are still not showing, check out the following ways.
#2 Deselect Documents and Desktop in iCloud Drive
In many cases, the folders disappeared from desktop on Mac issue is caused by iCloud settings. Mac makes it easy to store your Desktop and Documents folder in the cloud so that you can easily access them on all your Apple devices. It makes things convenient. However, sometimes it also brings frustrations since it could cause the disappearance of desktop items and the Desktop folder. Below is how to get back the disappeared folders.
Step 1. Go to System Preferences > iCloud.
Step 2. In the upper right part of the iCloud window, click the Options button next to iCloud Drive, which will bring up a new window.
Step 3. Deselect the option Desktop & Documents Folders. A message box will pop up. Click the Turn Off button.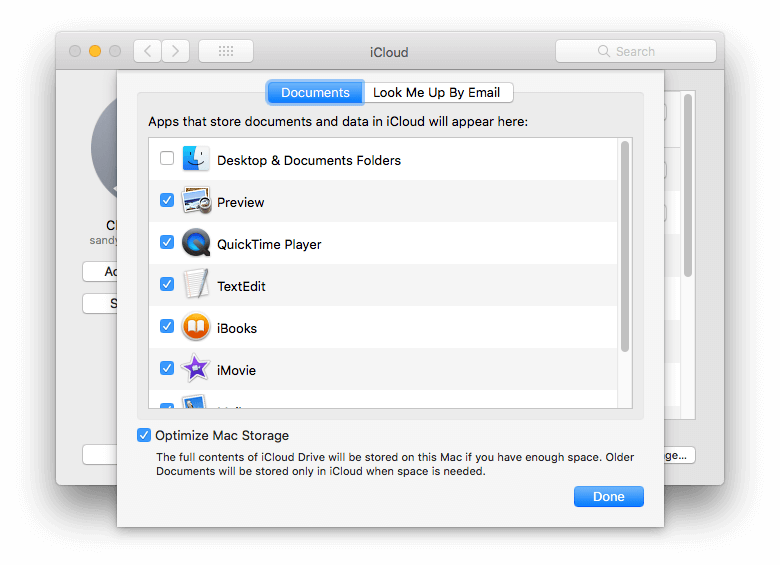 Step 4. In Finder, click the iCloud Drive folder under Favorites. Click the Desktop folder within it. Copy all the folders and files and paste them to your desktop. Likewise, you can do the same with the Documents folder if needed.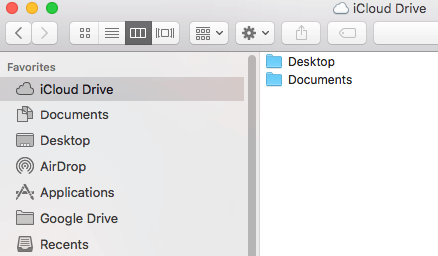 Step 5. It's optional. You can choose to delete the Desktop folder (which is empty now) in the aforesaid iCloud Drive folder.
Also, you can choose to turn off the iCloud Drive sync.
#3 Show hidden desktop items
If a folder or all your Mac desktop folders disappeared because they have been hidden for some reason, you can view and find the hidden folders by using Terminal.
Step 1. Open Terminal from Spotlight.
Step 2. Type the script: $ defaults write com.apple.Finder AppleShowAllFiles true $ killall Finder.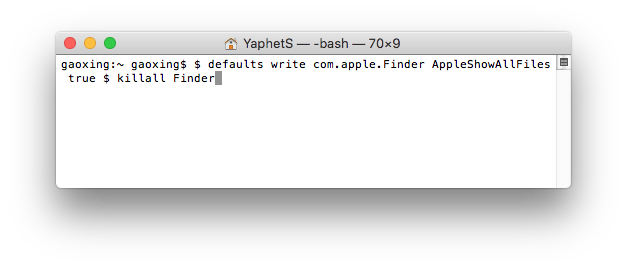 Now the hidden items should show up.
#4 Recover folders disappeared from desktop with software
With the three fixes recommended above, the disappeared desktop folders are not gone. You can easily get them back or make them visible again. However, in worse cases, the folders and files in them are just not there any more.
Here's a common scenario. The other day, you were trying to delete some items and mass selected them. However, your selection included folder A and folder B (which you needed) without you realizing it. These items were sent to Trash, and you performed Empty Trash. Now you are looking for folder A and folder B but in vain. They are not even in Trash. Is there still a way to get them back?
Professional data recovery software like Cisdem Data Recovery for Mac can help you out!
Cisdem Data Recovery for Mac works with most data loss situations such as permanent deletion and formatted data and provides the following main features.
Recover all common files formats and types like images, documents, videos, audios, etc.
Support various devices like Mac's internal storage, external HD, memory card, USB flash drive, etc.
Support 9 file systems like APFS, ExFAT, FAT16, FAT32, HFS+, ext2 and NTFS
Allow you to preview files before recovery
Provide safe, quick and read-only recovery process
Provide easy and risk-free user experience

Free Download
Recover folders disappeared from desktop on Mac in 3 steps
Step 1. Download and install Cisdem Data Recovery. Open it. Choose a suitable solution from the five data recovery solutions provided. Advanced Data Recovery is the most powerful one and works in all cases.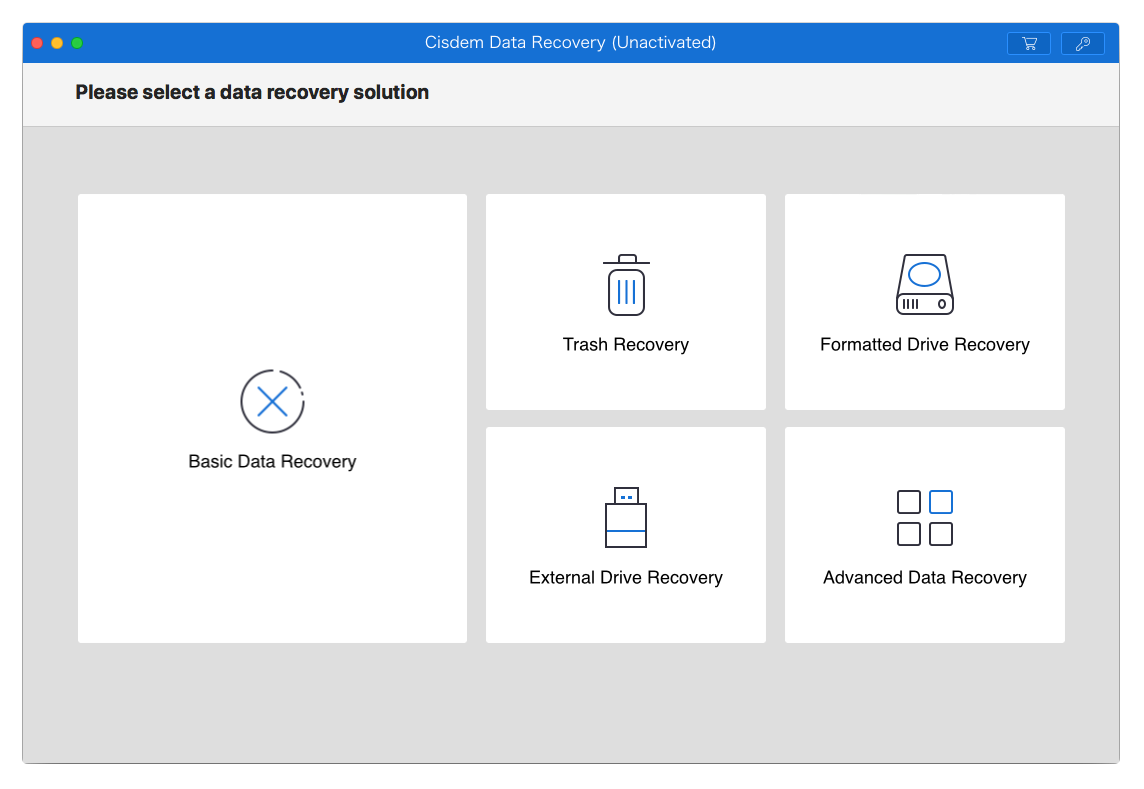 Step 2. Select the drive or partition on which your Mac desktop is located. Click Scan.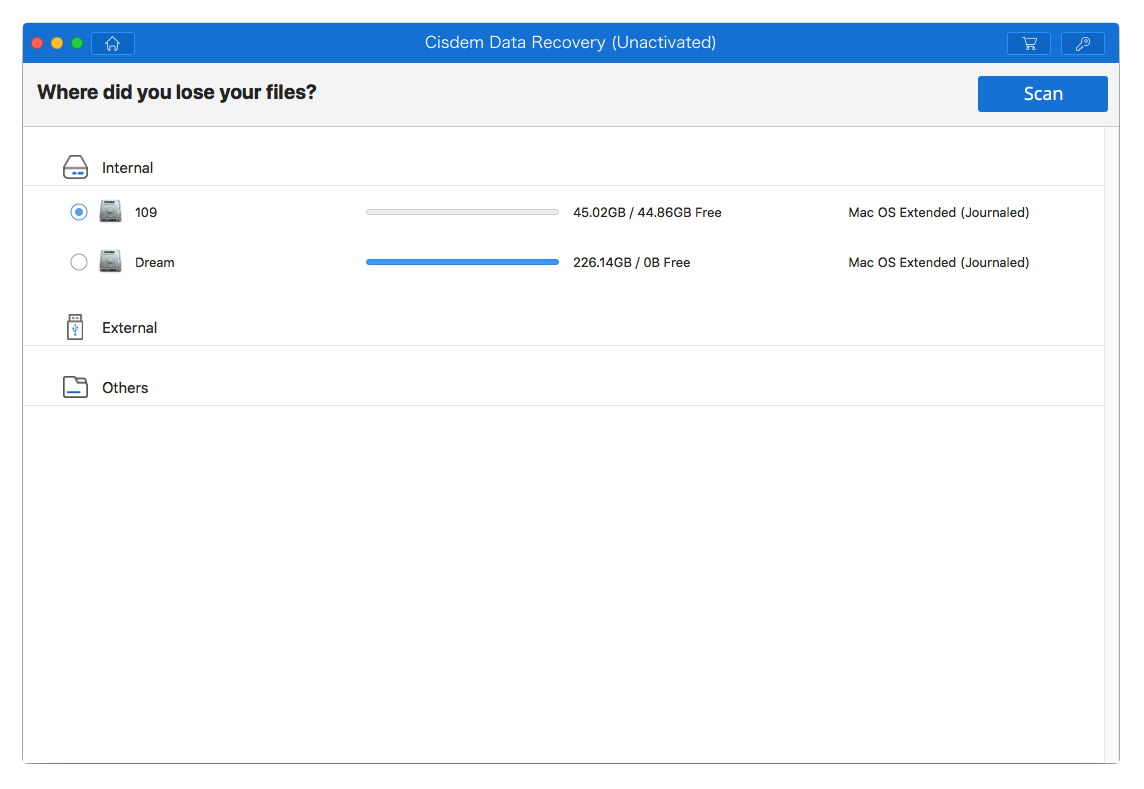 Step 3. As it scans, you are able to view and preview real-time scan results. Under the Path tab, select the checkbox before Desktop folder and click Recover. If needed, you can preview the files in it and switch between different view modes.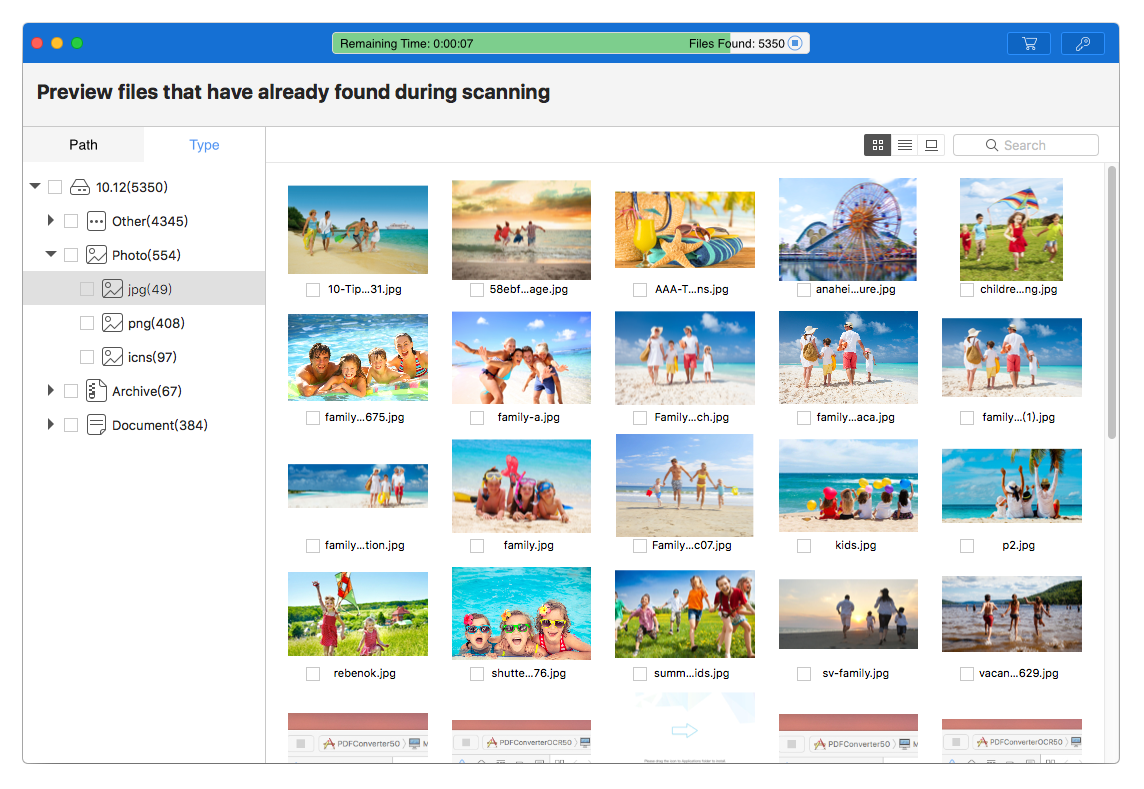 When the recovery is finished, you will find the once-disappeared desktop folders and files.
#5 Restore disappeared folders from Time Machine backup
If you back up your Mac with Time Machine on a frequent basis, things will be easier. In such a case, you can get back folders disappeared from desktop on Mac from the backup.
Step 1. Contact your Time Machine external HD to your Mac. Click the Time Machine icon in the toolbar and select Enter Time Machine.
Step 2. A new window pops up. In the lower right corner, you can scroll up and down the timeline and locate the latest backup made before your desktop folders disappeared.
Step 3. Select the folders you need to get back and click Restore.
Tip: Time Machine is a built-in and efficient solution to back up your Mac. If you haven't used it yet, it's recommended to start using it.
#6 Rename folder name
Some people may need to change their Mac usernames for one reason or another. Sometimes, the change will cause the folder disappeared from desktop problem. What's more, other things such as the background picture will also be gone. It's can be fixed by renaming a folder.
Step 1. Go to Finder. From the top menu bar, select Go > Home. This will open a new Finder window with your username being highlighted.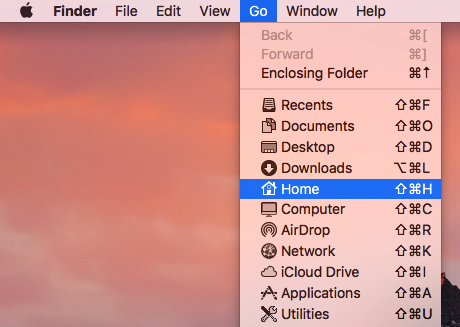 Step 2. Among the folders listed, find the folder that has all your desktop items. Even if these disappeared items may not show up when you search for them, you can find them in one of these folders.
Step 3. Rename that folder with your old username.
#7 Use TinkerTool
One possible cause of the problem is that the desktop features have been disabled. One can fix it by relaunching the Finder. If relaunch doesn't work, there is still another method. One will need a third-party app called TinkerTool. The app is designed to give Mac users access to additional macOS preference and settings. The latest version is 7.42, which fully supports macOS 10.15 Catalina.
Step 1. Download and install the app on your Mac. Launch it.
Step 2. Under the Finder tab, go to the Finder options section. Make sure that the Disable Desktop features option is not selected.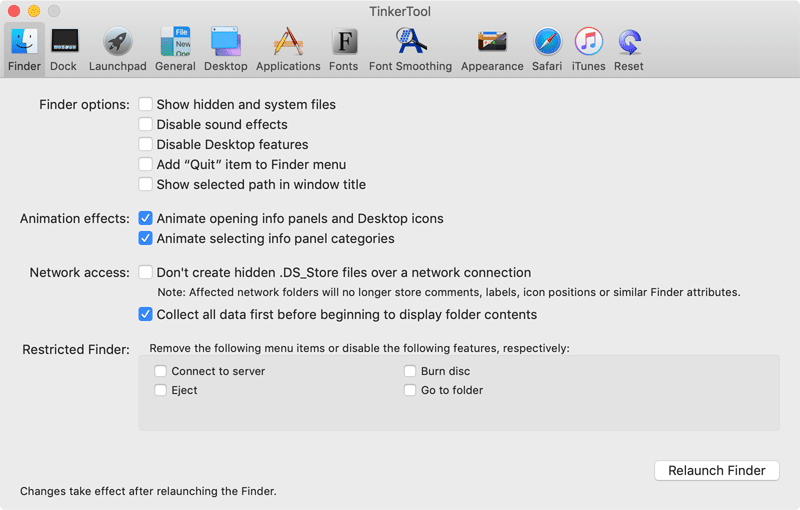 Step 3. Click the Relaunch Finder button in the bottom right corner. That should bring back the disappeared desktop folders and other items if any.
Bonus tips: Everything on my desktop disappeared? What to do
How do I recover my desktop files on a Mac? If everything such as files disappears on your Mac desktop, some of the methods above will also work. In addition, there are also a few tips that might be helpful.
#1 Desktop files disappeared on Mac Mojave?
Available on macOS Mojave and Catalina, the Stacks feature helps you organize and tidy up your desktop. If your Mac desktop files just disappear and don't show up. Don't worry. Just try to disable Stacks.
Step 1. Control-click any blank area on your desktop.
Step 2. Click Group Stacks By.
Step 3. From the options that appear, select None. Now all items should show up on your desktop like they did before.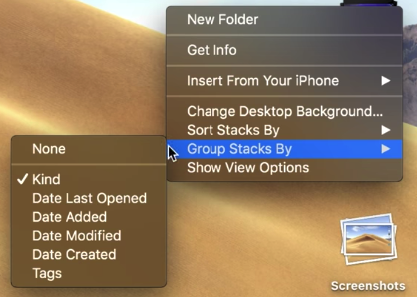 #2 Get missing desktop icons back
The Mac desktop icons disappeared problem also occurs. There are two solutions you can try.
Sort desktop items. Control-click a black area. Select Sort By > Snap to Grid.
Use Finder. Got to Finder Preferences > General. Check these boxes, as shown in the screenshot below.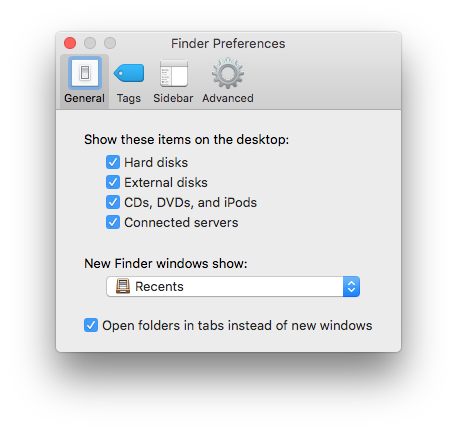 Conclusion
Don't worry if folders disappeared from desktop on Mac. You can try the methods mentioned above. In many cases, it's very easy to bring things back. When it comes accidental permanent deletion, you will need to use professional software like Cisdem Data Recovery for Mac. The software can recover data loss caused by permanent deletion, disk formatting, disk failure and other reasons. For important files and folders, it's highly recommended to regularly back them up.