As a powerful mail system, Yahoo becomes an important part of our life. A number of contacts have been added in Yahoo, so you can contact your friends and colleagues more conveniently. Meanwhile, Yahoo mail offers easy to use tools to import and export Yahoo contacts, which will further help you to manage Yahoo contacts. In this article, we are going to tell how to export contacts from Yahoo.
Export Yahoo Contacts Effortlessly
Export contacts to 8 formats like CSV, Excel and vCard
Sync contacts from various apps and sources such as Mac Contacts, iCloud, Google, Facebook, Outlook, etc
Import contacts from CSV and vCard files
Let you easily find and delete (or merge) duplicate contacts on Yahoo or other apps
Let you effectively view, search, edit, tag and manage contacts
Allow you to backup and restore contacts with 1 click
Easy to use and versatile
Compatible with macOS 10.11 or later

Free Download
How to Export Contacts in Yahoo Mail?
To backup Yahoo contacts for transferring them into another email service, you can export contacts from Yahoo mail to CSV file. The steps to export contacts from Yahoo are so easy. You can finish them within few clicks. Now let's check the steps on how to export Yahoo contacts.
1. Log in to Yahoo account. Go to Mail and click contact icon on the upper right corner.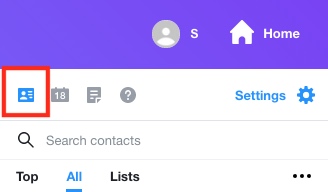 2. The list of Yahoo contacts will be displayed on the second panel. Click the three-dot icon, and choose Export to CSV file.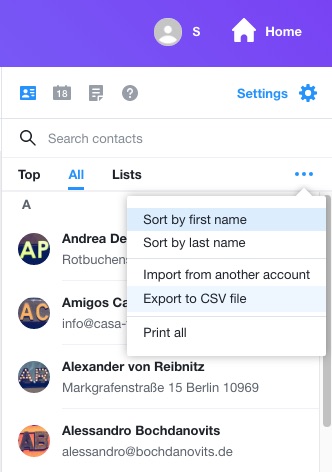 3. Save the exported Yahoo contacts to a suitable location.
Pros:
Easy to operate.
Enable to export Yahoo contacts to CSV file with 1 click.
Cons:
The output format can't be selectable. Only support CSV files.
Unable to sync contacts with other account.
Actually, exporting contacts from Yahoo mail can only meet your basic needs. There are also many other needs we should think of. Such as exporting Yahoo contacts to excel format, grouping contacts, deleting duplicate contacts etc. All of these requirements can be solved with one full-featured program- Cisdem ContactsMate for Mac.
As stated above, Cisdem Contact Management Software owns very formidable functions. It allows you to import, export & sync contacts on Mac. And you can organize, edit, tag, find and delete the contacts in the program like a cork. Address book becomes more and more important to us. Sometimes we need to migrate Yahoo contacts to other email services. Now we will show you how to export Yahoo contacts to iCloud with the contact manager.
1. Download Cisdem ContactsMate on your Mac.
​

Free Download
2. Install and launch it, a window will pop up to ask for authorization.

3. Then you will see the main interface. There are three buttons on the top. Click the second one Add Account.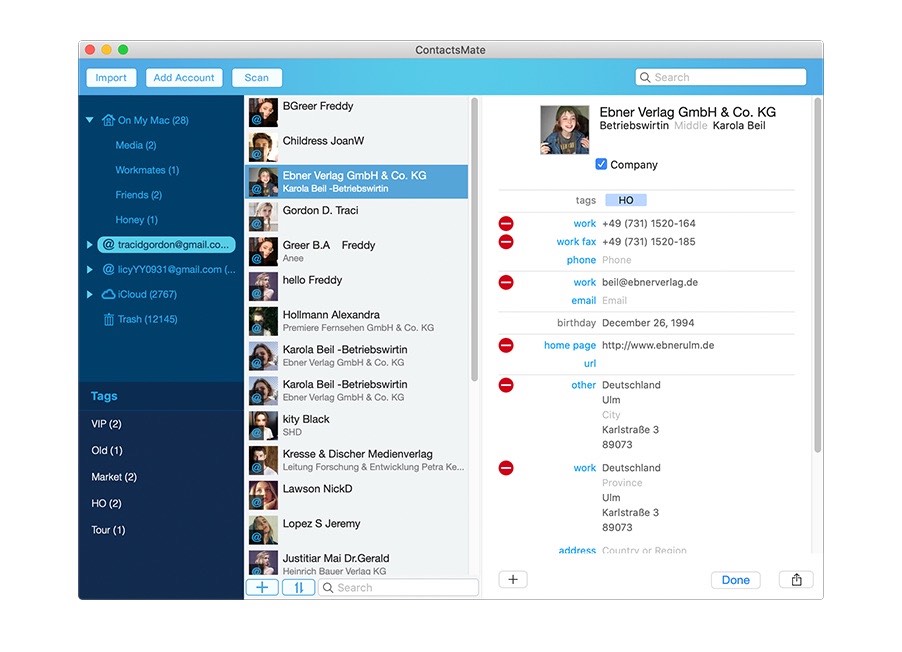 4. Internet Accounts Window will pop out. Scroll down to find Yahoo icon and click it.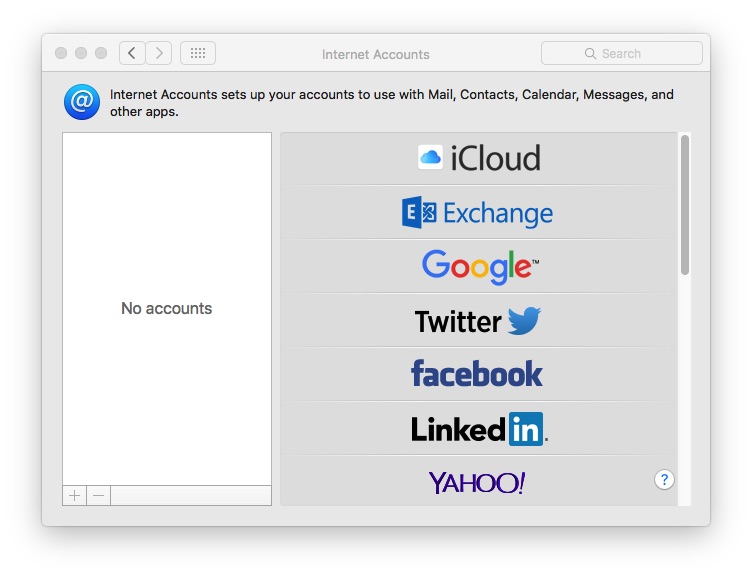 5. Sign in Yahoo account and enable contacts option. Click the
button next to the Updated contacts detected message. Your Yahoo contacts will be synced to the program.
6. Back to the main interface. Now you have 2 methods to export yahoo contacts to iCloud:
Method 1: Choose the Yahoo contacts and export them to your local file system. Right click Yahoo Contacts in the sidebar. Choose Export from the right-click menu. Choose the format you want to export to. Here we choose vCard.
Then import the Yahoo contacts to iCloud. In Contacts on iCloud.com, click Settings then Import vCard. Select the vCard we exported to just now. Now Contacts from Yahoo is exported to iCloud.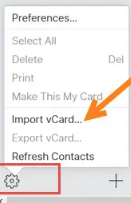 Method 2(Easier way): Sync iCloud contacts to ContactsMate in the same way. Then select all Yahoo contacts in the middle window. Directly drag and drop the contacts on the Yahoo group to iCloud group. (When you turn on iCloud next time, your contacts will sync from ContactsMate to iCloud successfully.)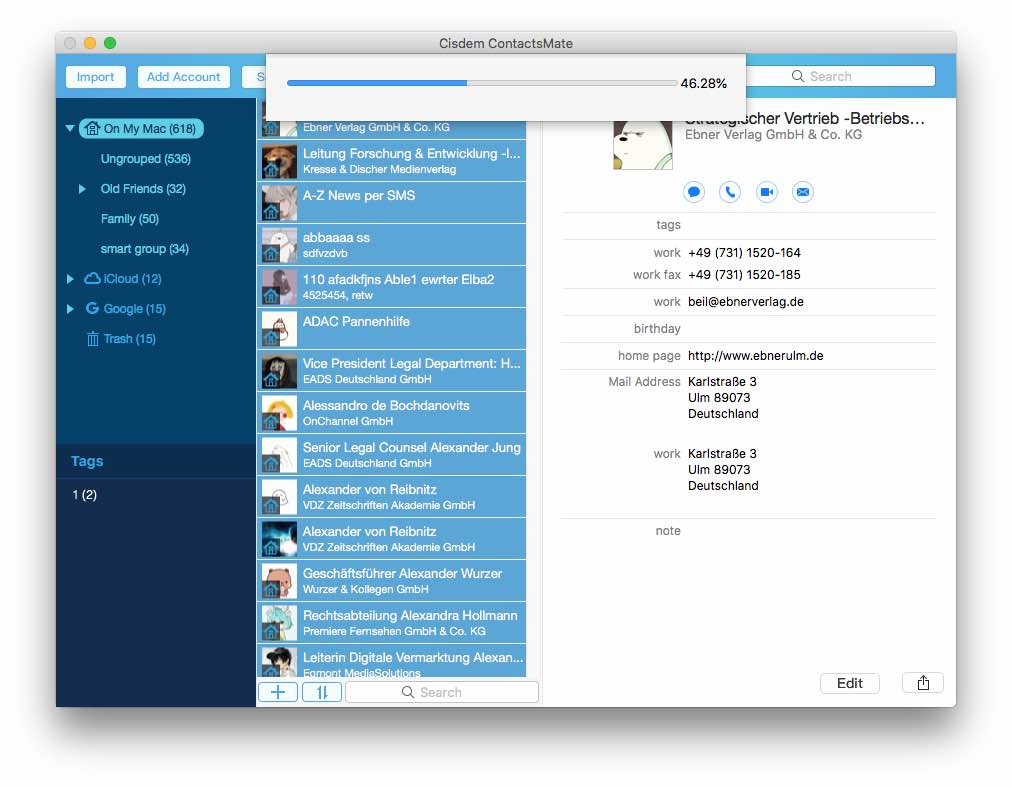 Tip: How to do if you want to export Outlook, Gmail, Facebook etc. contacts as well?
ContactsMate can get contacts from Outlook, Google, and Facebook etc. directly.
You can use the same methods as step 3 to step 5 above to import contacts to the program easily. Then choose the contacts to export. There are 8 output format options provided in ContactsMate: CSV, CSV(Outlook), vCard, TXT, Docx, HTML, Excel, Numbers and Pages.
Conclusion
Obviously, exporting contacts in Yahoo mail is a straightforward process. But if you are a businessman or someone who likes making lots of friends, then you need a piece of contact management software for easily and systematically organizing your contacts. Picking the right contact manger is going to be a very subjective exercise. This article introduced how to export Yahoo contacts easily. Hope it helps.

Peter has always had great enthusiasm for writing, programming and web development. He likes writing about software and technology, his works are featured on some tech blogs or forums like Tom's Hardware, CNET, etc.