iCloud is a cloud storage service from Apple. You can store your contacts there. iCloud can export contacts only to vCard. But what if you want to export them to a CSV (comma-separated values) file?
This article shows you how to export iCloud contacts to CSV in 3 ways on Mac and Windows. We hope you can find a best solution.
Export iCloud Contacts to Any Format on Mac
Support contacts from sources such as iCloud, Mac, Gmail, Exchange and more
Directly export contacts from supported sources to 8 formats
8 formats: CSV, Excel, vCard, TXT, DOCX, HTML, Numbers and Pages
Import contacts from CSV/VCF
Transfer contacts between service/account
Let you view, search, add, edit, group, share, print and email contacts
Find and delete/merge duplicate contacts
Backup/restore contacts with 1 click
Compatible with macOS 10.11 or later

Free Download
Method 1. How to export iCloud contacts to CSV or Excel directly
Applies to: Mac
Mac users can use Cisdem ContactsMate to quickly export contacts from iCloud to 8 different formats including CSV and Excel. In addition to iCloud, this powerful app also works with contacts from Mac Contacts app, Gmail, LinkedIn, Exchange, Facebook and other popular services.
Before getting started, download ContactsMate and install it.

Free Download
Step 1. Open Cisdem ContactsMate. Allow it to access your Contacts when you first launch this app.
Step 2: Click Add Account in the toolbar.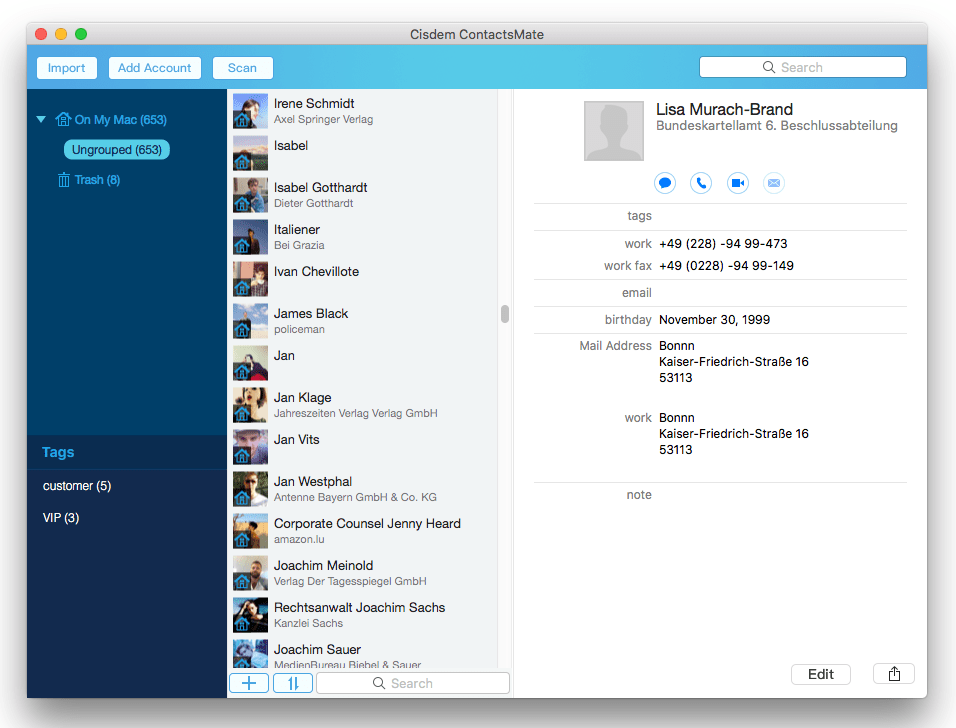 Step 3. In Internet Accounts window, click iCloud and sign in to it.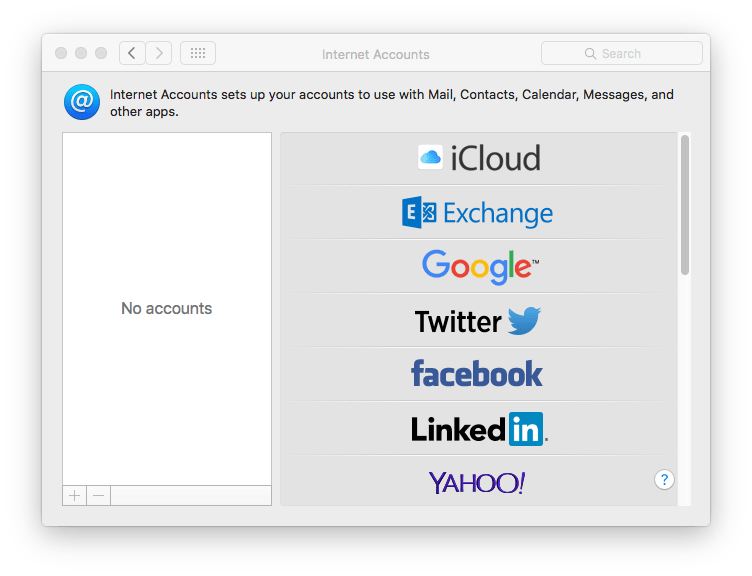 Step 4. Check the box next to Contacts.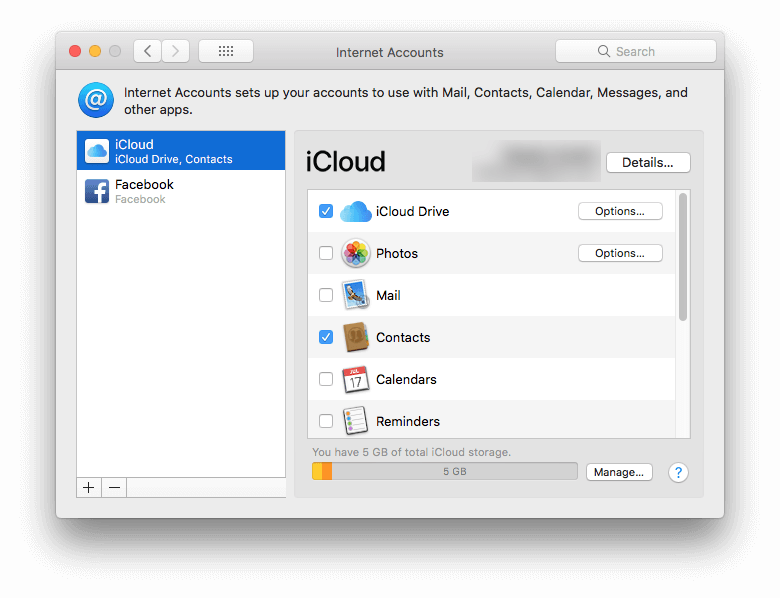 Step 5. Click the
button next to the Updated contacts detected message. Now the iCloud group should appear in the left sidebar. Right-click the group iCloud, and choose Export.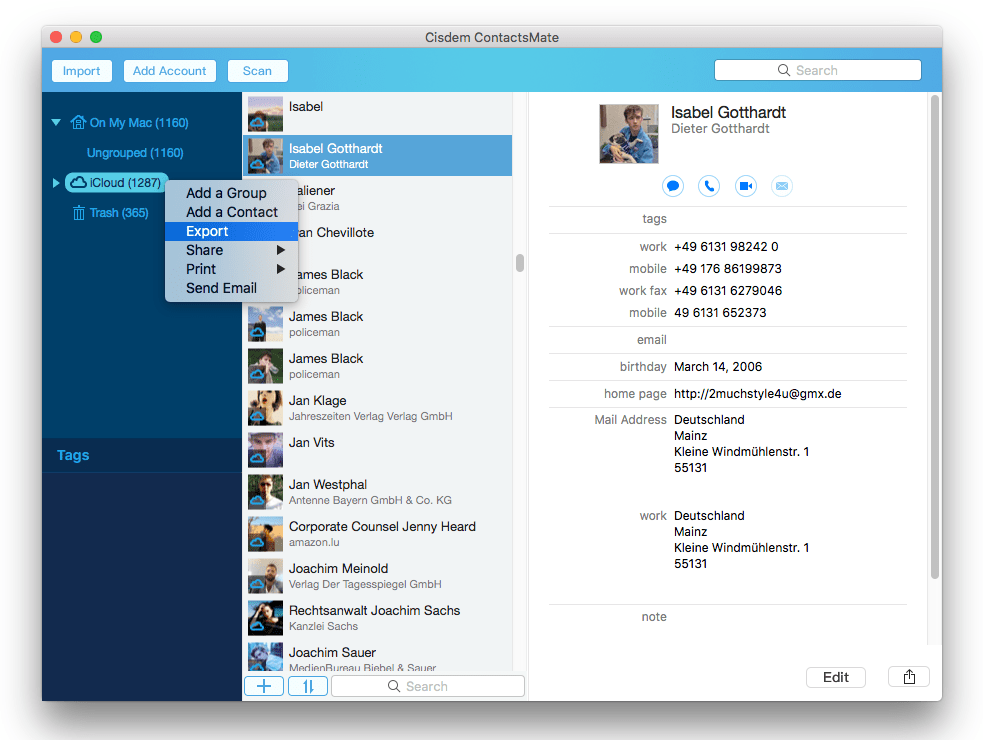 Step 6. In the new window, choose a location on your Mac to save the exported CSV file and name the file.
To export iCloud contacts to CSV, choose CSV from the Format drop-down list. You are able to custom export fields by click the settings button next to Fields. Choose Custom Fields from drop-down list.
To export iCloud contacts to Excel, just choose Excel.
Finally, click Save.
After these simple steps above, iCloud contacts are exported to CSV or Excel file directly.
Tips
1. Export selected contacts from iCloud to CSV
Above is how to export all iCloud contacts to CSV. Here's how to export selected contacts. In Step 4, click iCloud in the sidebar. Select the specific contacts that you want to export. Perform a control-click and choose Export.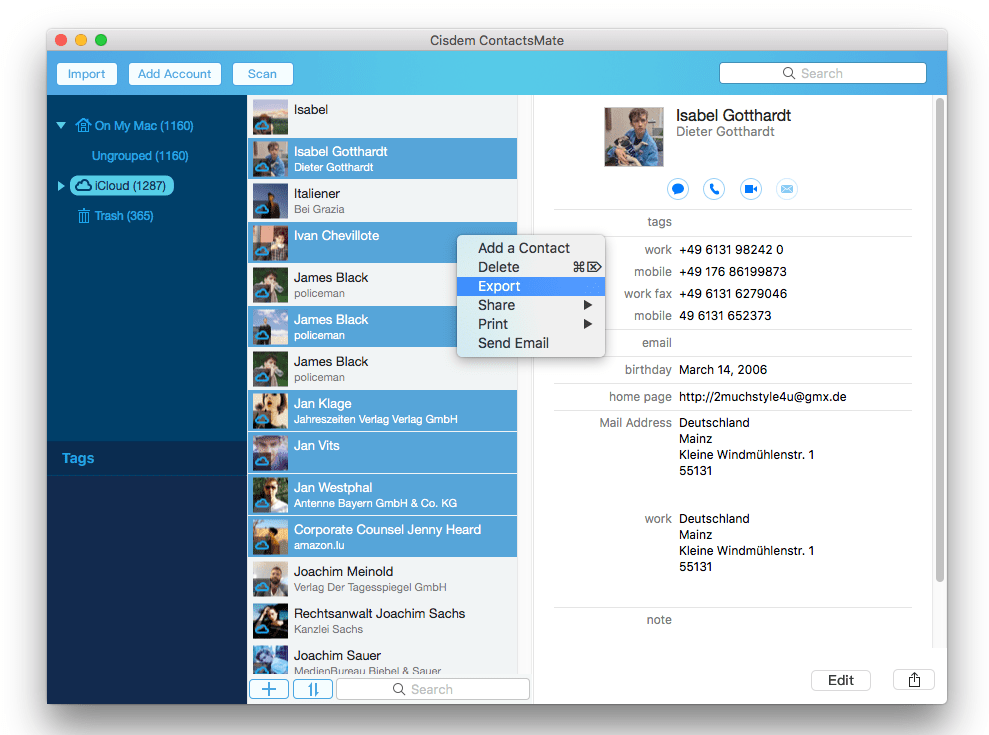 2. Export iPhone contacts to CSV
Sync iPhone contacts to iCloud first and then follow the steps above to complete the export. For details, please check out this guide.
3. Export iCloud contacts to CSV without duplicates
If there are duplicate contacts in your iCloud contacts list, they will appear in the exported CSV file. It will take you some time to find and delete them. So, how to export contacts from iCloud to .csv file without duplicates? Cisdem ContactsMate can give you a hand.
Before exporting iCloud contacts, click the Scan button in the tool bar. In the new window of the scanning result, find Exact duplicate contacts, and click Delete duplicate contacts on the right. Then, click Fix All on the bottom.
In this way, duplicate contacts from iCloud are removed.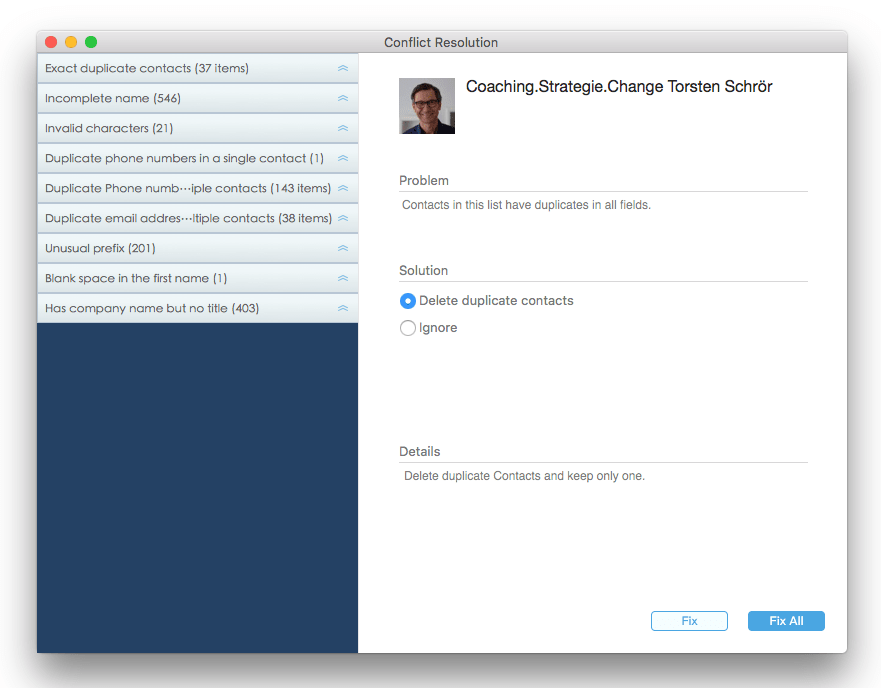 Method 2. Export iCloud contacts to CSV by online converter
Applies to: Windows, Mac
iCloud offers an indirect way to export contacts to CSV. This method consists of two parts. You first need to download contacts from iCloud using the built-in Export vCard feature. After that, convert the downloaded vCard file to CSV using a format converter.
Part 1: Export contacts from iCloud
1. Go to iCloud.com. Sign in to it.
2. Click Contacts, which will lead you to the iCloud Contacts page.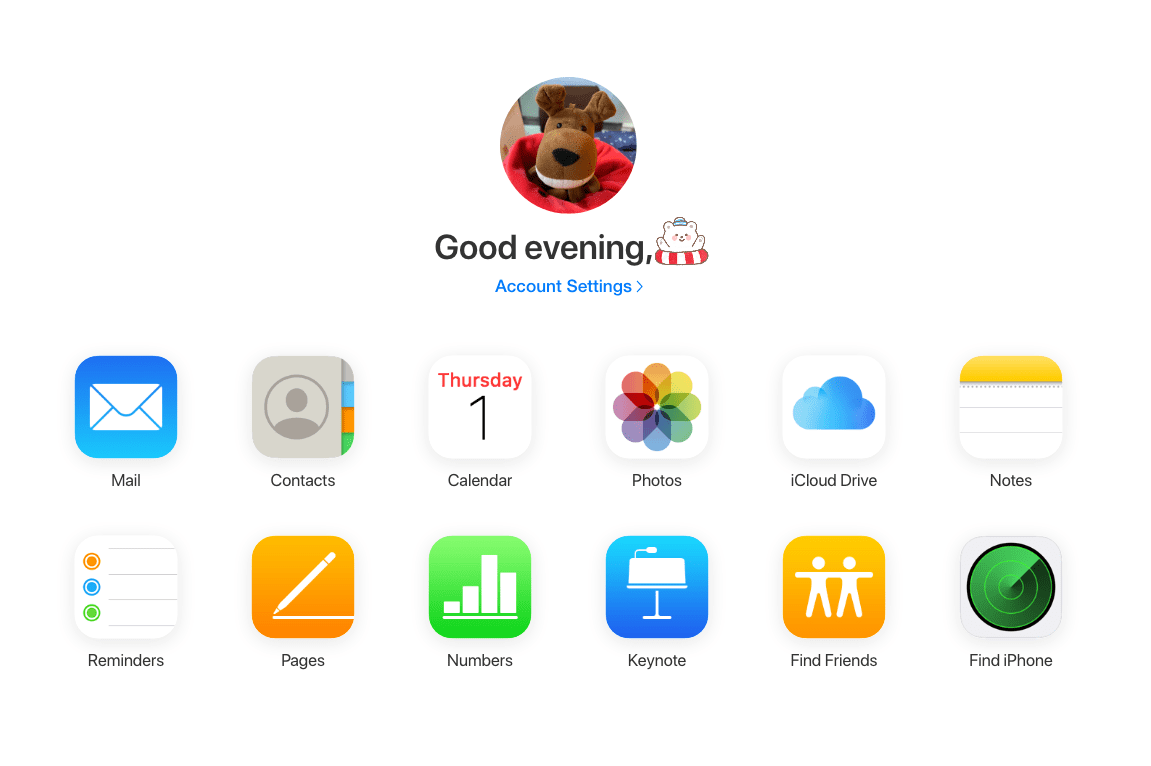 3. In contacts list, select certain contacts you'd like to export or select all contacts.
4. Click the gear icon in the corner and choose Export vCard. Then, iCloud will export a vCard file containing some or all of your contacts.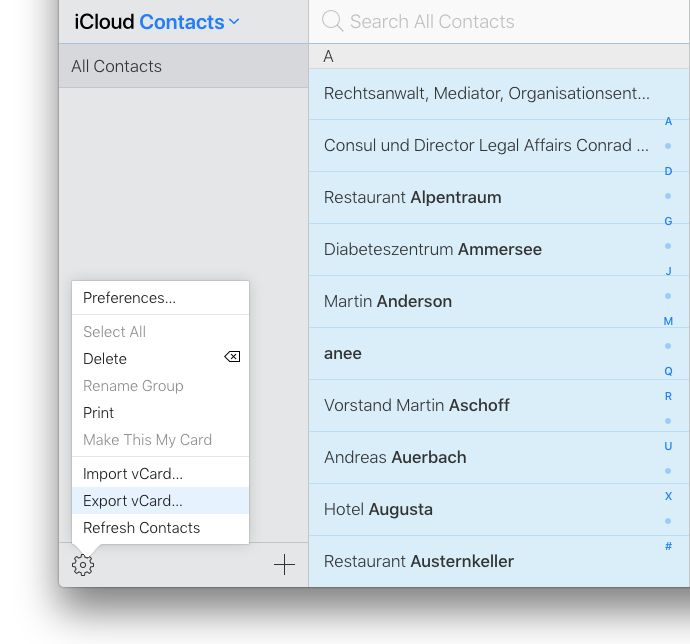 Part 2: Convert vCard to CSV
1. To convert the exported vCard file to CSV, you need to Visit vCard to CSV Converter, an online converter.
2. Click the Choose File button. Select the exported vCard.
3. Click the Format drop-down list and choose CSV.
Click the next drop-down menu and select Comma.
Select the box next to Add header line.
Leave other settings as default.
4. Finally, click the Convert button. After that, you will get a CSV file of iCloud contacts.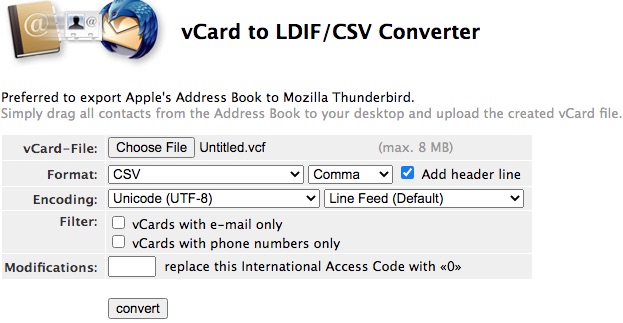 Tip:
1. If you have a large contact list on your iCloud, the exported vCard file could be relatively large. If the file is bigger than 8 MB, then this vCard to CSV Converter won't work. In such a case, you can choose a different tool to do the conversion from vCard to CSV.
2. Some users might are unable to export vCard on iCloud. If you come across this situation, you can try to change your browser to Safari. Chrome or Internet Explorer may not work.
Method 3. How to export contacts from iCloud to CSV with Google Contacts
Applies to: Windows, Mac
Google Contacts is a contact management tool from Google. With the help of Google Contacts, we can export iCloud contacts to CSV file format. It's available as long as you have a Gmail account. This method mainly involves three parts: download iCloud contacts to vCard, import the vCard files to Google Contacts, and export CSV file from Google.
The good news is that you can get a CSV file of iCloud contacts through Google, but the downside is that iCloud contacts will be mixed with Google contacts, making your Google contacts list a big mess.
Repeat the first four steps of Method Two. Get a vCard file of iCloud contacts.
Navigate to Google Contacts and sign in to Google using your Gmail account.
On the left, click Import.
Click Select file and import the vCard file that contains your iCloud contacts.

Now click Export on main menu.
Select the iCloud contacts Group that you just imported and choose Export as Google CSV or Outlook CSV.
Click Export to export iCloud contacts to CSV.
Tip
Difference between Google CSV and Outlook CSV
In step 6, if you need to export your iCloud contacts to Outlook, then choose the option Outlook CSV. And you will find that the column headers in the CSV file are customized for Outlook. If you are to use the contacts with a Google service or app, then choose Google CSV. Regardless of the option you choose, the contacts information is the same. Only the column headers are different.
Benefits of exporting iCloud contacts to CSV
iCloud can export contacts to vCard file format, but why so many people choose to export iCloud contacts contacts to CSV?
You have learned several ways to export iCloud contacts to CSV, and now you can have a look at the table to know some differences and similarities of vCard and CSV.
Conclusion
How do I export iCloud contacts to CSV file? All the three methods introduced in this article are easy to apply. If you want to use the quickest way, you can try the method with Cisdem ContactsMate. The contact manager used in the first method enables you to export contacts to CSV, Excel and other desired formats in a couple of clicks. It also provides other useful contact management solutions. Just download this program and have a try right now!