There are all sorts of reasons for us to block websites on Firefox, especially you notice the websites are offensive or you need set up Firefox parental controls. Plus, when using Firefox on Mac in office, you might also intend to block special websites on Firefox to avoid being peeped, like Facebook, Twitter, LinkedIn, etc.
As far as I know, Firefox doesn't provide a built-in function to block Mac websites. So what will you do to fulfill the purpose? In this article, we offer three ways to you on how to block websites on Firefox.
How to Block Websites on Firefox Using Add-ons
Firefox contains a large number of add-ons that you are able to apply for blocking certain websites. To be precise, these add-ons actually are extensions which can be added to Firefox and perform their given functions. If you are interested in this kind of method, please read the steps below to learn how to block websites on Firefox using add-ons.
Visit Firefox and click menu bar to select Add-ons. Then click Get Add-ons tab on the left side of the window. Scroll down to find See more add-ons and choose it to open a new window with the add-ons market.
Search any extensions that can block websites on Firefox in search bar. Here we will set Block Site as an example.
Add and install Block Site extension to Firefox. Click I don't want to help in the new tab. This may assist you protect browsing data.
Go back to main interface and click Extensions. Find Block Website and set its preference. Now you can add any websites to the blacklist, such as facebook.com. In this case, you will be kept out of the Facebook.
How to Block Websites on Firefox via Hosts File
The Hosts file is a system file that is mainly used to transfer domain names to IP address. It is small in your Mac, but it plays an important role on mapping hostsnames to stipulated IP address. Using Hosts file to block websites on Firefox on Mac is also simple, now let's pay attention to the steps.
Open Finder and navigate to Go > Go to Folder in menu bar. In the box, type /etc/hosts or /private/etc/hosts and hit Enter.
Find the Hosts file and drag it to desktop for edicting. Since the original file is locked.
Edit the Hosts file on desktop. If you want to block Facebook website on Firefox, you can write 127.0.0.1 www.facebook.com or 0.0.0.0 www.facebook.com.
Drag the desktop file back to the original location and replace the old Hosts file. Then your Facebook website will be blocked on Firefox.
Extended: How to Block Websites on Mac with an Application
Cisdem AppCrypt for Mac is a quite supernatural and full-featured app locker. It can block any websites on Mac with one password. So you can feel free to block websites on Safari, Chrome, etc. with it. In addition, it's able to password protect any significant apps on Mac like Skype, Contacts, Note, YouTube, Email as well.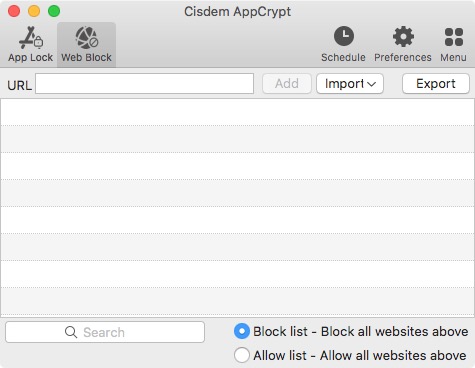 Note: Cisdem AppCrypt doesn't support blocking websites on Firefox now.

Free Download
Key features of the program:
Come with compact interface and easy to operate.
Allow you to block websites and apps on Mac at a specific time voluntarily once you set a time value.
Two options to block websites on Mac. You can choose add websites to Block list or Allow list.
If some bad guys make an attempt on accessing to your blocked apps and websites, the system will take photos directly with exact date and time.
Work as background process and don't take CPU load while idle.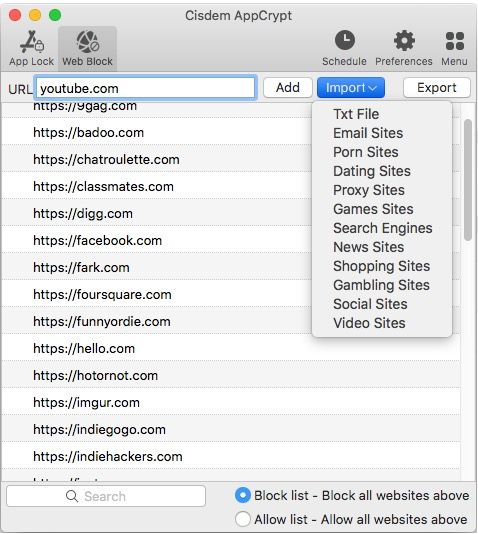 Peter has always had great enthusiasm for writing, programming and web development. He likes writing about software and technology, his works are featured on some tech blogs or forums like Tom's Hardware, CNET, etc.