YouTube is the most popular video-sharing platform in the world, providing videos about almost everything. YouTube videos can be entertaining or useful or both. But they can also be addictive and distracting. To prevent YouTube from distracting you or stop your YouTube addiction, you can block access to it. This article shows you how to block YouTube on Mac easily in 6 ways.
The Best YouTube Blocker for Mac
Block websites on Safari, Chrome, etc. with password
Support browsers' normal mode and private/incognito mode
Let you block specific websites and pages, and URLs with certain words
Also let you block all websites except the ones you allow
Lock apps with password
Let you block websites and lock apps permanently or during certain times
Easy to use
Hard to bypass
Help block YouTube access, for your children or yourself
Help with parental controls, productivity, privacy protection, etc.
Compatible with macOS 10.12 or later, including macOS 13 Ventura

Free Download
How to block YouTube on Mac in the easiest way
Applies to: macOS 10.12 Sierra or later
There isn't an official YouTube app for Mac. To watch YouTube videos on a Mac, one needs to go to the YouTube website. So blocking YouTube is basically about blocking youtube.com.
For Mac users, the most effortless and effective way to block access to YouTube is to use Cisdem AppCrypt, the best website blocker and app locker for Mac. This method allows you to block websites on both Mac's administrator accounts and other user accounts, such as a kid's account.
Below are the steps to block YouTube on MacBook Air, MacBook Pro, iMac and other Mac computers.
1. Download and install the YouTube blocker.

Free Download
2. When you open it for the first time, set a password. It's recommended to select the Launch at System Startup checkbox.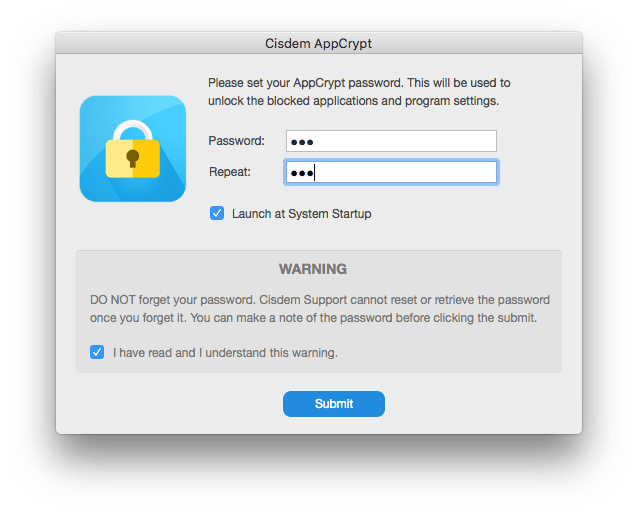 3. Click the lock icon in the menu bar and choose Open Main Window.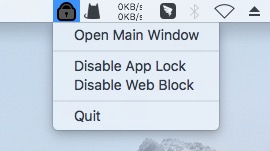 4. Enter the password, and you will see the main window.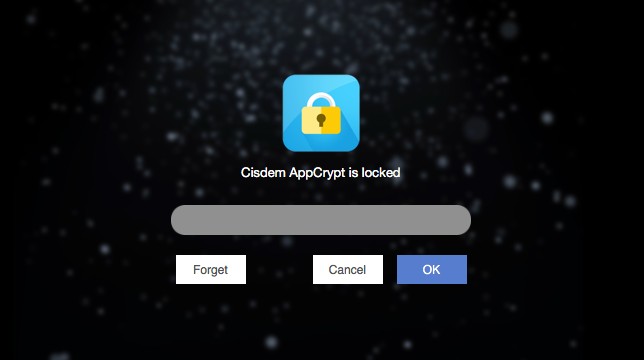 5. Under the Web Block tab, enter youtube.com and click Add.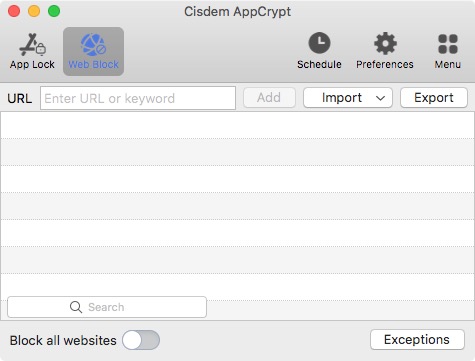 You can also add YouTube to block by clicking the Import dropdown menu and choosing the Video Sites option. This way, all popular video websites will be added to block.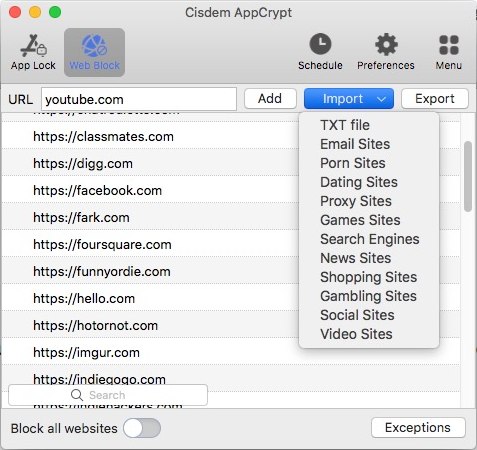 Now YouTube is permanently blocked on Safari, Chrome and other popular web browsers on Mac. When your children or you try to access YouTube, it won't open.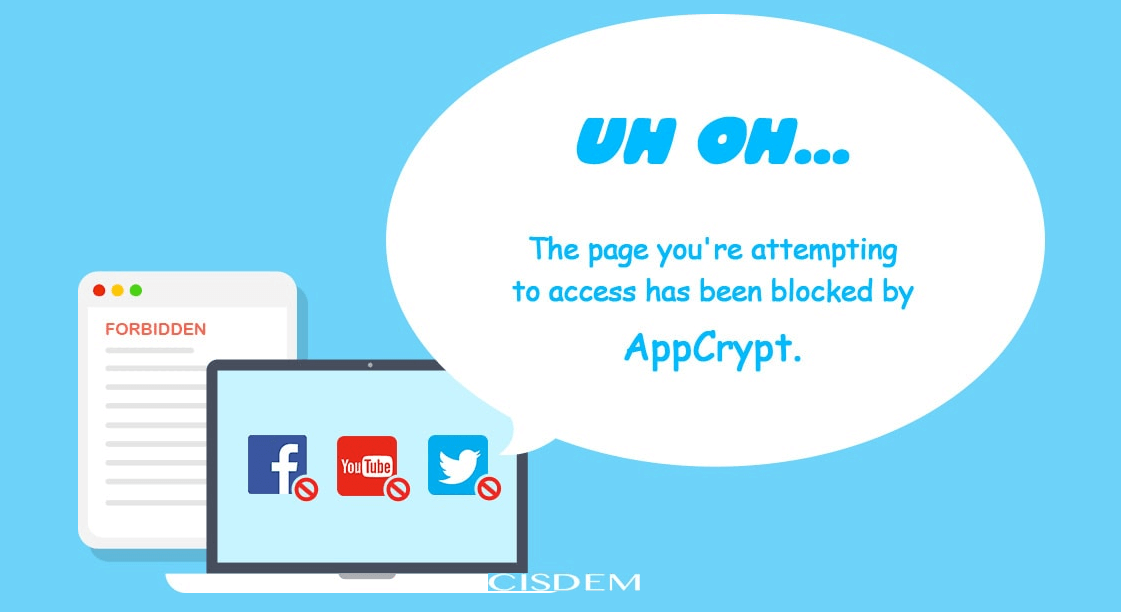 To unblock YouTube, there are three ways. Quit AppCrypt. Go to the Web Block tab and remove youtube.com. Or, click Disable Web Block. Any of the three ways requires one to enter the password. So, as you can see, the blocking is effective and hard to bypass. To prevent yourself from accessing YouTube, you can ask someone else to set the password.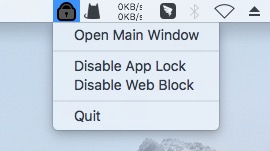 Tip 1: If you only want to block YouTube on Mac at certain times, you can go to the Web Block tab, select youtube.com, click the small clock icon that appears, and schedule the blocking. You can specify the times of the day and days of the week, such as work hours or school days.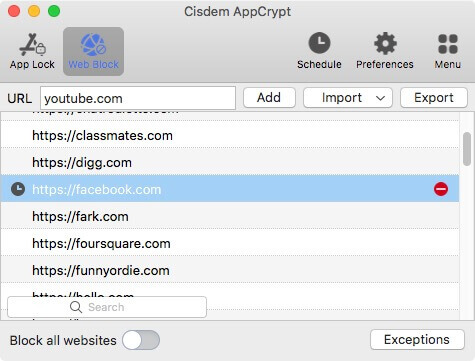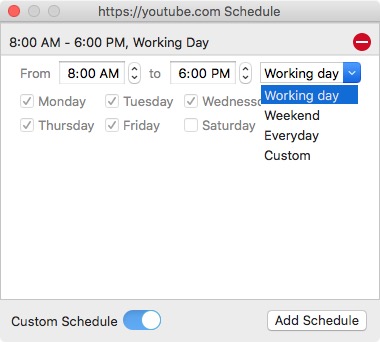 Tip 2: You can also make YouTube inaccessible by blocking all websites except the allowed ones. To do this, go to the Web Block tab, enable Block all websites, click Exceptions, and adding specific websites to the Always Allow list.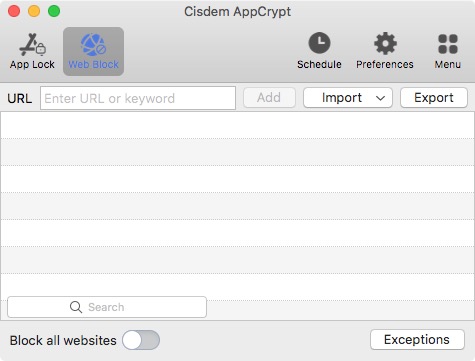 Tip 3: If there is a third-party YouTube app on your Mac and you also want to block or restrict access to it, you can go to the App Lock tab and add YouTube.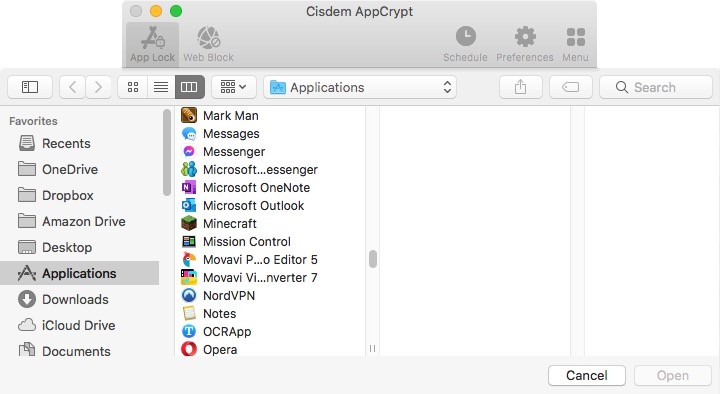 Other ways to block access to YouTube on Mac
Use Screen Time
Applies to: macOS 10.15 Catalina or later
Included with macOS 10.15 or later, Screen Time is useful and versatile. It can be used to completely block YouTube on Chrome Mac and Safari Mac. With Screen Time on Mac, you can set up the blocking for yourself on an administrator account. And you can also block YouTube on a child's Mac or on a child's user account on your Mac.
1. On your Mac, go to System Preferences > Screen Time.
2. Go to Options. Turn on Screen Time and set a Screen Time passcode.
3. In the Screen Time window, click Content & Privacy on the left.
4. Click the Turn On button to enable Content & Privacy Restrictions.
5. Under the Content tab, select Limit Adult Websites.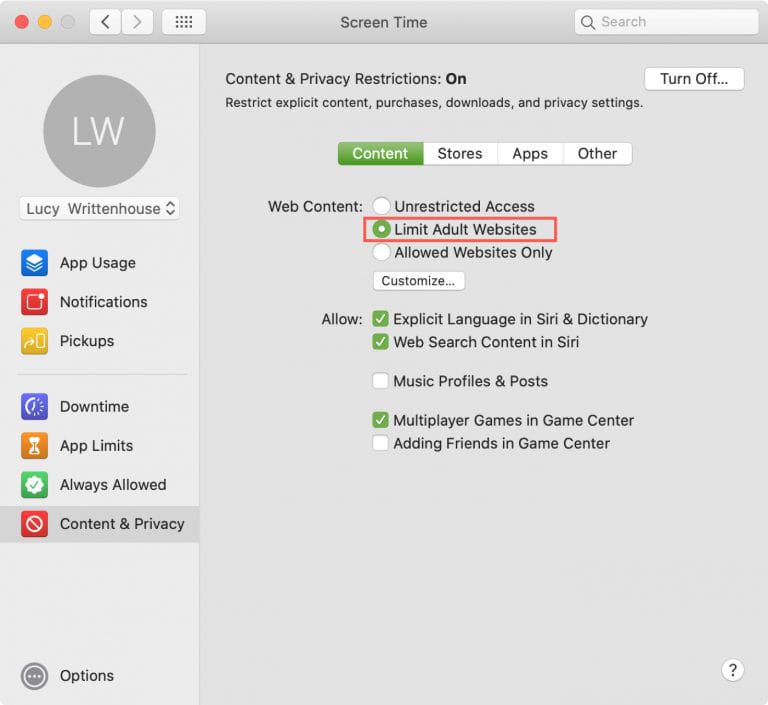 6. Click the Customize button that appears.
7. Under Restricted, click the plus icon (+) to add YouTube to the Restricted list. Click OK.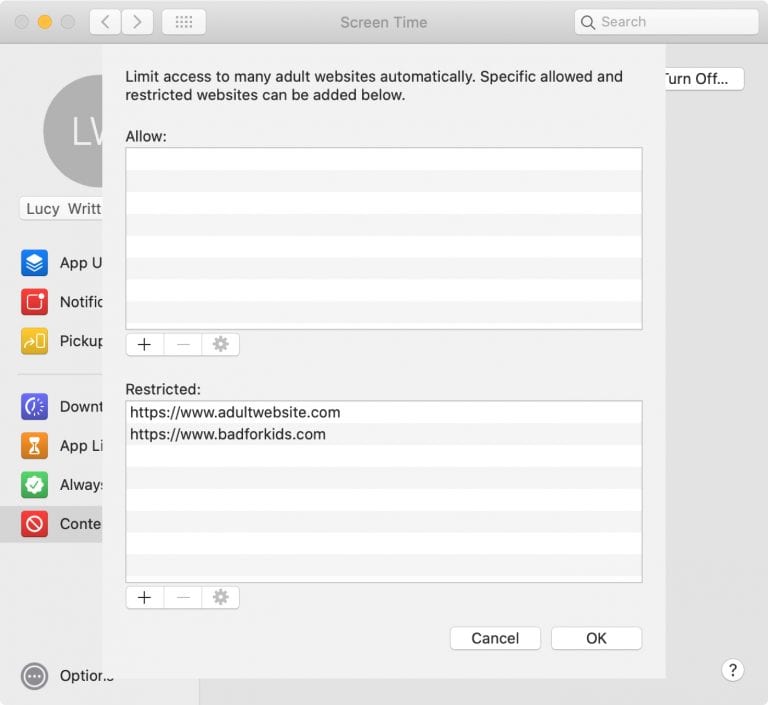 To unblock the website, remove it from the Restricted list. Alternatively, enable Unrestricted Access (as shown in step 5) or turn off Content & Privacy Restrictions (in step 4).
Additionally, despite the name, Screen Time's App Limits feature can help you put a time limit on YouTube on Safari.
Use Parental Controls
Applies to: macOS 10.4 Tiger - macOS 10.14 Mojave
Screen Time is not available on earlier macOS versions, whereas Parental Controls is provided. Parental Controls is very similar to Screen Time when it comes to restricting web content.
However, with this method, the blocking can only be applied to a non-administrator user account, which means that it's not a good choice if you want to block your own access to YouTube. If you are a parent who wants to set up the blocking for a child, you can consider this method.
1. Go to System Preferences.
2. Click Parental Controls.
3. Now create a new user account with parental controls. Click the lock icon on bottom left and enter the password to allow changes.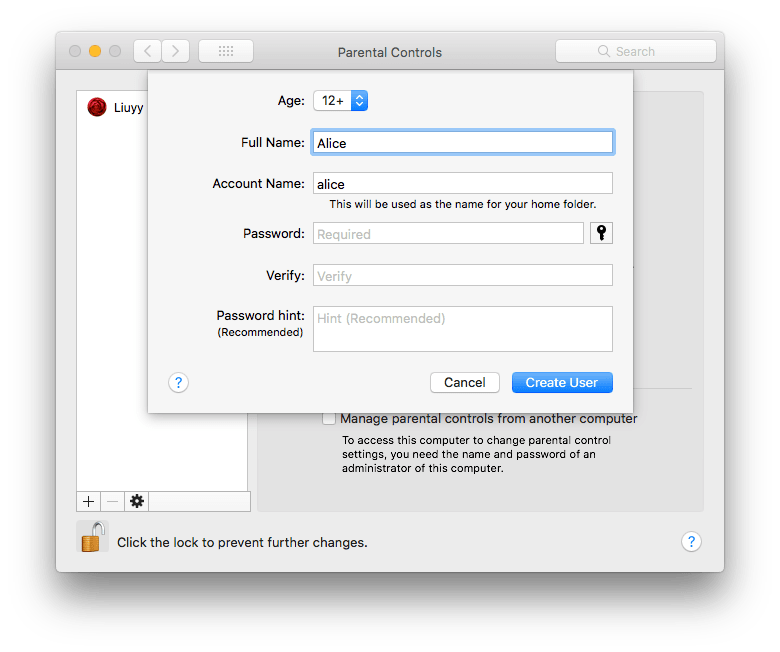 4. Select the user account from the left menu. Go to the Web tab. Enable Try to limit access to adult websites.
5. Click the Customize button.
6. Under Never allow these websites, add YouTube to the list. Click OK.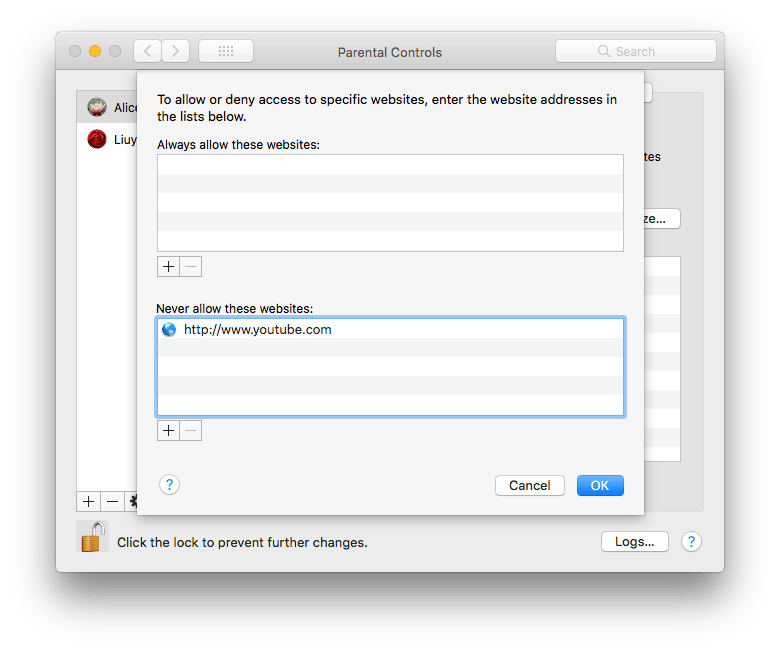 If you want to make the YouTube app inaccessible, go to the Apps tab (in step 4) and turn on Limit Applications on this Mac.
When you finish setting up, you can click the lock icon in the corner to prevent further changes.
Use Terminal
Applies to: All macOS versions
You can also block YouTube on Mac with Terminal, which is the command line app included with macOS. The blocking, which is done by editing your Mac's hosts file (an operating system file) in Terminal, will apply to all browsers on your Mac. This method is not recommended unless you are comfortable with the command line.
1. On your Mac, open the Terminal app.
2. Type "sudo pico /etc/hosts".
3. Enter your admin password.
4. Type "127.0.0.1" and then type "youtube.com".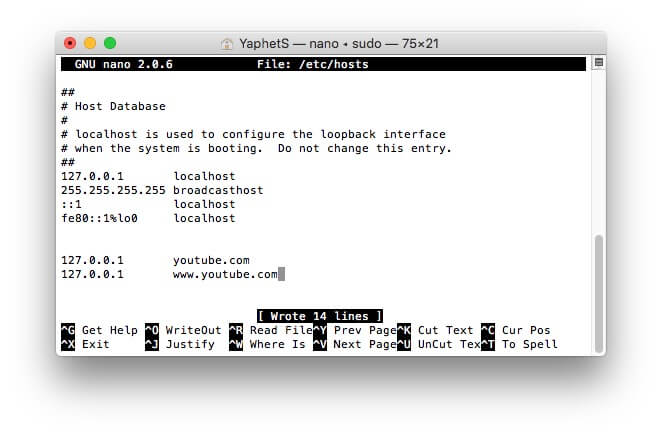 5. Type "127.0.0.1" and then type "www.youtube.com".
6. Use the Ctrl-O shortcut and then press the Return key.
Now YouTube is blocked. But it will still open in your web browser until you clear the cache. You can verify the blocking using your browser's incognito mode (which is cache free).
How to unblock websites on Mac Terminal? Just delete the websites that you have typed.
Use BlockSite
If you think blocking access to YouTube at the browser level is good enough for you, you can use a browser extension like BlockSite to get the job done. You can add BlockSite to Google Chrome, Firefox or Microsoft Edge on your Mac. If your browser is Safari, then you need an extension called about:blank. But note that an extension can be easily removed by anyone who uses this computer.
1. Add BlockSite to your Chrome or Firefox.
2. Click its icon in the browser's toolbar.
3. Click Edit block list.
4. Enter youtube.com in the Enter a web address field and click Add Item.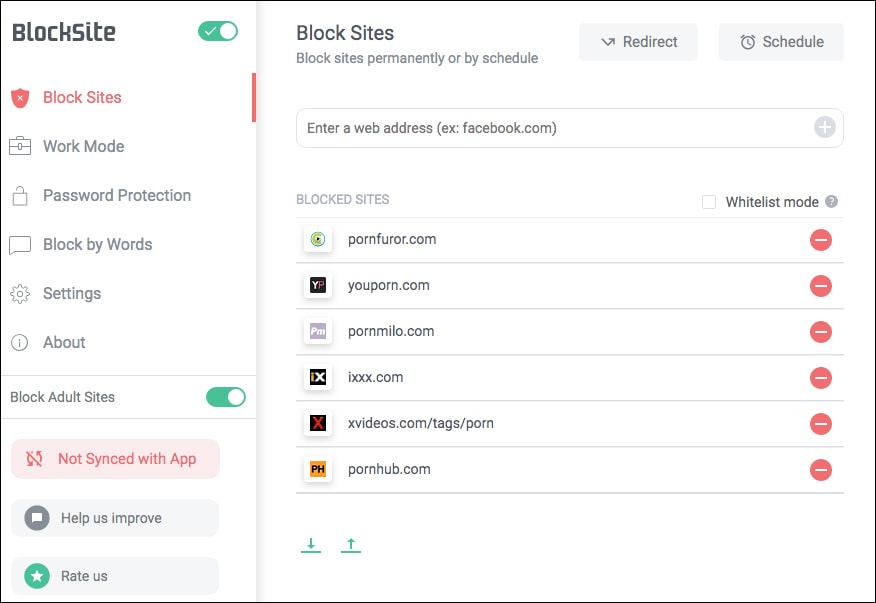 Use Router
Here's a way to block YouTube on all devices in your home. Most routers have built-in web filtering. Once setting it up, you are able to block access to YouTube on all computers and phones that are connected to Wi-Fi. The process differs by router. Here I'll show you how to limit access to YouTube via my TP-Link router:
1. Open your browser and log into the router's web interface.
2. Go to Access Control. Click Target.
3. Tap Add New on the Target Settings window.
4. Select URL Address as the Mode type.
5. Enter a short description of this setting, such as Block YouTube.
6. Add the domain name of YouTube or just the keyword to the Add URL Address box. Click Add.
7. Click Save.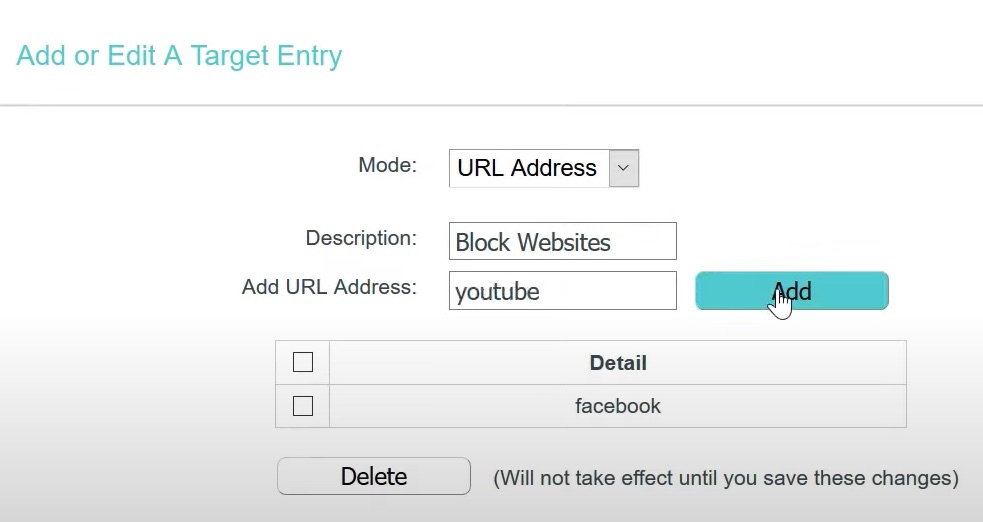 Bonus tips
How to choose the right YouTube blocker for you or your child?
You can choose according to your needs, for example:
How to block YouTube during certain hours of a day for studying?
You can easily block YouTube during certain hours of the day using third-party YouTube blocker tool, such as Cisdem AppCrypt and BlockSite extension. Some routers also have schedule feature like TP-Link.
How to block YouTube, Twitter and Facebook, etc. on my Mac for improving my productivity at work?
AppCrypt allows users to block websites by categories, including social media, porn sites, game site, etc. If you are always distracted by social media and cannot stay focused while working, block them with one click!
How do I block access to YouTube on Mac in all browsers?
To block access to YouTube on Mac in all browsers, it's recommend to using the Terminal method.
Can I block YouTube on Mac without downloading any software?
You can block YouTube on Mac through Screen Time, Parental Controls, Terminal, extension, or router. All of these methods don't require you to install software.
Is there a way to block YouTube on Mac with password?
AppCrypt is the best tool to block YouTube with password on Mac. It enables you to easily unblock YouTube and other blocked sites with 1-click. Just click the lock icon on the menu bar. Select Disable Web Block. Then enter the password.
How to block YouTube channels from appearing
YouTube recommends videos to users. But some recommended videos are unwanted or even inappropriate. YouTube itself provides an option to block specific channels from appearing again in your recommendations. Hover your mouse over the video thumbnail, click the three-dot icon and choose Don't recommend channel. Note that you need to sign in to access the option.
Conclusion
The article talks about how to block YouTube on Mac Catalina, Big Sur, Monterey, Ventura, and some earlier versions. YouTube videos are useful or fun to watch. But if you find yourself spending hours on YouTube, you know that you may need to block or limit access to it. Spending less time on YouTube and other addictive websites can help you become more productive in work, study or everyday life.