This article will show you how to block YouTube on Mac easily. YouTube is the most popular video sharing website with videos about almost everything. YouTube videos can be entertaining or useful or both. But they can also be addictive and distracting. Blocking YouTube and other distractions on Mac helps you become more focused and productive. The blocking also helps parents reduce children's screen time.
There isn't an official YouTube app for macOS, unlike for iOS and Android. To watch YouTube videos on Mac, you need to go to the YouTube website. So blocking access to YouTube is basically blocking youtube.com. That being said, some Mac users use third-party YouTube apps. This article shows the easiest way to block YouTube website and app on a MacBook Pro, MacBook Air or iMac etc.
The Best YouTube Blocker for Mac
Block any websites such as YouTube with password on Safari, Chrome, etc.
Offer 2 blocking modes: Block list and Allow list
Password lock any apps such as YouTube, Photos, Messages, etc.
Offer a schedule feature to block sites and lock apps at certain times
Help stop YouTube addiction
Help increase productivity by reducing distractions
Help with parental controls by blocking bad sites
Easy to use
Hard to bypass
Support macOS 10.12 or later, including macOS 13 Ventura

Free Download
How to block YouTube on Mac in the easiest way
Applies to: macOS 10.12 or later
For Mac users, the most effortless way to block access to YouTube is to use Cisdem AppCrypt, the best website blocker and app blocker for Mac. Unlike some other methods in the article, this one enables you to block websites on a Mac administrator account.
1. Download the YouTube blocker and install it.

Free Download
2. When you open the app for the first time, set a password as required.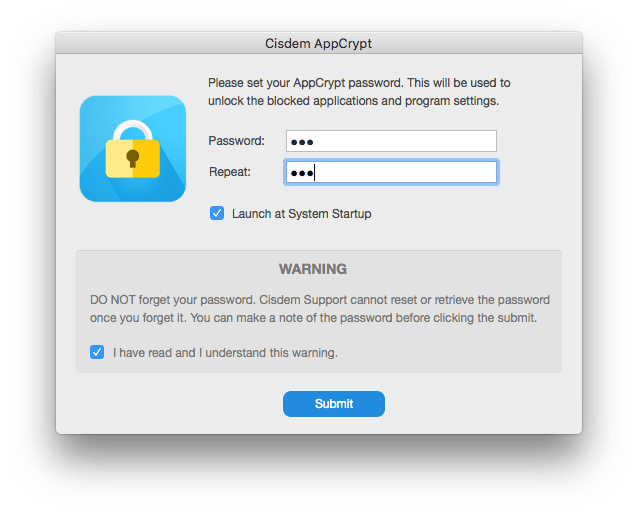 3. In the menu bar, click the app's icon and choose Open Main Window. Enter the password when asked.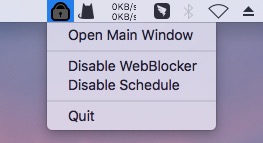 4. In the main window, choose the Web Block tab.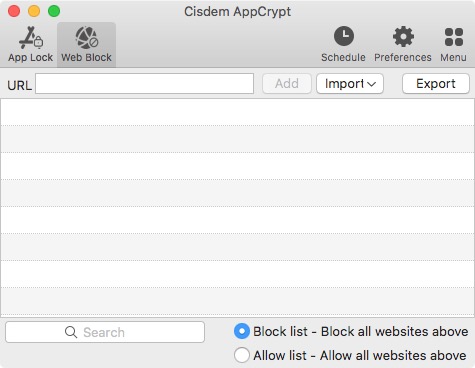 5. In the URL box, enter the website youtube.com and click Add.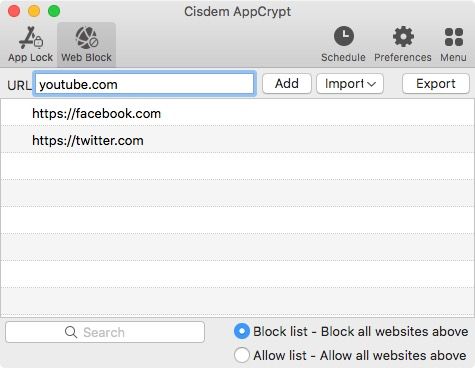 Now YouTube is blocked on your Mac. When you try to open YouTube on your Safari browser or Chrome browser etc., the website won't open, and you will see the message below.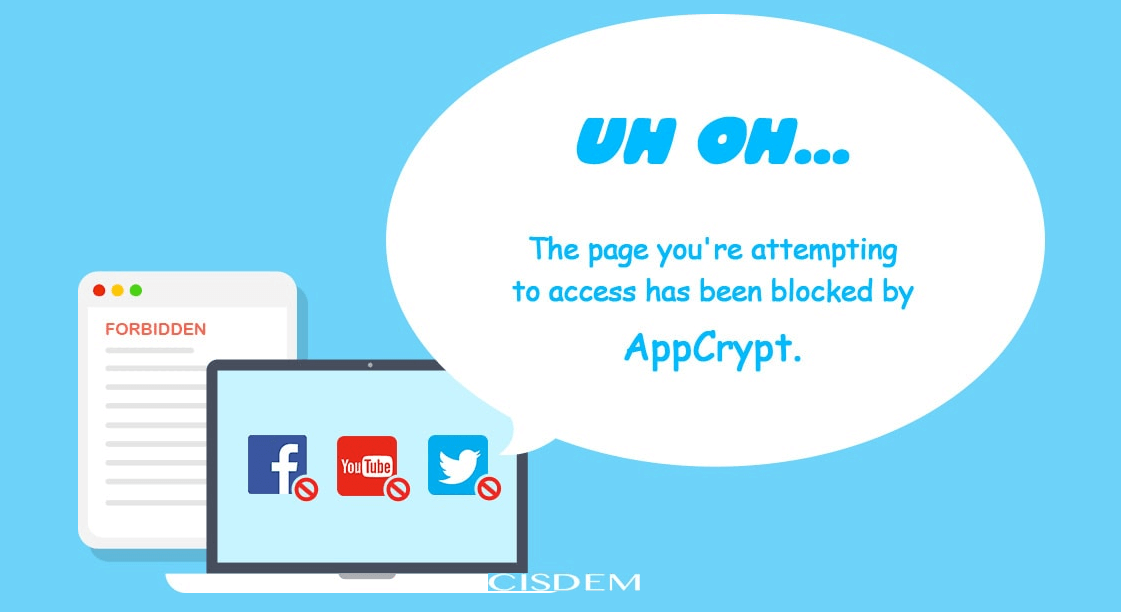 To unblock YouTube, you have 2 options. Under the Web Block tab, select youtube.com, control-click and choose Remove. The site will become accessible right away. Or, you can temporarily unblock YouTube (and other blocked sites) by clicking Disable WebBlocker. Click Enable WebBlocker to continue the blocking.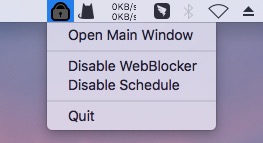 The blocked youtube.com is hard to bypass due to the password. Every time unblocking sites, accessing AppCrypt's main window, changing any settings, quitting AppCrypt or uninstalling it, etc. require password.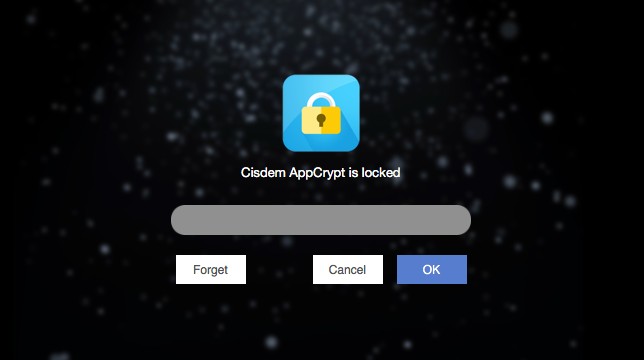 To block YouTube from yourself to be more focused at work or study, you can ask someone else to set the password for you.
Tip 1. Block access to YouTube app on Mac
In the main window, choose the App Lock tab. Click the plus icon then select the (third-party) YouTube app from the Applications folder. Click Open. Now it's locked. One needs to enter the correct password to open it. To unlock the app, select it and click the Back key on keyboard.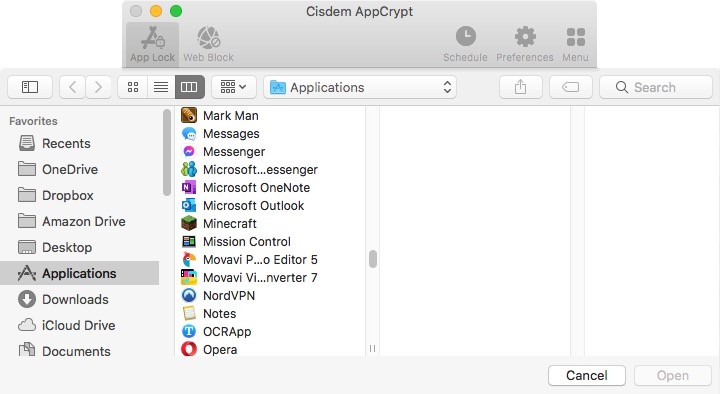 Tip 2. Disable access to YouTube during certain hours
You have learned how to block YouTube on Mac permanently or temporarily with AppCrypt. You can also disable YouTube access based on recurring schedules.
Under the Web Block tab, select youtube.com, click the clock icon next to it, enable Custom Schedule and click the Add Schedule button. Specify times of the day and days of the week. Add multiple schedules if needed. For example, you can set it to prevent access to YouTube during school days and hours.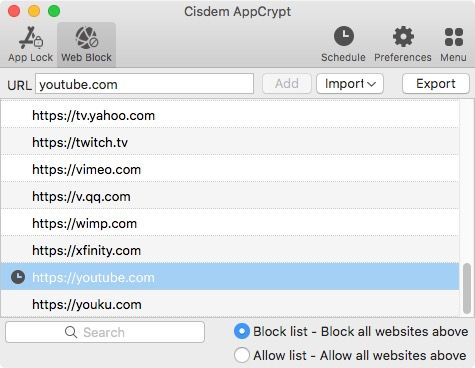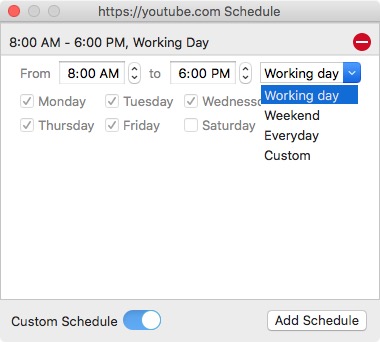 Tip 3. Effortlessly block YouTube and other video sites with 1 click
Instead of manually adding youtube.com to block, you can import the preset list of Video Sites. The list contains YouTube and many other video sites.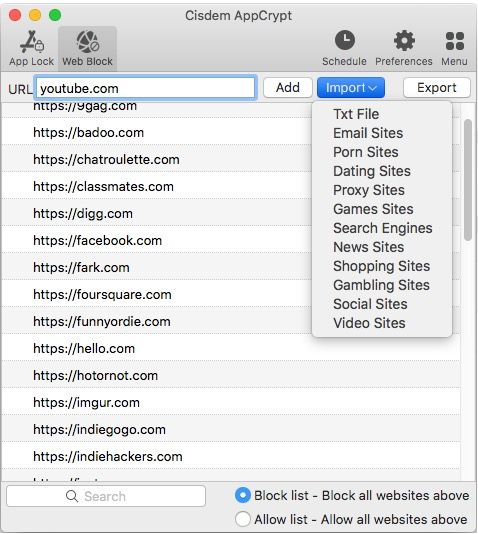 If restricting video websites is not enough, make your Mac distraction free by switching from the default Block list mode to the Allow list mode. This way, all sites including https://www.youtube.com/ are blocked excluding the sites added to Allow list.
Other ways to block access to YouTube on Mac
Use Screen Time
Applies to: macOS 10.15 Catalina or later
Included with macOS 10.15 or later, Screen Time is useful and versatile. It can be used to completely block YouTube on Chrome Mac and Safari Mac.
1. On your Mac, go to System Preferences > Screen Time.
2. Go to Options. Turn on Screen Time and set a Screen Time passcode.
3. In the Screen Time window, click Content & Privacy on the left.
4. Click the Turn On button to enable Content & Privacy Restrictions.
5. Under the Content tab, select Limit Adult Websites.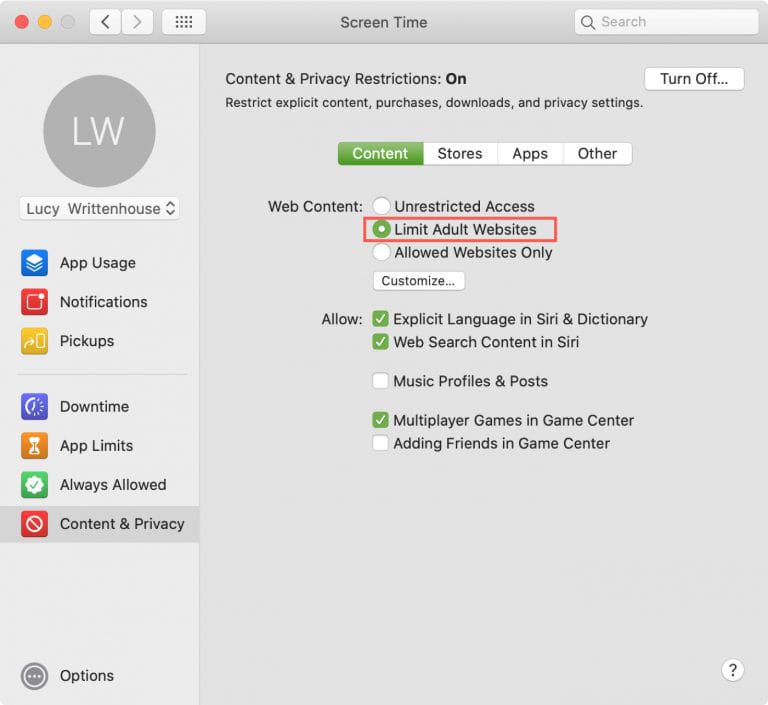 6. Click the Customize button that appears.
7. Under Restricted, click the plus icon (+) to add YouTube to the Restricted list. Click OK.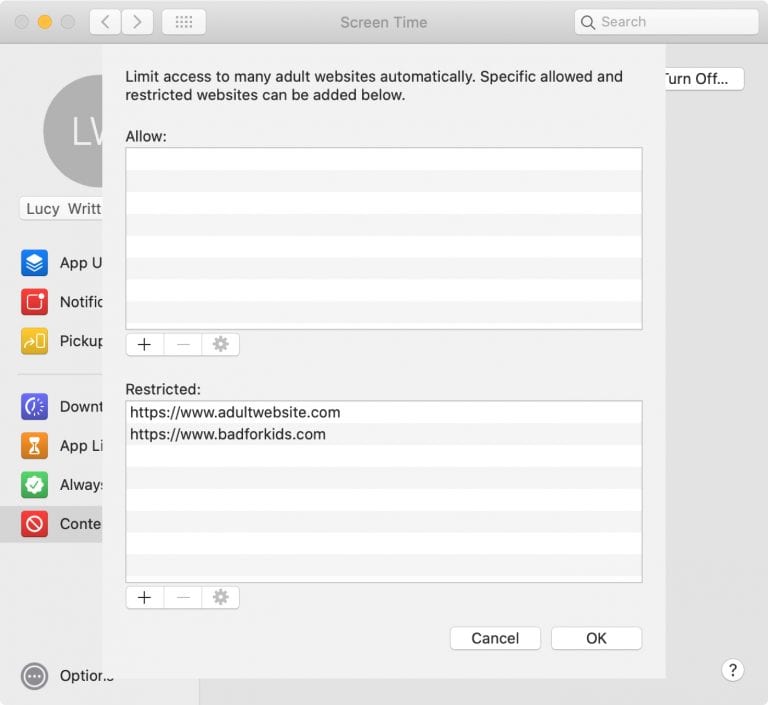 To unblock the website, remove it from the Restricted list. Alternatively, enable Unrestricted Access (as shown in Step 5) or turn off Content & Privacy Restrictions (in Step 4).
Additionally, despite the name, Screen Time's App Limits feature can help you put a time limit on YouTube on Safari.
Use Parental Controls
Applies to: macOS 10.4 Tiger - macOS 10.14 Mojave
Screen Time is not available on earlier macOS versions, whereas Parental Controls is provided. Below is how to use it to block YouTube on Mac. Note that the blocking can only be applied to the non-administrator user account.
1. Go to System Preferences.
2. Click Parental Controls.
3. Now create a new user account with parental controls. Click the lock icon on bottom left and enter the password to allow changes.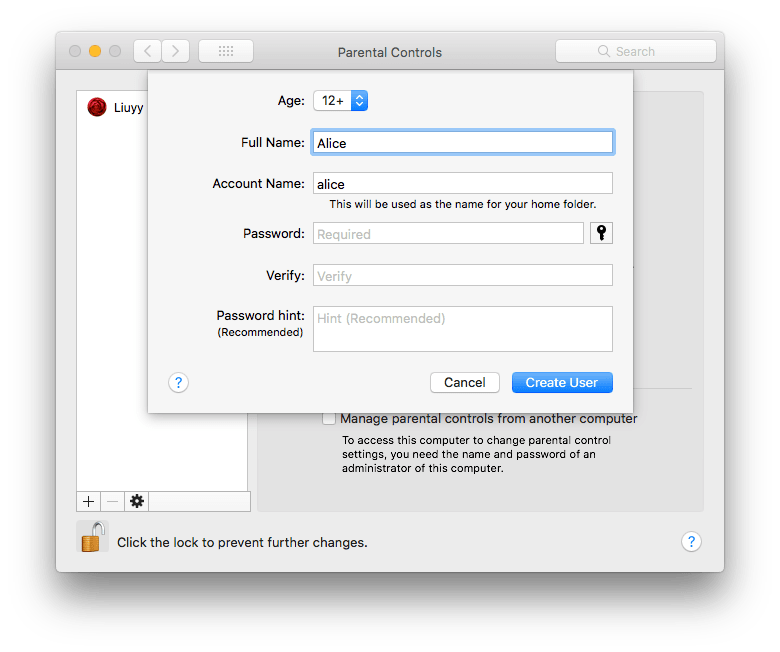 4. Select the user account from the left menu. Go to the Web tab. Enable Try to limit access to adult websites.
5. Click the Customize button.
6. Under Never allow these websites, add YouTube to the list. Click OK.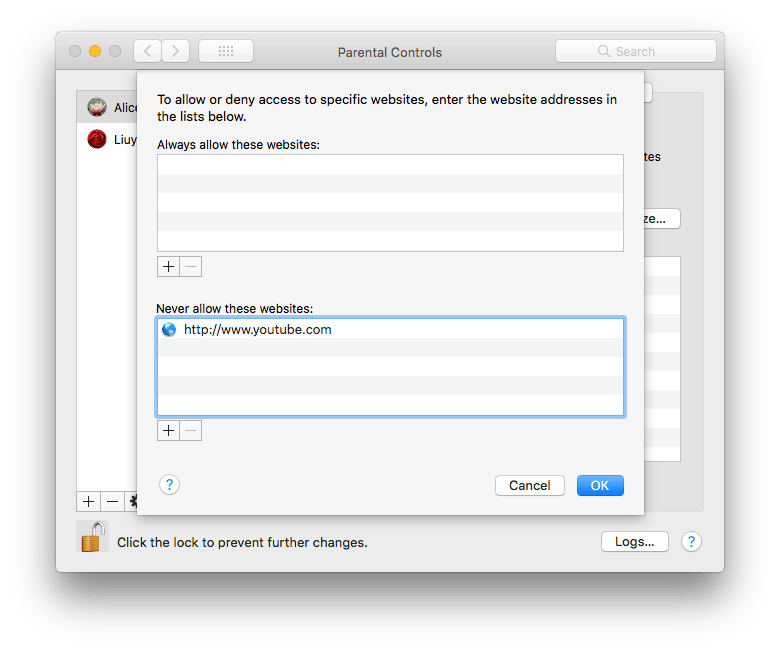 If you want to make the YouTube app inaccessible, go to the Apps tab (in Step 4) and turn on Limit Applications on this Mac.
When you finish setting up, you can click the lock icon in the corner to prevent further changes.
Use Terminal
You can also block YouTube on Mac with Terminal. Terminal is the terminal emulator included with macOS. With this method, the blocking is done by editing your Mac's hosts file-an operating system file.
1. On your Mac, open the Terminal app.
2. Type "sudo pico /etc/hosts".
3. Enter your admin password.
4. Type "127.0.0.1" and then type "youtube.com".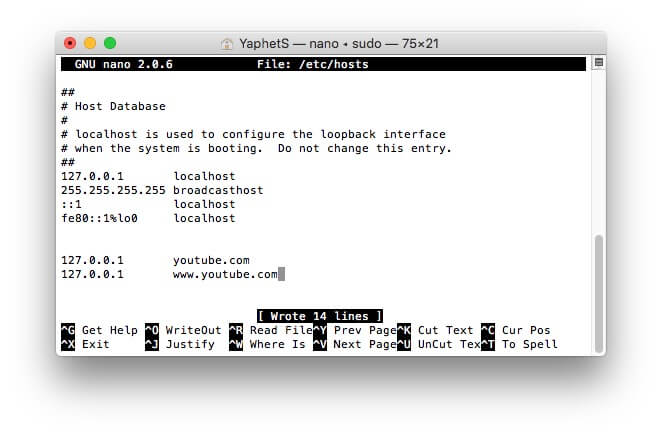 5. Type "127.0.0.1" and then type "www.youtube.com".
6. Use the Ctrl-O shortcut and then press the Return key.
Now YouTube is blocked. But it will still open in your web browser until you clear the cache. You can verify the blocking using your browser's incognito mode (which is cache free).
How to unblock websites on Mac Terminal? Just delete the websites that you have typed.
This method is not recommended unless you are comfortable with the command line.
Bonus tips
In addition to showing you how to block YouTube on Mac, the article offers tips to help improve your YouTube experience or help make YouTube safer for kids.
How to block YouTube channels from appearing
YouTube recommends videos to users. But some recommended videos are unwanted or even inappropriate. YouTube provides an option to block specific channels from appearing again in your recommendations. Hover your mouse over the video thumbnail, click the three-dot icon and choose Don't recommend channel. Note that you need to sign in to access the option.
There are also web browsers extensions designed to block channels on YouTube. You can easily find them in the Chrome Web Store and the Firefox Add-ons Store.
If you want to block access to certain YouTube channels (or videos), you can use Cisdem AppCrypt to easily get the job done. Just add the YouTube channel URL or video URL to the Block list.
How to block ads on YouTube
There is more than one way to block ads. For example, you can install an ad-blocking extension on your web browser. Or, you can get an ad-free experience by paying for the membership.
Also, there is an old and useful trick. Go to the YouTube website, open a video. Right click anywhere of this page and choose Inspect. Open the developer console and enter the following code. Press the Return key.
document.cookie="VISITOR_INFO1_LIVE=oKckVSqvaGw; path=/; domain=.youtube.com";window.location.reload();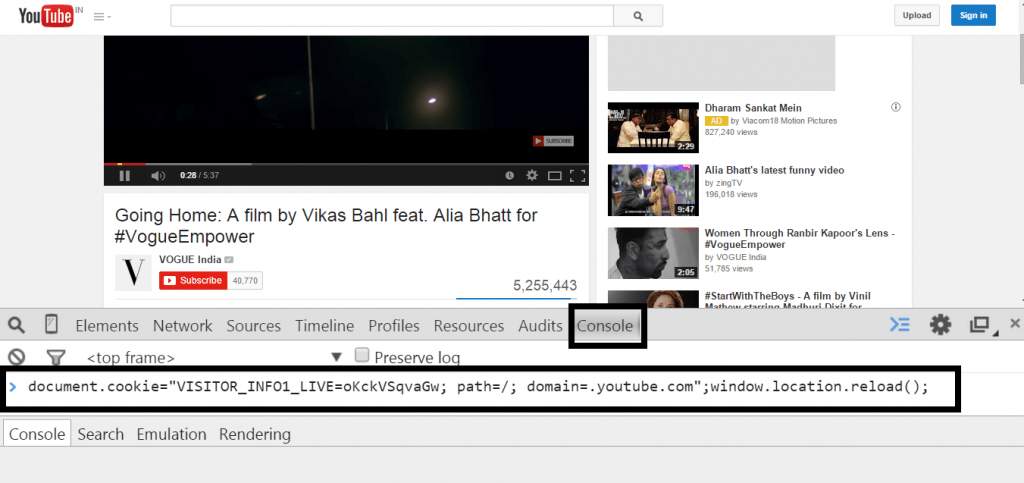 Conclusion
The article mainly talks about how to block YouTube on Mac Catalina, Big Sur, Monterey, Ventura, and some earlier versions. YouTube videos are useful or fun to watch. But if you find yourself spending hours on YouTube, you know that you may need to block or limit access to it. Spending less time on YouTube and other addictive websites can help you become more productive in work, study or everyday life. You can also use these methods to block other unwanted websites on Mac such as Omegle, Facebook, etc.