I have a 13 year old daughter who is getting into inappropriate conversations on Skype. She is already losing her laptop for a while, but when I do give it back, is there a way to keep Skype from working on her Mac Pro Laptop?
Skype is not strange to many people. It is the world's fastest-growing service for Internet communication, allowing people everywhere to make unlimited voice and video calls, exchange chat messages, share files for free. And it lets you move your work conversations into a free group call with your team. It is a good tool for communicating, but at the same time, it also store much important information that could be leaked.
Just imagine you leaving your Mac for a while, and somebody reading the important information you communicate with others on Skype, how terrible it is! Suppose that you give your Mac to your son or daughter for learning or studying, but he or she is getting into inappropriate conversations on Skype, what a vexing issue. But don't worry, here we will show you how to block Skype on Mac easily by app blocker Mac to prevent someone else from viewing and using your Skype without authorization.
How to Block Skype on Mac via AppCrypt
If you are tired of logging in and logging out Skype or changing Mac user account, this is the best way for you to block Skype app on Mac. AppCrypt is a professional Mac app locker which protects your Mac apps from unwanted eyes and unauthorized usage. It can lock individual or multiple apps with one password. Every time you access the blocked apps, you have to enter your AppCrypt password. The most important feature of the app is that it keeps track of failed attempts to access the blocked apps with date, time, and optional photo. Follow below guidance to block Skype on Mac.
Step 1. Install the program on your Mac
Download free trial version of AppCrypt. And install it on your Mac. After the installation process is complete, launch it.

Free Download
Step 2. Set a password
A window will pop up for you to set a password which will be used to unlock the blocked apps and program settings. Enter a password twice and check "I have read and I understand this warning". Then click "Submit".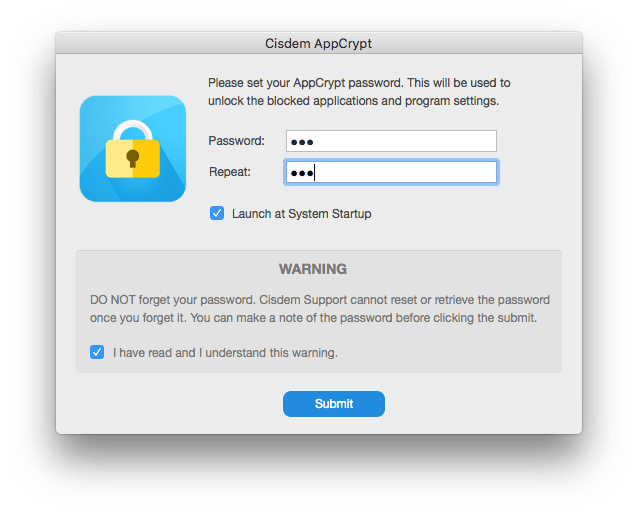 Step 3. Lock Skype app on Mac
You will see the main interface of AppCrypt. System Preference, Activity Monitor and Terminal are locked by default. If you want, you can remove the lock by selecting them and pressing the delete key. Click the plus icon + to add the Skype app to lock. Then Skype will be locked.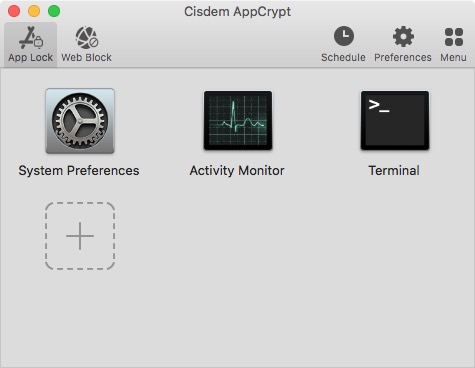 Step 4. Keep record of failed attempts
If somebody enter wrong password to access Skype, next time you open AppCrypt. The detailed information of failed attempts to access Skype will be listed in Menu > Failed Attempt Log, including the photo of the person.
Tip: You can also set a schedule to allow Skype app to be accessed without password in that time period by setting a custom schedule.
How to Block Skype on Mac with Parental Controls
Parental controls are a wonderful Mac built-in feature, letting you filter internet content, restrict your kids to certain apps, and even keep them from accessing the Mac during times they should be sleeping or doing homework. You can follow below steps to set access restrictions on Skype application.
1. Click the Apple menu and select "System Preferences". Select "Parental Controls" from the System Preferences menu.
2. Click the Lock icon

and offer admin password to unlock account settings.
3. Select the user account that you want to block Skype on mac. If there is no account in the list, you can create one by clicking + button.
4. Check the "Enable parental controls". Click the "Open Parental Controls..." button.
5. Check the "Limit Applications" box in the "Apps" tab. And expand the "Other Apps" section of the app list.
6. Uncheck Skype. This will prevent the selected user from using Skype on your Mac. And click the icon

to prevent further changes.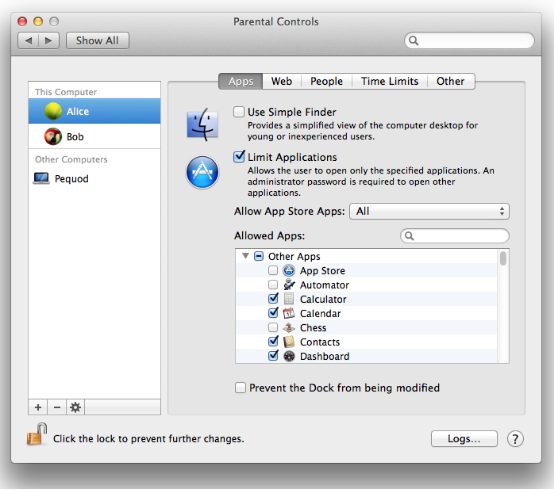 Tip: Parental Controls can't be enabled for administrator accounts. But you can also manage the Parental Controls in OS X from another Mac on your network. So Parental Controls are very helpful especially if your child has his or her own Mac.
Stop Skype from Automatically Opening on Mac
If you allow Skype starts on its own and enable autologin, somebody who opens your Mac will see your Skype communicating information. So preventing Skype from automatically launching will solve the issue. It doesn't prevent Skype from working, it simply stops it from launching itself, meaning if you want to use Skype, you'll need to open it manually. Below We will show you how to stop Skype from launching automatically the next time you start up your Mac.
Step 1. Open the Skype app on Mac and have its Dock icon visible. Wait for Skype app to launch if it hasn't opened yet.
Step 2. Right-Click on the Skype icon in the Dock. Scroll up to "Options" and uncheck "Open at Login". Quit Skype. Now the next time you boot up your Mac, you shouldn't see Skype launching automatically.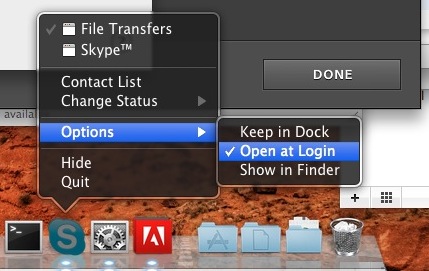 Tip: Alternatively, you can go to System Preferences > Users & Groups, click your account name and select "Login Items". Remove Skype from the list.

Megan Charles


Megan has an impressive deal of experience with Mac software and has the ability to explain tech stuff in a simplified, straightforward and easy to understand way.