Google Chrome is the most popular web browser in the world, with over 67% of computer users and 62% of phone users using it. This article will show you how to block websites on Chrome on Mac, Windows, iOS and Android devices, with or without extension.
Restricting certain websites on Chrome browser can help one minimize distractions and increase productivity at work or study. It also helps parents keep their children away from bad content online.
#1 How to block websites on Chrome for Mac
If you want to easily block access to specific websites and webpages on Chrome on your MacBook Air, MacBook Pro or iMac, etc., you can use Cisdem AppCrypt for Mac, the best website blocker and app locker for Mac.
AppCrypt main features:
Block specific websites and pages with password on Chrome, Safari and more
Let you block them permanently or for a period of time
Help you stay focused while studying or working by blocking distracting websites
Help keep children safe online by blocking inappropriate content
Hard to bypass
Easy to use
Support macOS 10.12 or later
Steps to block websites on Chrome on Mac permanently
1. Download this Chrome website blocker with password. Install it.

Free Download
2. The first time you launch it, set a password.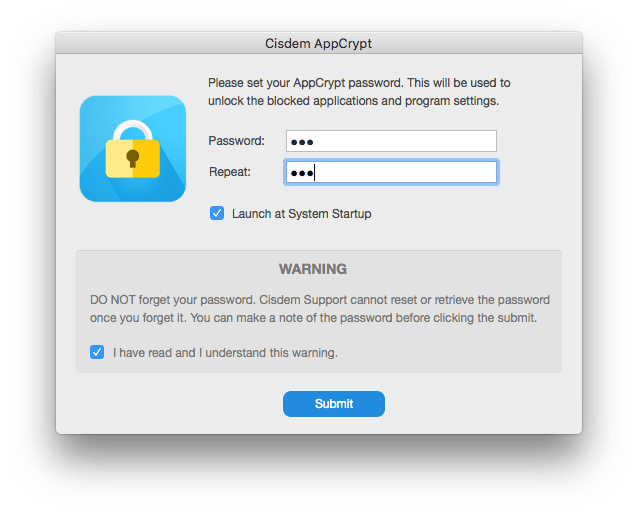 3. In the top menu bar, click its icon and choose Open Main Window, which will prompt you to enter the password.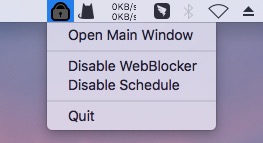 4. You are presented with the main window. Go to the Web Block tab.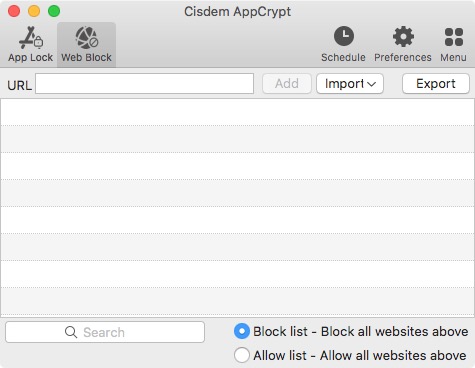 5. Enter an unwanted website and click the Add button. Continue blocking other unwanted websites on Chrome.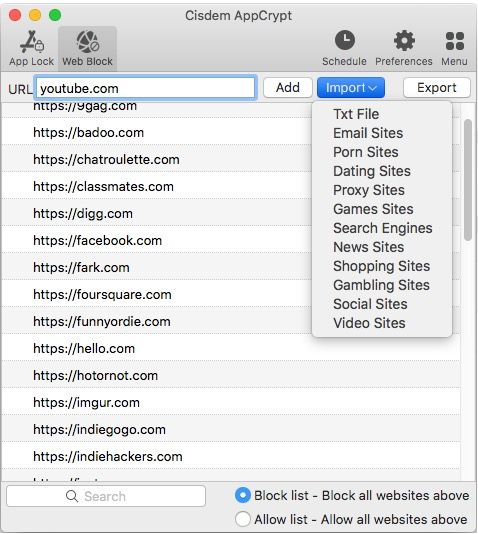 Now, these websites are blocked permanently on Google Chrome and other browsers on your Mac. When you or someone else tries to open a blocked site, it won't open and this message will show up.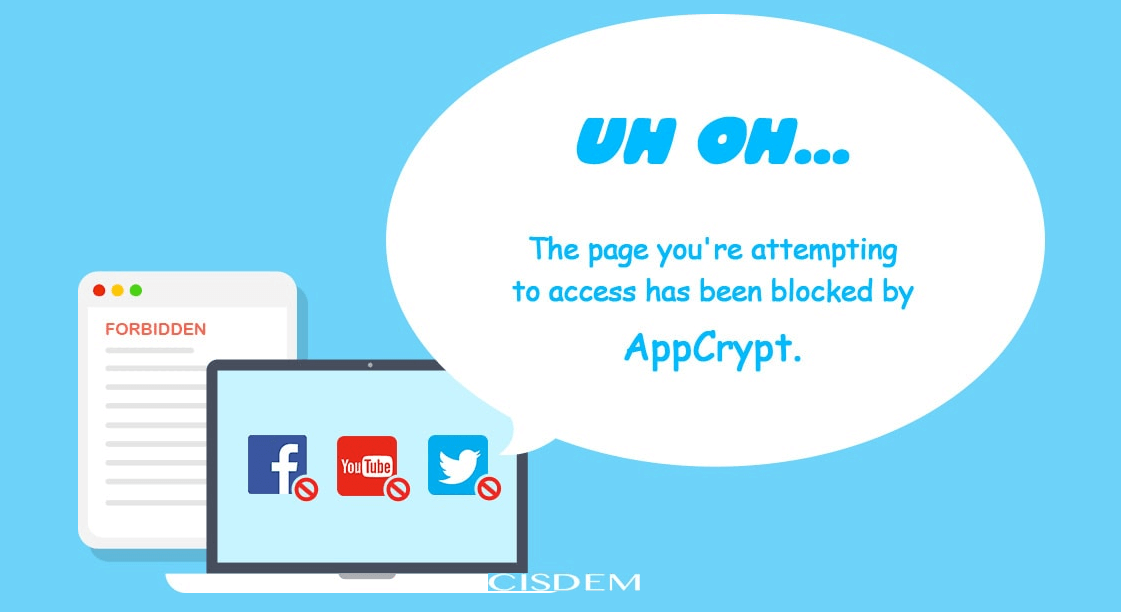 The blocking is applied to both Chrome's normal and incognito browsing modes.
Steps to unblock websites on Chrome
1. Access the main window, which requires you to enter the password.
2. Open the Web Block window.
3. Select the website you'd like to unblock by clicking it.
4. Click the minus icon.
Alternatively, you can temporarily unblock websites by clicking AppCrypt's icon in the menu bar, choosing Disable WebBlocker and entering the password. You can enable it at any time.
Tip 1. Block websites only during certain hours on Chrome
If you want to do the blocking at certain times instead of 24/7, AppCrypt's Schedule feature is what you need. It lets you create recurring schedules based on time of the day and day of the week. There's lots of flexibility.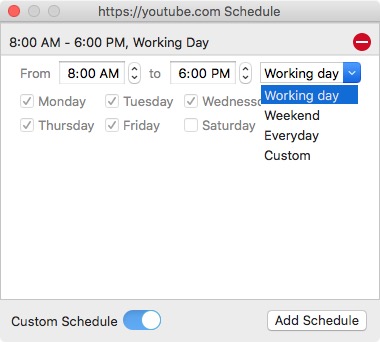 Tip 2. Block all websites except a few ones on Google Chrome
This website blocker also comes with the Allow list mode, which lets you to whitelist websites on Chrome. Add the websites that you allow your children or yourself to view to the Allow list. This way, Chrome will block all sites excluding the allowed ones. You have ultimate control over what your children can access via Chrome.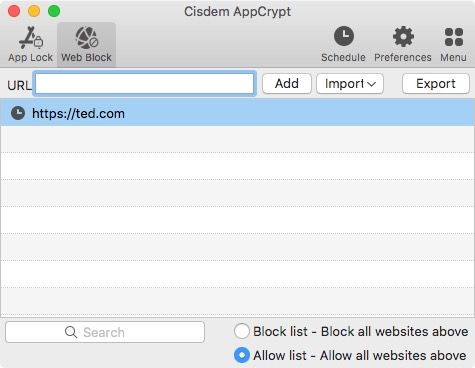 Get AppCrypt now to block or allow websites on your browsers!

Free Download
#2 How to block yourself from a website on Chrome on Windows 10
If you are a Windows PC user and want to block sites on Chrome with extension, then you can use a free website blocker called WinTools URL Blocker.
You may have heard that it's possible to block websites using the hosts file on a device. It's true. And URL Blocker is based on this very method. But you don't have to be tech-savvy to use it. Using URL Blocker is a no-brainer.
1. Download this Chrome site blocker to your Windows desktop or laptop.
2. Open it by directly double clicking the file. No installation is required.
3. Enter the name of the website that you want to restrict.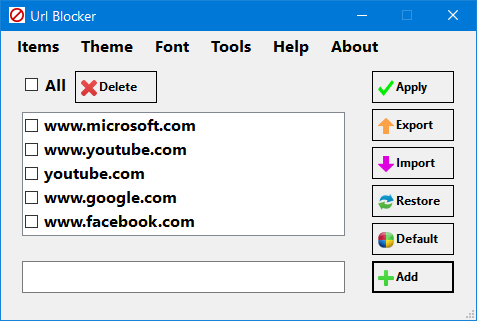 4. Click Add.
5. Continue adding more unwanted websites.
6. Click Apply.
7. Click OK.
Or, if you have an existing hosts file in which the sites you need to block on Chrome browser are set to be blocked, you can directly import the hosts file to URL Blocker, which saves you from manually adding sites.
Your child may be able to get around blocked websites by removing or modifying the blocking in URL Blocker. You can prevent this by secretly running URL Blocker from your flash drive and then ejecting the drive.
#3 How to restrict websites on Chrome browser on iPhone and iPad
If your iPhone is running iOS 12, iOS 13, iOS 14, iOS 15 or later, then you can use the built-in Screen Time to block websites on Chrome mobile on your phone. Screen Time is a set of tools coming with iOS and iPadOS, designed to help users track device usage, block unwanted content and do other cool things.
1. On your iPhone, go to Settings > Screen Time.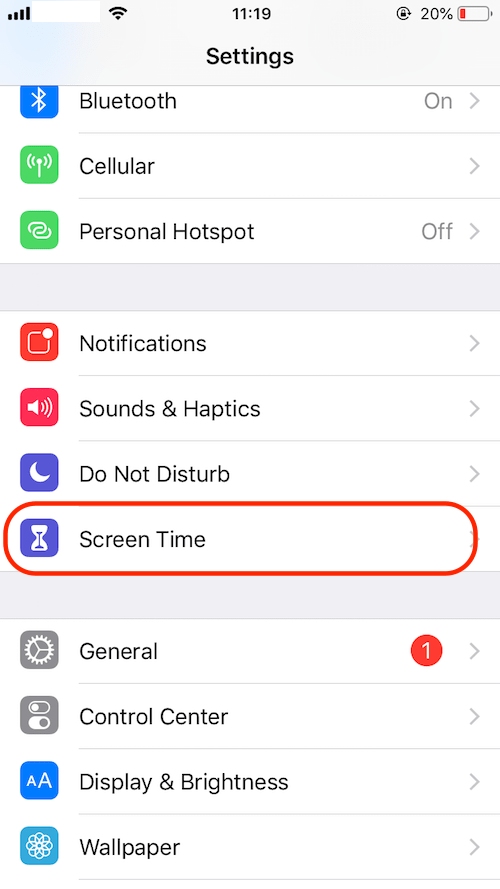 2. Tap Turn On Screen Time.
3. Tap Continue.
4. Choose whether it's your phone or your child's phone.
5. Tap Use Screen Time Passcode and set a passcode.
6. Tap Content & Privacy Restrictions. Enable it.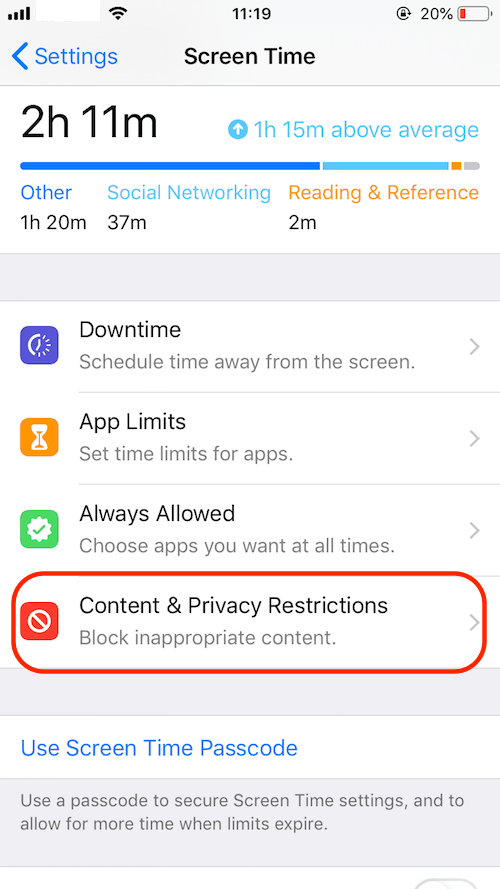 7. Tap Content Restrictions > Web Content.
8. Choose Limit Adult Websites.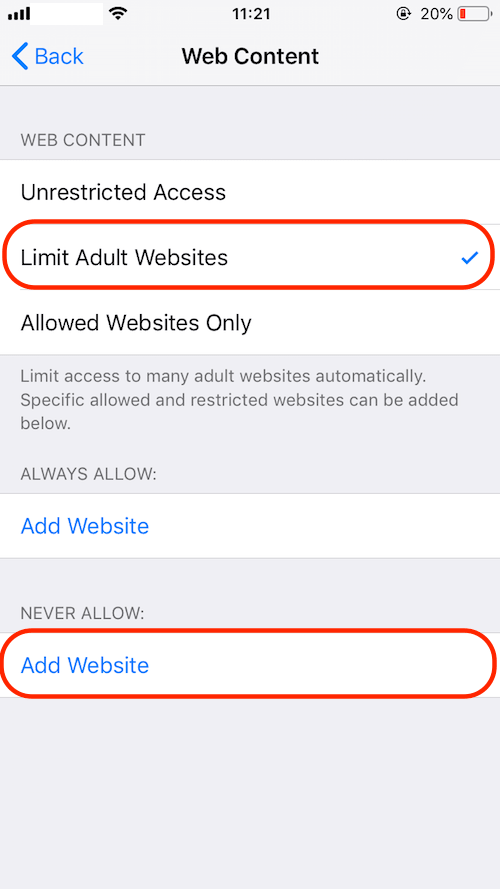 9. Go to the Never Allow section, tap Add Website and enter the URL of a website. You can add more websites to block.
Now the undesirable websites should be blocked on Chrome and Safari on this iPhone. In addition, Screen Time will automatically block adults websites and other websites that it considers inappropriate.
#4 How to block a website on Android Chrome
Google Chrome is the most used browser on Android devices. Have you ever spent hours on your Android phone surfing the web aimlessly? Many have. It can be a waste of time. Blocking addictive and distracting websites on Chrome for Android can help reduce screen time and distractions.
Or, if you are a parent, you may want to make bad websites inaccessible on Chrome on your child's Android phone or tablet.
For these purposes, you can use a free website blocking app called BlockSite.
1. On your Android phone, install BlockSite from Play Store. Open it.
2. Enable accessibility to allow it to prevent Chrome browser from accessing specific sites and pages.
3. Tap the plus icon (+).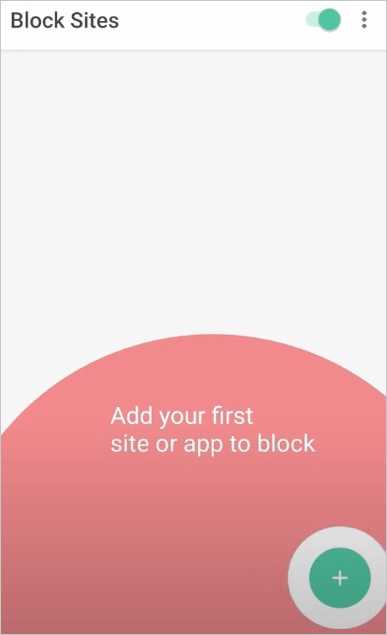 4. Under the Website tab, enter the URL of the particular site that you'd like to restrict.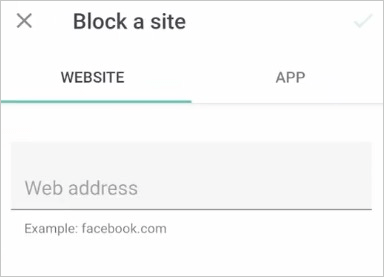 5. Tap the tick icon.
6. Add more URLs.
Now, these sites are added to the Block List. If one tries to access a blocked site on Chrome, the site won't load, and one will see a message saying "This site is blocked".
#5 How to blacklist websites on Chrome desktop with extension
The above methods show you how to block websites on Chrome without extension. This one is the opposite.
Google Chrome is known for its rich collections of extensions. Some Chrome extensions are designed to limit access to websites. This method has its pros and cons.
Pros
Available for free
Easy to use
Cons
1. On your Windows PC, Chromebook or Mac, visit the Chrome Web Store.
2. Install Site blocker offered by rekilamneropysa.
3. Open the website that you are going to block. Perform a right-click and choose Block this site.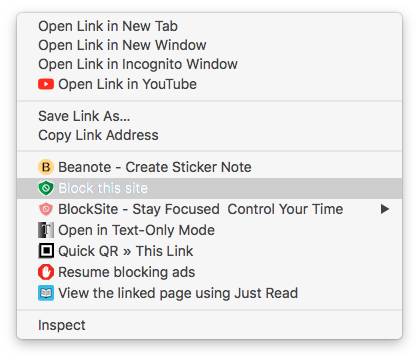 Alternatively, you can go to the Option Page to do the blocking (and customization). Click the extension's icon in Chrome's toolbar and click Option Page. Now, you can manually add website URLs.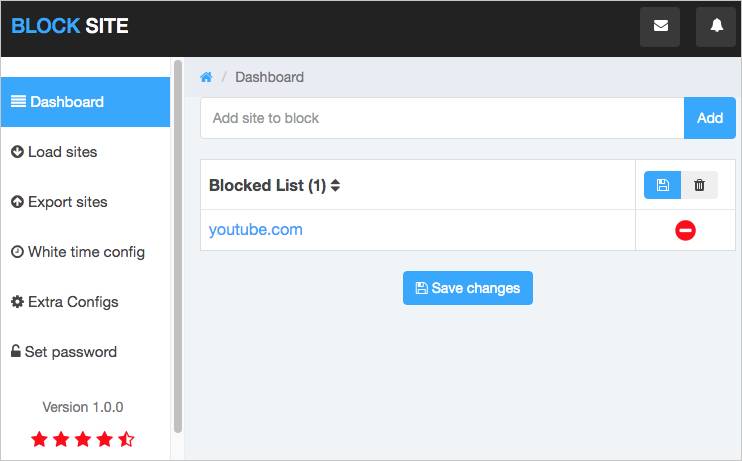 Note that one can easily get past blocked websites by just uninstalling the extension. Therefore, it's recommended to consider methods without extensions.
Tip: Block websites by keyword on Chrome
On the left, click Extra Configs. Now, you are presented with a set of options. Turn on the option Block sites by keys. In the Enter key to block box, enter keywords such as "porn", "adult", "sexy", "gambling" and "casino". Click Save Changes. If a website domain contains any blocked keyword, then Google Chrome will block access to it.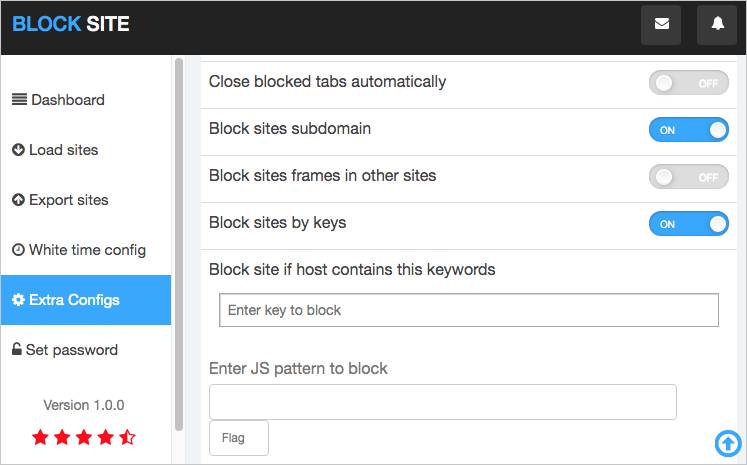 Conclusion
Google Chrome is a great web browser. It's fast and safe and automatically blocks many malicious websites. Also, thanks to Google's SafeSearch, you can set Chrome to automatically block explicit search results. But these are not enough for concerned parents or for those who want to boost productivity by restricting distracting sites.
This article shows you how to block websites on Chrome Mac, PC and mobile. By making specific unwanted websites inaccessible on Chrome browser, you can create a cleaner and less distracting Internet.