This article talks about how to block porn on YouTube easily.
YouTube covers an unlimited of great videos, many of which are popular among kids, from cartoons, nursery rhymes, movies, to TV episodes. Aside from entertainment YouTube videos, it also has a heap of helpful videos for children's learning, such as science videos and educational videos.
However, there is still a thin line that separates inappropriate content like pornographic from the videos that are uploaded to YouTube. To prevent your kids from accessing porn and lewd videos, we have figured out various solutions to put YouTube parental controls.
The Best YouTube Blocker for Mac & Windows
Block any websites with password on Chrome, Safari, etc.
Also block any webpages
Can be used to block youtube.com or specific YouTube channels/videos
Provide 2 modes to block: Block Websites and Allow Websites
Also lock apps with password
Offer Schedule feature to block websites/webpages and lock apps at certain times
Help block inappropriate content on YouTube and other places
Help block digital distractions and focus better
Can be used for parental control or productivity, etc. purpose

Free Download
macOS 10.12 or later

Free Download
Windows 11/10/8/7
First, create YouTube accounts for your kids
YouTube may show up NSFW (not safe for work) videos, which contains inappropriate content like pornography, violent, and politically charged content. Although the videos were created for educational use, children might be too young to understand them properly. If kids sign in with their own accounts, these kinds of videos won't be played on YouTube. Only users who listed age as over 18 years old can watch them.
Starting from 2019, YouTube creators must comply with COPPA and determine if the uploading YouTube video is "made for kids" or not. "Made for kids" means that the comments, live chats, notifications, donations, personalized advertising, etc. are no longer available. This feature can also block porn on YouTube to some extent.
Make sure to set the correct date of birth for children: https://aboutme.google.com/u/0/#name. Different countries/regions have different laws to define the underage age.
How to block adult content on YouTube with Restricted Mode
Restricted Mode is a basic YouTube parental control that filters out potentially porn content through video titles, descriptions, metadata, etc. It can also automatically hide comments including lewd comments below the video. But YouTube doesn't guarantee that Restricted Mode is 100% effective.
Available for computers, Android devices and iOS devices, it can be applied to both the YouTube website and app.
On youtube.com website
Go to youtube.com.
Click the three dots in the upper left corner.
Choose Restricted Mode: Off from the list of options.
Toggle ACTIVATE RESTRICTED MODE to ON.
Here's how to do the enabling if you are logged in. Click your account user icon. Click Restricted Mode: Off from the drop-down dialog. Switch on the YouTube restricted mode.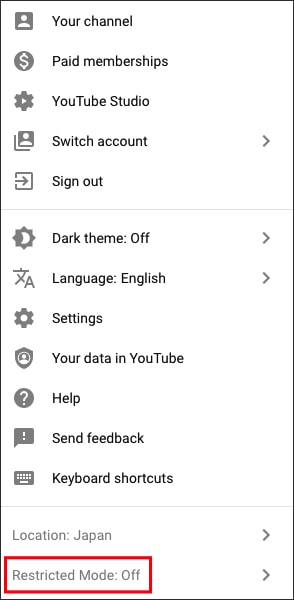 On YouTube app for iPhone & iPad
Launch the YouTube app on iPhone.
Tap the profile picture in the upper right corner.
Tap on Settings from the pop-up menu.
Tap Restricted Mode Filtering options.
Select Strict.
Tap the close button to confirm your setting.
On YouTube app for Android
Open the YouTube app on Android.
Tap your account icon, and select Settings.
Tap Account, which shows you the complete list.
Turn the Restricted Mode slider button to on.
Exit YouTube settings.
Note: The operation is slightly different between different versions of mobile phones and YouTube.
How to block porn on YouTube by turning off Autoplay
YouTube's Autoplay feature helps users decide what content to watch next. However, sometimes it may take your children to some inappropriate places within a few steps, e.g. from a SpongeBob SquarePants video to masturbating Mickey Mouse.
The feature is turned on by default. You can turn it off to help block porn videos on YouTube.
On your browser, go to YouTube. Find any video to play.
Locate the blue Autoplay slider switch from the right-hand side and disable it.
The process is similar on the app.
How to block porn on YouTube Kids app
YouTube (YT) Kids is a YouTube app for kids from the ages of 2-12. It only shows only age-appropriate videos of TV shows, music, learning, and explore. It features a timer to limit (up to an hour) your kids to play on the app. In addition, you can block porn on YouTube Kids by blocking specific videos.
Youtube Kids can be downloaded from the Apple App Store and the Google Play Store. It doesn't support the desktop version now.
Get started with YT Kids
Run YouTube Kids app on your iPhone or Android.
Choose the I'M A PARENT option.
Select a content experience for your kids: Approve content yourself, Preschool (ages 4 & under), Younger (5-7 years old), and Older (8-12 years old).
If you choose the first option, then you have to log in with a parent's account. If not (choose the other three), click SELECT to continue.
When basic settings are done, agree with the notice for parents.
Turn off search function
Once the search feature is turned off, your children can only view the videos that are verified as age-appropriate by YouTube Kids team.
Tap the lock button in the lower right corner.
Submit a correct verification code.
From the pop-up options, tap Settings.
Swipe down and turn off search.
Block adult content
YouTube Kids can't 100% filter adult content. In this case, you can manually block porn on YouTube Kids.
Find a porn video you wish to block and play it.
Tap it to shrink the playing window.
Tap the three vertical dots.
You will see three options: OFF, Repot, and Block. Simply choose Block.
Select to block a single video or the entire YouTube channel on YouTube Kids.
Additional parental control for YouTube Kids: Set a timer
Tap the lock button.
Enter the right passcode and submit it.
Tap Timer.
Set time limit from 1 minute to 60 minutes.
Start timer. When time is up, YouTube Kids app will be locked automatically.
How to block specific inappropriate YouTube channels/videos on Mac & Windows
It's also possible to make certain inappropriate content inaccessible on YouTube.
Use Cisdem AppCrypt on Mac & Windows PC
Cisdem AppCrypt, the best website blocker and app locker, can:
block access to specific YouTube channels and videos with password.
block access to the entire YouTube website.
lock the YouTube client installed on your computer.
It also offers other useful features and can be used for various situations and purposes.

Free Download macOS 10.12 or later

Free Download Windows 11/10/8/7
Download Cisdem AppCrypt and install it.
First-time users will need to set a password, which is used to unlock the blocked items, change settings, etc.
On a Mac, click its icon in the menu bar and select Open Main Window. On a PC, click its icon in the taskbar.
Click the Web Block tab.
Enter the URL of a YouTube channel or a video that you think contains porn or other inappropriate content, and click the Add button. Continue adding other channels to block.
Add more content to block if you want to by repeating the previous step.
In Step 5, if you enter youtube.com, the entire website will be blocked. It also helps you block Instagram, Facebook, Twitter, Google Chrome, Reddit, etc. as well.
If you try to open a blocked YouTube channel or video, the webpage won't open. And you will see this image.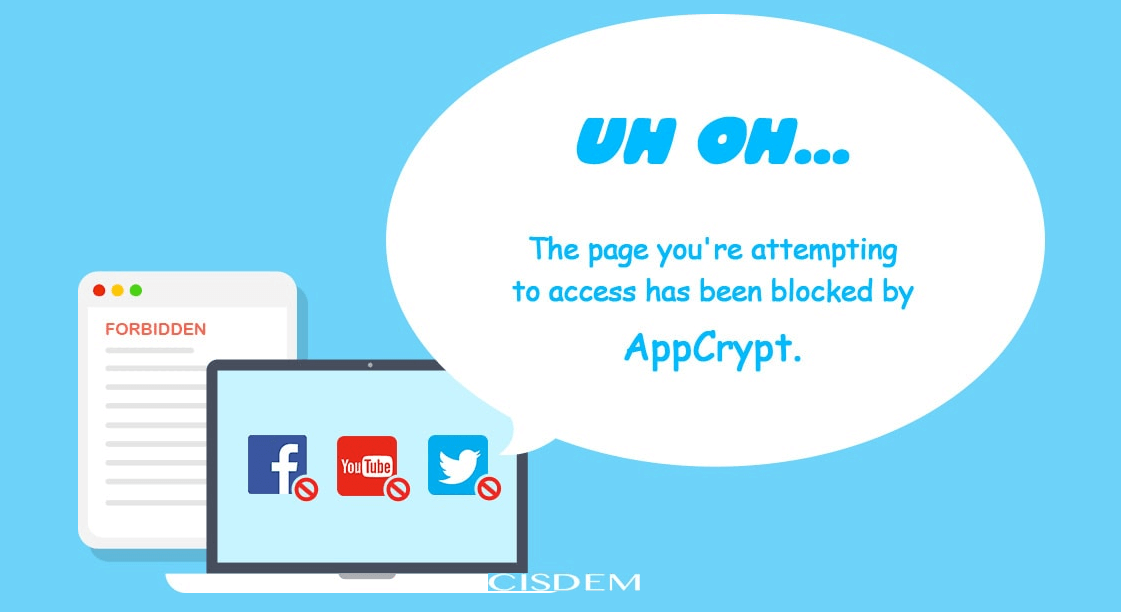 To unblock, select the URL and press the Delete key.
Tip: Don't let your kids use your YouTube account
This can be important in helping block porn on YouTube. Some explicit or inappropriate YouTube videos don't violate YouTube policies. YouTube doesn't remove them. Instead, YouTube applies an age-restriction on them. The fact is that age-restricted content is not available to a user with an under-18 account or who is logged out. If you let your kids use your YouTube account, you actually give them easy access to age-restriction videos on YouTube. It's a big don't.
Conclusion
This post threw importance on blocking pornography on YouTube. For saving your children from the adverse effects of adult content on YouTube, we have explained the steps to set up YouTube parental controls and how to block porn on YouTube & YouTube Kids app. To block specific inappropriate YouTube content on desktop, you can use a third-party YouTube porn blocker, such as Cisdem AppCrypt, and Cold Turkey (block specific domain).