This article will show you how to block porn on Safari on macOS, iOS and iPadOS.
Porn is bad for children and teens. Addiction to porn is bad for adults as well. Unfortunately, in this age of Internet and smart devices, porn content is just as easily accessible as other types of content. Guarding children against exposure to porn and other explicit online content can help parents protect the metal health of their children. Quitting porn can help adults suffering from porn addiction improve their lives.
A web browser is an app used to access the Internet. Blocking porn on a browser can greatly help limit porn access. Developed by Apple, Safari is the default web browser on Mac and other Apple devices. Apple's operating systems offer built-in options to block bad websites on Safari. There are also third-party solutions available.
The Best Website Blocker for Mac
Use AppCrypt to effortlessly block inappropriate and other unwanted websites.
Block any websites including porn websites with password
Offer preset lists of categories (porn, social media, etc.) of sites to block with 1 click
Support Safari, Google Chrome and Opera, etc.
Also block any webpages
Provide 2 modes to block: Blocklist and Allowlist
Can also lock any apps with password
Offer Schedule feature to block websites and lock apps at certain times
Help protect children from porn
Help limit time spent on websites and apps
Help block distracting websites
Compatible with macOS 10.10 or later

Free Download
Method 1. How to block porn on Safari on Mac with Screen Time
Applies to: macOS 10.15 Catalina or later
Previously iOS-only, Screen Time came to macOS with the release of macOS 10.15. Screen Time is a set of features, allowing you to set limits on websites, among other things.
On your Mac, click the Apple icon to open the Apple menu. Choose System Preferences.
Click Screen Time.
Click Options in the bottom left corner.
Click Turn On to enable Screen Time for your Mac if it's not already enabled.
Click Content & Privacy in the left sidebar.
Click Turn On to enable Content & Privacy Restrictions.
Under the Content tab, select Limit Adult Websites from the Web Content options provided.
Click Options again and select the checkbox next to Use Screen Time Passcode.
Set a Screen Time passcode. Now your Screen Time settings are locked.
From now on, your Mac will automatically block many porn websites on Safari.
To unblock the blocked porn websites on Safari, set Web Content to the Unrestricted Access mode. This way, all websites including adult ones are accessible. Or, you can just turn off Content & Privacy Restrictions.
Tips
If you think the automatic blocking is not enough, then this tip is for you. After Step 7, click the Customize button that appears. In the Restricted section, click the plus icon and add the specific adult website that you want to block. This enables you to manually block the other inappropriate websites on Safari that the automatic blocking doesn't cover.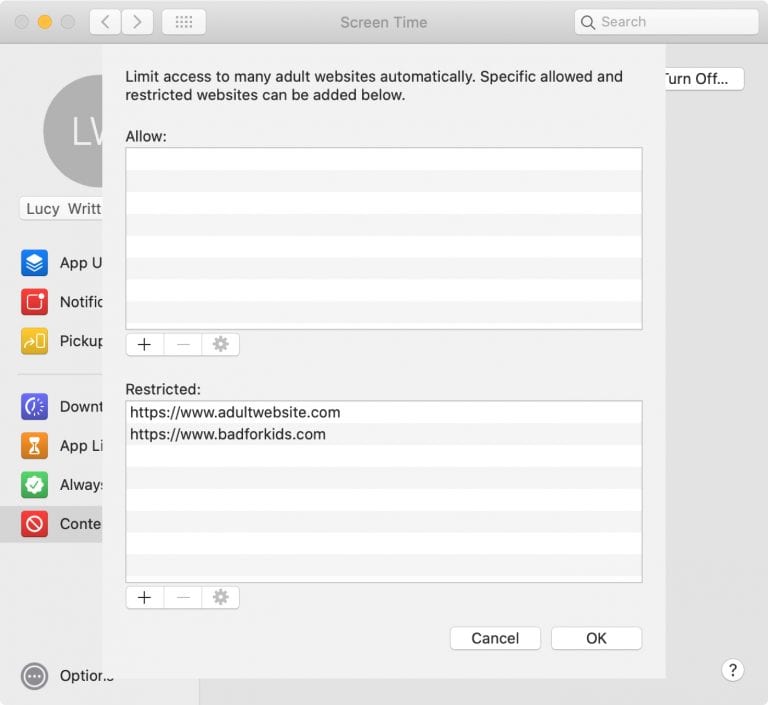 With the Allowed Websites Only option, you are able to block all websites except the few that you allow your kids or yourself to visit.
If you'd like to use Screen Time for yourself to quit porn, it's recommended to ask someone else to set the Screen Time passcode for you. If you know the passcode, you can change the Screen Time settings and remove the blocking. It'd be so easy to bypass.
---
Method 2. How to use Parental Controls to block porn on Mac Safari
Applies to: macOS 10.14 Mojave or earlier
Earlier macOS versions have a feature called Parental Controls. It offers a set of options, which are similar to those in Content & Privacy Restrictions. If your Mac is running an older macOS, you can use Parental Controls to block porn on Safari.
On your MacBook Air, MacBook Pro or iMac, etc., go to System Preferences.
Click Users & Groups.
Click the lock icon in the bottom left corner, enter your administrator password and click Unlock.
Click the plus icon to add a user. From the New Account dropdown list, select Managed with Parental Controls.
Select an age range, say, 12+.
Specify a name for the user account.
Set a password and verify it. Enter a password hint if needed.
Click Create User.
Now select the user you've just created, turn on Enable parental controls and click Open Parental Controls.
Now you are in the Parental Controls interface. Go to the Web tab.
Under Browser Restrictions, select Try to limit access to adult websites.
This step is optional. Click the Customize button and add your own list of porn websites to block on Mac Safari.
As you can see, this feature enables you to create a user account with parental controls for your child, letting you effectively restrict your child's access to certain types of bad online content. Your child won't be able to watch porn on Safari on this Mac any more.
Note that it's not recommended to put parental controls on your administrator account.
---
Method 3. How to block porn on Safari for Mac with AppCrypt
Applies to: macOS 10.12 Sierra or later
There are also third-party tools that make porn websites inaccessible on Safari on Mac. Cisdem AppCrypt, the best website blocker and app locker for Mac, is one of them.

Free Download
Download AppCrypt and install it.
When you open the tool for the first time, set a password as required.
Click the tool's icon in the menu bar and select Open Main Window.
Enter the password set in Step 2 and click OK. Now you are in the main window.
Click WebBlock in the toolbar.
Enter the domain name of the porn website such as pornhub.com. Click the Add button. Continue adding other inappropriate websites to the Block list. Or, you can import the preset list Porn Sites to block.

The blocking applies to Safari, Google Chrome, Opera and more browsers.
To unblock a website, select it and click the minus icon. You can unblock multiple ones at a time by selecting all of them.
Tips
There are two modes: Blocklist (default) and Allowlist. With Blocklist, you can effortlessly block porn on Safari by making adult websites inaccessible. If you switch to the Allowlist mode, you can whitelist websites in Safari. And with it, you can create the safest possible online environment for your children. The tool also enables you to blacklist/whitelist specific webpages of a website.
As you can see, this tool can help you effectively block access to bad websites on Safari. You can block them permanently and edit the Blocklist when you want to. If your purpose is to block certain websites during work or study hours, the tool's Schedule feature can help.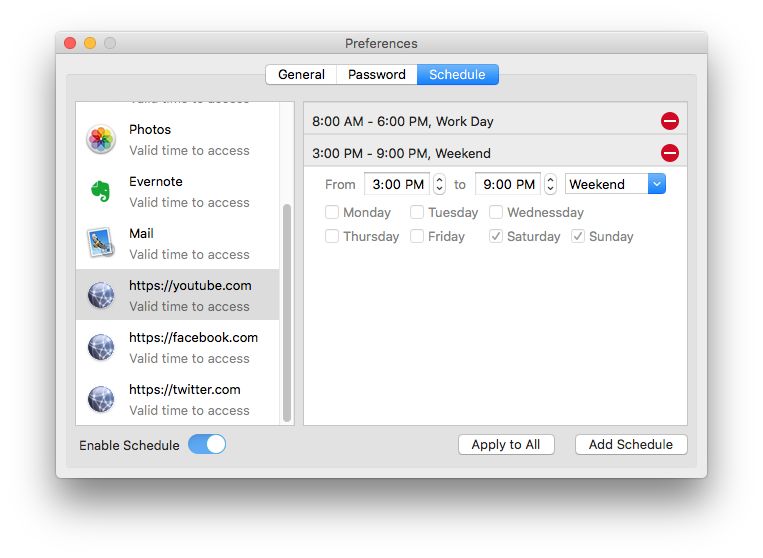 As mentioned above, asking someone else to set the password can help prevent bypass. It'd better be someone that you trust. It's VERY IMPORTANT to make sure that person will always remember the password.
AppCrypt Main Features
Block any websites including R-rated websites on Safari
Also work with Google Chrome web browser
Block webpages as well
Enable you to blacklist/whitelist websites and pages
Also password lock apps
Provide useful Schedule feature
Require password to access blocked websites and locked apps
Require password to configure settings, quit/uninstall AppCrypt, etc.
Can be used for parental control, productivity or security, etc. purpose
Easy to use
Support macOS 10.10 or later, including macOS 11 Big Sur

Free Download
---
Method 4. How to block porn on Safari on iPhone with Restrictions
Applies to: iOS 11 or earlier
If your iPhone or iPad is running an earlier version of iOS, then you can use the built-in Restrictions to filter porn content and other bad content on Safari.
On your iPhone or iPad, go to Settings.
Select General > Restrictions.
Tap Enable Restrictions.
Set a Restrictions passcode and confirm the passcode.
Scroll down and tap Websites.
Tap Limit Adult Content for the purpose of blocking porn.
This step is optional. To manually add specific bad websites to block, tap Add a Website under Never Allow and add a website. It's highly recommended to manually block certain websites. For example, some normal websites such as social media platforms can also carry nudity and porn content.
Tip
You are also given the option to whitelist specific websites. If you want to completely porn-proof your Safari for iPhone, tap Specific Websites Only and add your list of approved websites.
I can't find Restrictions on my iPhone. Where is Restrictions on iPhone? If you can't find it on your phone, then your iPhone is probably running iOS 12 or higher.
---
Method 5. How to block porn sites on iPhone Safari with Screen Time
Applies to: iOS 12 or later; iPadOS
iOS 12, iOS 13, iOS 14 or later comes with Screen Time, which allows you to filter porn and other inappropriate types of content on Safari.
On your iPhone or iPad, tap Settings.
Tap Screen Time.
Tap Turn On Screen Time.
Let it know if it's your iPhone or your child's iPhone.
Tap Content & Privacy Restrictions.
Enable Content & Privacy Restrictions and select Content Restrictions.
Now tap Web Content.
Choose Limit Adult Websites.
Return to the main interface of Screen Time and tap Use Screen Time Passcode. Set a passcode to lock your settings.
If you or someone else tries to open a blocked porn website with Safari, the website won't open.
---
Method 6. How to block inappropriate websites on iPhone Safari without Restrictions
Applies to: iOS 10.0 or later
iPhone and iPad provide a set of restrictions settings to help restrict adult content from being accessible. If you don't want to use the built-in settings, you can consider third-party tools. BlockSite is one of them. You can get it from the App Store.
Designed to be a self-control app, BlockSite allows you to block distracting websites and other unwanted websites. To make things easy for you, it lets you block unwanted types of websites with one click, such as adult websites, social media platforms and more.
Install the tool from the App Store.
Turn on Block Sites if it's not already turned on.
This step is optional. Tap the plus icon and manually add a specific website to block.
Go to the Block List and set the tool to block automatically websites falling into the adult category.
---
Pro tip: Help block porn on Safari by stopping pop-ups
How to stop background popups in Safari? So often I visit websites and have many popup windows in the background appear, many with inappropriate content in them.... any way to stop this happening? ― A question from a MacRumors forum
Luckily, Safari offers built-in settings for you to block pop-up windows. There are also third-party apps to help stop pop-up ads and images. For details, you can see this guide.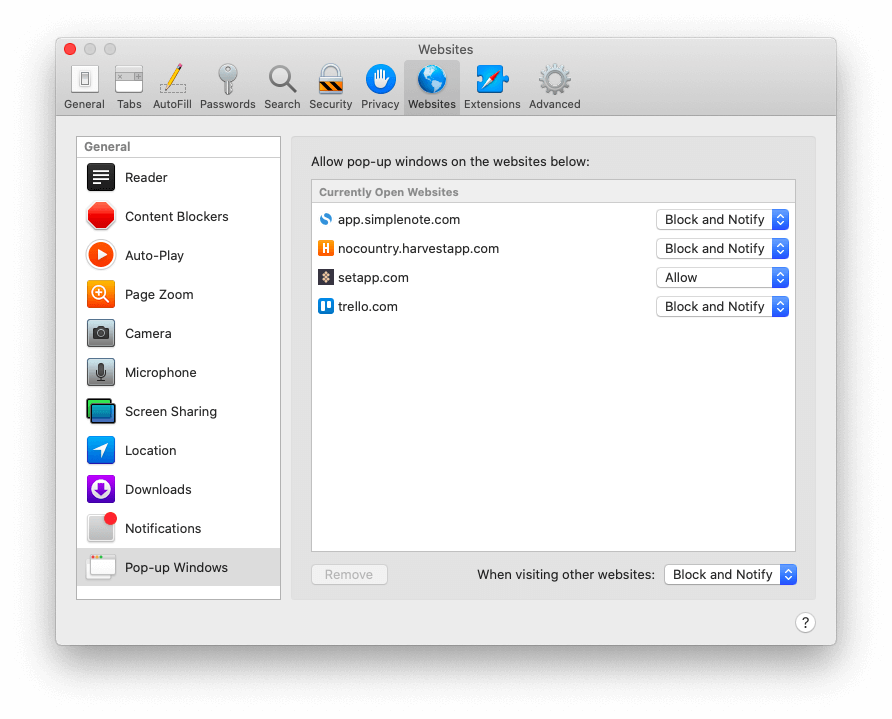 ---
Conclusion
If you are looking for easy ways on how to block porn on Safari, I hope this article will help. In addition to the methods described above, there are other ways to put restrictions on what can be accessed through Safari web browser. For example, some DNS services enables users to block harmful or inappropriate online content.