Teenagers are in a period of physical growth and mental shaping. Like with alcohol and drug abuse addiction, they could easily get addicted to adults websites just out of curiosity. For security reasons, you'd better take measures to keep them away from pornographic and sexually explicit content online. In this article, we will figure out how to block adults websites in Google Chrome, with or without a porn blocker for Chrome.
The Best Porn Blocker for Chrome on Mac
Block access to any websites/webpages with password
Let you block categories (adult, social media, etc.) of sites with a click
Provide 2 blocking modes: Block list and Allow list
Lock apps with password as well
Help block adults websites in Google Chrome, Safari and more browsers
Can be used for parental controls, productivity, etc.
Hard to bypass and easy to use

Free Download
Turn Google SafeSearch on
SafeSearch, one of the Google Chrome parental control settings, can help filter out inappropriate content (e.g., over 18 sites, violent sites and explicit images or videos) on Chrome from your results. Despite not being 100% accurate, SafeSearch plays a certain role in blocking adults websites in Google Chrome for immature audiences.
Pros
Provided by Google and instantly usable
Cons
Block inappropriate searches on Google rather than blocking access to inappropriate sites
1. Open the Google homepage.
2. Click Settings in the lower right corner.
3. Choose Search settings option from the pop-up menu.
4. Check the Turn on SafeSearch box to enable SafeSearch filters.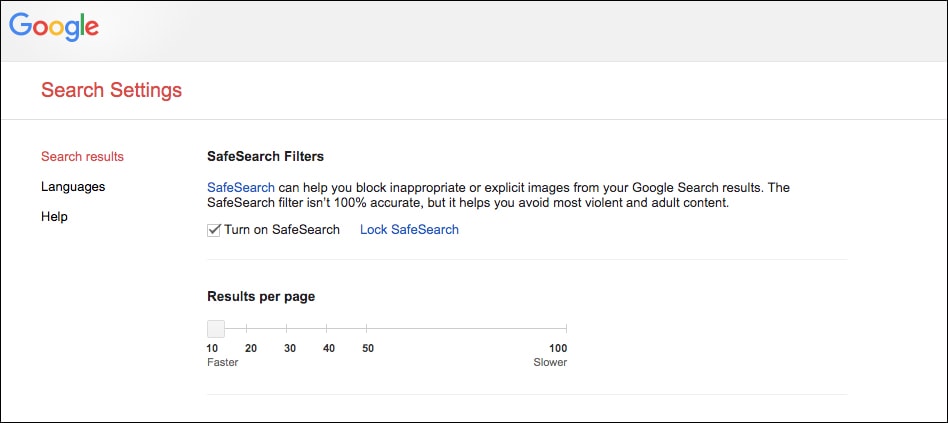 5. Click Save.
There used to be a "Lock SafeSearch" option for signed-in users. Once Lock SafeSearch was enabled, your kids would have no chance to undo this Google Chrome parental control setting. This option is removed by Google.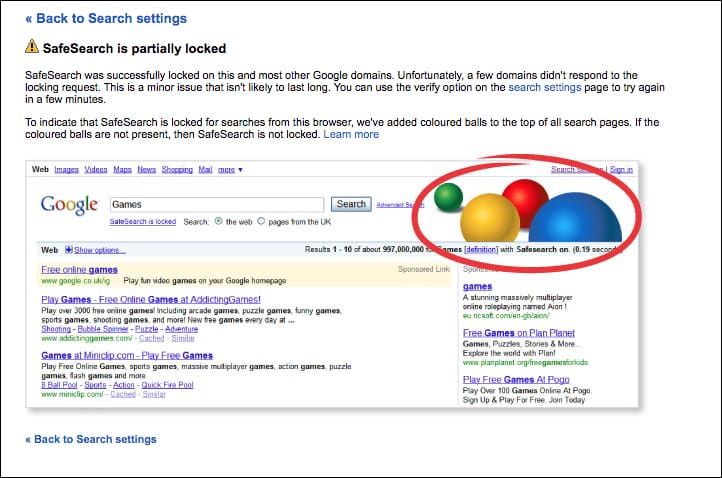 Now SafeSearch is enabled, but this doesn't affect Chrome's incognito mode. You can enable it in the incognito mode if needed.
Note that SafeSearch only removes explicit results from search results. It doesn't block access to bad websites. Below is how to make porn sites themselves blocked.
How to block adults websites on Google Chrome with professional apps
This part shows you the best website blockers to help make porn websites inaccessible from Chrome on Mac and Windows.
Pros
Effective in restricting online adult content
Useful and versatile
Cons
#1 Cisdem AppCrypt
Compatibility: macOS 10.12 or later
Cisdem AppCrypt for Mac is a completely reliable and powerful program that assists you to filter the types of websites your kids may access online. It's an all-in-one website blocker and app locker that stops unhealthy online content and helps improve your kids' study productivity.
AppCrypt main feature:
Block any websites with password permanently or during certain hours
Also allow you to block websites by category (adult, social media, etc.)
Help block inappropriate websites about pornography, gambling, drugs, alcohol, or suicide on Google Chrome, Safari, etc.
Help block distracting websites and improve focus
Help filter the types of websites your kids access online
Also password lock apps such as Photos, Messages, Notes, Mail, WhatsApp, Evernote, etc.
Steps to block adults websites on Google Chrome
1. Download Cisdem AppCrypt on Mac and install it.

Free Download
2. When you run this porn blocker for Chrome for the first time, set a password, which will be used to block and unblock websites and apps.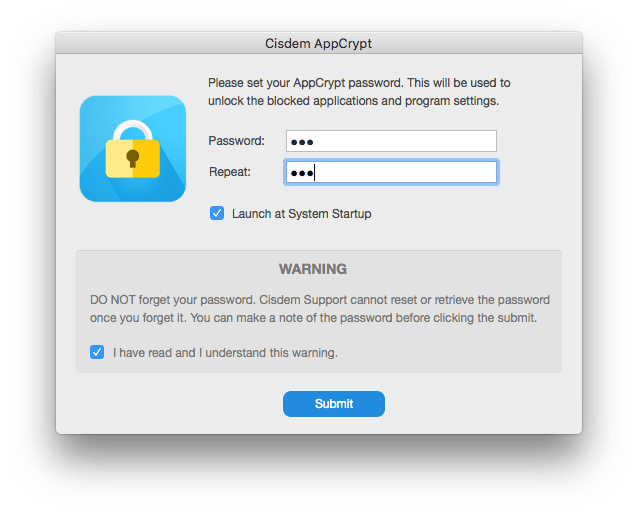 3. Click the icon and choose Open Main Window.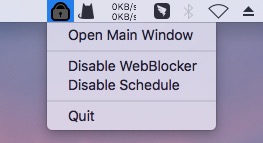 4. Now you are in the main window. Click Web Block.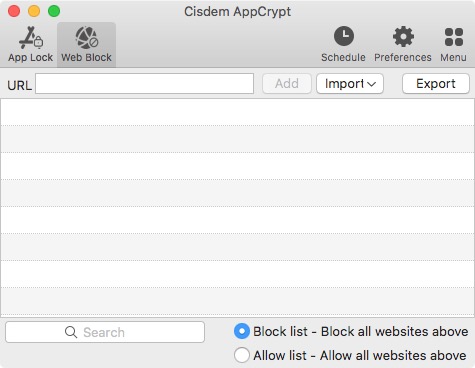 5. In the Web Block window, add the adult websites you'd like to block to the Block list. Or, import the list Porn Sites.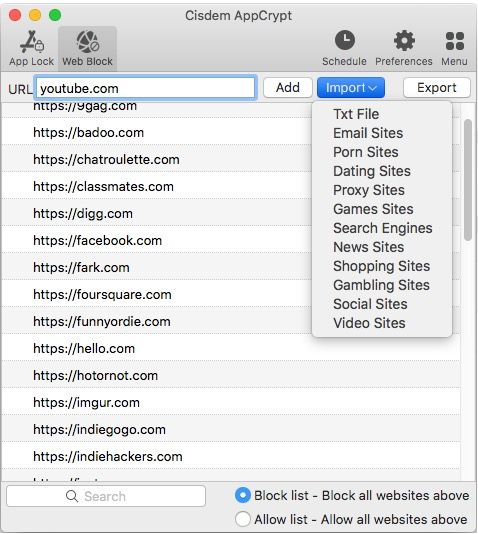 Now, the adults websites are blocked permanently, as long as AppCrypt is running. And your kids won't be able to visit these explicit sites in Google Chrome. If they try to open the encrypted adults websites with a wrong password, the websites will remain blocked by this porn blocker for Chrome.
Tip 1: The Block list mode is the default mode. If you want to block all websites except a few (that you approve), you can switch to the Allow list mode. This way, you can completely block access to all over 18 sites and other inappropriate sites.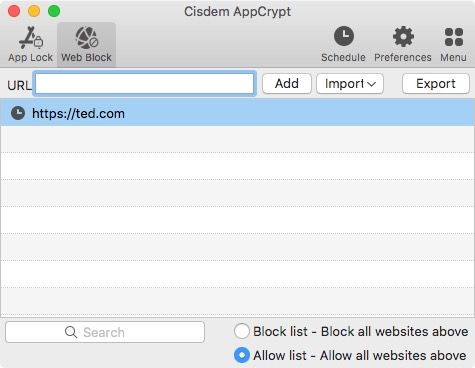 Tip 2: If you want to apply the blocking during certain times, the Schedule feature can help.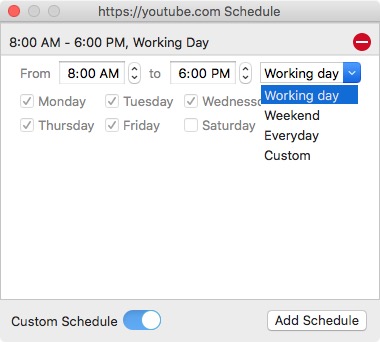 Steps to unblock blocked websites on Chrome
1. In the WebBlock window, select a blocked website by clicking it.
2. Click the minus icon to remove it from Blocklist.
Now the website is unblocked.
Or, you can temporarily unblock by disabling WebBlock.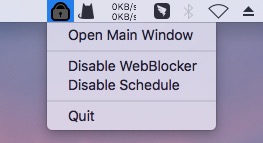 #2 FocusMe
Compatibility: Windows 10, Windows 8 and Windows 7
FocusMe is a well-known solution to block adults websites in Google Chrome permanently or for a limited time. You can enable the "Block Porn Sites" plan to block the websites that have been added. Or, you can create a new blocking plan or profile and customize it as you want. It's easy to use but is a bit expensive with a price tag of $39.99 per year.
1. Install FocusMe on your device and launch it.
2. Click the Add Plan button on the upper right corner.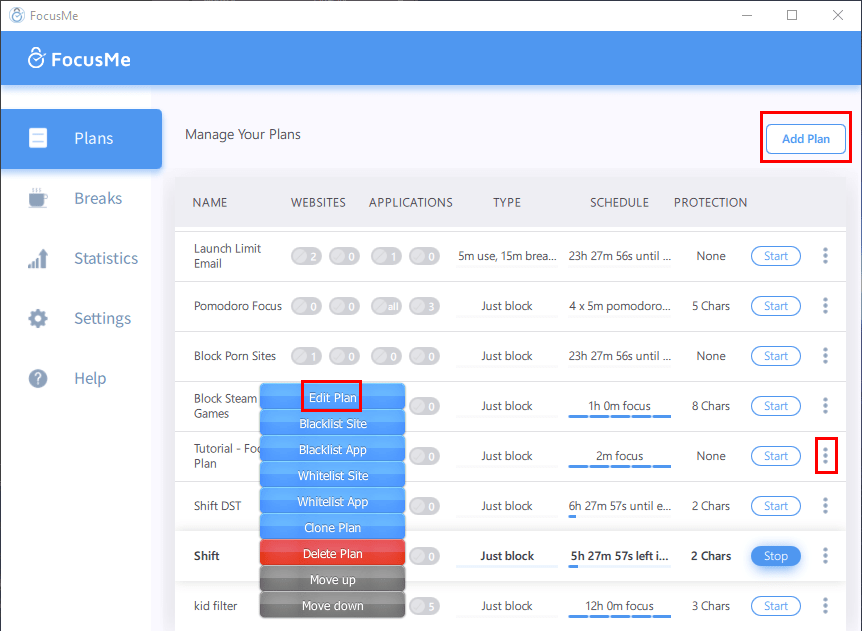 3. Give a name to your plan and click Next.
4. Click Blocked Selected Sites > Blacklist > Add Site.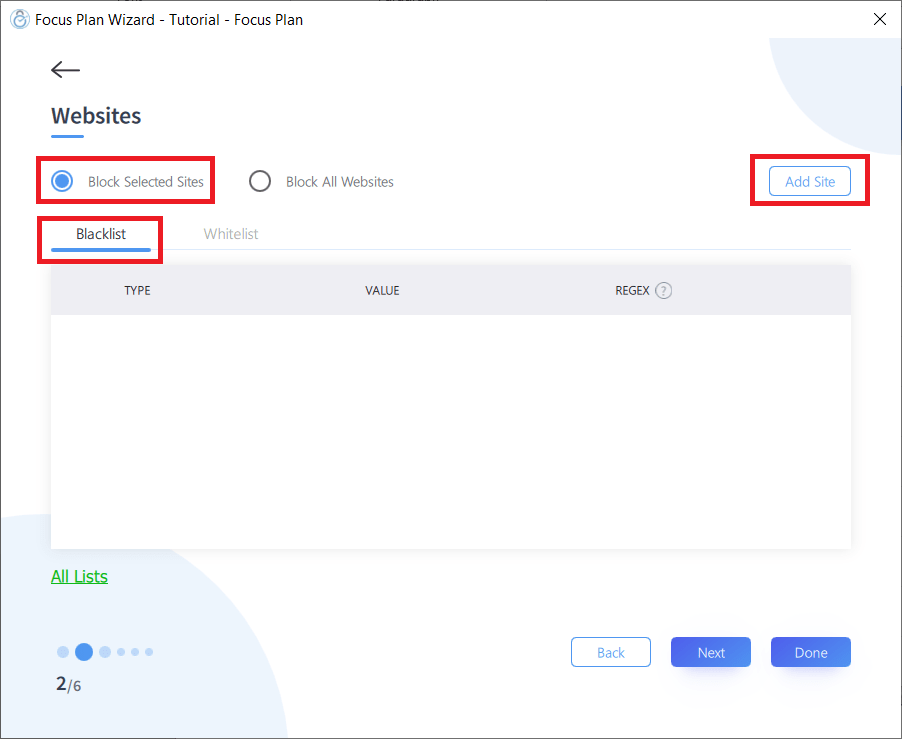 5. Go to the Custom tab and add adults websites to the blacklist.
6. Click Done.
To modify an existing plan like such as Block Porn Sites, you can right-click the plan and choose Edit Plan, or click the vertical ellipsis on the right.
How to block adults websites on Chrome with device's built-in settings
Some operating systems come with settings or features to help users block certain (such as porn) websites on the Chrome browser on a desktop, laptop or mobile device.
Pros
Cons
Sometimes automatically block normal sites which you may need
#1 Add adults websites to the Restricted Sites zone
Applies to: Windows PC
Besides turning on SafeSearch, adding restricted sites on Windows should be another easy solution to block adults websites on Google Chrome. But the drawback is that your children can revise your settings without a password or authorization.
1. Open "chrome://settings/" in your Chrome for Windows.
2. Navigate to the Advanced settings and choose System.

3. Click Open your computer's proxy settings, which will bring up the Internet Properties dialog box.
4. Head over to the Security tab. Click Restricted Sites and then click Sites. And a small window named Restricted Sites will appear.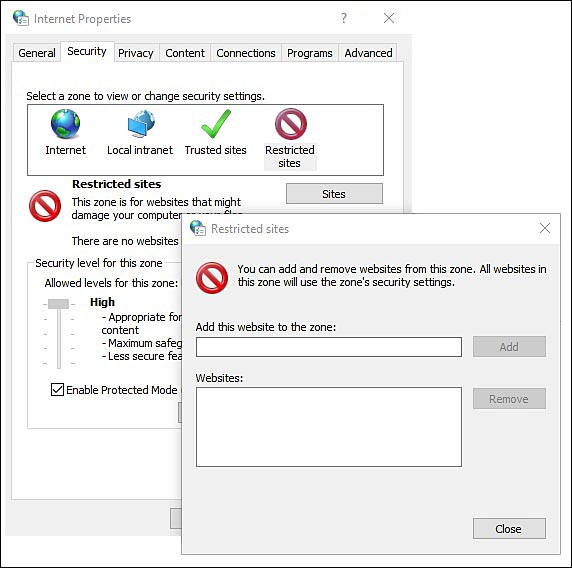 5. Add all porn sites you intend to block on Chrome to the zone.
6. Close the Restricted sites window and click OK to save your changes.
#2 Limit access to adult websites with Parental Controls
Applies to: OS X 10.7 Lion to macOS 10.14 Mojave
Mac's Parental Controls is a curated adult website blocker for Chrome that ensures you to shield your kids from explicit websites. Not only does it add porn websites to the blacklist, but also deny access to certain apps, which can prevent kids from getting distracted.
1. Open System Preferences on Mac and choose Parental Controls preferences pane.
2. Click the lock icon in the lower left corner of the window, and enter the password to authenticate your identity.
If it's your first time to use Parental Controls for Chrome, create a new user account and convert it to a parental controls account.
3. Select the Web tab at the top of the Parental Controls dialog box.
4. Click the Try to limit access to adult websites option.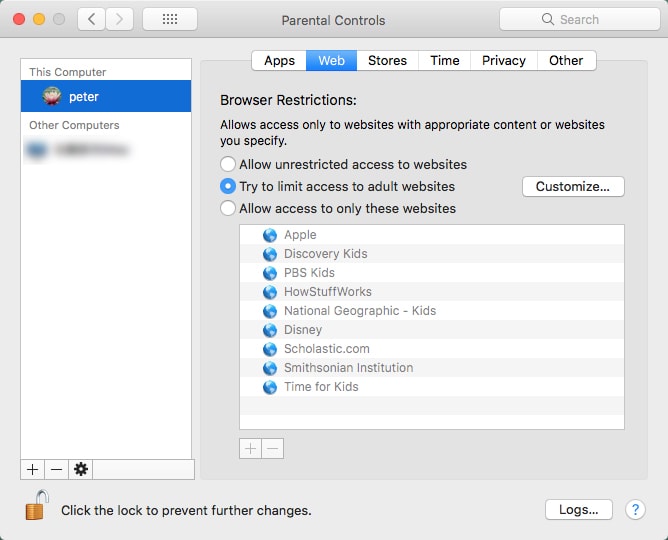 From now on, adults websites will be automatically identified and blocked on your Chrome browser. However, sometimes Parental Controls could block non-adult websites.
Tip: If certain porn sites are not blocked by Parental Controls, you can click the Customize button, manually adding the sites to the Never allow these websites list and then click the OK button.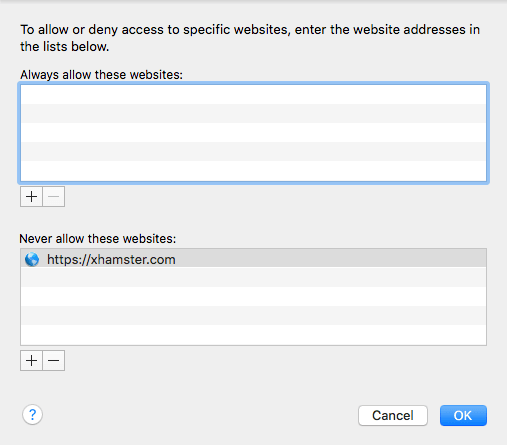 #3 Block over 18 sites on Google Chrome with Screen Time
Applies to: macOS 10.15 Catalina or later
Starting with macOS Catalina, Screen Time replaces the Parental Controls and Managed Accounts on Mac. Actually, the app was originally released on iOS 12. It can manage app limits, monitor screen time as well as block adults websites in Google Chrome or other browsers.
1. Launch System Preferences and click Screen Time.
2. Select Content & Privacy from the left sidebar and turn it on.
3. Go to the Content tab and enable Limit Adult Websites.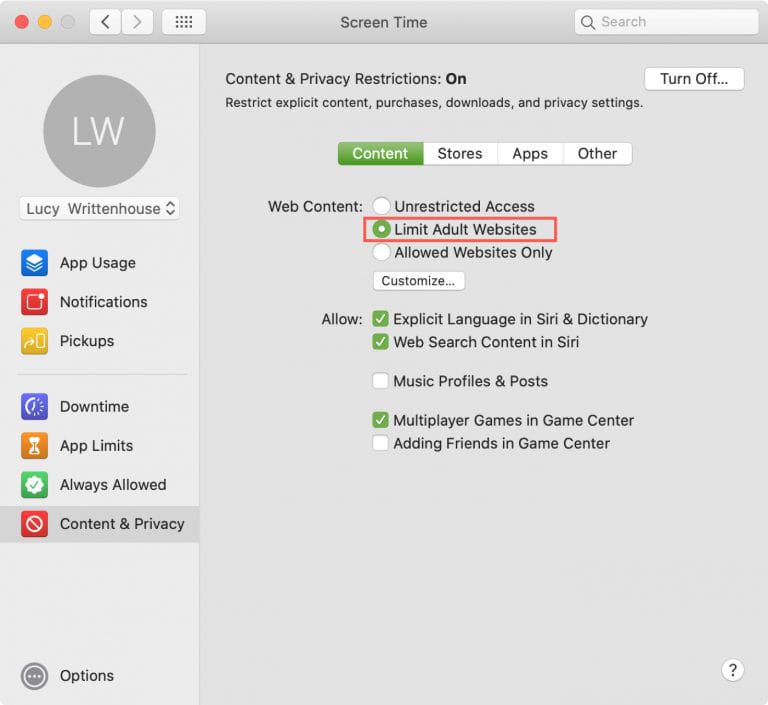 Now Screen Time starts blocking websites that it considers inappropriate. Like with Parental Controls, some adult content will be blocked on Google Chrome automatically, and it may also limit access to normal websites.
You can customize the blocking.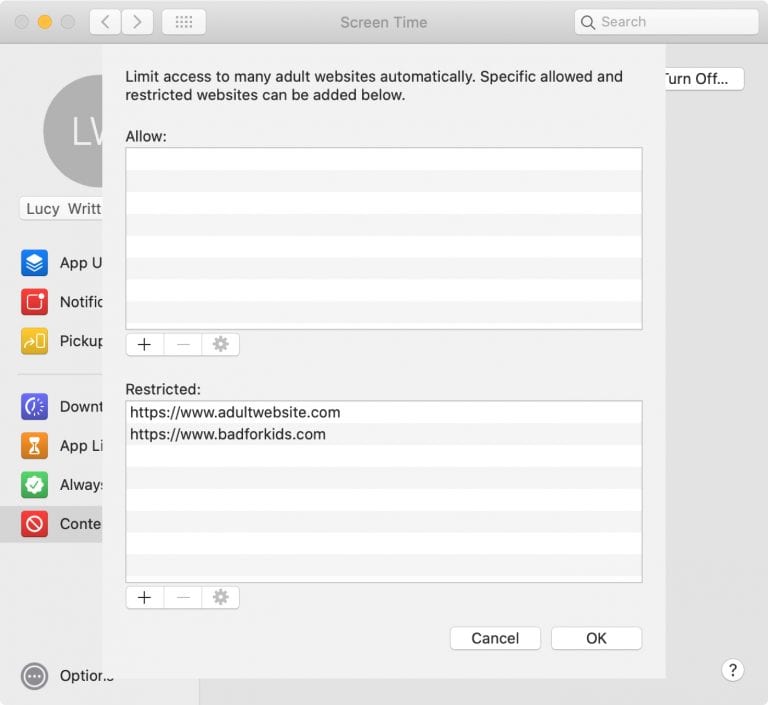 Tip: To better restrict access to porn and prevent someone from disabling Limit Adult Websites, you can set a Screen Time passcode by clicking Options in the bottom left corner.
How to block porn websites in Google Chrome via extensions
Block Site, a popular adult website blocker extension, lets you block porn on Chrome all the time, or through a schedule or Work Mode timer. You can set a password to encrypt blocked sites and receive a notification via email when someone uninstalls the Block Site extension.
Pros
Easy to set up and use for porn blocking
Cons
1. Search for the Block Site extension in the Chrome Web Store.
2. Add it to your browser, and the extension's icon will show up on your Chrome's toolbar.
3. Right-click the icon of Block Site and go to Options. It will open up the BlockSite panel.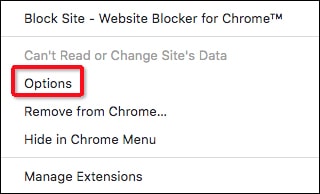 4. Hit Block Sites tab in the left panel and specify the adults websites that you need to block permanently or by schedule.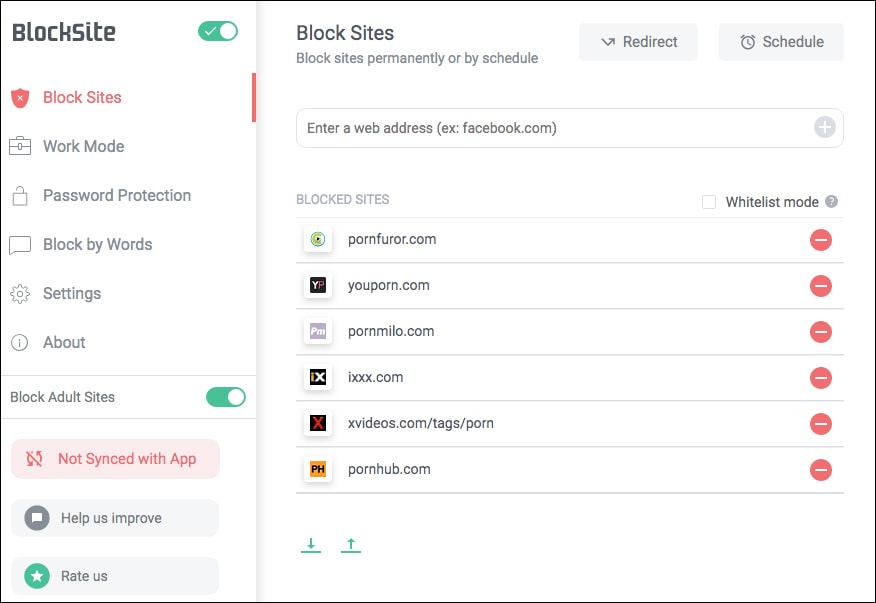 The Block Adult Sites feature is enabled by default, which can block partial explicit websites.
How to block mature sites on Chrome with Google Family Link
Google Family Link is a parental controls service from Google. With it, parents are able to restrict adult websites and any other unwanted sites on Google Chrome on their children's devices.
Pros
Cons
Complex to set up
Available only for Android and Chromebook
1. Access the service by getting the official app.
2. Create a Google account for your child.
3. Choose to customize parental controls.
4. In Parent settings, choose Filters on Google Chrome.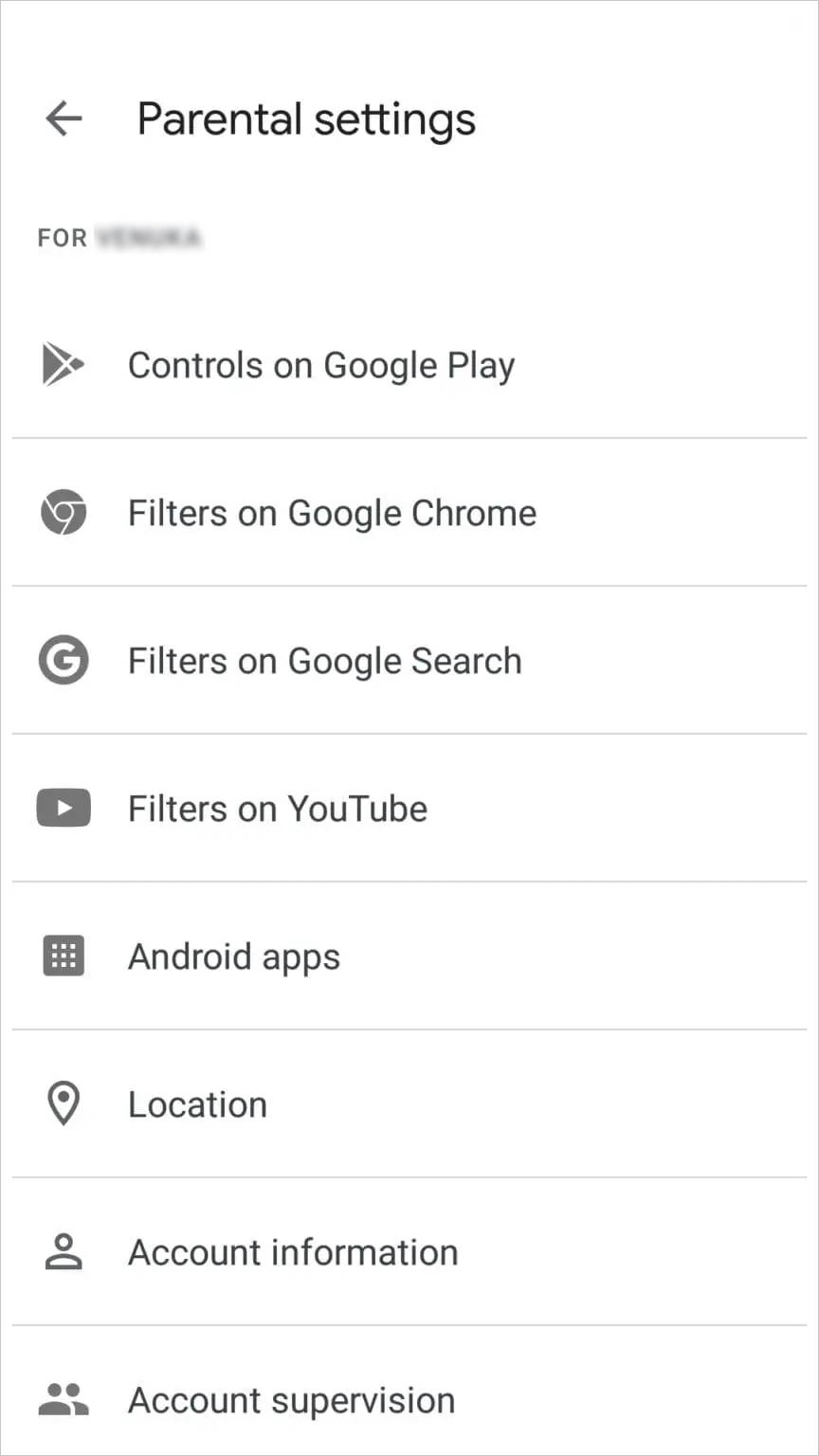 5. Enable Try to block mature sites.
6. Click Manage sites and then click Blocked. Now you can manually block any adult site that you need to block.
2 FAQs about Google Chrome parental controls
#1 Can I still enable Supervised Users feature on Chrome?
Yes, you can apply the feature on Android and Chromebook with the help of the Family Link app.
Google decided to abandon "supervised users" since January 2018. Later, Google released a replacement Family Link to manage your kids' browsing activity on Google Chrome. This new Chrome parental control solution can organize screen time and block adults websites in Google Chrome, etc. It currently doesn't support Mac, Windows and iOS devices. And only a few countries can use it.
#2 How to prevent kids from removing history in Chrome?
To prevent your children from secretly browsing pornographic websites, you can disable delete browsing history options on Chrome. Once you find that they have opened a porn site, you can accurately block the adults websites in Google Chrome they are following.
1. Open Chrome and go to the three dots icon at the top right corner.
2. Click on Settings > Advanced and choose Site Settings under the Privacy and security tab.
3. Select Cookies and site data.
4. Turn Allow site to save and read cookie data box on and uncheck the Block third-party cookies box.
Conclusion
Teenagers are constantly being invaded by a lot of inappropriate content such as pornographic, cyber-bullying, violent, and predators. It is necessary to defend your kids from various activities with Google Chrome parental controls or a porn blocker for Chrome. Hopefully, these methods on how to block adults websites in Google Chrome can be helpful.