This article will show you how to block pop-ups on Mac easily in different ways.
Ads are everywhere online. Many of them take the form of pop-ups. A pop-up ad may open in the current browser window, a new window, or another tab. Pop-ups can be annoying. They interrupt your browsing experience. What's worse, they may lead to malicious websites or trick you into downloading unwanted software.
Unless you are sure that a pop-up is legitimate, avoid interacting with it. Just close the tab or the window. Some pop-ups come with fake close buttons. Clicking such a button will open more pop-ups. Blocking pop-ups can help you get rid of the annoyances.
The Best App to Block Websites on Mac
Block distracting, inappropriate or any other websites with password
Let you block all websites except the ones you allow
Also lock apps with password
Offer Schedule feature to block websites and lock apps at certain times
Require password to quit or uninstall AppCrypt
Help reduce digital distractions and improve productivity
Help limit screen time
Help protect your private apps
Can be used for parental control
Support macOS 10.12 or later

Free Download
Method 1. Block pop-ups on browsers on Mac with the built-in pop-up blocking tools
The fact is that most web browsers today provide users with built-in tools to block pop-ups. This part will talk about the three most popular browsers on Mac: Google Chrome, Safari and Firefox.
How to block pop-ups on Mac on Chrome
On your Mac, open Chrome.
Click the three-dot icon in the top right corner and choose Settings.
Select Privacy and security > Site Settings.
Scroll down. Under Content, choose Pop-ups and redirects.
Turn on pop-up blocking.
Click Add next to Block. Add a website.
Once a website is added to the Block list, when you open it, the pop ups won't appear. They are blocked by Chrome, and an icon will appear in the address bar. If you click the icon, you can find what pop-ups are blocked. Also, it provides an option to allow pop-ups from this specific website. As you can see, it's very easy to block and unblock pop-ups on Chrome.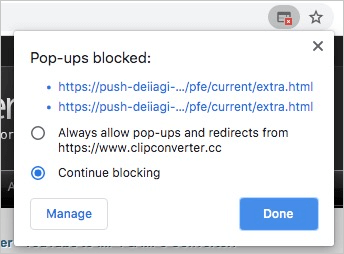 Some websites display notifications as pop-ups, and these can be useful. If you want to, you can also turn off notifications from a website in Site Settings.
How to block pop-ups on Mac Safari
On your MacBook Pro, MacBook Air or iMac, etc., open Safari.
Go to Safari > Preferences.
Under the Websites tab, click Pop-up Windows.
In the Allow pop-up windows on the websites below section, the currently open websites (if any) will be listed. You can block or allow pop-up windows for them individually.
Go to When visiting other websites at the bottom. Choose Block or Block and Notify.
If you choose the Block and Notify option, when a pop-up window is blocked, Safari will let you know.
You can also easily handle pop-up windows in Safari on your iPad and iPhone in pretty much the same way.
To turn off pop-up blocker on Mac Safari, choose the option Allow in Step 5.
How to stop pop-ups on Mac Firefox
On your Apple Mac computer, open Firefox.
Click the three-line icon in the top right corner and click Preferences.
On the left side, click Privacy & Security.
Scroll down until you find the section Permissions.
Under Permissions, select the box next to Block pop-up windows.
If you want to allow pop-ups in Firefox for certain websites, then click the Exceptions button next to Block pop-up windows. Enter an URL in the Address of website box and click Allow. Don't forget to click the Save Changes button.
This is how to easily enable pop-up blocker on Mac Firefox. To turn off the blocker, go to Permissions and unselect that box.
Method 2. How to block pop-ups on Mac via extensions
Provided https://getadblock.com/, AdBlock is one of the most used and reliable browser extensions to block online ads including pop-up ads. It's available for Chrome, Firefox and Microsoft Edge.
Open your web browser. Go to AdBlock official website.
There, find a link to download this pop-up blocker for your browser or device.
Download and install the extension.
Once installed, it will immediately start working. This extension is easy to use and highly customizable. Click its icon in your browser toolbar and click the settings icon that appears, which will take you to the AdBlock Options page. In the sidebar, click Filter lists, and you will find a few filter lists. AdBlock works based on them and primarily on EasyList.
If there are still unwanted pop-ups, here's a tip that helps. In the Filter lists interface, under the Other Filter Lists section, check the box next to Fanboy's Annoyances.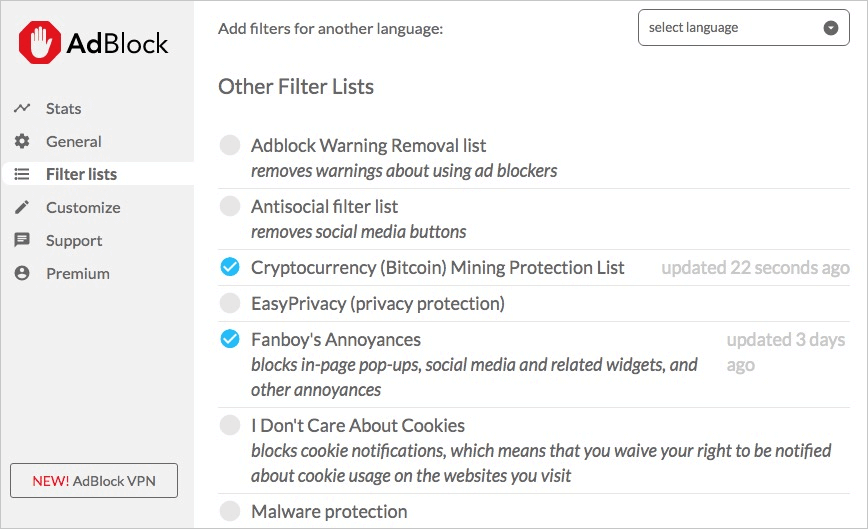 Bonus tip: How to block unwanted websites on Mac
Just like unwanted pop-ups, unwanted websites are also something that we want to block. It's easy to block or limit access to them using Cisdem AppCrypt, the best website blocker and app locker for Mac.

Free Download
Download AppCrypt and install it.
When you open the app for the first time, you will need to set a password.
From the top menu bar, click the app's icon and click Open Main Window.
Choose the Web Block tab.

Enter the URL of a website and click the Add button.
Once a website is blocked, when you try to open it, it won't open. And you will be presented with this image.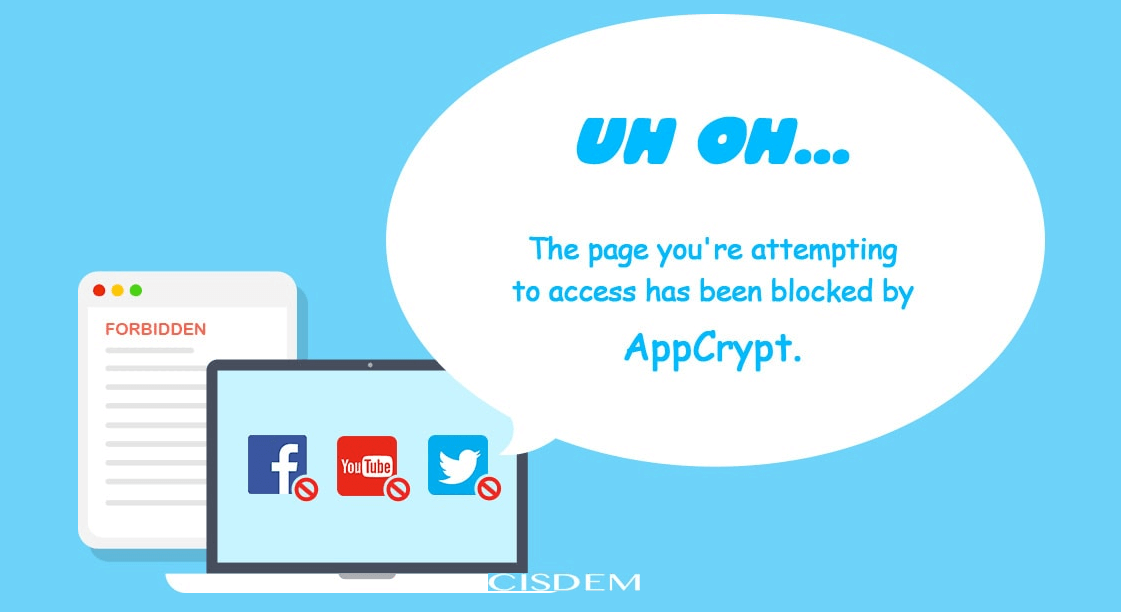 To remove it from the block list, select it in the WebBlock window and click the minus icon.
Conclusion
This is how to block pop-ups on Mac. By stop annoying or malicious pop-ups, you can have a better and safer browsing experience. Regardless of the web browser you use, it should come with a built-in solution for pop-ups. If the built-in one is not useful enough, you can consider third-party tools such as AdBlock.

Rosa has worked in Mac software industry for more than eight years. She believes that the purpose of software is to make life better and work more productively. In addition to writing, Rosa is also an avid runner.