Having duplicate photos on your computer can be a pain. They are not only useless but can waste storage space. Also, they can make it harder to organize your photos. Manually dealing with them is not easy. The best way to find and delete duplicate photos on Windows 10 is to use a good duplicate photo finder for Windows 10.
This article provides a list of the best Windows 10 apps to identify and remove duplicate photos and images.
---
Top 6 best duplicate photo finder Windows 10 apps
A duplicate photo finder is a piece of software to detect and eliminate duplicate image files. We've tested a number of popular duplicate image finders for Windows, including freeware. They vary in features, performance, ease of use, price and more. Below are the reviews. We hope the reviews can help you find the best app to get rid of photo duplicates.
#1 Easy Duplicate Finder
Excellent at finding duplicate photos, videos, songs and more, even those on the cloud (e.g. Google Drive)
Compatibility: Windows 10, 8, 7, Vista and XP, 64-bit or 32-bit
Current version: 7.11.0.27, released in July 2021
Are you looking for a powerful and easy to use duplicate photo finder for Windows? Easy Duplicate Finder can be the best choice.
To help you efficiently detect the images on your computer, the app provides 3 modes: SHA256 Checksum + File Size, Byte-by-Byte Comparison and Filename Only. The first or second mode can find exact duplicate photos, photos that are exactly identical regardless of filename.
When you use the app to scan a drive or folder (e.g. the Pictures folder) on your Windows 10 desktop or laptop for duplicate pictures, you can exclude specific folders or subfolders (e.g. a subfolder in Pictures called Backup) from the scan. This can keep your important folders and photos untouched.
This duplicate file finder's Auto Remove option lets you get rid of the found duplicate pictures with a single click, saving you from manual removing. If you want more control over the removal, use the Manual Review option instead.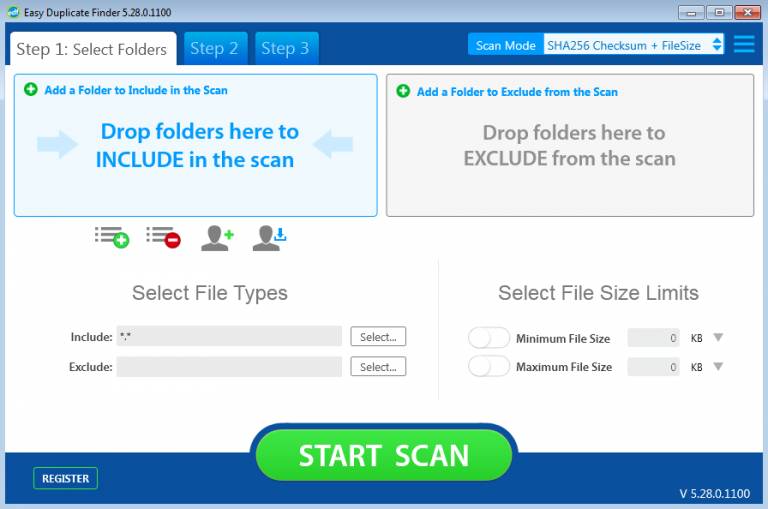 Pros
Support common image formats (e.g. JPEG, PNG and TIFF) and even raw image formats (e.g. NEF and CR2)
Identify duplicate pictures, videos, audios and documents, etc.
Remove duplicates from your computer, external storage and cloud storage
Offer multiple scan modes and removal options
Offer a built-in preview feature
Let you remove unwanted duplicates by moving them to the Recycle Bin or deleting them permanently
Come with an intuitive and easy-to-understand interface
Cons
Upgrades are not free

Free Download
#2 Duplicate Photos Fixer Pro
A dedicated Windows 10 duplicate picture finder to find duplicate photos and even similar ones
Compatibility: Windows 10, 8.1, 8, 7, Vista and XP, 64-bit or 32-bit
Current version: Not revealed
If you are a photography lover or photo editing enthusiast and want to get rid of the tons of duplicate images and similar images on your PC's hard drive, this app is worth considering.
Duplicate Photos Fixer Pro offers 2 scan modes: Exact Match and Similar Matches.
The Exact Match mode finds exact duplicate images. With this mode, the scan can be fast. Even if you have a large photo collection, the scan won't take much time. The mode can also search for duplicate videos, but you need to enable the support for videos in the app's Preferences.
The Similar Matches mode finds near duplicate photos, such as photos captured in burst mode, edited (such as recolored, resized, cropped or compressed) versions of the same photo and certain other visually similar photos. The found photos will be grouped together for you to pick the best photo of each group. You can delete the rest to free up space.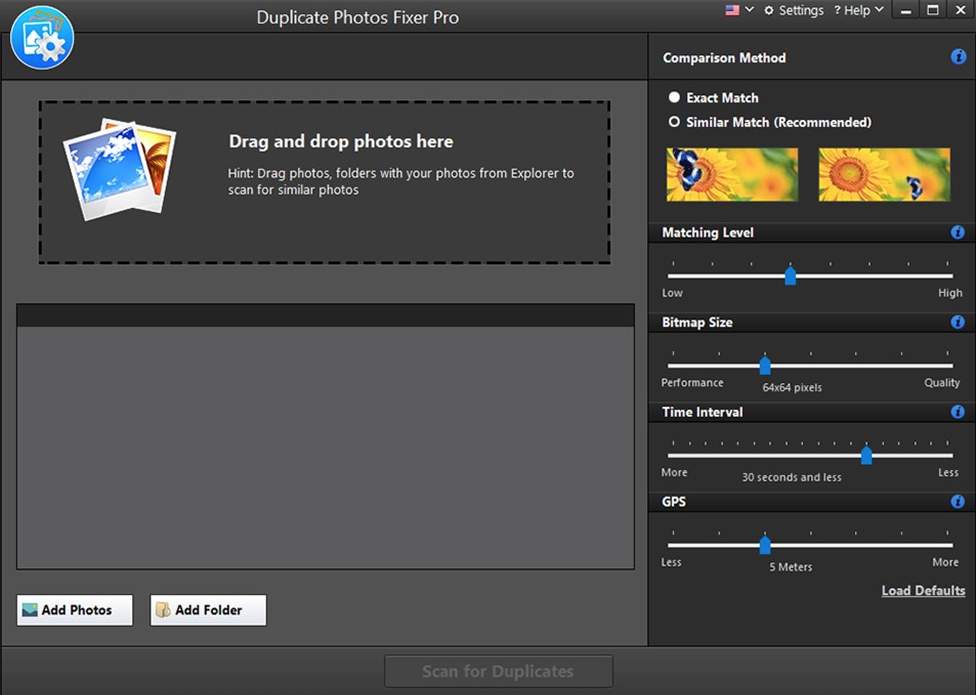 Pros
Scan your computer for duplicate pictures and videos
Also identify near duplicate pictures, letting you adjust the Matching Level
Allow you to exclude certain folders and files from scan
Offer an Auto Mark feature to automatically mark duplicates for deletion
Show image preview and metadata
Swift and easy to use
Customizable and flexible
Cons
A bit expensive as it only handles images and videos
#3 Duplicate Photo Cleaner
A dedicated duplicate image finder and remover with support for Adobe Lightroom
Compatibility: Windows 10, 8, 7, Vista and XP
Current version: 7.0.0.5, released in August 2021
One of the best duplicate photo finders for Windows, Duplicate Photo Cleaner is designed to help professional photographers, amateur photographers and average users to detect and remove duplicates.
It offers 4 scan modes.
The Standard Scan mode should be the most commonly used mode. It scans the folder or drive of your choice for photos that are exactly the same and photos that are similar. You can control how the app compares images and identify similar ones by adjusting the Similarity Threshold level.
The Folder Comparison mode can help when you want to compare the pictures in two or more folders. The Sector Detail Scan mode and Same Subject Scan mode can be useful for professionals such as photographers and designers.
The detected duplicate pictures will be displayed in groups. You can easily view them and select the duplicates that you don't want to keep for removal. If you don't want to select by hand, choose one of the provided Select rules, which helps automate the selection.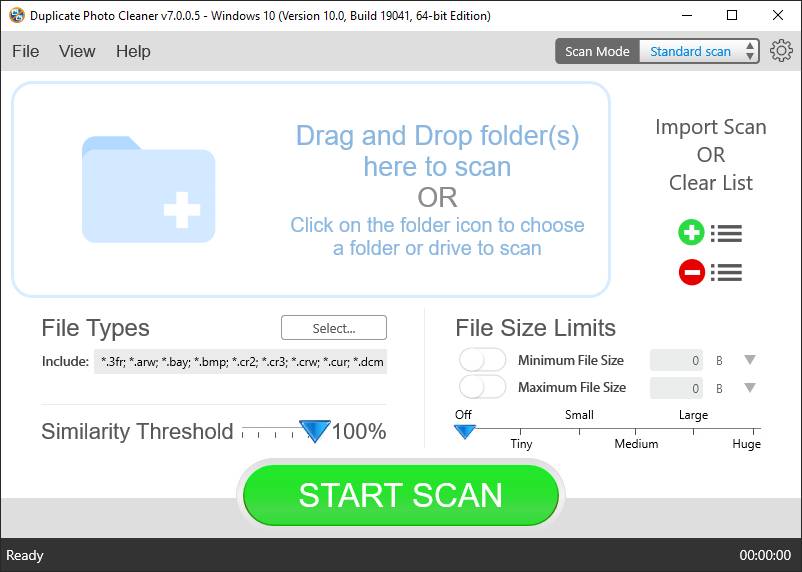 Pros
Support a wide variety of image formats including raw ones
Support Lightroom
Provide 4 scan modes to search for duplicate photos and near duplicate ones
Offer 2 view modes: View by group and View by list
Provide a zoomable preview
Make it easy to select all duplicate photos to eliminate with a click
Cons
A bit slow when scanning a big collection of photos
A little expensive
#4 Duplicate Cleaner
A sophisticated app to find and remove duplicate photo files and other types of duplicate files on Windows
Compatibility: Windows 10, 8 and 7
Current version: 5.0.12, released in August 2021
Duplicate Cleaner does what it is designed to do and does it well. But if you are new to duplicate file finder software or not tech savvy, you may find its interface overwhelming. The app can be a great choice for experienced users.
It has 4 search modes: Regular, Image, Audio and Video. Both the former 2 modes allow you to find duplicate photos. But the Image mode is the best for this purpose.
The Image mode supports BMP, GIF, JPEG, ICO, PNG, EMF, DIB, TIFF, HEIC, WEBP and a few camera raw image formats. It finds both duplicate images and similar images. There are a number of settings and options, letting you control what results will be found.
The app will display the results in groups. In each group, there are photos (namely the unwanted duplicates) that you want to delete. You need to select them for deletion. To make things easier, you can use the Selection Assistant feature.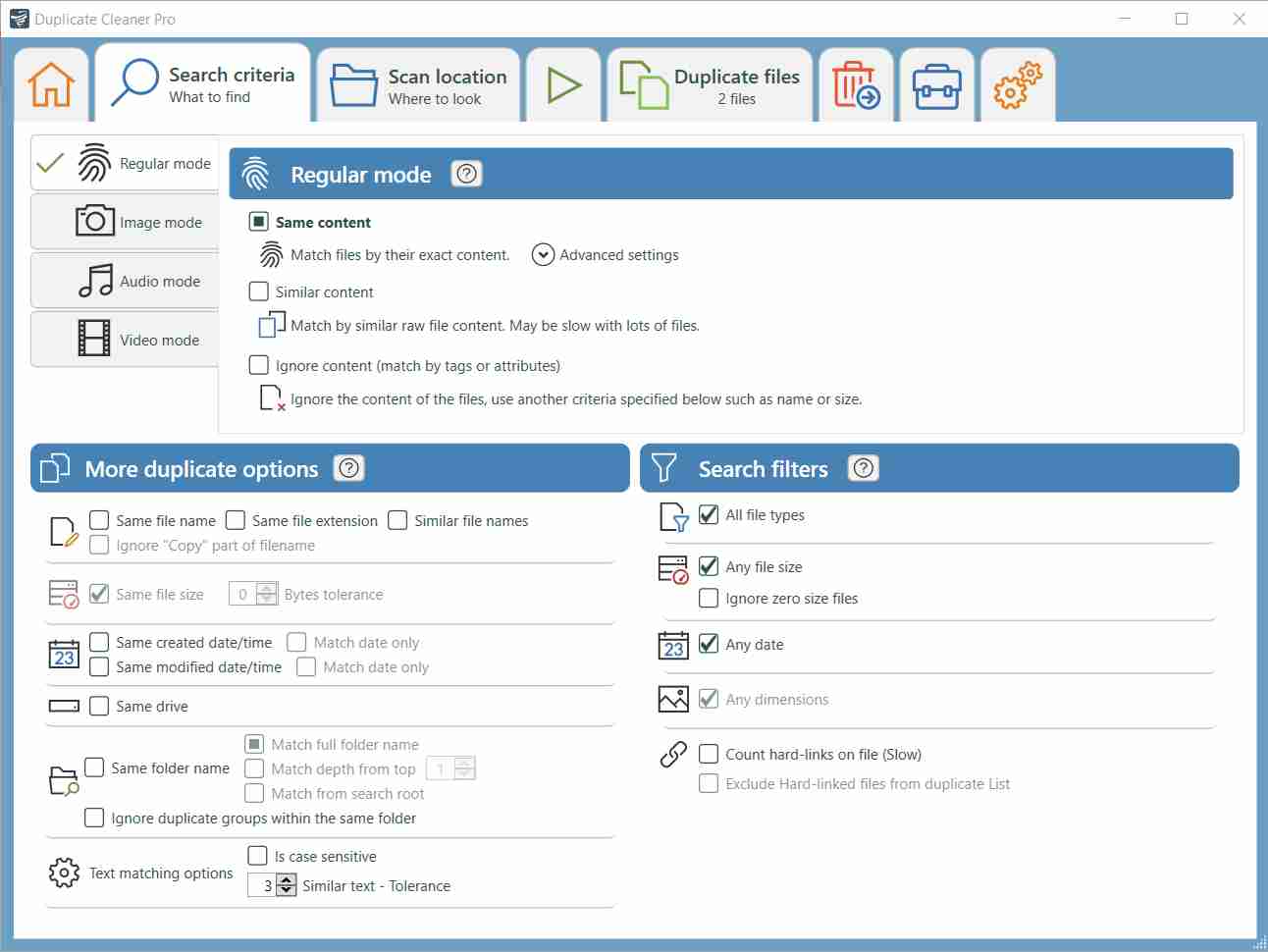 Pros
Come with an Image mode to efficiently search for image duplicates
Detect similar images as well
Also search for other types of duplicates such as duplicate audios and videos
Support popular image formats including raw ones
Offer a long set of search criteria for configuration
Provide a useful Selection Assistant feature
Offer a very informative and detailed user guide
Cons
Not beginner friendly due to an overwhelming interface
#5 Awesome Duplicate Photo Finder
The best free duplicate photo finder for Windows 10 with reliable performance and a simple interface
Compatibility: Windows 10, 8, 7, Vista, 2003, XP and 2000
Current version: 1.2, released in April 2021
Are you in search of a good app to find and delete duplicate photos on Windows 10 for free? Check out Awesome Duplicate Photo Finder.
Despite being freeware, it has all the makings of good basic duplicate picture finder software. In addition to supporting all major image formats, it even supports CR2, a Canon raw format.
This free app finds photos that are exactly the same. It also finds certain (e.g. compressed or recolored) edited versions of the same photo. You can easily sort and preview the duplicates that it has found. The preview feature is handy.
But note that you need to select the undesired duplicates for removal one by one by hand. There is no way to automate the process. It can be tedious and time-consuming.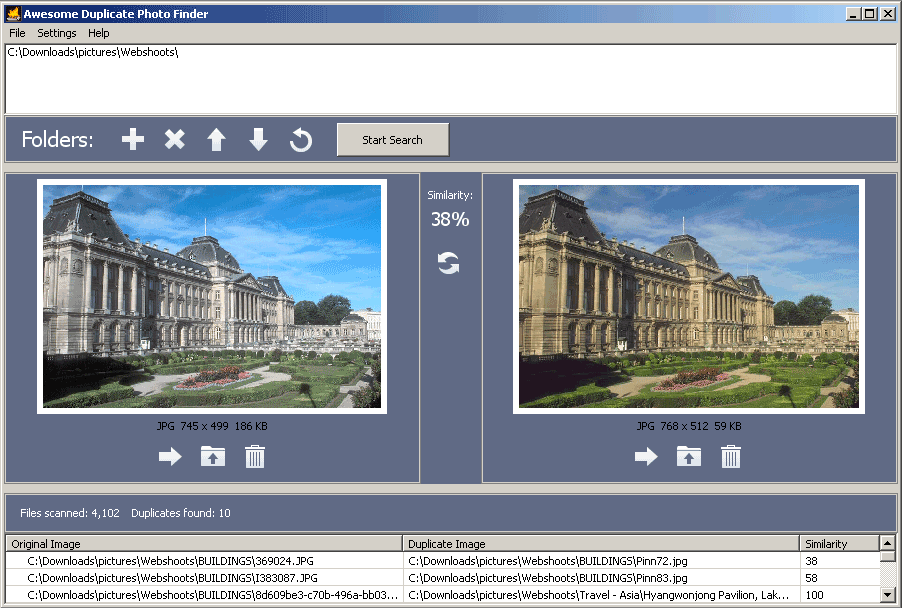 Pros
Completely free to use
Capable of identifying identical and similar photos
Let you conveniently preview images
Compatible with almost all Windows versions
Easy to use with a simple interface
Cons
Time-consuming removal process since you have to select files to remove one by one
#6 dupeGuru
A free open source duplicate file finder to clean up duplicate photos, videos, documents and more
Compatibility: Windows 10, 8 and 7
Current version: 4.1.1, released in March 2021
dupeGuru is definitely the best free open source duplicate photo finder available for Windows 10. The app used to be commercial and went open source later.
Both its Standard mode and Picture mode allow you to detect photo duplicates. The Picture mode is dedicated to dealing with image files. And with this mode, the app will ignore any other types of files, so the scan can be faster.
The scan results will be displayed in groups. You can easily sort and view them. However, the preview feature is inconvenient, and the preview is slow to load. Preview is an important feature for duplicate image finder software. And dupeGuru falls short in this regard.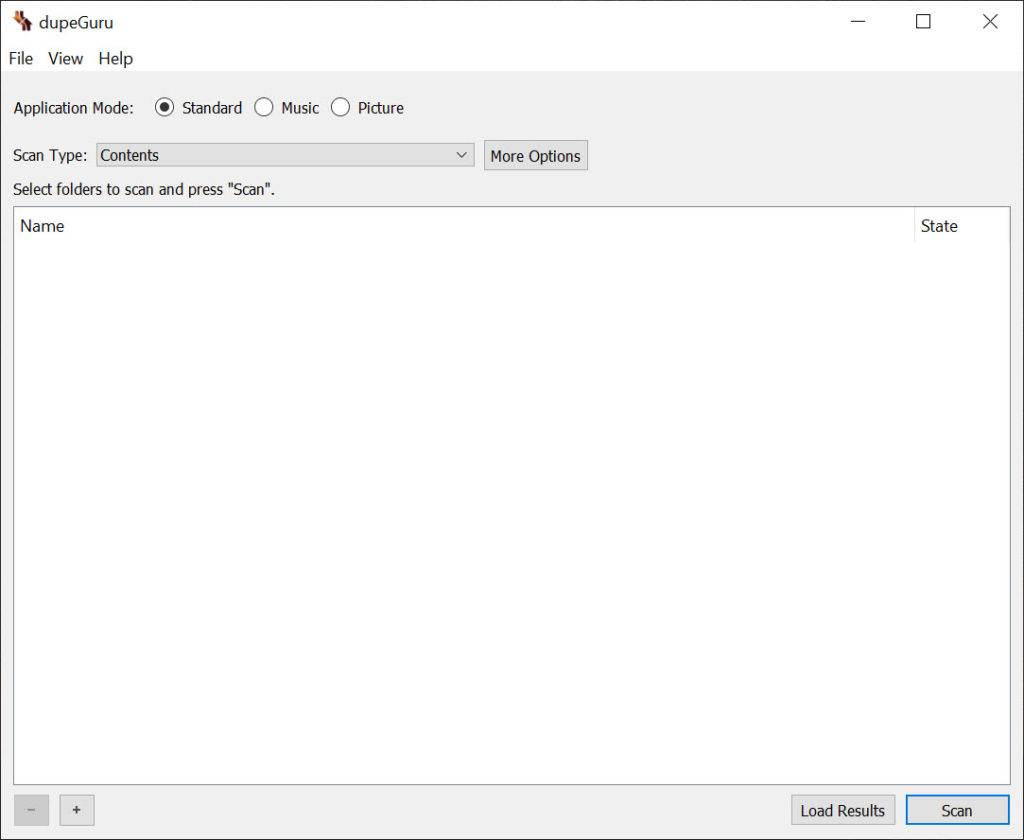 Pros
Free and open source
Find duplicate pictures and other common types of duplicate files
Offer a Picture mode to specially scan for duplicate photos and certain similar ones
Make it possible to mass mark duplicates to delete
Provide a number of basic and advanced features and settings
Cons
The preview feature needs improvement
---
A comparison of the top duplicate photo finders for Windows 10
---
FAQs
Why do photos duplicate in Windows 10?
It can happen when you import photos from your camera or smartphone to your computer. When you import photos using the Windows 10 Photos app, normally only new photos will be imported. But sometimes Photos app fails to recognize which photos already exist on your computer and imports both new and old photos, resulting in duplicates.
Can Windows 10 find duplicate photos?
Windows 10 doesn't find the image duplicates on your computer nor does it remove them for you. But its Photos app does offer an option called Linked duplicates. The option helps avoid showing a photo twice when the photo has duplicates.
Is there a way to delete duplicate photos on Windows 10?
You can identify and delete them one by one by hand. But it's quicker, safer and more reliable to use a good photo duplicate finder to clean them up. If you are not familiar with such software, you can get started with a test folder.
---
Conclusion
Are you fed up with the duplicates in your digital photo collection? Check out the reviews above and pick the best duplicate photo finder for Windows 10. Let it help you automatically find and remove the annoying duplicates. You have control over what to find and how to remove. Get rid of unnecessary photos and make room for new photos!