Here you will find a full, unbiased Awesome Duplicate Photo Finder review. If you are looking for a good duplicate photo finder for Mac and Windows, Awesome Duplicate Photo Finder must be on the recommendation list from various resources. It's a Windows-only duplicate image remover. I hope the article will help you decide if you can utilize or how to use it for your purposes.
The Best Duplicate Photo Finder
Find duplicate images, audios, videos, documents, packages, etc.
Also find similar images
Support computer's internal HD, external HD, SD card, USB flash drive and more
Remove duplicates from Mac's Photos, iPhoto, iTunes and Music
Quickly scan for duplicates and let you exclude folders from scan
Offer 3 preview modes, allowing side-by-side preview
Select duplicates automatically for batch removal in 1 click
Provide 3 ways to remove unwanted selected duplicates
Available for both Mac and Windows

Free Download

Free Download
Awesome Duplicate Photo Finder Review
Is Awesome Duplicate Photo Finder safe?
Awesome Duplicate Photo Finder is a free powerful program allowing users to find and delete duplicate photos and can be used by each Window PC user. So, here comes a doubt, as every free program would invite, is Awesome Duplicate Photo Finder Malware?
No, it is not malware and is safe to use.
After you have downloaded and installed the program on your Windows, a clean and ad-free interface will appear, there is no bundled software, no ads contained in this program to cause any inconvenience. In addition, it won't do harm to your previous settings, it just tries to do its job, then you can quite or install without any problem.
Overview
Pros
100% free and clean
Lightweight
Can find basically all duplicates
Support portable storage devices such as USB flash drives
Cons
Take time to scan
Cannot batch deleted duplicates
Relatively limited supported image types
Verdict
For Windows users who are looking for a free duplicate image remover, this app can be a good choice. It supports five image formats including JPG, BMP, GIF, PNG and TIFF, which is enough in many cases. If your photo collection also includes photos in other formats, you need a more powerful alternative. For users who need to scan a large size folder, it will take time and can easily cause mistakes in the scanning process, try Awesome when you are working on small folder.
The latest updates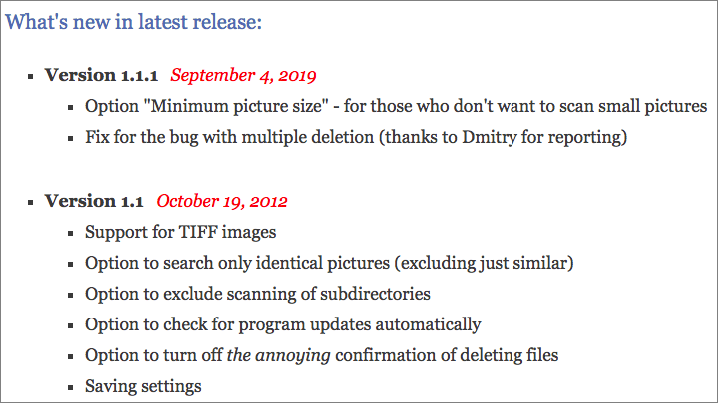 According to its official website, the latest version is version 1.1.1, which was released in 2019. The update adds a new option that allows users to skip small pictures when they perform a scan, which can help reduce the scan time.
Download and Installation
Windows users can get the installer on its website, it is small in size, approx. 1MB. It is compatible with Microsoft Windows 2000, XP, 2003, Vista, Windows 7, Windows 8 and Windows 10. There are 2 ways to download this finder, get the version with installer or without installer. On my Windows XP PC, I tried to download the version with installer, but failed to install successfully. But it goes well after I installed the version without installer.
Once downloaded, double click to open the installer and follow the instructions to install on your Windows PC.
Interface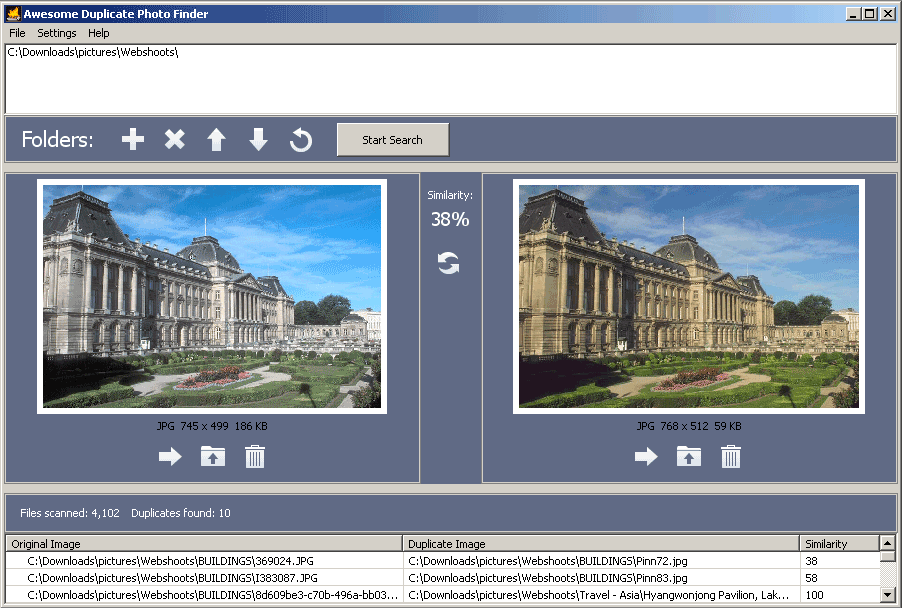 Though old-fashioned, the interface is UI friendly and simple to use.
It provides 2 ways to add a folder for scanning: drag directories from Windows Explorer to the blank area on the top, or click "+" to add folders.
Then comes a main area with original image displayed on the left and the duplicate image displayed on the right. At the bottom of the interface, all the photos in the scanned folder will be listed with details.
As for the similarity, Awesome cannot detect similar photos that there exist real difference between 2 images, its similarity still refers to 2 exactly the same photos but with different file size, resolution, etc. So, it won't be able to find similar photos.
Performance
Scanning

Obviously, Awesome is not the fastest tool to do scanning. In my test, it takes 13s to scan a folder with a size of 841.6MB, that's to say, if you are going to scan a large folder, it will take longer time.

As for the scanning results, actually there are about 60 images in my folder, but Awesome found 76 images and 41 duplicates, both are bigger than the actual quantity. Yet, we have to admit, this is a problem that a lot of duplicate finders bother users. That's to say, it is possible that Awesome will display duplicates in the scanning.

After the scanning, you can click on each found items to preview the photo, to make sure if they are duplicates.

Deleting
When moving to the procedure of deleting duplicates in Awesome, many users may feel inconvenient, because you are only allowed to delete duplicates one by one, you cannot delete duplicate photos in Awesome in batch. But, in another way, the absence of batch feature in Awesome help users to carefully remove those unwanted photos one by one.

In the "Preview" window, you can choose the "Delete" button to remove the original photo or duplicate photo, one after one. If you want to batch delete duplicate photos, you will need another 3rd party duplicate photo finder.
Settings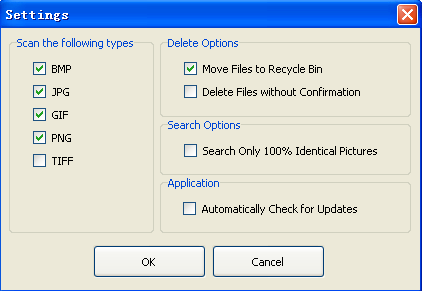 Also, users are allowed to tweak the setting to scan and delete duplicates. For example, you can choose to scan only 100% identical pictures, you can set to move duplicates to Recycle Bin or directly delete.
How to use Awesome Duplicate Photo Finder
Now, let's delete duplicate photos free with Awesome, with 3 steps, you can remove those duplicate photos.
Step 1. In the app, click the add icon, which will bring up a dialog box. In the box, select a folder from which you want to remove duplicate images. Click OK. Alternatively, you can also drag a folder into the blank area at the top. Click the Start Search button.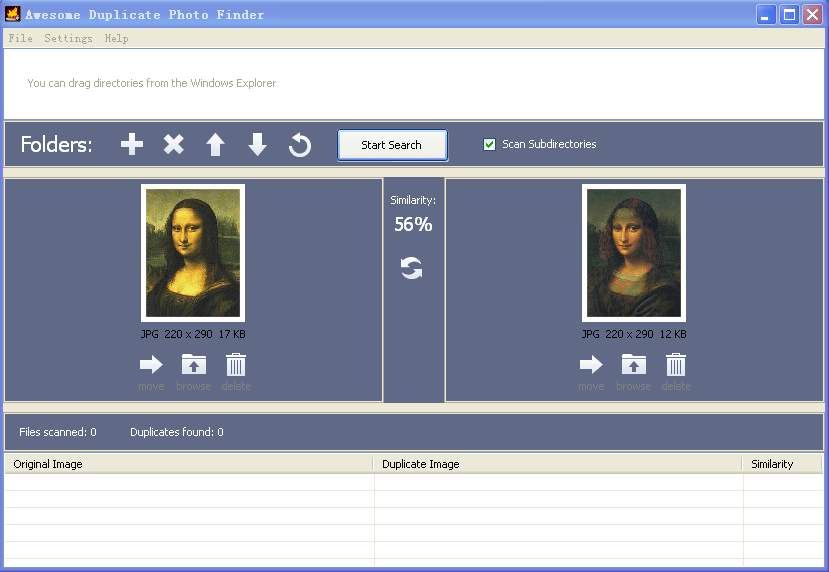 Step 2. Wait for the scan to complete. Once the process is done, a message will pop up informing you of information like Total pictures scanned. Click OK to close the message. Now you are able to view and sort the duplicate photos and similar photos that have been discovered.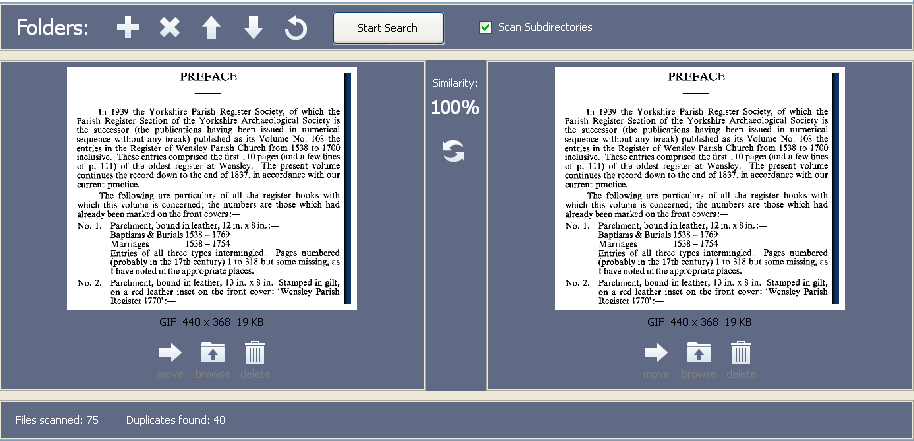 Step 3. A group of duplicate photos will appear side by side in the preview area. The similarity level between them is also displayed there. Under the preview, you can find a trash icon. By clicking the icon, you will delete the file shown above it. Additionally, you can choose to move the file to your folder of your choosing.
Blow the preview area, you will find a full list of all the duplicates found. You can sort them by similarity or path.
Currently, there are no options for users to delete all or delete multiple in Awesome Duplicate Photo Finder. The only solution is to delete or move them one by one.
The best alternatives
Awesome Duplicate Photo Finder alternative for Windows
This free duplicate photo finder does a decent job of detecting and eliminating duplicate images as well as the similar ones. At the same time, there are some limitations. For example, users can't delete multiple files in batch. Therefore, most of our users start to find some alternatives to Awesome Duplicate Photo Finder, and according to this, we collect following list of best Awesome Duplicate Photo Finder alternative.
#1 Cisdem Duplicate Finder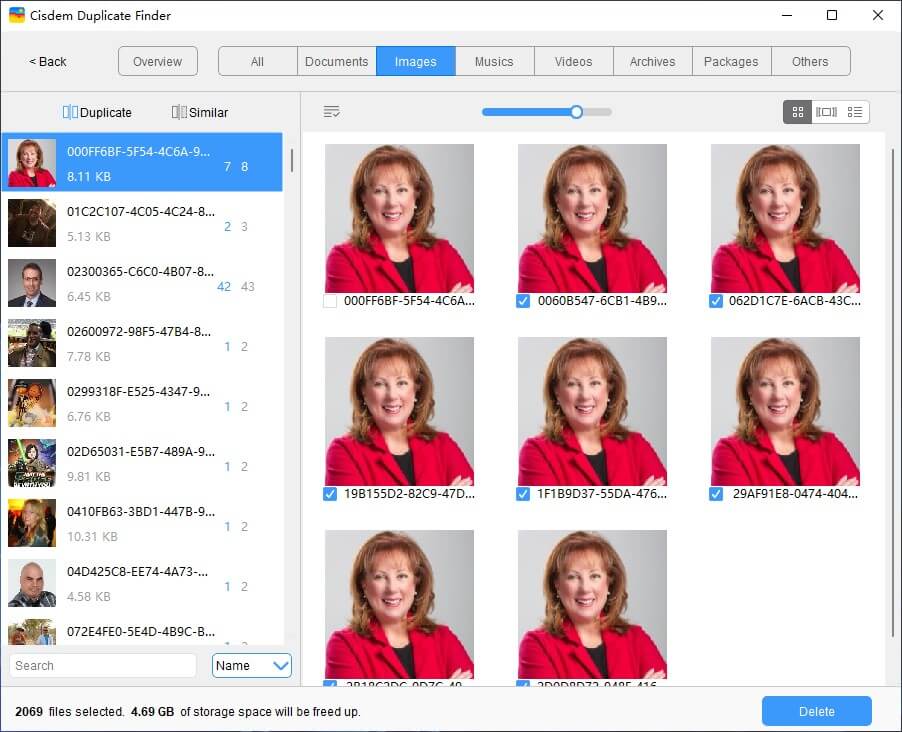 Cisdem Duplicate Finder has a Windows version and Mac version. Its Windows version is a smart and reliable program to find and delete duplicate files on computers running Windows 10 or Windows 11. This program is easy to use and powerful, making it the best of its kind.

Free Download
It can detect all types of duplicate files such as duplicate pictures, music files, Word documents, PDFs, videos and more. It compares files and identifies duplicate files by content. In addition, it provides users with an option to find duplicates by filename.
Once it finishes detecting duplicate files, it will automatically select duplicates for users to quickly remove with a single click. If users want, they can also select by hand, which will take a lot of time.
#2 Auslogics Duplicate File Finder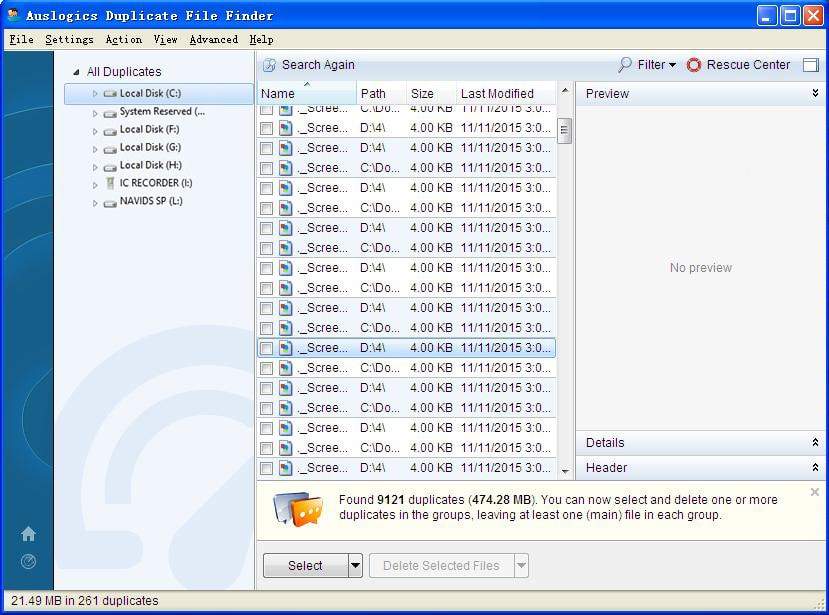 Auslogics Duplicate File Finder is a totally free program to find and delete duplicate photos, music, videos and other files on Window 10, 8 or earlier.
Besides photos, Auslogics allows to scan and delete duplicate audio, video archives and applications. The scanning can be processed quite fast. Also, users can preview the found files for accurate duplicates deletion. If you want to delete files in batch, you just need to check the box before the found files for deletion.
#3 Anti-Twin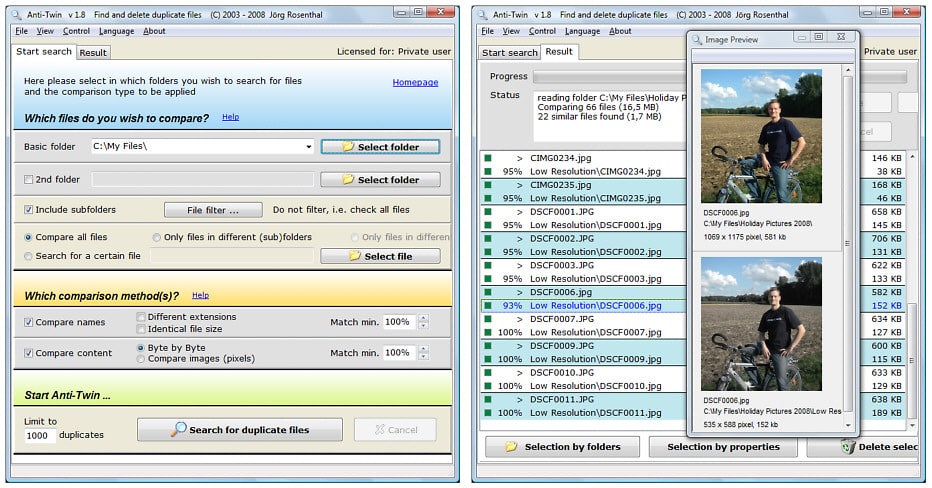 Anti-Twin is another free duplicate photo finder to work on Window 10, 8 or earlier, it resembles a lot with Awesome, in terms of interface and function.
Anti-Twin allows user to find and delete duplicate MP3 or photos. You can choose to compare 2 similar images in names or content, also, you are allowed to preview the photos before deletion. For users who want to delete duplicates in batch, checkmark the files, then click "Delete selected files" to remove all the selected files.
Awesome Duplicate Photo Finder alternative for Mac
It is known that Awesome Duplicate Photo Finder can only work on Windows and there is no Awesome Duplicate Photo Finder for Mac, but luckily, we have a Mac program that is designed to find and delete duplicate photos, but does better than Awesome.
Cisdem Duplicate Finder for Mac is highly recommended program to find and delete duplicate files, even similar images on Mac, no matter the duplicates are saved on internal or external drive.
Main features:
Find duplicate images, videos, audios, Word documents, spreadsheets, packages, archive and more
Also identify similar images, letting you specify similarity level
Work with Mac, external HD, USB flash drive, SD card, etc.
Quickly scan folders and drives for duplicates
Allow you to exclude folders, subfolders and file types from scan
Enable you to preview photos side by side
Auto-select dupes to delete
Also offers multiple selection rules for you to choose from
Let you delete selected files with 1 click
Easy to use even for beginners
Also available for Windows PC
Find and delete duplicate photo with Awesome Duplicate Photo Finder Mac Now!
Step 1. Download and install Cisdem Duplicate Finder on Mac.

Free Download
Step 2. Click "+" to add folder for scanning. Also, before the scanning, you are recommended to click on the Settings icon to tweak setting for smart search, deletion, etc.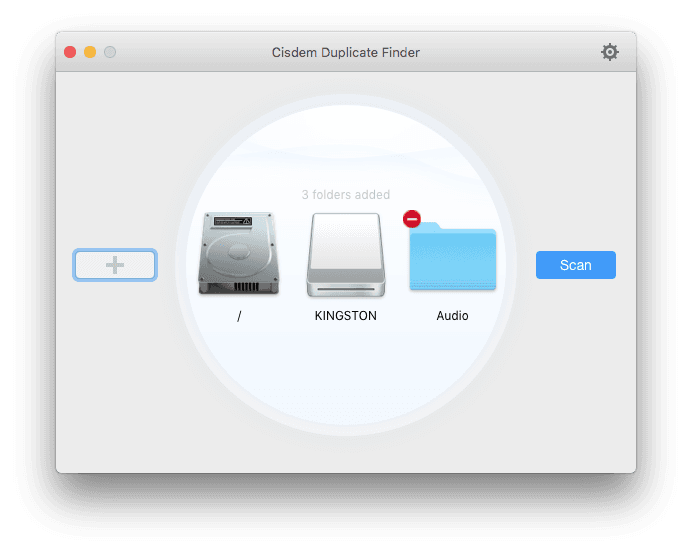 Step 3. Preview found files. All the files will be displayed in a folder, preview each before deletion.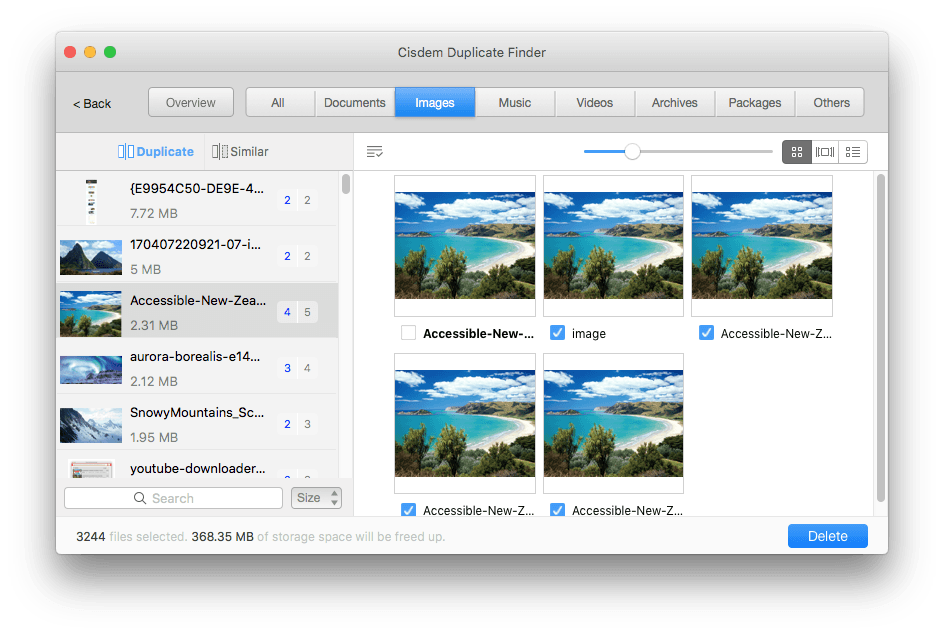 Step 4. Delete duplicate files. Check the box before the files you want to delete, then click "Delete" to remove unwanted files on Mac.
Final Thoughts
Though Awesome Duplicate Photo Finder is a good free choice to delete unwanted images, it will be finally replaced by others, if its developer doesn't have the plan to update. However, even Awesome cannot meet your requirements to find and delete duplicate files, there are still a lot of choices, such as those alternatives for Windows or Mac.