Summary: Looking for the best burning software for Mac? We have compiled a list of 6 best DVD burning software for Mac that can efficiently burn videos to disc.
When large media files occupy much storage on a MacBook/MacBook Pro/iMac Pro, etc., you may need to create a DVD for backing up data. There is, however, a stack of DVD burning apps for Mac on SourceForge or other download sites, making you confused and unsure which one is best.
Well, this post discusses the 6 best DVD burning software for Mac with the pros and cons of each. It will also give you a step-by-step guide to using each tool so you can pick the right one easily.
Best DVD Burning Software for Mac 2023
Few clicks to create instant DVDs
Burn videos to any type of DVD disc, VIDEO_TS folder, or ISO
Burn DVD from any popular video format like MP4, MOV, AVCHD, etc.
Write ISO image to DVD
Provide free templates in various styles and themes
Build a professional-quality DVD menu
Import backgrounds (image & music) to menus
Alter the aspect ratio
Edit videos with the crop, rotate, add subtitles, apply effects, etc. tools
Preview videos in real-time before DVD burning
Easy to use, very friendly to seniors and novices
Can run on Mac with Apple silicon: M1 and M2 series

Free Download
macOS 10.12 or later

Free Download
Windows 11/10/8/7
The Best DVD Burner Software for Mac 2023
In my tests, Cisdem DVD Burner was rated as the best DVD burning software for Mac 2023. It covers all features for you to burn a DVD on Mac.
It's specialized in burning video from over 150 formats to playable DVDs.
This best Mac burning software has more advanced functions than the free one to meet the demands of users. It allows you to add audio tracks, watermarks, and subtitles to your DVD video, and lets you get more special effects. You can also customize a DVD menu for better playing navigation.
Main features of Cisdem DVD Burner for Mac:
Deal with DVD burning flexibly
Burn videos in multiple formats to one DVD
Create DVD 5, DVD 9, DVD folder, or ISO image
Support an integrated video editor
Add background music, subtitles, chapters
Keep high quality
Easily burn DVD on Mac Sonoma or before

Free Download macOS 10.12 or later
Download the best burning software for Mac and install it, I will show you how to use it.
Step 1. Add videos into the program
Insert a blank DVD into your Mac slot.
Click "Add videos" in the middle to browse video files. Or drag-n-drop media files from the local folder to the software.

Step 2. Edit videos
Click

under the video thumbnail to call up an editing window. There are some built-in editing options, like crop, effects, watermark, rotate, subtitle, etc. You can edit videos to make them more personalized.

Step 3. Make a DVD menu
Click the "Menu" tab to go to the DVD template interface, and then you can make a DVD menu by adding free templates, background, music, and text, etc.

Step 4. Burn videos to DVD
Click

to preview your adjustment.
Then click

to switch to the output setting window. Simply specify the output parameters, click "Burn" to start fast burning.

Verdict:
After analyzing the pros and cons of the most popular DVD Burning software offerings for Mac, we conclude that Cisdem DVD Burner for Mac outperforms the others for making DVD on Mac. it is the best DVD Burning software with its ease of use and high output quality. it provides essential features like burning playable DVDs, keeping video quality, supporting most of the video formats, and advanced features like making a DVD menu, setting DVD chapters, burning multiple DVDs, editing videos before burning, adding subtitles, loop DVD, etc. So it is recommended for both casual and professional users.
Alternatives to the Best DVD Burner for Mac
#1 Burn - Totally Free CD/DVD Burner
Burn is an open-source, free DVD Burner for Mac. It has an incredibly user-friendly interface and gained a wide reputation for doing basic burning tasks. You can even use Burn to copy DVD files (.dmg, iso, cue/bin, etc.). It supports authoring simple interactive DVD menu like commercial DVD movies and supports macOS Catalina or higher including macOS Sonoma. Below we will show you steps to burn video to DVD.
1. Launch Burn on MacBook and click the video tab, then name your DVD and choose "DVD" from the pop-up menu.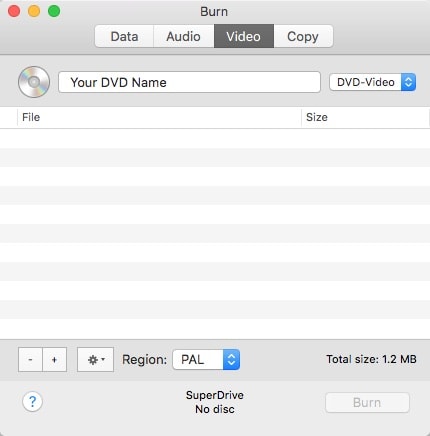 2. Click "+" to add your video files or directly drag files right into the burn file list. Most video files are supported, if the video format is not compatible, Burn will ask you to convert it to the right format. So some videos will require conversion in order to burn DVD perfectly.

3. Insert a blank DVD and click the Burn button to start to burn your video files. And your MacBook will display a dialog indicating the DVD is burning. When this process is finished, you will gain a perfect DVD.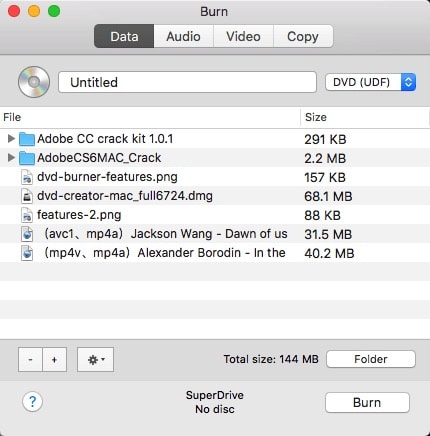 Pros:
Only need several steps to burn CD/DVD on Mac
Different tabs for different burns
Cons:
Don't offer much assistance or documentation
Lacks custom DVD menu options
Sometimes the burned DVD doesn't have audio
Verdict:
Burn is not the most powerful DVD Burning Software, but it is the handiest when one needs to burn CD. It is totally free and tailored only for Mac users. We recommend you use this nice little tool when you need to burn a music CD or burn simple DVD without customizing it.
#2 Roxio Toast DVD - Burn, copy, and encrypt CD/DVD
Roxio Toast facilitates the burning of video, music, and photographs to disc, as well as editing them. It lets you craft visually appealing menus and chapters for your DVDs, creating an interactive DVD experience. Furthermore, Roxio Apple DVD burner software can also copy and secure CD/DVD, convert between media file formats, capture screen, and so on.
Open Roxio Toast. On the home screen, click "Burn DVD".
Drop the intro video and choose a root menu. Start to add videos that will appear in the root menu or sub menu.
Give your DVD a title, select DVD format and destination. Hit the burn button.
Pros:
Boast an extensive set of capabilities
Write a DVD with a menu
Editing options to give DVD videos a polished touch
Cons:
Overpriced, not appropriate for individual use
Overwhelming features, not suited for users who only burn DVDs
Poor compatibility, resulting in DVD burning failure
Verdict:
Roxio Toast is a comprehensive program that can do more than just burn DVDs. If all you need is the best DVD burner for Mac, then it is clearly not an optimal choice. Roxio Toast is very expensive and each upgrade to a new version involves a fee. Its interface is relatively sophisticated and may have a learning curve for those new to the program. When you download Roxio Toast, it also comes with other bundled software.
#3 Express Burn - Burn Bluray DVD On Mac
Express burn, presented by NCH software officially, is one of the best burning software for Mac and Windows. It supports a wide range of audios, videos, images and data to burn, and gives you the right to handle ISO/Joliet, Hybrid, and UDF. If you have videos in 3840*2160 resolution, you can go with this app to burn a Bluray disc. As an ideal alternative to the best Mac DVD burning software 2023, it is absolutely competent.
Launch Express Burn, a window will pop up automatically. Select a type of disc to burn.
Click the "Add File (s)" or "Add Folder" option on the "Video" tab to add videos to include.
Place a blank disc, and then burn DVD by clicking the "Burn Video DVD" button.
Pros:
Record CD or DVD, burn Blu-Ray DVD
Create images from the CD or system data
Offer template menu buttons and screens
Cons:
The compressed files may get low clarity and quality
Unable to copy-protected DVDs
Lack of advanced options, like video editing
Verdict:
Express Burn for Mac from NCH is another specialized software tool that supports burning DVD on Mac, it is worth a try as it can help one burn Blu-Ray DVDs, so if your video is 4k, you can try with this software.
#4 DVDStyler - Free DVD Burner for Mac/Windows/Linux
DVDStyler is also one of the most popular DVD making software on the market, is available on Mac, Windows, and linux. it is totally free to use and offers users with simple menu template, which is adequate for most users.
When you open it, DVDStyler will ask you to create a new project, and there are many setting options on this window, you can label the disk, choose the type of DVD size, video bitrate, audio bitrate, and post command (by choosing this you can set either at the last menu or the root menu).

Immediately you going to get this template window asking you to pick up a template you would like to use. You can customize the menus but be noted that the settings are a bit buggy, some times the settings will disappear and you have to relaunch the application.
Click burn and select speed, then click "Start" to burn DVD on Mac.
Pros:
Totally free to use.
Available on Mac, Windows, Linux.
Provide free DVD menu template and it is customizable.
Cons:
Not easy to use.
Crash a lot.
Sometimes the burned DVD will lose sound.
Verdict:
Users with multiple operating systems may like the ability to burn DVD on multiple platforms. This free DVD burning software was developed to be used by experts and is less intuitive than other options. Its complex configuration is not suitable for beyond the skill set of an average user. and it's a bit buggy as it will quit accidentally any time you make changes to the setting.
#5 iDVD - Default Mac DVD Burning Software
iDVD is the default DVD burning software for Mac. Most people use iDVD to burn videos on Mac. It has a simple interface and focuses on ease of use. Meanwhile, iDVD allows you to author and burn music, movies, and photos to widescreen DVD with the help of an internal Mac DVD burner or external device.
Run iDVD on your Mac and go to "File / One Step DVD from movie…" from the menu bar.

Add the video that you need burn to DVD with iDVD and wait for its loading.
Insert a blank writable DVD disc into your SuperDrive, and iDVD would start burning video to DVD on Mac.
Pros:
Instructions are clearly given for first-time users
The burning process is quite easy fast and smooth
Contain some practice features
Cons:
Support few file formats
Problems may happen when dealing with large size video files
Only available in the boxed copy of iLife '11 or earlier (discontinued by Apple since Mac Lion)
Verdict:
iDVD is another one of the best DVD burning software applications. if you are using an older Mac, this is the best option to go.
How to Pick the Best DVD Burning Software for Mac
Selecting the best DVD Burning software can be a challenge since there are so many available options on the market. To find the most suitable DVD burner, here are a few selection criteria to consider.
1. Burn a playable DVD
This seems to be natural. but some of the DVD makers burn videos actually to a data DVD, which is only playable on computers, not DVD players. like what most articles introduced burn DVD on Mac with finder, but finder can only burn DVD as data disk.
2. Keep good video quality
This is very important, especially if your movie quality is not high, as most Mac DVD burners will decrease the video quality a lot.
3. Video format support
Many users typically have video in MP4 or MOV format, and MP4 is what most DVD burners support, but if you have videos in other formats like MKV, AVCHD, MTS, WMV, FLV, etc. be sure to find a DVD Burner that supports these format. If you also want to make an audio CD, the application needs to support the audio formats you have.
4. DVD menu and chapter Support
If you need to burn video with the menu you need DVD Burner that provides menu option. this can help you navigate your DVDs more easily.
5. Fast DVD burning speed
Since DVD Burning is a time-sensitive task, it makes sense to use fast DVD burning software.
6. macOS version supported
For example, if you are using Catalina and up version, ensure that the software supports 64-bit architecture.
7. Support adding subtitles
Some users may need extra features like adding subtitles.
Tips on Burning DVD on Mac
Buy a safe and good-quality DVD disc. Don't purchase the bare, no-name blank media. In my experience, the more expensive the media, the better its quality; DVD media is always more reliable than CD media.
Keep verifying your disc. It detects your burning problem in time. If you haven't verified your disc, the best burning software for Mac will fail to burn DVD.
Don't set too fast burning speed. It will lead to poor output quality and create the groundwork for the mistake. Note: Cisdem DVD Burner presets the best burning speed for you. You don't need to set it manually.
Close irrelevant procedures during the burning process. Irrelevant programs will reduce the power of the best burning software for Mac, which badly affects the burning speed and quality.
Get an optical drive. Make sure your Mac has installed a built-in DVD drive or an external drive. (Apple has abandoned SuperDrive in 2012, but you can still purchase an external Apple SuperDrive on Amazon or eBay.)
Extended: What's the Best CD Burning Software for Mac
When it comes to the best Mac burning software, you might also think of the best CD burning software for Mac, which is used to create CDs from iTunes or any audio file. Burn, iDVD, and Express Burn are all decent CD burner for Mac. Now set Express Burn as an example. Let's see how to burn a CD on a Mac.
Insert a blank CD.
Initiate the software.
Head over to the "Audio" tab > "Audio CD" to add files.
Click "Burn Audio CD".
Finish choices on how the burning process to take place, and click "OK".
Conclusion
Among all the best burning software for Mac discussed, Cisdem DVD Burner earns the highest score from me. It's a pretty professional tool to edit video, burn DVD, produce better quality, and the great thing is that it provides you with the most intuitive interface. This doesn't mean the other best DVD burning software for Mac is not worth considering. Make a wise decision by yourself!