Burning music to DVD is a great approach to back up favorite music video collections in high quality without losing or damaging by accidentally, and also enables users to play in a car or DVD player. Some people may wonder how to burn music to DVD for car?
This article will provide 4 powerful music DVD burners for Mac and Windows, along with 2 effective multipurpose programs for people to choose, helping people burn music to any DVD type based on personal purpose. If you're interested, read on to know how to burn a music DVD easily and obtain the best one after figuring out their pros and cons.
Preparations Before Burning Music to DVD
A blank DVD for music (including DVD+, DVD- and DVD+/-). Choose the right DVD disc type with the suitable capacity you want (4.7GB or 8.5GB), and make sure your DVD drive is compatible with the disc type you're using.
Useful DVD burning software. To burn a playable DVD, you need to look for a really effective and reliable DVD burner.
DVD Drive. Make sure your computer has a built-in optical drive for putting DVD discs. Or, an external drive or USB drive is also available.
Music videos are downloaded online or purchased in iTunes beforehand.
4 Best DVD Burners to Burn Music to Video DVD on Mac and Windows
1. Cisdem DVD Burner
Cisdem DVD Burner is a streamlined and straightforward DVD burning solution for Mac and Windows, which supports burning videos in any format from any source like camera, iPhone, iTunes, iMovie, etc., offers a bunch of editing features for you to modify the added videos. It works in a super fast speed while maintaining the high quality.
It also provides diverse DVD menus for you to beautify the DVD, and even allows you to design DVD templates, frames, and backgrounds to improve your burning experience. Furthermore, in order to meet people's various demands or purposes for enjoying DVD, it offers 5 different playback modes for people to choose the suitable one according to their own habits.
Steps to Burn Music Video DVDs on Mac with Cisdem DVD Burner:
1. Download the Software
Cisdem DVD Burner offers a free trial version, you can download it and experience all burning and editing features.
Launch Cisdem DVD Burner. Insert a blank DVD into the optical drive on your computer.

Free Download macOS 10.12 or later

Free Download Windows 11/10/8/7
2. Load Music Videos
Click

to add your music videos or directly drag your music video files to this DVD burner. All the videos you have added before will be listed on the "Source" interface.
Note: At the bottom status bar, it will show you the used storage of your DVD, you can have control the disc storage.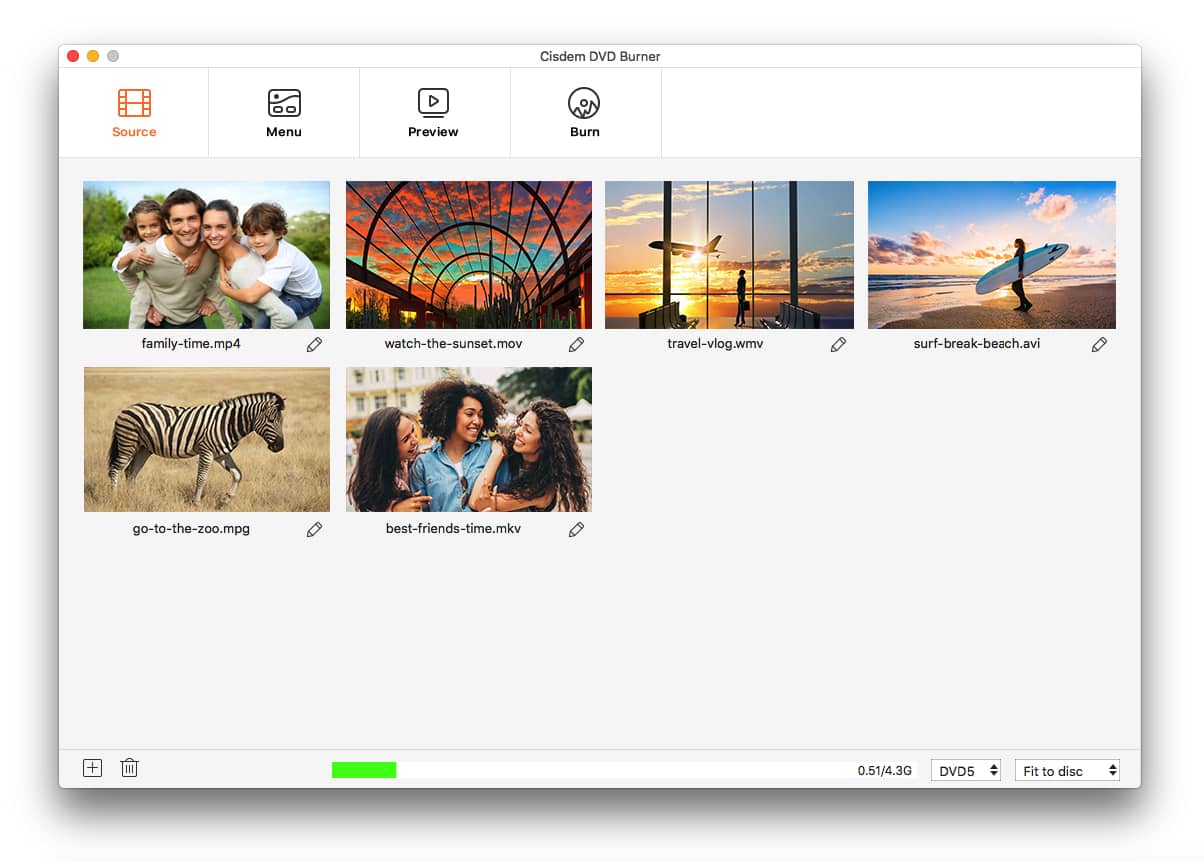 3. Edit and Enhance Music Videos(Optional)
If you want to get your music video more beautiful and clear, like remove the unwanted parts of its visual image, get a segment of the music. Click

under the video thumbnail to enter into its editing window, in which you are able to trim, crop, make special effects, subtitles, add watermarks, etc.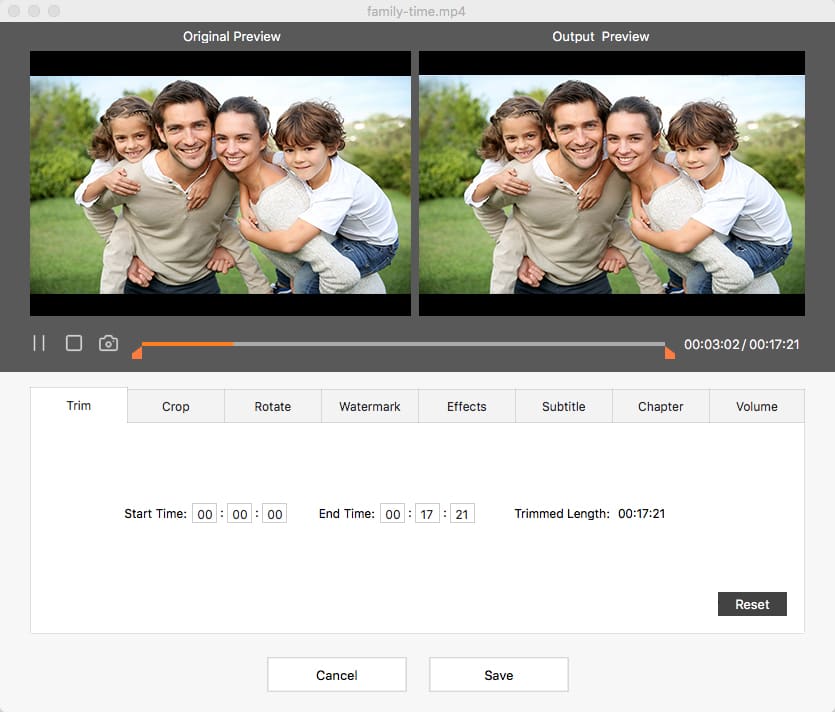 4. Create DVD Menu (Optional)
If you want to burn several music files into one disc, I advise you to create a DVD menu. It is easier for you to choose and skip which one to play firstly at your will.
Click "Menu" to go to the DVD menu-making interface. Start to design the menu. There are lots of interesting elements for you to choose from, like free yet themed menu templates, add color texts, video thumbnail frames, play buttons, background music, etc. So, a beautiful DVD menu comes into your sight instantly.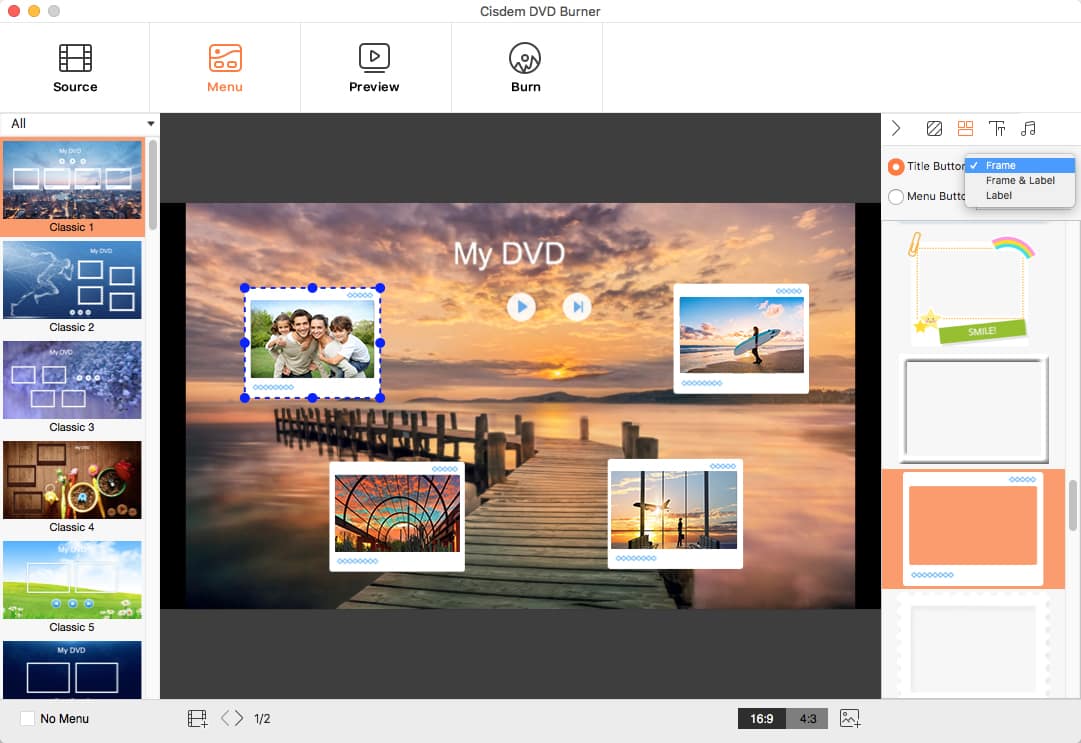 5. Burn Music Video to DVD
Click

to start burning, choose the "Burn to Disc" as output format, and preset output parameters with DVD name, TV standard, playback mode, and copies number (burn multiple copies fast). At last, click "Burn", it will lead you to fast DVD burning.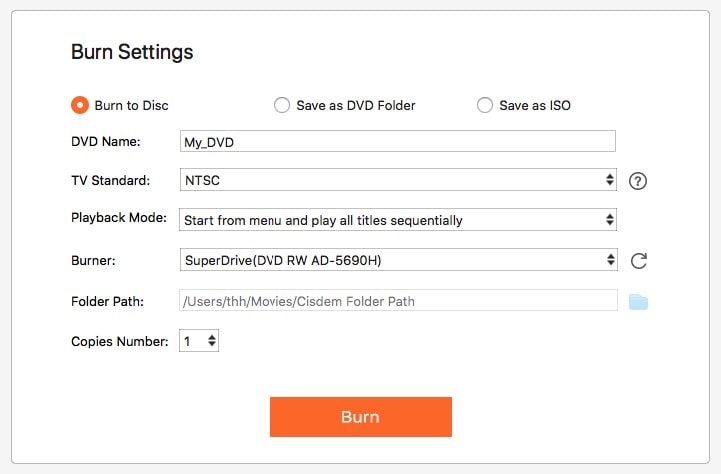 2. DVDStyler
DVDStyler is a free DVD burner for Mac and Windows, which supports various video&audio formats and can add different file formats into one DVD, such as AVI, MP4, MOV, Divx, MP3, etc. It offers some useful features for a better burning experience, including creating photo slideshow, adding multiple subtitle and audio tracks, supporting multi-core processor.
Moreover, it provides 20+ DVD menu templates for people to burn music to DVD in a good looking, which is not supported by many free tools. It also permits users to manually change the background image and menu buttons for a spacial DVD menu. But, due to the outdated interface with no prompt, the first-time users may feel confused how to operate. Don't worry, below will show you the steps on how to burn music to DVD free with DVDStyler in details.
Download and install the program on your computer, Launch it.
Tick out "Create a new project" and fill in the needed data about DVD on the popped-up "Welcome" window. Click "OK" to continue.

Choose a favorite DVD menu in the ensuing window and Click "OK". If you don't need, just click "No template" to skip this step.

Now, add the target music files from your local folder. The easiest way is to directly drag and drop the video to the bottom part for putting videos.

If you want the DVD menu more like your taste, click "Background" and "Buttons" section in the left pane to make according adjustments. Double-click on the desired image to change the background, while dragging-n-dropping the wanted button graphic to the DVD menu to control the buttons.
Finally, insert a blank DVD into the computer drive, click the red Burn icon to start the burning process.
My verdict: it is more recommended to use the Windows version of DVDStyler, because the Mac version can fail to load the music and drop down suddenly for unknown reason, no matter what video formats are added.
3. CDBurnerXP
CDBurnerXP is a free music DVD burner that is more suitable for foreigners, because it provides 40 different languages as the interface language for people to choose based on personal condition. It can be also used to burn Blu-ray, HD-DVD discs, CDs and ISO images for free. However, this freeware tool can only make a simple DVD without any decoration. If you want advanced features, just switch to other DVD burning software.
Steps on how to burn music to DVD with CDBurnerXP:
Download and install the freeware on your Windows computer.
Run it, choose "Video DVD" on the default interface, click "OK" to enter into the window for burning video DVDs.

Click "three-dot" box to add the file that you want to burn. Also, you can set the disc name, number and other data based on your needs.

Once done, insert a blank and writable DVD to the drive of your computer and click "Burn disc" button to burn DVD on Windows.
4. Express Burn
Express Burn is a powerful DVD burner for Mac and Windows that is able to burn videos, audios and files to CD, DVD and Blu-ray discs in high quality. It is easy to use for everyone, because it not only pops up a window for people choose the task at first, but also designs a clear and straightforward main interface. Plus, it offers some simple DVD menu templates to decorate the DVD. However, people cannot manually design the DVD menu, except for changing the background image.
Actually, it offers no editing features to modify the added videos. But it matches with a third-party editor developed by the same producer. Although it offers various editing features, it is a paid tool and not friendly to novices. Thus, if you have demanding in editing videos, you'd better try another separate media editor.
Another thing needs to be mentioned is that if you want to burn music videos to DVD with Express Burn, you need to upgrade to its premium version, because the free version can only burn CDs.
Steps on how to burn music to DVD with Express Burn:
Download and install the software on your computer.
Open it, choose "Video DVD" on the popped-up window and click "Create" to enter into the main interface.

Directly drag and drop the music that you need to burn.

If you want to make a DVD menu, click "Edit Menu" to choose a favorite one, edit according information and click "Save Menu".

Click "Video Settings" button on the main interface to make encoding settings, including TV system and quality. Click "OK" when done.

Click the drop-down icon of "TV Aspect Ratio" box to select the video parameter you want (Standard TV 4:3 or Widescreen TV 16:9).
If you want to add chapters or edit videos, choose the video and the "Manege Chapters" button and "Edit with VideoPad" button will appear. Click them respectively to make your adjustments.
If you don't need, just insert a blank DVD disc, click "Burn Video DVD" on the bottom right corner to initiate the burning task.
Comparison Among these 4 Music DVD Burners
How to Burn Music to Data DVD on Mac and Windows
If you accept to burn music to data DVD on computer, there are some frequently used programs that are not professional DVD Burning software, offering extra function to help you burn a playable DVD.
1. iTunes (Mac)
iTunes is an all-in-one media library for you to buy, download, play, organize music, movies, and TV shows. As a place to keep your music collection, it's reliable and really useful. Maybe you don't know yet a special and useful feature of iTunes, it can burn your music videos into disc directly.
Insert a blank DVD suitable for storing audio files in your computer DVD-RW drive.
Go to File > New > Playlist, a new music Playlist folder appears, enter a name- My Favorite Music. At last drag-n-drop your favorite music videos into this Playlist folder.

Then start a burning task through 2 ways as below shows.
#1 Go to File > Burn Playlist to Disc on the top menu bar.
#2 Or Right-click the Playlist, a drop list appears, choose "Burn Playlist to Disc" to switch to the Burning Settings.
Choose "Data CD or DVD" option under Disc Format. At last click Burn button to burn music video to DVD.

Tips: Because of the iTunes DRM, a digital rights management, you are not allowed to burn those music videos with DRM from iTunes to disc. At this time, you have to resort to a third-party tool to remove the DRM protection before burning.
2. Windows Media Player (Windows)
For Windows users, there is a more common-used tool, Windows Media Player, which offers a decent CD/DVD burning performance. Since it is the default player on Windows system, it is pre-installed on Windows devices and requires no third-party software installation.
Open Windows Media Player, insert an empty DVD disc into the computer drive.
Move your mouse to the top right corner of the program, tap on "Burn" button.

Add all music videos to "Burn list" section by directly dragging and dropping.
Click the drop-down icon of "Burn options icon", which is on the top right corner under Burn section.

Choose "Data CD or DVD" option in the popped-up dialogue.

Finally, click "Start burn" button on the top left corner in this part to start to burn music to data DVD on Windows for free.
Which One is Better to Burn Music to DVD?
Which Music DVD Burner is better? It depends on your practical needs. If you want to burn the downloaded music videos from YouTube those media websites to DVD, accompanying by advanced options for music video treatment, like rich customization features to modify the added music videos and miscellaneous DVD menu templates to make a special DVD, Cisdem DVD Burner comes firstly.
It doesn't need to install third-party tool to make advanced settings or remove the iTunes DRM. Instead, it runs well with the latest OS, which frees you from worrying about the incompatibility problem with the operating system. Furthermore, any music video format is all fully supported, all it offers to let you enjoy the best music video DVD burning experience.