Suppose your Mac computer stores an amazing number of home movies, and they occupy too much space. You have to consider a way that has the best of both worlds, both to keep your videos and to clear up Mac's room. Why not burn DVD on MacBook Pro, MacBook Air, or iMac? In this article, we conducted an in-depth study on how to burn a playable DVD on Mac.
Best App to Burn Playable DVD
Burn video DVD disc or folder, and ISO file on Mac
Create playable DVD from AVI, WMV, MP4, DivX, MPEG, RMVB, ASF, etc.
Write DVD on Mac with a menu, subtitles, and watermarks
Offer many attractive DVD menu templates of the journey, birthday, sports, graduation, and other themes
Import your own background picture and music
Crop, rotate, add effects/chapters to videos before burning a playable DVD
Auto set PAL or NTSC by choosing country or region for standalone DVD players
Preview exactly what your resulting DVD will look like
Fairly straightforward and easy to use
Compatible with older or the latest Mac including M1 or Windows systems
Support all disc types, including M-Disc

Free Download

Free Download
What is a playable DVD?
A playable DVD should be in DVD-VIDEO format, which contains an empty AUDIO_TS folder and a VIDEO_TS folder with VOB, BUP, IFO files.
Video DVD is playable on a DVD player. It has menus and chapters to help you quickly navigate through the contents of the disc. Commercial and rental DVDs distributed by Disney, Hollywood, Lionsgate, etc. are video DVDs.
But data DVD is not a playable DVD. Most brands of DVD players such as Magnavox, Philips, JVC, LG can't recognize data DVD. It's more like a hard drive or a USB stick, used to store media files, photos, installation packages, and more.
What do you need to burn DVD on Mac?
There are 3 DVD burning materials you should prepare.
A blank DVD disc - Choose a reliable DVD brand, like Verbatim, Sony, TDK, Tayio Juden, Philips, and Pioneer. Then, choose a needed DVD format from DVD±R (single layer), DVD±R DL (double layer), DVD±RW (rewritable), and DVD RAM (rewritable but low compatibility). You can buy the disc from local or online retailer.
An internal or external DVD burner drive - Apple stopped internal floppy drives on modern Macs. Mid-2011 was the last iMac model with an optical drive inside. Now, Apple sells a USB-connected external SuperDrive as an accessory. It's okay if you buy an optical drive from another brand as long as it can burn a DVD on Mac.
A DVD burning program - Make sure the program you choose can burn video DVDs. It'd be better if it provided options for editing videos and customizing the menu.
The Best Way to Burn a Playable DVD on Mac
Cisdem DVD Burner is a reliable tool to burn DVD for DVD player on Mac with simple steps and retain high quality. It supports 300+ video formats, capable of writing multiple videos in different formats to MPEG2/AC3 DVD.
Also, the video type is also unrestricted. It can easily burn playable DVDs with videos from YouTube, iTunes, iMovie, camera, mobile phone, VHS/VCR tapes, or anywhere.
Actually, Cisdem DVD Burner comes with more practical features that will assist you to edit videos, split a video into chapters, create a looping DVD, and burn to many copies. When making a DVD menu, you can choose a beautiful template model or DIY it yourself.

Free Download
How to burn a DVD on a Mac using Cisdem:
Step 1. Load multiple videos
Drag-n-drop your video files from a local folder to Cisdem DVD Burner.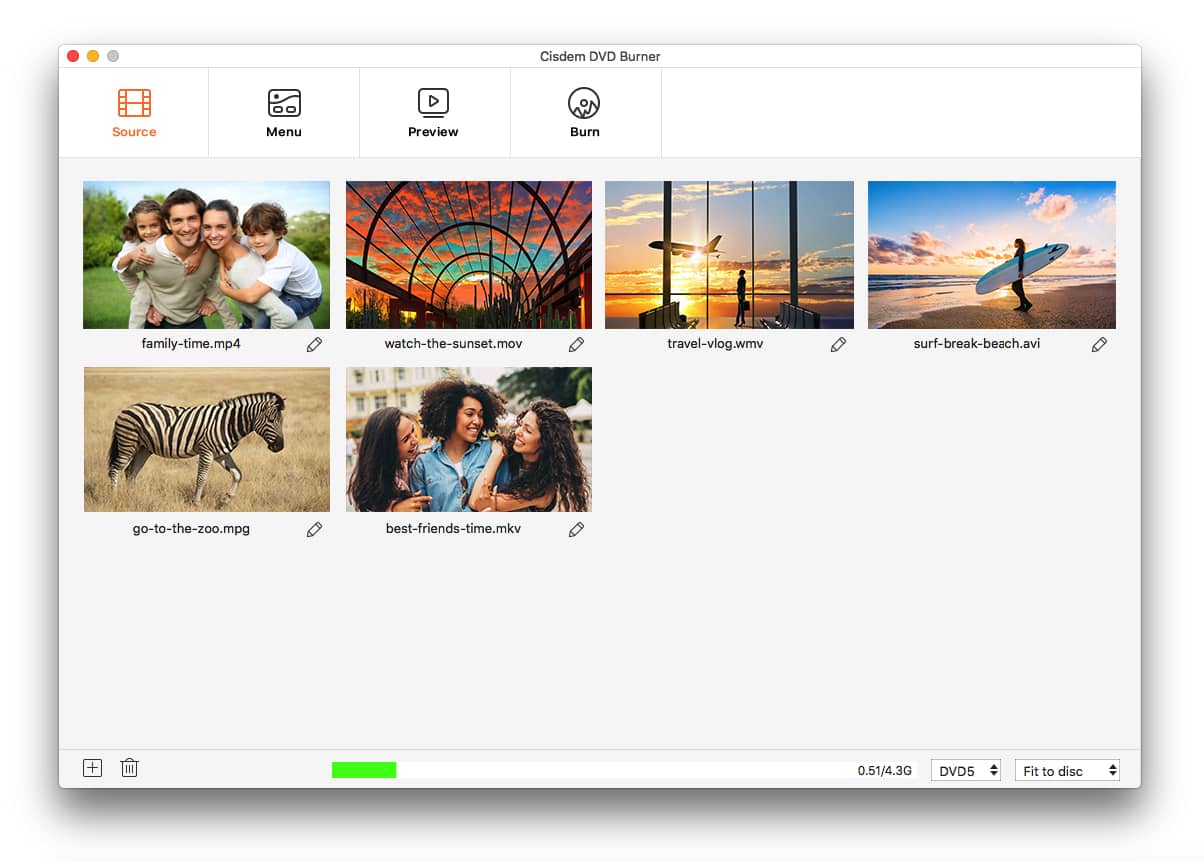 Step 2. Touch up videos
Click

under the video thumbnail to open the Editing Window, and start to beautify video with Crop, Effects, Rotate, Subtitle (embedded or external), Volume, etc.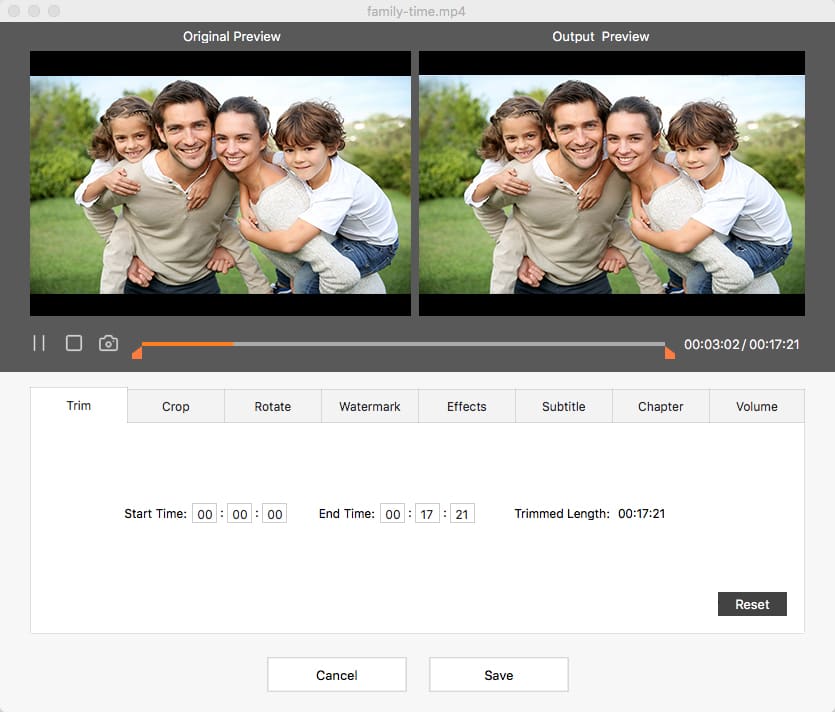 Step 3. Customize DVD menu
See the "Menu" tab at the top, press it, and switch to DVD Menu Window. Attach template, title, text, external track, your own image, etc. to the menu.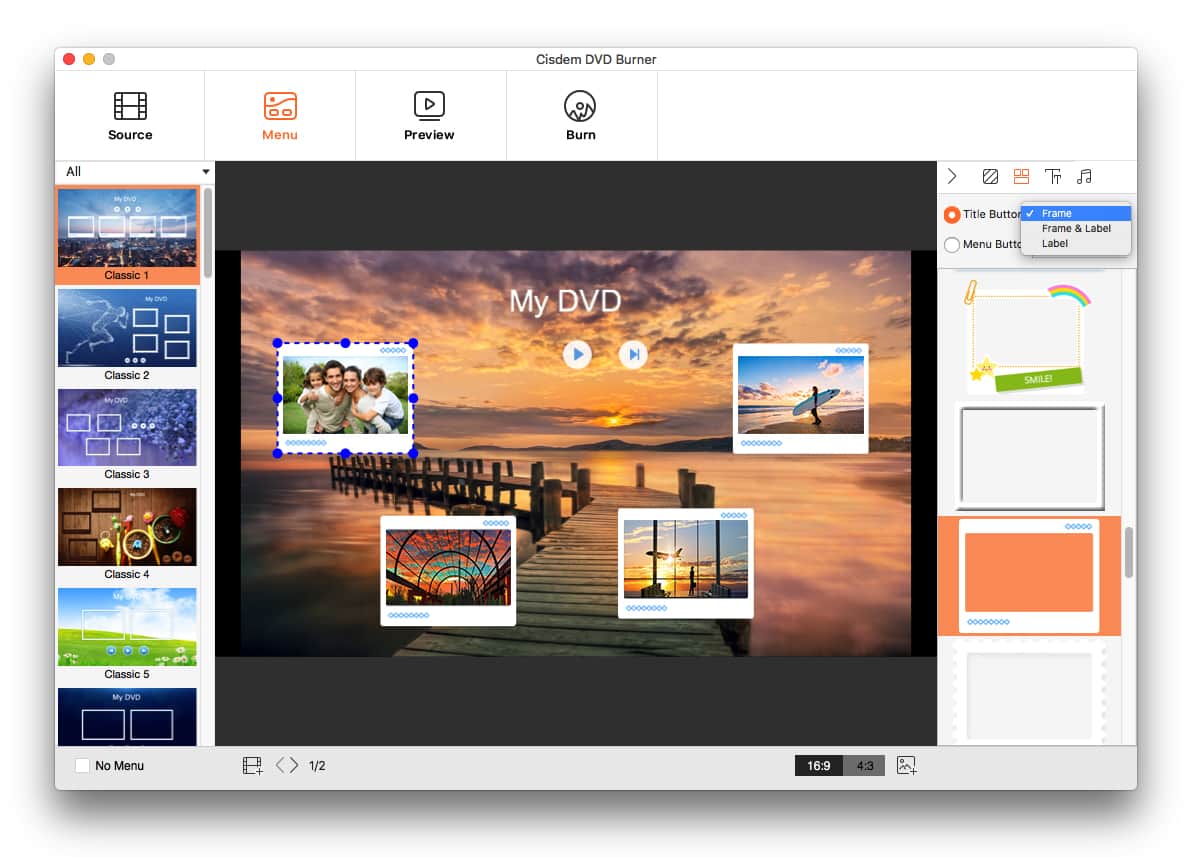 Step 4. Preview and burn a playable DVD on Mac
Check all details of your projects prior to final burning by clicking

.
Press

to go to the Burning Window. After output parameter settings are completed, insert a writable or recordable DVD, and then click "Burn" to begin the fast-burning journey.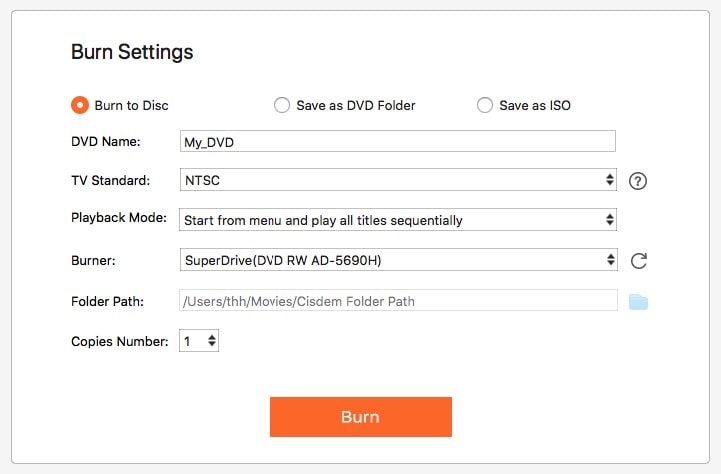 Burn Video DVD on Mac via Preinstall Software
What I want to introduce here is iDVD, the old technology. Even though Apple has phased it out, I'm sure there are still people using OS X 10.6 Snow Leopard or earlier.
It is not applicable to macOS Catalina and later OS that does not support running 32-bit apps. For OS X 10.7 Lion to macOS 10.14 Mojave owners, iDVD is available, but requires the purchase of an iLife Suite '09 or '11 disc from Amazon. After that, get the latest iDVD 7.1.2 update on Apple's Support Downloads website.
How to burn DVDs on Mac to play in DVD player with iDVD:
Launch iDVD. On its main dashboard, there are 4 options, just click "Create a New Project".
Give your DVD a title, and choose the aspect ratio. Click "Create".
On the right side, you can see a number of themes, including 7.0 themes, 6.0 themes, and more. Simply select one of them.
Go to "Media". Add your local video files.
On the status bar, click "iDVD" > "Preferences" > "Projects".
Choose your video mode, encoding quality, and DVD type.
Insert a recordable DVD disc. Click the little circle "burn" button to burn video to DVD on Mac.
Burn Video DVD on Mac via Freeware
If you are using Mojave or before system, you can still install iDVD, but the DVD produced by it is not playable on some well-known DVD players.
DVDStyler is a decent alternative to iDVD for users who update to the new OS, including macOS 14 Sonoma. It has the ability to burn DVD for DVD player on Mac and design your own interactive DVD menu. However, its background and button templates are too obsolete to fit younger. And it often fails to burn playable DVDs due to the big videos you import, even if the capacity bar clearly indicates that there is enough space.
How to burn DVD on Mac for DVD player with DVDStyler:
After opening DVDStyler, you need to create a new project in the pop-up "Welcome" dialog.
Pick a background picture from templates and add buttons.
Click the "Add File" icon in the toolbar to load video sources.
Right-click the videos and tweak their properties.
Put your disc into your computer's disc drive.
Hit the "Burn" icon to call up the "Burn" Window. Select burning device and speed, click "Start" to write DVD on Mac.
Burn Video to DVD on Mac with Command Line
Writing a video DVD using the command line is very complicated. It's only suitable for programmers or people who are good at code compilation. There is no command line utility to burn video directly to DVD, you have to produce an ISO image first and then create ISO from DVD. Install the following toolboxes on your Mac:
FFmpeg: Used to decode, encode, mux, and demux media files.
DVDAuthor: Enable you to author the file and directory structure of DVD-Video movie, as well as create menus, chapters, buttons, and more.
genisoimage: Can generate ISO 9660 filesystem images.
Install Homebrew first, then install the tools above with the commands brew install ffmpeg, brew install dvdauthor, and brew install mkisofs. Or drag the paths to these tools directly into Terminal to use them without installing.
How to burn a playable DVD on Mac through command line:
Launch the Terminal app on your Mac.
Run the command ffmpeg -i my-video.mp4 -target pal-dvd -aspect 16:9 my_dvd_video.mpg to transcode your video to DVD compatible MPEG2 and AC3. The added video can be any format.
Type dvdauthor -o my_dvd/ -t my_dvd_video.mpg to create a DVD folder that contains the "VIDEO_TS" and "AUDIO_TS" from a valid MPEG-2 stream.
Type mkisofs -o output.iso my_dvd to create ISO image.
At last, put a blank disc into your DVD drive and run the command hdiutil burn output.iso.
FAQs
Can I burn a playable DVD Online?
There are indeed online converters such as Files-conversion.com and Zamzar.com that provide the option of "Convert to DVD". But they actually convert the video to VOB and don't burn your file into the entire DVD structure. VOB is just a video file, not a video DVD.
How to burn a data DVD on Mac?
Mac's built-in program – Finder and iTunes (Apple Music app) make it possible to burn a data DVD for free. Let's see how they work.
#1 Finder
From the Finder menu bar, navigate to "File" > "New Burn Folder".
Drag and drop items you wish to burn into the folder you just created.
Click "File" > "Burn 'Burn Folder' to Disc", and then insert a blank disc.
#2 iTunes
iTunes is not limited in its duty of media player, media library, online radio broadcaster, and mobile device management, but it can burn DVD with simple requirements.
Initiate iTunes. Create a new playlist and import music or videos to it.
Right-click the playlist, and choose the "Burn Playlist to Disc".
In the "Burn Settings" window, set disc format - "Data CD or DVD". Click "Burn".
Note: iTunes doesn't allow you to burn data DVD on Mac with:
Movies and TV shows purchased from the iTunes Store
Songs or music videos downloaded from Apple Music
How to Play a DVD on a Mac?
If there is a built-in SuperDrive, you can easily play a DVD on Mac. Just place your disc into SuperDrive, and the DVD player app will start playing the DVD automatically. According to the default DVD player controls, you can freely switch DVD videos and chapters, fast forward, and rewind.
Even without a SuperDrive, your external DVD writer can also read the DVD or you can try Apple's Remote Disc feature.
The standard format for a DVD is MPEG-2/H.262. When your DVD is in MPEG-4/H.264 format, commonly known as Blu-Ray, you can't watch it in a general DVD player but in a Blu-ray specific drive and player.
Conclusion
That's all for how to burn a playable DVD on Mac. You should find a program with the ability to burn video DVDs for the DVD player and keep the DVD-VIDEO structure. Although a free DVD burner for Mac doesn't cost a penny, most of them lack some video polishing and beauty features. Because of its simplicity, you can't make more advanced customization, and you can't throw whatever formats videos into it as you like. Commercial apps like Cisdem DVD Burner do not have these concerns.