YouTube is the kingdom of digital entertainment. It hosts more than 2 million media files every day, including songs, podcasts, audiobooks, etc.
If you don't spend $11.99 a month on the subscription service, you won't be able to save these kinds of audio tracks for offline enjoying and import them into GarageBand, iTunes, or iMovie for editing.
This article will briefly explore methods on how to download audio from YouTube on Mac.
The Best YouTube Audio Downloader for Mac
Rip audio from over 1000 websites
Download YouTube to MP3, FLAC, WAV, iMovie, iTunes, iPhone, etc.
Extract audio track including 5.1 audio from long or large YouTube
Download sound from YouTube playlist and channel
Batch download multiple YouTube audio at an amazingly fast speed
Adjust YouTube audio quality, bitrate (32kbps to 384kbps), sample rate, channel, etc.
Trim or crop YouTube video, and add effects to it
Merge all tracks extracted from YouTube into a big audio file
Convert home or copyrighted DVDs to 300+ digital formats
Easy to use and safe
Also available for Windows 11/10/8/7

Free Download

Free Download
How to Download Audio from YouTube on Mac with Apps
#1 Cisdem Video Converter
Cisdem Video Converter is a robust yet simple to safely extract audio from YouTube, SoundCloud, Mixcloud, Myspace, Bandcamp, Tumblr, and other numerous sites. It will download audio from YouTube without reducing the audio quality.
It can download YouTube music in bulk, and perform audio conversion to be compatible with your devices. This YouTube audio downloader for Mac supports a large range of formats to suit any device imaginable.
Steps to rip audio from YouTube on Mac with high quality:
Download Cisdem Video Converter and install it.
Free Download
Launch the software and go to the "download" interface.
Browse to www.youtube.com. Find a video that contains the audio you want and copy its URL.
Back to the "download" interface of Cisdem. Paste the URL to the text box at the bottom. Click the "+" button to analyze the link.
Choose an audio format it detects, such as M4A. Click the "⬇" arrow to begin downloading YouTube audio on Mac.
Tips:
1. Add multiple URLs for batch download
Click "File" > "Input URLs" on the top menu bar. Paste several URLs copied from your clipboard into the opening window. Click "OK". Upon analysis, all URLs will be added to the download list.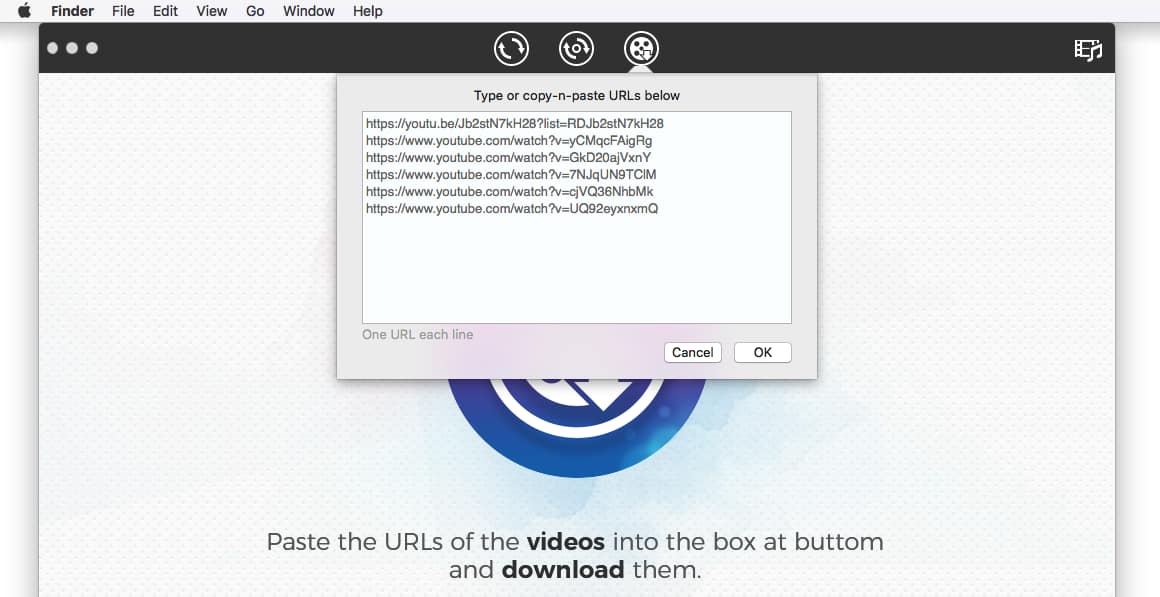 2. Convert YouTube audio to any other audio format like MP3, FLAC, etc.
Hit the blue "checkmark" icon to open a window where stored the YouTube you downloaded. Drag it to the "convert" interface, and choose the output audio format you desire. Finally, click the "convert" icon.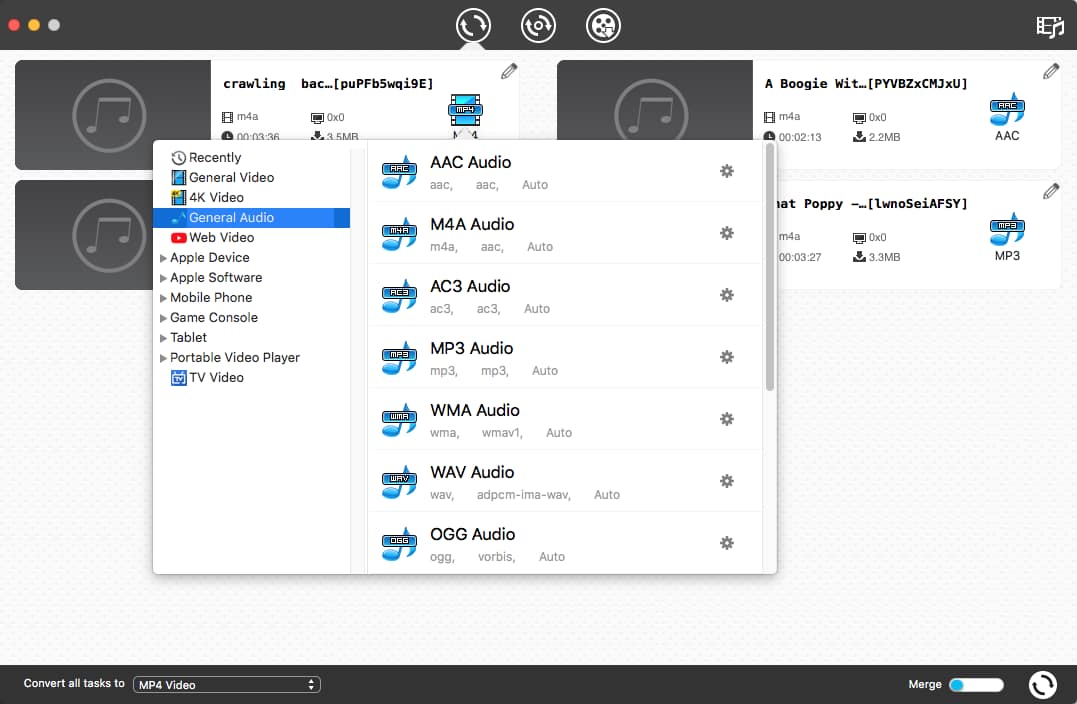 #2 VLC
VLC is a free multimedia tool that's famous for its excellent playback function. In fact, it can also help you download YouTube video and transcode it to MP3, OGG, FLAC, etc.
Since 2019, however, YouTube has continued to destroy VLC downloads in their ways. VLC has to frequently change the code in youtube.luac.
Run VLC media player, and click "Open Network".
Copy a link of the YouTube video and paste it to the appearing window. Click "Open".
The YouTube video will automatically play in VLC. Hit "Window" > "Media Information".
Select the full URL from "Location" and copy it. Note: Disturbed by YouTube, version 3.0.14 won't be able to see the complete URL. But it's okay.
Open the copied location URL in a web browser page.
Right-click the YouTube video. Click "Save Video As" and select a file destination.
Hit "Convert/Stream" and import the downloaded YouTube video into the interface.
Select an output format like "Audio – MP3", name the file as "xxx.mp3", and start to extract audio from YouTube on Mac.
To be honest, VLC is not a great YouTube audio downloader for Mac. Its steps are too cumbersome and can't download YouTube songs at a time.
#3 youtube-dl
youtube-dl is an advanced download manager for video, audio, and playlist from YouTube, Naver, and a few more sites. You can input the command (i.e. --audio-quality 160K) to specify the output audio quality.
This method is only suitable for users who mastered some basic code technology.
Follow the tutorial to install youtube-dl on your Mac.
Launch the Terminal app, and drag youtube-dl command-line program you installed into Terminal.
Copy a video link of YouTube.
In Terminal, paste the link and type –x, e.g. https://www.youtube.com/watch?v=G8wxsGl-rMA –x.
Press "Enter" to rip audio from YouTube on Mac. The audio file will be saved as M4A format.
Call attention to:
Not all audio from YouTube can be downloaded directly, unless the YouTube video covers a separate audio file. In this case, you can download YouTube video to MP4 by youtube-dl and then convert video to audio with ffmpeg or avconv.
Based on our test, youtube-dl seems can merely extract YouTube video to M4A format on Mac. Even if we specify the output as MP3 with the command -t --extract-audio --audio-format mp3 https://www.youtube.com/watch?v=G8wxsGl-rMA the result is still the same.
How to Download Audio from YouTube Mac Online without Apps
Option 1. Using y2mate.is
Y2Mate is a widely used resource to extract audio and video from YouTube online for free. There are two output formats - MP3 and MP4. You don't need to install the extra apps or plugins.
But the audio quality is up to 192 kbps (even the original is 320kbps) and the video resolution is up to 1080p (even a 4k video). If your input YouTube video is large or long, the URL detection speed will be very slow.
Visit https://y2mate.is/ website.
Copy the YouTube video's URL from the address bar.
Paste the URL in the given box on Y2Mate and click on "Start."
When the output options appear, switch to "Audio" and select one of the quality levels you like.
Click "Convert" to change the button into "Download". Then, hit it again to download YouTube audio on Mac.
Option 2. Using YTmp3.cc
YTmp3.cc is another online service that designs to download YouTube videos into MP3 or MP4 format. Although it supports limited format, it is simple for everyone to use through a browser, and it does a good job in downloading audio from YouTube for free.
Open YTmp3.cc on your browser.

Paste the copied video's URL from YouTube into the blank box. It will recognize the link immediately and show you the download information.
Click "Download MP3" button to extract the audio from YouTube.

Option 3. Changing YouTube URL
It's actually the same as the online tool. The principle is to apply an URL trick to jump straight to the online YouTube audio downloader for Mac.
Many tricks you can use to fetch YouTube video, e.g. changing "youtube" to "ssyoutube" or "youpak", adding "pwn" before "youtube", etc. But not all of them are able to download audio from YouTube on Mac. To extract audio file, try the following:
Open the YouTube video in web browser.
Click on the video URL. It will be somewhat like: https://www.youtube.com/watch?v=tQ0yjYUFKAE.
Insert "pp" after "youtube": https://www.youtubepp.com/watch?v=tQ0yjYUFKAE. Hit "Enter".
You will redirect to y2mate.com where already shows you the download option of your YouTube video.
Go to "Audio", and select the audio file you wish to download.
How to Record YouTube Audio on Mac
If you just want to extract audio from YouTube on Mac, the pre-installed audio recorder - QuickTime Play can do you a favor.
Open a YouTube video that involves that audio you need.
Initiate QuickTime, choose "File" > "New Audio Recording".
When the menu pops up, pick a microphone, quality level, and tweak the volume control.
Click the red "Record" button to start recording and play the YouTube video immediately.
Once finished, click the "Stop" button.
Navigate to "File" > "Save" to export YouTube audio to M4A.
FAQs
Can I rip audio from YouTube on Mac with Google Chrome extensions?
No, you can't! Despite a large number of YouTube downloaders in the Chrome Web Store, none enables you to fetch YouTube audio. Since 2014, almost all add-ons remove the functionality of YouTube download to avoid offending YouTube's Terms and Conditions.
Can I download YouTube audio from specific time?
No. YouTube allows you to copy the video URL at the current time, which will trigger YouTube to start playing the video at that time when you click the URL. But the feature only helps you position the YouTube video without manually dragging the progress bar. If you use this URL to download YouTube sound on Mac, you'll still get the entire file. One way to resolve it is to download the whole YouTube audio and clip it to a specific time period.
Can Audacity download audio from YouTube?
No. As a free audio editing software, Audacity can edit & enhance audio, record audio, reduce noise, convert audio files to another format, create audio mixes, etc., but can't download audio. To rip audio from YouTube on Mac with Audacity, you can use its recording feature, which works similarly to QuickTime's.
Is it legal to download YouTube audio on Mac?
It depends on the type of video you download. It's illegal to distribute, sell, and make copies of copyrighted content. But you can download YouTube audio files:
By subscribing to YouTube Premium
From Public Domain & Creative Commons
Protected by a Copyleft license
As it's a gray area, we suggest that you do not use copyrighted YouTube music or audio tracks for commercial purposes.
Conclusion
We have explained the ways to download audio from YouTube on Mac. To download audio without software, the online tools - Y2Mate and YTmp3.cc are good solutions. But to rip lots of YouTube audio files at the same time and without quality loss, the dedicated application - Cisdem Video Converter is perfect. And don't waste your time on Chrome or Firefox extensions.