"Dad, this song is epic", my 5-year-old daughter said of Even If the Sky Is Falling Down. Our whole family is a music fan. Recently, I've become obsessed with watching orchestra live broadcasts and listening to relatively niche country music on YouTube. To download music from YouTube to my PC, I conducted some research, and here's what I've come up with.
The Best YouTube Music Downloader for PC
Download music from YouTube, incl. YouTube Music and YouTube Shorts
Also from other 1000+ platforms, like TikTok, Bandcamp, Facebook, etc.
Download YouTube albums, and playlists, or a single song
Save YouTube music as M4A, OPUS, MP4, WebM, MP3, AAC, FLAC, WMA, or any
Allow bulk downloads
Offer original quality
Extract music from the video and DVD disc
Cut songs and create ringtones
Adjust the volume of the downloaded music
Integrate a music player/combiner, video editor, and DVD ripper
Safe, easy for beginner

Free Download
Windows 11/10/8/7

Free Download
macOS 10.12 or later
YouTube Music Download, a Double Meaning
1st meaning: Download songs from YouTube Music app or https://music.youtube.com/ website.
2nd meaning: Save music from YouTube app or https://www.youtube.com/ platform.
What is YouTube Music?
YouTube Music is an online music and video streaming service developed by Google's subsidiary, YouTube. It is the successor to Google Play Music, similar to Spotify and Apple Music, focusing exclusively on songs and hosting an array of music videos and audio tracks.
YouTube Music vs. music from YouTube: Is there a difference?
YouTube Music and YouTube share the same database. Just that YouTube Music emphasizes licensed music and personalized recommendations. Whereas YouTube offers a greater variety of music videos, both official and unofficial.
Can I directly download music from YouTube to PC with the Premium version?
Yes, you can. But YouTube Music Premium differs from YouTube Premium.
Does YouTube Come in Lossless or Hi-Res Music?
No, it doesn't, even if you are a Premium user.
YouTube uses M4A and OPUS as audio codecs, not FLAC. Some YouTube music downloaders may be able to directly save YouTube music at 320kbps FLAC, MP3, etc., but actually it happened a transcoding. Converting from low bitrate to high bitrate, or lossy to lossless, will not improve audio quality. The original sound source is the best.
If you're not sure whether YouTube music is re-encoded or not, you can check it with Cisdem Video Converter. Its developer told me that the app captures all original video and audio tracks. In case you need to make the conversion because of compatibility issues, Cisdem Video Converter also offers tons of output formats.
Summary
Based on the previous introduction, you may have some new ideas. Here are three options.
Option 1 - Download master-quality sound from other platforms.
Most listeners can't tell the difference between lossless, Hi-Res music and regular music. If you are an audiophile with critical ears, check out Amazon Music Unlimited, Apple Music, Deezer or Tidal, which require a membership and are expensive. Wikipedia has conducted a comparison of major music streaming services for your reference.
Option 2 - Download YouTube music to computer, laptop, or SD card using a YouTube Music or YouTube Premium account. YouTube is still the most popular, and you can find music on it that is not available on other platforms, such as an old Frank Sinatra song, a cool commercial tune, a movie soundtrack, etc. There is a monthly fee, but it is authorized.
Option 3 - For users with long-term music download needs, using a YouTube music downloader for PC is the best choice. Why? Please read on.
The Best App to Download Music from YouTube to PC with Original Quality
Cisdem Video Converter, as I mentioned earlier, enables you to batch download any YouTube video, including music videos. You can download music videos in audio or video formats. Anyway, it supports 600+ formats.
YouTube aside, it can also download music from YouTube Music, TikTok, Vimeo, Jamendo, Last.fm, SoundCloud, Twitter and more. Not only audio, it supports downloading 4K videos and movies too. It works fast. Even older computers can benefit from hardware acceleration technology.
As a multi-purpose YouTube music downloader for PC, it offers more features, such as digitizing files from DVD, editing video, reducing video file size, changing resolution, etc.

Free Download Windows 11/10/8/7
Download music from YouTube to PC with Cisdem Video Converter in 3 steps:
Step 1. Copy the URL of the YouTube music video that you want to save.
On YouTube: Right-click on the music video, and hit "Copy Video URL".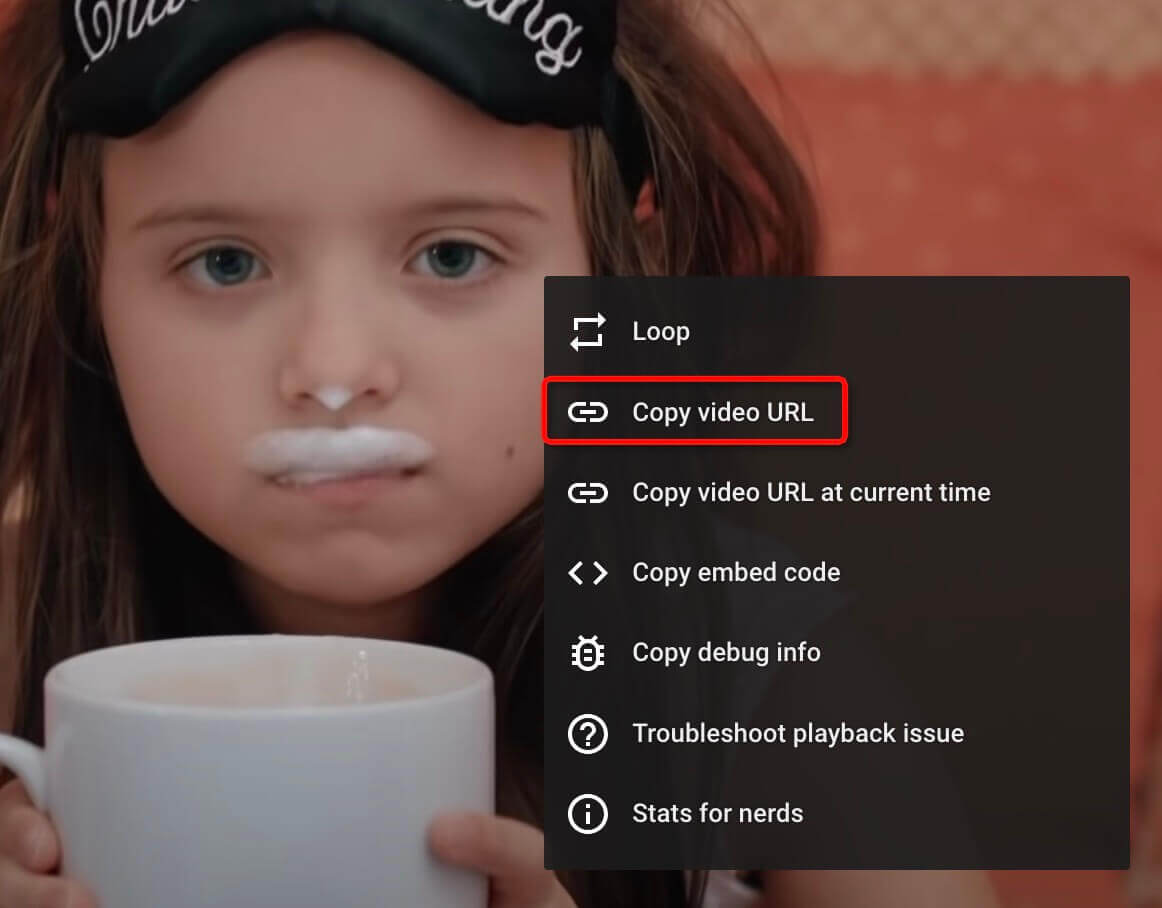 On YouTube Music: Click on the three vertical dots next to the audio > "Share". From the pop-up dialog box, click "Copy". To download the whole YouTube Music playlist, copy the link in the address bar.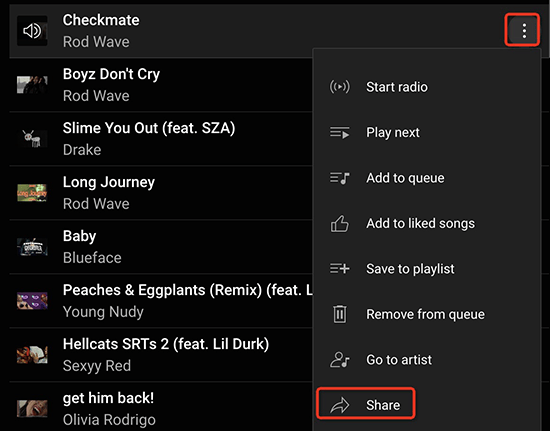 Step 2. Paste the music URL to Cisdem Video Converter.
Launch Cisdem Video Converter and go to its built-in "Download" interface. Paste the URL into the text column at the bottom. Hit the "+" icon and wait for analyzing.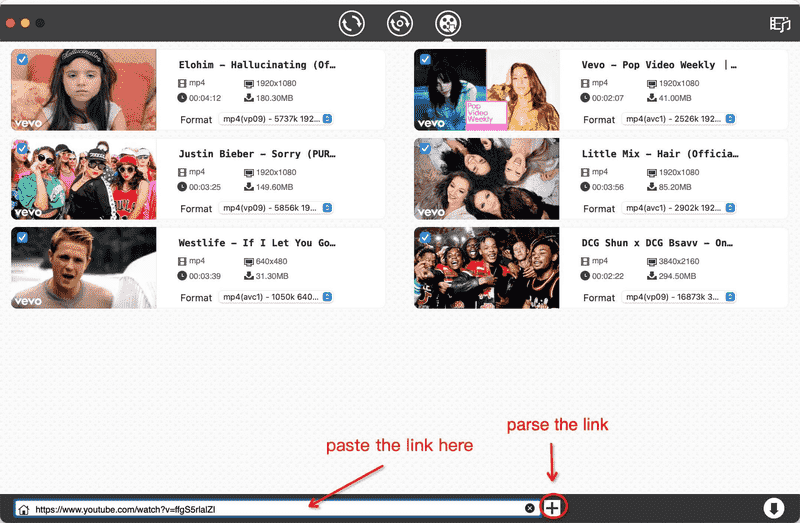 Step 3. Start downloading YouTube music to computer.
Expand the list of formats and select any one of them. If you only want to save YouTube music as audio, select the m4a (mp4a) or webm (opus) option accordingly. Finally, click the download "⬇" icon.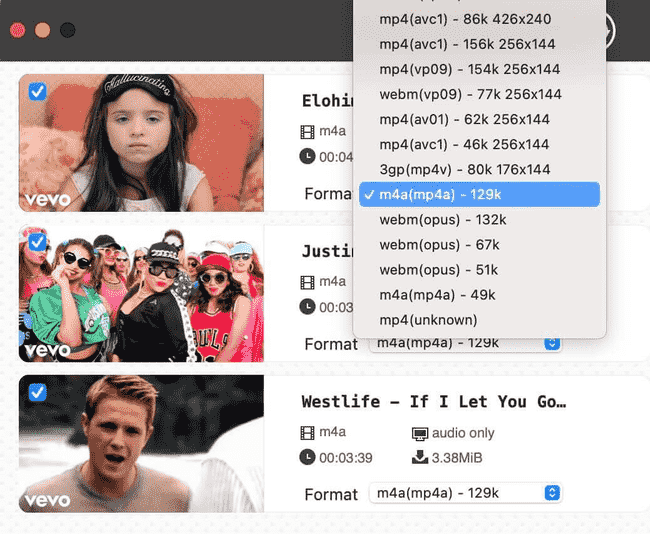 Pro tip: Convert YouTube music to your target format
When a blue checkmark icon appears next to a thumbnail, it means that YouTube music has been downloaded successfully. Click on the icon to locate the downloaded files, drag and drop them to the "Convert" interface.
Click on the "Output Format" icon and you will see all the formats supported by Cisdem Video Converter, choose any one of them.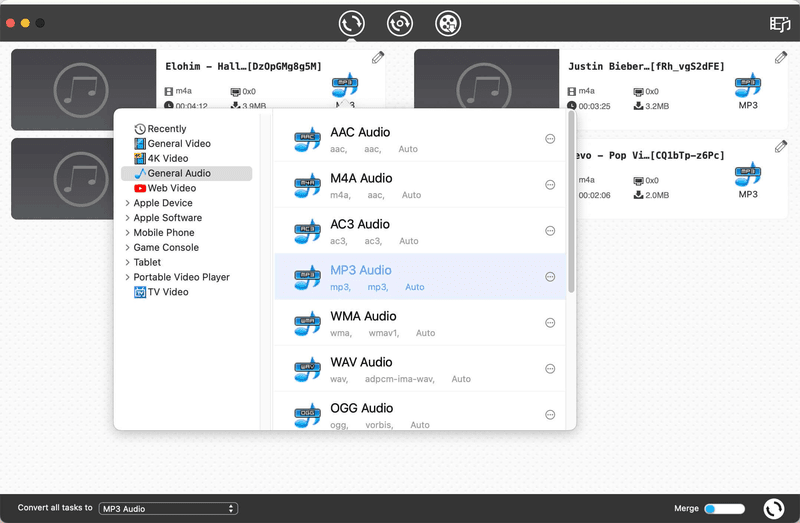 Click the settings button alongside the format to edit the YouTube music file's parameters. For beginners, it's advisable not to alter settings and stick with the default values.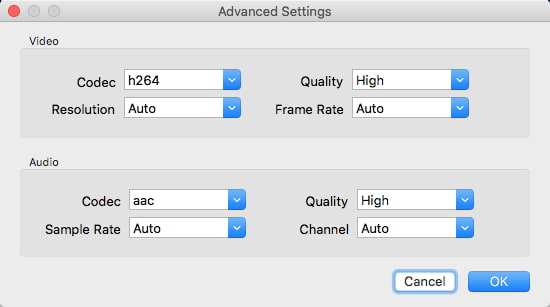 How to Download Music from YouTube to PC via y2mate.com
y2mate.com is a very basic online YouTube music downloader for PC. Despite not having any extra options, it does a great job with YouTube, TikTok, Facebook, Instagram, and Twitter videos, even longer ones.
It lets you download YouTube songs in MP3, MP4, 3GP, and WebM (no sound). The output quality is not as good as Cisdem Video Converter. It is especially noticeable when downloading videos. My tests show that a 4K video will only download at 1440p.
y2mate.com is inferior in terms of music quality, batch downloads, and security, however, the benefit of its free and convenient nature makes it a decent alternative.
Here are steps to download music from YouTube to PC online:
Open https://www.y2mate.com/.
Paste the copied link of YouTube song on the video URL box. The tool will read the link automatically. Or you can enter keywords to search for a song on the site.
To download music as audio, switch to the "Audio" tab.
Click the "Download" button.
In the pop-up prompt box, right-click "Download MP3", choose "Save Link As", then "Save".
Bonus tip:
Even without using the copy-paste method, you can also enter y2mate.com to download YouTube music to computer. Below are 2 methods.
Method 1. Directly change the YouTube URL
Open the YouTube music you wish to save.
Insert "pp" after the word "youtube" in the URL, e.g. https://www.youtubepp.com/watch?v=wXhTHyIgQ_U. Then reload it.
You will be taken to y2mate.com where you can continue performing steps 3-5 of the online approach as listed above.
Method 2. Add a "Download" button to YouTube webpage
This method requires the installation of a user script manager and user script to browser. See the steps below.
Install Tampermonkey to browser.
Chrome: Chrome web store
Firefox: addons.mozilla.org
Safari: Mac app store
Opera: addons.opera.com.
Head to https://greasyfork.org/, and search for THE BEST SCRIPT Youtube Downloader (MP3-MP4-HD-FullHD), which is created by ysEnmanuel.
Install the user script to Chrome, Firefox, Safari, or Opera.
Find the music you wish to download in YouTube and open it. You will see a red "DOWNLOAD" button under "Subscribe".
If you click on "DOWNLOAD", you'll be redirected to y2mate.com. Now follow the step 3-5 above to download music from YouTube to PC. Whenever you open a YouTube page, this button will appear.
Why not just install an extension for YouTube song downloader? Because Google's policies regarding YouTube extensions are strict, especially in Chrome. Google will remove it from the Chrome store.
How to Download Music from YouTube to Computer with YT-DLP
Over the years, I've used YouTube-DL in many versions. It's a command-line tool to download YouTube music to PC. It's open-source and works with 1,000s of websites. But it's been inactive since June 2021, and recently I realized that it downloads videos very slowly, so I switched to YT-DLP. Like youtube-dl, YT-DLP does the same thing. If you are interested, learn and try it.
Download and install YT-DLP to your PC. Please refer to this page for detailed steps: YT-DLP: The Complete Guide.
Open your prompt and run the command.
Download YouTube music video to MP4: yt-dlp url, e.g. yt-dlp https://www.youtube.com/watch?v=wXhTHyIgQ_U. Rip music from YouTube as MP3: yt-dlp --extract-audio --audio-format mp3 url.
Once it's done, run ls command, e.g. ls -la *.mp3, to verify the downloaded music.
Legal, Ethical, and Safety Considerations
There are many ways to download music from YouTube to your PC, but it is imperative to comply with copyright laws. Please respect the author's rights, and don't use downloaded music on public platforms or for profit without his or her permission. Furthermore, for internet security and high-quality music, I recommend saving songs with Cisdem Video Converter and youtube-dl.